Collaborating on Cole
Legendary gay composer celebrated with In Series production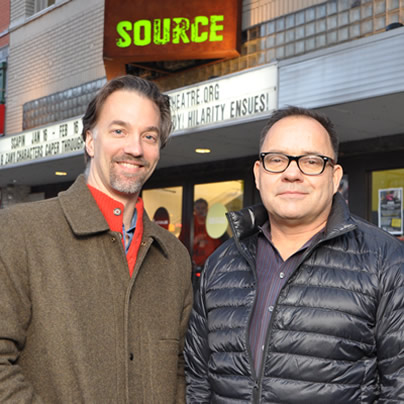 'The Cole Porter Project: It's All Right With Me'
Through March 9

Source

1835 14th St. N.W.

$20-38

202-204-7763
When the In Series first asked director Steven Scott Mazzola to create a show about Cole Porter for its 2014 season, he was certain what he didn't want: four singers seated on stools singing the legendary Broadway composer's best known works, setting up each song with a bit of surfacey chitchat. And though unsure of exactly what direction to take, he was determined to celebrate the staggering breadth of Porter's music and explore his many facets without getting bogged down in too much biography.
Mazzola tapped Greg Stevens as co-writer/director. The pair (both gay) had met working on Mozart's "La Clemenza di Tito" (Mazzola directed, Stevens designed) for the In Series last season, and hit it off. After setting to work on six months of rewrites and workshops, the pair's efforts resulted in "The Cole Porter Project: It's All Right With Me," a Washington-set tale about a delegation from Peru, Ind., (Porter's hometown) who lobby Congress to honor their musical native son with his own national holiday.
While "The Porter Project" is mostly an entertaining romp, it also comments on Porter's complexity, Stevens says. Invariably, Porter whose songbook includes sophisticated favorites like "Night and Day," "What Is This Thing Called Love?" and "I Get a Kick Out of You," is pegged as urbanity incarnate, but there's more to him than that. He was a classically trained musician who wrote popular music crammed with topical references. He loved both lowbrow humor and sleek sophistication, and his songs overflow with witty innuendo and double meaning. Porter, who died in 1964 at 73, and his older wife Linda, were a well-loved couple on the café society scene, yet he was gay and had romantic relationships with other men (an open secret among their set). It's all there.
"I think D.C. is the perfect setting," Mazzola says. "Like Porter, the city demonstrates a duality, particularly with politicians and government. Here it's not unusual for the mirror to have faces."
In preparing the project, Mazzola and Stevens combed through 1,000 songs before narrowing it down to three dozen ranging from familiar hits like "It Was Just One of Those Things," "Love For Sale" and "Miss Otis Regrets" to the lesser known tunes "In the Morning, No" and "Experiment."
"We'd identified some favorites that we wanted to use," says Stevens, who first encountered Porter's music in high school when he heard a disco version of "Begin the Beguine" by Tuxedo Junction. "But part of the process included thinking about how Cole Porter was among the very first musical theater composers whose scores propelled the story along. That was revolutionary in the 1930s. We wanted to do the same, so we ended up repurposing songs from a dozen musicals from the '20s through the '50s, all very different stylistically, to tell our story. And like Porter who wrote songs for performers like Ethel Merman (his favorite) and friend Fred Astaire, we wanted to select songs that fit our singers and characters."
The nine-person cast features In Series vets Randa Rouweyha, Joe Haughton and Tammy Roberts. "The parts," explains Mazzola, "are 'gender open.' The five principles have purposely been named Nick, Sam, Chris, Pat and Courtney and can be played by anyone."
A long-time Washington company, the In Series works with local artists to create innovative theatrical programming around a musical core of opera, cabaret, poetry and song. Its productions strive to embrace fresh approaches to the classics, blend the performing arts in unconventional ways, and include Latino programs each season. "The Cole Porter Project" falls most closely to the cabaret category.
Primarily a set designer, Stevens (who heads the professional development program at the American Alliance of Museums by day) considers "The Cole Porter Project" his first formal effort in directing. "I'm looking to Steven as much as a mentor as a colleague. He knows more about the craft of directing whereas I'm going on instinct a lot of the time."
A longtime director, Mazzola first came to Washington to assist Michael Kahn at the Shakespeare Theatre Company. (Today, in addition to directing, he's a grants manager at the D.C. Commission on the Arts and Humanities.) Yet, despite his ample staging experience, this is his first time co-directing. "It takes lot of negotiation. There are moments of frustration, but they don't last. It's interesting and you learn a lot watching how your co-director works."
They like what they've come up with. But ultimately, Mazzola and Stevens agree: In the end, people will come to hear the music. It's Cole Porter's crowd-pleasing, enduring songs that are the draw, just as they have been for decades.
Join Joel Kim Booster on 'Fire Island' this summer
Gay rom com features queer Asian cast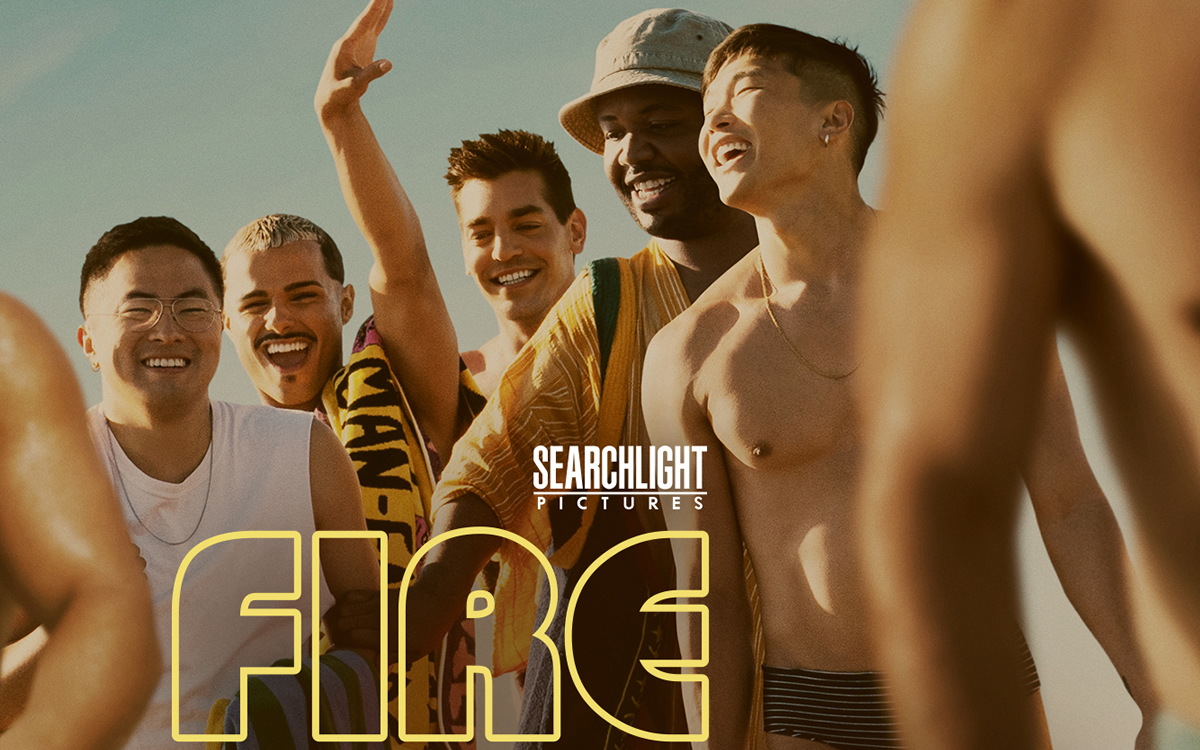 It would be an understandable mistake to see Joel Kim Booster on one of the two "Out Traveler" magazine covers he's gracing this month and assume he was just another sexy fashion model, but the 34-year-old Korean-American comedian is not having a moment in the blazing sun of queer pop culture just because of his undeniable talent for rocking a Speedo.
He is actually in the middle of the publicity push for the upcoming film "Fire Island," which he wrote and in which he co-stars with (among others) close friend Bowen Yang and comedy legend Margaret Cho, and which begins screening exclusively on the Hulu streaming service just in time for Pride month.
Directed by Andrew Ahn ("Spa Night"), it's a movie that's generating a lot of buzz, partly because it's the first predominantly queer film to be backed by a major movie studio (Disney, through its Searchlight Pictures division). We've been burned too many times not to be skeptical about such a project, but anyone already familiar with Booster's work will undoubtedly tell you it's not likely to be another watered-down, safe-for-the-mainstream offering designed to check off boxes on the diversity agenda. Since he first made a splash with an appearance on "Conan" in 2016, he has gained a following among queer and straight audiences alike with his unapologetically gay, unabashedly sex-positive comedy, leading to what some might call a meteoric rise to the brink of superstardom through an acclaimed stand-up career, his roles on TV in shows like the short-lived sitcom "Sunnyside" (on which he was a regular), "Shrill," and "The Week Of, and his popular podcasts ("Urgent Care with Joel Kim Booster + Mitra Jouhari" and "The Joy Fuck Club").
Now he's poised to become a movie star with "Fire Island," a gay romantic comedy set in the titular vacation retreat that dares not only to feature a cast made up entirely of queer characters, but doubles down by putting the focus on queer characters who also happen to be Asian. To top it all off, it gives Booster a chance to show off his literate side with a story – that concerns a group of gay best friends out for sexual adventure, and possibly even romance, on what might be their last trip to the iconic gay getaway – adapted from no less esteemed a literary source than Jane Austen's "Pride and Prejudice."
The Blade was fortunate enough to chat with Booster in the middle of this very high-pressure month before his feature film debut, and our conversation was informed by the kind of erudite and compassionate intelligence that has marked the young comedian's career from the start.
BLADE: In your comedy, you've drawn a lot of inspiration from being raised as a Korean adoptee by white American parents in a deeply Christian midwestern community. Does that experience figure into the movie, too?
BOOSTER: Of course! As a transnational adoptee, my entire life I've been fighting against this nagging feeling of not quite fitting in – and that's whether I'm around white people, or Asian people, or even some gay people. It's tough, and it's been such a paramount part of my life to find people who make me feel seen and accepted and to keep them close, so it felt really important for the theme of chosen family to stay in the forefront when I was making this movie. As much as it's a "rom com," it's also about friendship – about relationships with people who, like I say in the movie, "fill in the gaps."
BLADE: How did you hit on using Jane Austen as a source?
BOOSTER: It was really a lucky accident. I brought "Pride and Prejudice" with me on the first trip Bowen and I ever took to Fire Island. I would be lying there on the beach reading it and thinking, "It's amazing how the things she was writing about are so relevant to what we're experiencing on this island right now." It was kinda wild, and it started out as threat, a joke – I would keep saying, 'I can't wait to write an all-gay adaptation of 'Pride and Prejudice' set on Fire Island,' and people would boo and throw things at me. But after that I would always bring an Austen book with me to read on the island, because it felt like there was something so prescient about what she wrote, and about her observations on class, especially reading it in this place where we had sort of created our own class system, as gay men.
BLADE: When did it stop being a joke?
BOOSTER: Actually, my agent suggested that I should write it, because I was in between projects. I just had a pilot that was passed on by Comedy Central, I was depressed, I had nothing to do – so I ended up writing it as half-hour pilot script. But nobody wanted it until Quibi [the short-form entertainment platform that launched and folded in 2020 after failing to meet projected subscription levels]. Say what you will about them, but they really invested a lot of money and time into new and young voices, and they took a lot of chances. They took a chance on me, and when they folded I had this script that I could point to which I had written and developed with them. This movie was a tough pitch to sell on just a log line, but I had this finished project, this complicated piece of work to show people, that was much more intricate than I think "Gay 'Pride and Prejudice'" would maybe lead people to believe.
BLADE: Your movie is just one of several big queer titles on deck for 2022, including Billy Eichner's rom com, "Bros." How do you feel about that?
BOOSTER: Honestly, it really takes some of the pressure off. When we get, like, one gay movie a year, a lot of attention and scrutiny gets put on that movie and it's expected to be everything to everyone in our community. And our community is huge, and it's diverse, and there are so many stories that aren't being told. I'm so glad Billy's movie is coming out as well, he was my first comedy boss, and I'm really happy that people in our community are going to have two big gay rom coms to choose from.
BLADE: We haven't seen "Bros" yet, but we've seen "Fire Island." There's a review embargo [until May 23], but I think it's safe to say nobody is going to boo or throw things at you. Do you feel any sense of competition about it?
BOOSTER: My hope is that people love both, but it's nice that if somebody goes to see my movie and says, 'That's not for me, I don't see myself there,' then a couple months later they'll see Billy's and they'll have another shot at it. And I hope both of our movies are successful enough that they create a million clones. I hope it's just the beginning.
"Fire Island," which also stars Conrad Ricamora, premieres on Hulu on June 3.
PHOTOS: Taste of Point
'Spring Garden Party' fundraiser for LGBTQ youth scholarships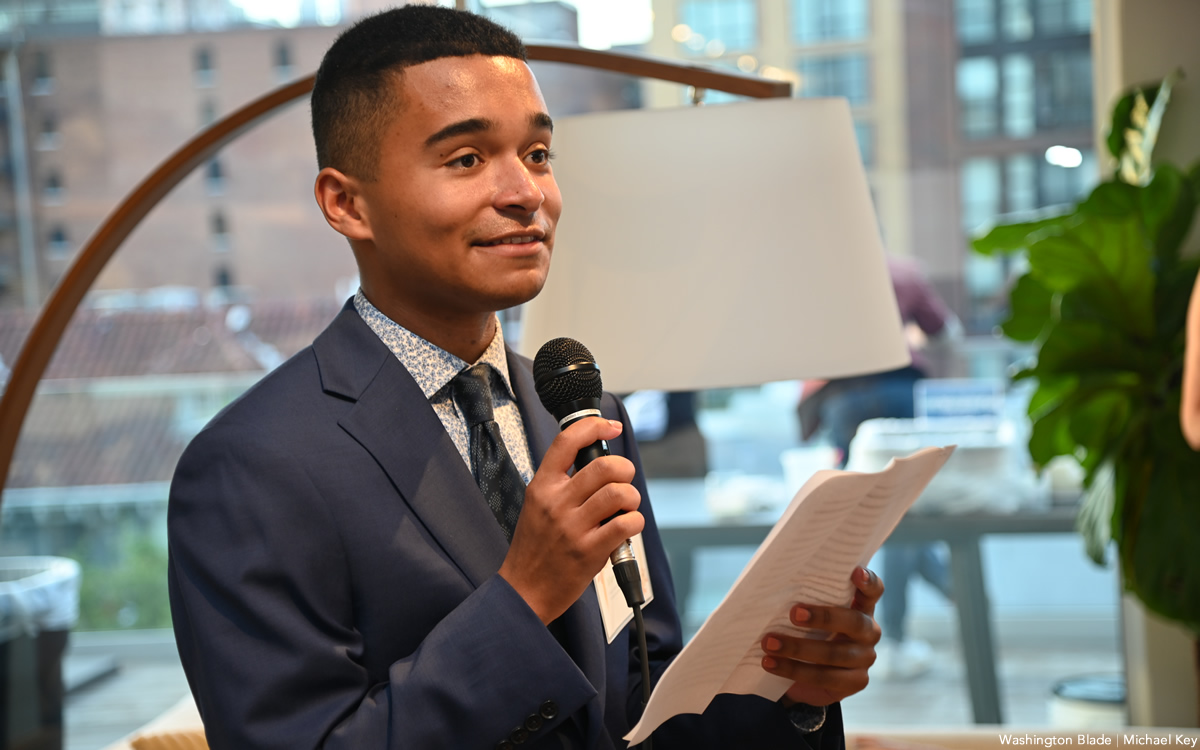 The Point Foundation held "Taste of Point: Spring Garden Party" at the rooftop of Room & Board on Thursday, May 19.
Point Foundation scholar Warren Small of Howard University, currently working as an intern for Rep. Ritchie Torres (D-N.Y.), spoke to attendees about his experiences in the Point scholarship and mentorship program. Local restaurants and bars Amparo, Barkada, Compass Rose Bar & Kitchen, Hank's Oyster Bar, Republic Restoratives, Please Bring Chips, Qui Qui, Drink Prosper, Chufly, Serenata and Ten Eyck Brewing provided gourmet food and craft cocktails. Drag performer Kitti Chanel Fairfield and DJ Tezrah provided entertainment.
Activist, businesswoman and Point Foundation booster Sharon Brackett was honored posthumously in a ceremony at the event.
(Washington Blade photos by Michael Key)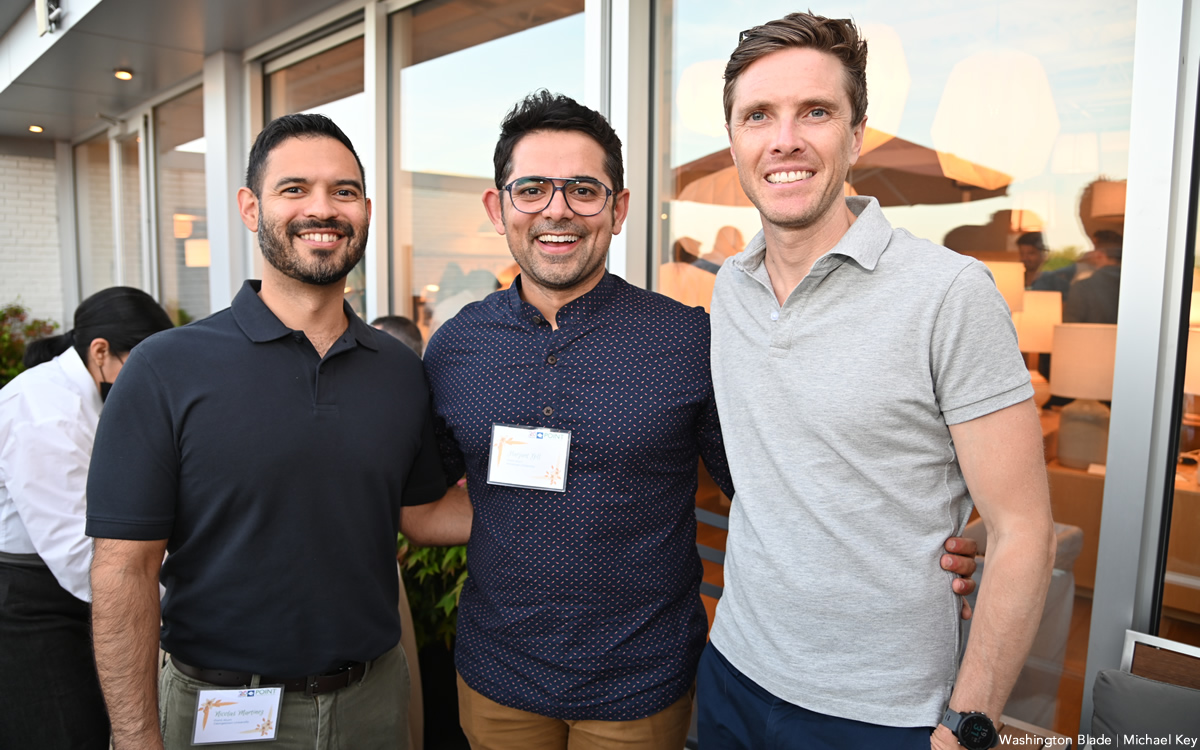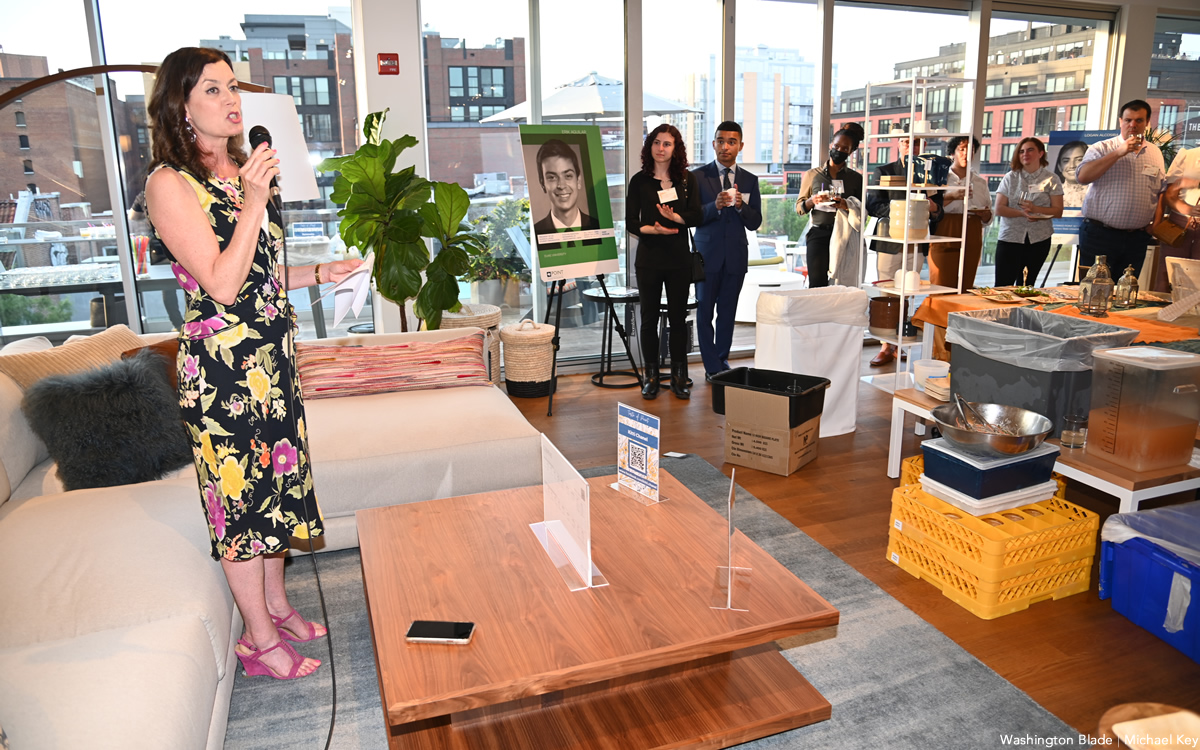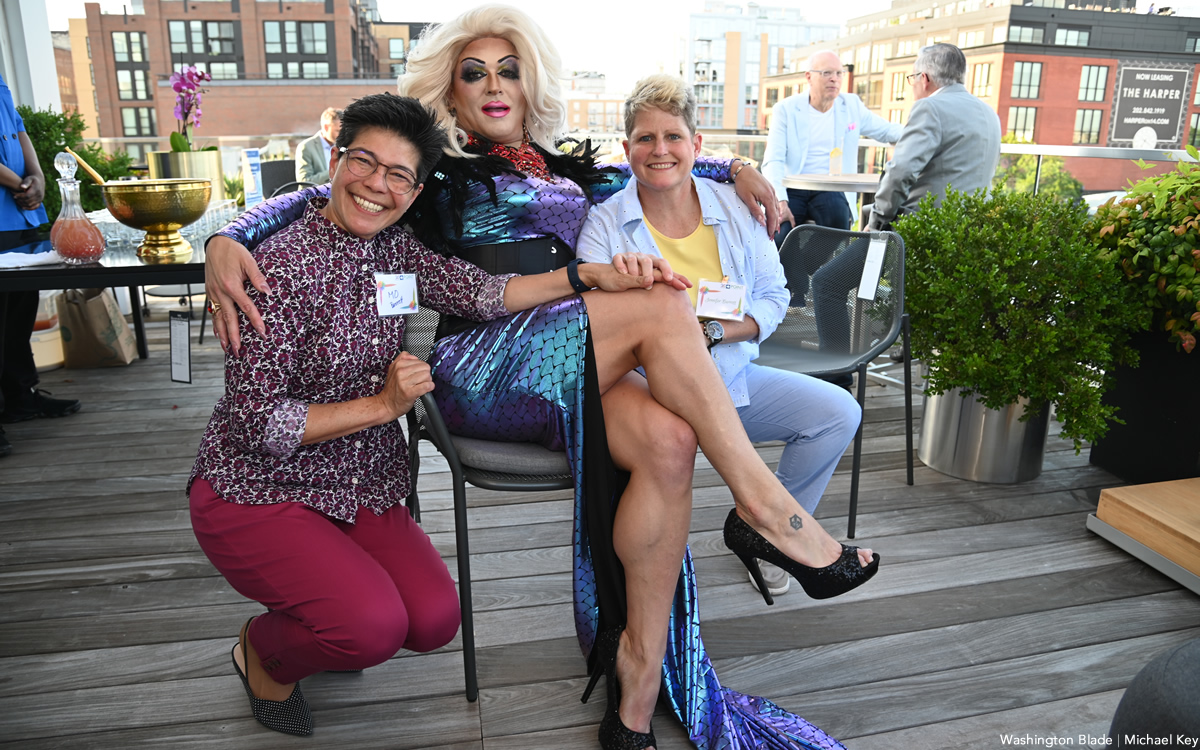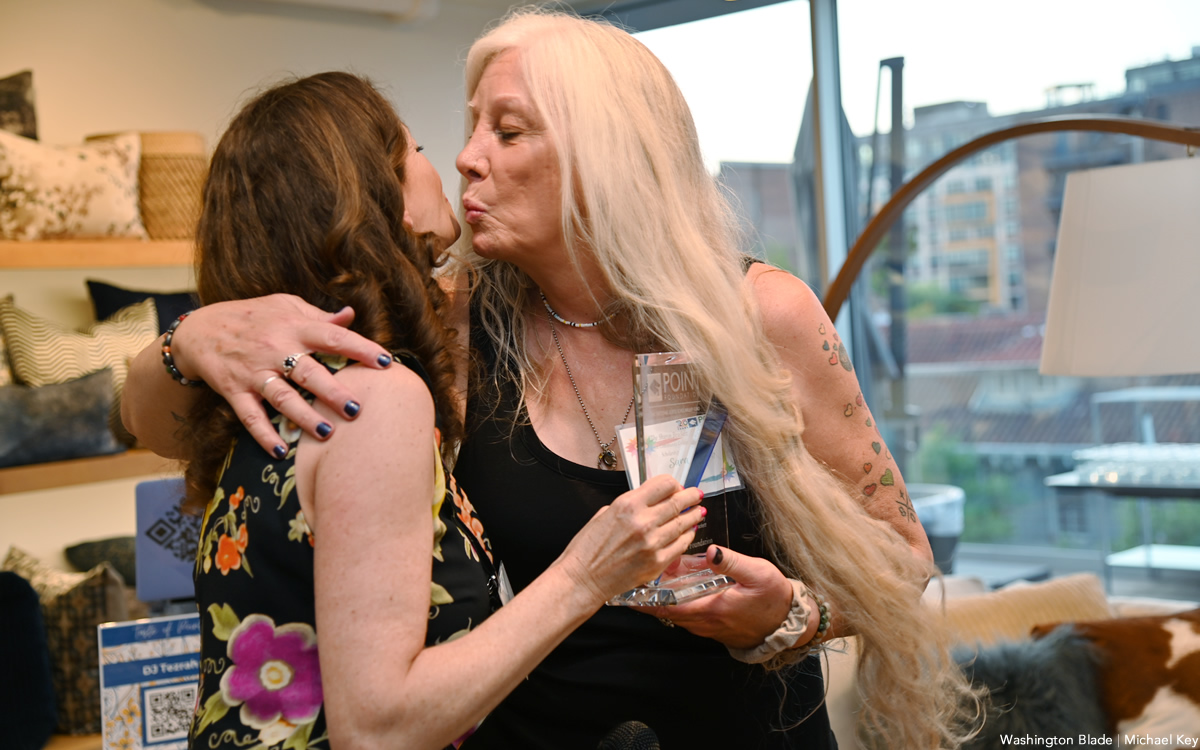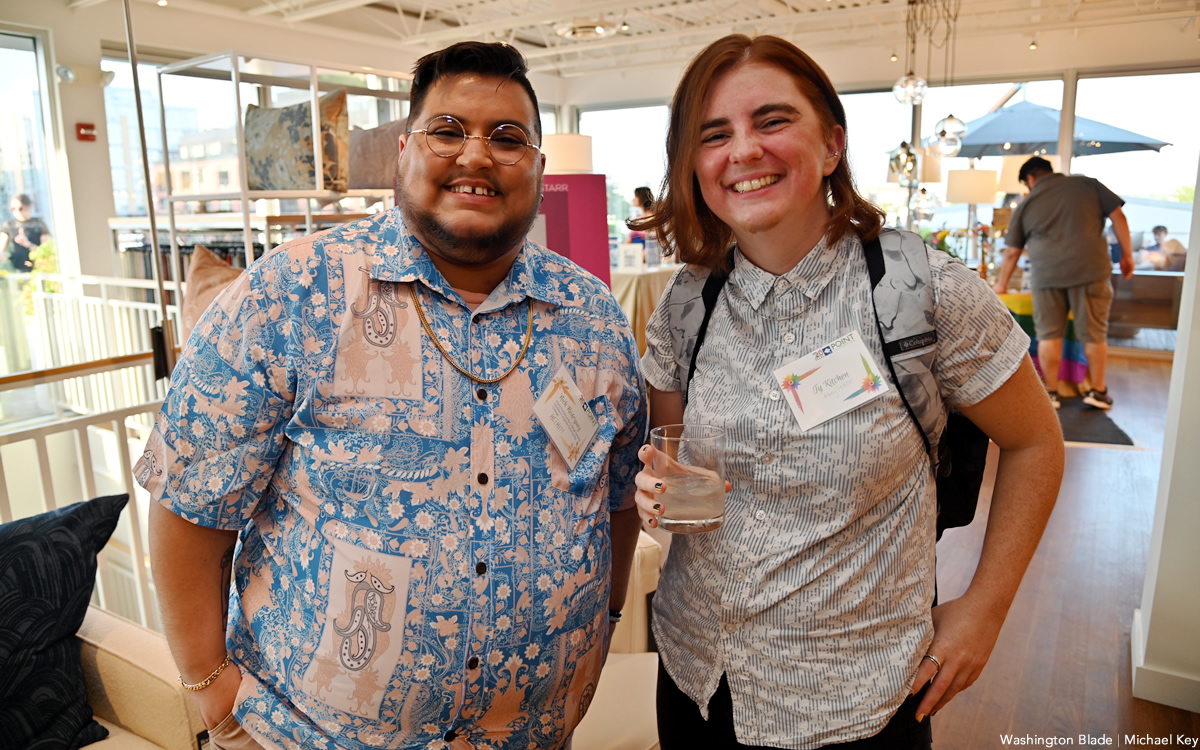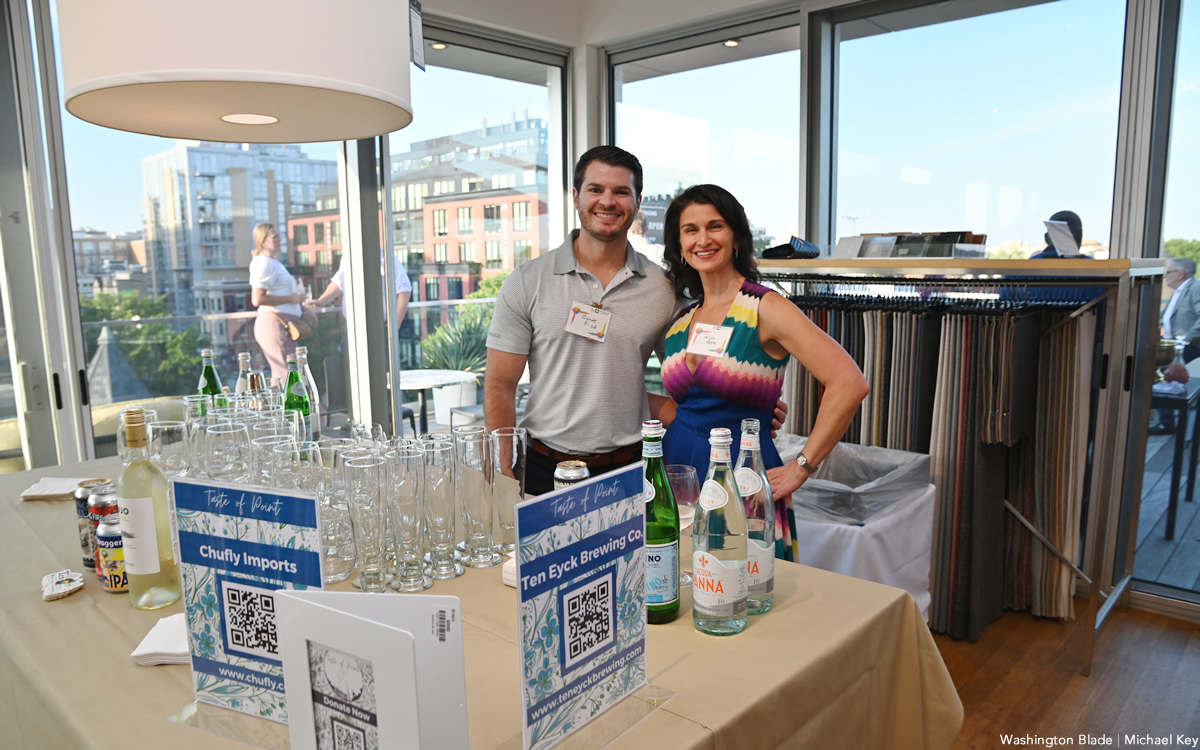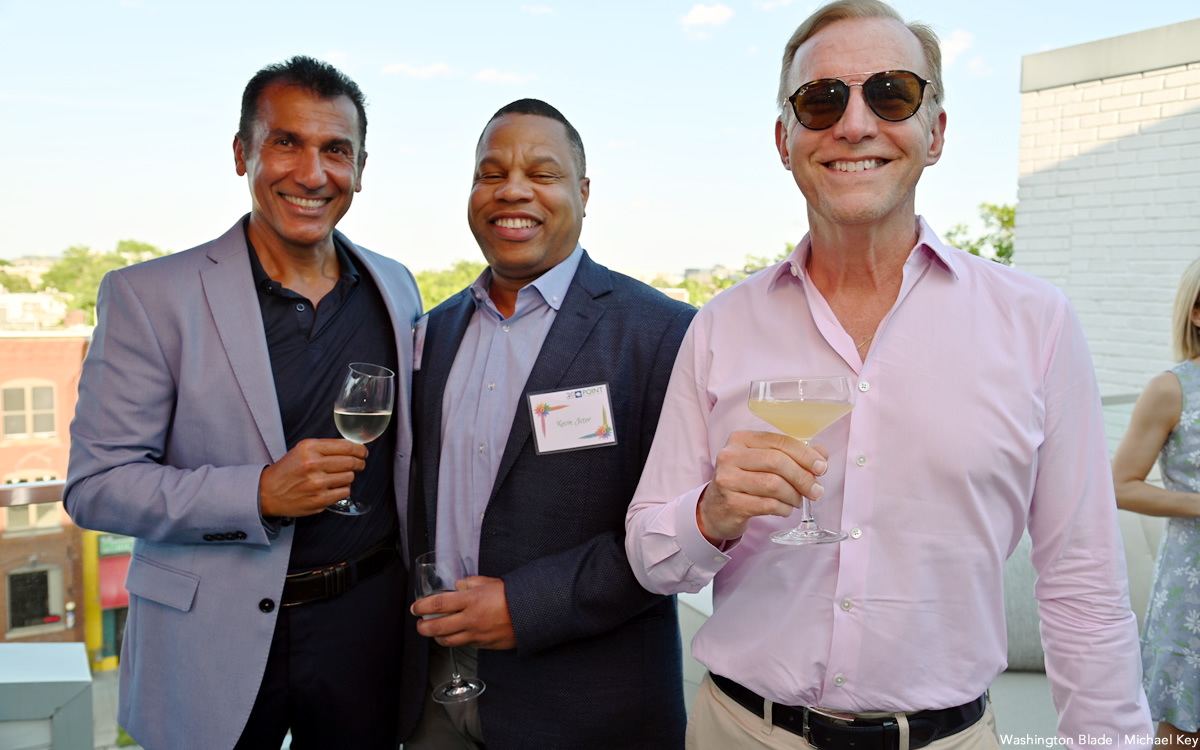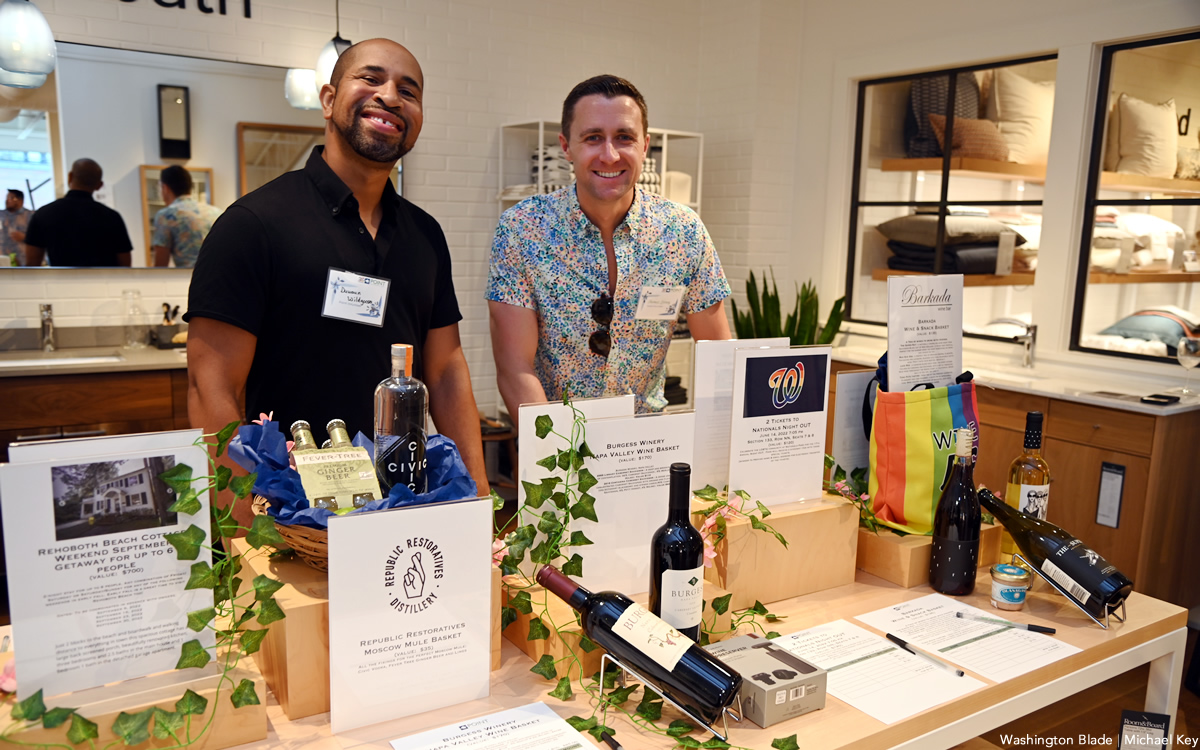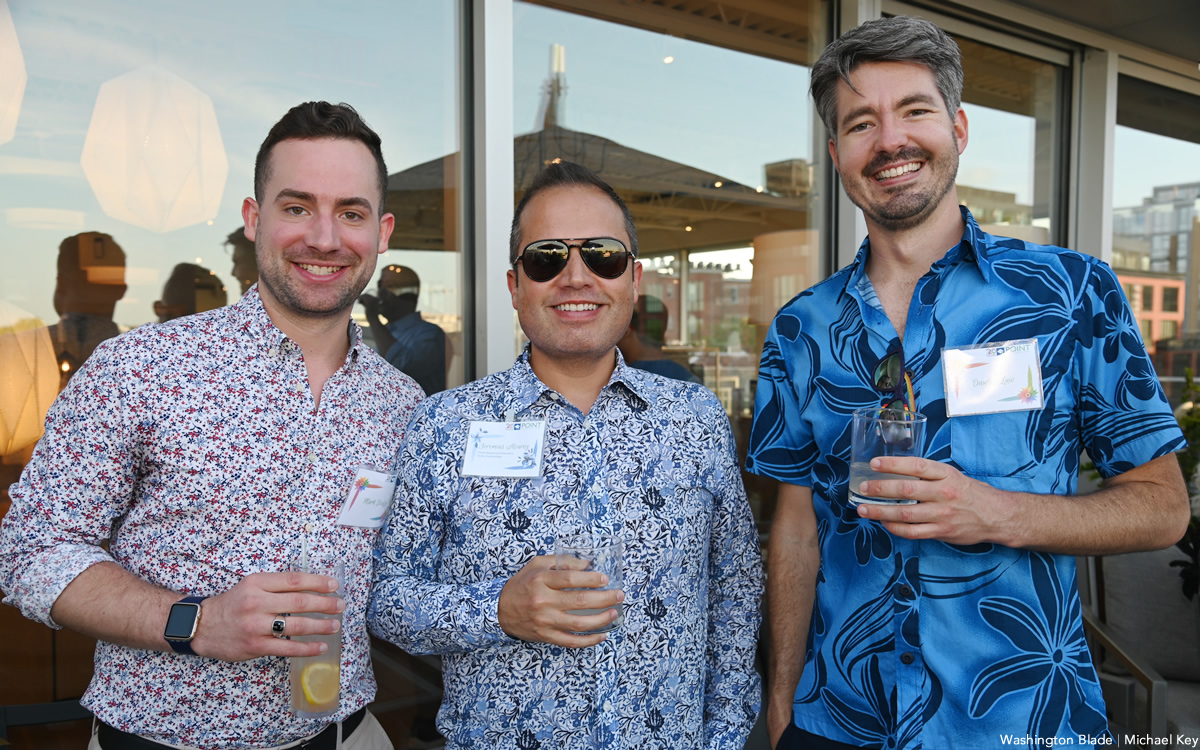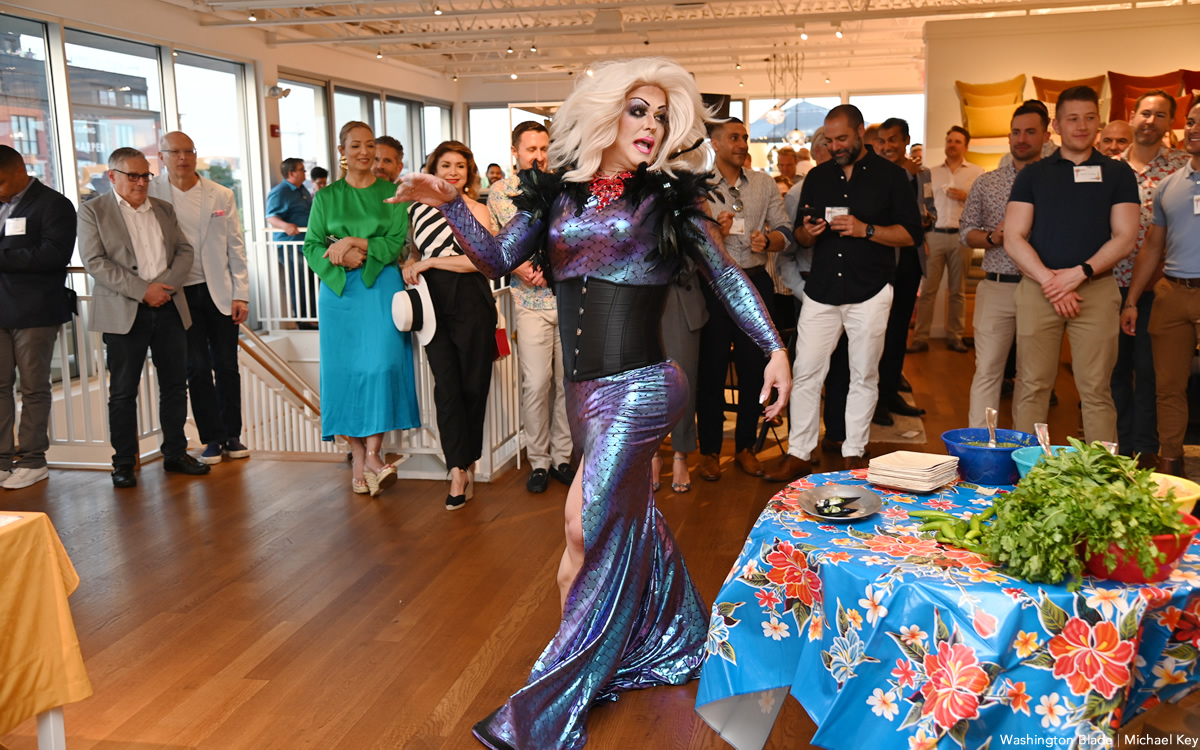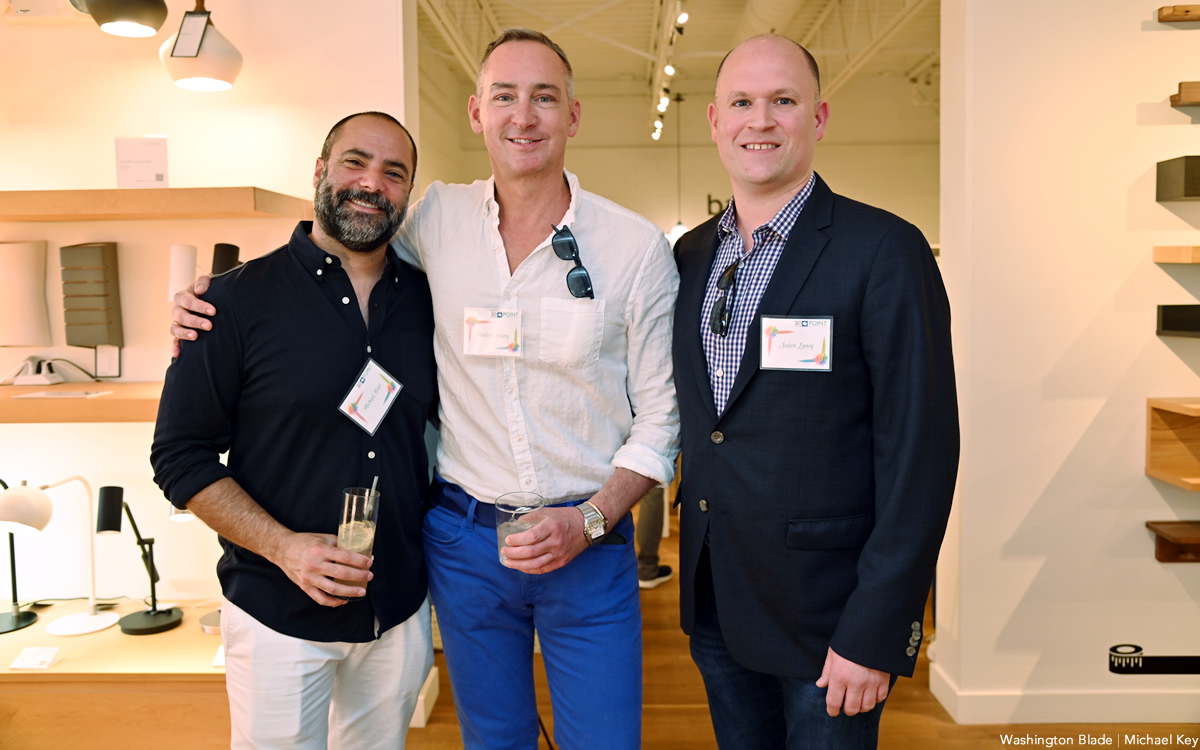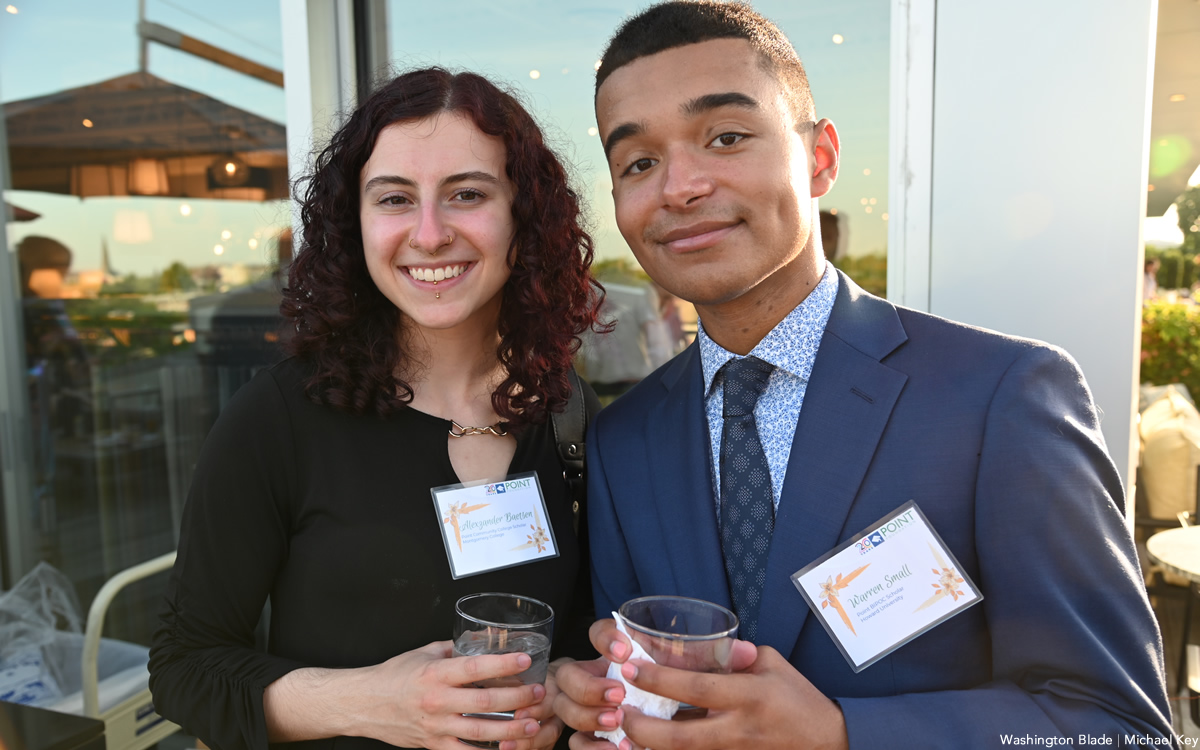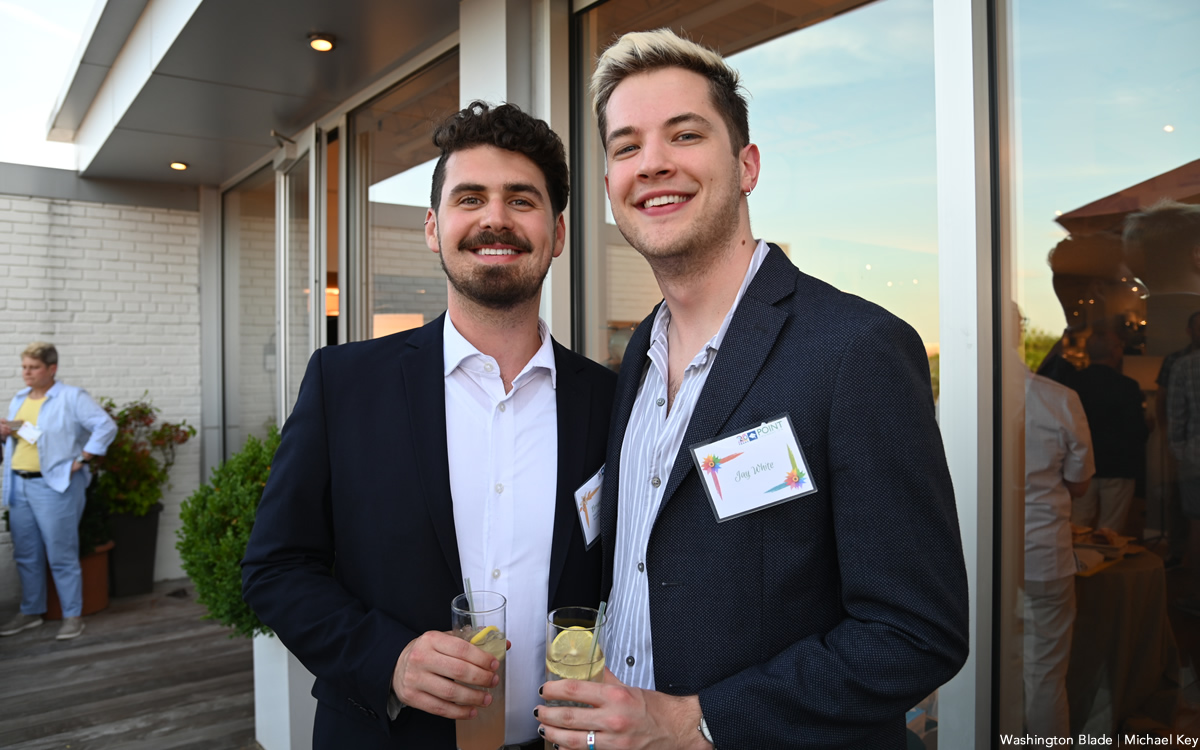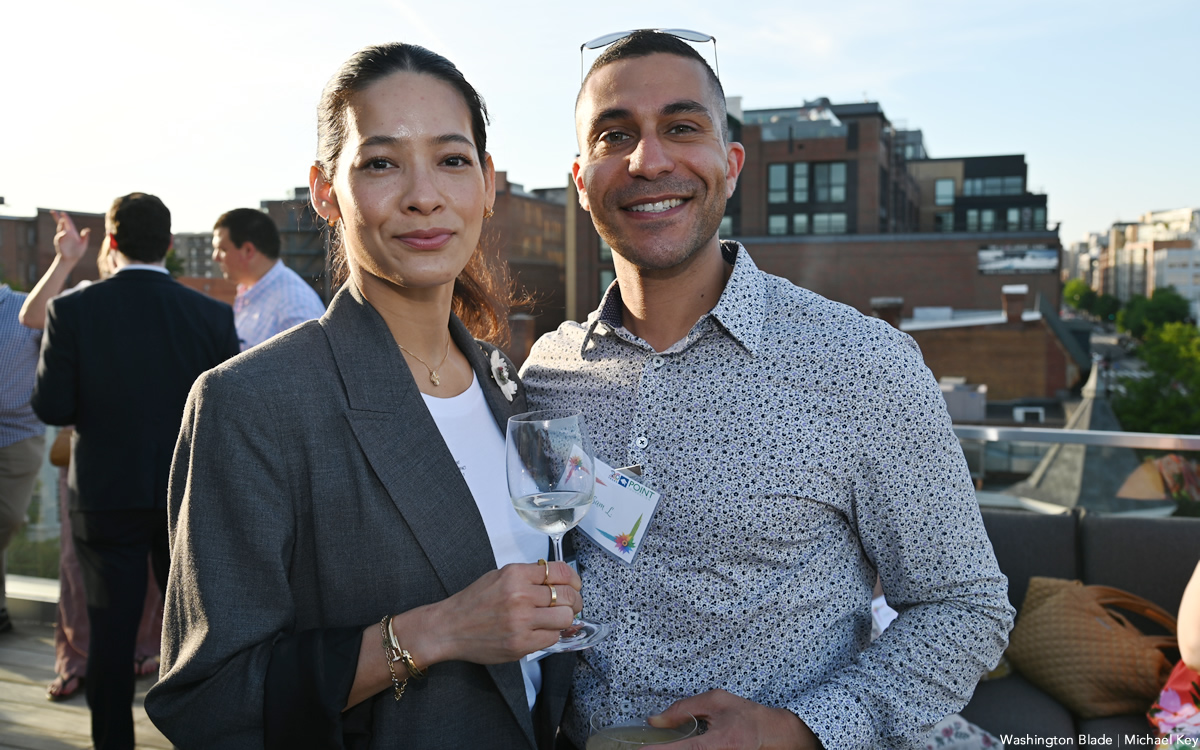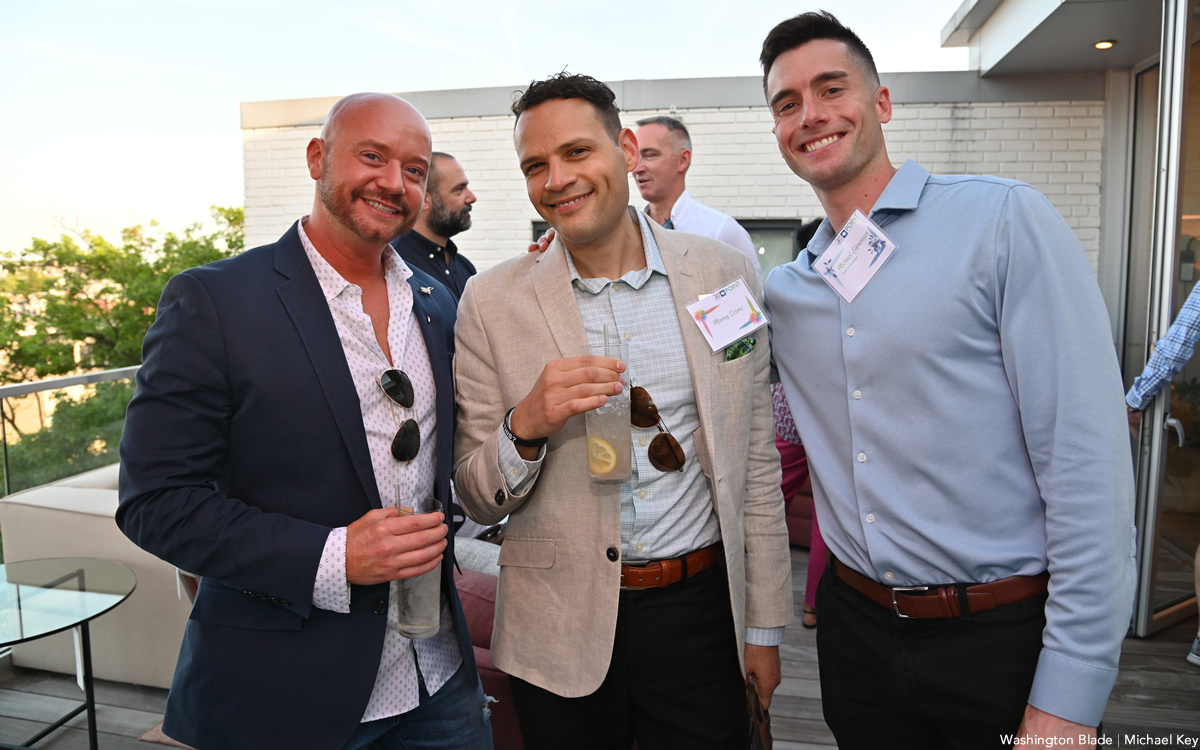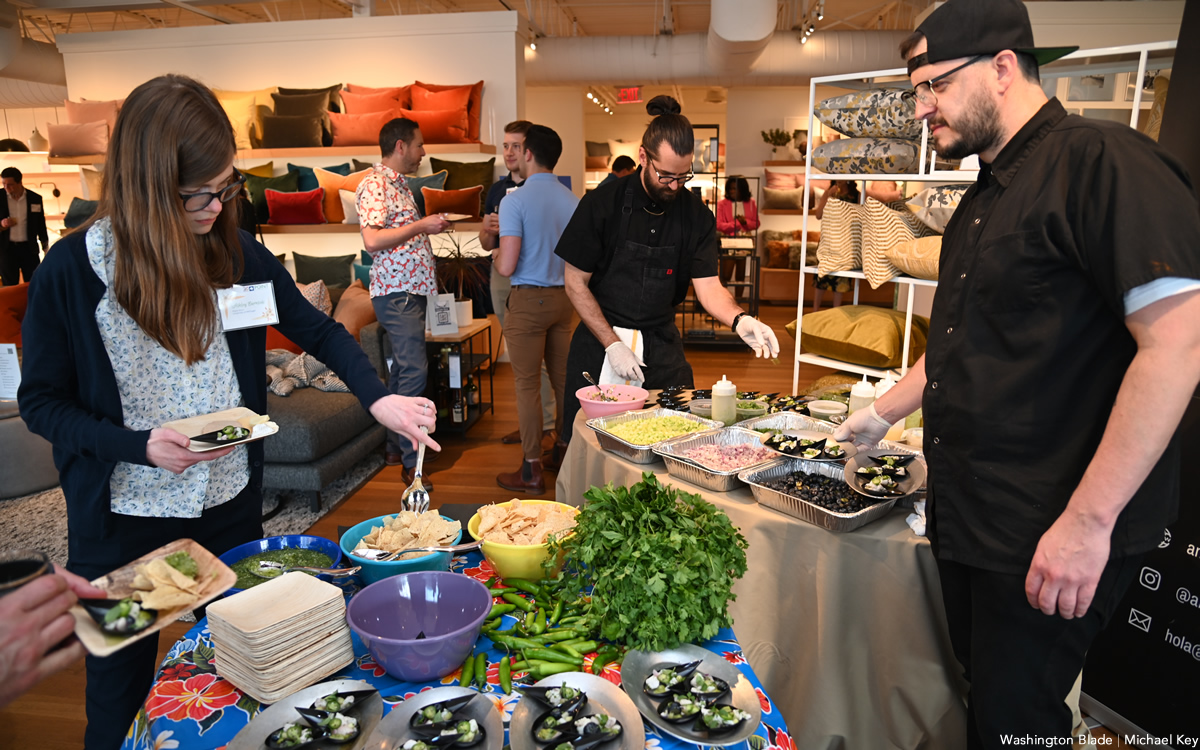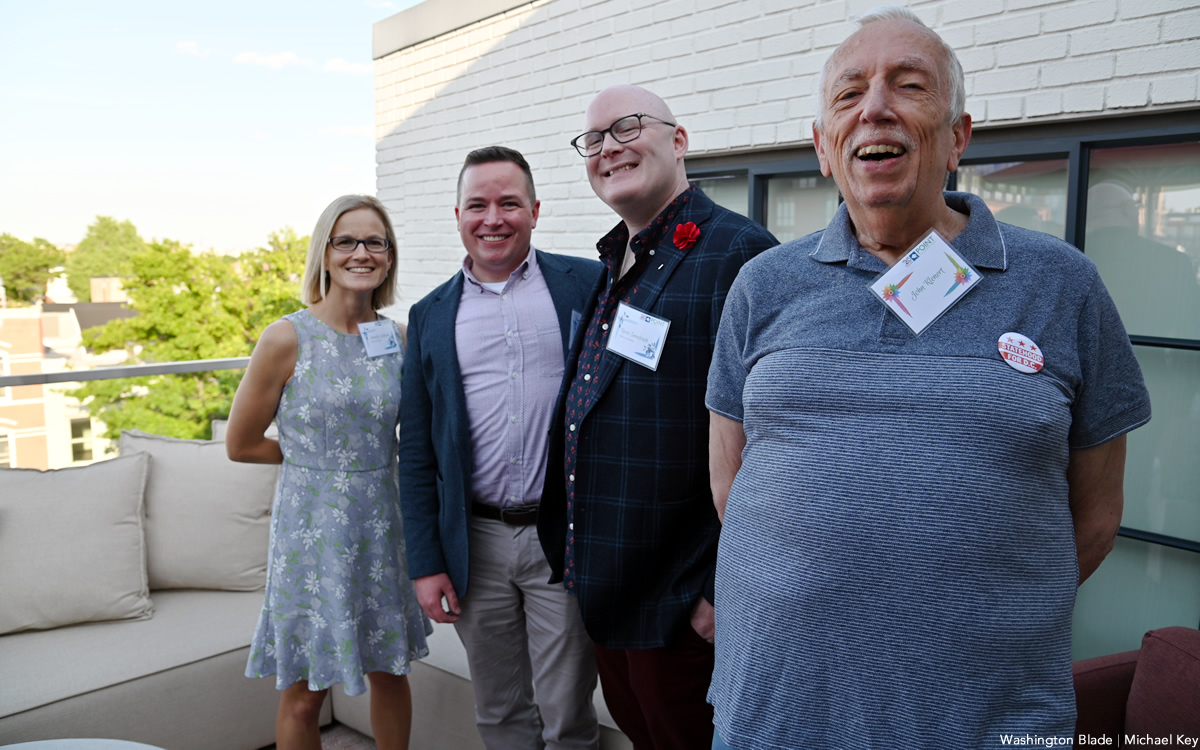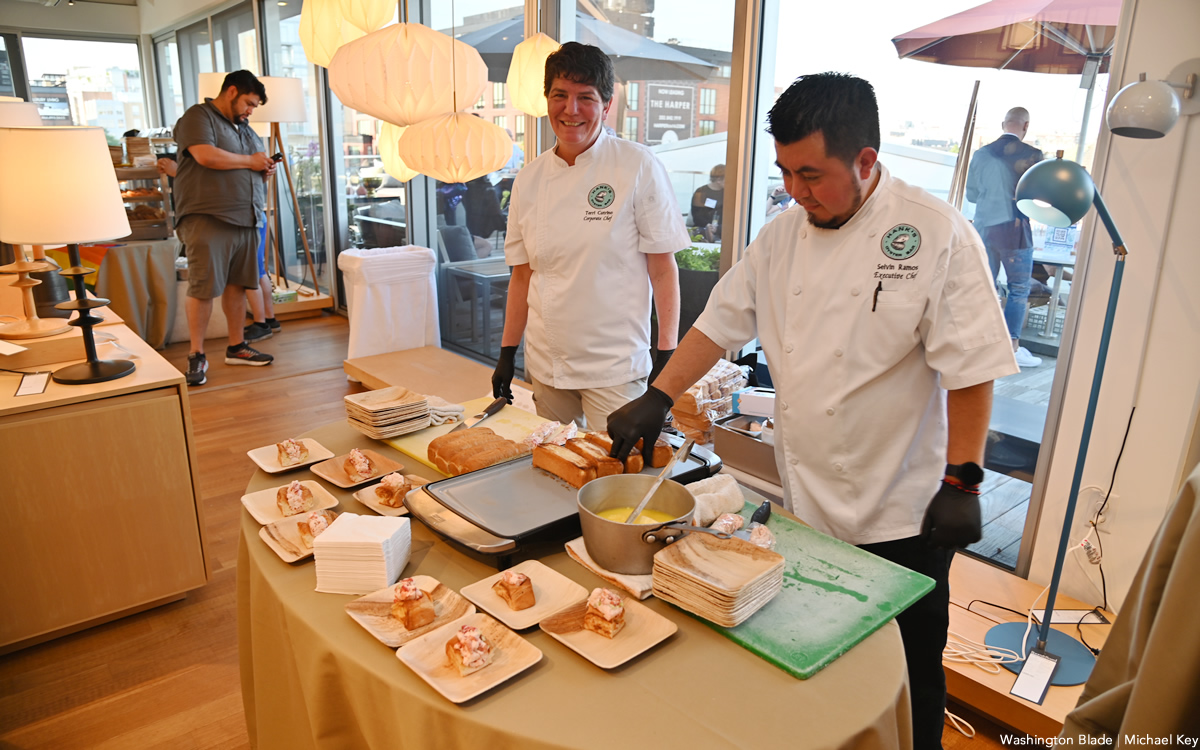 'A piece of heaven' awaits in Easton, Md.
Historic charm, culture, and fine dining just 90 minutes from D.C.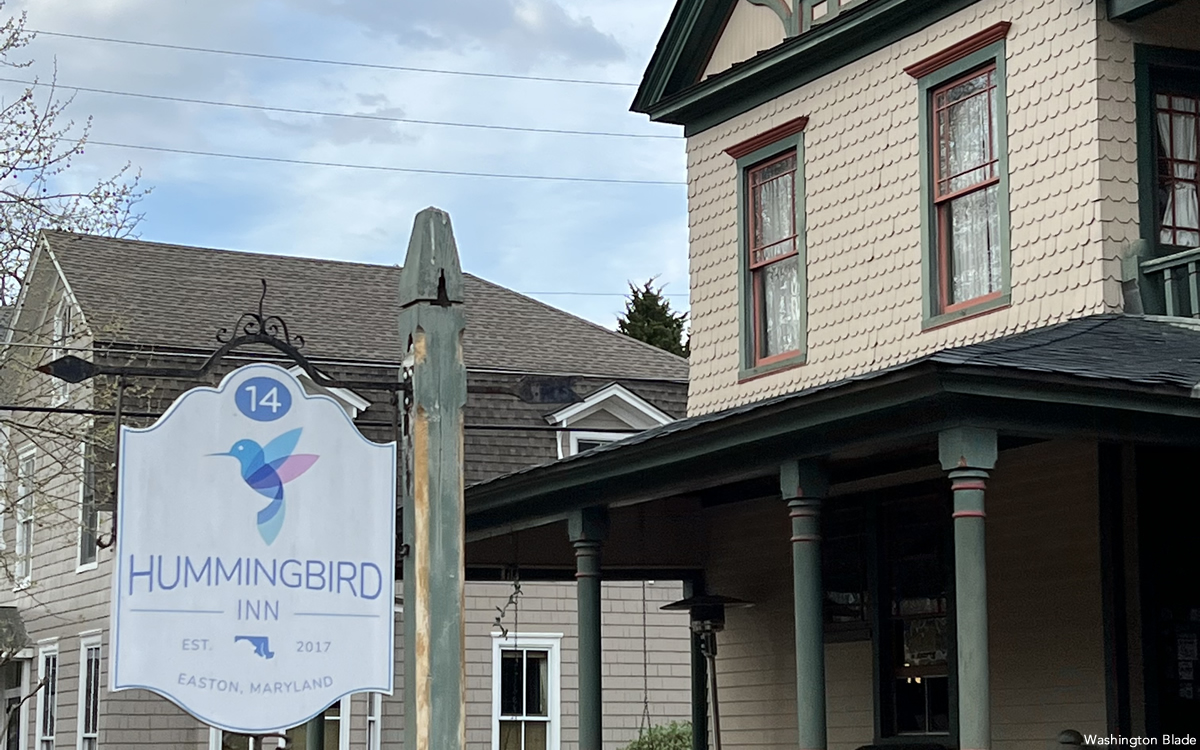 If you've always zoomed past Easton, Md., on your rush to Rehoboth Beach, then you're missing out.
Historic and charming Easton offers stylish and friendly accommodations, an array of eclectic shops and galleries, award-winning restaurants, and more in a welcoming environment for LGBTQ visitors.
Indeed, some of the town's most prominent and successful businesses are gay owned and Easton aims to attract more LGBTQ visitors this year, in part by hosting its first-ever Pride celebration in June.
"This is a welcoming and safe place where people can be who they are and it's a prime location for a more developed gay community," said Eric Levinson, owner of the Hummingbird Inn. Levinson is among the organizers of Easton Pride, scheduled for June 17-19.
Levinson moved to Easton in 2017 and opened the Inn. He says he was anxious about being openly gay because there weren't many gay-identified businesses. When someone stole his Pride flag that year from the Inn's front porch, Levinson blogged about it and says he had a supportive response from the town. Owners of a nearby bed-and-breakfast bought him a new Pride flag and there haven't been any issues since.
In fact, on a recent Blade visit to Easton, Maryland gubernatorial candidate Tom Perez was in town for a campaign stop and one of the first questions he faced from the community was about his platform on LGBTQ issues.
"When I talk about jobs, justice, and opportunity, LGBTQ inclusion has been a huge part of it," Perez said. "One of the privileges of my lifetime has been to work on those issues."
Easton is home to about 15,000 residents in Talbot County, and was incorporated in 1790, though its founding dates to the early 1700s when the Assembly of the Province of Maryland selected it as the site for a courthouse to serve the pre-Revolution population of sea merchants and farmers, according to Discover Easton. It's a mere 90-minute drive from Washington, D.C., and about the same from Rehoboth Beach.
Start your visit by checking into the Hummingbird Inn (14 N. Aurora St.), just a short walk from town, which offers six en suite rooms each named for Eastern Shore towns. The Queen Anne Victorian Inn is fully updated with modern baths. Try the newly renovated and spacious Crisfield Room with its contemporary style and multiple seating areas on the third floor. The Inn is dog friendly and in the mornings, Levinson capably assumes the role of chef, wowing guests with an unrivaled, multi-course breakfast cooked to order. He says his experience traveling to 70 countries around the world informs his approach to hospitality.
"I pride myself on our attention to detail," he says. "I modeled the inn on my travel experience. If I'm going somewhere this is what I'm expecting — I need great products, towels, pillows. That's where I got the experience to know what's expected as a traveler."
And his approach is working — he says at least six former guests have since bought homes in Easton.
Levinson even accommodates those with dietary restrictions at his famed breakfast, noting, "Just because you have a restricted diet doesn't mean you shouldn't have a good time."
Talking with locals, everyone seems to have enjoyed Levinson's breakfast feast; it truly is something to behold, starting with a selection of homemade breads. On a recent visit, there was a baked egg dish and a delicious French toast course. Be sure to indulge — you won't need lunch.
As for Pride, Levinson says he was approached by Delmarva Pride about planning an event. The 2020 plans were scrapped due to COVID. But this year's inaugural event will be a three-day celebration with a drag show, a Pride dance at the Inn, along with a street fair and Sunday brunch. Call the Inn for reservations as special ticket packages will be offered (410-822-0605). The Inn celebrates its five-year anniversary on Aug. 6 with food, drinks, and a band. And if you're planning a wedding, Levinson is ordained and has officiated at numerous same-sex ceremonies.
"I want people to know it's not just a B&B and more than just a place to sleep because we do so many events here," Levinson says.
One of the largest such events is Easton's 18th annual Plein Air festival set for July 15-24, the largest such festival in the country. According to the event site, "Plein air painters produce art from life (as opposed to in the studio)" and this year 58 artists will be juried into the competition. The artwork is for sale and the 2021 event brought nearly $500,000 in sales. Visit pleinaireaston.com for details.
In addition to the Hummingbird, you'll find all sorts of accommodations from quaint B&Bs to the grand dame of Easton, the Tidewater Inn, a large hotel and conference facility that dates to 1947. Its restaurant, Hunters' Tavern, is known for the snapper soup, and the bar is cozy with friendly staff.
Once you're checked in, explore the vibrant scene of shops and galleries. Rediscover the lost pleasure of browsing a bookstore at Vintage Books & Fine Art (4 N. Washington St., vintagebooksmd.com). You'll discover all sorts of fascinating local history and maritime-themed tomes.
Among the local galleries, Studio B Art Gallery stands out. Owner Betty Huang, herself an accomplished artist, represents many esteemed painters and the gallery will host a plein air workshop with Master Jove Wang on July 11. Visit studiobartgallery.com for details.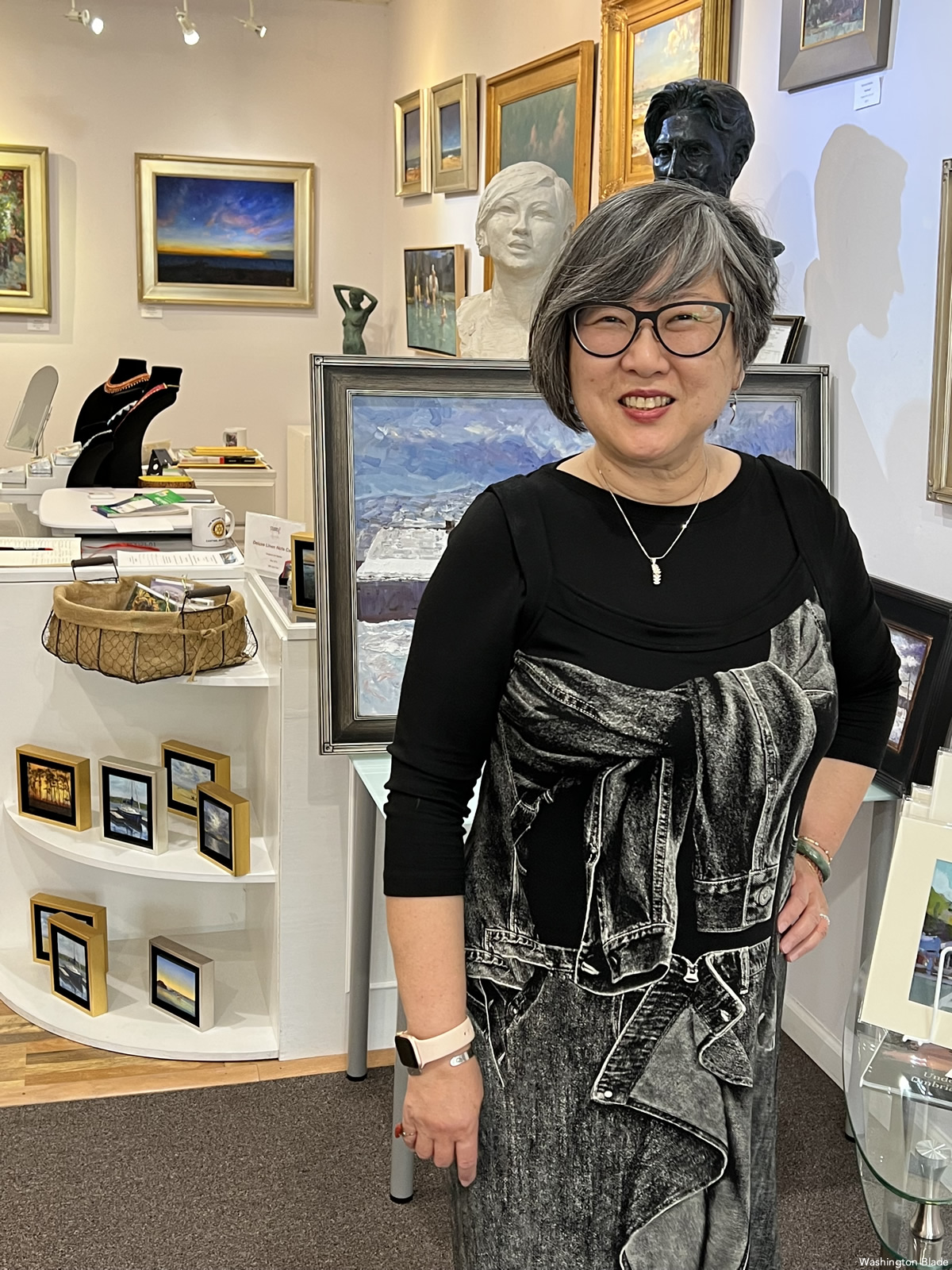 Shopping for clothing? Don't miss Marc Randall boutique (3 E. Dover St., marc-randall.com), offering a mix of classic and edgy women's clothing with a smaller selection of men's wear.
Marc Del Pino owns the boutique and sits on the board of Discover Easton. Over drinks at happy hour, he also seems like the town's unofficial mayor as everyone who enters stops by to say hello. Originally from Trinidad, Del Pino moved to New York and then to Easton. He's been in business in Easton for 29 years.
"I thought I would have a problem moving here but never did," he says. "I never felt like an outsider or out of place; I felt like I came home when I came here for the first time. … I was tired of New York City, it reminds me of Trinidad here being smaller with a charming downtown."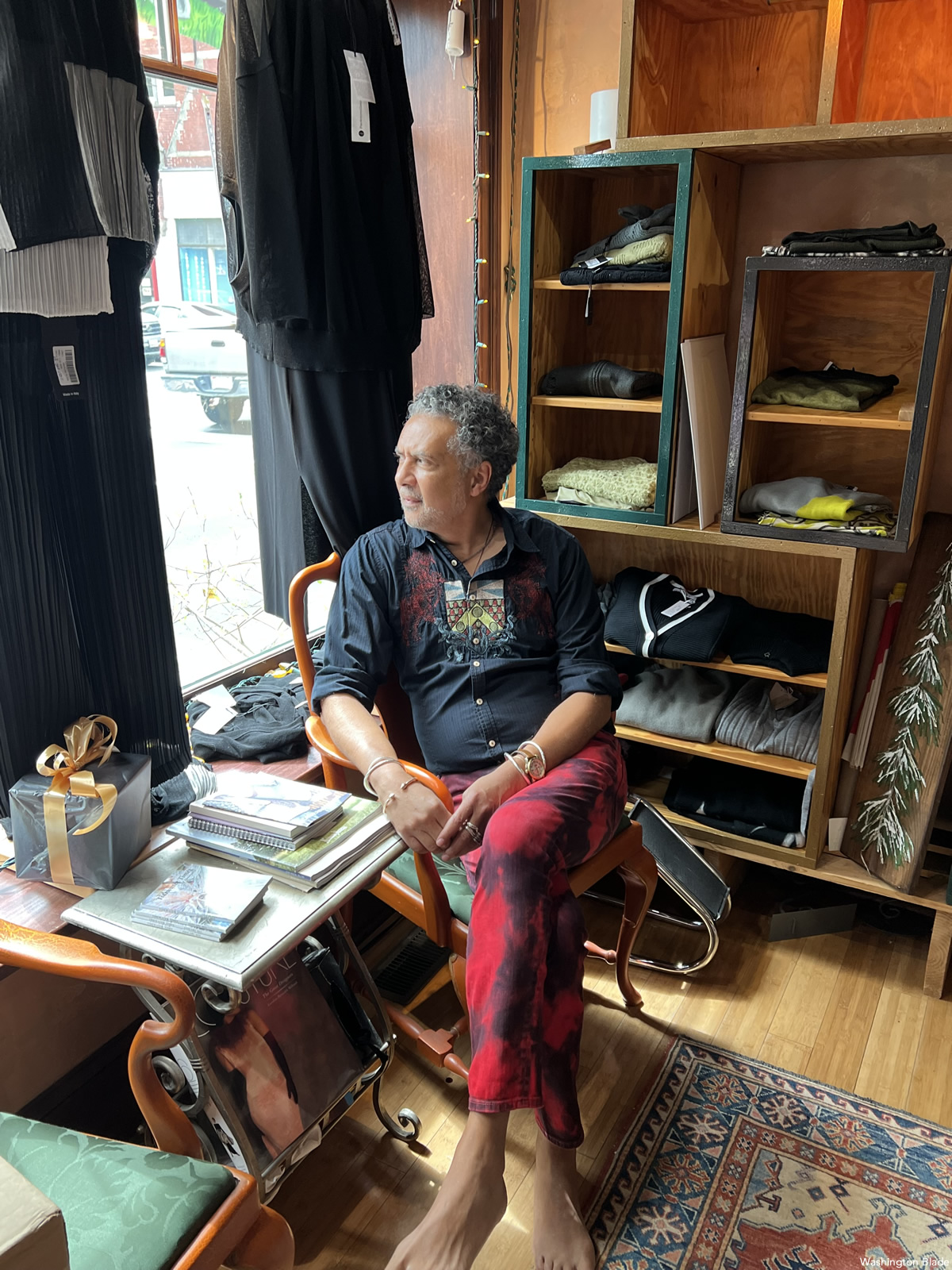 All that shopping will leave you hungry and there's no shortage of restaurants to try. Among the best is Scossa (8 N. Washington St.), owned by Chef Giancarlo Tondin who was born in Italy and began his career at Harry's Bar in Venice. He later worked for the Cipriani family's many New York City restaurants, including the Rainbow Room before relocating to Easton. He specializes in Northern Italian cuisine.
Another standout is Out of the Fire (22 Goldsborough St.), a farm-to-table bistro featuring globally inspired dishes and an open kitchen. Try the warm confit salad of chicken and roasted apples or browse an extensive pizza menu, including everything from duck sausage to a vegan option.
The Wardroom (108 N. Washington St., thewardroom.com) offers a market along with lunch and dinner fare like homemade pastas and enticing selections of charcuterie, cheeses, and wines.
After dinner, head to the historic Avalon Theatre. The building dates to the early 1920s but has been renovated and reinvented through the years. Today the Avalon presents musical and dramatic theater, symphony orchestras, national musical acts along with local talent, according to its site. This summer brings a wide array of programming, from "Hamlet" to a free community talk on parenting. Visit avalonfoundation.org for more information.
For a laid back, welcoming getaway without the summer beach crowds, Easton is a relaxing destination full of history, culture, premier dining, and high-end shopping in an LGBTQ affirming town convenient to D.C.
As Del Pino put it, "I could go anywhere in the world, but I go across the Bay Bridge and I'm home — a piece of heaven."