March 13, 2014 at 12:04 pm EDT | by Mariah Cooper
Calendar: March 14-20
Calendar for LGBT D.C. for the week ahead.
Friday, March 14
Bachelor's Mill (1104 8th St., S.E.) holds a happy hour from 5-7:30 p.m. tonight with all drinks half price. Enjoy pool, video games and cards. Admission is $5 after 9 p.m. Must be 21 and over. For more details, visit bachelorsmill.com.
Cobalt (1639 R St., N.W.) hosts free vodka Friday tonight from 9 p.m.-3 a.m. Free rail vodka 11 p.m.-midnight. Two DJs on two floors. Cover is $10. Admission is limited to guests 21 and over. For more information, visit cobaltdc.com.
Saturday, March 15
The Latino Queer Bilingual Writing Group hosts its monthly workshop today at the D.C. Center (2000 14th St., N.W.) from 12:30-2:30 p.m. The focus will be on memoirs. Open to writers of any genre and levels of experience to share creative work in Spanish or English. Workshop is free and no prior experience is necessary. For details, call 202-682-2245 or email washeg@gmail.com.
Young Artists of America perform an orchestrated version of Tony Award-winning composer Jason Robert Brown's "Songs for a New World" at Winston Churchill High School (11300 Gainsborough Rd., Potomac, Md.) tonight at 7:30 p.m. and Sunday at 3 p.m. For details, visit youngartistsamerica.org.
Mr. D.C. Eagle 2014 hosts "Leather Invasion: 17th Street N.W.," a St. Patrick's Day weekend bar-crawl. The crawl begins at the Duplex Diner (2004 18th St., N.W.) at 7:30 p.m. and ends at Green Lantern (1335 Green Ct., N.W.) at 12:30 a.m. for the "Bears Can Dance" party, Jell-O shots and a price raffle. Money will be raised for SMYAL.
GLBT Outreach and Engagement (GLOE) hosts "Masquerade and Mischief: Purim Drag Ball" at the Washington D.C. Jewish Community Center (1529 16th St., N.W.) tonight from 8:30 p.m.-midnight. There will be a drag performance by Ms. Hilda Seaview and an amateur drag/costume parade and contest with prizes. Tickets are $25 in advance and $35 at the door. There is a free open bar for anyone who comes in costume. Food and desserts are included. Admission limited to guests 21 and over. For more information, visit betmish.org.
Cobalt (1639 R St., N.W.) hosts "Bare: Military Appreciation St. Pattie's Day" tonight from 10 p.m.-3 a.m. Admission is free for those with a valid Military ID. There will be beer pong and flip cup on the first floor. Jameson and Fireball shots are $3. Domestic beers are $5. Music by DJs Rosie and Keenan Orr. For more details, visit cobaltdc.com.
Sunday, March 16
Chick Chat, an ages-50-and-over lesbian singles group, celebrates Women's "Herstory" month with a tour of the Clara Barton House (5801 Oxford Rd., Glen Echo, Md.) today at noon. For details and to RSVP email woernerc@yahoo.com.
Perry's (1811 Columbia Rd., N.W.) hosts its weekly "Sunday Drag Brunch" today from 10 a.m.-3 p.m. The cost is $24.95 for an all-you-can-eat buffet. For more details, visit perrysadamsmorgan.com.
Monday, March 17
United Soldiers and Sailors of America, a non-profit organization that supports combat wounded and their families, hosts a St. Patrick's Day event at Jake's Boiler Room (5018 Connecticut Ave., N.W.) from 4-11 p.m. Admission is $10 and includes a complimentary green beer and St. Patrick's Day mug. There will be $5 Smithwicks and Harp, $8 Irish car bombs and $15 corned beef and cabbage platter. All proceeds benefit United Solders and Sailors of America. For details, visit jakesdc.com.
Rainbow Theatre Project presents a reading of the Noel Coward play "Long Island Sound" tonight at 7:30 p.m. at Source (1835 14th St., N.W.). It tells of an author seeking peace and quiet at a friend's house who is interrupted by a large gathering of boisterous artists and socialites of whom he becomes the main attraction. About 20 local and student artists will present the reading. Rainbow Theatre Project is a new LGBT-specific theater company.
Tuesday, March 18
Transgender Legal Advocates of Washington (TransLAW) hosts its annual celebration and fundraiser tonight at Lost Society (2001 14th St., N.W.) tonight from 6:30-9:30 p.m. There will be an open bar with wine and specialty cocktails and light hors d'oeuvres from 6:30-7:30 p.m. There is a suggested $10 donation at the door but no one will be turned away for lack of funds. For more information, visit translawdc.org.
"Elton John: The Million Dollar Piano," a filmed concert special of John's "Million Dollar Piano" show at Caesars Palace in Las Vegas, plays at AMC Mazza Gallerie (5300 Wisconsin Ave., N.W.) tonight at 7 p.m. as part of a special two-night event. There will be another showing on March 26.
Wednesday, March 19
Bookmen D.C., an informal men's gay literature group, discusses "The Lost Library: Gay Fiction Rediscovered" edited by Tom Cardamone at the American Foreign Service Association (2101 E St., N.W.) tonight at 7:30 p.m. All are welcome. For details, visit bookmendc.blogspot.com.
The Tom Davoren Social Bridge Club meets tonight at 7:30 p.m. at the Dignity Center (721 8th St., S.E.) for social bridge. No partner needed. For more information, call 301-345-1571.
Thursday, March 20
Freestyle Fitness presents "Go Live and Rewind," a fitness dance party that benefits Capital Pride 2014, is at Town (2009 8th St., N.W.) tonight from 7-11 p.m. Enjoy music from DJ miGGL from the '80s, '90s and today from pop, hip-hop, Latin and more while getting a workout. For more details, visit facebook.com/freestylefitnessmoves.
Congressional Chorus presents "New York, New York: An American Cabaret" at Atlas Performing Arts Center (1333 H St., N.W.) tonight at 8 p.m. through March 23. A cast of 85 singers and dancers perform musical selection from notable people in the music industry from New York City including Stephen Sondheim, Billy Joel, Alicia Keys and Jay-Z. Tickets are $45. For details, visit atlasarts.org.
Dan Savage, gay author and co-founder of the "It Gets Better Project" brings his "Hump!" Film Festival to Woolly Mammoth Theatre (641 D St., N.W.) tonight with showings at 6, 8 and 10 p.m. These 15 short films discuss sexual situations and include straight, gay, lesbian and transgender stories. Tickets are $20. Screenings go through March 22. For more information, visit humptour.strangertickets.com.
Whole Foods (1440 P St., N.W.) hosts "Drag Bingo on P Street" featuring the Imperial Court of Washington tonight from 7-9 p.m.  There will be prizes and snacks. All proceeds benefit Whole Planet Foundation. For more details, visit wholefoods.com/events.
LGBT personnel assigned to the Pentagon meet at Freddie's Beach Bar (555 23rd St., Arlington) today from 5-7 p.m. for happy hour. This monthly event (the third Thursday of each month) is open to military, Department of Defense civilians and military contractors who work in and around the Pentagon.
The band cut/copy plays Echo Stage (2135 Queens Chapel Road, N.E.) tonight at 7 p.m. Tickets are $35. Visit echostage.com for details.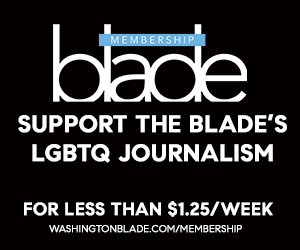 Sign Up for Blade eBlasts