Graham, Nadeau fight for LGBT votes in Ward 1 race
Gay incumbent stresses importance of keeping 'seat at table'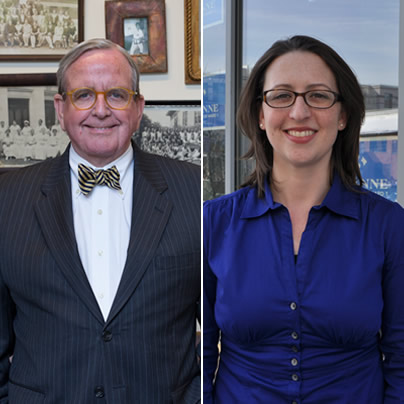 Gay D.C. Council member Jim Graham (D-Ward 1) and challenger Brianne Nadeau are attracting citywide attention as the two battle over the LGBT vote and the vote from other diverse population groups in Ward 1 in a hotly contested race in the city's April 1 Democratic primary.
Most political observers say Graham is facing his toughest re-election campaign since first winning the Ward 1 Council seat in 1998 as an openly gay man.
Nadeau is a former advisory neighborhood commissioner and vice president of a local public relations firm that specializes in promoting progressive causes. She's an outspoken supporter of LGBT rights and has vowed to be a champion for the LGBT community if elected to replace Graham.
Graham has argued that his status as one of two openly gay members of the Council brings an important insight and sensitivity into his work on behalf of the LGBT community that straight allies, no matter how committed, don't have. He also notes that his out gay colleague, David Catania (I-At-Large) is giving up his Council seat to run for mayor.
Thus if he were to lose his re-election bid, Graham has said, it would leave the Council without an openly gay member for the first time in 16 years.
In addition to his role as a strong advocate for LGBT equality, Graham has long been viewed as a champion of progressive causes such as tenants' rights, low-income workers, and the needs of the highly diverse immigrant population of Latinos, Asian-Pacific Islanders and Ethiopians, among other immigrant groups, that have settled in Ward 1.
He has had longstanding support from these demographic groups as well as support among longtime black residents of the eastern part of the ward. Combined with past support from younger professionals moving into refurbished neighborhoods Graham says he helped bring about normally would have made him the odds-on favorite to win the Democratic nomination for a fifth term in office, according to Ward 1 political activists.
But the same activists and Ward 1 observers now say all bets are off due to a flurry of negative media reports about Graham over the past several years stemming from an allegation in 2008 that he interfered with the contract approval process for a Metro development project while serving on the Metro board.
Based on findings of an investigation by Metro, the D.C. Council voted 11-2 in February 2013 to reprimand Graham for violating a city ethics rule by improperly mixing his role as a Council member and Metro board member.
The investigation concluded that Graham favored one developer over another to receive a contract to develop a residential and commercial complex in his ward. He then urged the developer he didn't favor to withdraw in exchange for Graham pushing for that developer to receive an unrelated city lottery contract, the investigation found.
Graham has long asserted he did nothing wrong, saying the developer he opposed was unqualified for the project and he acted in what he believed to be in the best interest of his constituents. He told the Blade he never favored the other developer and noted that ultimately a third developer emerged to carry out the project.
"If you look at the facts, there was no crime committed, there was no law broken, there was no money exchanging hands," Graham told the Blade.  "And what we have is a conflict between two roles of a Metro Board member and Council member."
Graham points out that the Metro contract matter happened nearly six years ago and that he was re-elected in the interim.
Nadeau has attacked Graham over the ethics issue since entering the Ward 1 race last year, saying the Council's decision to reprimand Graham has decreased his effectiveness as a Council member.
She raised the issue again on Monday in a debate with Graham on News Channel 8's Bruce DePuyt Show, saying Graham's actions were another in a series of ethical lapses by D.C. Council members over the past four years that resulted in the criminal prosecution of three of Graham's colleagues on corruption charges.
Her candidacy received a boost last week when the Washington Post endorsed her following earlier endorsements she received from the Current newspapers and Council members David Grosso (I-At-Large) and Tommy Wells (D-Ward 6), who's running for mayor. She also received an endorsement from former Ward 6 Council member Sharon Ambrose, the prominent feminist group Emily's List, the Women's Campaign Fund and the D.C. Association of Realtors.
The Post endorsement of Nadeau was expected because it came on the heels of a series of Post editorials criticizing Graham over the Metro contract and ethics allegation.
Graham, meanwhile, has received endorsements from prominent labor organizations including the Metropolitan Washington Council of the AFL-CIO; the American Federation of State, County, and Municipal Employees (ASCME); the Hotel and Restaurant Workers Union; the Service Employees International Union (SEIU); National Nurses United, and the Teamsters. The Hotel Association and the Sierra Club also endorsed Graham.
Graham has also received the backing of Ron Simmons, president and CEO of the Ward 1-based AIDS advocacy and service organization Us Helping Us, which reaches out to black gay men; and of Kurt Schmoke, the former Baltimore mayor who since 2003 has served as an administrator at Howard University in D.C.
Schmoke, who currently holds the position of Interim Provost and Chief Academic Officer at Howard, told the Blade he contributed to Graham's campaign as an individual, not in his official capacity, to express his "thanks" for Graham's support of Howard.
"My perception is that Councilman Graham has been very supportive of the university on a variety of issues that have arisen" over the past decade, he said.
Graham has said he believes his support remains strong among LGBT voters. But doubts over that assumption surfaced last month when Nadeau finished ahead of Graham at the Gertrude Stein Democratic Club's endorsement meeting by a vote of 70 to 64. She didn't receive the endorsement of the Stein Club, the city's largest LGBT political group, because she fell short of capturing a required 60 percent of the vote needed to endorse.
However, her strong showing raised eyebrows among LGBT activists, who view Graham as a leader on LGBT issues for more than 30 years as a Council member, attorney, and past executive director of the city's Whitman-Walker Clinic during the height of the AIDS epidemic.
Graham's supporters say the Stein Club members voting in the Feb. 27 meeting aren't representative of the LGBT community in Ward 1, which they predict will turn out for Graham in large numbers on Election Day.
Graham supporters also point out that Graham received a higher rating from the non-partisan Gay and Lesbian Activists Alliance. GLAA gave Graham a +7.5 on a rating scale of -10 to +10. The group gave Nadeau a rating of +5.
Nadeau supporters, however, say the Stein Club vote reflects the view by many in the LGBT community that Nadeau would be a strong advocate for LGBT equality on the Council and that LGBT voters are now focusing on a wide range of non-LGBT issues on which to base their vote. They argue that just like all other Ward 1 residents, LGBT residents are also troubled over Graham's alleged ethics breach.
Nadeau disputes arguments by Graham supporters that Graham's motive in intervening in the Metro contract matter was to push for the best possible deal for his Ward 1 constituents, which boosted his reputation as a fighter for the interests of his ward.
Some Graham supporters have said Nadeau would be far weaker than Graham on constituent services issues because, unlike Graham, she wouldn't be as aggressive and unafraid to step on toes to get things done as Graham is. Nadeau bristled over that claim in an interview with the Blade earlier this month.
"I will tell you, I will throw elbows," she said. "I will fight. I will be tough. But I will never cross the lines that he has crossed," she said. "And I will never – you will never, ever read about me for ethical lapses, quote unquote, which, by the way, are politician-speak for corruption."
Graham's supporters say the ethics matter, in which no law was violated, is being used by Graham's critics to unfairly put him in the same category as three former Council members – Kwame Brown (D-At-Large) and Harry Thomas (D-Ward 5), who were forced to resign after facing criminal prosecution on corruption related charges, and Michael Brown (I-At-Large), who was prosecuted on bribery charges after losing his re-election bid in 2012.
"This is the only plank in my opponent's platform," Graham said in an interview with the Blade. "She is unable to point to anything that is significant that she's accomplished in the ward. And so this is what I expect her to take advantage of."
Graham also challenged Nadeau's stated record of accomplishments for Ward 1 residents as an ANC commissioner.
"She has been an ANC member, but I went over my email during her time of service and it's just email after email after email from her," he said. "Council member, will you help me with this? Council member, will you set up this meeting? Council member, will you intervene on this matter?"
According to Graham, Nadeau benefitted personally from his constituent service work when she sought his help in obtaining a city subsidy under the D.C. Home Purchase Assistance Program, known as HPAP, to assist in her purchase of a condo. Graham said she encountered a bureaucratic "roadblock" that his office helped her resolve.
"I was happy to do it because I always respond that way to everybody who contacts me," Graham said. "But she's never acknowledged all the help she got from me as an ANC commissioner, which was very substantial and frequent."
Nadeau fired back when asked to respond to Graham's comments.
"It's the job of a Council member to respond to constituent service requests and to work with ANCs to resolve issues in the community, and I've never suggested that Jim hasn't done that," she said.
"But we deserve to have a Council member who can deliver constituent services while also behaving ethically in office," she added. "Jim has demonstrated his inability to behave ethically and his corrupt behavior led his colleagues to reprimand him and strip him of a leadership role that is important to our community."
She was referring to a decision by Council Chair Phil Mendelson to remove from the portfolio of the committee that Graham chairs jurisdiction over of the city's Alcoholic Beverage Regulation Administration (ABRA) at the time Graham was reprimanded. Nadeau said losing direct jurisdiction over ABRA reduced Graham's ability to have a say over issues involving liquor licenses, which directly impacts Ward 1.
Graham has said he has continued to play a key role in ABRA matters as an individual Council member with years of experience working on liquor-related issues.
Prominent LGBT advocates have lined up behind both Graham and Nadeau, and without polling data measuring the gay vote it's impossible to predict which of the two will capture a majority of that vote or whether the LGBT vote will split evenly between them.
Veteran lesbian activist and Ward 1 resident Barbara Helmick, who supports Nadeau, and gay businessman and Latino community advocate Jay Haddock, who is backing Graham, appear to represent the view of many in the opposing camps within the LGBT community over the Graham-Nadeau race.
Helmick is among those who believe Nadeau's overall qualifications and strong commitment to LGBT equality outweighs the loss of an openly gay Council member if she wins her race for the Ward 1 Council seat.
"Brianne will bring a fresh new energy that the Council desparately needs," she said in a statement to the Blade.
She notes that when Graham successfully challenged 16-year Council veteran Frank Smith in 1998 he argued that 16 years was a long time to serve and that it would benefit the ward to have a new face on the Council.
"I thought Jim was right then and now that Jim has served 16 years, I think it is apt today," Helmick said. "Sometimes after so long, some politicians become more of the system than of themselves."
Haddock, a native of Puerto Rico who serves as president of Capital Hotels and Suites, said he witnessed first-hand Graham's dedication and effectiveness in the fight against AIDS during Graham's tenure as head of Whitman-Walker Clinic. At the time, Haddock, among other things, served as chair of the city's Latino Commission under then Mayor Anthony Williams.
"The Jim Graham I know would run to people's side to do a will because they were dying," he said. "The Jim Graham I know has really been on the first line of defense for minority communities."
Graham was especially helpful to Latino community projects during his tenure on the Council, Haddock said, including with La Clinica del Pueblo, a health clinic that treats many LGBT clients.
"If some people don't feel he should be around any longer in his ward, that's entirely up to them," said Haddock. "But I completely feel that he is very effective, very dependable and a good friend to the minority communities of Washington, D.C. And it's very important to have that representation on the Council."
A busy July 4 weekend in Rehoboth Beach
Del Shores, Lady Bunny, Pamala Stanley and more set to entertain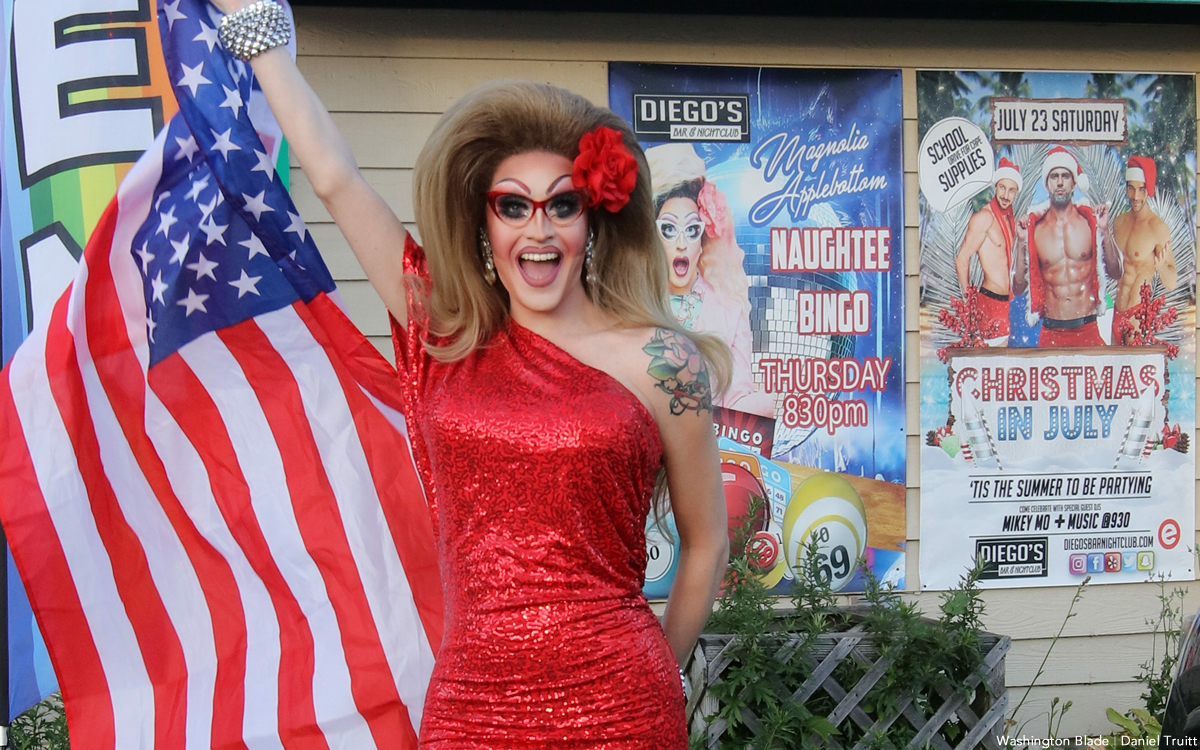 As July 4 approaches, another Rehoboth Beach summer is abuzz with possibilities for in-person fun ranging from dinner downtown to live performances featuring local artists.
For starters, stop for dinner at Red, White & Basil. This brand-new restaurant was scheduled open its doors to the Rehoboth community on June 29 after making the move from D.C. to Route 1, where it can be found south of Coldwell Banker and just north of Big Fish. Mark Hunker and Jeff McCracken of Eden and JAM Bistro and Coho's Market & Grill are behind the new venture.
Diego's Bar & Nightclub (37298 Rehoboth Ave. Ext.) is entering the July 4 weekend strong. Kick off the new month with a happy hour Friday from 4-8 p.m. On Saturday, don't miss a Splash Party from 5-7 p.m. or an Independance Party with DJ Steven J from 9:30 p.m. to 1:30 a.m. all at the same venue.
Come back to the bar on Sunday from 4-8 p.m. for a happy hour followed by a 9:30 p.m. to 1:30 a.m. Studio 54 Party with DJ Jeff Harrison. Round out your weekend at Diego's with the show-stopping DJ during the bar's July 4 Independence Day Dance from 9:30 p.m. to 1:30 a.m.
Witness the wonder of local legends Kristina Kelly and Mona Lotts as they perform in a special July 4 drag brunch at The Pines, with doors opening at 56 Baltimore Ave. at 11:15 a.m. Tickets are $15 and can be purchased online. Come back that evening for the Flaming Pianos show featuring local favorites John Flynn and Matthew Kenworthy from 6-9 p.m.
Also at the Pines is Furst Friday happy hour with the Rehoboth Beach Bears on July 1 from 6-8 p.m. That same night, the legendary Del Shores performs "The Tea is Spilled" at 7:30 and 9:30 p.m.
Across the street at Aqua, don't miss FireWerk with DJ Chord on Friday at 9 p.m.
The Blue Moon (35 Baltimore Ave.) has a robust lineup of entertainment planned, including Show Tunes Sunday on July 3 and Lady Bunny performing on July 4 from 9:30-11 p.m. Tickets are $44. Also at the Moon, don't miss the talented New York City pianist Nate Buccieri, Monday-Thursday, 6-8:30 p.m.
Freddie's Beach Bar continues its first summer season with karaoke on Thursdays and Sundays at 8 p.m., Drag Follies show Fridays at 9 p.m., and a DJ dance party on Saturdays at 8 p.m. Freddie's also hosts the beloved Pamala Stanley on Sunday, July 3 from 6-9 p.m.
Stick around until Friday, July 8 and you can watch local drag star Magnolia Applebottom grace the stage of the Milton Theatre, located at 110 Union St. in Milton, Del. Doors open at 7 p.m., and tickets can be purchased for $20 online.
As visitors from far and wide eagerly await a Rehoboth Beach summer with fewer restrictions, these events will be sure to make everyone's Independence Day this year is nothing short of spectacular.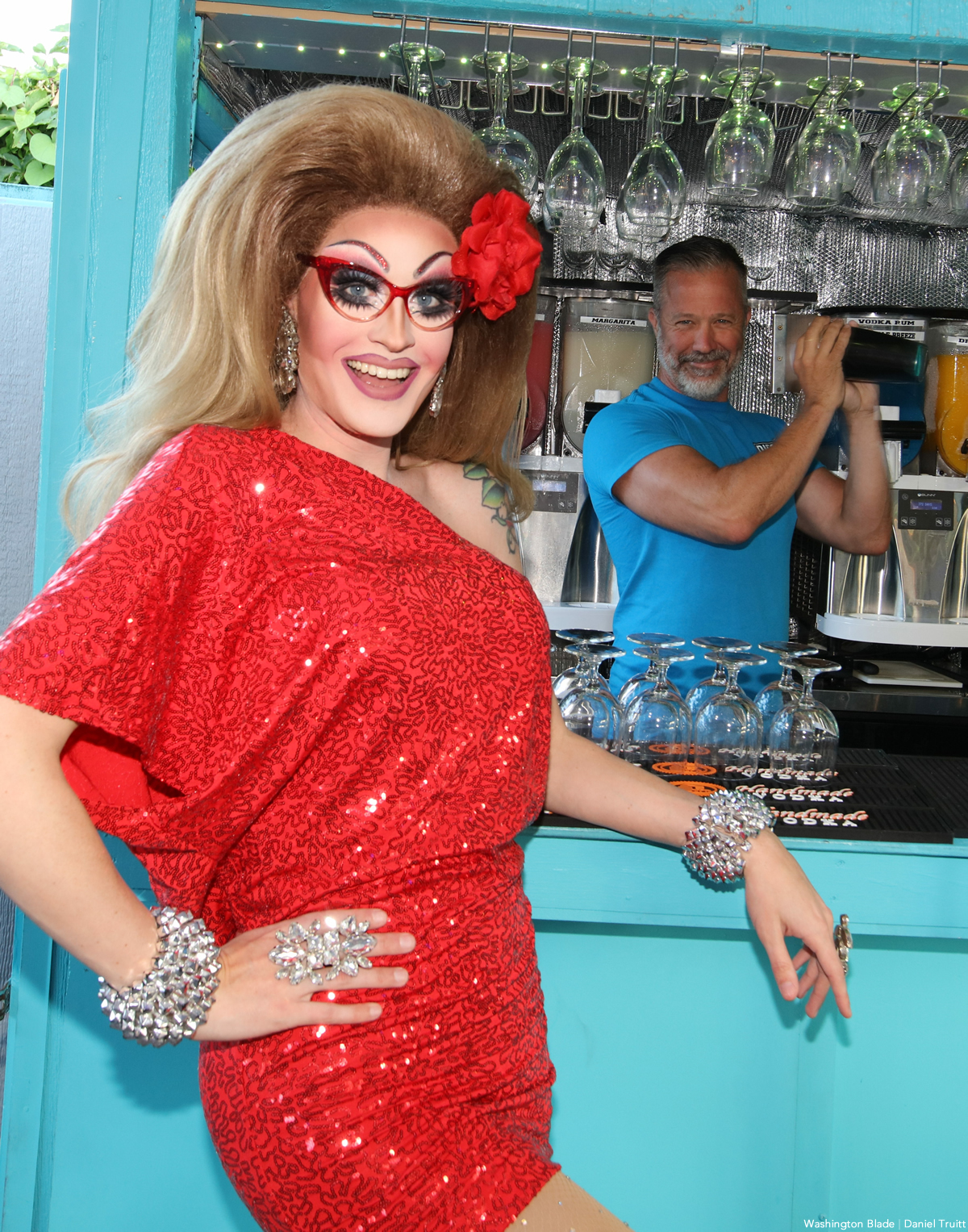 Gay, lesbian incumbents, candidates on Md. county ballots
State's primary is on July 19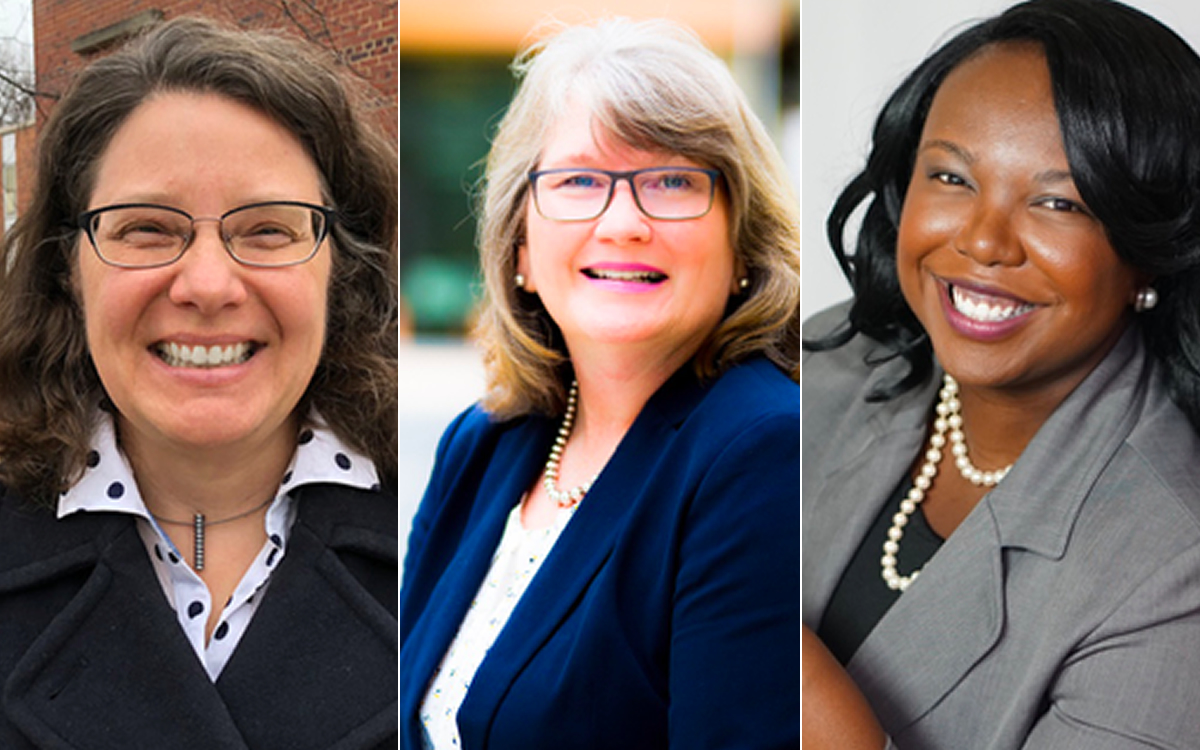 The Washington Blade this week spoke with five openly gay and lesbian candidates who are either running for office or are seeking re-election in Montgomery, Prince George's and Howard Counties.
Montgomery County Councilman Evan Glass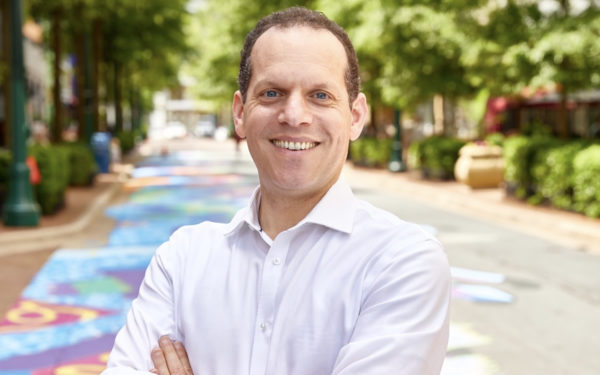 Evan Glass serves as the vice president of the Montgomery County Council and as its first openly LGBTQ member. Previously working for 12 years as a CNN journalist, he was first elected in 2018.
Glass told the Blade that running to continue as a member of the Council was rooted in the change that has been able to be made thus far.
"When I first raised the Pride flag in an official manner in 2019, I received a lot of pushback and hate," Glass said. "But we persisted and have continued expanding Pride events and celebrating our beautiful diversity."
Since his election, Glass' initiatives in Montgomery County have included a host of local legislation aimed at promoting and furthering social justice and LGBTQ equality in the county.
Along with measures, such as the county's Housing Justice Act and Oversight and Small Business Investment Act, Glass' efforts led to the Council to pass its Pay Equity Act designed close the gender wage gap by modifying how the county determines salaries for employees. He also worked to spearhead the passage of the county's LGBTQ Bill of Rights, which expanded its anti-discrimination code to include gender expression and HIV status and ban discrimination in areas such as healthcare facilities, nursing homes and personal care facilities.
As he makes his bid for reelection later this summer, Glass said that he hopes to expand on the accomplishments he has been able to make so far.
"I'm proud of my work to create more affordable housing, to make our buses free for all youth, and to keep our residents healthy and safe during the pandemic," Glass said. "These efforts haven't been easy, but they are critical to fostering a more fair and equitable community."
Montgomery County Circuit Court Clerk Karen Bushell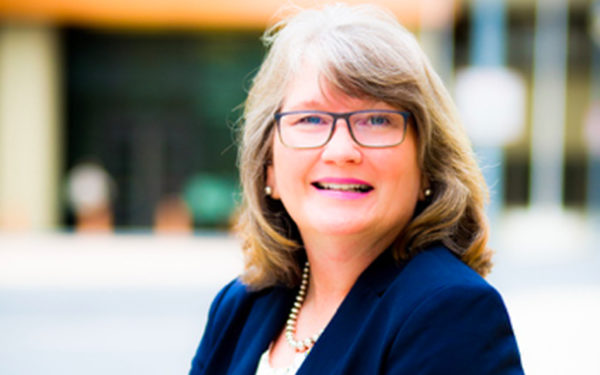 Karen Bushell grew up in the Midwest before moving to the D.C. area in 1985, where she met her wife in 1995. Bushell had four children and her wife had two children when they met, and according to Bushell, "we had a very, very busy house."
Bushell started serving in the judiciary in 2001 — as an HR associate, and then as a judicial assistant for many years. When Barbara Michael retired as Clerk of the Court in April 2021, Bushell was appointed to the position, making her the first openly LGBTQ person to hold it.
The Clerk of the Court serves as an independent record keeper of what happens in the courts, and Bushell described the clerk's role as primarily that of a public servant.
"I love my job; I love being part of the judiciary. Being a public servant, it's always good to know at the end of the day, that you help somebody," Bushell said. "I think being a public servant is something that is important to me, so that is one of the reasons that that I'm running."
Prince George's County Public Schools Board of Education member Pamela Boozer-Strother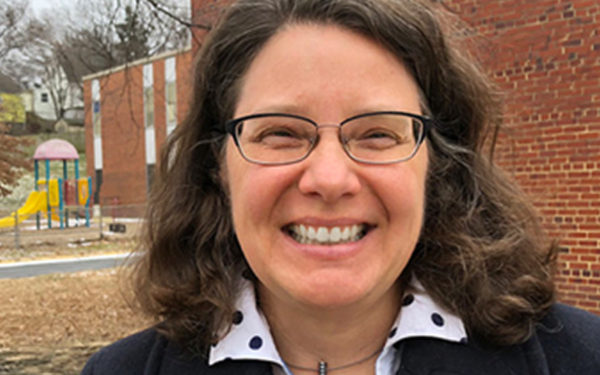 Pamela Boozer-Strother first became involved in LGBTQ and reproductive rights advocacy in the late 1980s as part of what was then called the National Lesbian and Gay Journalists Association. During the decade she spent working with NLGJA; she worked towards inclusive workplace policies, fair and accurate news coverage of LGBTQ issues, and domestic partner benefits.
After living in Adams Morgan for years, Boozer-Strother moved to Prince George's County with her spouse Margaret, where they adopted a child and built a life together. Boozer-Strother first became involved in the school system when her son started attending public school in Prince George's County, and in 2018 she ran for the Board of Education and won. 
"I had an opportunity to make a difference by being visible, and finding other gay, lesbian, bisexual and transgender families and staff — and ultimately, students — and helping to build that network of support," Boozer-Strother said. "It's taken some time; I ran for the board in 2018 as an out candidate and I won, and I am thrilled to live in a community that saw that as an asset."
Boozer-Strother has worked extensively on school construction, educational equity policy, LGBTQ-inclusive curricula and the board's climate change action plan.
"Of course, I focused in on the relevance of my representation and my skills and background that I could bring to [my platform.] But really, I got into this because of school construction," Boozer-Strother said. "I'm really proud to say that, as of today, seven projects that serve District 3 students are fully funded."
Prince George's County Council candidate Krystal Oriadha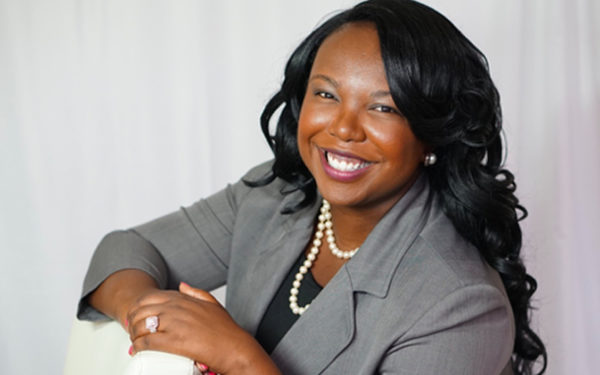 Krystal Oriadha studied business at Howard University before getting an MBA and working at Hewlitt-Packard. After a few years with HP, Oriadha moved back to the DMV area, where she said that "I wanted to use my skill set to help people and make an impact."
Oriadha has now been a community organizer and advocate for more than 12 years — she worked with the U.S. Department of Health and Human Services on human trafficking prevention, reproductive healthcare, domestic violence campaigns and tribal nations issues for about four years before she made her first run for office, for the same seat for which she is running now. Although Oriadha lost that election by 30 votes, she became the new council member's policy director, which gave her the chance to work on making legislation as a staffer.
"I think I learned that I wanted to be the principal even more, because they had the ability to make deals, cancel what I thought was really good legislation," Oriadha said. "It's really different when you're the person that gets the make that last call — that's the difference between having a seat at the table and being outside of the room when decisions are being made."
Oriadha currently serves as the executive director of PG Change Makers, a local nonprofit she co-founded after returning to Prince George's County to do community work in the aftermath of George Floyd's murder. Although she was not initially planning to run for office again, Oriadha said that she is doing so at the request of her community.
"I was not planning on running again because it is a lot of work and I never really cared about being elected, but the community is asking me to, so I decided to go ahead and give it another try," Oriadha said.
Oriadha said that proudly representing all aspects of her identity is a crucial part of her campaign.
"When I first ran, there was a lot of talk about how not to talk about the LGBTQ+ part, because I'm straight presenting. And for me, what was so important is that I made it very clear who I am, and that I didn't shy away or hide that part of myself, because to me, you're not breaking the [glass] ceiling if people don't even know the ceiling existed. I think that we've never had an openly elected LGBTQ+ person sit on our County Council before," Oriadha said.
"I think what this will show is that you can run and be yourself and it won't cost you anything. I think that's what is so important about this election."
Howard County Register of Wills Byron Macfarlane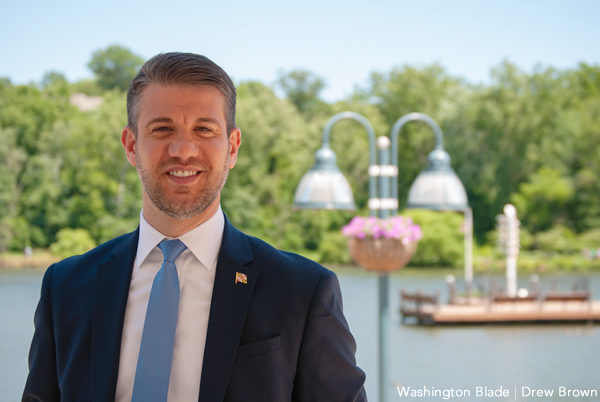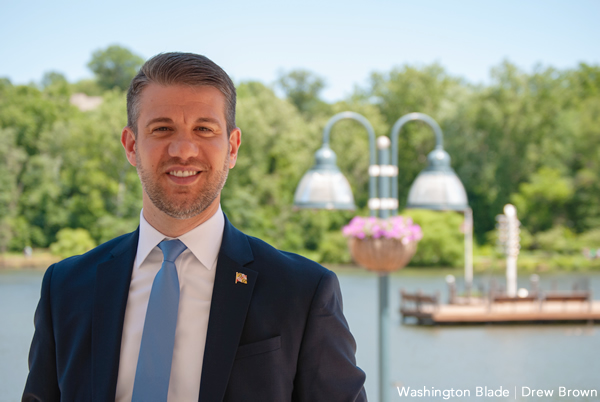 Howard County Register of Wills Byron Macfarlane has served in the position since 2010 and was the first openly LGBTQ person elected in Howard County.
Along with his involvement in a plethora of state and local groups and organizations and being admitted to the state bar association, Macfarlane gained experience working for multiple prominent lawyers and politicians including County Councilman Guy Guzzone, Circuit Court Judge Richard Bernhardt, state Sen. Edward Kasemeyer and the late-U.S. Sen. Ted Kennedy (D-Mass.)
During his tenure in office, Macfarlane has made supporting the LGBTQ community an integral facet of his identity as a public official and a fellow citizen.
"Queer kids see the hate coming from the dark corners of our community," Macfarlane wrote on Twitter. "They need to hear from us — from you — that we love and support every one of them."
Since being elected, Macfarlane has overseen a number of reforms implemented in the Register's office, including modernization of its technological aspects and a cut on taxpayer expenditures for antiquated procedures. Modernizing the Register's office and leading on reform, while also being receptive to his constituents, Macfarlane has said, have been some of his top priorities.
"I've proven myself as a reliable and responsive figure in our local government, that I've been extremely effective delivering meaningful reform, and that now more than ever our community needs steady, forward-looking leadership they can trust," Macfarlane told the Blade. "I'm running for re-election because representation matters, because I want to continue serving the public with professionalism, compassion, and fairness, and because I want to continue pushing reforms to make probate faster, fairer and less expensive for Marylanders."
Editor's note: Somerset Mayor Jeffrey Slavin, who is openly gay, won re-election on May 10.
Eastern Panhandle Pride brings celebration to rural W.Va.
'Martinsburg is an inclusive city'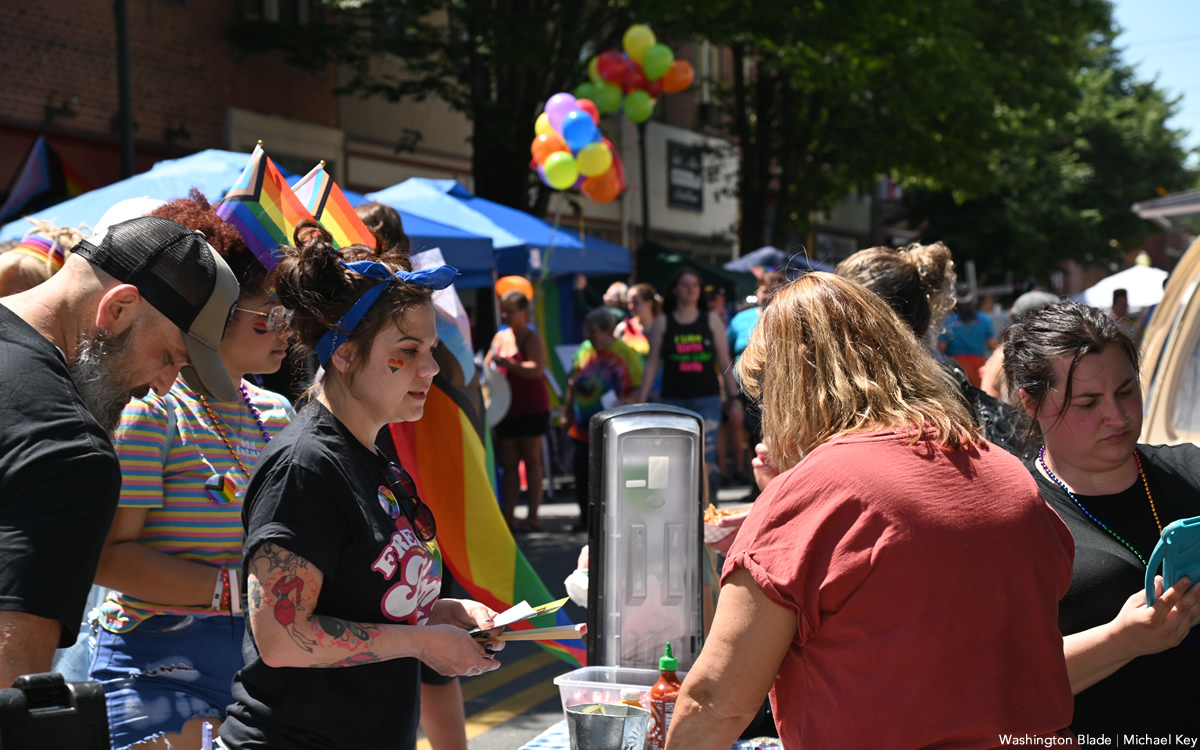 Smiling faces spilled into downtown Martinsburg, W.Va., on June 4, welcomed by booths swathed in rainbow colors lining the road.
The historic sight marked the first time that Martinsburg welcomed an official Pride celebration to its streets — but not all residents viewed the new event favorably. As the celebration came into full swing, two protesters marched straight to its center, carrying a sign with homophobic slurs and a seven-foot cross.
The protest quickly turned the heads of passersby. As more and more people approached the demonstration, a group of more than 30 attendees formed a circle around the protesters, separating them from the event. Some joined hands and, attempting to drown out the protesters' hatred, chanted: "Love wins!"
When Joe Merceruio began working at Eastern Panhandle Pride nine years ago, he set out to help unite the community of West Virginia's easternmost region, working with fellow organizers to create Pride celebrations in a Shepherdstown park.
But when assuming the role of president in 2019, he never anticipated that just three years later, the organization would be invited by the mayor of the panhandle's largest city to throw a celebration in the Berkeley County, W.Va. seat. "We've never had a city reach out to us and ask us to do Pride, it was always the other way around," he explained.
Born and raised in Martinsburg, Merceruio was moved by the way his community came together at this year's Pride celebration. After two years of restricted celebrations due to public health concerns, seeing so many people celebrate in person, including many allies, was deeply meaningful, he noted.
Beth Roemer, who helped organize this year's festivities, said she was especially proud of the way her community peacefully organized against the protesters — especially those young people she credited with leading the charge. The group was "surrounding them in a very passive way so that they couldn't do any more damage," she recalled.
Participating in Pride each year has shown Merceruio and Roemer alike the ways their community is changing, fueled by advocacy from LGBTQ individuals and allies within it.
Berkeley County is known for being more conservative, which meant that Roemer "wasn't sure" exactly "how far we had come" in accepting the LGBTQ community. But her hopes for inclusivity were quickly realized when she saw how many people supported this year's celebration.
"We had a local business downtown reach out to Joe and I, and he said he just never believed in a million years that we could have Pride downtown," she added. "He was super happy."
According to Merceruio, Pride offers an opportunity for community building especially important to rural West Virginians.
"I think you can let the stereotype of West Virginia interfere with the reality of the West Virginia that's really out there," he explained. "There is ignorance, there is hatred, but there's also a tremendous amount of love and support."
"It really gives people who want a community a chance to see that there is a community in Martinsburg," Roemer said. At this year's celebration, Roemer added that she met an 18-year-old woman who was able to attend Pride for the first time after her parents did not support her desire to go growing up. "She goes, 'Now I have a community,'" Roemer recalled.
As an organization that serves a primarily rural region, Eastern Panhandle Pride operates differently from many Pride organizations in major cities. Merceruio noted that there are some challenges associated with organizing Pride in a rural area, like receiving less attention from sponsors and having to work harder to find and provide resources.
Still, Merceruio said rural Pride celebrations have a certain charm that major Pride celebrations cannot always replicate.
"I have people that have texted me and said, 'We're so excited to do this, our 11-year-old daughter has been waiting for this,'" he explained. "I think you get more of a family atmosphere in rural areas."
Some of Merceruio's favorite moments from this year's Pride included this type of "personal interaction" with community members, he added. "I guess that's a bit more of what you get from a smaller town for Pride."
At this year's Pride, Martinsburg Mayor Kevin Knowles spoke directly to attendees, welcoming the celebration to the city's streets and reading a proclamation officially recognizing June 2022 as Pride month for the city.
"Martinsburg is an inclusive city. We include everybody, no matter where they come from or what they do," Knowles said at the event. "The city of Martinsburg is moving forward."
In the near future, Eastern Panhandle Pride hopes to continue to offer programming for the local LGBTQ community and its allies, and to further support community needs through advocacy. For Merceruio, this work is an important part of giving back to the place he calls home.
"I love being from West Virginia. Our culture and our society and our neighbors," Merceruio said. "It's got its problems, but it is awesome."
See photos from the event here!