Graham, Nadeau fight for LGBT votes in Ward 1 race
Gay incumbent stresses importance of keeping 'seat at table'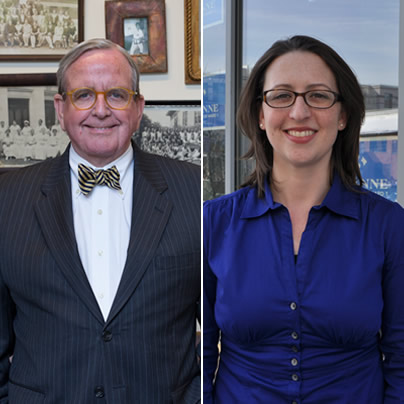 Gay D.C. Council member Jim Graham (D-Ward 1) and challenger Brianne Nadeau are attracting citywide attention as the two battle over the LGBT vote and the vote from other diverse population groups in Ward 1 in a hotly contested race in the city's April 1 Democratic primary.
Most political observers say Graham is facing his toughest re-election campaign since first winning the Ward 1 Council seat in 1998 as an openly gay man.
Nadeau is a former advisory neighborhood commissioner and vice president of a local public relations firm that specializes in promoting progressive causes. She's an outspoken supporter of LGBT rights and has vowed to be a champion for the LGBT community if elected to replace Graham.
Graham has argued that his status as one of two openly gay members of the Council brings an important insight and sensitivity into his work on behalf of the LGBT community that straight allies, no matter how committed, don't have. He also notes that his out gay colleague, David Catania (I-At-Large) is giving up his Council seat to run for mayor.
Thus if he were to lose his re-election bid, Graham has said, it would leave the Council without an openly gay member for the first time in 16 years.
In addition to his role as a strong advocate for LGBT equality, Graham has long been viewed as a champion of progressive causes such as tenants' rights, low-income workers, and the needs of the highly diverse immigrant population of Latinos, Asian-Pacific Islanders and Ethiopians, among other immigrant groups, that have settled in Ward 1.
He has had longstanding support from these demographic groups as well as support among longtime black residents of the eastern part of the ward. Combined with past support from younger professionals moving into refurbished neighborhoods Graham says he helped bring about normally would have made him the odds-on favorite to win the Democratic nomination for a fifth term in office, according to Ward 1 political activists.
But the same activists and Ward 1 observers now say all bets are off due to a flurry of negative media reports about Graham over the past several years stemming from an allegation in 2008 that he interfered with the contract approval process for a Metro development project while serving on the Metro board.
Based on findings of an investigation by Metro, the D.C. Council voted 11-2 in February 2013 to reprimand Graham for violating a city ethics rule by improperly mixing his role as a Council member and Metro board member.
The investigation concluded that Graham favored one developer over another to receive a contract to develop a residential and commercial complex in his ward. He then urged the developer he didn't favor to withdraw in exchange for Graham pushing for that developer to receive an unrelated city lottery contract, the investigation found.
Graham has long asserted he did nothing wrong, saying the developer he opposed was unqualified for the project and he acted in what he believed to be in the best interest of his constituents. He told the Blade he never favored the other developer and noted that ultimately a third developer emerged to carry out the project.
"If you look at the facts, there was no crime committed, there was no law broken, there was no money exchanging hands," Graham told the Blade.  "And what we have is a conflict between two roles of a Metro Board member and Council member."
Graham points out that the Metro contract matter happened nearly six years ago and that he was re-elected in the interim.
Nadeau has attacked Graham over the ethics issue since entering the Ward 1 race last year, saying the Council's decision to reprimand Graham has decreased his effectiveness as a Council member.
She raised the issue again on Monday in a debate with Graham on News Channel 8's Bruce DePuyt Show, saying Graham's actions were another in a series of ethical lapses by D.C. Council members over the past four years that resulted in the criminal prosecution of three of Graham's colleagues on corruption charges.
Her candidacy received a boost last week when the Washington Post endorsed her following earlier endorsements she received from the Current newspapers and Council members David Grosso (I-At-Large) and Tommy Wells (D-Ward 6), who's running for mayor. She also received an endorsement from former Ward 6 Council member Sharon Ambrose, the prominent feminist group Emily's List, the Women's Campaign Fund and the D.C. Association of Realtors.
The Post endorsement of Nadeau was expected because it came on the heels of a series of Post editorials criticizing Graham over the Metro contract and ethics allegation.
Graham, meanwhile, has received endorsements from prominent labor organizations including the Metropolitan Washington Council of the AFL-CIO; the American Federation of State, County, and Municipal Employees (ASCME); the Hotel and Restaurant Workers Union; the Service Employees International Union (SEIU); National Nurses United, and the Teamsters. The Hotel Association and the Sierra Club also endorsed Graham.
Graham has also received the backing of Ron Simmons, president and CEO of the Ward 1-based AIDS advocacy and service organization Us Helping Us, which reaches out to black gay men; and of Kurt Schmoke, the former Baltimore mayor who since 2003 has served as an administrator at Howard University in D.C.
Schmoke, who currently holds the position of Interim Provost and Chief Academic Officer at Howard, told the Blade he contributed to Graham's campaign as an individual, not in his official capacity, to express his "thanks" for Graham's support of Howard.
"My perception is that Councilman Graham has been very supportive of the university on a variety of issues that have arisen" over the past decade, he said.
Graham has said he believes his support remains strong among LGBT voters. But doubts over that assumption surfaced last month when Nadeau finished ahead of Graham at the Gertrude Stein Democratic Club's endorsement meeting by a vote of 70 to 64. She didn't receive the endorsement of the Stein Club, the city's largest LGBT political group, because she fell short of capturing a required 60 percent of the vote needed to endorse.
However, her strong showing raised eyebrows among LGBT activists, who view Graham as a leader on LGBT issues for more than 30 years as a Council member, attorney, and past executive director of the city's Whitman-Walker Clinic during the height of the AIDS epidemic.
Graham's supporters say the Stein Club members voting in the Feb. 27 meeting aren't representative of the LGBT community in Ward 1, which they predict will turn out for Graham in large numbers on Election Day.
Graham supporters also point out that Graham received a higher rating from the non-partisan Gay and Lesbian Activists Alliance. GLAA gave Graham a +7.5 on a rating scale of -10 to +10. The group gave Nadeau a rating of +5.
Nadeau supporters, however, say the Stein Club vote reflects the view by many in the LGBT community that Nadeau would be a strong advocate for LGBT equality on the Council and that LGBT voters are now focusing on a wide range of non-LGBT issues on which to base their vote. They argue that just like all other Ward 1 residents, LGBT residents are also troubled over Graham's alleged ethics breach.
Nadeau disputes arguments by Graham supporters that Graham's motive in intervening in the Metro contract matter was to push for the best possible deal for his Ward 1 constituents, which boosted his reputation as a fighter for the interests of his ward.
Some Graham supporters have said Nadeau would be far weaker than Graham on constituent services issues because, unlike Graham, she wouldn't be as aggressive and unafraid to step on toes to get things done as Graham is. Nadeau bristled over that claim in an interview with the Blade earlier this month.
"I will tell you, I will throw elbows," she said. "I will fight. I will be tough. But I will never cross the lines that he has crossed," she said. "And I will never – you will never, ever read about me for ethical lapses, quote unquote, which, by the way, are politician-speak for corruption."
Graham's supporters say the ethics matter, in which no law was violated, is being used by Graham's critics to unfairly put him in the same category as three former Council members – Kwame Brown (D-At-Large) and Harry Thomas (D-Ward 5), who were forced to resign after facing criminal prosecution on corruption related charges, and Michael Brown (I-At-Large), who was prosecuted on bribery charges after losing his re-election bid in 2012.
"This is the only plank in my opponent's platform," Graham said in an interview with the Blade. "She is unable to point to anything that is significant that she's accomplished in the ward. And so this is what I expect her to take advantage of."
Graham also challenged Nadeau's stated record of accomplishments for Ward 1 residents as an ANC commissioner.
"She has been an ANC member, but I went over my email during her time of service and it's just email after email after email from her," he said. "Council member, will you help me with this? Council member, will you set up this meeting? Council member, will you intervene on this matter?"
According to Graham, Nadeau benefitted personally from his constituent service work when she sought his help in obtaining a city subsidy under the D.C. Home Purchase Assistance Program, known as HPAP, to assist in her purchase of a condo. Graham said she encountered a bureaucratic "roadblock" that his office helped her resolve.
"I was happy to do it because I always respond that way to everybody who contacts me," Graham said. "But she's never acknowledged all the help she got from me as an ANC commissioner, which was very substantial and frequent."
Nadeau fired back when asked to respond to Graham's comments.
"It's the job of a Council member to respond to constituent service requests and to work with ANCs to resolve issues in the community, and I've never suggested that Jim hasn't done that," she said.
"But we deserve to have a Council member who can deliver constituent services while also behaving ethically in office," she added. "Jim has demonstrated his inability to behave ethically and his corrupt behavior led his colleagues to reprimand him and strip him of a leadership role that is important to our community."
She was referring to a decision by Council Chair Phil Mendelson to remove from the portfolio of the committee that Graham chairs jurisdiction over of the city's Alcoholic Beverage Regulation Administration (ABRA) at the time Graham was reprimanded. Nadeau said losing direct jurisdiction over ABRA reduced Graham's ability to have a say over issues involving liquor licenses, which directly impacts Ward 1.
Graham has said he has continued to play a key role in ABRA matters as an individual Council member with years of experience working on liquor-related issues.
Prominent LGBT advocates have lined up behind both Graham and Nadeau, and without polling data measuring the gay vote it's impossible to predict which of the two will capture a majority of that vote or whether the LGBT vote will split evenly between them.
Veteran lesbian activist and Ward 1 resident Barbara Helmick, who supports Nadeau, and gay businessman and Latino community advocate Jay Haddock, who is backing Graham, appear to represent the view of many in the opposing camps within the LGBT community over the Graham-Nadeau race.
Helmick is among those who believe Nadeau's overall qualifications and strong commitment to LGBT equality outweighs the loss of an openly gay Council member if she wins her race for the Ward 1 Council seat.
"Brianne will bring a fresh new energy that the Council desparately needs," she said in a statement to the Blade.
She notes that when Graham successfully challenged 16-year Council veteran Frank Smith in 1998 he argued that 16 years was a long time to serve and that it would benefit the ward to have a new face on the Council.
"I thought Jim was right then and now that Jim has served 16 years, I think it is apt today," Helmick said. "Sometimes after so long, some politicians become more of the system than of themselves."
Haddock, a native of Puerto Rico who serves as president of Capital Hotels and Suites, said he witnessed first-hand Graham's dedication and effectiveness in the fight against AIDS during Graham's tenure as head of Whitman-Walker Clinic. At the time, Haddock, among other things, served as chair of the city's Latino Commission under then Mayor Anthony Williams.
"The Jim Graham I know would run to people's side to do a will because they were dying," he said. "The Jim Graham I know has really been on the first line of defense for minority communities."
Graham was especially helpful to Latino community projects during his tenure on the Council, Haddock said, including with La Clinica del Pueblo, a health clinic that treats many LGBT clients.
"If some people don't feel he should be around any longer in his ward, that's entirely up to them," said Haddock. "But I completely feel that he is very effective, very dependable and a good friend to the minority communities of Washington, D.C. And it's very important to have that representation on the Council."
Comings & Goings
Nathanson takes role at Outright Action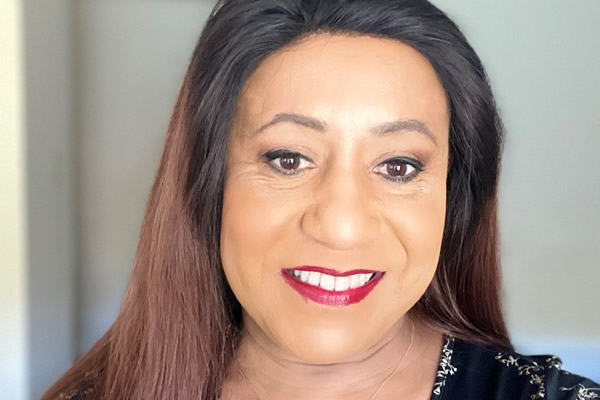 The Comings & Goings column is about sharing the professional successes of our community. We want to recognize those landing new jobs, new clients for their business, joining boards of organizations and other achievements. Please share your successes with us at: [email protected]
The Comings & Goings column also invites LGBTQ+ college students to share their successes with us. If you have been elected to a student government position, gotten an exciting internship, or are graduating and beginning your career with a great job, let us know so we can share your success.
Congratulations to Rikki Nathanson on her new position as Senior Advisor – Global Trans Program with OutRight Action International in New York. Nathanson will be based in D.C.
"I am absolutely thrilled to be taking on this new role as Senior Advisor in OutRight's Global Trans Program," said Nathanson. "I have finally found the perfect fit for me: as a trans woman who has been fighting for equality not only for myself, but for others globally, this position is not only a job, it's intrinsically part of who I am. So, what better way to live, nurture and grow myself."
Nathanson will be working closely with all program staff to ensure a cohesive and intentional approach to gender issues throughout OutRight's programs, including its approach to gender ideology movements. She will lead new initiatives on gender advocacy and policy change, focused but not limited to legal gender recognition and anti-discrimination legislation and policies.
Prior to this Nathanson was director of housing programs at Casa Ruby in D.C. She has also held a number of other positions including: founder/executive director of Trans Research, Education, Advocacy & Training (TREAT), Zimbabwe; chairperson Southern Africa Trans Forum, SATF, Cape Town, South Africa; executive director, Ricochet Modeling Agency, Zimbabwe; and company secretary for Dunlop Zimbabwe Limited, Zimbabwe.
SMYAL Director Shakir to step down Dec. 31
Board to launch Executive Search beginning in January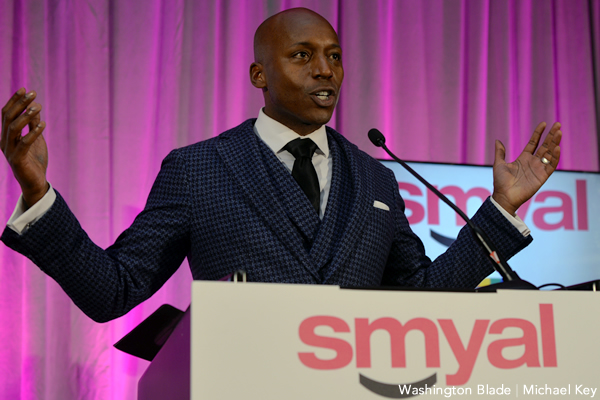 Sultan Shakir, who has served as executive director of D.C.'s LGBTQ youth advocacy organization SMYAL since August 2014, announced on Friday that he will be stepping down from his position effective Dec. 31.
In a Dec. 3 announcement, SMYAL said details of Shakir's future career plans would be announced in the coming weeks.
"While we are sad to see Sultan leave, we wish him nothing but the same success in his new endeavor as he had at SMYAL," said Rob Cogorno, SMYAL's board chair. "His leadership and vision enabled SMYAL to expand greatly needed services to LGBTQ youth in the DC metro area throughout his tenure," Cogorno said.
"I am immensely proud of the work we have been able to accomplish together in my time at SMYAL," Shakir said in a statement released by SMYAL. "SMYAL has been an integral and vital resource in the DMV community for over 37 years, and while we have come a long way in combating homophobia, transphobia, racism, sexual health stigma, homelessness, violence against the LGBTQ community, and oppression, we have a long way to go," he said.
"This work has never been about one person," said Shakir. "SMYAL was founded by our community and we're still around because of our community," he said. "I leave knowing that the commitment and passion of the SMYAL Board, staff, volunteers, and youth leaders have created a solid foundation from which our work will continue to grow until LGBTQ youth no longer need us."
The SMYAL statement says that under Shakir's tenure, SMYAL, which stands for Supporting and Mentoring Youth Advocates and Leaders, expanded its programs and services for LGBTQ youth. Among other things, in 2017 SMYAL opened its first of several housing facilities for homeless LGBTQ youth that include culturally competent case management, education and employment assistance.
"The Youth Housing Program now comprises five programmatic models that serve a combined 61 youth residents," the statement says.
It points out that also under Shakir's leadership, SMYAL expanded the age range of the youth its programs serve under a new Little SMYALs program, which welcomes LGBTQ youth ages 6-12. And earlier in 2021 under Shakir's guidance, SMYAL began a new Clinical Services Department "which provides affirming and accessible mental health counseling," the statement says.
"The SMYAL Board of Directors will officially launch an Executive Search beginning in January 2022 and expects to have named a new Executive Director by summer 2022," the statement says. It says the board will soon name an interim executive director to work with SMYAL's Deputy Executive Director, Jorge Membreno, and the organization's leadership team to oversee the day-to-day activities until a new executive director is named.
Rainbow History Project to honor LGBTQ 'Pioneers'
Virtual celebration to take place on Dec. 9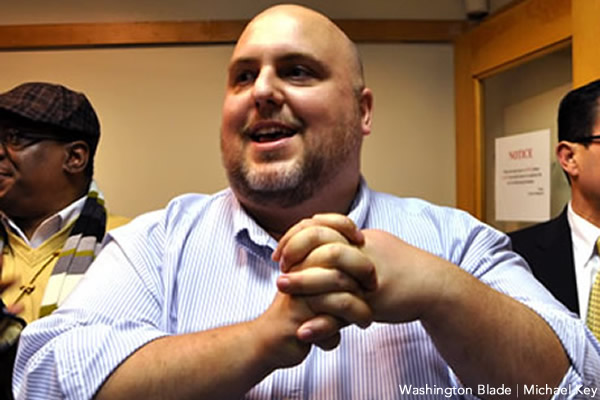 D.C.'s Rainbow History Project says it will honor and recognize 12 individuals and one organization by designating them as Community Pioneers "for their diverse contributions to the Washington-area LGBTQ community" at a Dec. 9 virtual celebration.
"Rainbow History Project is an all-volunteer organization dedicated to collecting, preserving and sharing the LGBT history of metropolitan Washington, D.C.," the group says in a statement announcing the event. "The Pioneers awards recognize diverse community leaders for their roles as organizational founders, innovators, advocates and volunteers," the statement says.
"The Pioneers celebration will be held virtually and is designed with special features that reproduce the feeling of attending in-person, such as live streaming and video chatting with other attendees and Pioneers before and after the core awards programing," according to the statement.
"Celebrating our Community Pioneers has been a cherished tradition since Rainbow History Project's founding 21 years ago," said Rob Berger, the organization's chairperson. "It's always an inspiring event, and we are happy that our virtual platform will still allow participants to meet and talk with the Pioneers," Berger said in the statement.
The virtual event is free and open to the public, the statement says. Organizers released this link for those interested in attending, saying a short registration process may require registering in advance.
Following is the list of Community Pioneers scheduled to be honored at the Dec. 9 event as released by Rainbow History Project along with the project's description of their backgrounds.
– Arlington Gay and Lesbian Alliance, a local group that since its founding has addressed equal rights issues for LGBTQ Virginians from a state and local perspective.
– Eboné F. Bell, founder and editor-in-chief of Tagg Magazine and Tagg Communication LLC.
– Bart Forbes, founding member of "Gay Fairfax," a pioneering television newsmagazine program in Northern Virginia.
– Ellen Kahan, youth and family advocate, president of Rainbow Families, former director of the Lesbian Services Program at Whitman-Walker Health, and currently senior director of programs and partnerships at the Human Rights Campaign Foundation.
– Theodore Kirkland (deceased), a co-founder of D.C. Black Pride in 1991, member of the Gay Liberation Front and Skyline Faggots, active community health volunteer and advocate.
– Paul Marengo, community leader through LGBTQ organizations including Reel Affirmations, Cherry Fund, and Pride celebrations for youth, Latino, Black and Transgender communities.
– David Mariner, executive director of CAMP Rehoboth, and former executive director of the D.C. Center for the LGBT Community.
– Mark Meinke founder longtime chair, Rainbow History Project, and co-founder of Rainbow Heritage Network, a national organization for the recognition and preservation of sites, history and heritage associated with sexual and gender minorities.
– Michael "Micci" Sainte Andress, artist, health educator and advocate and an early leader in bringing African Americans into HIV/AIDS clinical trials.
– Boden Sandstrom, founder and owner of Woman Sound (later City Sound), the first all-woman sound company, which makes LGBTQ rights rallies and the women's music scene possible.
– Casse Culver (deceased), nationally acclaimed D.C. lesbian feminist singer-songwriter, and partner of Boden Sandstrom, whose followers said her love songs and feminist lyrics moved audiences from foot stomping to silent reflection.
– Alan Sharpe, playwright, director and co-founder of the African American Collective Theater in Washington, D.C., in 1976, which now focuses on LGBTQ life and culture in the Black community.