April 9, 2014 at 1:30 pm EDT | by Justin Peligri
Some D.C. schools participating in 'Day of Silence'
Hundreds of D.C. college students will tape their mouths shut on April 11, pledging to remain silent in an effort to generate awareness about anti-LGBT bullying.
They'll be joining thousands of others nationwide in the Day of Silence, organized by the Gay, Lesbian and Straight Education Network (GLSEN), as part of a battle to bring the problem of hate crimes in schools to light.
"The Day of Silence is all about remembering that even though we have the privilege of being at a progressive school, not everyone on this campus has the ability to come out," said Tyler Bowders, executive director of American University Queers and Allies, which is coordinating the Day of Silence there.
Students will be given placards to hand out to their professors, friends and bosses to explain why they have promised not to speak for the entire day.
At American, the Day of Silence is the culmination of a full week of advocacy events, which include free HIV testing and "trans 101 training" in conjunction with the university's Center for Diversity and Inclusion.
Last year, at least 100 people — both straight and gay students — participated in Pride Week events, which have been held on American's campus for the past three years. The event has steadily gained traction and will likely have a turnout of about 150 people this year, Bowders said.
Georgetown University's LGBT organization, GUPride, has also pledged to participate in Day of Silence. There, the day will culminate with GenderFunk, the university's annual drag ball. George Washington University's Allied in Pride, which held a drag competition earlier in the year to benefit the Trevor Project, an organization focused on LGBT suicide prevention, does not have events planned this week.
The Day of Silence got its start 1996 at the University of Virginia. Today, it is the "largest single student-led action toward creating safer schools for all," with student activists at more than 8,000 middle schools, high schools and colleges participating, according to the group's website.
The day of action has spurred controversy, drawing ire from religious conservative groups like Focus on the Family. In response, the group created an annual Day of Dialogue in 2011 aimed at having conversations about what they call God's plan for human sexuality.
The event, usually scheduled on the same week as Day of Silence, has been derided by supporters of the LGBT rights movement as a publicity stunt.
For some college students — even those living in D.C., known for its large LGBT population — events drawing attention to bullying, discrimination and the difficulty of the coming out process are deeply personal.
"There's a lot of people who don't think the event is necessary since this is an accepting campus," Bowders said, explaining that many students live openly gay lifestyles at college, but might not be out to their family and friends back at home.
"What they should realize is that being silent can be impactful," he said. "You're forgoing your voice symbolically to commemorate those who metaphorically and quite literally lose their voice every day."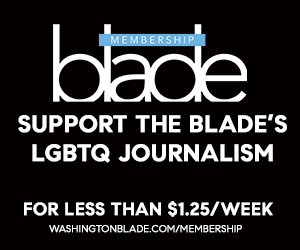 Sign Up for Blade eBlasts