Some D.C. schools participating in 'Day of Silence'
Friday's event spotlights anti-LGBT harassment, violence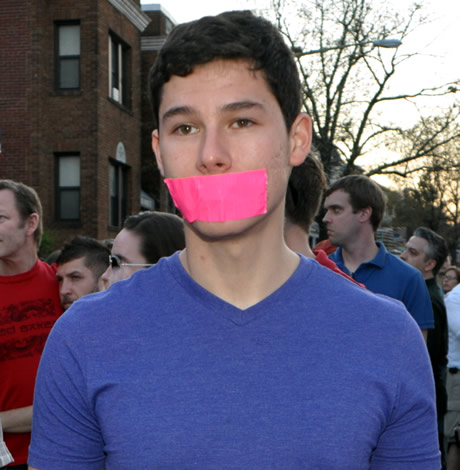 Hundreds of D.C. college students will tape their mouths shut on April 11, pledging to remain silent in an effort to generate awareness about anti-LGBT bullying.
They'll be joining thousands of others nationwide in the Day of Silence, organized by the Gay, Lesbian and Straight Education Network (GLSEN), as part of a battle to bring the problem of hate crimes in schools to light.
"The Day of Silence is all about remembering that even though we have the privilege of being at a progressive school, not everyone on this campus has the ability to come out," said Tyler Bowders, executive director of American University Queers and Allies, which is coordinating the Day of Silence there.
Students will be given placards to hand out to their professors, friends and bosses to explain why they have promised not to speak for the entire day.
At American, the Day of Silence is the culmination of a full week of advocacy events, which include free HIV testing and "trans 101 training" in conjunction with the university's Center for Diversity and Inclusion.
Last year, at least 100 people — both straight and gay students — participated in Pride Week events, which have been held on American's campus for the past three years. The event has steadily gained traction and will likely have a turnout of about 150 people this year, Bowders said.
Georgetown University's LGBT organization, GUPride, has also pledged to participate in Day of Silence. There, the day will culminate with GenderFunk, the university's annual drag ball. George Washington University's Allied in Pride, which held a drag competition earlier in the year to benefit the Trevor Project, an organization focused on LGBT suicide prevention, does not have events planned this week.
The Day of Silence got its start 1996 at the University of Virginia. Today, it is the "largest single student-led action toward creating safer schools for all," with student activists at more than 8,000 middle schools, high schools and colleges participating, according to the group's website.
The day of action has spurred controversy, drawing ire from religious conservative groups like Focus on the Family. In response, the group created an annual Day of Dialogue in 2011 aimed at having conversations about what they call God's plan for human sexuality.
The event, usually scheduled on the same week as Day of Silence, has been derided by supporters of the LGBT rights movement as a publicity stunt.
For some college students — even those living in D.C., known for its large LGBT population — events drawing attention to bullying, discrimination and the difficulty of the coming out process are deeply personal.
"There's a lot of people who don't think the event is necessary since this is an accepting campus," Bowders said, explaining that many students live openly gay lifestyles at college, but might not be out to their family and friends back at home.
"What they should realize is that being silent can be impactful," he said. "You're forgoing your voice symbolically to commemorate those who metaphorically and quite literally lose their voice every day."
As Md. advances bill to fund gender-affirming care, LGBTQ advocates stress it will save lives
Trans Health Equity Act would impact state Medicaid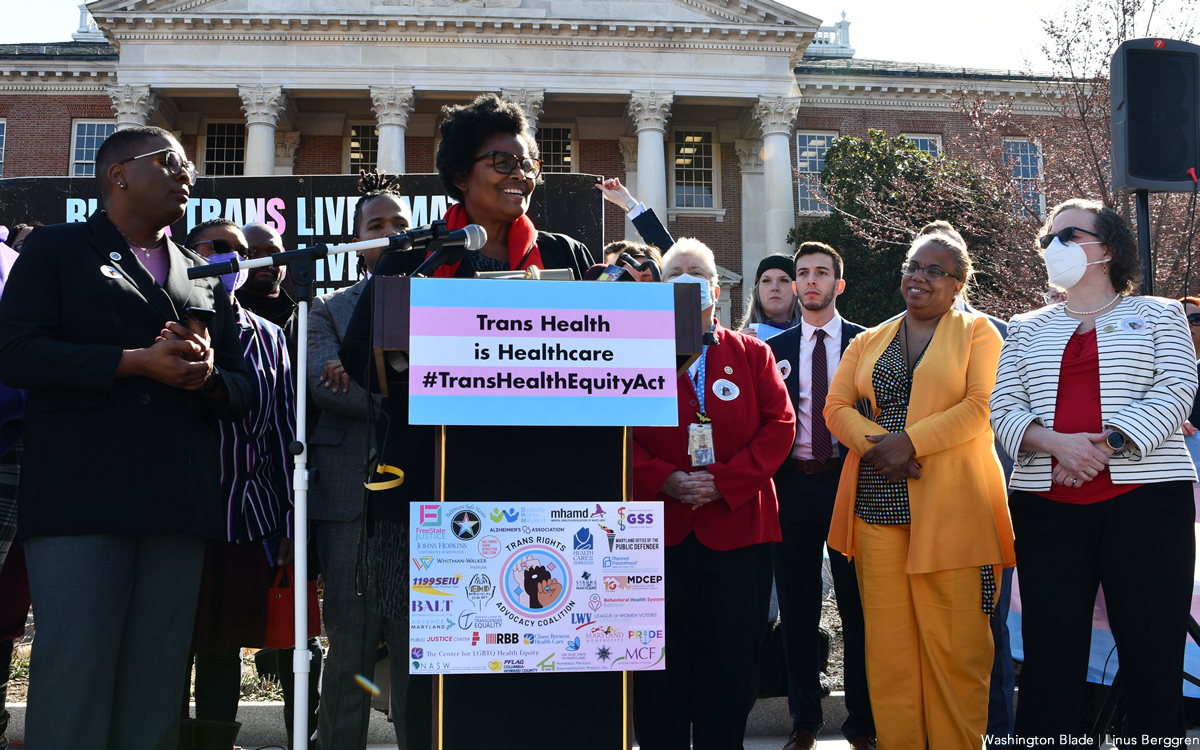 By John-John Williams IV | Shaylie Elliette wishes the Trans Health Equity Act that appears headed for final passage in the Maryland General Assembly would have been around seven years ago, when she turned 18. She believes that transitioning earlier in life would have eliminated years of torment, abuse and discrimination all linked to transphobia.
The rest of this article can be found on the Baltimore Banner website.
Whitman-Walker announces leadership change
CEO Ryan Moran to become Deputy Secretary of Health in Maryland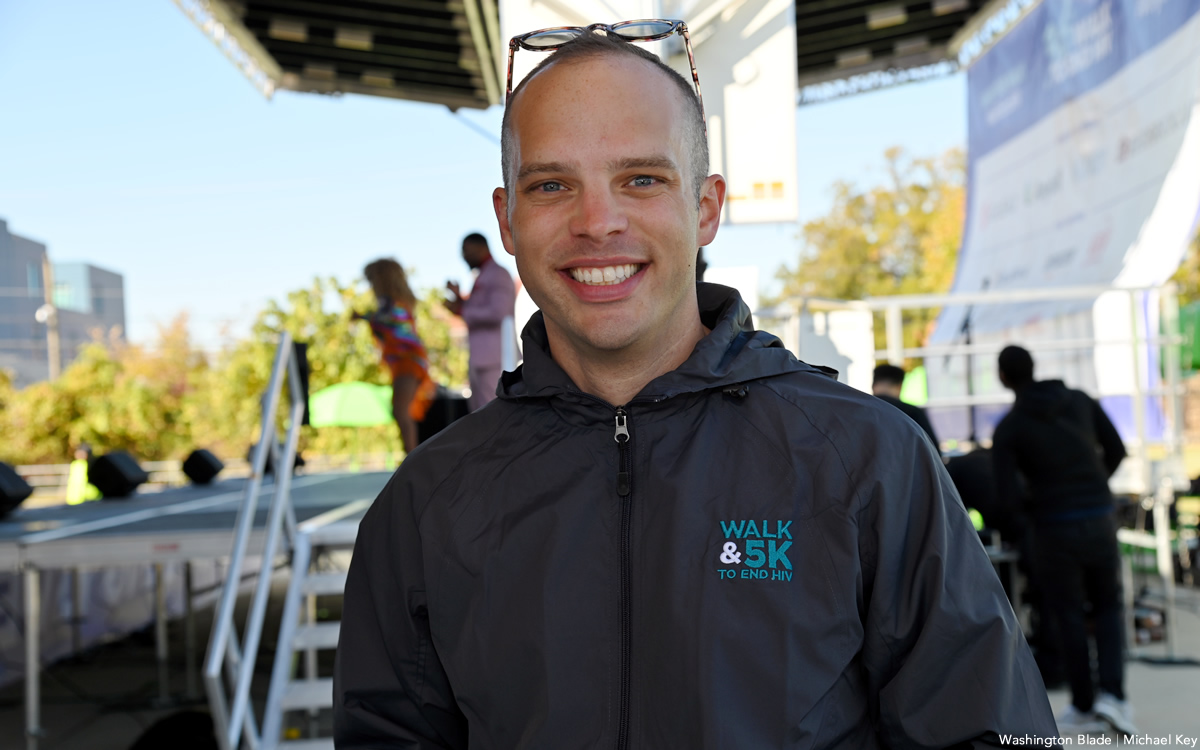 Dr. Ryan Moran, who has served since 2021 as CEO of the Whitman-Walker Health System, an arm of D.C.'s longtime LGBTQ and HIV health services provider Whitman-Walker Health, will be leaving his position next month after being named as Deputy Secretary of Health and Healthcare Finance and Medicaid Director for the State of Maryland.
According to a March 21 statement released by Whitman-Walker, Moran will begin his new job as a member of the Maryland Department of Health's senior leadership team effective April 12.
The statement says Cindy Lewin, an official with nonprofit organizations for more than 25 years and who previously served as Executive Vice President and General Counsel at the AARP, will serve as interim CEO at Whitman-Walker Health System beginning April 10.
Around that time, the statement says, Whitman-Walker will begin a nationwide executive search "to secure a permanent CEO" for the top position at Whitman-Walker Health System.
The statement points out that Naseema Shafi will continue in her role as CEO of Whitman-Walker Health, the other component of Whitman-Walker that directly provides and oversees medical and health care services to patients and clients, including those from the LGBTQ community.
Whitman-Walker Health System, among other things, advances the mission of Whitman-Walker through expanding its financial and fundraising capacity through the Whitman-Walker Foundation, the Whitman-Walker Institute, and the Whitman-Walker Health System Real Property Holdings, the statement says.
"Whitman-Walker Health System is grateful for Ryan's visionary leadership, which has advantageously positioned us for our once in a generation expansion of research and health services with our move to the Saint Elizabeth campus this year," said Dr. Ann Bonham, the Whitman-Walker Health System Board Chair.
"While the organization will miss Ryan, his enthusiasm and passion for the work and his commitment to the mission of Whitman-Walker, I am sure he will be a transformative leader in his new role," Bonham said.
"I am deeply grateful to Whitman-Walker for the opportunity to steward our mission-driven organization as a regional and national leader in LGBTQ+ care, advocacy, research, and education," Moran said in the statement.
"I am honored to have contributed to this organization's rich history, and I am proud of the work Naseema Shafi and I have accomplished together and of the exceptional board senior leadership team, and staff for their collaboration in building a strong foundation for Whitman-Walker's future success," he said.
The statement announcing the Whitman-Walker leadership change notes that Moran played an important role in continuing the organization's previously started plans for opening its new Max Robinson Center at the city's St. Elizabeth's campus in Southeast D.C. According to the statement, the new center will provide services and programs to more than 15,000 people each year, a 300 percent increase from the existing Max Robinson Center located in Anacostia.
Comings & Goings
Inouye named Deputy Assistant Secretary in communications at Dept. of Education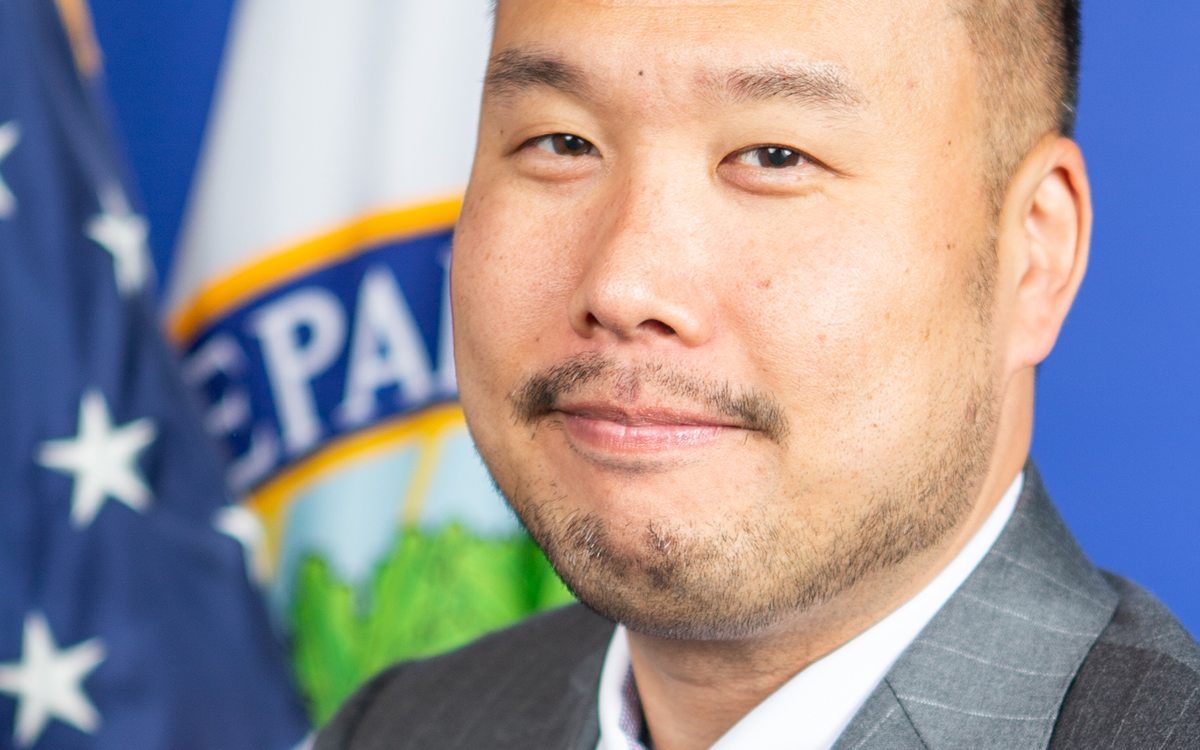 The Comings & Goings column is about sharing the professional successes of our community. We want to recognize those landing new jobs, new clients for their business, joining boards of organizations and other achievements. Please share your successes with us at [email protected].
Congratulations to Shin Inouye on his appointment as Deputy Assistant Secretary in the Office of Communications and Outreach, U.S. Department of Education. He said, "I'm honored to join the Biden-Harris administration and the amazing team under Secretary Cardona. Working with my outstanding colleagues, I am confident we will meet our goal to raise the bar and promote academic excellence in America."
Previously, Inouye served as Executive Vice President of Communications, The Leadership Conference on Civil Rights and Human Rights, The Leadership Conference Education Fund. He also held a number of high-level positions in the Obama administration, including Press Secretary and Acting Senior Adviser for Intergovernmental and External Affairs, Department of Homeland Security, U.S. Citizenship and Immigration Services; Adviser for Intergovernmental and External Affairs, Executive Office of the President; White House Office of Communications: Director of Specialty Media; and as an authorized spokesperson for the Obama Inaugural Committee, with a focus on specialty media outlets.
Inouye has received many honors, including being named one of 25 "LGBTI next generation leaders to watch" by Out in National Security and the Atlantic Council; and one of "40 Asian American Pacific Islander National Security & Foreign Policy Next Generation Leaders" by New America and the Diversity in National Security Network.
Congratulations also to Tristan Fitzpatrick, on his promotion to Senior Communications Consultant at APCO Worldwide. Fitzpatrick said, "I am thrilled to start this new position and look forward to the start of a new chapter advising clients on how to best achieve their communications and public affairs goals." Tristan has worked with APCO for the past year and a half. They are the fifth largest independently owned PR firm in the United States. Prior to that, Fitzpatrick was a Digital Media Specialist with the National Public Pension Coalition in D.C. He worked as a Communications and Digital Adviser, to the Biden for President campaign. He advised the campaign's Out for Biden Coalition on communications and digital best practices for turning out 11 million LGBTQ and 57 million pro-equality voters. Tristan has also been a Communications Manager and Digital Outreach Coordinator, Cancer Support Community, Washington, DC.