Local gay coaches find support from students, parents
'Building trust holds the relationship together'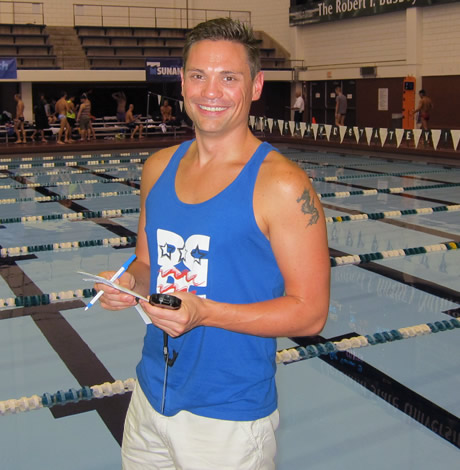 With the LGBT sports movement receiving more national media attention over the past several years, there have been multiple headlines about coaches coming out as gay to their teams. Some of the names that have made the news are high school basketball coach Anthony Nicodemo in Philadelphia and high school track coach Micah Porter of Denver.
In the D.C. metro area, there are a number of LGBT coaches who have been instructing straight athletes for years, even decades. When asked what the obstacles have been for them, the answers offer some surprises.
The relationship between a coach and an athlete is a special one and often the coach becomes a surrogate parent to the athlete and a good friend to the athlete's family. The announcements of the above mentioned coaches certainly prompted many to wonder if the relationship between a coach and an athlete is different if a gay coach is instructing a group of straight athletes.
Brendan Roddy began swimming competitively at age 11 and continued to do so through college at Salisbury State University. As a 14-year-old he became a junior swim coach for Rockville Montgomery Swim Club and then coached at Salisbury State University during grad school.
After returning to the area as a teacher at Churchill High School, Roddy realized he missed coaching and became the swimming and diving coach at the high school.
"Parents that are 'with it' caught on quickly that I was gay," says Roddy. "The others figured it out eventually. The kids would generally test the waters with pronouns when asking about my personal life. If they asked directly, I would tell them."
Roddy says that his sexual orientation rarely comes up in conversations with his athletes or their parents and it has never stood in the way of his coaching.
"Building a level of trust and respect is what holds the athlete/coach relationship together," says Roddy. "It is amazing how much kids have evolved over the past decade. The smiles on their faces are what keeps me in it."
Jeff Nolt began his figure skating career in New York and as it progressed, trained in Pennsylvania and Delaware. In the early 1980s, he qualified for nationals as a pairs team with his sister Susan. Following their retirement from competitive skating, they performed in the Ice Capades for two years.
Nolt started coaching in Syracuse and eventually his work brought him to the Baltimore/Washington area. His students range in age from six to 60.
"The parents of my students trust who I am and there is no fear of me being gay," Nolt says.  "The bottom line is that I get paid to teach people how to skate choreographically and technically correct. Kids can smell you a mile away; if you are unprepared and have doubts about yourself, the respect and trust will never come."
He adds, "I like being a mentor. It is exciting to know that I can have an impact on someone's life and it is important for me to give back what I have learned."
Sami Holtz grew up in Montgomery County and began competing in soccer and swimming at age eight. She eventually changed over to softball and took on rugby during her college years at Johnson and Wales and Springfield College. She also played full-contact football in the Independent Women's Football League.
She began coaching swimming in New England, which led to a coaching position in the Montgomery County Swim League in 2007. She is now coaching swimming at Forest Knolls and the Silver Spring YMCA.
"In the community I work in, nobody cares that I am gay," says Holtz. "The only discrimination I have encountered was related to my religious beliefs."
Holtz says that one of her swimmers has two moms and another teenage swimmer recently came out as gay.
"His mother thought it would be nice if we connected at Capital Pride this past June," Holtz says laughing.
Akil Patterson was a three-sport, all-state athlete during his years at Frederick High School and went on to play football at the University of Maryland. He left the Terps and played two years at California University of Pennsylvania.
He later played for the United Indoor Football League. After an Arena Football tryout his weight ballooned to 380 pounds and he ended up back on the University of Maryland campus where a wrestling coach asked him to work with their heavyweights.
He went on to become a coach with the Terps wrestling program and the Terrapin Wresting Club (TWC).  The TWC provides training and competitive opportunities for the wrestling community and for post-collegiate wrestlers who have international aspirations. They are an official Regional Olympic Training Center of USA Wrestling.
Patterson coaches athletes who range in age from 13 to 22 and says that his sexual orientation is also a non-issue.
"I know that some people trash talk me behind my back for being gay, but I am not ashamed and I am not shy," says Patterson. "Anyone that knows me knows that I am all about the athletes.  I love my kids."
Patterson has developed trusting and respectful relationships with his athletes and their families over the years. He has been asked by parents to step in when their children are not doing well in school.
"I have an athlete whose father is with the U.S. Marshals and he volunteered to speak at diversity training for the Marshals," says Patterson. "When he stepped up to the microphone he simply stated; my son loves his coach and my son looks up to his coach."
Patterson adds, "I believe that one's sexuality transcends sports."
Drag legend Ella Fitzgerald returns to the stage for Capital Pride festival
Donnell Robinson on 40 years as a performer and the current political backlash against drag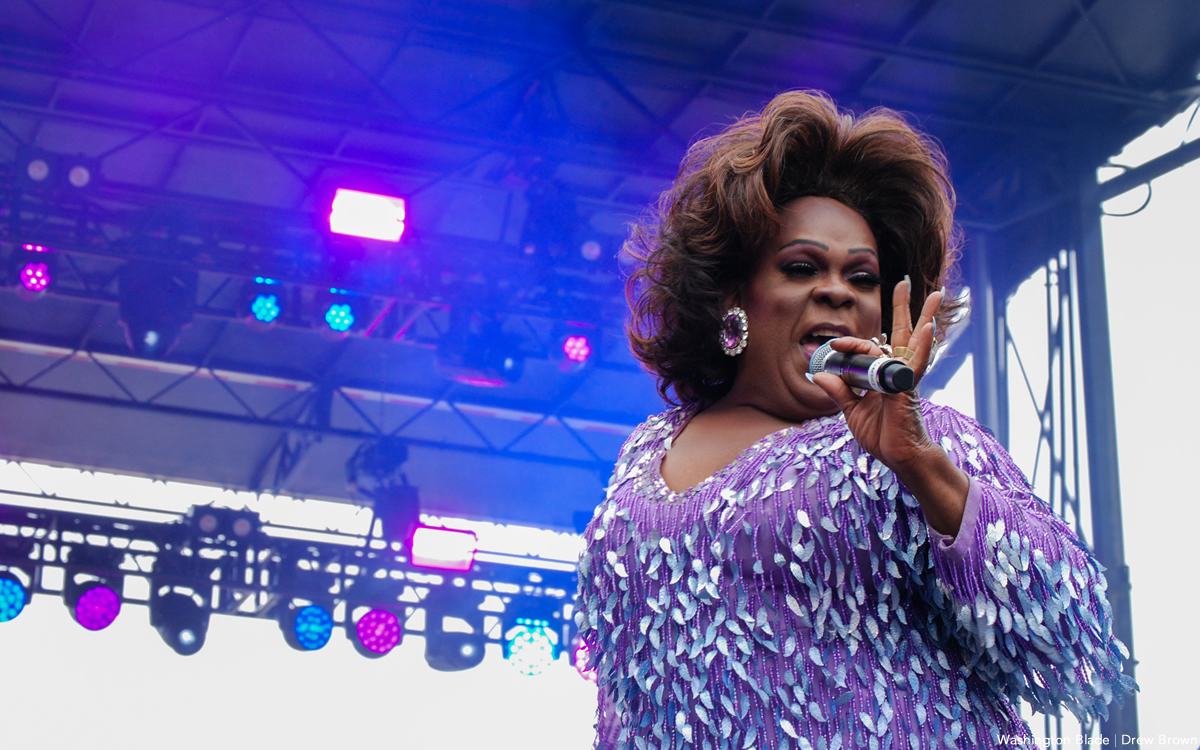 Donnell Robinson, who has dazzled audiences in the nation's capital as the drag personality of Ella Fitzgerald for at least 40 years, has the date of Saturday, March 21, 2020, embedded in his mind.
That was the last time he performed in drag. It was at the popular Southeast D.C. nightclub Ziegfeld's-Secrets, where Robinson performed as Ella Fitzgerald for nearly 40 years, before it, along with all city nightclubs, bars, and other "nonessential" businesses were ordered temporarily closed by Mayor Muriel Bowser in response to the COVID pandemic.
"That was the last show I did," Robinson told the Blade in an interview at his apartment in Arlington, Va.
A short time later, around May of 2020, Robinson and all the Ziegfeld's-Secrets employees and performers learned that the owner of the club's building at 1824 Half Street, S.W., announced plans to demolish it to build an upscale condo building several years sooner than expected. That meant the club would not reopen when the COVID restrictions were lifted.
"So, what I recall is in May, it was the first week in May, Steven [Delurba, the Ziegfeld's-Secrets general manager and part owner] called me and said, 'Honey, do you have anything in the dressing room? Come and get it. The landlord called and said we must be out by the 15th.'"
Robinson said he has fond memories of meeting up with other drag performers, one of the longtime bartenders and other employees who came to retrieve their belongings in the dressing room and other storage spaces in the converted warehouse building that had served as home to Ziegfeld's-Secrets since 2009.
And it meant at least the temporary end to a 40-year run in which Robinson (aka Ella Fitzgerald) served as emcee and lead drag performer at the Ziegfeld's-Secrets nightclub, which began in the club's previous location a few blocks away.
Robinson began performing as Ella Fitzgerald at The Other Side nightclub in 1980, which later changed its name to Ziegfeld's-Secrets, at its previous location on the unit block of O Street, S.E., before it was displaced in 2006 by construction of the Washington Nationals baseball stadium.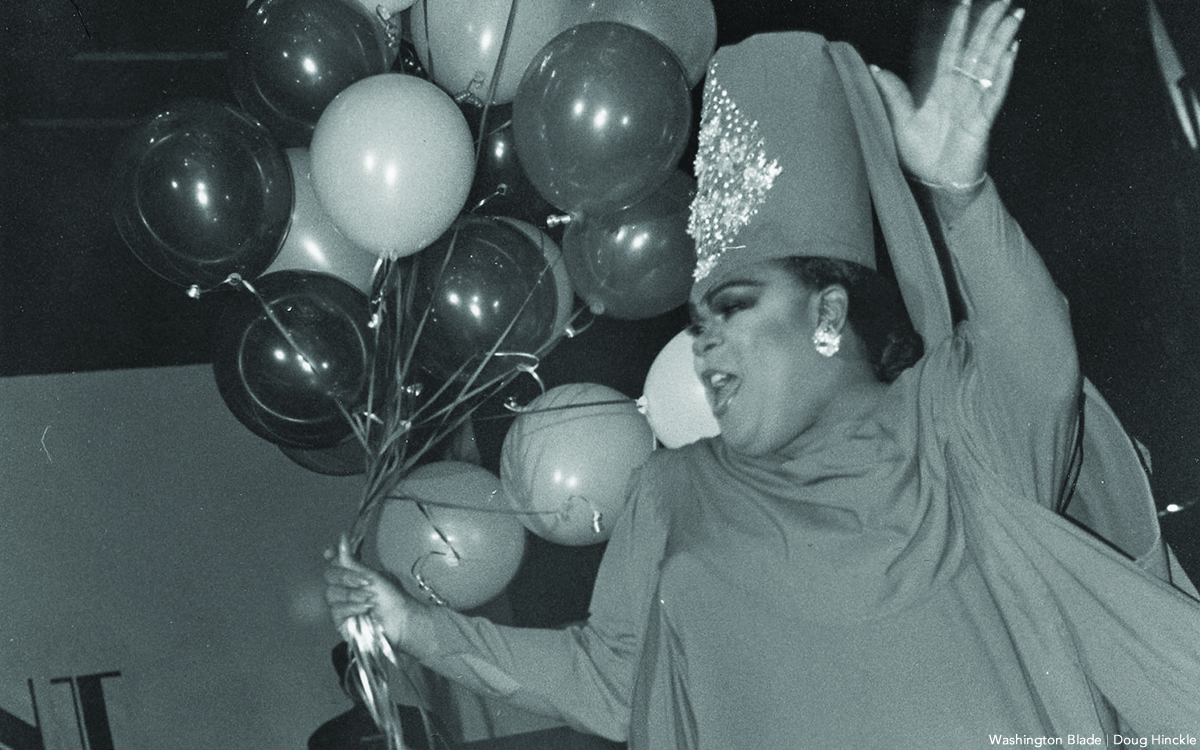 The club did not reopen until 2009, when its owners Allen Carroll and Chris Jensen, were able to obtain a lease for the 1824 Half Street building, which Carroll and Jensen renovated before reopening the club there.
All of that has become the backdrop to Robinson's excitement over returning to the stage as Ella Fitzgerald at D.C.'s Capital Pride festival on June 11, which will take place on Pennsylvania Avenue with the U.S. Capitol as a dramatic backdrop two blocks behind the stage.
While he's hopeful that all will go well with his upcoming performance at the Pride festival, Robinson says he is aware of the recent far-right political backlash against drag shows in states across the country.
In addition to proposed laws placing restrictions on drag shows, protests targeting drag shows, including some attempting to disrupt the shows, have also occurred in cities and states, including earlier this year in nearby Silver Spring, Md., and at a drag brunch hosted by a restaurant near the U.S. Marine Barracks on Capitol Hill in D.C.
"I have read about some of that," Robinson told the Blade. "I haven't been in the drag scene in three years. But I see and know what's going on," he said. "And my fellow drag performers who are older in my generation, I know they may be at risk. And I know I am to a degree," he continued.
"And it's a shame that we have to fear that we can't present our art, our art form of drag and hope that nothing is going to happen to me today," he said. "Why should we have to even have that thought going through our mind while we're going through our makeup and getting ready?"
Speaking with the Blade at his apartment, Robinson added, "I'm planning to walk out of here in full drag to go to Pride. And there's going to be part of me in the back of my mind that I've got to watch my back because there may be some idiot out there that doesn't want to see an old man dress up in sequins and beads."
"I just don't understand why people think that drag is going to go away," Robinson said. "It's not. It's more popular now than it ever was because of RuPaul and the drag brunches and the shows that are continuing to go on."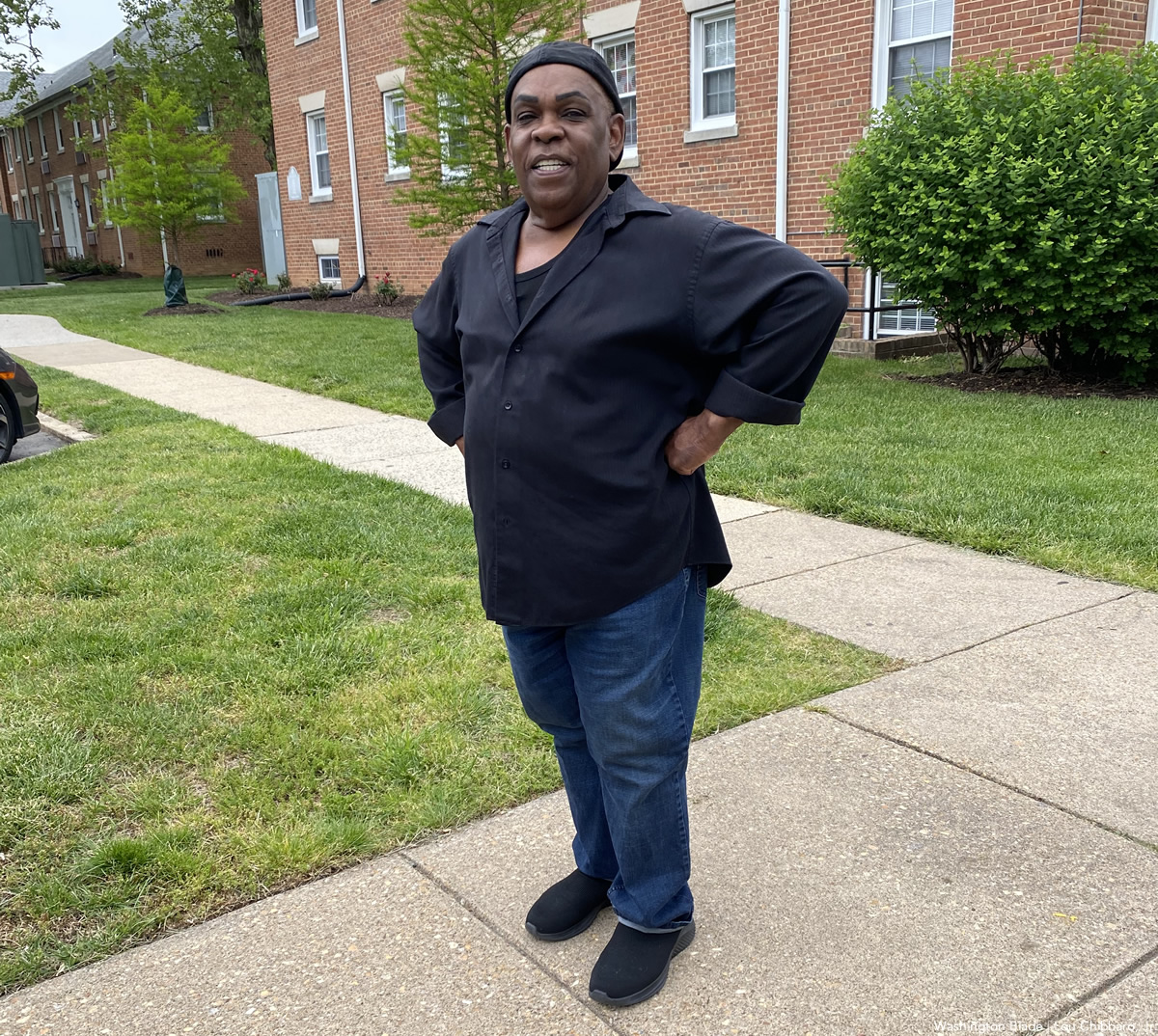 Robinson, 68, says he was born in Warrenton, Va., and grew up on a farm just outside Warrenton and raised by his grandparents. His first attempt at drag took place while in the 8th grade when he entered a school talent show portraying TV personality Flip Wilson's drag character Geraldine Jones.
"All of my girlfriends, they helped get it together," Robinson recalls. "I borrowed the wig from the school librarian," he said, adding he bought a red dress and borrowed a pocketbook from someone. "And I won the contest."
He didn't do drag again until his senior year in high school, Robinson said, when he "pulled out Geraldine again" in a dramatic arts class. "I got an 'A' in dramatic arts," he told the Blade, before graduating from Fauquier High School in June of 1974.
"Then I waited a year or so, and then I came out to do drag in 1975 in the fall," he said. That began when a friend introduced him to the then gay nightclub Pier 9, located in the building that later became Ziegfeld's-Secrets, where drag shows were held.
Robinson said he was impressed by the beauty of the drag performers while attending Pier 9 drag shows. "I'm like, oh, so I can do that too," he said. And that's exactly what he did. In October of that year, he entered a Halloween costume contest at the Pier, once again as the Geraldine Jones drag character, and won the contest in the comedy category.
From there, Robinson says, through people he met at the Pier he learned of the then D.C. gay bar Plus One on Capitol Hill, which also hosted drag shows. After auditioning and being approved as a drag performer at Plus One, the owner of the club, Bill Oats, assigned him the drag name Fanny Brice.
It was at the Plus One about a year later when Robinson met Mother Mame Dennis, the drag performer and lead organizer of the Academy of Washington, a local drag social club that organized drag events, including the Gay Miss Universe drag competition. The next day, an Academy of Washington member who performed at Plus One brought Robinson to an academy event.
It was there that Mame Dennis approached him and raised the issue of Robinson's drag name. "She said, 'Oh my dear, if you want to be in this group you need to change your name immediately,'" Robinson quoted Dennis as saying. "And I was like, yes ma'am. She said you need to be either Nell Carter or Ella Fitzgerald," Robinson recounted.
"I was being a smart ass. I said, 'I'll take Ella Fitzgerald for $2.' She said, 'Oh, you're funny.' And she named me Ella Fitzgerald," Robinson remembers. "And I was her first African-American daughter in the group."
Through the Academy of Washington and others he met through the drag scene at Plus One and other D.C. gay bars, Robinson quickly learned what he calls the art form of drag and developed a following among those patronizing drag shows in D.C. It was through the academy that Robinson also met the owners of the then Other Side nightclub, Chris Jensen and Allen Carroll, who invited Robinson to begin performing at their club.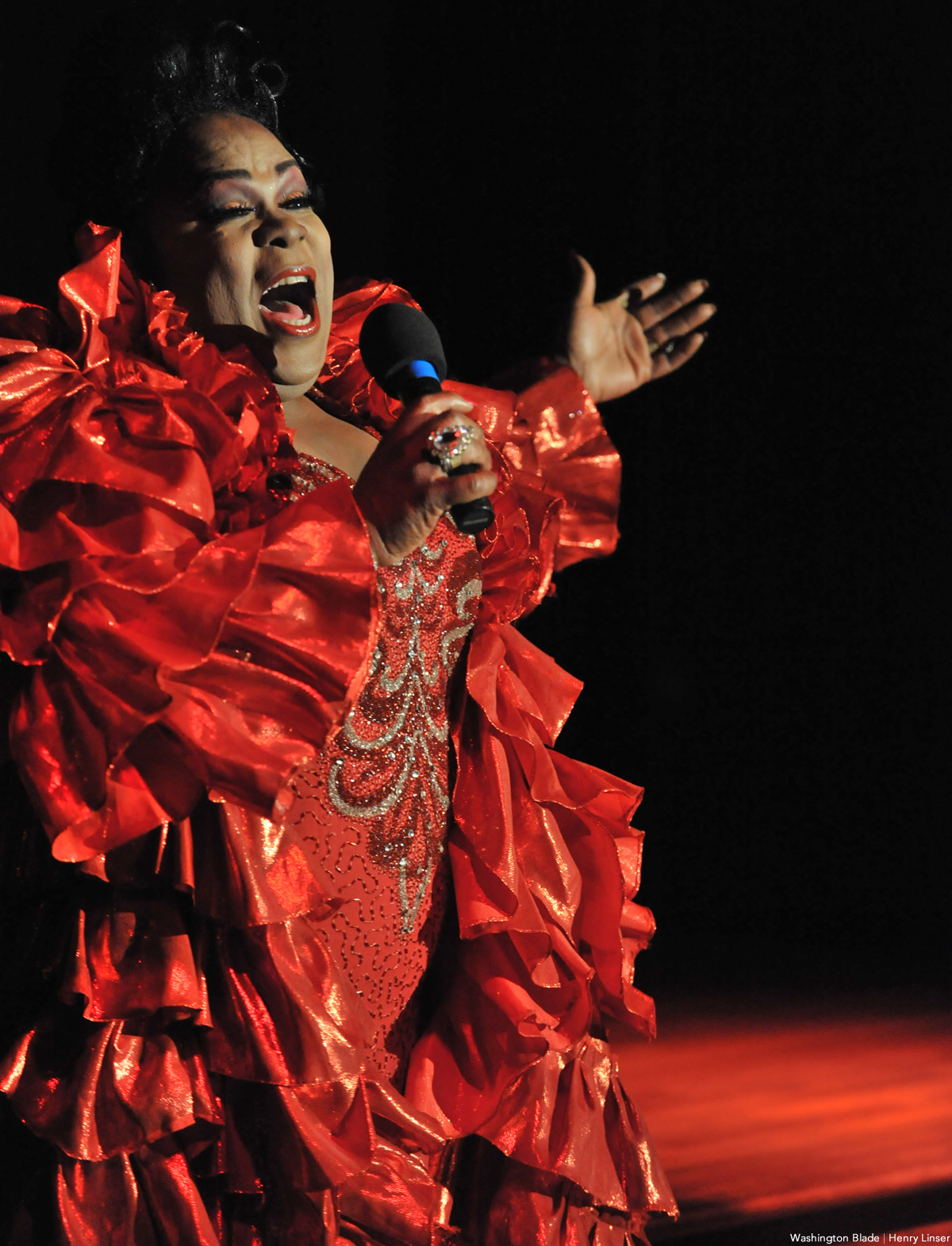 "There were five of us and we did the show on a Sunday night for 500 women," Robinson says. "Because, remember, between Washington Square, the earlier name, and the Other Side, it was all women. There were no men allowed until around 1986," he told the Blade. "So, every Sunday night we were doing drag shows for 500 women, from '80 until '85 or '86."
Around the time he began performing as Ella Fitzgerald, Robinson also began his other career as a hairstylist, which he says he continues at this time and will celebrate his 40th anniversary as a hairstylist in November of this year.
For much of that time, Robinson has been one of the sought-after stylists at the VSL Hair Salon at 1607 Connecticut Ave., N.W., in the Dupont Circle neighborhood. The salon recently came under new ownership and now operates under the name of Color Lab Salon at the same address.
As Robinson's reputation as a drag performer became widely known, many of his salon clients referred to him as Ella and were regular patrons of the Ziegfeld's-Secrets drag show.
By the time Jensen and Carroll renamed the Other Side as Ziegfeld's-Secrets and through the time it relocated in the building on Half Street, S.W. and until its closing in 2020, Robinson took on the role as the emcee of the club's Ladies of Illusion drag shows as well as that of one of the city's most sought after drag performers, according to people who attended his shows.
In an Aug. 2, 2001, lengthy feature article, the Washington Post referred to Robinson and his Ella Fitzgerald character as the "doyenne of Washington drag queens." The Post article recounted what those who have attended Robinson's shows already knew – that he also took on the role of a stand-up comedian engaging audience members in on-the-spot banter, often inviting audience members to come on stage to chat with Ella.
"Is that your husband?" the Post article quoted Robinson asking a female audience member at one of the Ziegfeld's-Secrets drag shows. When the woman replied that the person was her boyfriend, Ella said with an incredulous facial expression, "That little queen?" according to the Post article. The audience roared in laughter.
Robinson says among the highlights of his career as a drag performer have been the recognition he has received from his peers in the drag community, including from the Academy of Washington and its leader Mame Dennis.
"Once I changed my name to Ella Fitzgerald, Mame said, 'My dear, one day you will be Miss Universe.' And 10 years later, Mame crowned me Miss Gay Universe. I was the first African-American Miss Universe in 1986," Robinson recounted.
He said the prospect of resuming his drag performances to the degree he did before Ziegfeld's-Secrets closed was uncertain, in part, because he is dealing with a bout of sciatica that makes it difficult for him to walk and move about quickly.
"You might see me come out with a cane at the Pride show," he said with a laugh.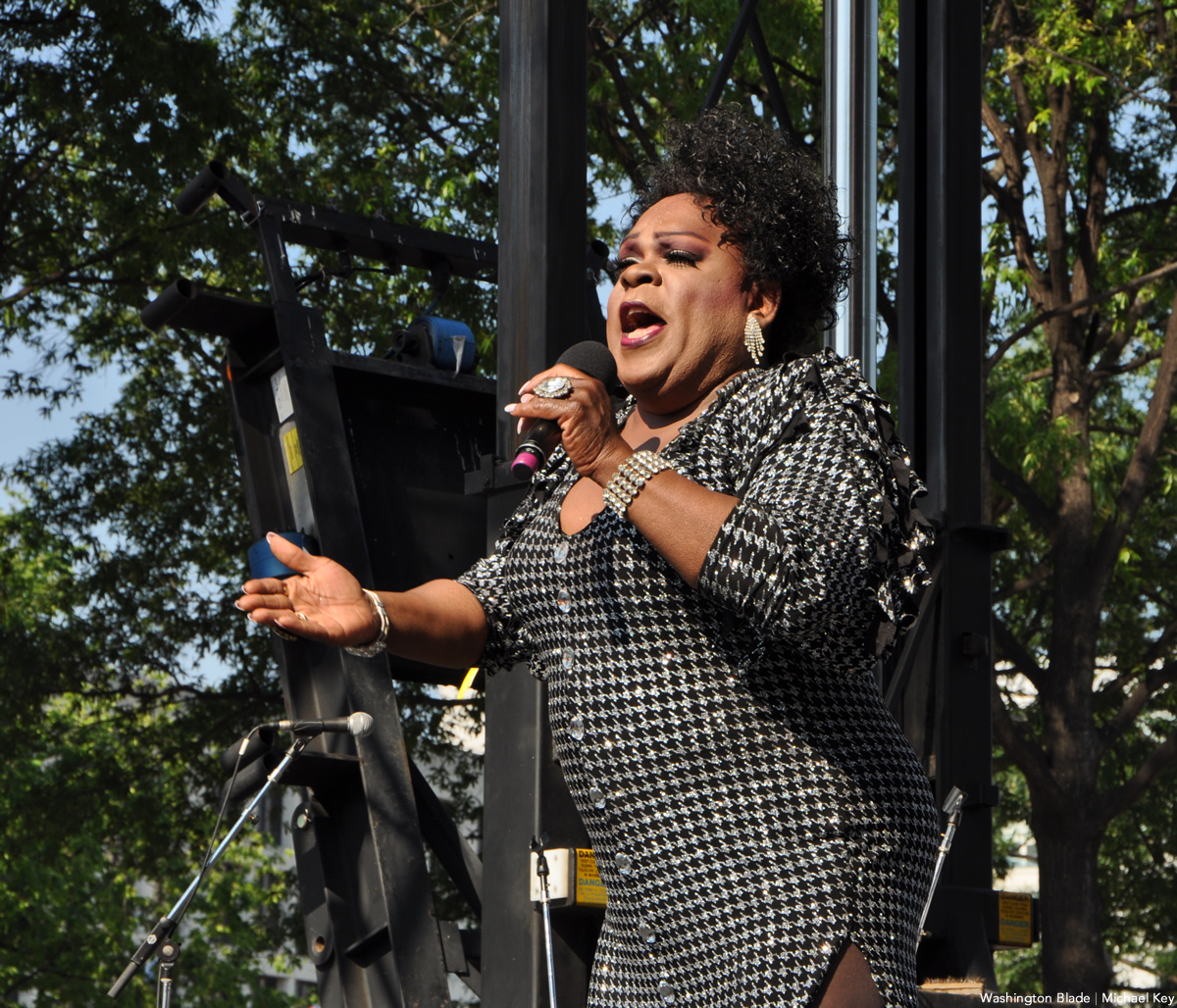 15 LGBTQ events today
Capital Pride Rooftop Pool Party tonight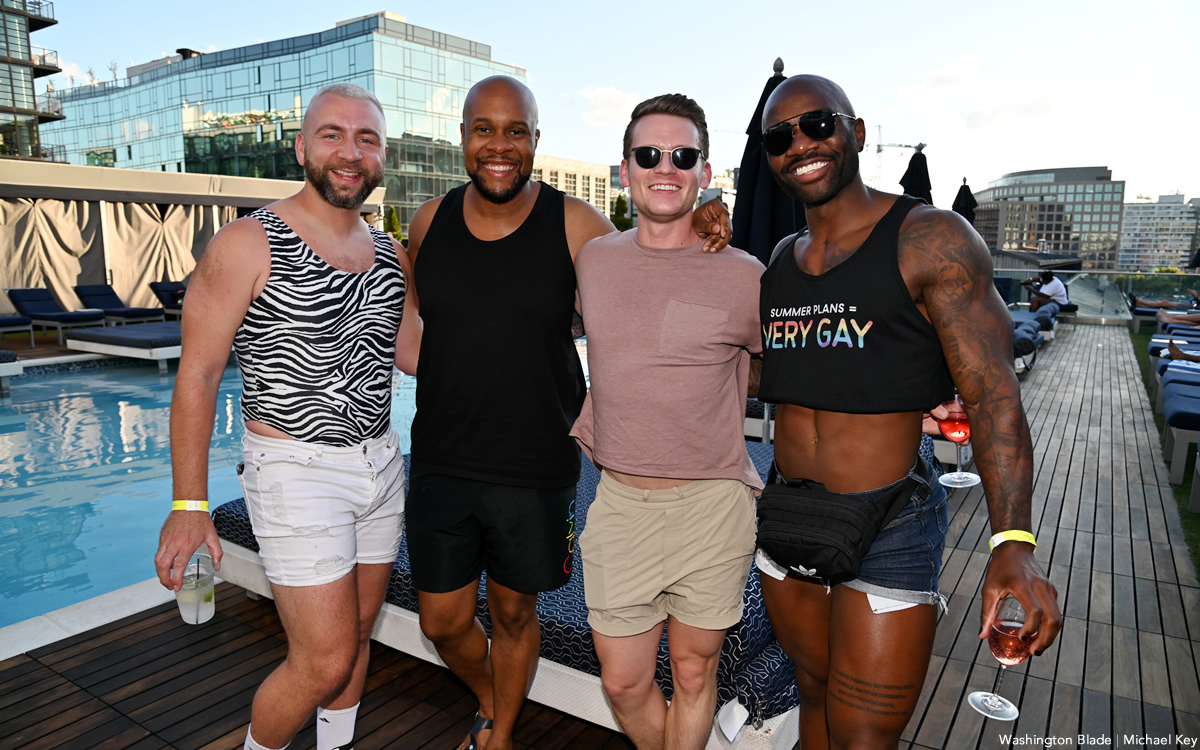 Below are our picks for some of the most fun and creative things to do today (Thursday, June 8) in the DMV that are of special interest to the LGBTQ community.
---
LGBTQ+ Military Pride Mixer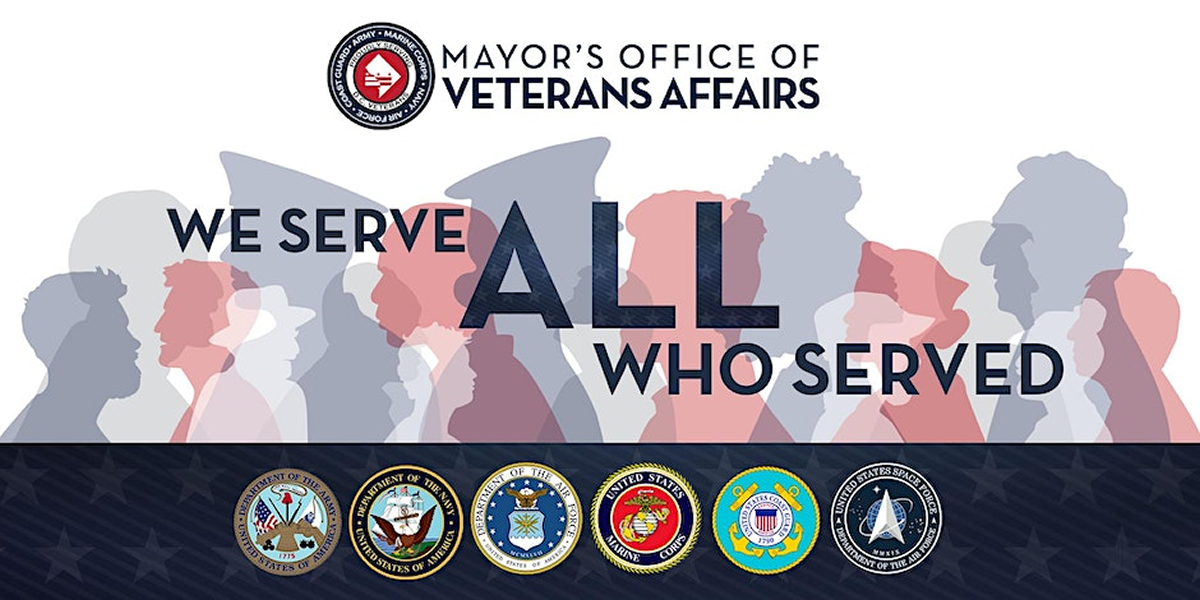 Thursday, June 8
4-6 p.m.
As You Are
500 8th Street, S.E.
Free
Eventbrite
The D.C. Mayor's Office of Veterans Affairs host the "LGBTQ+ Military Pride Mixer" at As You Are this afternoon at 4 p.m.
---
Lavender Evolutions: Femz & Themz bipoc Happy Hour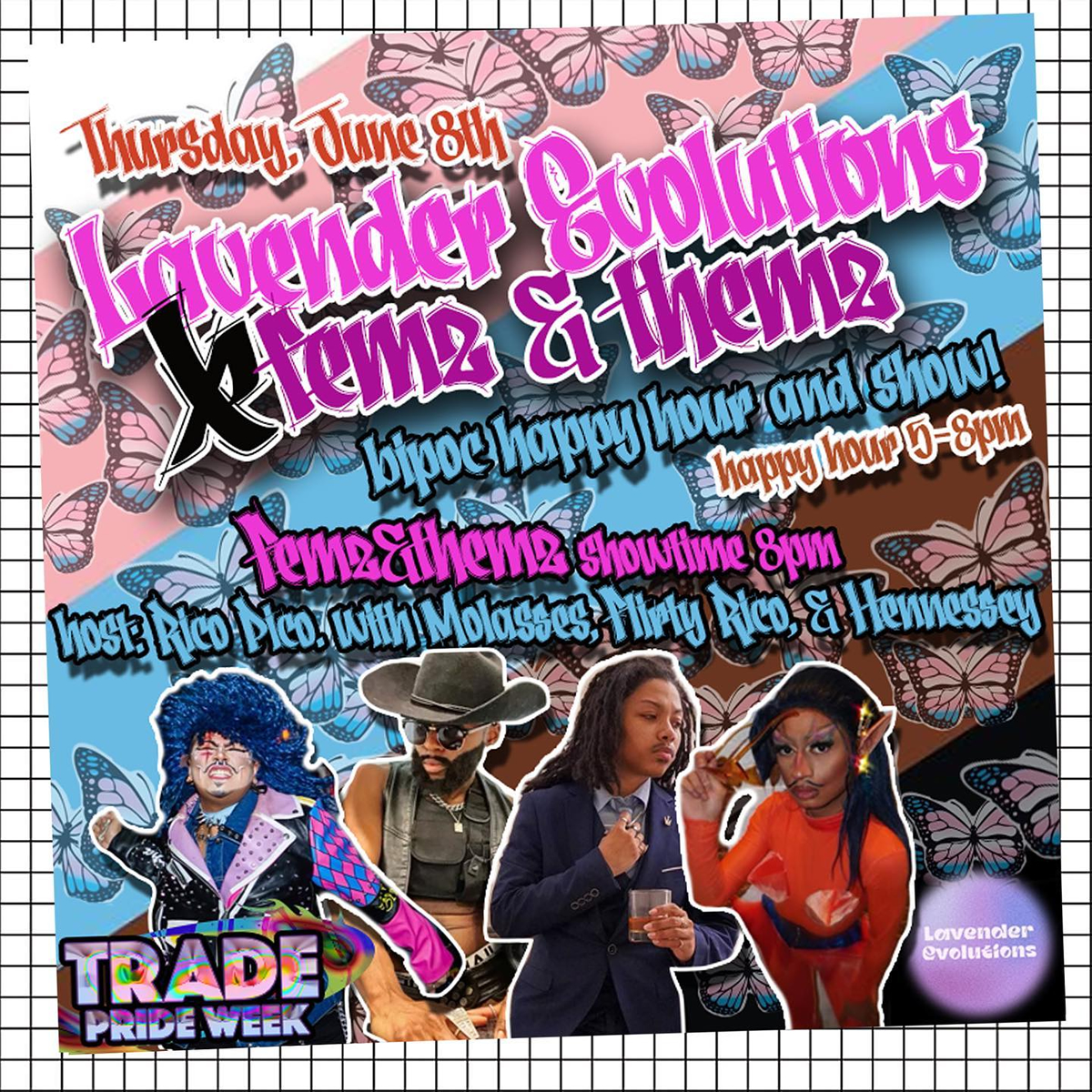 Thursday, June 8
5-8 p.m.
Trade
1410 14th Street, N.W.
Instagram
Rico Pico hosts "Lavender Evolutions" tonight at Trade. The "Femz & Themz bipoc Happy hour" begins at 5 p.m. with a show at 8. Performers include Molasses, Flirty Rico and Hennessey.
---
Equality Chamber of Commerce Pride Weekend Kick-off
Thursday, June 8
6-9 p.m.
The Moxy
1011 K Street, N.W.
$25 non-member
Tickets
The Equality Chamber of Commerce holds its Pride Weekend Kick-off Party at The Moxy tonight from 6-9 p.m. The event is free to members and $25 for non-members of ECC.
---
PRIDE in the Park: Free Outdoor Comedy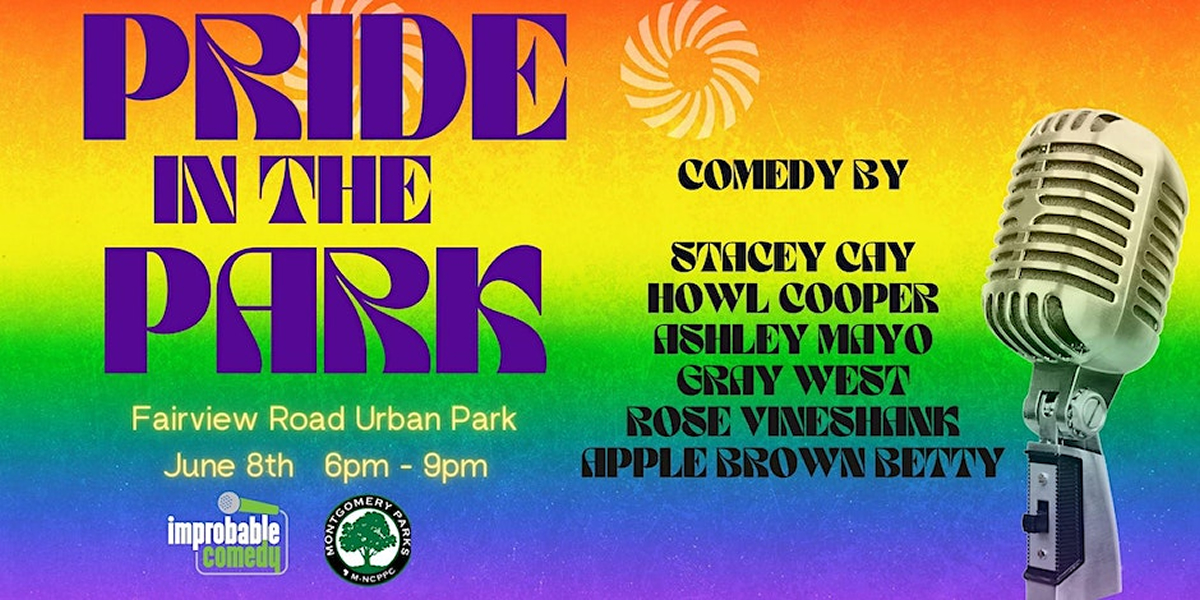 Thursday, June 8
6-9 p.m.
Fairview Road Urban Park
8900 Fairview Road
Silver Spring, Md.
Eventbrite
Laugh out loud to comics Stacey Cay, Howl Cooper, Ashley Mayo, Gray West, Rose Vineshank and Apple Brown Betty at Fairview Road Urban Park tonight from 6-9 p.m.
---
Women's/Sapphic Night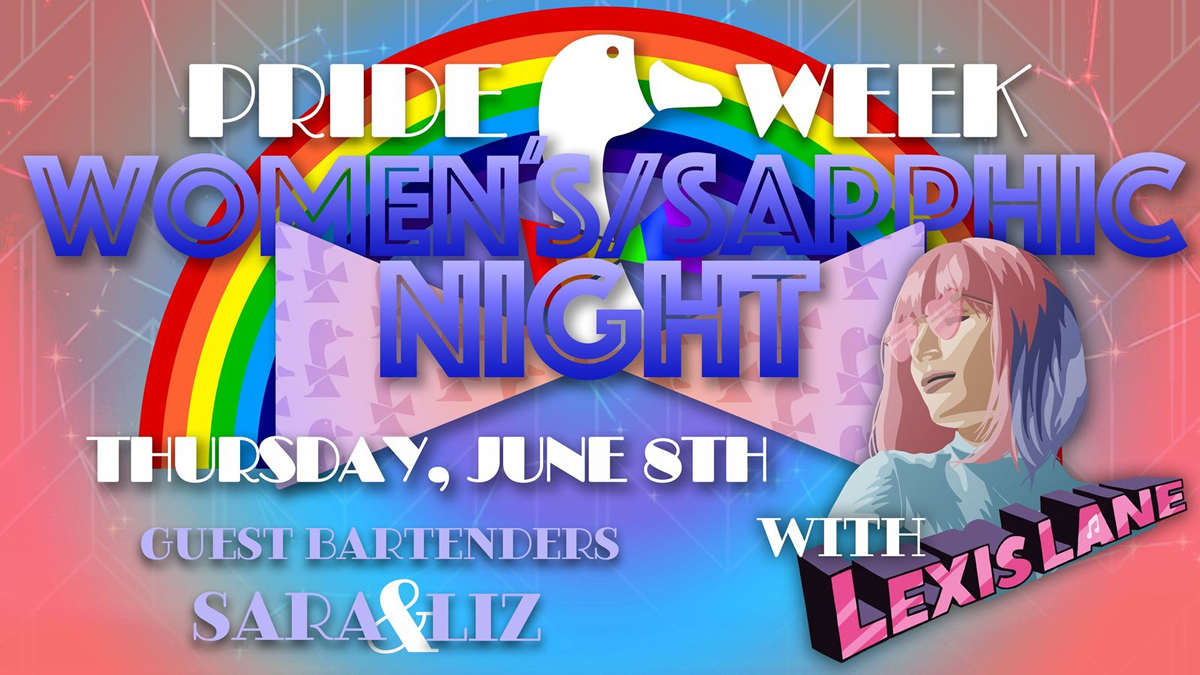 Thursday, June 8
7 p.m.
The Dirty Goose
913 U Street, N.W.
Instagram | Website
It's Women's/Sapphic Night at The Dirty Goose tonight.
---
GAY! Trivia and Drag Show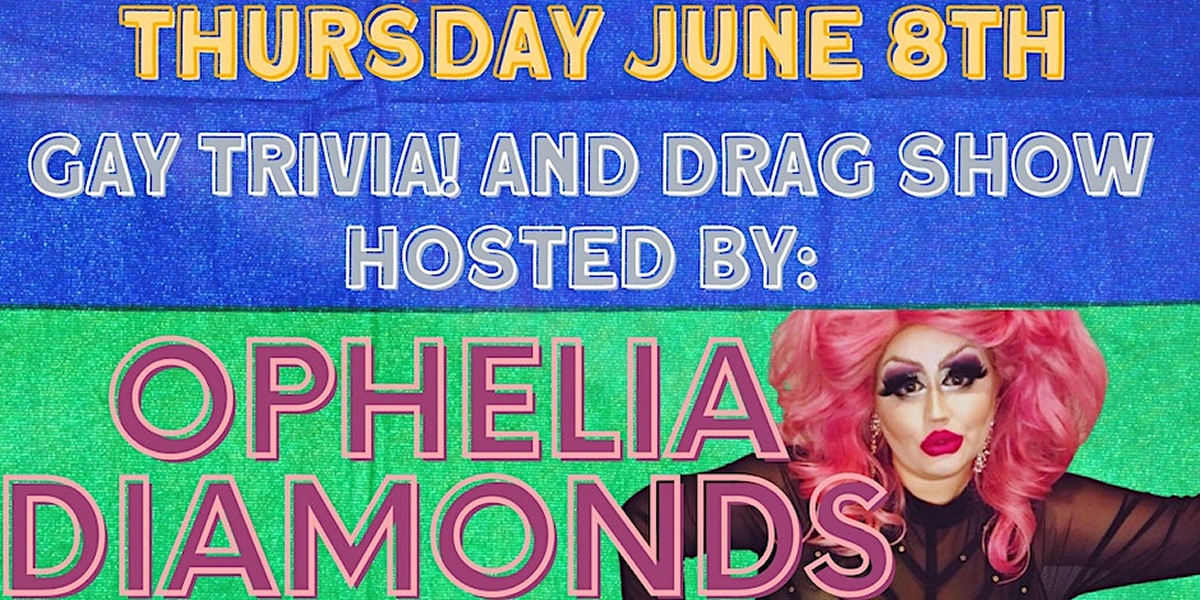 Thursday, June 8
7-10 p.m.
Baja Tap
2436 18th Street, N.W.
Free
Eventbrite
Ophelia Diamonds hosts a game of gay trivia and a drag show at Baja Tap tonight.
---
BAD (Broadway and Disney) Singalong: Loud & Proud Edition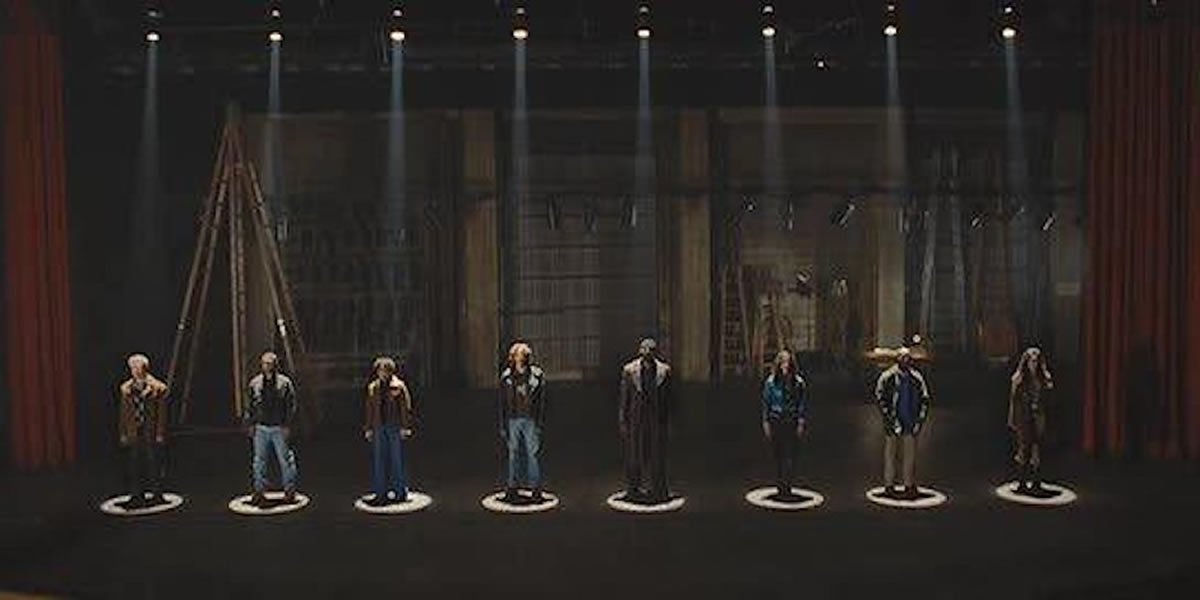 Thursday, June 8
7-10 p.m.
H Street Country Club
1335 H Street, N.E.
Free
Eventbrite
Belt your favorite Broadway and Disney tunes at the BAD Singalong: Loud & Proud Edition at H Street Country Club tonight.
---
DMV Comedy Wars: A PRIDE Benefit for the Trevor Project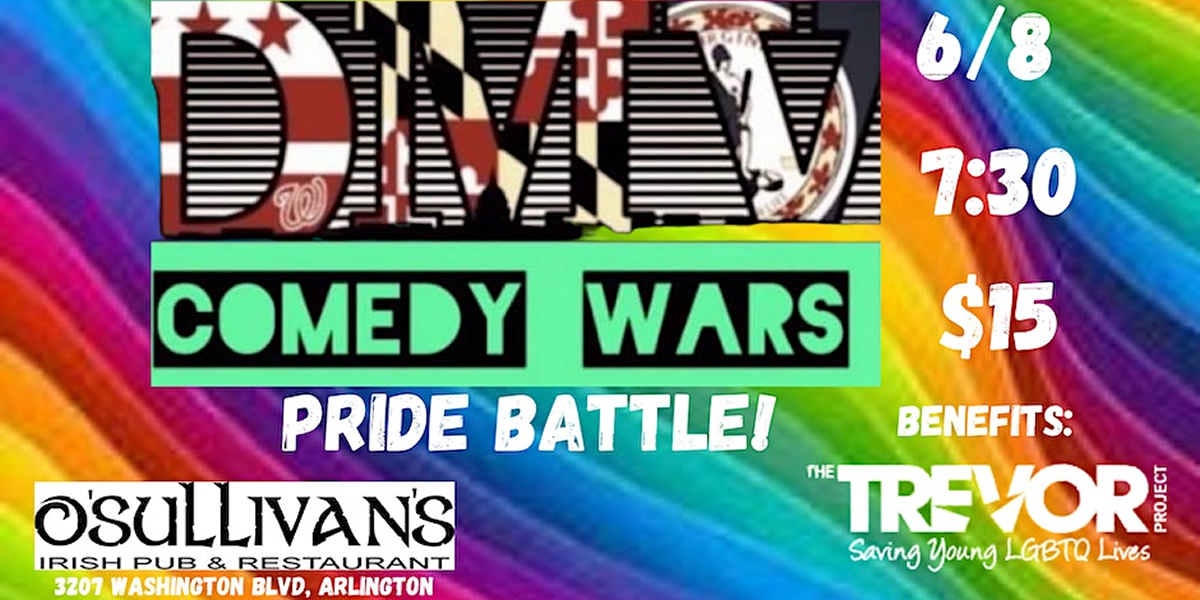 Thursday, June 8
7:30-9 p.m.
O'Sullivan's Irish Pub
3207 Washington Boulevard
Arlington, Va.
$15
Eventbrite
The DMV Comedy Wars continue with a "Pride Battle" of comics at O'Sullivan's Irish Pub & Restaurant in Arlington, Va. tonight. Benefits from the show are slated for the Trevor Project, so go out and laugh for a good cause.
---
Capital Pride Rooftop Pool Party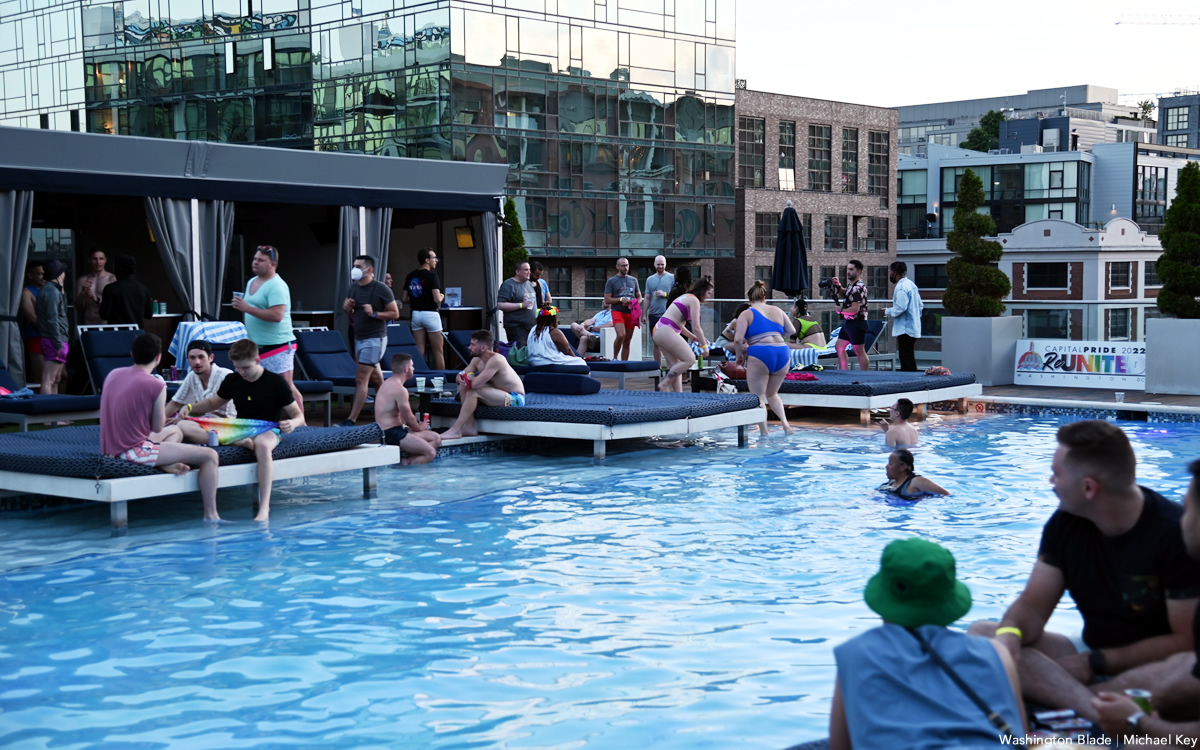 Thursday, June 8 [UPDATE: This event has been postponed to June 22]
8 p.m.
Penthouse Pool and Lounge
1212 4th Street, S.E.
$25-$35 / 21+
Website
The Capital Pride Alliance hosts its annual Rooftop Pool Party at 1212 4th Street, S.E. [UPDATE: Rescheduled due to poor air quality]
---
ElectroPOP Thursdays: Pride Edition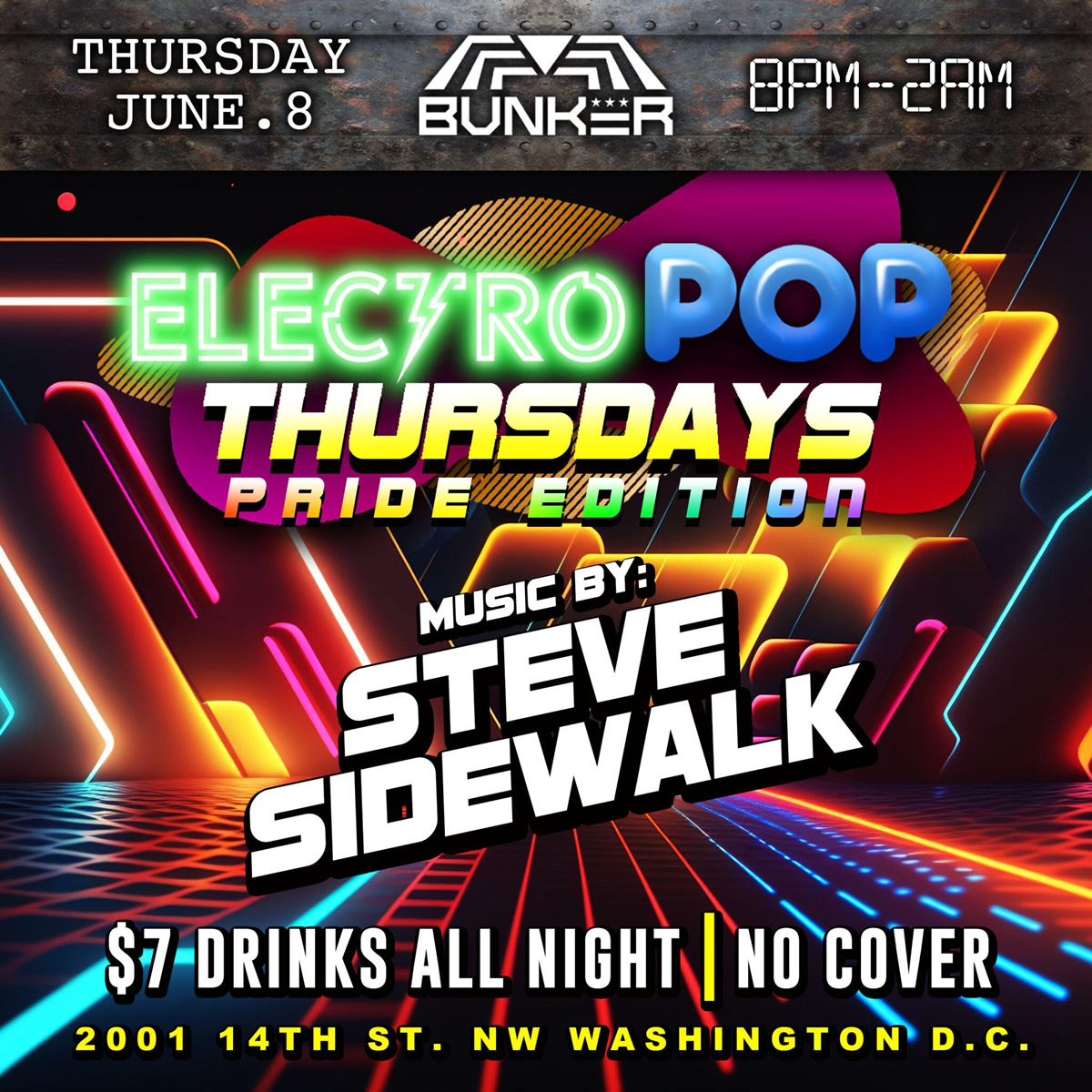 Thursday, June 8
8 p.m.-2 a.m.
Bunker
2001 14th Street, N.W.
No Cover
Website
Steve Sidewalk brings the music to this Pride Edition of ElectroPOP Thursdays at Bunker.
---
Films on the Green DC: "Three Nights a Week" Screening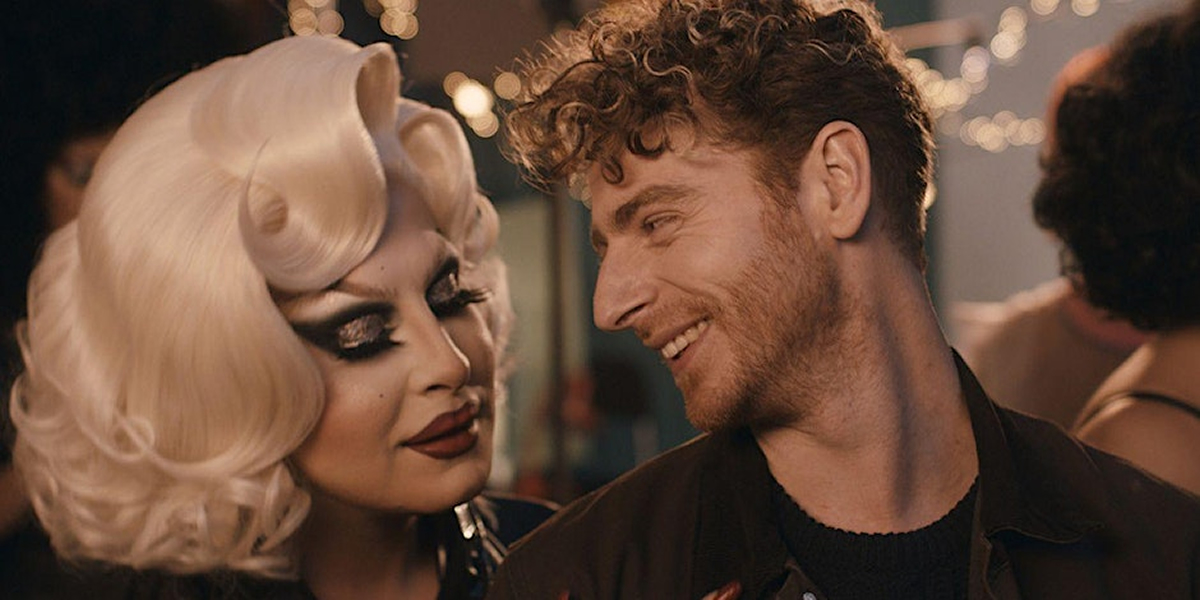 Thursday, June 8
9-11 p.m.
Washington Monument
2 15th Street, N.W.
Free
Eventbrite
The base of the Washington Monument is a beautiful spot to watch a film. For this Pride Thursday, Films on the Green is playing the 2022 French LGBTQ film, "Three Nights a Week."
---
Wasted & Gay Thursdays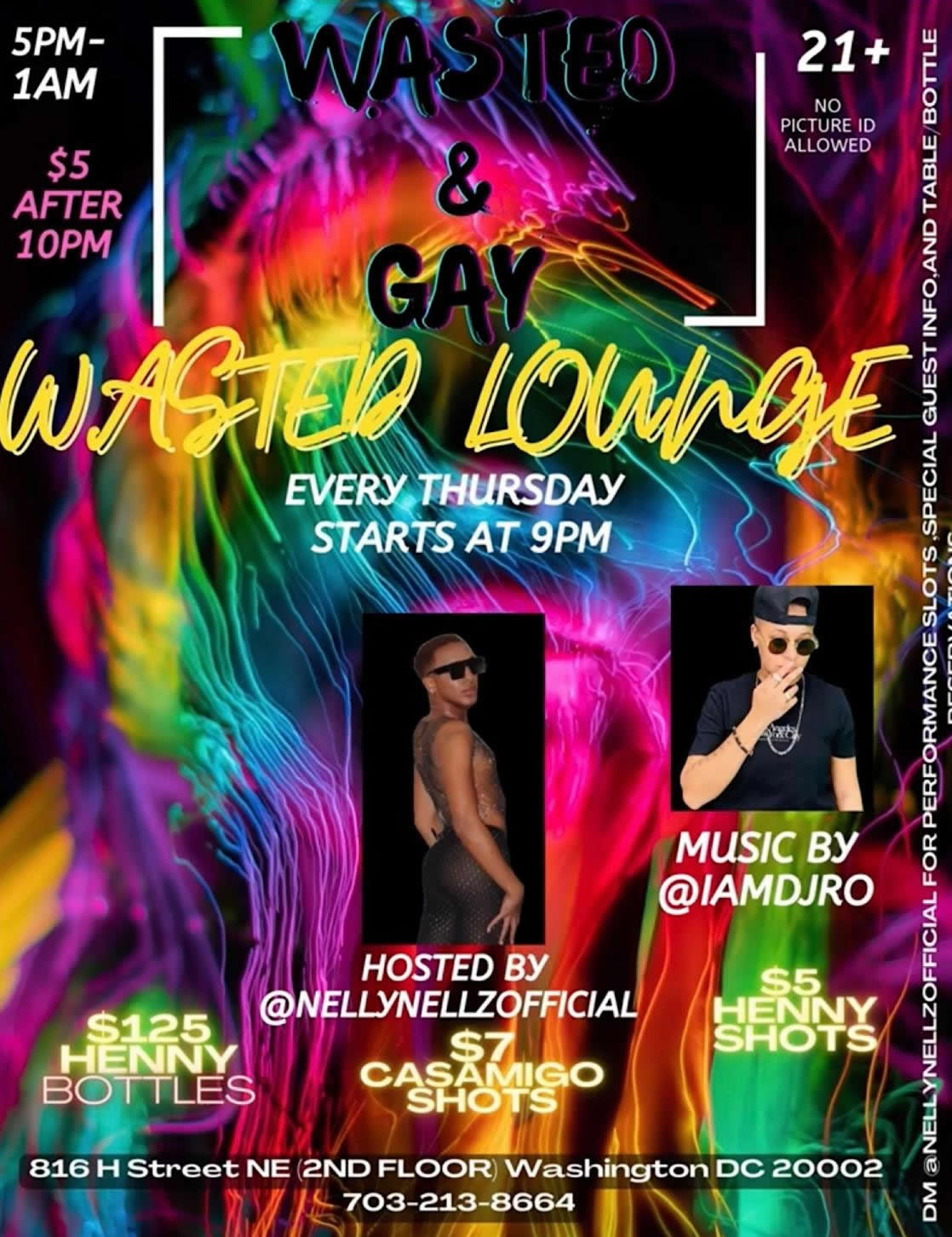 Thursday, June 8
9 p.m.-1 a.m.
Wasted Lounge
816 H Street, N.E.
$5
Eventbrite
Have a pleasant evening with a beverage and hookah at Wasted Lounge with "Wasted & Gay Thursdays" at 9 p.m. tonight.
---
Sleaze Pride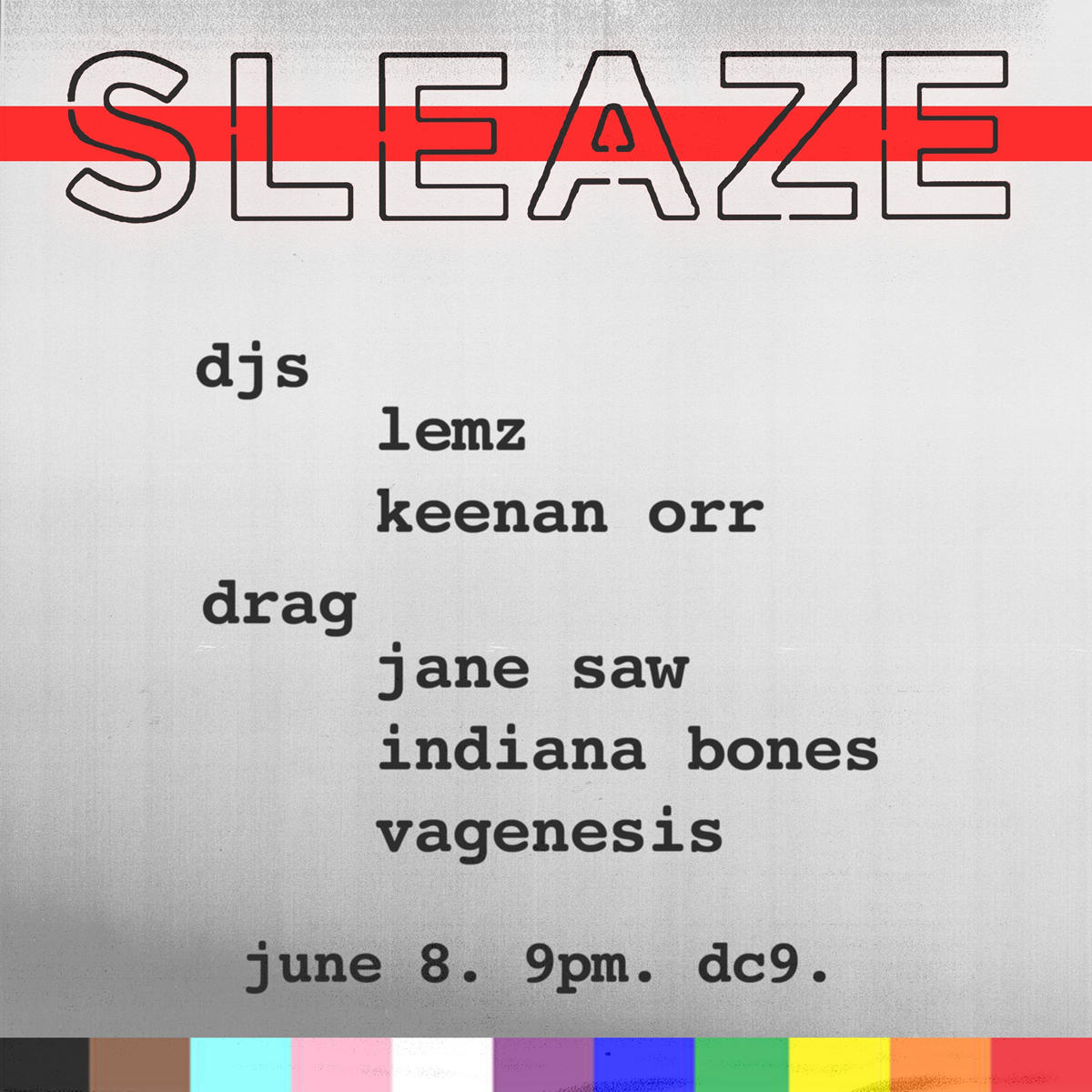 Thursday, June 8
9 p.m.-2 a.m.
DC9 Nightclub
1940 9th Street, N.W.
$10
Facebook | Eventbrite
The monthly DC9 "Sleaze" LGBTQ parties culminate with the Sleaze Pride party tonight featuring drag artists Jane Saw, Indiana Bones and Vagenesis. DJ Lemz and DJ Keenan Orr bring the music.
---
Shirts and Skins!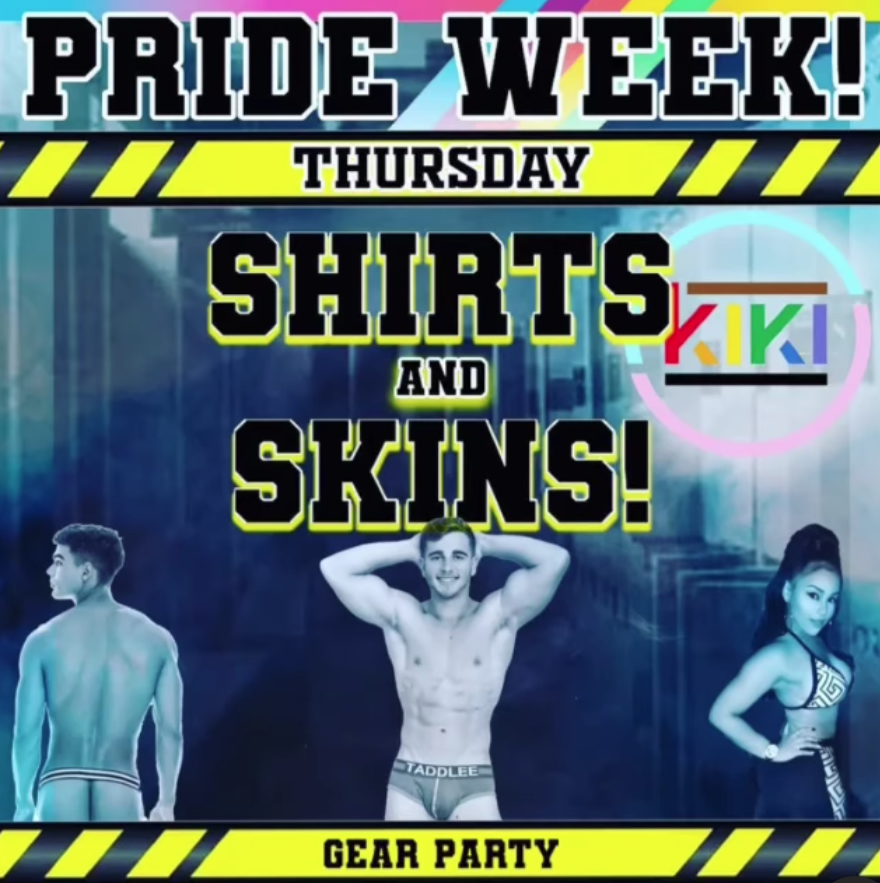 Thursday, June 8
10 p.m.
Kiki
915 U Street, N.W.
Instagram
Kiki dips its toes into the gear party scene for Pride with a Shirts and Skins party. So, show off your jock straps, singlets, compression shorts, harnesses, pup attire, body suits or whatever gear you grab at this kinky party.
---
KINTETIC Pride: Sugar Pop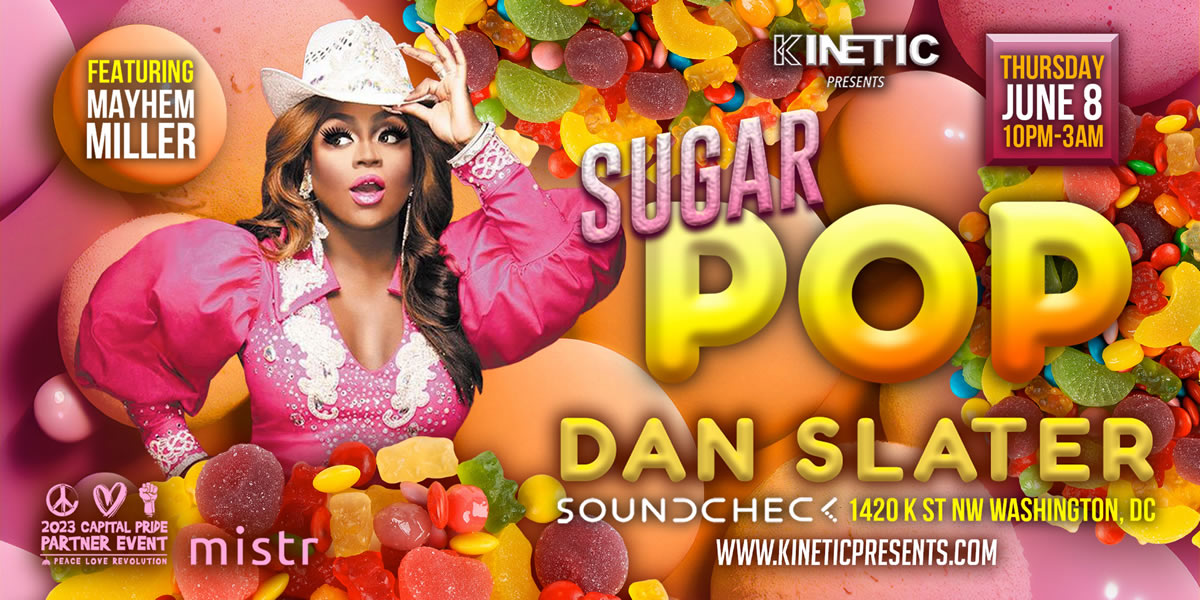 Thursday, June 8
10 p.m.-3 a.m.
Soundcheckdc
1420 K Street, N.W.
$20-$30 (or purchase weekend pass)
Facebook | Tickets
KINETIC Pride events begin with Sugar Pop featuring Mayhem Miller with Dan Slater at Soundcheck at 10 p.m. You can either pay piecemeal for each party, or you can secure weekend passes for all four KINETIC Pride events for $149-$219 on Eventbrite.
---
PHOTOS: LHP Pride Kickoff Drag Show
Latinx Pride Court crowned at Trade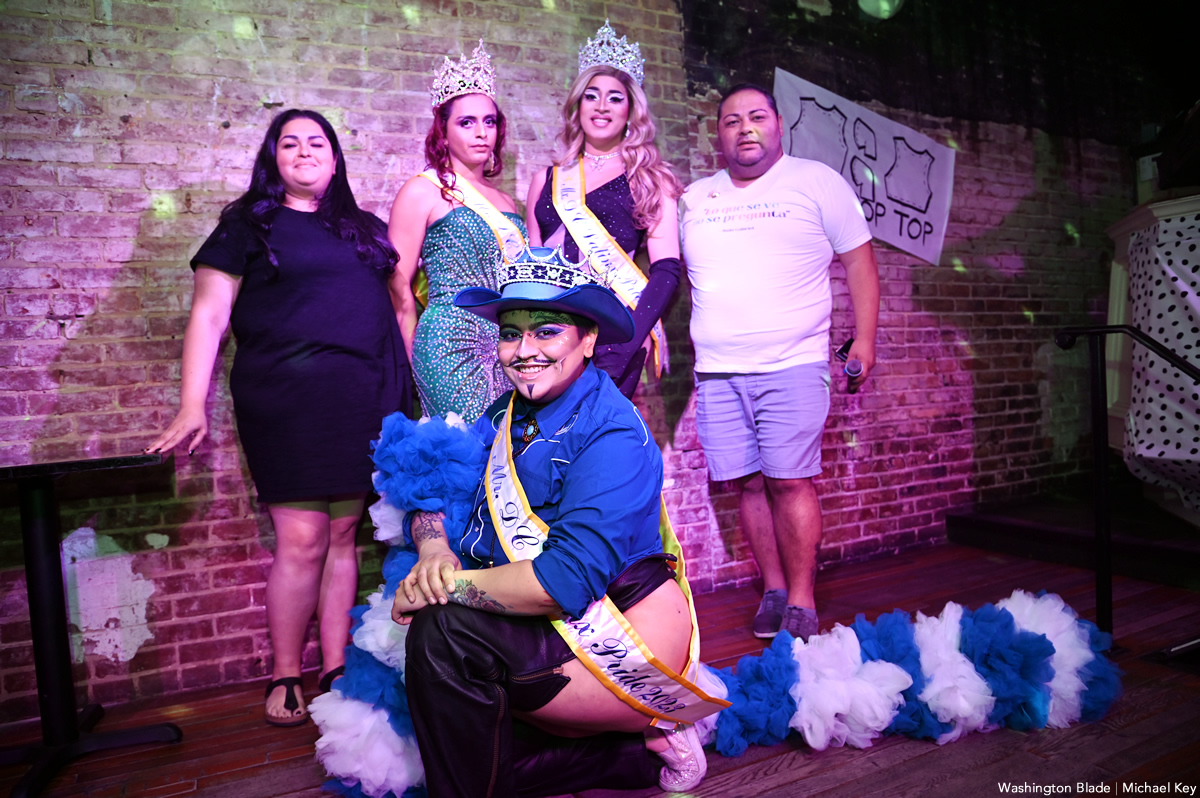 The Latinx History Project (LHP) held a Pride Kickoff Drag Show at Trade on Wednesday, June 7. Performers included Rico Pico, Desiree Dik and Darcy de la Cuadra. Rico Pico was crowned Mr. DC Latinx Pride 2023, Randy Salmeron (a.k.a. Darcy de la Cuadra) was crowned Mx. Latinx Pride 2023 and Kaila Kaleaa was crowned Ms. Latinx Pride 2023.
(Washington Blade photos by Michael Key)