Gay man to head D.C. Office of API Affairs
Appointment of David Do makes four out cabinet members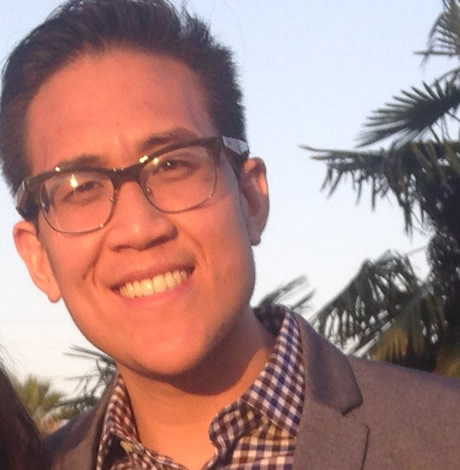 D.C. Mayor Muriel Bowser on Sunday night announced she has appointed gay urban planning specialist and former D.C. government official David Do as director of the city's Office of Asian and Pacific Islander Affairs.
Bowser made the announcement while speaking at the 26th Annual Korean-American Grocers Association of Washington, D.C. Scholarship Award Banquet. The event was held at the Ukrainian Catholic National Shrine of the Holy Family located near Catholic University in the city's Brookland section.
"David is a passionate leader who is committed to improving the quality of life for the residents of the District of Columbia," Bowser said in making the announcement.
"I welcome David's enthusiasm and am delighted to have him join our team. David will be instrumental in working with the AAPI community on behalf of my administration to deliver a fresh start for the District's residents," she said.
Do's appointment to the cabinet-level post requires confirmation by the City Council. Political observers familiar with the Council expect the Council to approve the appointment.
Do is a Vietnamese American and the child of a family that came to the U.S. as Vietnam War refugees. He finished a close second in a five-candidate race for a seat on the D.C. State Board of Education from Ward 1 in last November's city election. In December he received a master's degree in community planning from the University of Maryland.
Prior to enrolling in graduate school at Maryland, where he also served as a teaching assistant, Do served as a correspondence management specialist in the mayor's Correspondence Unit under Mayors Adrian Fenty and Vincent Gray.
A statement released by Bowser's office on Sunday says among Do's goals in his new job will be to "move forward together by continuing to build bridges between the District's AAPI community and all Washingtonians."
The statement adds, "Do will lead OAPIA in its mission to improve the quality of life for District AAPIs through advocacy and engagement. Do will advise the mayor, the Council, and District agencies on the views, needs, and concerns of the AAPI community, provide recommendations on District programs and initiatives affecting the AAPI community, and help to coordinate programs and initiatives within District government that promote the overall welfare of the AAPI community."
Do becomes the fourth openly gay or lesbian appointed by Bowser to a cabinet-level position. Last week Bowser named lesbian activist, media professional and former Washington Blade vice president for strategic initiatives Sheila Alexander-Reid as director of the Mayor's Office of LGBT Affairs.
Shortly before taking office as mayor on Jan. 2, Bowser named lesbian housing and homelessness policy expert Polly Donaldson as director of the D.C. Department of Housing and Community Development and gay former city official Matt Brown as director of the Mayor's Office of the Budget.
"I am excited to be appointed by Mayor Bowser to lead the Office of Asian and Pacific Islander Affairs," Do said in a statement. "I will bring my experience and deep understanding of various community groups and stakeholders in Washington, D.C. to my new role," he said. "My focus will be on making sure that the Asian-American and Pacific Islander has a strong advocate and voice within the District."
Howard County activists and allies hit back at censorship, hate
More than 100 people attended 'We ARE the People' rally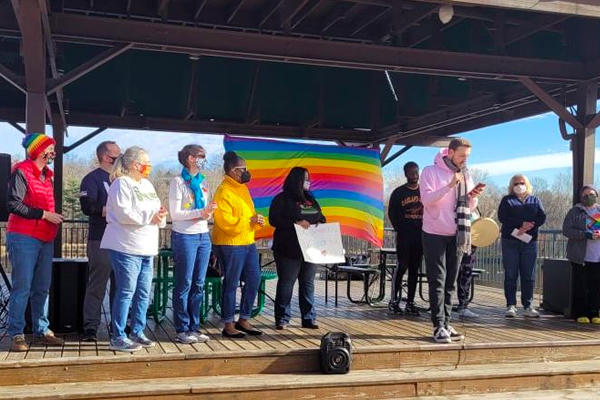 A diverse crowd of 100 to 200 folks gathered at the Columbia Lakefront on Saturday to attend a rally to push back against censorship in the county's public schools as well as homophobia and transphobia emanating from a group of conservative parents.
The rally called "We ARE the People" was organized in response to the comments and actions by members of a Maryland-based conservative group "We the People 2" that among other things are anti-masks, anti-vaccinations and are opposed to teaching racial history in the schools. They also oppose two books that are in Howard County Public Schools library shelves: "Gender Queer" and "Lawn Boy."
Speakers at a We the People 2 rally last month at an Elkridge warehouse condemned the books, which contain LGBTQ characters, as sexually explicit. The group later filed police reports against the Board of Education alleging the books constitute pornography with "graphic sexual content and materials being used and disseminated in public schools," according to the group's press release. A flier announcing this action used the loaded terminology, "We must not allow our children to be abused and victimized."
Among the speakers at the Elkridge rally was Republican Gordana Schifanelli who is running for lieutenant governor on the ticket with Daniel Cox. Another speaker, George Johnson, a teacher from Baltimore City, was heard on a video of the event saying, "We're doing God's work because Marxism, homosexuality and transgenderism is the devil."
In response, the pro-LGBTQ rally in Columbia announced the following:
We are taking a stance against hate in the community as we raise our voices in support of equity in our schools. Attacks on teachers and school staff have prompted us to stand united and drown out the noise.
In addition, We ARE the People states:
We stand for LGBTQ+ students and educational professionals
Teaching accurate history to our students
Supporting equitable practices in our schools
Providing students with relevant LGBTQ+ media through their school libraries
The two-hour rally, which was attended by several county council members, featured speakers representing a wide swath of community, educational, religious and political organizations. They included: Community Allies of Rainbow Youth (CARY), Black Lives Activists of Columbia (BLAC), Absolutely Dragulous, Howard County Schools, PFLAG-Columbia/Howard County, IndivisibleHoCoMd, Columbia Democratic Club, Howard Progressive Project, Unitarian Universalist Congregation of Columbia (UUCC), HoCo Pride, Progressive Democrats of Howard County, and the Columbia United Christian Church.
Many of the speakers denounced the censorship of materials that are needed by many LGBTQ students. Genderqueer and non-binary students, they point out, are most vulnerable and need affirming literature to help with their development and self-acceptance. The speakers also decried hate speech, which has surfaced again, as well as the opposition to teaching history as it relates to race.
Others argued that the community must not sit back and take it from extremist groups.
"You are all defenders," said Cynthia Fikes, president of the Columbia Democratic Club, in a fiery speech. "But to succeed a strong defense also needs a strong offense."
The two books in question were recently the center of controversy in the Fairfax County (Va.) school system. The books were removed in September from the shelves of the high schools pending a comprehensive review following opposition from a parent at a school board meeting. It should be noted that both books were previous winners of the American Library Association's Alex Awards, which each year recognize "10 books written for adults that have special appeal to young adults, ages 12 through 18."
The board established two committees consisting of parents, staff and students to assess the content of the books and make recommendations to the assistant superintendent of instructional services who would make the final determination.
One committee found that "Lawn Boy" includes themes that "are affirming for students" with marginalized identities. "There is no pedophilia in the book," the committee added. The other committee found that "Gender Queer" depicts "difficulties non-binary and asexual individuals may face." The committee concluded that "the book neither depicts nor describes pedophilia." The books were restored to the shelves.
"As this backlash against LGTBQ+ literature demonstrates, we must be ready to stand up and defend the progress we have made," said Jennifer Mallo, member of the Howard County Board of Education, expressing her own point of view. "We must ensure our elected officials understand and share our values and will fight for our marginalized students."
The enthusiastic crowd was clearly pleased with the event.
"Today's rally was meant to inspire our community to take action," said Chris Hefty, who was the lead organizer of the rally and the emcee. "Action that protects our youth. Action that protects our educators and admins. This action comes in the form of advocacy, communication with elected officials so they know your voice, and through well informed voting to ensure those who represent us are those we know will support us. We shared a message of love, acceptance, and warmth."
Hefty adds, "The unity we facilitated through this rally was a sight to behold. As the lead organizer I couldn't have been more pleased! In the future we will be sure to better meet the needs of all our community members. We thank all those in our community for their support and feedback and look forward to accomplishing great things together moving forward."
Comings & Goings
Nathanson takes role at Outright Action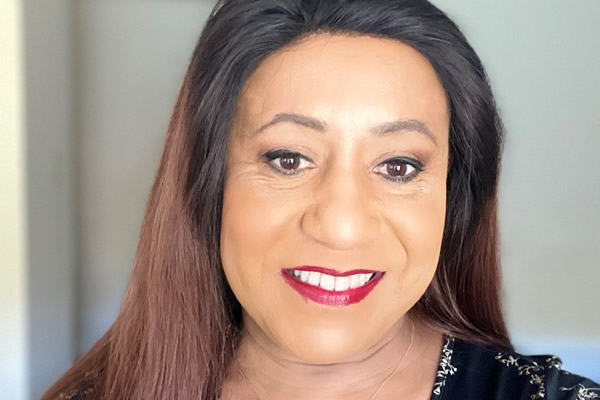 The Comings & Goings column is about sharing the professional successes of our community. We want to recognize those landing new jobs, new clients for their business, joining boards of organizations and other achievements. Please share your successes with us at: [email protected]
The Comings & Goings column also invites LGBTQ+ college students to share their successes with us. If you have been elected to a student government position, gotten an exciting internship, or are graduating and beginning your career with a great job, let us know so we can share your success.
Congratulations to Rikki Nathanson on her new position as Senior Advisor – Global Trans Program with OutRight Action International in New York. Nathanson will be based in D.C.
"I am absolutely thrilled to be taking on this new role as Senior Advisor in OutRight's Global Trans Program," said Nathanson. "I have finally found the perfect fit for me: as a trans woman who has been fighting for equality not only for myself, but for others globally, this position is not only a job, it's intrinsically part of who I am. So, what better way to live, nurture and grow myself."
Nathanson will be working closely with all program staff to ensure a cohesive and intentional approach to gender issues throughout OutRight's programs, including its approach to gender ideology movements. She will lead new initiatives on gender advocacy and policy change, focused but not limited to legal gender recognition and anti-discrimination legislation and policies.
Prior to this Nathanson was director of housing programs at Casa Ruby in D.C. She has also held a number of other positions including: founder/executive director of Trans Research, Education, Advocacy & Training (TREAT), Zimbabwe; chairperson Southern Africa Trans Forum, SATF, Cape Town, South Africa; executive director, Ricochet Modeling Agency, Zimbabwe; and company secretary for Dunlop Zimbabwe Limited, Zimbabwe.
SMYAL Director Shakir to step down Dec. 31
Board to launch Executive Search beginning in January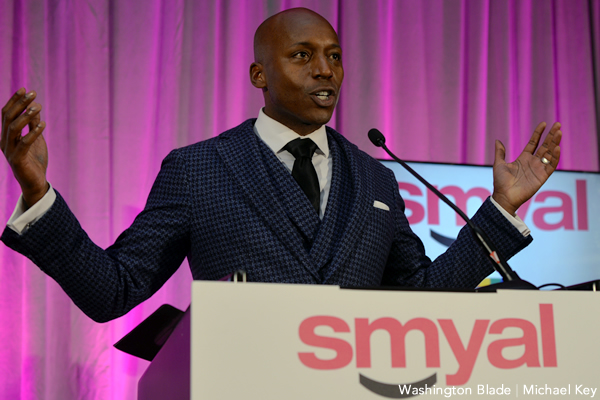 Sultan Shakir, who has served as executive director of D.C.'s LGBTQ youth advocacy organization SMYAL since August 2014, announced on Friday that he will be stepping down from his position effective Dec. 31.
In a Dec. 3 announcement, SMYAL said details of Shakir's future career plans would be announced in the coming weeks.
"While we are sad to see Sultan leave, we wish him nothing but the same success in his new endeavor as he had at SMYAL," said Rob Cogorno, SMYAL's board chair. "His leadership and vision enabled SMYAL to expand greatly needed services to LGBTQ youth in the DC metro area throughout his tenure," Cogorno said.
"I am immensely proud of the work we have been able to accomplish together in my time at SMYAL," Shakir said in a statement released by SMYAL. "SMYAL has been an integral and vital resource in the DMV community for over 37 years, and while we have come a long way in combating homophobia, transphobia, racism, sexual health stigma, homelessness, violence against the LGBTQ community, and oppression, we have a long way to go," he said.
"This work has never been about one person," said Shakir. "SMYAL was founded by our community and we're still around because of our community," he said. "I leave knowing that the commitment and passion of the SMYAL Board, staff, volunteers, and youth leaders have created a solid foundation from which our work will continue to grow until LGBTQ youth no longer need us."
The SMYAL statement says that under Shakir's tenure, SMYAL, which stands for Supporting and Mentoring Youth Advocates and Leaders, expanded its programs and services for LGBTQ youth. Among other things, in 2017 SMYAL opened its first of several housing facilities for homeless LGBTQ youth that include culturally competent case management, education and employment assistance.
"The Youth Housing Program now comprises five programmatic models that serve a combined 61 youth residents," the statement says.
It points out that also under Shakir's leadership, SMYAL expanded the age range of the youth its programs serve under a new Little SMYALs program, which welcomes LGBTQ youth ages 6-12. And earlier in 2021 under Shakir's guidance, SMYAL began a new Clinical Services Department "which provides affirming and accessible mental health counseling," the statement says.
"The SMYAL Board of Directors will officially launch an Executive Search beginning in January 2022 and expects to have named a new Executive Director by summer 2022," the statement says. It says the board will soon name an interim executive director to work with SMYAL's Deputy Executive Director, Jorge Membreno, and the organization's leadership team to oversee the day-to-day activities until a new executive director is named.