Center has busy calendar
New development coordinator also planning Pride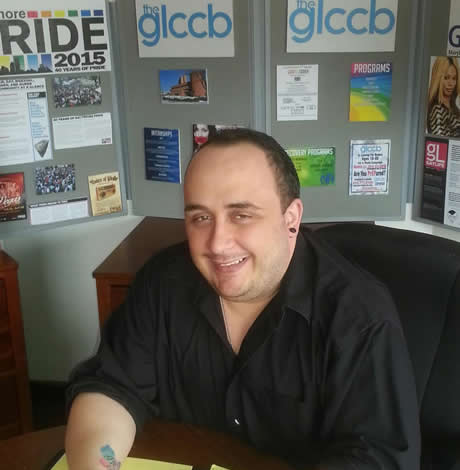 Paul Liller, the 2015 Pride coordinator, and now the new development coordinator for the Gay, Lesbian, Bisexual and Transgender Community Center of Baltimore and Central Maryland (GLCCB), is quite busy.
"We have an ambitious schedule for 2015, and it's my job to help make it successful," he says. Liller's new responsibilities include all aspects of Pride, GLCCB fundraising, donor interactions, all events, grants implementation, outreach and much more.
Liller says that after considerable effort and negotiations, Pride will return to the Eager Street and Charles Street locale on July 25 where it had been a popular two-day celebration and a vital source of revenue for the GLCCB throughout its history. The more laid-back Sunday Druid Hill Park event is scheduled for July 26.
Liller, 32, is enthusiastic, confident and driven to make Pride, as well as the Center's other programs, a success. Liller and the GLCCB have set out an ambitious agenda that in itself would be daunting even without his being the maestro for Pride.
Those other events on the docket include:
From April 13-17, the Center will host an open house week at the Waxter Center, 1000 Cathedral St., so that community members can see where the GLCCB is headquartered. On April 17, there will be a kickoff party for youth programs and a media rollout to explain the Center's new responsibility in communicating about Pre-Exposure Prophylaxis, or PrEP.
There will be a casino night at Grand Central on April 18 to benefit Pride. On May 2, the Voice of Pride will take place at Steampunk Alley. The Hunks in Trunks fundraiser will occur on May 13. And for history buffs, the LGBT Archives Exhibit opening reception is scheduled for May 15.
Following Pride, the GLCCB will celebrate LGBT History Month with Oktoberfest the first week, Black Pride, Hearts and Ears, and Chase Brexton will be joining the GLCCB for events the remainder of the month. And on Halloween, the Center will hold its "Outrageous" gala.
Dupont Circle 'gayborhood' preserved in Council redistricting bill
All of neighborhood remains in Ward 2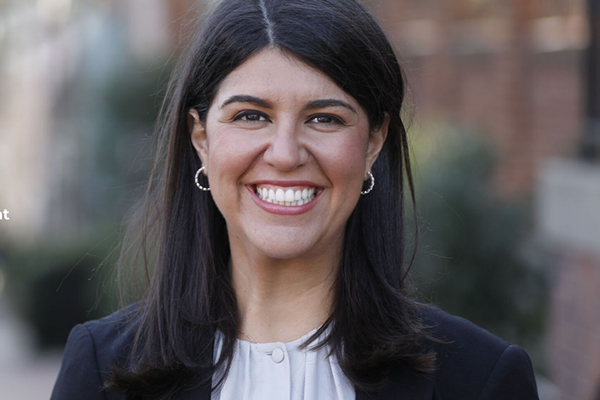 A bill approved by the D.C. Council in a first-reading vote on Tuesday to redraw the boundaries of the city's eight wards keeps all of the Dupont Circle neighborhood, which LGBTQ activists have referred to as the city's preeminent "gayborhood," in Ward 2.
The redistricting plan approved by the Council included a change from an earlier proposal by a special redistricting subcommittee that called for transferring part of the North Dupont Circle neighborhood into Ward 1.
Councilmember Brooke Pinto, who represents Ward 2, joined many of her ward's LGBTQ residents in raising strong objections to dividing the Dupont Circle neighborhood into two different wards.
A number of LGBTQ residents, including Mike Silverstein, one of five openly gay members of the nine-member Dupont Circle Advisory Neighborhood Commission, said the initial subcommittee proposal would unnecessarily split Dupont Circle's historic "gayborhood," which he said has served as a safe space for LGBTQ D.C. residents for decades.
"Excising this part of Ward 2 would arbitrarily cut off the LGBTQIA+ community that has such a rich and pronounced presence in North Dupont," Pinto said in a statement her office released last month. "I will be working with my colleagues to ensure that this community remains in Ward 2," Pinto said.
A spokesperson for D.C. Council Chair Phil Mendelson (D-At-Large) said Mendelson worked with the three members of the redistricting subcommittee and other Council members to make some changes to the subcommittee's initial release of three proposed maps with redrawn ward boundary lines. All three of the maps included plans to move the north part of Dupont Circle to Ward 1, each of which was dropped in the final proposal approved by the Council.
The Council is scheduled to hold a second and final vote on the redistricting measure later this month.
City officials have noted that a redrawing of the city's ward boundary lines is needed to bring the city into legal conformance with the 2020 U.S. Census count for D.C., which shows shifts in population within the city.
U.S. Attorney's Office declines to prosecute anti-gay assault case
D.C. police report says man beaten by neighbors in Northeast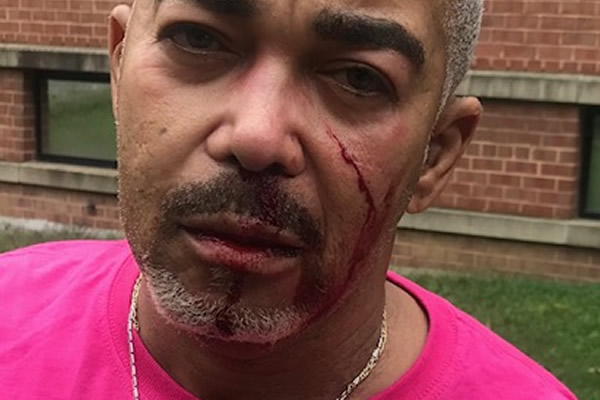 The U.S. Attorney's Office has declined to prosecute two women and a man who, according to a D.C. police report, assaulted a gay man after one of the women called him a "Jewish faggot" during an Oct. 13 incident on the grounds of a Northeast Washington apartment building where the victim and the two women live.
The victim, Antonio Zephir, 51, said one of the women, her daughter, and a man he believes to be the daughter's father repeatedly punched him in the face after he shouted back at the mother in response to the anti-gay and anti-Jewish slur he says she hurled at him.
The incident took place outside the Northwood Gardens Apartments at 4870 Fort Totten Dr., N.E. at about 12:40 p.m. the police report says.
Zephir told the Blade this week that an official with the U.S. Attorney's Office, which prosecutes crimes committed by adults in D.C., informed him in a phone call that the office decided not to prosecute the case after police and prosecutors viewed a surveillance camera video that reportedly captured the entire incident.
He said the official, Crystal Flournoy, Deputy Chief of the U.S. Attorney's Office's Early Case Assessment Section, told him the video showed that he was the "aggressor" in the incident.
Zephir says he strongly disputes that characterization and believes the camera angle from the video may not have captured the full altercation in which he was assaulted first before attempting to defend himself.
A D.C. police spokesperson said police opened an investigation into the incident after Zephir called police immediately after the altercation. A police report lists the incident as a suspected anti-gay hate crime and lists the offense as a misdemeanor simple assault.
Zephir, who was treated and released from the Washington Hospital Center the day after the incident, suffered a fractured nose, a fractured bone surrounding one of his eyes, and other facial injuries, according to a hospital report he provided to the Blade. He said his doctor told him he may need facial surgery to treat ongoing effects from the injuries.
In a Dec. 7 email, a copy of which Zephir sent to the Blade, D.C. Police Lt. Scott Dowling informed Zephir that the U.S Attorney's Office declined to process an affidavit submitted by police requesting the case be prosecuted.
"[T]he affidavit submitted to the United States Attorney's Office was declined, meaning that their office is not willing to move forward with criminal charges," Dowling told Zephir in his email message. "As a result, there will be no arrests relating to the offense you reported," Dowling said. "As the Affidavit was declined, our investigation is closed," Dowling wrote in the message.
"The U.S. Attorney's Office declined to prosecute this matter after reviewing the evidence," William Miller, a spokesperson for the office, told the Blade in a statement on Wednesday. "Beyond that, we typically do not comment on charging decisions and have no further comment," Miller said.
Zephir said he doesn't think the video, which he hasn't seen, shows that one of the two women involved in the altercation was the first to assault him. He identified her in court papers he filed seeking a stay away protection order as Aurlora Ellis.
Court records show that a D.C. Superior Court judge on Nov. 30 issued a "Consent Stay Away Order" requiring Ellis and her daughter, identified as Latera Cox, and a woman who Zephir says lives at Ellis's apartment, to "stay at least 100 feet away from Plaintiffs Zephir or Johnson."
Steve Johnson, who is cited in the stay away order, is Zephir's roommate who the police report says attempted to stop the Oct. 13 altercation in which Zephir says he was assaulted.
The court order further states that the three women "shall not contact Plaintiffs Zephir or Johnson in any manner, including but not limited to by telephone, in writing, and in any manner directly or indirectly through another person, including social media," and that the order will remain in effect for one year.
"Ms. Ellis was the person who made those threats and slurs against me," Zephir said. "I responded with not-so-kind words. She ran towards me and assaulted me with hard punches toward my face," Zephir recounted. "I punched back in an attempt to defend myself," he said.
According to Zephir, during the altercation Ellis told him, "Call the police, you bitch faggot. They're not going to do anything. This isn't over yet." He said he continues to worry that Ellis's comment that the matter "isn't over yet" was a threat and that she may try to harm him again.
Ellis couldn't immediately be reached for comment.
Zephir said the October altercation wasn't the first time Ellis has acted in a hostile way toward him.
"For several months, every time Ms. Ellis sees me, she shouts homophobic slurs and I continued to ignore her," he told the Blade in October after contacting the Blade about the incident.
On Tuesday, Zephir told the Blade that Ellis later apologized for the altercation and asked him to drop the charges he filed against her with D.C. police. He said he declined her request, but said he's now dismayed that the U.S. Attorney's Office has refused to prosecute what he calls a "serious hate crime" against him.
Dignity Washington opens new center in Dupont Circle
Proceeds from sale of old building used to expand programming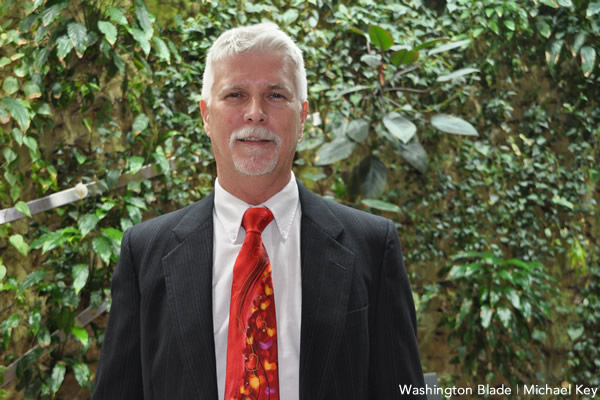 The local LGBTQ Catholic organization Dignity Washington recently opened its new Dignity Center office and community meeting space at a Dupont Circle condominium building that includes first-floor offices for small businesses and community organizations.
Dignity Washington President Tom Yates said the new space at the Imperial House condominium building at 1601 18th Street, N.W., is currently being used as Dignity's office headquarters and for meetings of the group's board and committees. He said as COVID-related restrictions are relaxed the space will be used for various events and possible use by other LGBTQ community organizations.
Yates said the group purchased the 1,700-square-foot office space in March of this year, eight months after selling its former Dignity Center building at 721 8th St., S.E., in the Barracks Row section of Capitol Hill. Dignity officials have said the Capitol Hill building was larger than the space the group needed and the proceeds from its sale would provide funds to expand its programs.
"Dignity Washington, making use of the fiscal support made possible by the change of properties, hopes to become more active speaking truth to power of the Catholic Church," Yates told the Blade. "The new facility is only a handful of blocks from the Cathedral of St. Matthew," he said, referring to one of the city's largest Catholic churches.
Noting the Catholic Church's historic lack of support for the LGBTQ community, Yates said the proximity of the new Dignity Center would help the group's mission of showing "the local same-sex community that one can be both Catholic and same-sex loving."
Yates said Dignity Washington, founded in 1972, is the largest chapter of the national LGBTQ Catholic organization Dignity USA.
Dignity Washington, among other things, organizes a weekly 6 p.m. Sunday Mass for LGBTQ Catholics and their friends and families at St. Margaret's Episcopal Church at 1830 Connecticut Ave., N.W.