Here kitty kitty
'Garfield,' 'Cat on a Hot Tin Roof' among summer offerings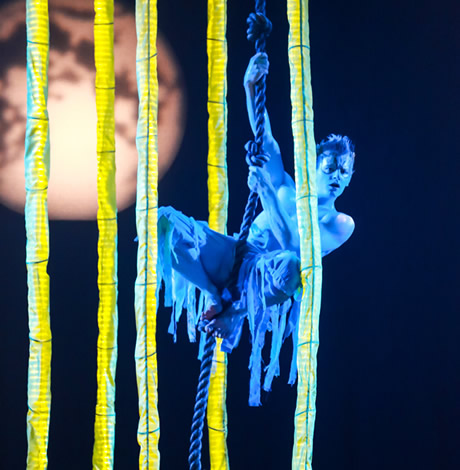 OK, so it's not three weeks in Tuscany, but a staycation does have its less stress and lower-cost charms, particularly in D.C. where there's so much to see and do. And with local theater going almost full tilt year round, summer is an ideal to take in some live performances, many of which hold special appeal for LGBT audiences. Following are some places to start.
After extensive renovations, the Keegan Theatre's Church Street venue is reopening with a production of Tennessee Williams' "Cat on a Hot Tin Roof" (through July 25). Set in Big Daddy's Mississippi plantation home, "Cat" deals with the stalled relationship between feisty Maggie and her brooding husband Brick (played by Brianna Letourneau and Kevin Hasser) who can't get over the death of his best friend Skipper.
Studio 2ndStage is presenting "Silence! The Musical" (through Aug. 9), a raunchy takeoff on the 1991 film "The Silence of the Lambs." The cast features Laura Jordan as FBI agent-in-training Clarice Starling, Tally Sessions is the refined cannibal Hannibal Lecter and out actor Tom Story plays serial killer Buffalo Bill.  
Arena Stage is premiering "Dear Evan Hansen" (through Aug. 23), a new coming-of-age musical starring Ben Platt. The music and lyrics are by Benj Pasek who is gay and Justin Paul, and the librettist is Steven Levenson. Broadway's Michael Greif directs.
Synetic Theater, the award-winning movement-based company located in Crystal City, is remounting its playful adaptation of Shakespeare's comedy "A Midsummer Night's Dream" (July 15-Aug. 9). Out actor Alex Mills is reprising his memorable turn as mischievous sprite Puck. Also featured is Helen Hayes Award-winning actor Philip Fletcher who plays Oberon, the Fairy King.
Throughout July, Signature Theatre kicks off its 2015/16 season with the Sizzlin' Summer Nights Cabaret Series. The line-up of guest performers includes Christiane Noll, Mitchell Jarvis, Christine Pedi, Natascia Diaz, Will Gartshore and more.
If children figure into your staycation equation, there are options. Glen Echo's Adventure Theatre MTC is doing "Garfield" (through Aug. 23), a family friendly hour-long musical for all ages inspired by the beloved comic strip and staged by out director Nick Olcott. Local actor Evan Casey plays the cynical and lazy title feline. In addition, Adventure Theatre is borrowing digs at Round House Theatre in Bethesda to mount the full-length, two-act musical "Oliver" (July 24 through Aug. 16) based on Dickens' classic orphan tale. With a 28-person cast and a small chamber orchestra, the production is the first of this size in the venerable theater's long history. Helmed by out director Joseph Ritsch, "Oliver's" players include out actor Rick Hammerly as career criminal Fagin and talented Felicia Curry is playing the tough but goodhearted Nancy.
"Children's theater has its challenges," says Adventure's out producing artistic director Michael J. Bobbitt.  "An hour-long show costs just as much to produce as a full-length show for adults but we can't ask the same price for a ticket. Also our audience age out at just 8 years old, so doing a more sophisticated musical like 'Oliver' is an attempt to keep them around longer. More and more family friendly shows in New York are based on works intended for children. Children's theater is infiltrating the market everywhere, so while it's an ambitious summer for us, it's also a nice progression."
Bobbitt adds, "We take children's theater very seriously. It's high art for us and we do our very best to entertain. A child's introduction to theater can be a memorable event and leave a longstanding impression. I became hooked at early age because I saw a great show. If it's bad, it can be a turnoff. The hope is that kids who see our show may want to become an artist or a lifelong supporter of the arts."
Other staycation theater fare for kids includes "Peter Pan" (through Aug. 16) performed in a massive tent-theater with impressive 360-degree projections at Tysons Corner Center, and "Double Trouble" (aka"The Parent Trap") through Aug. 14 at Bethesda's Imagination Stage (Imaginationstage.org).
For its annual Free For ALL, Shakespeare Theatre Company is remounting director Ethan McSweeny's  take on "A Midsummer Night's Dream" (Sept. 1-13) which he's set in the ruins of an abandoned theater. A popular Washington tradition for 22 years, Free For All offers free tickets to the general public to experience Shakespeare in the late summer. No longer performed under the stars, the love and magic play out in the cool comfort of STC's Sidney Harman Hall.
'Six' an empowering musical remix of English history
Wives of Henry VIII tell their own stories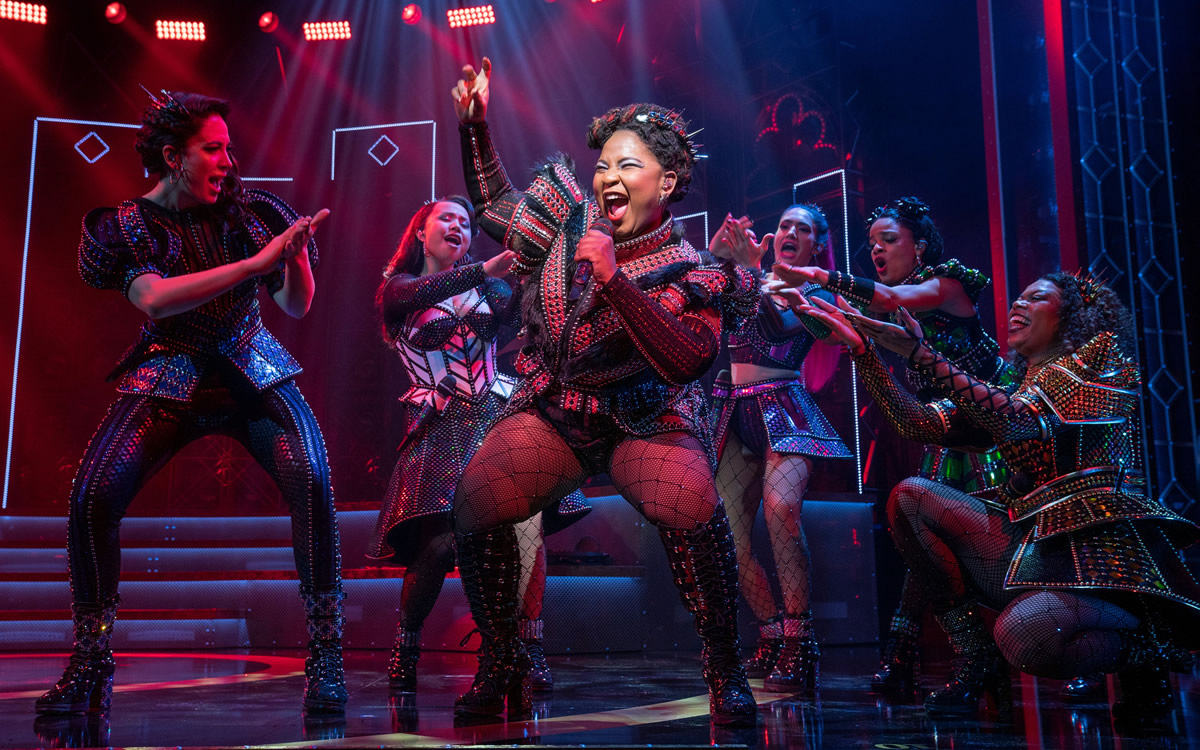 'Six'
Through Sept. 4
National Theatre
1321 Pennsylvania Ave., N.W.
$65-$150
BroadwayAtTheNational.com
Typically, the wives of Henry VIII are cast aside as headless footnotes. But in "Six," an empowering and fun musical remix of English history (now playing at National Theatre), they tell their own stories.
Conceived by Brits Toby Marlow and Lucy Moss, the Broadway hit is a fast-paced 85-minute pop rock musical presented as a contest in which Henry's wives compete for diva status by proving who's been treated the worst by the monarch, and considering Henry's vile track record, the competition is unsurprisingly stiff.
History and music unfold chronologically as the royal consorts, backed by "The Ladies in Waiting," (four musicians led by Jo Ann Daugherty), briefly but trenchantly share their experiences in a madly entertaining way.
After collectively introducing themselves and their respective fates with "Ex-Wives" ("Divorced, beheaded, died! Divorced, beheaded, survived!"), Henry's first queen, Catherine of Aragon (Khaila Wilcoxon), a devout Catholic and a true Spanish princess who despite many tries was unable to provide her philandering husband with a surviving male heir, steps out of the line and states her case with a power-pop song titled "No Way."
Then one-by-one the remaining five — fabulously costumed in glittery short-skirted concert gear with Tudor flourishes by Gabriella Slade — get their turn in the spotlight. Storm Lever, as Anne Boleyn, Henry's beguiling six-fingered second bride, wittily reminds the other women that she suffered far more than simply divorce and humiliation in "Don't Lose Ur Head."
The evening's liveliest number "Get Down," replete with a saucy costume reveal, belongs to Anna of Cleves played Olivia Donalson. Thrown over by Henry because her looks didn't live up to a Holbein portrait sent in advance (a still all-too-common problem), the German princess managed to keep her head and her money, proving you can be Henry's ex and still have a good time. Her situation was unpleasant, yes, but certainly not the worst.
In a clever move, the composers have sought "queenspiration" from contemporary artists. For instance, Jane Seymour (Jasmine Forsberg), best remembered as "the only one he ever loved" is drawn from Adele and Sia. Forsberg conveys the story's sadness with the sorrowful ballad "Heart of Stone."
Henry's victimized teenage wife Katherine Howard (Didi Romero) who was beheaded on Tower Green is drawn from Ariana Grande and Britney Spears; for Catherine Parr (Gabriela Carrillo), an independent thinker and the wife who survived Henry, inspiration comes from Alicia Keyes and Emili Sandé.
Sounds like big stilettos to fill? Don't worry, the cast is more than up for it — its six talented young women possess pipes, timing, and presence to spare.
Staged by Lucy Moss and Jamie Armitage with choreography by Carrie-Anne Ingrouille, the production is intriguing. At first look, it's everything some theatergoers might not like: really loud and very Vegas residency, but as the show opens up it proves delightfully smart, substantive, impeccably researched, and succeeds at cleverly melding the past and present.
The show has a strong following – the kind that feel it's OK to sing along with the actors onstage. But it's also appealing to history buffs and old-fashioned musical theater fans alike. "Six" is a crowd pleaser and deservedly so.
Back to the queen contest. The obvious choice for Henry's most consequential spouse is either Catherine of Aragon, the true queen, or maybe Anne Boleyn, the second wife for whom he parted with Rome and the mother England's greatest monarch, Elizabeth I. But the show gives each woman her due, and they bare their souls. Whether they were dragged into Henry's orbit because of beauty, ambitious family, or simple accidents of time and place, no one escaped unscathed. Who suffered the most? That's something you'll have to decide for yourself.
'The Playhouse' a triumphant return to live performance
Tony Cisek helps make playwright's story shine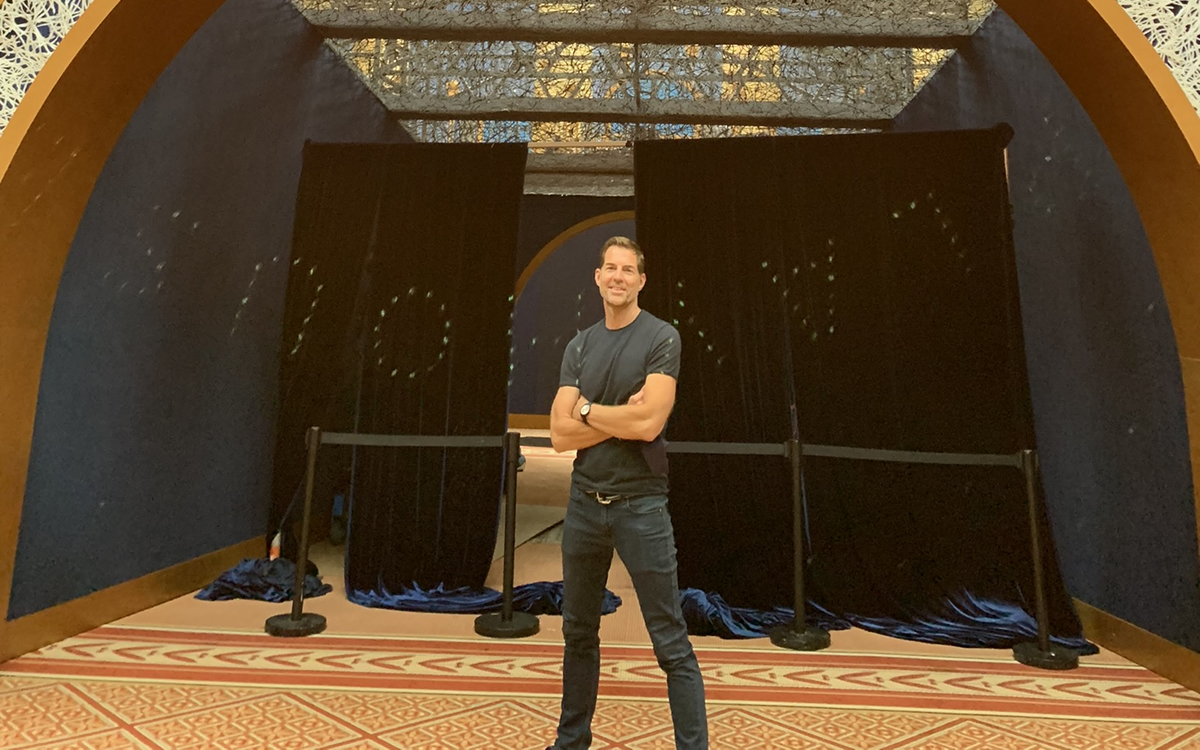 'A Midsummer Night's Dream'
Through Aug. 28
Folger Theatre at the National Building Museum
401 F St., N.W.
$20-$85
Events.folger.edu
Ordinarily set designer Tony Cisek is charged with making a playwright's story shine. His latest project was a little different.
As an integral player in Folger Theatre's return to live performance, Cisek directed the creation of The Playhouse, the National Building Museum's current Summer Block Party installation and the stage for performances of an abbreviated 90-minute intermission-less version of Shakespeare's magical comedy "A Midsummer Night's Dream."
The project comes from a moment of synergy where the University of South Carolina's idea for a pop-up theater met the Folger's need for a venue while the Folger Shakespeare Library undergoes major renovations, mostly involving public space and its closed, marble exterior, he explains. And the National Building Museum, looking for vital summer programming, was happy to join the partnership.
After pandemic-related postponements and delays, Cisek took the helm, inheriting both a set designed by University of South Carolina's Jim Hunter, cleverly made to pack up on two tractor trailers and move from stop to stop with Washington as its first stop, and exhibitions including a life-sized immersive installation based on Joanna Robson's book "A Knavish Lad," which is a part of the Folger Shakespeare Library collection.
"I'd never worked where the central aesthetic is not mine," says the out designer. "This has been more about pragmatics and logistics, and the art part really took a backseat. But that's OK. I go in wanting every show to succeed and you never at the beginning know what that's going to take but you do it."
Confronted with an admittedly challenging and slightly unfamiliar project, the four-time Helen Hayes Award winner with almost 30 years' experience in set design, soldiered forward. Building a theater in the museum's soaring atrium with its forest of mindboggling immense Corinthian columns presented possibilities and problems. His immediate tasks were how to sit Hunter's set in the space, how to surround it, how to seat the audience, and what the audience's journey would be from the moment they walk in the building.
Quickly, Cisek and team realized the work at hand was mostly about infrastructure. There was no infrastructure for hanging lights. In fact, there were no lights. They needed speakers and cables too. Everything had to be brought in and rented for 10-12 weeks at no small expense.
Fortunately, he has a long history working with lighting designers: "I like to put my nose in other designers' business. What elements are going to make this moment shine? I'm not interested in staying my little silo. That's not a formula for a successful production. My reward is that the audience finds enjoyment, is moved and provoked. Otherwise, why bother?"
Originally from Queens, New York, Cisek first came to Washington to study pre-med at Georgetown University. But increasingly, he became interested in theater, and eventually went on to study scenic design at New York University's Tisch School of the Arts. After receiving his master's in 1994, he planned to stay on in Manhattan but an onslaught of job offers brought him back to D.C. where he's worked consistently ever since.
Creating a realistic set doesn't particularly interest him unless it's specifically called for by the playwright or director. He adds, "Strict naturalism is better achieved by film. On stage, it leaves little room for the audience's imagination. And when there are naturalistic elements in the design, I like to leave air for the audience to fill in. Stories can be helped by a naturalist environment, but I move away from naturalism and try to find something poetic, or evocative, or some way to address the larger arc of the story."
Having lived and worked in the DMV for most of his life, it's no surprise he's picked up some tips from the locals. For his current project, he's utilized the idea of a zone transition, which is how Zelda Fichlander, who founded Arena Stage, referred to the journey of her audience in the original Arena – 20 feet of dim, low-ceilinged space in which in theory you left your world behind and cleansed your mind for what you were about to see.
With The Playhouse, Cisek has created a sort of tunnel through which you progress before emerging to a staggering view of the stage and columns. See it if you can.
'Hot Wing King' celebrates love between Black men
Playwright pays tribute to her brother's romance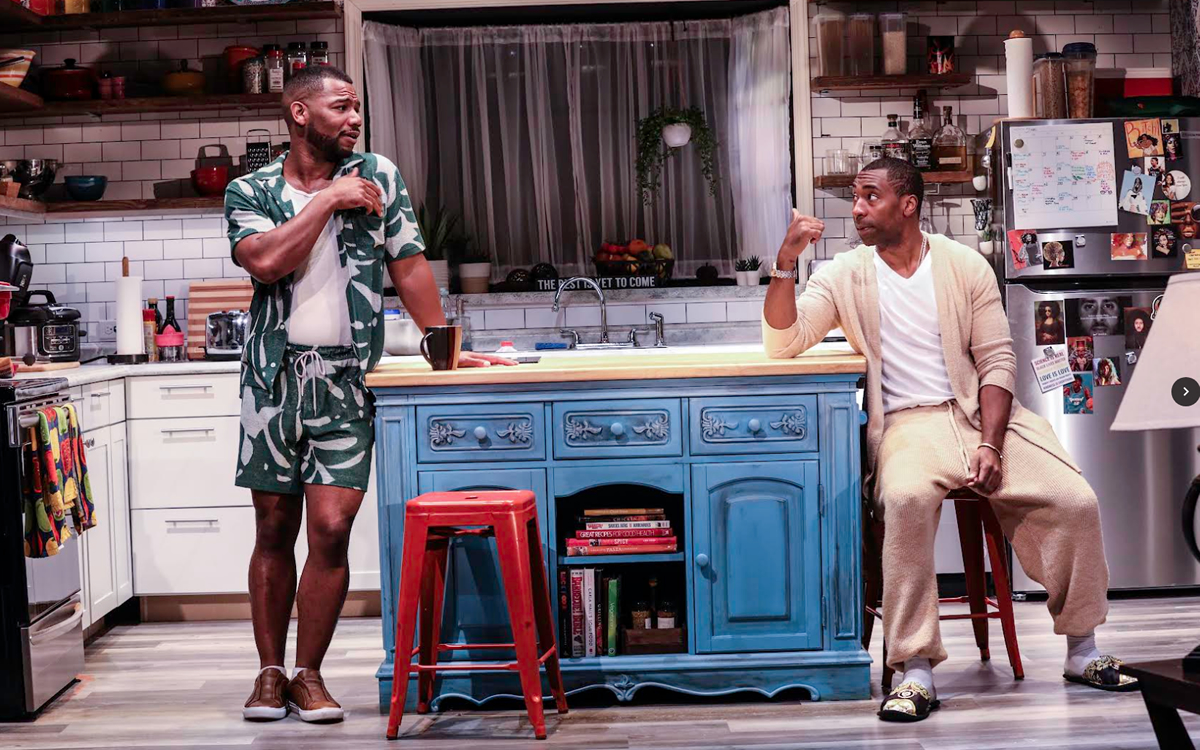 'The Hot Wing King'
Through July 31
Studio Theatre
1501 14th St., N.W.
$75-$100
Studiotheatre.org
Katori Hall's Pulitzer Prize-winning dramedy "The Hot Wing King" now playing at Studio Theatre is inspired by her gay brother's life experience.
Studio's program explains, Hall had mentioned to friend and colleague director Steve H. Broadnax III that her brother and his partner, two Black men in midlife, were starting a life together in Memphis and it wasn't an easy process. Broadnax encouraged Hall to make them her next play.
Fast-forward to Broadnax staging the 2020 New York premiere. COVID closes the show. But now it's in Washington with a new production and a different cast, again directed by Broadnax.
Like "The Mountaintop," Hall's fictionalized last night of Martin Luther King, Jr.'s life, "The Hot Wing King" is also set in her hometown Memphis, Tenn., a city known for its history of racial strife and more happily for rhythm and blues, Elvis, BBQ and hot wings.
The action unfolds over an often fun but sometimes tense 24 hours that begins on the eve of the annual World Championship Hot Wing Contest and Festival.
Cordell (Brian Marable) a former college baller turned foodie, has recently left his wife and two college-aged sons in St. Louis to be with his boyfriend Dwayne (Blake Morris) in Memphis. Living in Dwayne's house, looking for work, and newly out, Cordell feels uneasy, so when met with the opportunity to again immerse himself in the annual Hot Wing Festival and possibly win a much-needed $5,000 cash prize, he's more than eager to compete.
After transforming the tidy home's kitchen into a wing factory, Cordell gathers a dubiously competent team of helpers nicknamed the New Wing Order including Dwayne and queer friends Big Charles (Bjorn DuPaty), a level headed barber who initially brought Dwayne and Cordell together, and Big Charles' sometimes love interest Isom (Michael Kevin Darnall), a witty dedicated player and New Orleans transplant. Together they attempt to transform 280 pounds of raw chicken and a multitude of spices into the best bites in town. Well, that's the intention, anyway. 
In the kitchen, laughs and ribbing ensue. It's after the frivolity culminates with a "Boys in the Band-esque" dance line that the play really comes to life. As the group breaks off into pairs in other rooms and on the driveway basketball court, vulnerabilities and tensions come to the fore. The playwright and director give each man his moment, and the talented cast runs with it.
As Cordell, Marable gives an especially affecting performance, suggesting uncertainties beneath a strong presence. And we've all met Morris's Dwayne, a successful hotel manager who keeps his emotions in check behind an upbeat, always busy façade.
The piece's two straight characters complicate matters believeably. Dwayne's nephew EJ (Derrick Sanders III) is a good kid struggling to succeed against the odds. Dwayne would like the son of his tragically killed sister to live with him, but EJ's father, TJ (JaBen Early), a fundamentally decent guy who earns a precarious living outside of the law, isn't down with the plan. Though he respects Dwayne and his designer lounge wear, he's concerned that living with gay men will make 16-year-old EJ soft.
Set designer Michael Carnahan's realist three-room cutaway (kitchen, living room, and a guestroom with a Diana Ross poster above the bed) creates a comfortable refuge for pals, relations, and lovers. It's ideal since ultimately, "The Hot Wing King" — the playwright's fine tribute to her brother's romance — celebrates loud laughter, chosen family, and love shared between Black men.
The production inaugurates the newly designed Victor Shargai Theatre, an intimate versatile black box named for the much-missed, out champion of Washington area theater.