Gay activists unhappy with Clinton remarks on DOMA
2016 hopeful called 1996 law 'defensive' act against worse measure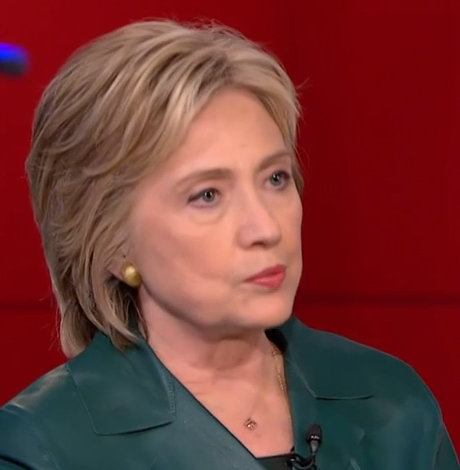 Sen. Bernard Sanders isn't the only one taking Hillary Clinton to task over her recent assertion that the Defense of Marriage Act was a "defensive" measure to prevent worse discrimination against LGBT people.
A number of gay rights activists took to Twitter to say Clinton engaged in historic revisionism during her appearance Friday on "The Rachel Maddow Show" when she said DOMA was a means to stop the enactment of a U.S. constitutional amendment banning same-sex marriage entirely. Many of those activists also tempered their objections by saying Clinton is generally doing right on LGBT rights during her campaign.
David Mixner, a gay rights activist who once supported Bill Clinton before the two had a falling out over "Don't Ask, Don't Tell," urged LGBT people to reject the explanation of DOMA offered by the Democratic presidential candidate.
The LGBT community should NEVER allow any politican to revise our noble and courageous history for political purposes.

— David Mixner (@DavidMixner) October 25, 2015
Hilary Rosen, a lesbian Democratic activist in D.C. and known Clinton supporter, said Sanders was right in his criticism during the Jefferson-Jackson dinner on Saturday that Clinton is revising history to explain DOMA.
@BernieSanders is right. Note to my friends Bill and #Hillary: Pls stop saying DOMA was to prevent something worse. It wasnt, I was there.

— Hilary Rosen (@hilaryr) October 25, 2015
But Rosen pulled back the criticism in subsequent tweets, saying Clinton is engaged on LGBT issues and although Sanders has voted correctly, he hasn't been at the forefront of LGBT rights.
@Berniesanders voted right, did virtually nothing on LGBT. @HillaryClinton not perfect but engaged, & helped alot. https://t.co/vzJnWQk2UP

— Hilary Rosen (@hilaryr) October 25, 2015
Also saying Clinton engaged in revisionism is Joe Sudbay, a D.C.-based progressive blogger known for being the first to get President Obama to say he could "evolve" on same-sex marriage when he had yet to support marriage equality. Sudbay pointed out Bill Clinton in 1996 campaigned on his support for DOMA in a radio advertisement to religious conservatives.
@DavidMixner @MSignorile 96 Clinton campaign's radio ads touting his signature on DOMA undermines this revision too https://t.co/UzbpW3AGF6

— Joe Sudbay (@JoeSudbay) October 25, 2015
@MSignorile don't get why HRC's top lgbt supporters, the ones always quoted, haven't gotten her to back off this revisionism. It's absurd

— Joe Sudbay (@JoeSudbay) October 25, 2015
Michelangelo Signorile, a gay New York-based activist and author of "It's Not Over," said Clinton's recollection of the events surrounding DOMA at the time is "simply untrue."
1/2 Simply untrue that DOMA was signed to stop something worse. This is Clinton (Bill, and now Hillary) revisionism. And it's not necessary.

— Mike Signorile (@MSignorile) October 25, 2015
But Signorile, who had once been critical of Hillary Clinton for not talking enough about LGBT rights during her 2016 campaign, said Clinton is generally "fine" on the issues now despite this incident.
Hillary doesn't need to re-write Bill history to make her better. She's fine, has promised a lot. Don't rewrite history. Was different time.

— Mike Signorile (@MSignorile) October 25, 2015
Also unhappy with Clinton's response on the issue is Josh Kruger, a Philadelphia-based gay writer and activist who calls the candidate's remarks "a kick in the shins."
@AdamSerwer It's outright revisionism to claim that DOMA was anything more than a kick in the shins to gay people as a Clintonian tactic.

— Josh Kruger (@jawshkruger) October 25, 2015
The notion DOMA was passed to stop passage of a Federal Marriage Amendment has been disputed by Hillary Clinton supporter and former Human Rights Campaign chief Elizabeth Birch, who wrote an op-ed saying "there was no real threat" of a constitutional measure in 1996.
Brian Fallon, a Hillary Clinton spokesperson, said in response to the consternation the candidate and Bill Clinton think DOMA was a "discriminatory" law.
"Whatever the context that led to the passage of DOMA nearly two decades ago, Hillary Clinton believes the law was discriminatory and both she and President Clinton urged that it be overturned," Fallon said. "As president, Hillary Clinton will continue to fight to secure full and equal rights for LGBT Americans who, despite all our progress, can still get married on a Saturday and fired on a Monday just because of who they are and who they love."
The Washington Blade has placed a call in with the Human Rights Campaign to see whether the organization has any comment about them.
Mark Harris, a New York-based journalist, said supporters of LGBT rights who object to Clinton's recollection of DOMA should direct their hostility elsewhere.
If you're trashing Bill Clinton for DADT and DOMA, you have zero understanding of who really hated LGBT Americans 25 years ago.

— Mark Harris (@MarkHarrisNYC) October 24, 2015
The notion that DOMA was signed into law to stave off a U.S. constitutional amendment has been articulated before by Hillary Clinton during an interview last year on National Public Radio. Bill Clinton offered that rationale for DOMA in 2009 during Netroots Nation when confronted by LGBT activist Lane Hudson.
"We were attempting at the time, in a very reactionary Congress, to head off an attempt to send a constitutional amendment banning gay marriage to the states," Bill Clinton said. "And if you look at the 11 referenda much later — in 2004, in the election — which the Republicans put on the ballot to try to get the base vote for President Bush up, I think it's obvious that something had to be done to try to keep the Republican Congress from presenting that."
Nowhere in Bill Clinton's 1996 signing statement of DOMA does he say anything explicit about him agreeing to the legislation to stop a Federal Marriage Amendment. Instead, the former president talked about a state's right to set its own policy on same-sex marriage, urged passage of the Employment Non-Discrimination Act and maintained DOMA shouldn't "provide an excuse for discrimination, violence or intimidation against any person on the basis of sexual orientation."
It has been suggested before in some circles within the LGBT community — such as by the grassroots LGBT group GetEQUAL — that Bill Clinton should apologize for DOMA and "Don't Ask, Don't Tell." Bill Clinton came out against the measures before they were lifted, but never formally made an apology.