April 1, 2016 at 7:00 am EDT | by Nelson Gandulla Díaz
El influjo de Obama en Cuba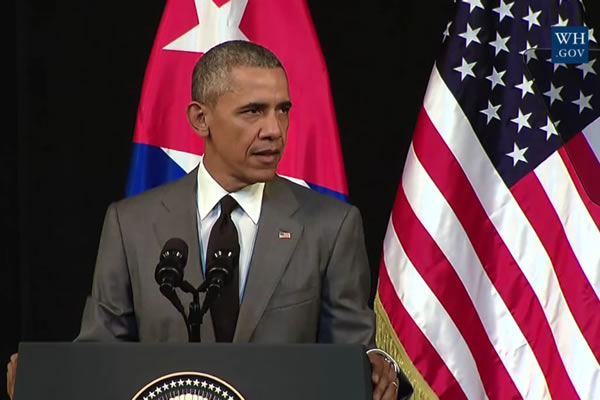 Click here to read the English translation of this piece.
Ya hace seis días que marchó, sin embargo sus palabras siguen teniendo replica en la mente y el corazón de los cubanos. El raulismo lo percibe, por ello apenas el presidente tomo el avión para darse un salto hasta Argentina, la maquinaria ideológica del régimen comenzó una furibunda campaña propagandística tendiente a inocular en la psiquis de mis coterráneos la idea que Obama es un lobo con piel de oveja.
Su condición étnica, (en Cuba el 65 por ciento de los ciudadanos son negros o mestizos) su historia de éxito, (Como sin ser rico llegó a ser el hombre más poderoso del planeta,) la imagen familiar que le acompañó, y sobre todo, su discurso cargado de esperanza y con la mira puesta en el futuro, encajó en el imaginario de un pueblo que por décadas solo ha venido escuchando el monolítico discurso de plaza sitiada que insiste en postergar los sueños y aspiraciones de los caribeños a un mañana paradisiaco que nunca ven llegar y que se prolonga en el tiempo indefinidamente.
El presidente le dio la espalda al lenguaje protocolar que caracteriza al ámbito diplomático y se vino sin medias tintas a hablarle al cubano promedio. Le habló de tú a tú al hombre a la mujer al negro al homosexual. Para nuestra comunidad pidió respeto y enmarcó el tema de nuestras libertades dentro del respeto a los derechos humanos universales.
Ya luego tuvo a bien dialogar en un ámbito privado con algo más de una docena de activistas de la sociedad civil independiente cubana. Entre estos estuvieron presente representando a la comunidad LGBTI y a quienes bregamos por conquistar los derechos que a ese segmento le son negados,  dos conocidos líderes, que conocen de primera mano, los vejámenes que este régimen de machista nos ha propinado.
Nuestros compañeros expusieron en apretada síntesis el abultado expediente de abusos y violaciones que los Castros han implementado por décadas en el afán obsesivamente homofóbico de erradicarnos.
De paso se pidió que las históricas exigencias en la que nos abanderamos sean tratadas  en los diálogos que sostienen sobre derechos humanos ambos gobiernos.
Si algo sobró de cuanto dijo quien hoy reside en la Casa Blanca, fue su aclaración que el destino de la isla debía ser moldeado por los cubanos. Y es que, dentro del movimiento civilista independiente cubano, particularmente de organizaciones pro derechos LGBTI como la que presido, no existe nadie pensando que la súper potencia que vendrá a salvarnos.
Nos queda claro, aunque agradecemos a Obama por recordarlo,  que los cambios sociales deben ser concebidos y ejecutados por los propios cubanos. Sin embargo esta perogrullada no está divorciada de lo deseado y conveniente que es la solidaridad de gobiernos y pueblos, con causas como laque propugnamos.
No corresponde a Obama hablar de los campos de trabajo forzoso en el que fueron recluidos miles de homosexuales, ni de la marginación que sufren los transexuales en centros educativos y laborales o de los intentos que hace el oficialismo para tabularnos dentro de una organización como el CENESEX cuya agenda real es la de lanzar fuegos de artificios para crear la ilusión de que Cuba es inclusiva con el homosexual.
La visita de Obama sirvió en todo caso para visualizar a este sector de la comunidad homosexual que ha sido marginado por mantenerse equidistante del poder. Ha sido el único presidente que ha visitado a Cuba mencionado en un discurso público la necesidad de respectar los derechos de los homosexuales, de reunirse con activistas LGBTI y escucharles.
Sacando cuentas he de concluir que por primera vez en décadas, las palabras de un político foráneo se dirige al pueblo cubano no al gobierno. La satisfacción que me embarga no es exclusiva, es la misma que ahora mismo afecta a millones de mis hermanos. El influjo que dejaron las palabras del presidente norteamericano Barack Obama les aseguro que dejarán sentir a lo largo de muchos años.
Nelson Gandulla Díaz es el presidente de la Fundación Cubana de los Derechos LGBTI, un grupo LGBT cubano independiente.