Karen Ocamb fired for being too old? LGBT activists fire back
Lesbian journalist 'laid off' in favor of Millennial content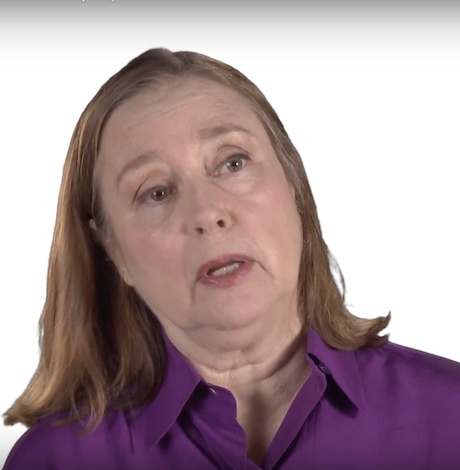 Frontiers news editor Karen Ocamb was "laid off" back in February, after serving the LGBT journalism community since 1988, because she was considered too old, a new report suggests.
Bobby Blair, CEO of Multimedia Platforms International which owns Frontiers Magazine, a biweekly print and online magazine, intimated to PressPassQ the decision to fire Ocamb was based on age.
"Unfortunately, Karen fell where we realized we were moving toward a digital and Millennial audience, and we wanted to give the generation of Millennials a real shot at creating our content," Blair told PressPassQ.  "Karen did an incredible job and is very much missed. We would like to use her services in the future from time to time, if she would like to."
Ocamb, 66, says the shift from print media to online changed the type of reporting she is known for.
"I'm an old-school journalist so it's odd to have become a story," Ocamb told PressPassQ. "However, I do recognize that my longevity and my institutional memory suggest that I might bring something unique and valuable to LGBT journalism. Nonetheless, no one is indispensable. I see my being laid off as a purely financial business decision, no matter what direction the new owners may choose.
"I think the kind of in-depth reporting I do changed fundamentally with confessional blogging, citizen journalism and short-attention-span tweeting of the news," Ocamb continued. "In that glutted context, media outlets — LGBT and straight — are trying to get eyeballs, clicks, buzz in any way they can. I have been encouraged to see some trending back toward long form journalism — but who knows. It's a rapidly changing media environment."
LGBTQ Nation spoke to LGBT media figures about the impact of Ocamb's dismissal who consider the decision ageist.
"It is astonishing to me that a publisher would say they basically fired someone so they could hire a younger person. How can we expect new generations to learn about our past if we do not have seasoned reporters producing content and educating younger LGBTQ people?" Mike Rogers, owner of Raw Story, told LGBTQ Nation.
"It's very clear that Frontiers will not be the trusted publication we have known for years, and never benefit from Karen's smarts and archival knowledge. It's all about trust and expertise – which Karen Ocamb owns in giant measure," Bob Witeck, president of Witeck Communications told LGBTQ Nation.
15 LGBTQ events today
Capital Pride Rooftop Pool Party tonight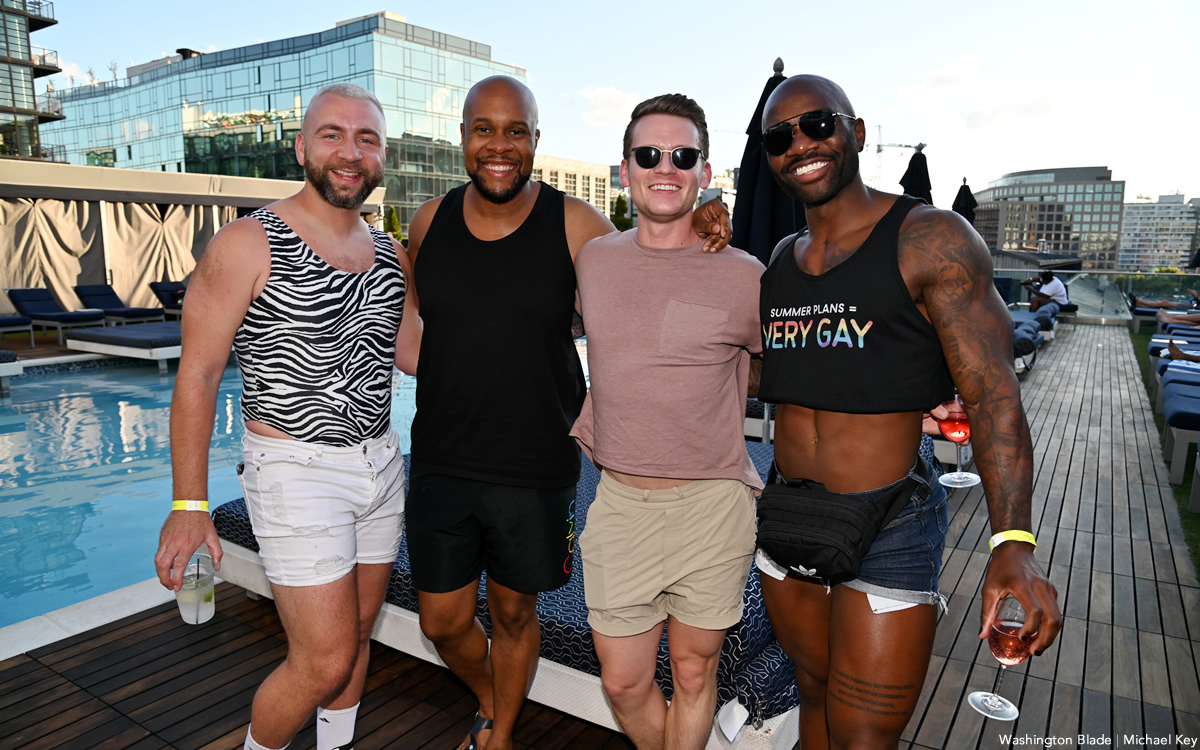 Below are our picks for some of the most fun and creative things to do today (Thursday, June 8) in the DMV that are of special interest to the LGBTQ community.
---
LGBTQ+ Military Pride Mixer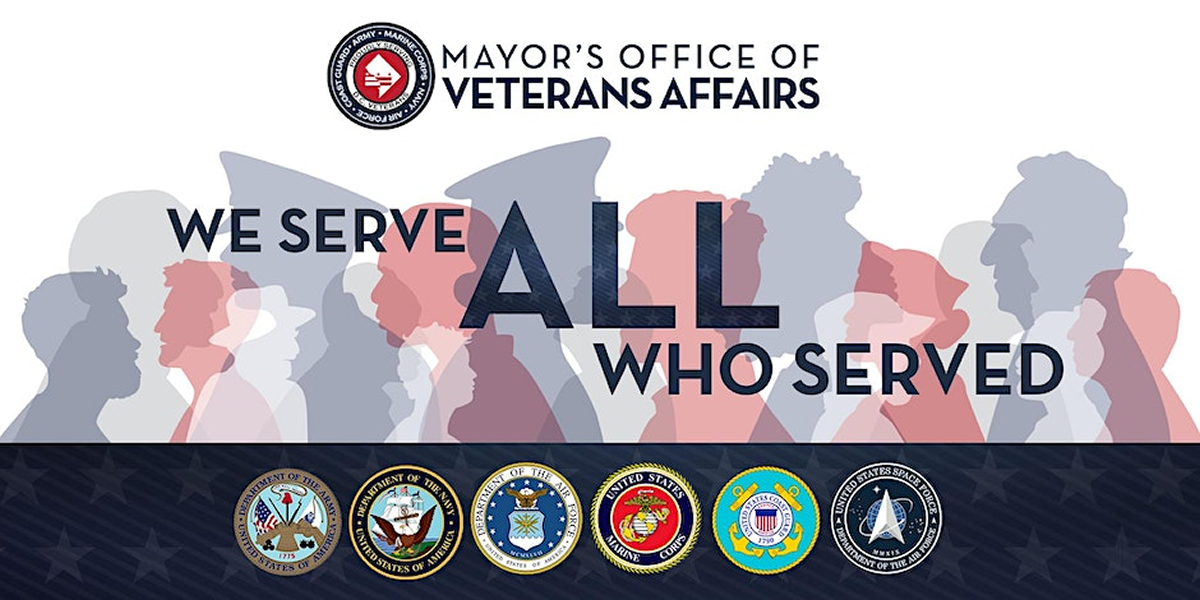 Thursday, June 8
4-6 p.m.
As You Are
500 8th Street, S.E.
Free
Eventbrite
The D.C. Mayor's Office of Veterans Affairs host the "LGBTQ+ Military Pride Mixer" at As You Are this afternoon at 4 p.m.
---
Lavender Evolutions: Femz & Themz bipoc Happy Hour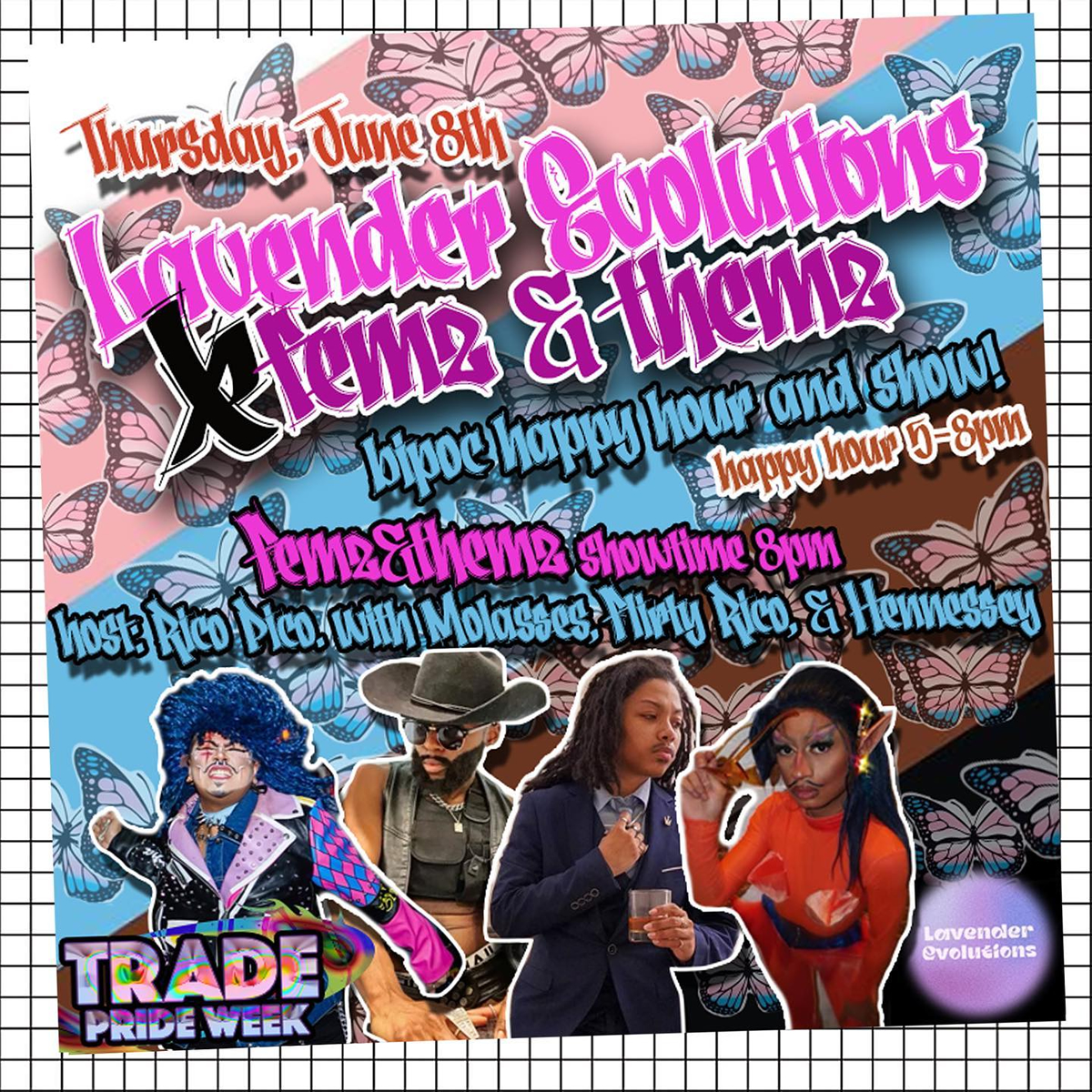 Thursday, June 8
5-8 p.m.
Trade
1410 14th Street, N.W.
Instagram
Rico Pico hosts "Lavender Evolutions" tonight at Trade. The "Femz & Themz bipoc Happy hour" begins at 5 p.m. with a show at 8. Performers include Molasses, Flirty Rico and Hennessey.
---
Equality Chamber of Commerce Pride Weekend Kick-off
Thursday, June 8
6-9 p.m.
The Moxy
1011 K Street, N.W.
$25 non-member
Tickets
The Equality Chamber of Commerce holds its Pride Weekend Kick-off Party at The Moxy tonight from 6-9 p.m. The event is free to members and $25 for non-members of ECC.
---
PRIDE in the Park: Free Outdoor Comedy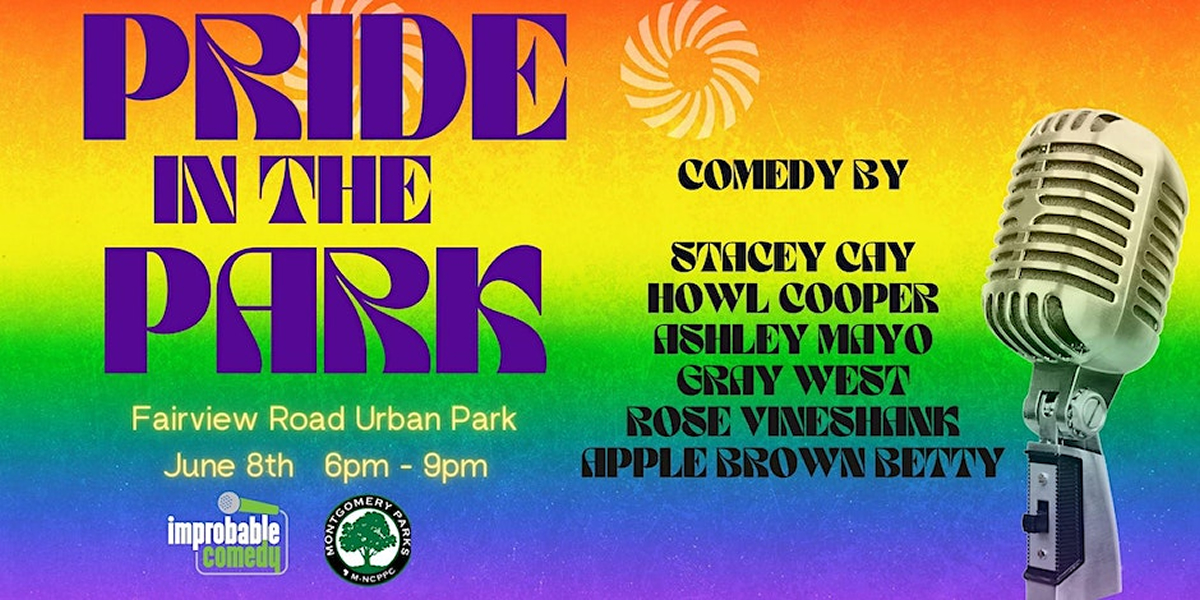 Thursday, June 8
6-9 p.m.
Fairview Road Urban Park
8900 Fairview Road
Silver Spring, Md.
Eventbrite
Laugh out loud to comics Stacey Cay, Howl Cooper, Ashley Mayo, Gray West, Rose Vineshank and Apple Brown Betty at Fairview Road Urban Park tonight from 6-9 p.m.
---
Women's/Sapphic Night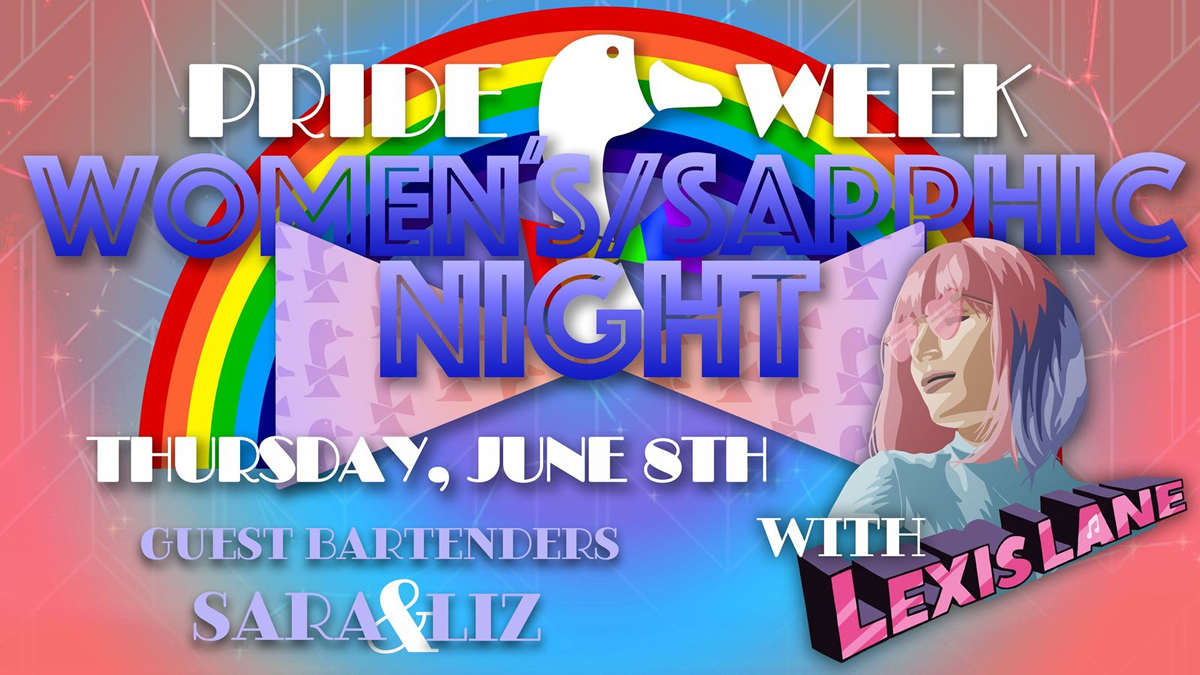 Thursday, June 8
7 p.m.
The Dirty Goose
913 U Street, N.W.
Instagram | Website
It's Women's/Sapphic Night at The Dirty Goose tonight.
---
GAY! Trivia and Drag Show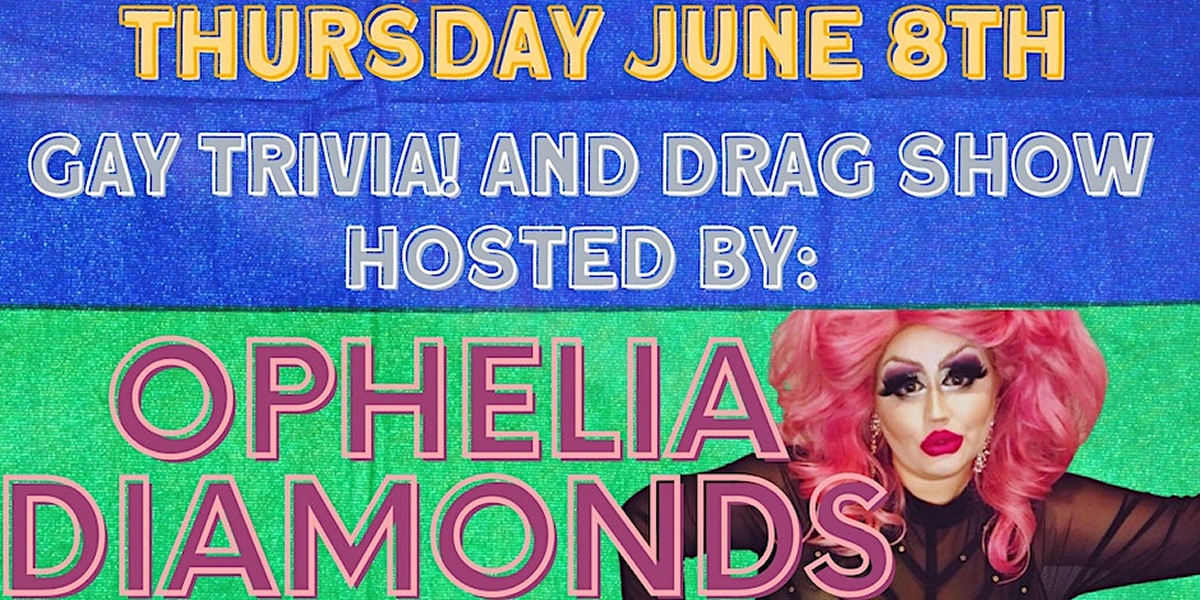 Thursday, June 8
7-10 p.m.
Baja Tap
2436 18th Street, N.W.
Free
Eventbrite
Ophelia Diamonds hosts a game of gay trivia and a drag show at Baja Tap tonight.
---
BAD (Broadway and Disney) Singalong: Loud & Proud Edition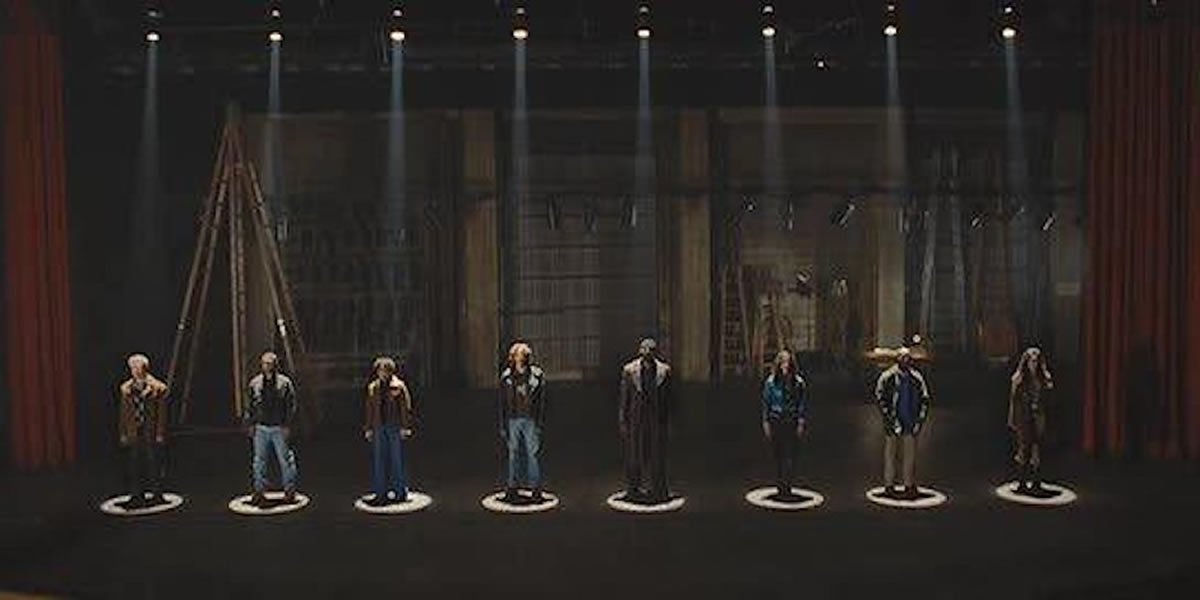 Thursday, June 8
7-10 p.m.
H Street Country Club
1335 H Street, N.E.
Free
Eventbrite
Belt your favorite Broadway and Disney tunes at the BAD Singalong: Loud & Proud Edition at H Street Country Club tonight.
---
DMV Comedy Wars: A PRIDE Benefit for the Trevor Project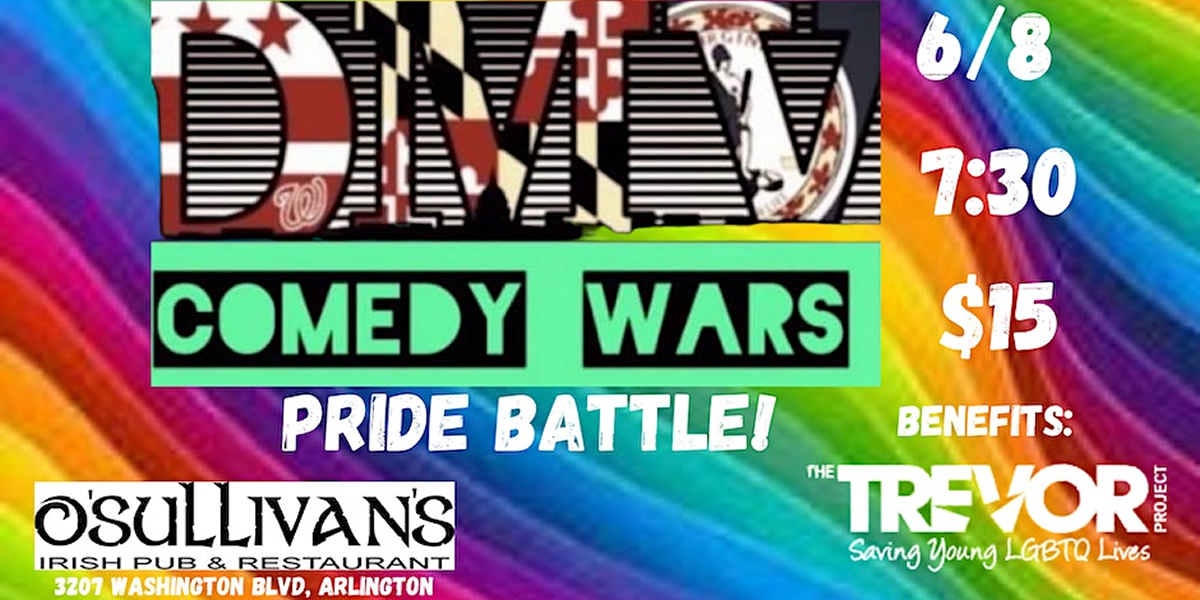 Thursday, June 8
7:30-9 p.m.
O'Sullivan's Irish Pub
3207 Washington Boulevard
Arlington, Va.
$15
Eventbrite
The DMV Comedy Wars continue with a "Pride Battle" of comics at O'Sullivan's Irish Pub & Restaurant in Arlington, Va. tonight. Benefits from the show are slated for the Trevor Project, so go out and laugh for a good cause.
---
Capital Pride Rooftop Pool Party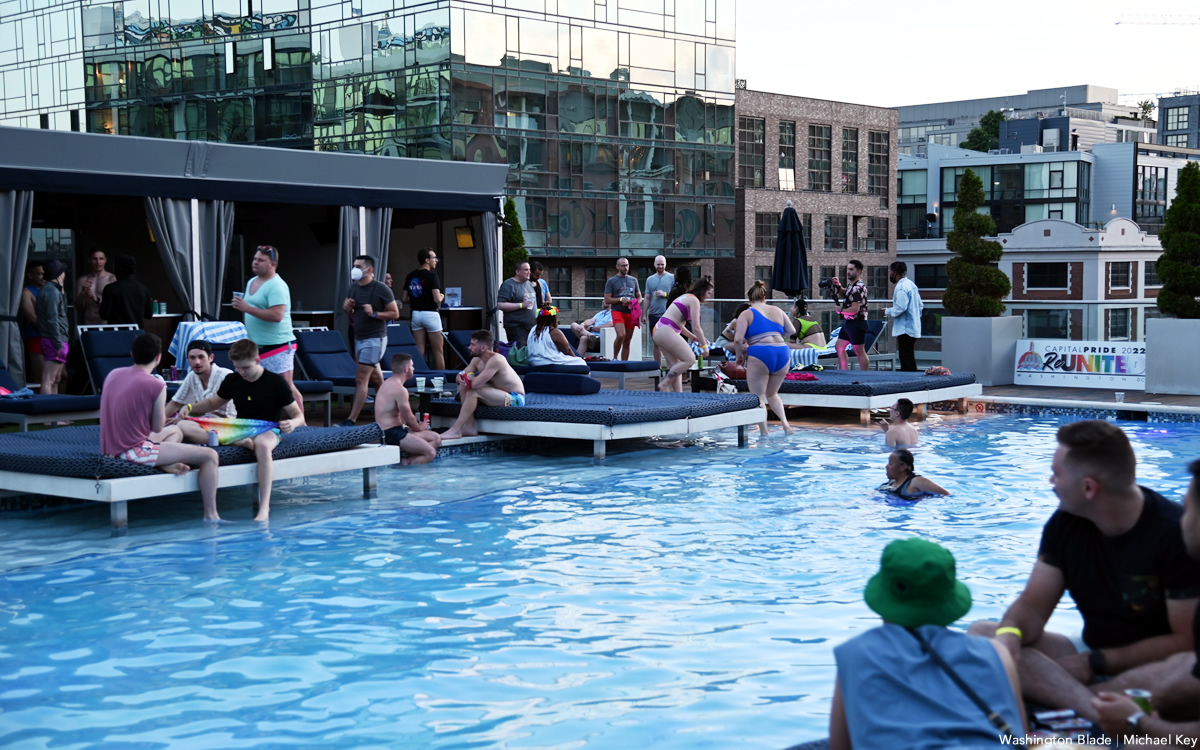 Thursday, June 8
8 p.m.
Penthouse Pool and Lounge
1212 4th Street, S.E.
$25-$35 / 21+
Website
The Capital Pride Alliance hosts its annual Rooftop Pool Party at 1212 4th Street, S.E.
---
ElectroPOP Thursdays: Pride Edition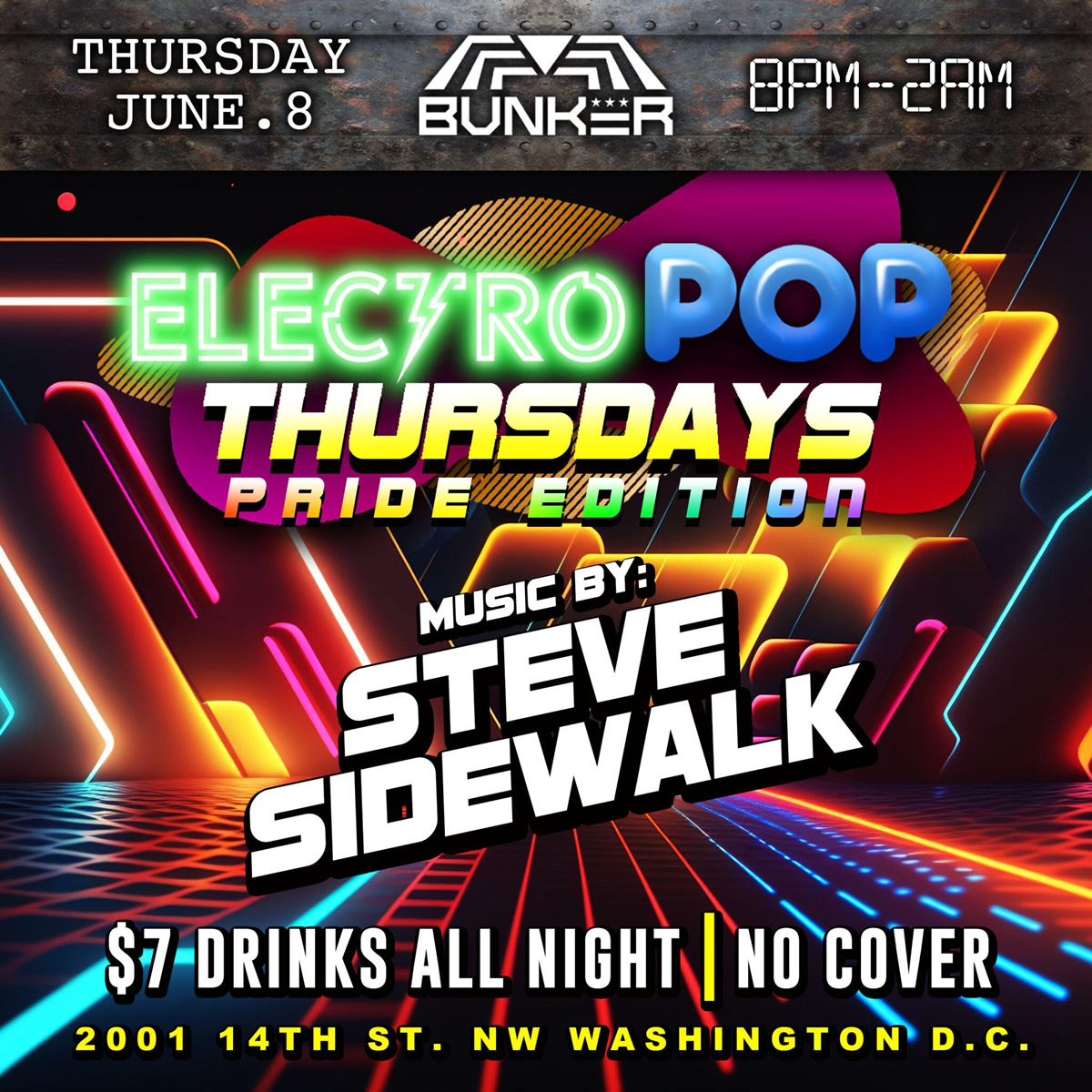 Thursday, June 8
8 p.m.-2 a.m.
Bunker
2001 14th Street, N.W.
No Cover
Website
Steve Sidewalk brings the music to this Pride Edition of ElectroPOP Thursdays at Bunker.
---
Films on the Green DC: "Three Nights a Week" Screening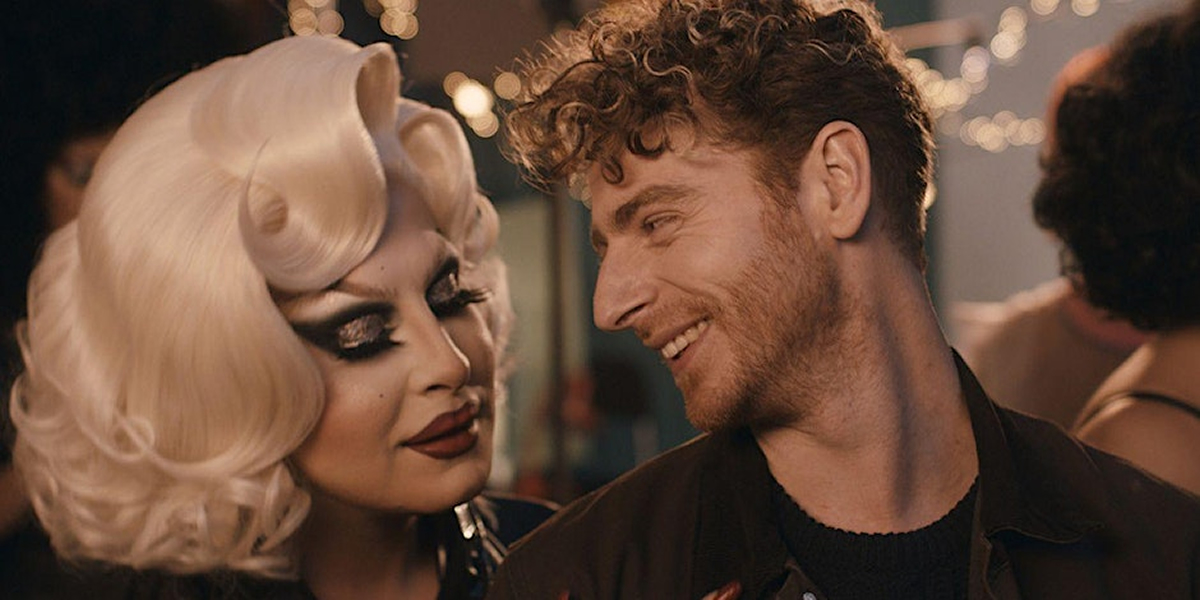 Thursday, June 8
9-11 p.m.
Washington Monument
2 15th Street, N.W.
Free
Eventbrite
The base of the Washington Monument is a beautiful spot to watch a film. For this Pride Thursday, Films on the Green is playing the 2022 French LGBTQ film, "Three Nights a Week."
---
Wasted & Gay Thursdays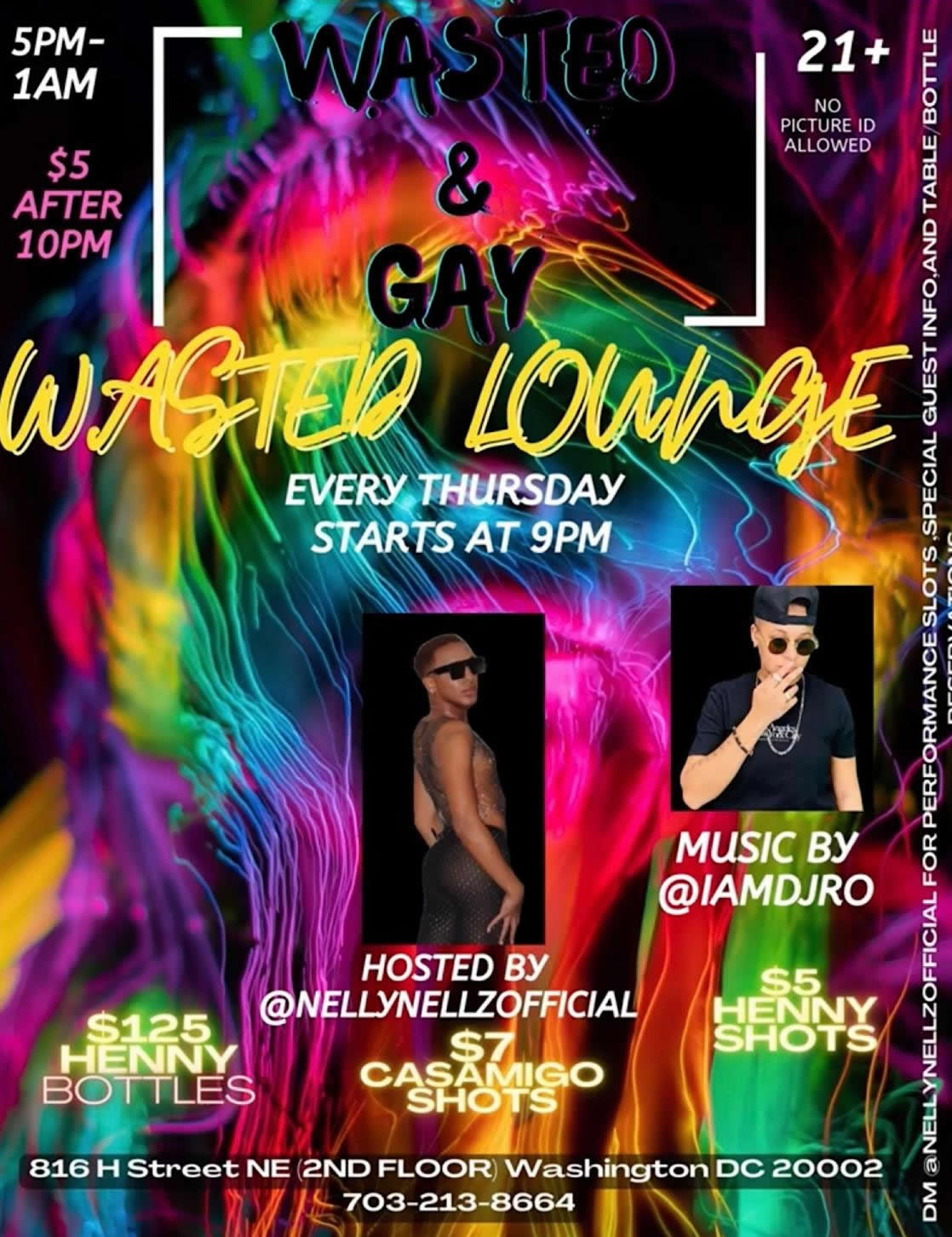 Thursday, June 8
9 p.m.-1 a.m.
Wasted Lounge
816 H Street, N.E.
$5
Eventbrite
Have a pleasant evening with a beverage and hookah at Wasted Lounge with "Wasted & Gay Thursdays" at 9 p.m. tonight.
---
Sleaze Pride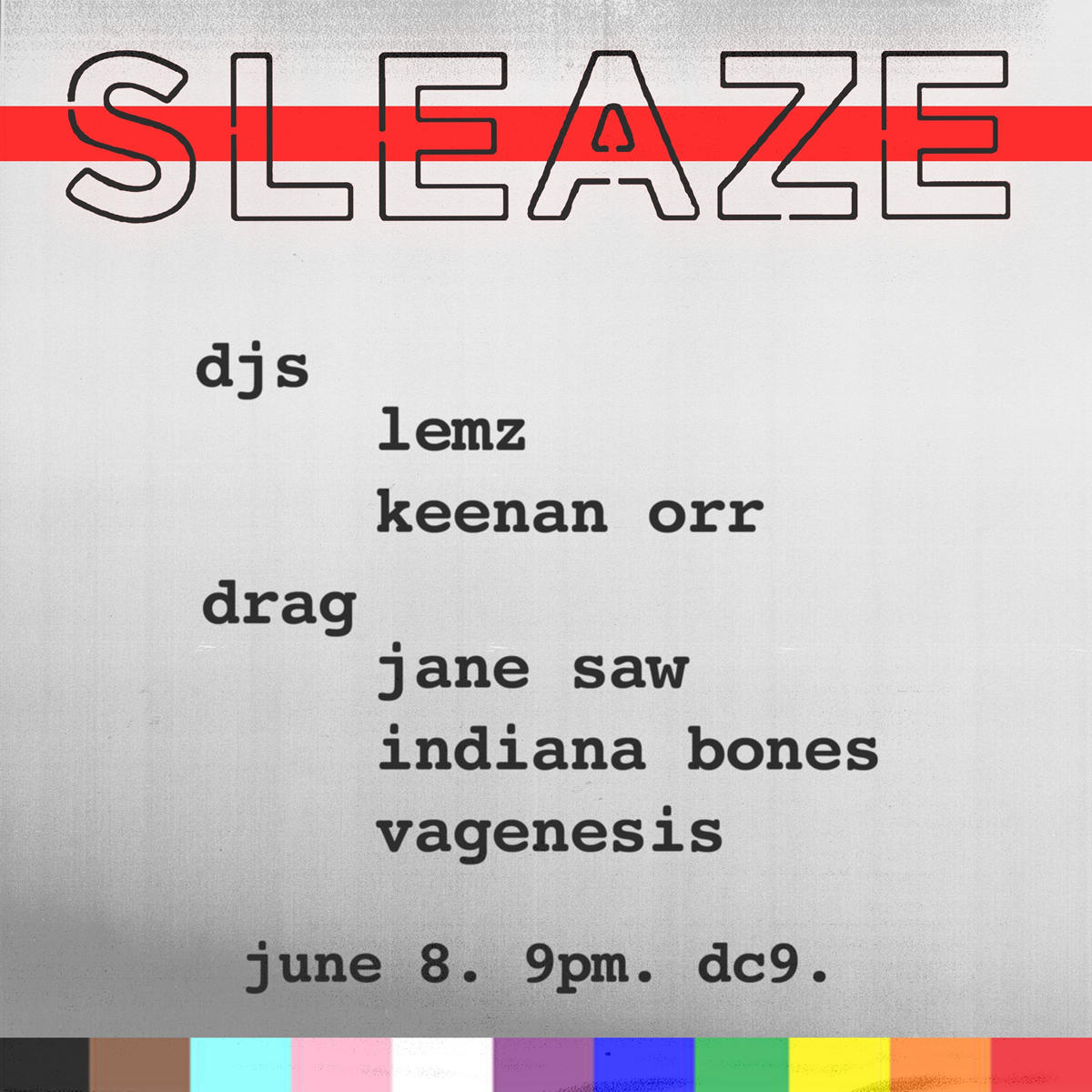 Thursday, June 8
9 p.m.-2 a.m.
DC9 Nightclub
1940 9th Street, N.W.
$10
Facebook | Eventbrite
The monthly DC9 "Sleaze" LGBTQ parties culminate with the Sleaze Pride party tonight featuring drag artists Jane Saw, Indiana Bones and Vagenesis. DJ Lemz and DJ Keenan Orr bring the music.
---
Shirts and Skins!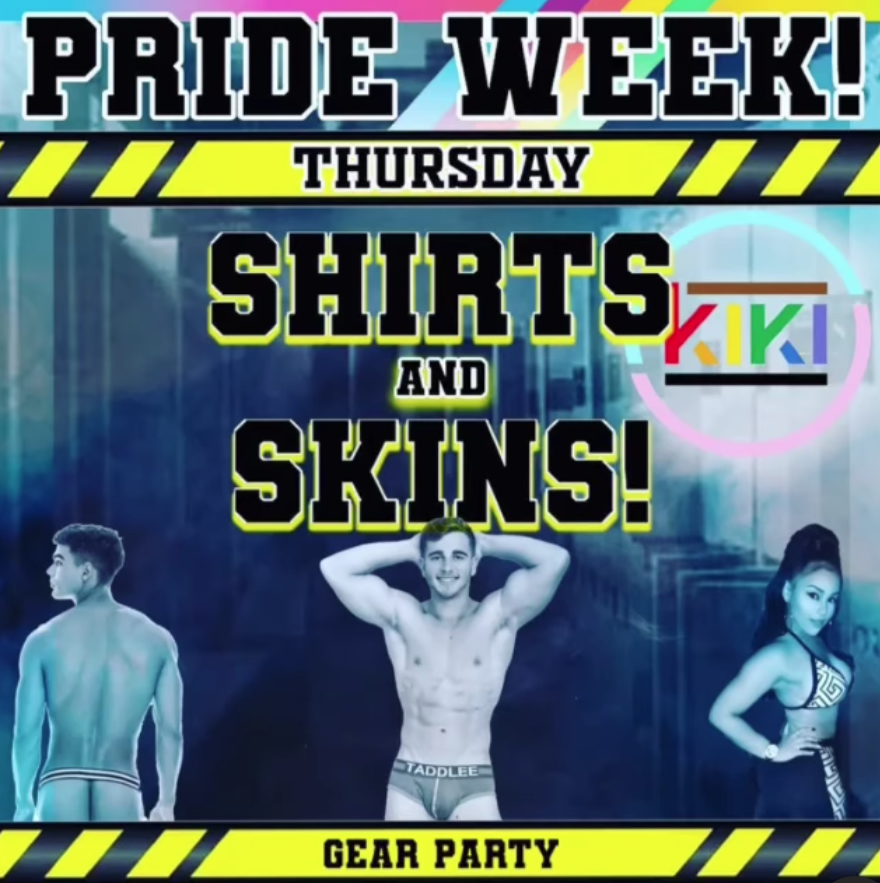 Thursday, June 8
10 p.m.
Kiki
915 U Street, N.W.
Instagram
Kiki dips its toes into the gear party scene for Pride with a Shirts and Skins party. So, show off your jock straps, singlets, compression shorts, harnesses, pup attire, body suits or whatever gear you grab at this kinky party.
---
KINTETIC Pride: Sugar Pop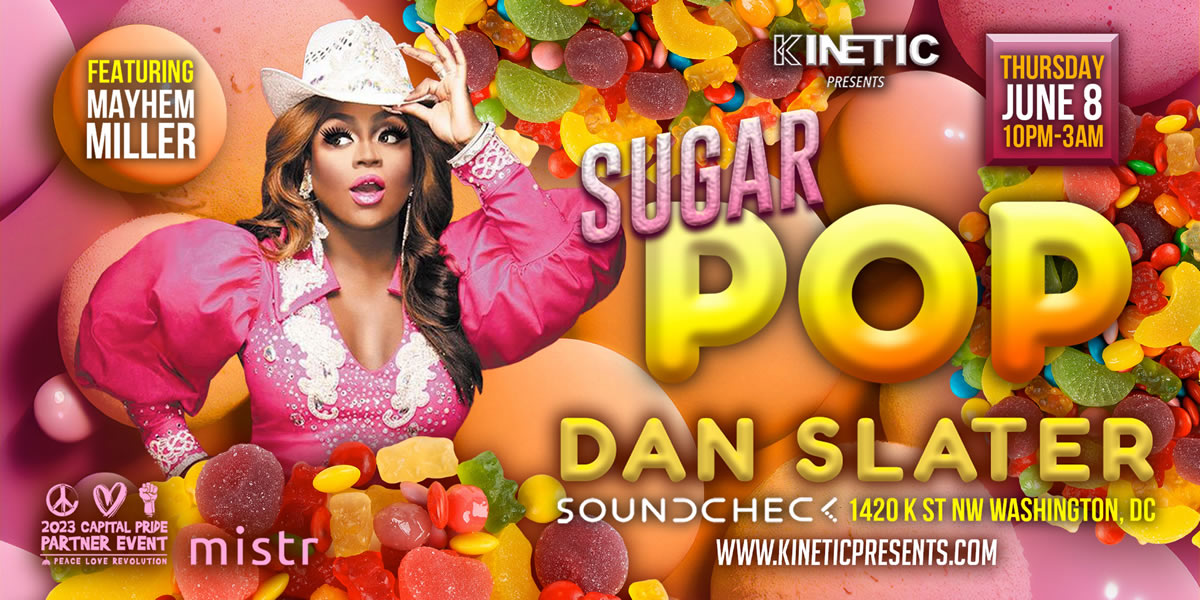 Thursday, June 8
10 p.m.-3 a.m.
Soundcheckdc
1420 K Street, N.W.
$20-$30 (or purchase weekend pass)
Facebook | Tickets
KINETIC Pride events begin with Sugar Pop featuring Mayhem Miller with Dan Slater at Soundcheck at 10 p.m. You can either pay piecemeal for each party, or you can secure weekend passes for all four KINETIC Pride events for $149-$219 on Eventbrite.
---
PHOTOS: LHP Pride Kickoff Drag Show
Latinx Pride Court crowned at Trade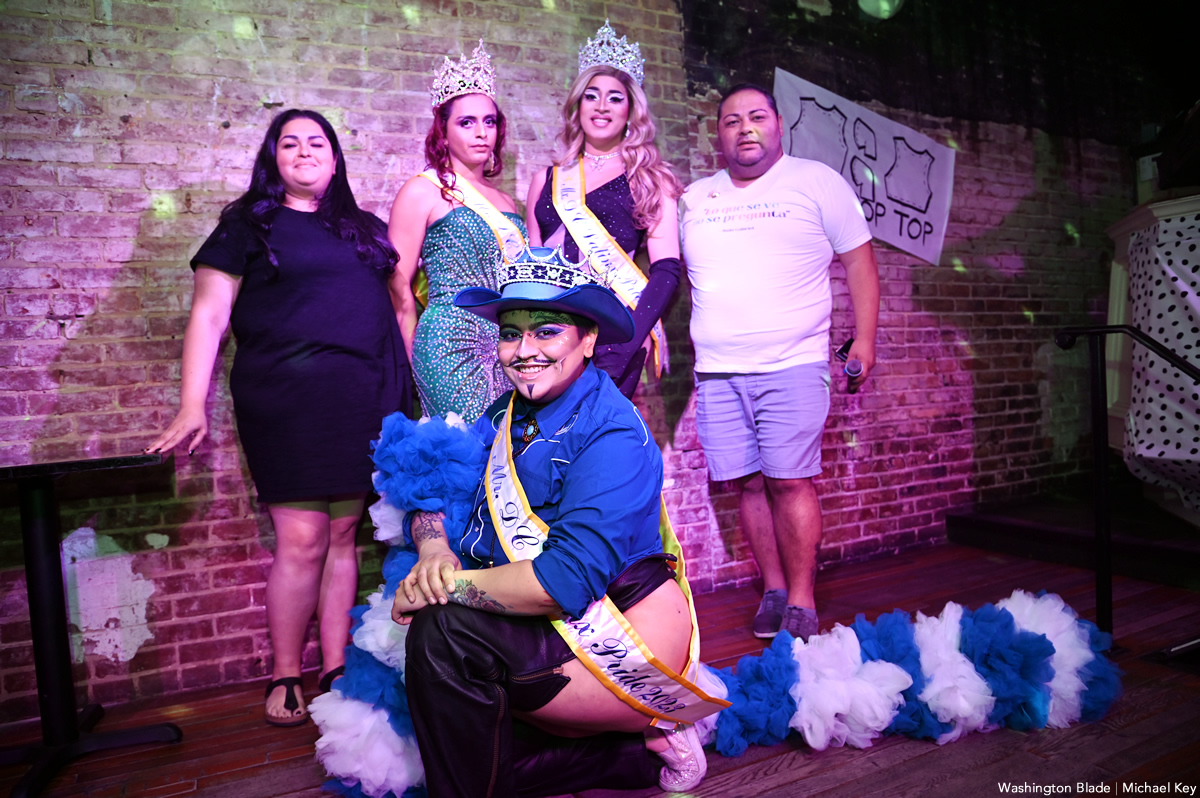 The Latinx History Project (LHP) held a Pride Kickoff Drag Show at Trade on Wednesday, June 7. Performers included Rico Pico, Desiree Dik and Darcy de la Cuadra. Rico Pico was crowned Mr. DC Latinx Pride 2023, Randy Salmeron (a.k.a. Darcy de la Cuadra) was crowned Mx. Latinx Pride 2023 and Kaila Kaleaa was crowned Ms. Latinx Pride 2023.
(Washington Blade photos by Michael Key)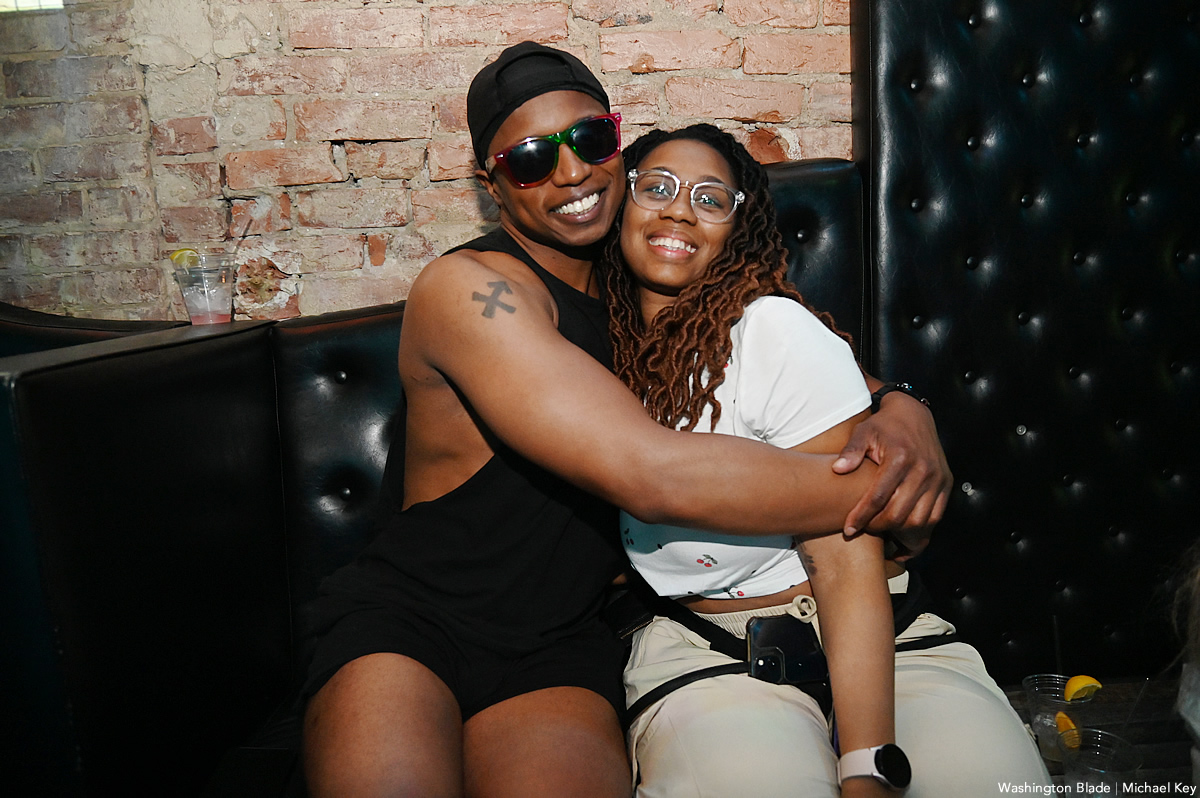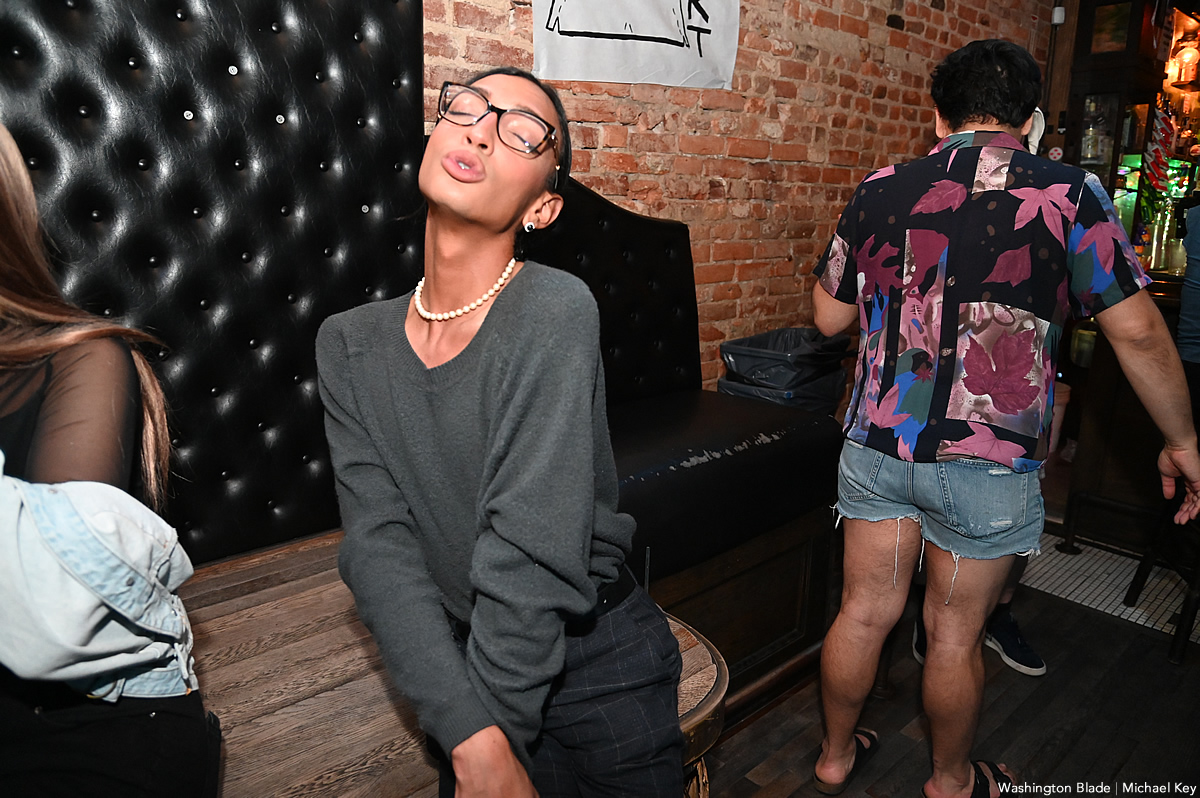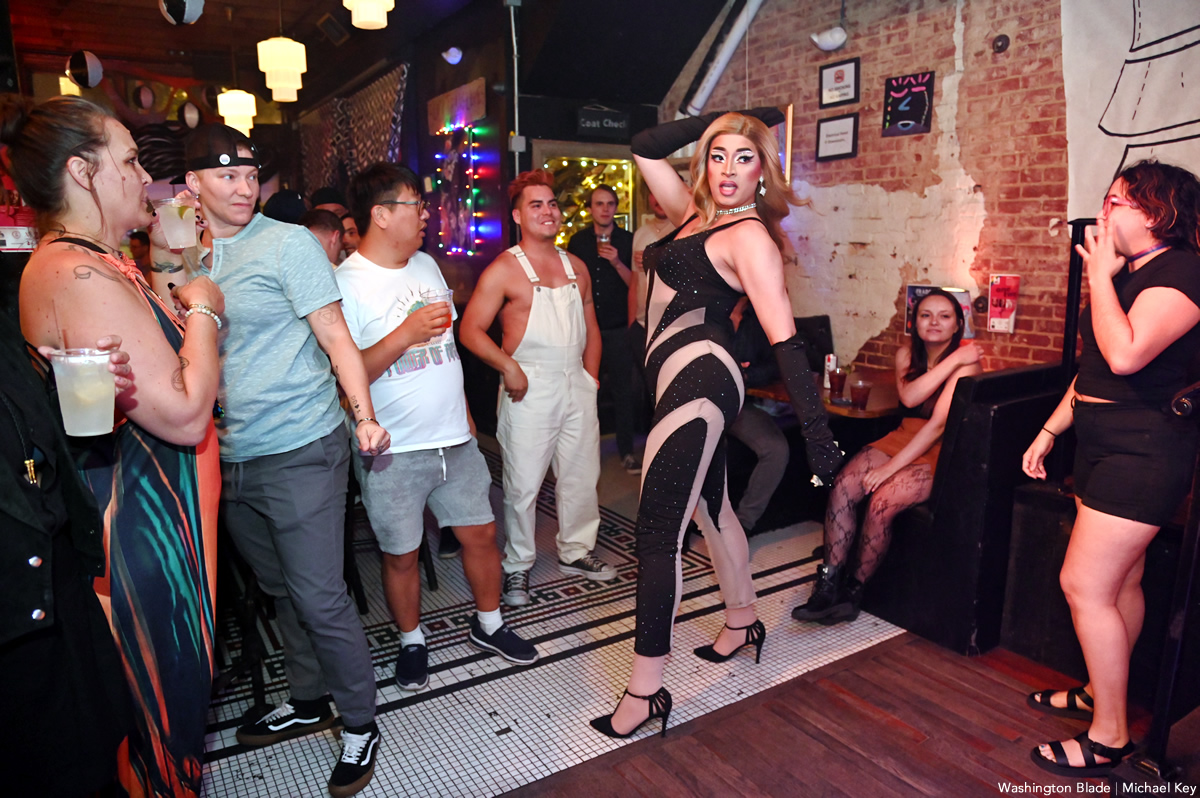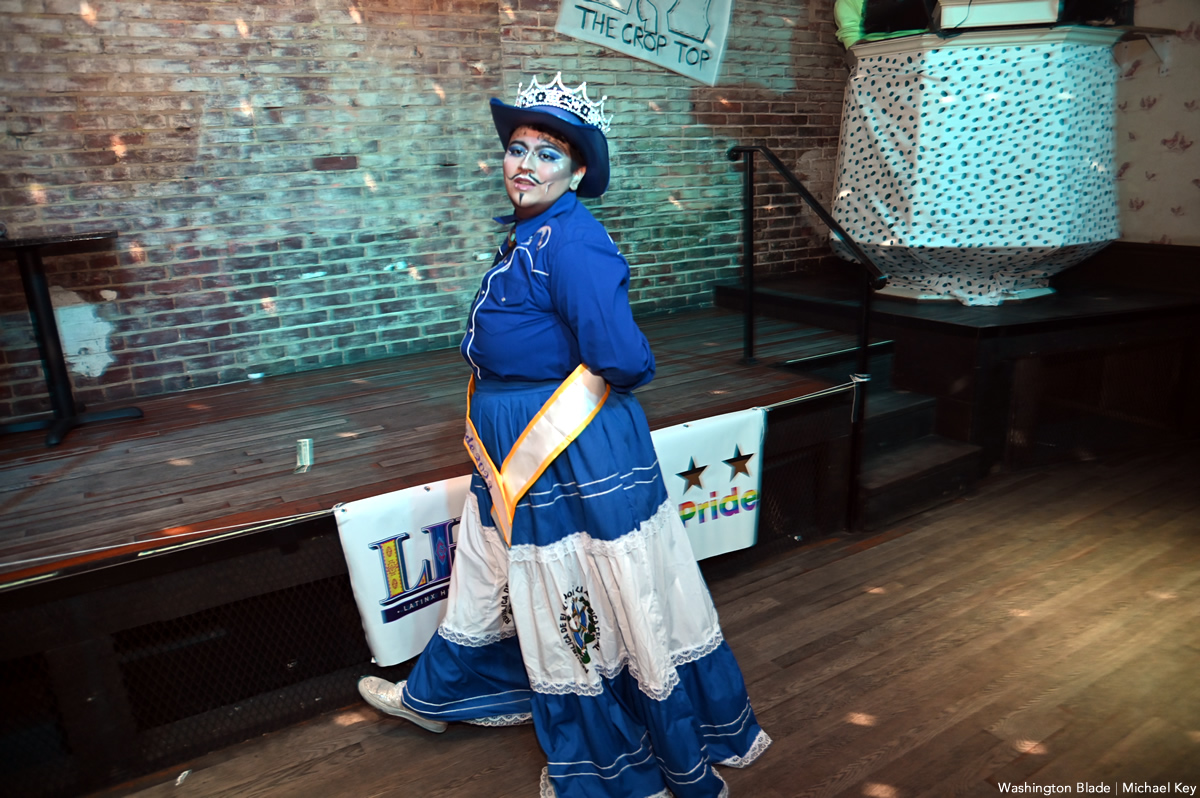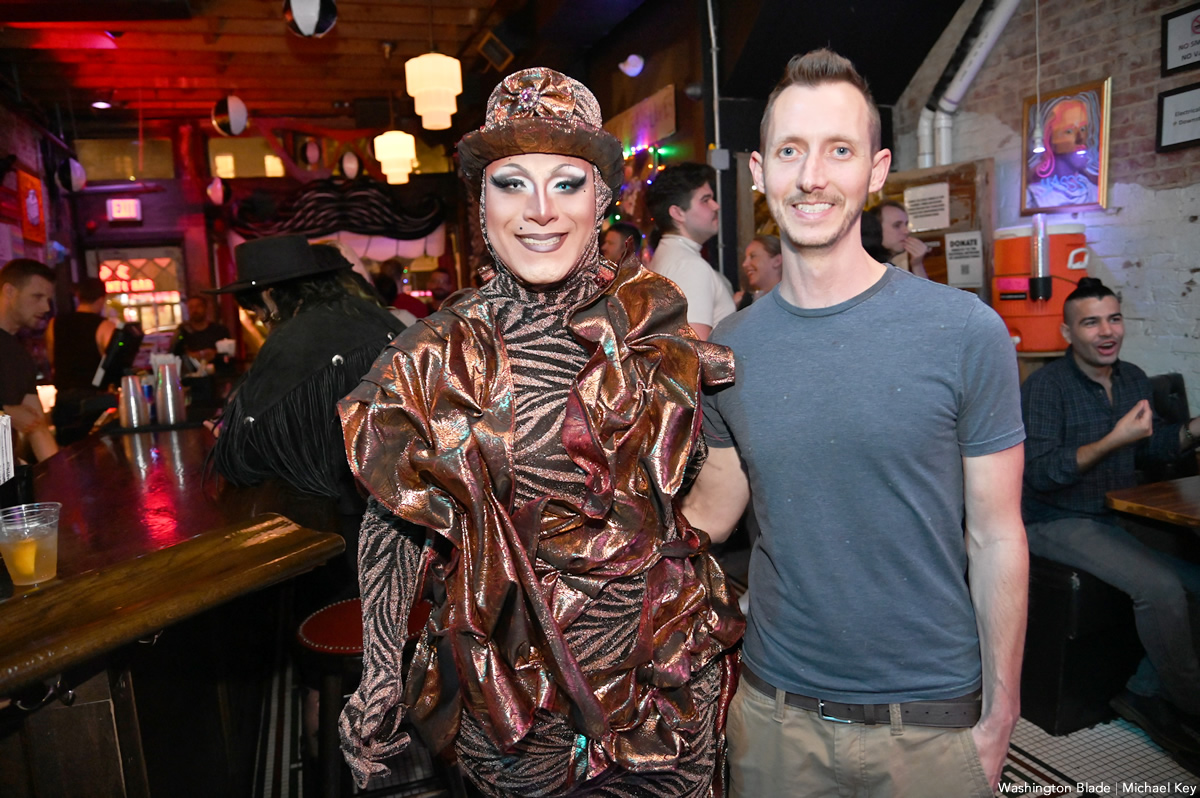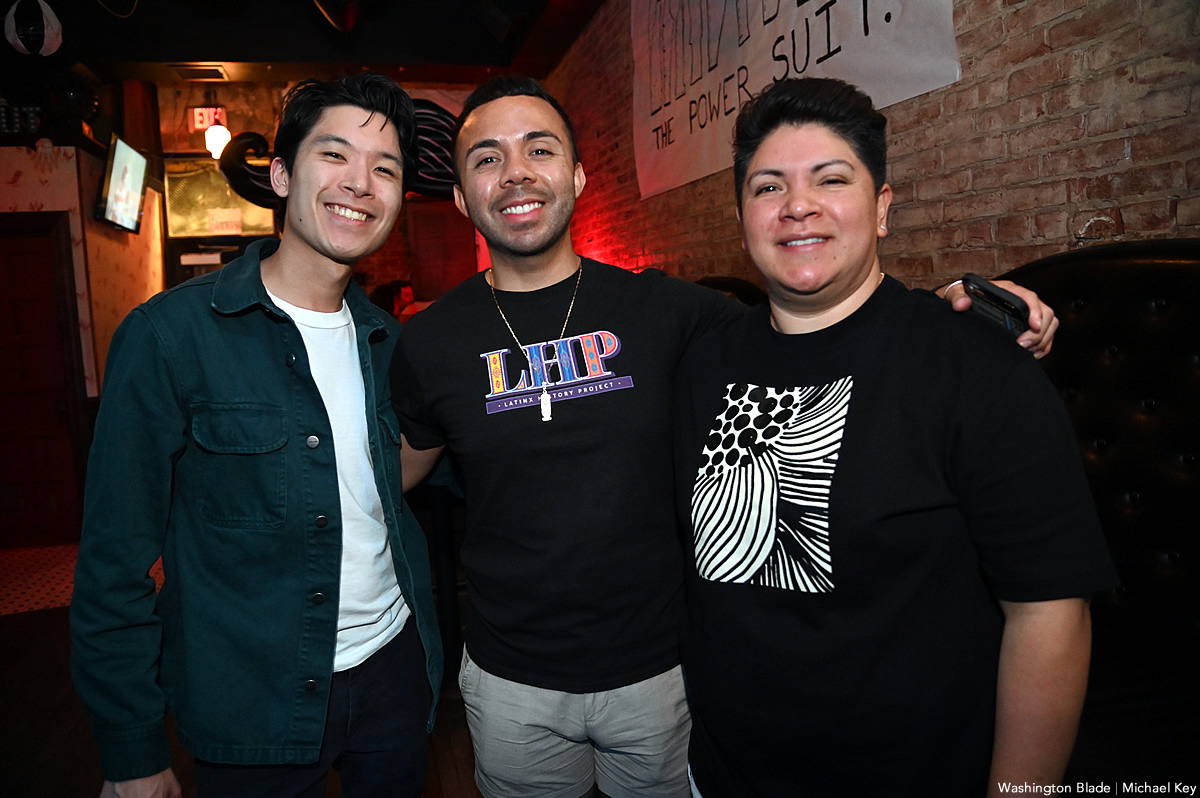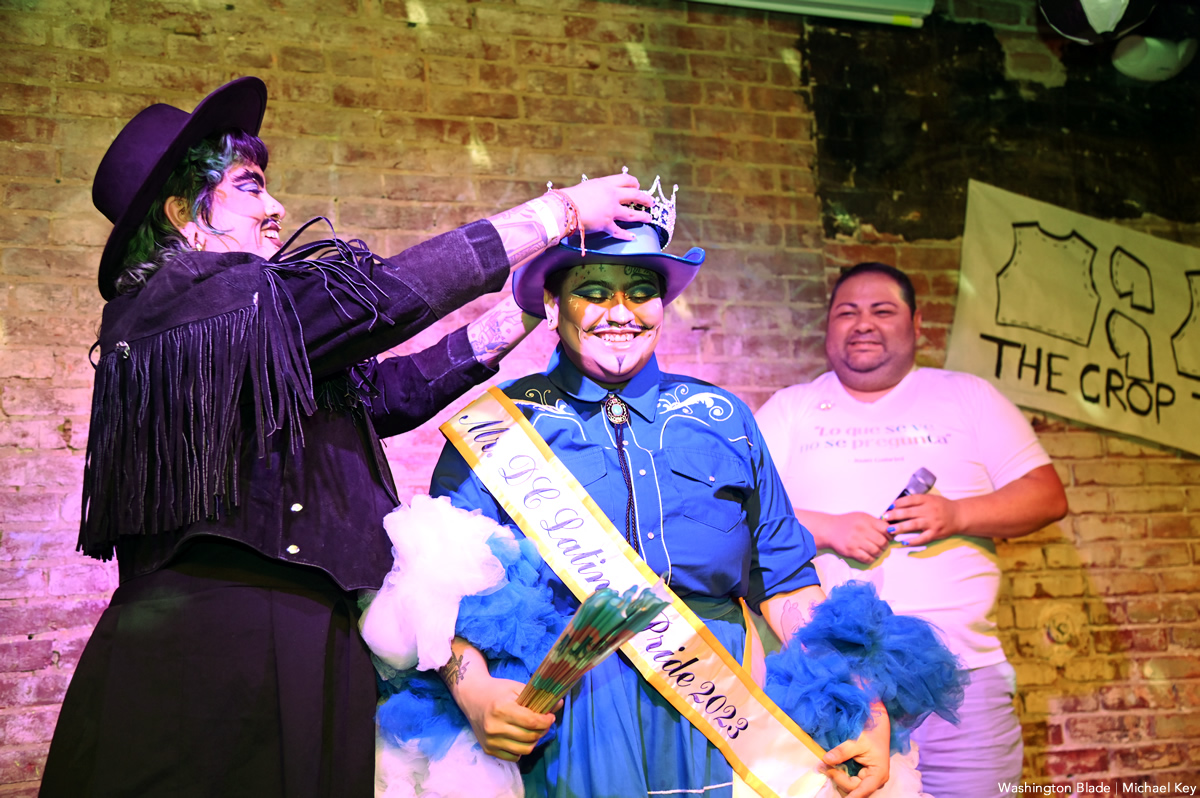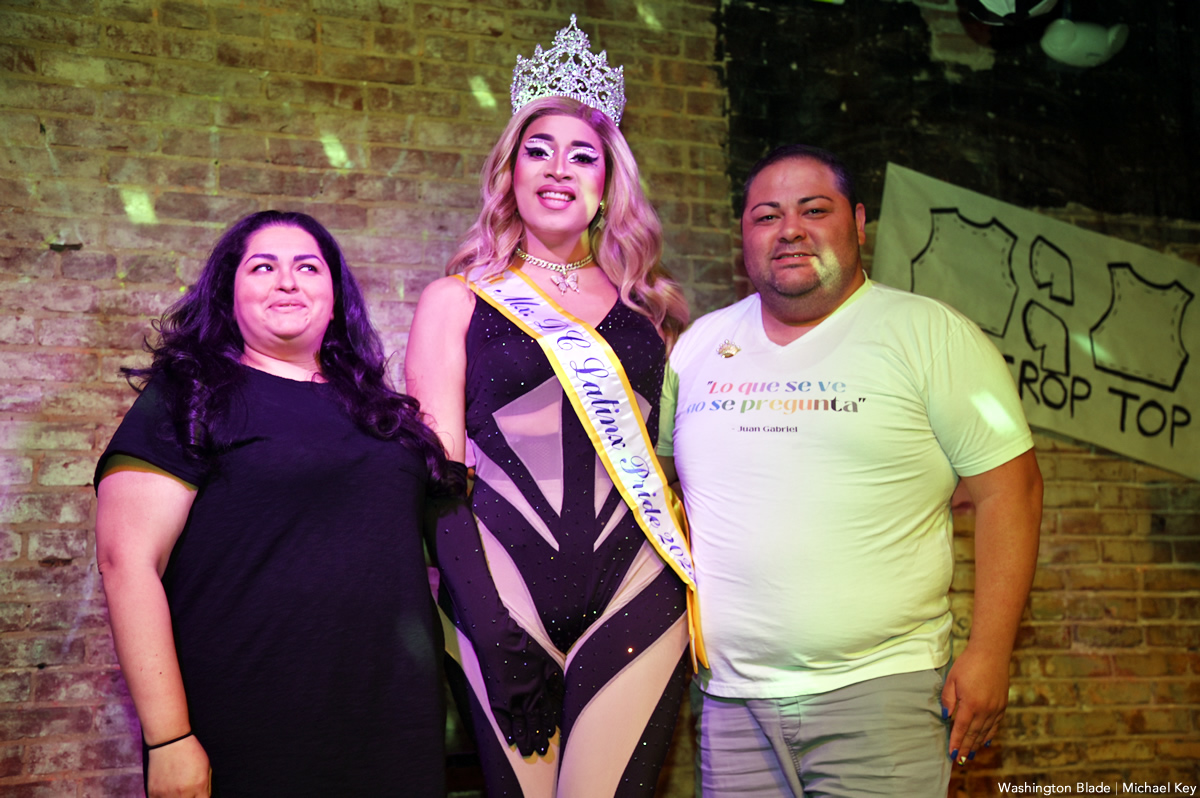 TikTok celebrates Pride with honoree list, online and in-person events
Inaugural LGBTQ Visionary Voices list recognizes creators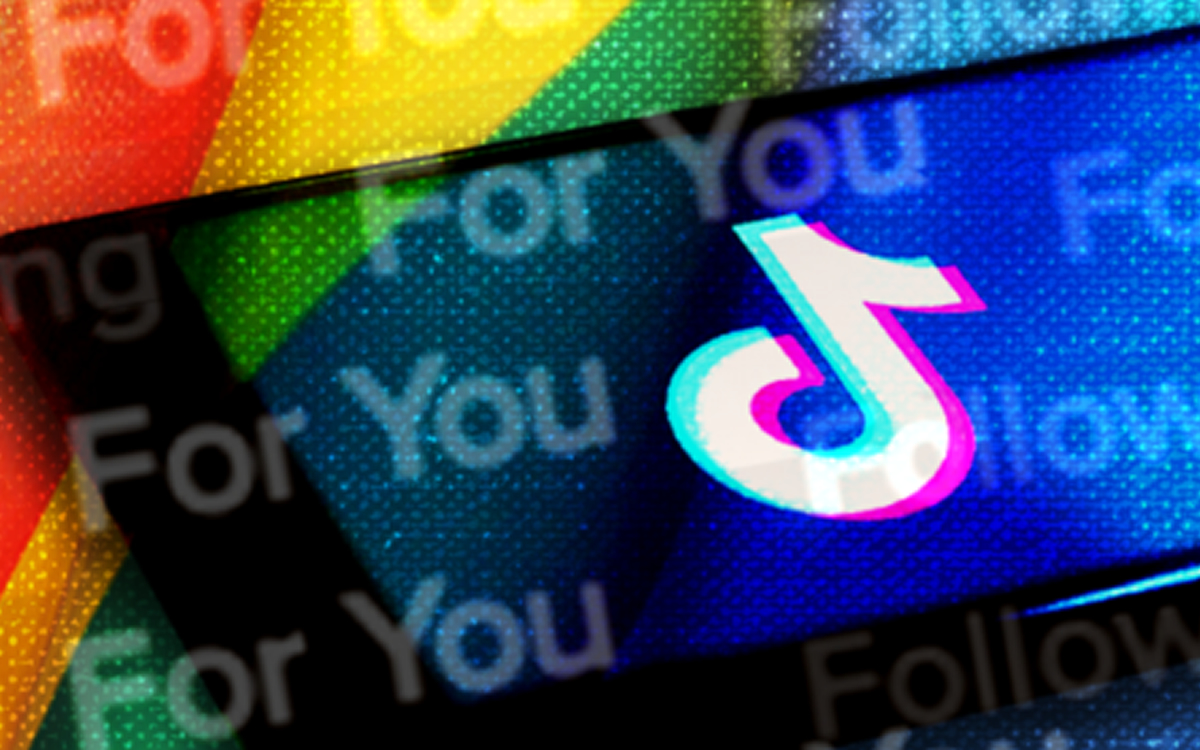 Social media giant TikTok will spotlight LGBTQ content creators and small business owners with an inaugural list of honorees to celebrate Pride month, according to a press release on the company's website. In addition, the company will embark on a campaign that includes webinars, community events and a ball in Los Angeles.
"We're thrilled to celebrate Pride month by honoring the history-making impact of our diverse queer community with this year's LGBTQ+ TikTok Visionary Voices List," said Shavone Charles, TikTok's head of diversity and inclusion communications.
The 2023 LGBTQ+ Visionary Voices list recognizes 15 queer TikTok creators who use the platform to "educate, entertain and advocate for the LGBTQ+ community," according to the release. Honorees on the list span three categories — creators, small-owned businesses and industry disruptors — and feature popular hitmakers Saucy Santana and Baby Tate and social media sensation The Old Gays.
Jae Gurley, another of the honorees, plans to use this recognition as an opportunity to promote lucid education about Pride and cultivate a deeper understanding behind it. Gurley is well-known for using performance and storytelling to create lifestyle content that highlights their journey to self-discovery as a Black femme nonbinary person and encourages users to live their "most confident Bougie B life."
"I feel like a lot of the time online, Pride is portrayed as this big gay party and it is, but it's also a protest and I want my community to understand why we still have to fight," they said "Why we need to continue to take up space, and not be satisfied with where we are, cause it can be taken away in a second."
TikTok's Pride month campaign, titled "You Belong Here," will celebrate the LGBTQ community through a series of in-app initiatives, LIVE events and special programming themed around hashtags including: #ForYourPride, #PrideAnthems and #LGBTQBusiness, according to the company's release.
One of the events, "TikTok Takeoff: Queer Inclusivity in Marketing Webinar," will be hosted on June 13. The online event will platform the stories of LGBTQ+ small and medium-sized businesses at a roundtable discussion. Business owners will discuss their journey taking off on TikTok and strategies they use on the application to engage with new diverse audiences and drive real-world success for their brands.
On the company-facing end, employees will get to participate in programming organized by its employee resource group including LGBTQ film screenings and Pride marches.
"You Belong Here is more than a campaign — it's our commitment to the LGBTQIA+ community on TikTok," read the company's release. "We believe that people should be able to connect with one another, express themselves authentically, and thrive on the platform. And we know that fostering an inclusive space requires prioritizing the needs of our community."