May 5, 2016 at 7:43 pm EDT | by Brock Thompson
The glories of gay camping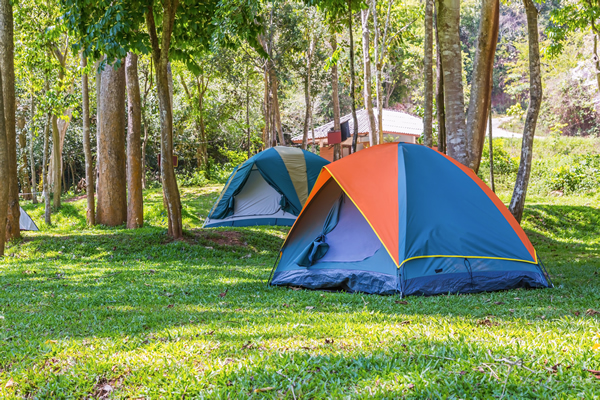 Recently, I went camping with a group of gays in the middle of what I was told later was Maryland.
I haven't been camping since at least the seventh grade. That was back in Arkansas when I had my brief flirtation with the Boy Scouts. We met in the basement of a Methodist church. I was initially drawn to the neckerchief, knee-high socks thing, but Troop 71 bordered on the paramilitary side of things. I assumed 'being prepared' was knowing how to whip up a quiche for unexpected company, not how to trap and skin wild animals. So I decided that pleated green shorts weren't for me, and I didn't make it past the pussy willow badge.
Needless to say, camping left a sour taste in my mouth. But I thought I'd give it another try. And just in time for my friend Luke's biannual camping trip, comprising 25 rather ab-y and affable gay boys, and me with my shirt on.
We started out Friday afternoon and after some driving stopped at a liquor store in rural Maryland. This is where I saw my first Confederate flag in a long while. But it was a sticker in the shape of a heart and attached to a Volkswagen bug, so I wasn't exactly sure what message I was supposed to take away there. But the liquor store did sell rosé in a can, so I considered it a win overall.
Saturday we went to the river. Before this, we had to secure the campsite and store the food in case bears came. Once at the river, most of the boys coupled up in canoes. I was given what the boat company labeled the "single's kayak" and off we went for a six-hour cruise. The weather cleared and we got incredibly tipsy. Once done, I returned my single-shaming vessel and walked to the nearest gas station, which also doubled as the town's pizza parlor. There I was offered a ride to Morgantown. I thought this was either reflective of the nicest of rural Americans, or how horror movies start. Either way I politely declined.
The next morning, we were full up on gossip and snack foods and headed back to the city. But not before stopping at a popular breakfast spot down the road where the waitress asked if we were there for the Donald Trump rally.
Once back in the city, I reflected on all the things that I found glorious about gay camping. I did enjoy that fact that one can do things as a gay camper that would have him quickly shunned as gay urbanite, such as eating Cool Ranch Doritos with abandon and drinking a box wine that was simply labeled "red." I also a drank a lot of canned beer, which gays usually rank alongside that of your canned meats. But not during gay camping. Essentially, gay camping weekends with friends allow us a certain stepping away from intricate social customs of gay city life, while at the same time we are reminded of the important things — indoor plumbing, automatic coffee makers, and living in a Democratic bubble.
That and there's a certain value in stepping away, getting muddy, and having no cell reception for a few days.
And one day, maybe I will get that ride to Morgantown.
Brock Thompson is a D.C.-based freelance writer. He writes regularly for the Blade.