Webre's farewell
Long-time Washington Ballet artistic director reflects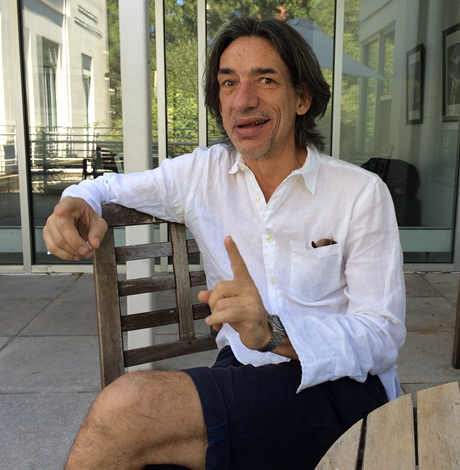 Imagination Stage Presents 'The Little Mermaid'


In collaboration with the Washington Ballet


Continues through Aug. 14


Lerner Family Theatre


4908 Auburn Ave., Bethesda


Tickets start at $10


imaginationstage.org

Septime Webre didn't plan on 'The Little Mermaid,' an Imagination Stage production produced in collaboration with the Washington Ballet, to be his swan song. It just kind of worked out that way.
But the 54-year-old co-choreographer says everything the Ballet has done this season — he mentions the April "Carmina Burana" performances and the "Bowie & Queen" rock show in May — as being fitting farewells. He wrapped his tenure at the Ballet this week and will join the S&R Foundation, a non-profit started in 2000 by Sachiko Kuno and Ryuji Ueno to support artists and scientists, as its artistic director.
During a Washington Blade interview, Webre — who lives in Adams Morgan with his partner of five years, Marc Cipullo — shared his philosophies, struggles and plans. His comments have been edited for length.
WASHINGTON BLADE: Why are you leaving?
SEPTIME WEBRE: I feel great about my accomplishments here. It's grown amazingly. But particularly in the last few years, I've had a yearning to be in the studio a bit more. Being the director of a company, there are administration duties, PR duties, marketing duties, all that's involved in overseeing an organization that has grown from a $2 million to a $12 million budget, so I had already been thinking that maybe another chapter would be interesting to really focus on creativity and less institution building for a while. That coincided with a blossoming of my work as a freelance artist in the last few years.
BLADE: Was the managerial aspect stultifying?
WEBRE: No. I've enjoyed all that institution building and felt like I wanted to do that while I was still somewhat young and energetic, or at least while my Grindr age was still young. I'm 54 but I skew young. I'm an energetic kind-of guy. So those duties weren't stultifying, but they certainly got in the way of creating new work. In the last several years, I've done full-length ballets based on "The Great Gatsby," on Hemingway's "The Sun Also Rises," last year I did a Washington Irving project and also "Alice in Wonderland." These works have been much in demand over the last five or six years and I've also had some commissions by other companies.
BLADE: I assume the name recognition of these works helps?
WEBRE: That's part of it but it's also the return of narrative works in ballet after the era of modernism, which was my generation, and an aesthetic dominated by George Balanchine and Merce Cunningham. These were abstract artists and from the mid-century through the time I was dancing, serious choreographers really didn't tackle narratives. It was not considered serious. But during my choreographic career, I began to tackle them because in many ways, it's who I am. There's something inside of me, this boisterous Cuban family and the brothers on the weekend, all we do is get together and drink cold Mexican beer and tell stories. So I was naturally drawn to these great books and they also happen to sell tickets.
BLADE: You were part of a larger trend with this?
WEBRE: I would say I was an early adopter of the return to narrative. … You could feel it in the air, particularly in the '90s. … It was a convergence of factors — the death of George Balanchine in the early '80s, we had been through modernism and that era and something new was needed. … Also just with the financial realities in the world, ballet companies were increasingly having to rely on box office in a financially challenging market and those story ballets sold better. … I was just on the front of a trend.
BLADE: How much of your work roughly has been choreographing vs. other duties at the Washington Ballet and did that change over time?
WEBRE: I've been creating a new work about every two years. That's probably been the average. In the early years we did one a year, but they were smaller works. I would put my work into three different buckets. One is the creation of new ballet, the second is programmatic creativity, which I found really exciting. Curating repertoire, teaching, developing dancers, developing ancillary programs that are not creating ballets, but they're really creative like the beerballet&bubbly series that brought thousands and thousands of Millennials in to watch rehearsals. … A third would be institution building.
BLADE: Did you ruffle many feathers along the way?
WEBRE: I never felt I ruffled feathers precisely, but I tried to push the envelope. I took over the Washington Ballet from Mary Day, who was 89 years old when I became the director. She was a fabulous visionary, but the company was a bit sleepy. She had a great aesthetic and she loved classical ballet and she loved new work, so there was a connection I had with her. But right away, the company began to grow. The audiences began to grow, we had standing ovations at every show the first run. In my first year, I took the Washington Ballet to Cuba, we produced a "Carmina Burana" that was, at that time, very unprecedented for us. Those first programs were so popular that a buzz developed very early on.
BLADE: You make it all sound so easy, though. What obstacles did you encounter?
WEBRE: Well, without a doubt our huge labor dispute in 2005. That was immense. We had grown so rapidly over the course of my first five years — the number of performances had probably doubled — we had grown, but the admin support hadn't grown with it. …. We were working on a huge, new version of "The Nutcracker," a huge project, and in the midst of that, the dancers very appropriately decided to join a union. That was the right time in our organization's history to do that, but over the course of negotiating that first contract, which took a year, our "Nutcracker" was canceled and we lost a million dollars. The dancers were out of work for months and there was so much acrimony. We were in the Washington Post every day for 19 days, I think. …. But we were eventually able to settle it when we got the lawyers out of it. We settled in March 2006 and went back to work in April. That was a big one. …. Another challenge was in 2009 when the City Council eliminated earmarks. They rescinded that appropriation two months into our fiscal year and so suddenly we had a million dollar hole and we had to scramble. We had to cancel our "Nutcracker" orchestra to save $350,000 and we performed to taped music, just because otherwise we were not going to survive.
BLADE: What kind of learning curve did you have here?
WEBRE: I had some strong mentors and I was able to steal some of their ideas. But before this, although I had a little bit of training when I was a director for six years in Princeton, N.J., so my work there really impressed on me that you have to take your work with the audience a step further. You're not in an ivory tower. You can't just sort of hang the shingle and hope they'll come and understand what you're doing. You have to connect with them more deeply. I'd had some trial and error with that in New Jersey. So I came here with a conviction that the Washington Ballet had to connect with the social fabric of the city and we've done that in multiple ways with our outreach programs in Anacostia, Dance DC in public schools, beerballet&bubbly for young professionals, our Latino programs, etc.
BLADE: How have the dancers changed over the time you've been here?
WEBRE: About five years into my tenure here, just before the labor dispute actually, we'd never done any full-length classical ballets. No "Giselle," "Coppelia" or "Don Quixote." Mary Day never chose to do that because American Ballet was already doing that kind of repertoire at the Kennedy Center. I sensed a kind of unspoken inferiority complex around the organization. No one said it, but I could sense that the dancers thought we couldn't handle it, our staff thought we couldn't handle it, our audiences thought we couldn't do it. A dancer's career is so short, a dancer wants to dance the full repertory they were trained for, so I made a decision about four years in to slowly, methodically begin to introduce some full-length 19th Century classical works into the repertoire. … I think that helped us be seen as a grown-up company and that's led to really, really high-powered dancers and a higher quality of dancer. Younger dancers today are coming in with a lot more technique and what a dancer can do now compared with 15 years ago or when I retired 20 years ago, oh my God — they're doing all this crazy crap that hadn't even been invented yet. Just like in athletics, the technique has risen, risen, risen.
BLADE: How has being gay affected your career or has it?
WEBRE: The dancers themselves are much less gay than the public imagines. … As I was getting into admin work and started working with board members … I actually found it to be an asset. This is going to sound very retro, but it gave me a kind of exoticism. … They were a lot of businessmen who didn't necessarily have gay friends, so now they did and it made them feel good about themselves.
BLADE: Are classical works and pop/contemporary works strange bedfellows in the ballet world?
WEBRE: Well, "Giselle" sold significantly less well than "The Great Gatsby" or than "Bowie & Queen." "Don Quixote" sold less than "The Sun Also Rises" or "The British Invasion." What I found was that when classical, lofty art remained itself and didn't get a bit dirty, it was less popular from a ticket sale standpoint. So we remained ballet, but we got down and dirty with Freddie Mercury wailing sometimes. That collision creates a buzz and a connection. … But things are always colliding and mixing in a postmodern world. I mean, I wish everyone loved "Giselle" as much as I do, but it's also exciting because ballet is a language just like you use the same English language for Shakespeare, Emily Dickinson or Mad Magazine.
Jesse Arnholz contributed to this interview.
Hip-Hop's complicated history with queer representation
At 50, experts say the genre still doesn't fully welcome LGBTQ inclusion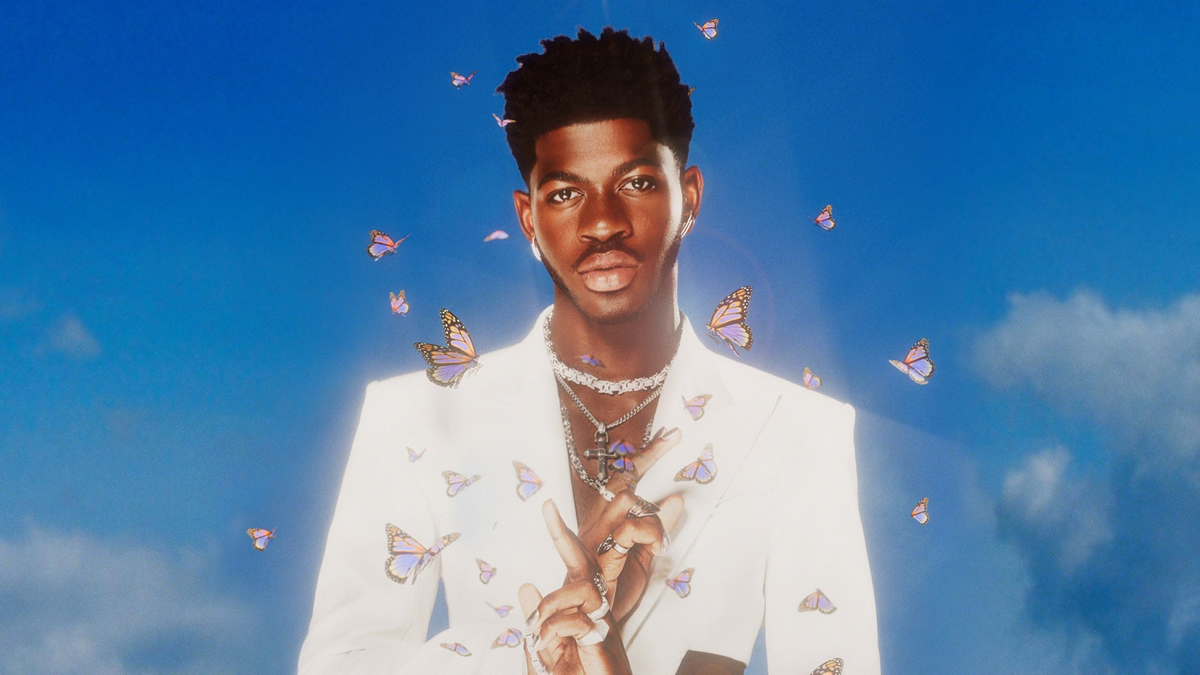 I didn't really start listening to rap until my college years. Like many queer Black children who grow up in the closet, shielded by puritanical Christianity from the beauty of a diverse world, I longed to be myself. But the affirming references I could pull from — in moments of solitude away from the wrath and disdain of family and friends — were in theater and pop music.
The soundtrack to my teenage years was an endless playlist of pop divas like Lady Gaga and Beyoncé, whose lyrics encouraged me to sashay my hips anytime I strutted through a long stretch of corridor.
I was also obsessed with the consuming presence of powerful singers like Patti LaBelle, Whitney Houston, and the hypnosis that was Chaka Khan. My childhood, an extrapolation of Tuesdays, Thursdays, Saturdays and Sundays spent in church groups, choir practices, and worship services, necessitated that I be a fan of throaty, from-the-stomach singing. But something about the way these artists presented themselves warmed my queer little heart. LaBelle wore avant garde geometric hairdos paired with heavily shoulder-padded blazers. Houston loved an elegant slender gown. And Khan? It was the voluminous red mane that gently caressed her lower back for me.
Listening to rap music in college was a political experience. My sociology classes politicized me and so it was only natural that I listened to rap music that expressed trauma, joy, and hope in the Black experience. However, I felt disconnected from the music because of a dearth of queer representation in the genre.
Nevertheless, groups like Outkast felt nostalgic. While delivering hedonistic lyrics at lightning speed, André 3000 — one half of the rap duo — mesmerized with his sleek, shoulder-length silk pressed hair and colorful, flowing shirts and trousers — a style that could be translated as "gender-bending." Despite the patriarchal presentation rampant in rap and Hip-Hop, Andr​​é 30000 represented to me, a kind of rebellious self-expression that I so badly wanted to emulate but couldn't because of the psychological confines of my conservative upbringing.
My discovery of Outkast was also sobering because it was a stark reminder of how queerness is also often used as an aesthetic in Hip-Hop while actual queer people are shunned, rebuked, and mocked. Queer people in Hip-Hop are like backstage wingmen, crucial to the development of the show but never important enough to make a curtain call.
As Hip-Hop celebrates 50 years since its inception in New York City, I am filled with joy because it's been half a century of Black people owning their narratives and driving the culture. But it's fair to ask: At whose expense?
A viral 2020 video shows rapper Boosie BadAzz, famed for hits like "Set It Off" and "Wipe Me Down," rebuking NBA star Dwayne Wade and award-winning actress Gabrielle Union-Wade for publicly supporting their then-12-year-old daughter after she came out as transgender.
"Don't cut his dick off, bro," said BadAzz with furrowed eyebrows and a gaze that kept turning away from the camera, revealing his tarnished diamond studs. "Don't dress him as a woman dawg, he's 12 years. He's not up there yet."
The responses from both Wade and Union-Wade were a mixture of swift, sarcastically light-hearted, and hopeful.
"Sorry Boosie," Union-Wade said to an audience during a live podcast appearance at Live Talks Los Angeles. "He's so preoccupied, it's almost like, 'thou doth protest too much, Little Boos.' You've got a lot of dick on your mind."
Wade also appeared on an episode of podcast, "I AM ATHLETE," and looked directly into the camera.
"Boosie, all the people who got something to say, J-Boogie who just came out with [something] recently, all the people who got something to say about my kids," he said. "I thank you because you're allowing the conversation to keep going forward because you know what? You might not have the answers today, I might not have the answers, but we're growing from all these conversations."
This exchange between the Wades and BadAzz highlights the complicated relationship between Black LGBTQ individuals and allies and the greater Hip-Hop and rap genres and communities. While Black queer aesthetics have long informed self-expression in Hip-Hop, rappers have disparaged queerness through song lyrics and in interviews, or online rants like BadAzz, outside the recording studio.
And despite LGBTQ rappers like Queen Latifah, Da Brat, Lil Nas X, and Saucy Santana achieving mainstream success, much work lies ahead to heal the trauma that persists from Hip-Hop's history of patriarchy and homophobia.
"'Progression' will always be relative and subjective based on one's positionality," said Dr. Melvin Williams said in an email. Williams is an associate professor of communication and media studies at Pace University. "Hip-hop has traditionally been in conversation with queer and non-normative sexualities and included LGBTQ+ people in the shaping of its cultural signifiers behind the scenes as choreographers, songwriters, make-up artists, set designers, and other roles stereotypically attributed to queer culture."
"Although Hip-Hop incorporates queerness in their ethos, ideas, and trends, it does not privilege the prospect of an out LGBTQ+ rapper. Such reservations position LGBTQ+ people as mere labor in Hip-Hop's behind-the-scenes cultivation, but not as rap performers in its mainstream distribution," he added.
This is especially true for Queen Latifah and DaBrat who existed in the genre for decades but didn't publicly come out until 2021. Still, both faced backlash from the Black community for daring to challenge gender roles and expectations.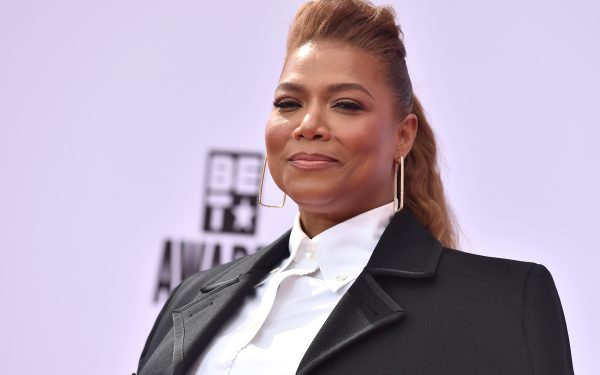 Lil Nas X also faced backlash for his music video "Montero" with satanic references, including one in which he slides down a pole and gives a character representing the devil a lap dance. Conservatives such as South Dakota Gov. Kristi Noem accused him of trying to scandalize children.
"You see this is very scary for me, people will be angry, they will say I'm pushing an agenda. But the truth is, I am," Nas X said in a note that accompanied "Montero." The agenda to make people stay the fuck out of other people's lives and stop dictating who they should be."
Regardless, "Montero" debuted atop the Billboard 100.
In an article published in "Souls: A Critical Journal of Black Politics, Culture, and Society," scholar C. Riley Snorton posited that celebrating queer visibility in mainstream media could be a problem as this kind of praise relies on artists presenting in acceptable forms of gender and sexuality expression and encourages representation that is "read alongside…perceptions of Hip-Hop as a site of Black misogyny and homophobia."
In the case of Frank Ocean, who came out in 2012 prior to the release of his album "Channel Orange," his reception was warmer than most queer Hip-Hop artists because his style of music is singing, as opposed to rapping. Because of this, his music was viewed more as R'n'B or pop.
"Frank Ocean ain't no rapper. He's a singer. It's acceptable in the singing world, but in the rap world I don't know if it will ever be acceptable because rap is so masculine," rapper Snoop Dogg told the Guardian in 2013. "It's like a football team. You can't be in a locker room full of motherfucking tough-ass dudes, then all of a sudden say, 'Hey, man, I like you.' You know, that's going to be tough."
So what's the solution for queer people in Hip-Hop? Digital media.
Williams, the Pace University professor, says that being divorced from record labels allows queer artists to be independent and distribute their music globally on their own terms.
"We witnessed this fact with artists such as Azealia Banks, Cakes Da Killa, Fly Young Red, Kevin Abstract, iLoveMakonnen, Lil Nas X, Mykki Blanco, and Saucy Santana, as well as legacy LGBTQ Hip-Hop acts like Big Freeda, DeepDickCollective, and Le1f," he said. "The music industry has experienced an increasingly mobilized market due to the rise of digital media, social networking platforms, and streaming services."
"More importantly, Black queer Hip-Hop artists are historicizing LGBTQ+ contributions and perspectives in documentaries, films, news specials, public forums, and podcasts. Ultimately, queer people engaging in Hip-Hop is a revolutionary act, and it remains vital for LGBTQ+ Hip-Hoppers to highlight their cultural contributions and share their histories," he added.
(Hip-Hop pioneers Public Enemy and Ice-T will headline The National Celebration of Hip-Hop, free concerts at the West Potomac Park on the National Mall in D.C. on Oct. 6 and 7.)
Cuisine and culture come together at The Square
D.C.'s newest food hall highlights Spanish flavors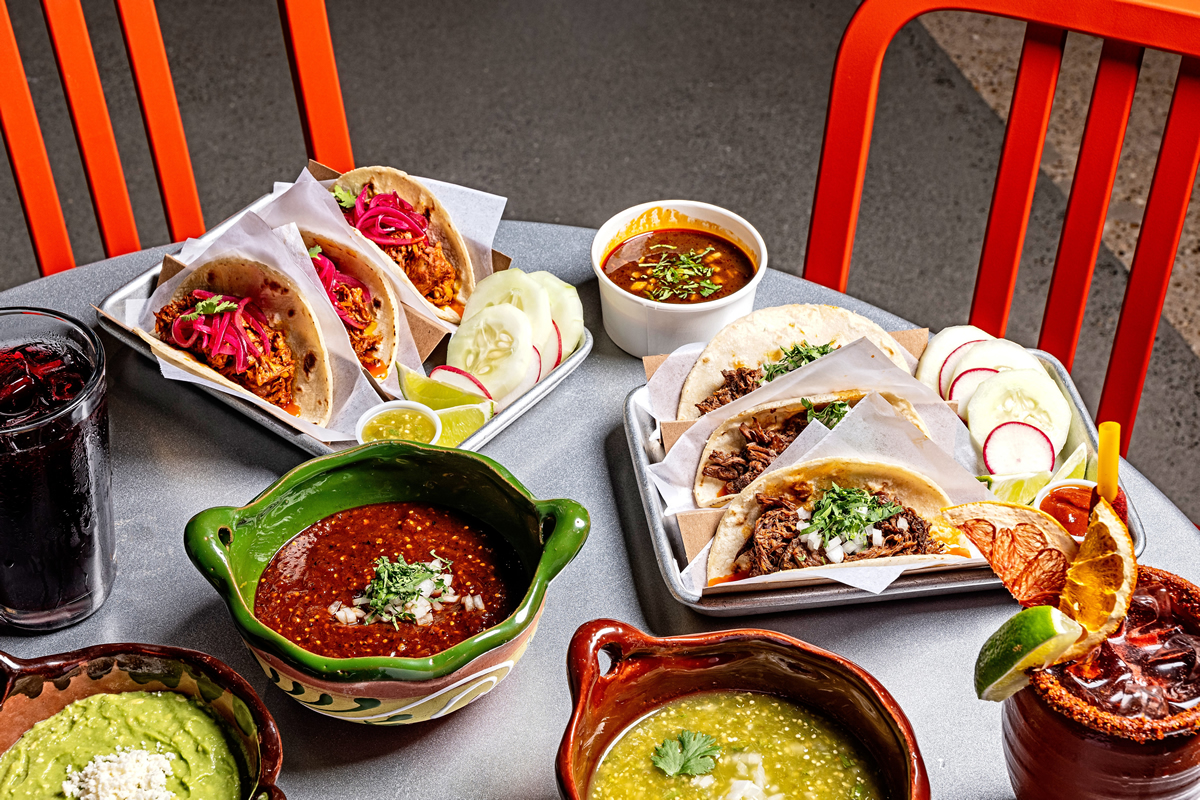 Downtown got a bit tastier when "the next generation of food halls" opened its doors on Tuesday near the Farragut West Metro stop. Dubbed The Square, its half-dozen debut stalls are a Spanish-flecked mix of D.C. favorites, new concepts, and vendor-collaborative spirit.
After two years of planning – and teasing some big-name chefs – the market is, according to the owners, "where cuisine, culture, and community are woven together."
Behind this ambitious project with lofty aims are Richie Brandenburg, who had a hand in creating Union Market and Rubén García, a creative director of the José Andrés Group who also was part of the team of Mercado Little Spain, the fairly new Spanish-themed Andres food hall in Hudson Yards.
Food halls have come a long way since the new Union Market awakened the concept a decade ago. Instead of simply rows of vendors in parallel lines, The Square has a new business model and perspective. This food hall shares revenue between the owners and its chef partners. Vendors are encouraged to collaborate, using one software system, and purchasing raw materials and liquor at scale together.
"Our goal was two-fold: to create a best-in-class hospitality offering with delicious foods for our guests; and behind the scenes, create the strong, complex infrastructure needed to nurture both young chefs and seasoned professionals, startups, and innovation within our industry," says Brandenburg.
The Square has embraced a more chef-forward methodology, given that the founders/owners themselves are chefs. They're bringing together a diverse mix of new talent and longtime favorites to connect, offer guidance to each other, and make the market into a destination.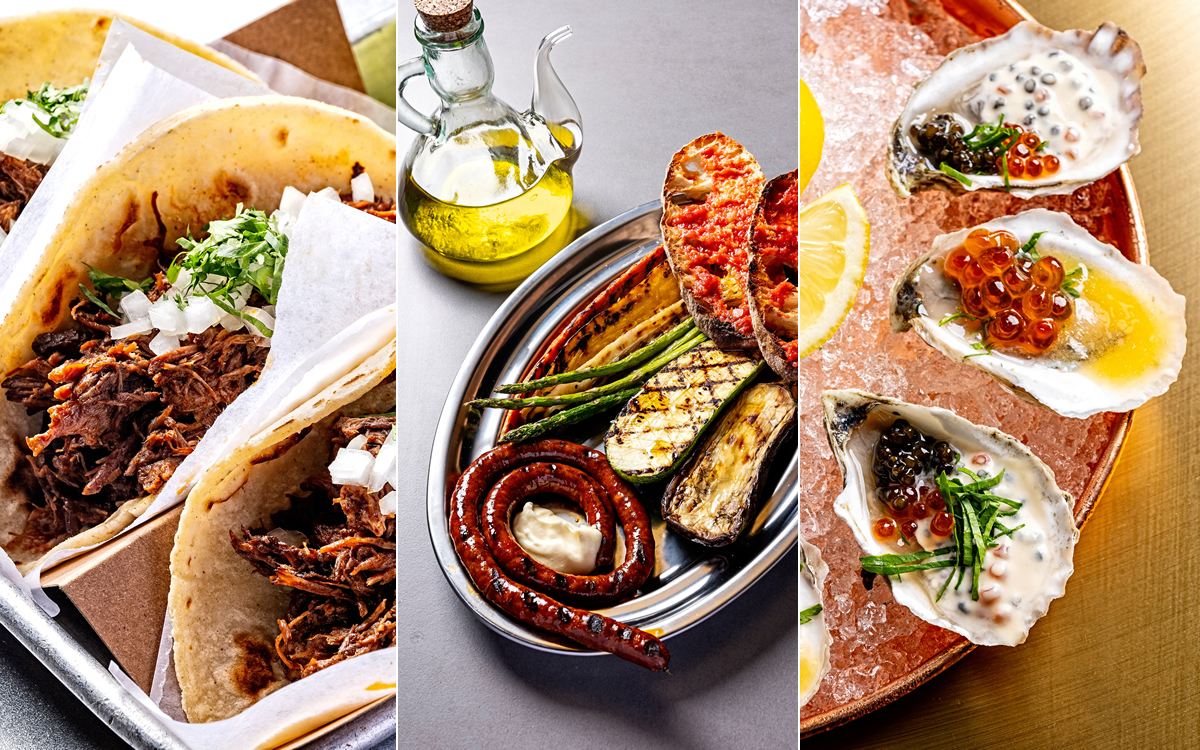 The first phase of The Square premiered this week. This phase encapsulates a selection of original concepts from well-known local chefs and business owners, and includes:
• Cashion's Rendezvous – Oysters, crab cakes, and cocktails, from the owners of D.C. institutions and now-closed Cashion's Eat Place and Johnny's Half-Shell (Ann Cashion and John Fulchino).
• Jamón Jamón – Flamenco-forward food with hand-cut jamón Iberico, queso, and croquetas, sourced by García himself.
• Brasa – Grilled sausages and veggies are the stars here. Chef García oversees this Spanish street-food stall as well.
• Taqueria Xochi – Birria, guisado, and other street tacos, plus margs. Named after the ruins of Xochitecatl in Central Mexico, and from a Jose Andres alum.
• Yaocho – Fried chicken, juices, sweets, and libations.
• Junge's – Churros and soft serve ice cream. Brandenburg and García both have a hand in this stall.
• Atrium Bar – The central watering hole for drinks. Atrium Bar serves cocktails, wine, and beer curated by The Square's Beverage Director Owen Thompson.
"Having been part of Jose Andres's restaurant group and getting to know Ruben and Richie, it's amazing to see how their values align with ours at Taqueria Xochi. Seeing all these incredible chefs heading into Square feels like a full-circle moment," said Geraldine Mendoza of Taqueria Xochi.
Slated for fall 2023, the next round of openings includes Flora Pizzeria, Cebicheria Chalaca, KIYOMI Sushi by Uchi, Shoals Market (a retail hub), and more. Additionally, chef Rubén García's Spanish restaurant, Casa Teresa, will soon open next door to The Square.
The Square is just one of a handful of new food halls blossoming in and around D.C. Up in Brentwood, Md., miXt Food Hall is an art-adjacent space with tacos, a year-round fresh market, coffee, and beer. Across from Union Market is La Cosecha, a Latin marketplace with everything from street food to a Michelin starred restaurant and a festive vibe. Closer to The Square is Western Market by GW University, which opened in late 2021 with a buzzy, relaxed style.
For now, the Square is open Monday through Friday, 11 a.m. to 3 p.m. The Square plans to open on weekends and extend hours to offer dinner service in the coming months. A few alfresco seats will accompany the hall.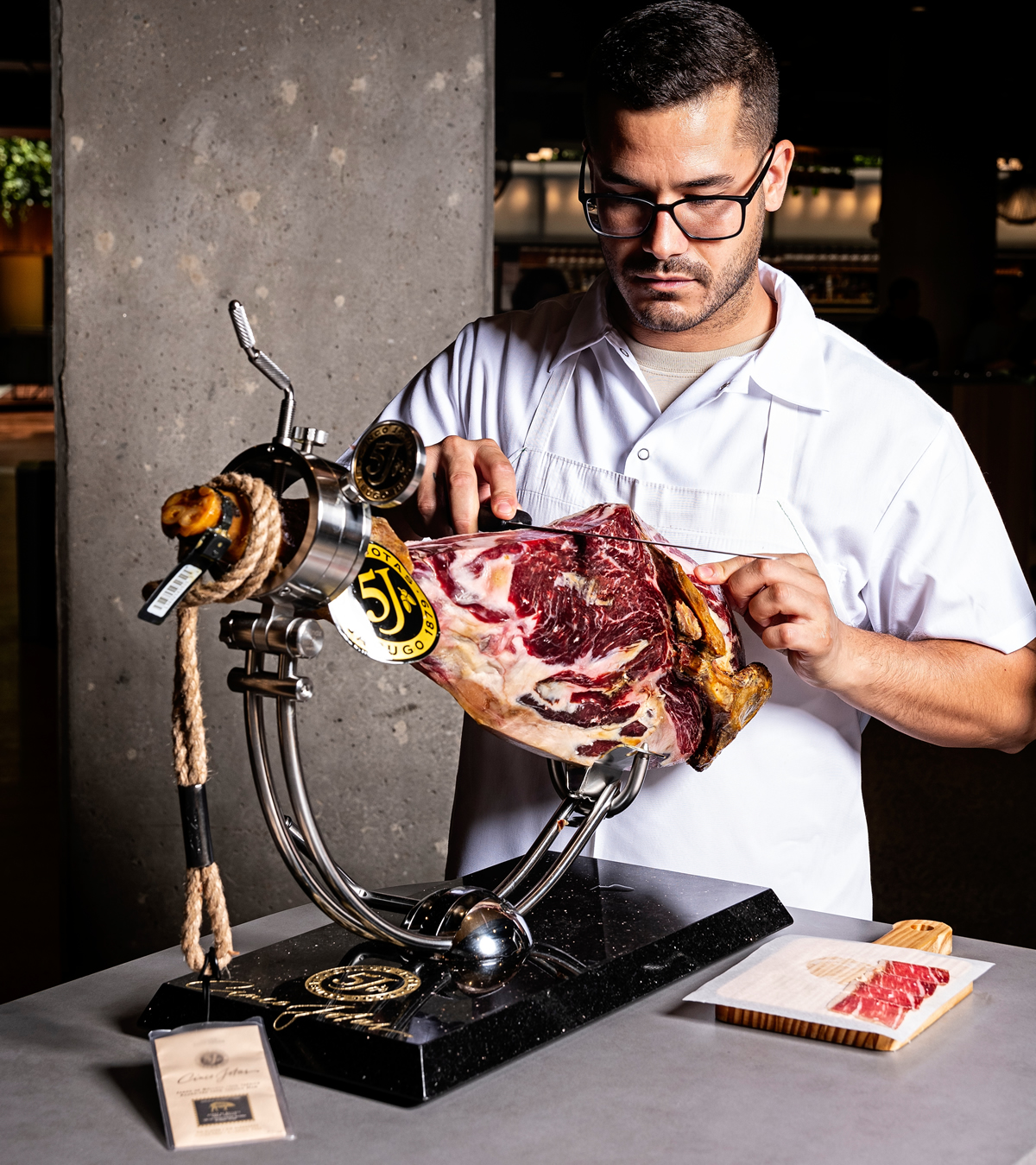 Charles Busch reflects on the paths he didn't take in new book
'Leading Lady' a riveting memoir from legendary entertainer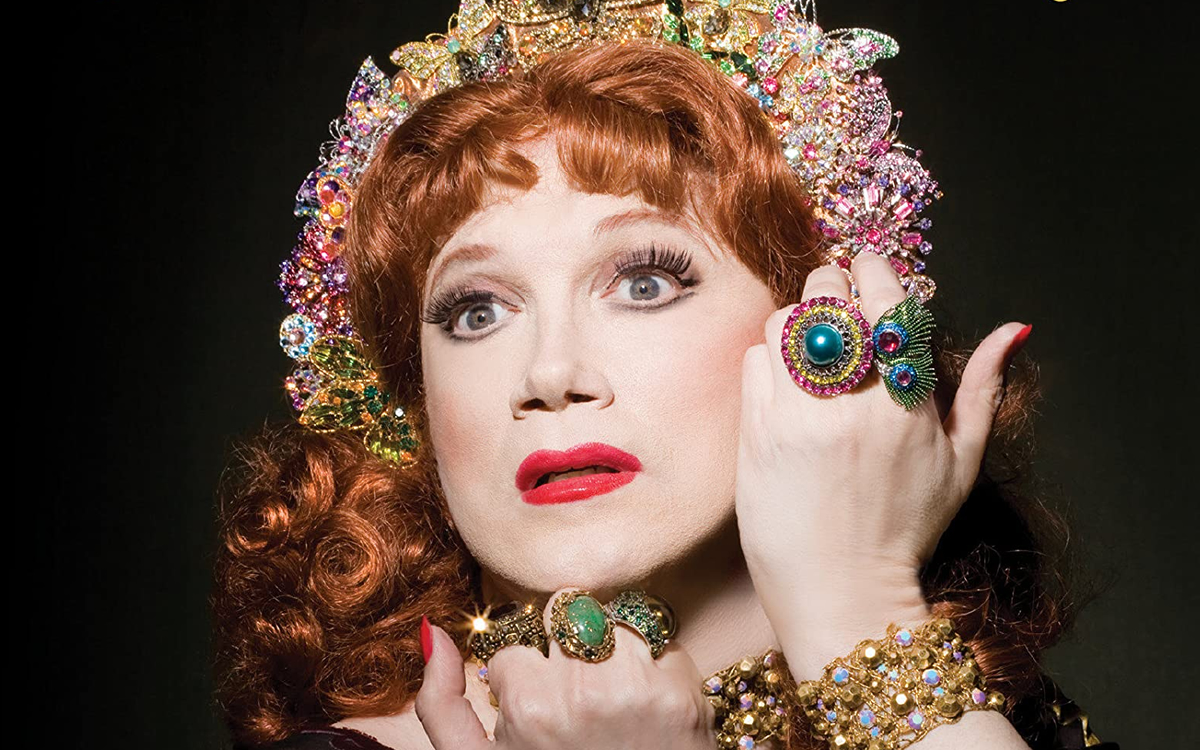 "Charles, I'm telling you, I go to plays in rat-infested basements where I'm the only one who shows up," the late queer icon Joan Rivers once told the queer, legendary playwright, actor, director, novelist, cabaret performer and drag icon, Charles Busch. "I can see the actors peeking through the curtain and groaning, 'Oh God, that old bitch in the fur coat is here. Does that mean we've gotta go on?'"
Busch reminded Rivers that she'd seen him perform in a rat-infested basement.
This is just one of the many stories that Busch, born in 1954, tells in his riveting memoir, "Leading Lady: A Memoir of a Most Unusual Boy," which comes out on Sept. 12.
"Leading Lady" is a page-turner. Some of its tales of Busch's life and career, such as his account of a Christmas party with Rivers as a guest, are dishy. Others, like his memories of trying to care for his beloved Aunt Lil, when he knew she was dying, would make even the Wicked Witch in Oz tear up.
The memoir, is, as Busch says on his website (charlesbusch.com), the story of "a talented artist's Oz-like journey."
"Leading Lady" isn't linear. This isn't a detriment. Busch deftly intertwines memories of his life and career from his mom dying when he was seven to being raised by his loving Aunt Lil to being the author and star of the cult classic "Vampire Lesbians of Sodom" to watching Kim Novak handle fans to being the Tony-nominated writer of "Tales of the Allergist's Wife" to being creative during the pandemic.
"Storytelling is a huge part of my life," Busch told the Blade in a lengthy phone interview, "I get into various adventures and, I think, this could be a good story to tell."
Interviewing Busch is like chatting with a fab storyteller over coffee or a glass of wine. Except that you're talking to a legend who's entertained and inspired queers (and discerning hetero audiences) for decades. (I'm wearing my "Vampire" T-shirt as I write this.)
As a playwright, Busch writes "linear" plays, with a beginning, middle and an end, he said. As a cabaret singer, "the way I sing songs is telling a story," Busch said.
Since childhood, he's been creating vivid scenes in his imagination. From early on, Busch has felt as if he's both a spectator and star in the movie of his life.
It seemed inevitable that he'd write a memoir. It's the ultimate form of storytelling. "You reach a certain point in your life," Busch said, "where you're more reflective and see your life as a whole."
"You reflect on the paths you didn't take," he added.
Busch spent his childhood in Hartsdale, N.Y. He had two older sisters, Betsy and Margaret. His mother's death was devastating for Busch. His Aunt Lil and Joan Rivers have been among the women who have been "mothers" to Busch since his mom died.
Once, Busch said he and Rivers dined with friends. "Joan Rivers said 'I wish I had a gay son I could phone at midnight and discuss whatever movie was on TCM,'" he recalled.
Busch would have loved to have been Rivers's "gay son."
Life in Hartsdale was hard for Busch after his mother passed away. His father was often absent and showed little interest in his children.
Things were miserable for Busch when his grandmother, for a time, cared for the family. He knew, as a boy, that he was gay and hated going to school where a movie-and-theater-loving kid who liked to draw wasn't one of the cool kids.
Yet Busch forgave his "father's failings," he writes in "Leading Lady, "because he gave me the theater."
Busch became entranced with the theater when his father, an aspiring opera singer who performed in summer stock, took him to the old Metropolitan Opera House in New York City to hear Joan Sutherland sing the role of Amina in Bellini's "La Sonnambula."
Busch was saved from a life of boredom and bullying when Aunt Lil, his mother's sister, took him to live with her in Manhattan. There, like Auntie Mame, she raised him. She prodded him into applying to the High School of Music and Art in New York City. He was accepted there.
After high school, Busch graduated with a bachelor's degree in drama from Northwestern University in 1976.
"My Aunt Lil is the leading lady [of the title of his memoir]," Busch said, "she was the most influential person in my life."
One of the reasons why Busch wrote "Leading Lady" was to paint a full portrait of her. "It was important that it not be this kind of gauzy, sentimental memory piece," he said, "making her out to be a saint."
Aunt Lil adopted Bush when he was 14. Her goal was that he would go to college, become independent, be a survivor – make a place for himself in the world.
"I don't know what would have happened if she hadn't stepped in," Busch said.
"She was very intellectual," he added, "I've never met anyone [else] with such a pure devotion to thinking. It was a little intimidating."
Aunt Lil's standards for caring – for giving of oneself – were so high that it was almost impossible to meet them. "She believed that you should anticipate what people would need," Busch said, "before they told you."
Looking back, Busch is most proud of himself when, "I've gone past my natural self-absorption," he said, "when I've thought of someone else."
Busch is being too hard on himself. In "Leading Lady," and when interviewed, he's caring and curious as well as witty, savvy, and as you'd expect, a bit campy.
His sister Margaret died recently. "She declined gradually over nine months," Busch, said, choking up, "I gave her my bedroom and I slept on my sofa."
Like many of her generation, Aunt Lil didn't understand queerness or drag. But she loved Busch. She didn't go to see his productions, he said. "She could have gone like other parents," he said, "and been tight-lipped. And said something nice that she didn't believe."
But "she didn't want to lie or be hurtful," Busch added, "so, for her, it was: can't I just love and support you, and not go?"
Aunt Lil didn't get Busch's sexuality. But she knew about secrecy. Busch learned of a terrifying secret that his aunt had long kept hidden. In the 1930s, during the Depression, Aunt Lil worked as a nurse. One day, when she worked overtime, one of the patients suffered a burn. She had to leave nursing. "Her sister in a nasty mood revealed this," Busch said, "Aunt Lil never discussed it."
In the 1970s, Busch had trouble getting into theater because there were only roles for actors playing straight male characters. "The only way I could get on stage was to write my own roles," he said, "I have a rather androgynous nature."
Busch found that the feminine within him was a place of authority and strength. "I'm fine when I play male characters," he said, "but I'm better when I play female characters."
Why this is so liberating for him is a bit of a mystery to Busch. "But I accept and love it," he said.
Times have changed since Busch made his first big splash with "Vampire Lesbians of Sodom." "In 1985, being a drag queen was considered a negative," Busch said, "my generation of drag performers bristled at being referred to as drag queens."
Busch no longer bristles. "I feel like the characters," he said, "I enjoy costumes and getting the right wig."
"But, I go from male to female not through trickery or anything visual, I transfer through my soul."
In "Leading Lady," Busch recalls AIDS and other dark moments from the past. Many of his friends and colleagues died from AIDS. "AIDS was the World War II of our generation," he said.
But Busch, in his memoir and in his life, isn't only looking back. He's very much in the present. Busch is embarrassed to say he was lucky. During the pandemic, devastating to many, he made art. He did play readings on Zoom and finished writing "Leading Lady" which he'd worked on for 14 years.
During the pandemic, Busch with Carl Andress co-wrote and co-directed the movie "The Sixth Reel." The film's cast includes Busch, Julie Halston (Busch's longtime muse), Margaret Cho and Tim Daly.
Busch describes the film, an homage to the Hollywood madcap movies of the 1930s, as "a comic, caper movie."
"I play a disreputable dealer in movie memorabilia," Busch said, "a legendary lost film is found, and I see it as my ticket out of debt."
The "Sixth Reel" is playing from Sept. 21 to Sept. 27 at the LOOK Dine-In Cinema West 57th Street in New York City.
"I hope the run in New York will encourage people to distribute this little movie," Busch said.