D.C. businessman Ted Harris dies at 73
Served in Department of Transportation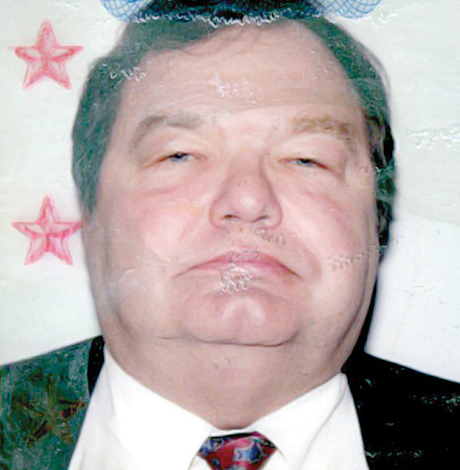 Theodore P. "Ted" Harris Jr., a recognized expert in U.S. transportation policy and longtime airline industry consultant, died May 21 at Sibley Memorial Hospital in Washington, D.C. from complications associated with spinal fusion surgery. He was 73.
Prior to his retirement, Harris served as president of Airline Industry Resources, an airline industry consulting company he founded in the 1980s in McLean, Va.
William Kiely, a business associate and longtime friend, said Harris, a lifelong Democrat, served as an undersecretary at the Department of Transportation under the administration of President Gerald Ford in the 1970s where, among other things, he played a role in saving Pan American Airlines from closing its doors.
Although the airline giant eventually went out of business in 1991, the efforts by the government and airline industry advocates to keep it in business in the mid-1970s have been credited with saving thousands of airline industry jobs for more than 15 years.
Harris also played a role in helping the U.S. Postal Service expand and improve its Express Mail service in the 1980s and early '90s through a coordinated air transport system at a time when private mail and parcel carriers were cutting into the Postal Service's revenue from business customers and consumers.
The Chicago Tribune reported in 1991 that under a Postal Service contract from 1988 through 1991, Harris's Airline Industry Resources firm prepared a detailed report on air transport and postal delivery services for the Postal Service called "Air Transportation Management Strategy: 1990 and Beyond."
In the 1980s, Harris also served as publisher of two magazines that reported on airline industry issues, Airline Executive and Commuter Air.
At the time, he emerged as an outspoken opponent of airline industry deregulation, writing newspaper commentaries and speaking on television news programs, including the Public Broadcasting System's MacNeil-Lehrer Report, urging Congress to scrap an extensive deregulation proposal that it eventually approved.
A Dec. 30, 1984 story in the Washington Post reports that Harris personally filed a last-minute lawsuit to block the now-defunct Civil Aeronautics Board, which for years had regulated practices of U.S. airline companies, from ending anti-trust immunity for travel agents. Deregulation opponents argued that the immunity status for travel agents helped consumers by enabling travel agents to remain independent from airline companies and to search for the best possible fares for passengers.
In a December 1990 commentary in the Chicago Tribune called "Air Deregulation: Chaos Out of Order," Harris and co-author Paul Steven Dempsey pointed out that, at that time, deregulation polices resulted in far fewer airline companies than there were prior to deregulation.
Kiely and others who knew Harris said that in addition to his airline industry work he served diligently as an informal counselor and mentor for people with alcohol and substance abuse problems in a volunteer capacity. Harris, who was open about his own alcoholism and his success in overcoming it through a 12-step program, often took the initiative to take under his wing others struggling with drinking or drug problems, including members of the LGBT community.
In one of many similar examples, Kiely said a neighbor from McLean, Va., who moved next door to Kiely's home near Albuquerque, N.M., told him about a son who became addicted to drugs after completing his service in the military, where he performed air traffic control-related work.
"After he got out he got into drugs, but he was finally doing OK, was married and had a kid," Kiely quoted the neighbor as saying. "To my amazement, he told me a guy named Ted Harris was instrumental in getting him off drugs and even got him a job as an air traffic controller at Washington National Airport," Kiely said.
According to Harris's sister, Rosemary Harris Abate, Harris was born in New York City, where he attended St. Raymond's Elementary School and graduated from Xavier Military Prep High School in Manhattan. He received his undergraduate degree in business from New York's Fordham University and received master's degrees from both the University of Tennessee and the University of Maryland, Abate said in a family prepared obituary.
Kiely said Harris later taught business at the University of Maryland. Harris served on the board of directors of River Park Mutual Homes, a cooperative apartment and townhouse development in Southwest D.C. where Harris lived since the mid-1990s.
Friends said Harris's friendly demeanor and support for their personal needs continued in recent years despite his own serious medical challenges. He had been under treatment for an auto immune disorder called Myasthenia Gravis for more than 10 years. In April, he underwent complicated and risky spinal fusion surgery at Georgetown University Hospital for a spinal condition that doctors told him could lead to paralysis if not corrected by surgery.
Following the surgery he spent nearly four weeks at two local rehabilitation centers undergoing physical therapy to help him recover from the spinal operation. He was taken to Sibley Memorial Hospital on May 21 after developing a urinary tract infection that doctors said appears to have triggered a heart attack or pulmonary embolism that took his life.
"He loved the outdoors, particularly sailing the Intra Coastal Waterway and the Chesapeake Bay," Abate said.
"Ted was very fortunate in having amazingly kind friends to whom the family is extremely grateful," Abate said. "If anyone wishes to remember Ted, please do so by doing something kind for someone else today."
Harris is survived by his sisters Rosemary Abate and her husband Robert of Hopkinton, Mass., and Virginia Harris Bartot and husband Morris of Chicago, six nieces and nephews, and many friends in Washington, D.C. and across the nation.
A memorial gathering in honor of his life is scheduled for 1 p.m., Saturday, Aug. 6, in the upstairs room at Mr. Henry's restaurant at 601 Pennsylvania Ave., S.E., Washington, D.C. A scattering of his ashes at the Chesapeake Bay is scheduled to take place shortly after the memorial.
Rachel Levine: Efforts to deny health care to trans youth are 'politics'
Former Pa. health secretary opened Victory Fund conference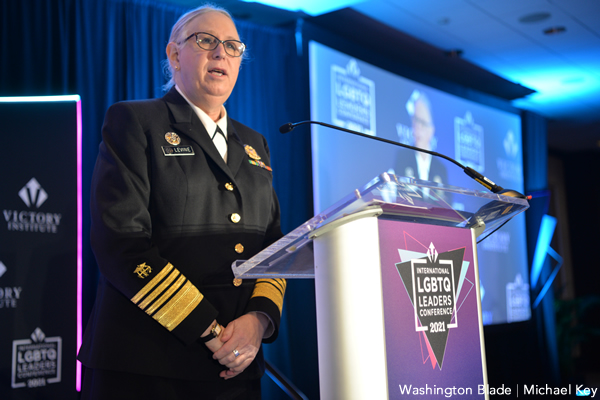 Assistant Health Secretary Rachel Levine on Thursday criticized efforts to prevent transgender youth from accessing health care.
"Unfortunately, some have fought to prevent transgender youth from accessing the health care that they need," she said in a speech she delivered at the opening of the Victory Fund's 2021 International LGBTQ Leaders Conference that took place in-person at the JW Marriott in downtown D.C. "This is politics and this politics has no place in health care and public health and they defy the established standards of care written by medical experts."
Levine was Pennsylvania's Health Secretary until President Biden nominated her to become assistant secretary of health.
She became the first openly trans person confirmed by the U.S. Senate in March. Levine in October became a four-star admiral in the U.S. Public Health Service.
The conference will take place in-person and virtually through Sunday.
VIDEO: Biden addresses advocates on World AIDS Day
President says end to transmission 'within striking distance'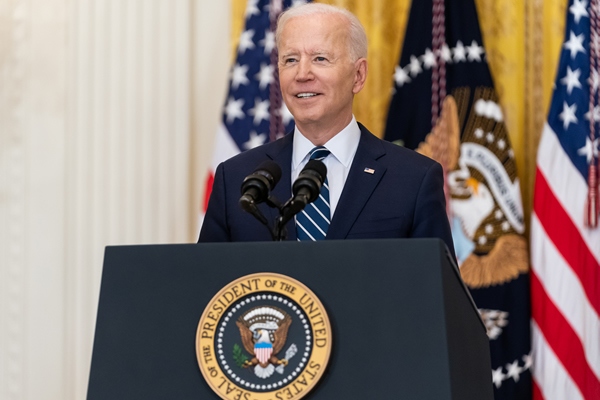 President Biden, in remarks delivered Wednesday at the White House in recognition of World AIDS Day, said to advocates in the fight against HIV/AIDS the end to HIV transmission was near.
"It's because of you and it's not hyperbole to suggest that we are within striking distance of eliminating HIV transmission, within striking distance," Biden told attendees in the East Room.
Joining Biden in the East Room were Secretary of Health & Human Services Xavier Becerra and Gabriel Maldonado, an HIV/AIDS Advocate and founder of TruEvolution, a Riverside, Calif.-based LGBTQ group.
Biden also during his remarks touted having made the appointment of Harold Phillips to lead the White House Office of National AIDS Policy — a position that had gone vacant throughout the entirety of the Trump administration.
Notably, Biden talked about the Ending the HIV Epidemic plan, an initiate health officials started in the Trump administration, by saying was to beat HIV domestically by 2030. That was initial target date when the initiative, but Biden had campaigned on defeating by HIV by 2025 to the skepticism off observers.
Watch Biden full remarks below:
Matthew Shepard honored at National Cathedral
Daylong services held to mark his 45th birthday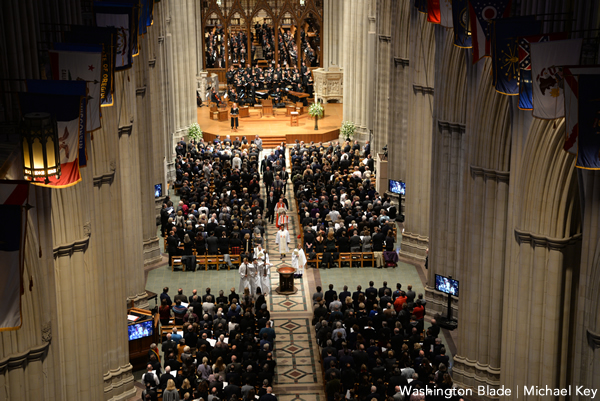 The parents of gay University of Wyoming student Matthew Shepard, who was murdered in a 1998 hate crime that drew international attention to anti-LGBTQ violence, were among those attending a day of religious services commemorating Shepard's 45th birthday on Wednesday at the Washington National Cathedral.
The services, which the Cathedral organized in partnership with the Matthew Shepard Foundation, included tributes to Shepard at the Cathedral's St. Joseph's Chapel, where his remains were interred in a ceremony in 2018.
"Matthew Shepard's death is an enduring tragedy affecting all people and should serve as an ongoing call to the nation to reject anti-LGBTQ bigotry and instead embrace each of our neighbors for who they are," the Very Rev. Randolph Marshall Hollerith, Dean of Washington National Cathedral, said at the time of Shepard's interment.
"In the years since Matthew's death, the Shepard family has shown extraordinary courage and grace in keeping his spirit and memory alive, and the Cathedral is honored and humbled to serve as his final resting place," Hollerith said.
The first of the Cathedral's Dec. 1 services for Shepard began at 7 a.m. with prayers, scripture readings, and music led by the Cathedral's Rev. Canon Rosemarie Logan Duncan. The service was live streamed on YouTube.
An online, all-day service was also held from 8 a.m. to 5 p.m. that Cathedral officials said was intended to "connect people around the world to honor Shepard and the LGBTQ community and pray for a more just world."
The Shepard services concluded with a 5:30 p.m. in-person remembrance of Shepard in the Cathedral's Nave, its main worship space. Among those attending were Shepard's parents, Dennis and Judy Shepard, who have said they created the Matthew Shepard Foundation to continue their son's support for equality for all.
A statement released by the Cathedral says a bronze plaque honoring Matthew Shepard was installed in St. Joseph's Chapel to mark his final resting place at the time Shepard was interred there in 2018.
Following the Cathedral's Dec. 1 services for Shepard, the Adams Morgan gay bar Pitchers hosted a reception for Dennis and Judy Shepard, according to Pitchers' owner David Perruzza.
One of the two men charged with Shepard's murder, Russell Henderson, pleaded guilty to the charge after prosecutors agreed not to seek the death penalty for him. The second of the two men charged, Aaron McKinney, was convicted of the murder following a lengthy jury trial.
Prosecutors said McKinney repeatedly and fatally struck Shepard in the head with the barrel of a handgun after he and Henderson tied Shepard to a wooden fence in a remote field outside Laramie, Wy., on Oct. 6, 1998. Police and prosecutors presented evidence at McKinney's trial that McKinney and Henderson met Shepard at a bar in Laramie on that day and lured him into their car, where they drove him to the field where authorities said McKinney fatally assaulted him.
Shepard died six days later at a hospital in Ft. Collins, Colo., where he was taken after being found unconscious while still tied to the fence.
In a dramatic courtroom scene following the jury's guilty verdict for McKinney, Dennis Shepard urged the judge to spare McKinney's life by not handing down a death sentence. He said that out of compassion and in honor of his son's life, McKinney should be allowed to live. The judge sentenced McKinney to two consecutive terms of life in prison without the possibility of parole, the same sentence given to Henderson.