D.C. businessman Ted Harris dies at 73
Served in Department of Transportation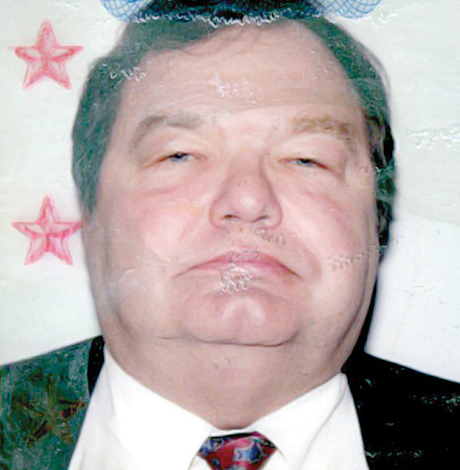 Theodore P. "Ted" Harris Jr., a recognized expert in U.S. transportation policy and longtime airline industry consultant, died May 21 at Sibley Memorial Hospital in Washington, D.C. from complications associated with spinal fusion surgery. He was 73.
Prior to his retirement, Harris served as president of Airline Industry Resources, an airline industry consulting company he founded in the 1980s in McLean, Va.
William Kiely, a business associate and longtime friend, said Harris, a lifelong Democrat, served as an undersecretary at the Department of Transportation under the administration of President Gerald Ford in the 1970s where, among other things, he played a role in saving Pan American Airlines from closing its doors.
Although the airline giant eventually went out of business in 1991, the efforts by the government and airline industry advocates to keep it in business in the mid-1970s have been credited with saving thousands of airline industry jobs for more than 15 years.
Harris also played a role in helping the U.S. Postal Service expand and improve its Express Mail service in the 1980s and early '90s through a coordinated air transport system at a time when private mail and parcel carriers were cutting into the Postal Service's revenue from business customers and consumers.
The Chicago Tribune reported in 1991 that under a Postal Service contract from 1988 through 1991, Harris's Airline Industry Resources firm prepared a detailed report on air transport and postal delivery services for the Postal Service called "Air Transportation Management Strategy: 1990 and Beyond."
In the 1980s, Harris also served as publisher of two magazines that reported on airline industry issues, Airline Executive and Commuter Air.
At the time, he emerged as an outspoken opponent of airline industry deregulation, writing newspaper commentaries and speaking on television news programs, including the Public Broadcasting System's MacNeil-Lehrer Report, urging Congress to scrap an extensive deregulation proposal that it eventually approved.
A Dec. 30, 1984 story in the Washington Post reports that Harris personally filed a last-minute lawsuit to block the now-defunct Civil Aeronautics Board, which for years had regulated practices of U.S. airline companies, from ending anti-trust immunity for travel agents. Deregulation opponents argued that the immunity status for travel agents helped consumers by enabling travel agents to remain independent from airline companies and to search for the best possible fares for passengers.
In a December 1990 commentary in the Chicago Tribune called "Air Deregulation: Chaos Out of Order," Harris and co-author Paul Steven Dempsey pointed out that, at that time, deregulation polices resulted in far fewer airline companies than there were prior to deregulation.
Kiely and others who knew Harris said that in addition to his airline industry work he served diligently as an informal counselor and mentor for people with alcohol and substance abuse problems in a volunteer capacity. Harris, who was open about his own alcoholism and his success in overcoming it through a 12-step program, often took the initiative to take under his wing others struggling with drinking or drug problems, including members of the LGBT community.
In one of many similar examples, Kiely said a neighbor from McLean, Va., who moved next door to Kiely's home near Albuquerque, N.M., told him about a son who became addicted to drugs after completing his service in the military, where he performed air traffic control-related work.
"After he got out he got into drugs, but he was finally doing OK, was married and had a kid," Kiely quoted the neighbor as saying. "To my amazement, he told me a guy named Ted Harris was instrumental in getting him off drugs and even got him a job as an air traffic controller at Washington National Airport," Kiely said.
According to Harris's sister, Rosemary Harris Abate, Harris was born in New York City, where he attended St. Raymond's Elementary School and graduated from Xavier Military Prep High School in Manhattan. He received his undergraduate degree in business from New York's Fordham University and received master's degrees from both the University of Tennessee and the University of Maryland, Abate said in a family prepared obituary.
Kiely said Harris later taught business at the University of Maryland. Harris served on the board of directors of River Park Mutual Homes, a cooperative apartment and townhouse development in Southwest D.C. where Harris lived since the mid-1990s.
Friends said Harris's friendly demeanor and support for their personal needs continued in recent years despite his own serious medical challenges. He had been under treatment for an auto immune disorder called Myasthenia Gravis for more than 10 years. In April, he underwent complicated and risky spinal fusion surgery at Georgetown University Hospital for a spinal condition that doctors told him could lead to paralysis if not corrected by surgery.
Following the surgery he spent nearly four weeks at two local rehabilitation centers undergoing physical therapy to help him recover from the spinal operation. He was taken to Sibley Memorial Hospital on May 21 after developing a urinary tract infection that doctors said appears to have triggered a heart attack or pulmonary embolism that took his life.
"He loved the outdoors, particularly sailing the Intra Coastal Waterway and the Chesapeake Bay," Abate said.
"Ted was very fortunate in having amazingly kind friends to whom the family is extremely grateful," Abate said. "If anyone wishes to remember Ted, please do so by doing something kind for someone else today."
Harris is survived by his sisters Rosemary Abate and her husband Robert of Hopkinton, Mass., and Virginia Harris Bartot and husband Morris of Chicago, six nieces and nephews, and many friends in Washington, D.C. and across the nation.
A memorial gathering in honor of his life is scheduled for 1 p.m., Saturday, Aug. 6, in the upstairs room at Mr. Henry's restaurant at 601 Pennsylvania Ave., S.E., Washington, D.C. A scattering of his ashes at the Chesapeake Bay is scheduled to take place shortly after the memorial.
Trump indicted in classified document mishandling case
Former president to appear in federal court in Miami on Tuesday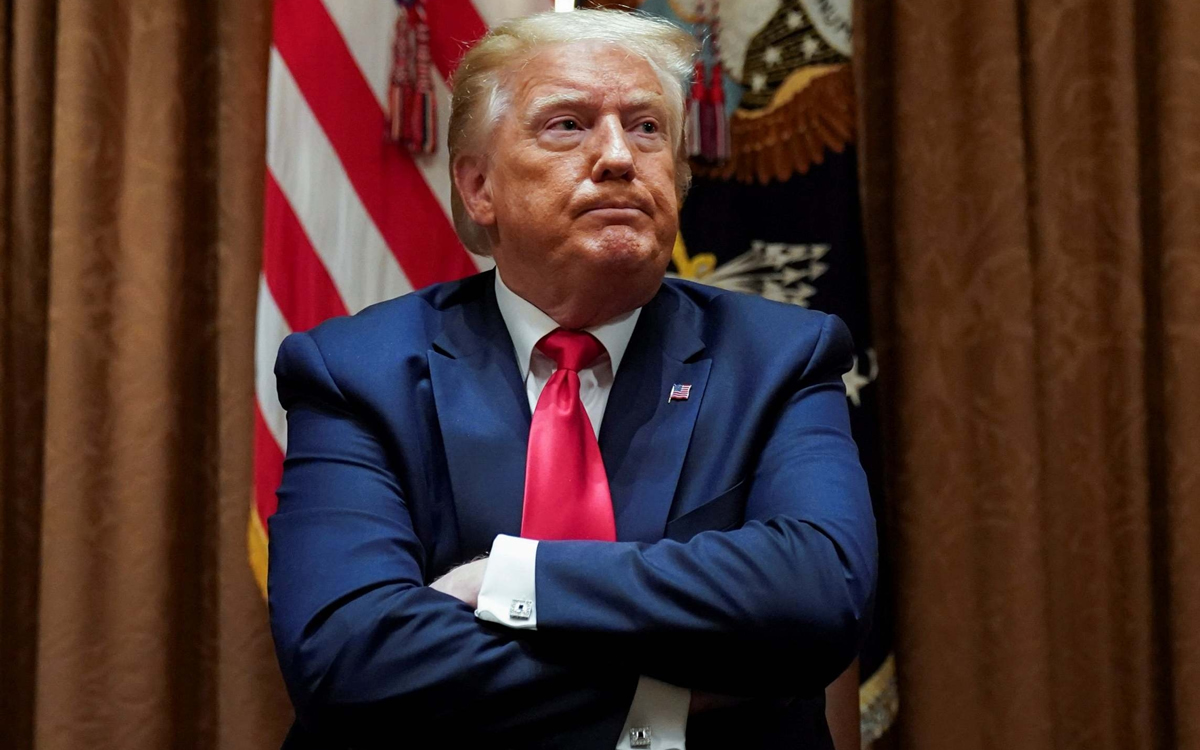 A federal grand jury has indicted former President Donald Trump on seven criminal counts in connection with his mishandling of more than 100 classified documents.
In a series of posts to his Truth Social account Thursday, Trump said that he has been indicted related to his mishandling of the classified documents taken to his estate at Mar-a-Lago after his term of office ended in January 2021.
The unprecedented decision comes after a more than yearlong investigation by special counsel Jack Smith into whether Trump knowingly retained classified and top secret government records when he left office and then disregarded a subpoena to return all classified documents in his possession and whether he and his staff obstructed Federal Bureau of Investigation efforts to ensure all documents had been returned.
A person familiar with the situation who was not authorized to discuss it publicly said Trump's lawyers were contacted by prosecutors shortly before he announced on his Truth Social platform that he had been indicted, the Associated Press reported.
In the first of a series of posts Trump wrote:
"Page 1: The corrupt Biden administration has informed my attorneys that I have been Indicted, seemingly over the Boxes Hoax, even though Joe Biden has 1850 boxes at the University of Delaware, additional Boxes in Chinatown, D.C., with even more boxes at the University of Pennsylvania, and documents strewn all over his garage floor where he parks his Corvette, and which is 'secured' by only a garage door that is paper thin, and open much of the time."
"Page 2: I have been summoned to appear at the federal courthouse in Miami on Tuesday at 3 p.m. I never thought it possible that such a thing could happen to a former president of the United States, who received far more votes than any sitting president in the history of our country, and is currently leading, by far, all candidates, both Democrat and Republican, in Polls of the 2024 presidential election. I AM AN INNOCENT MAN!"
"Page 3: This is indeed a DARK DAY for the United States of America. We are a country in serious and rapid decline, but together we will Make America Great Again!"
The Justice Department didn't respond to a request for a comment.
The AP also noted it remains unclear what the immediate and long-term political consequences will be for Trump. His first indictment spurred millions of dollars in contributions from angry supporters and didn't damage Trump in the polls.
No matter what, the indictment — and the legal fight that follows — will throw Trump back into the spotlight, sucking attention away from the other candidates who are trying to build momentum in the 2024 presidential race, the AP pointed out.
Rooftop Pool Party postponed
Capital Pride Alliance moves official event to June 22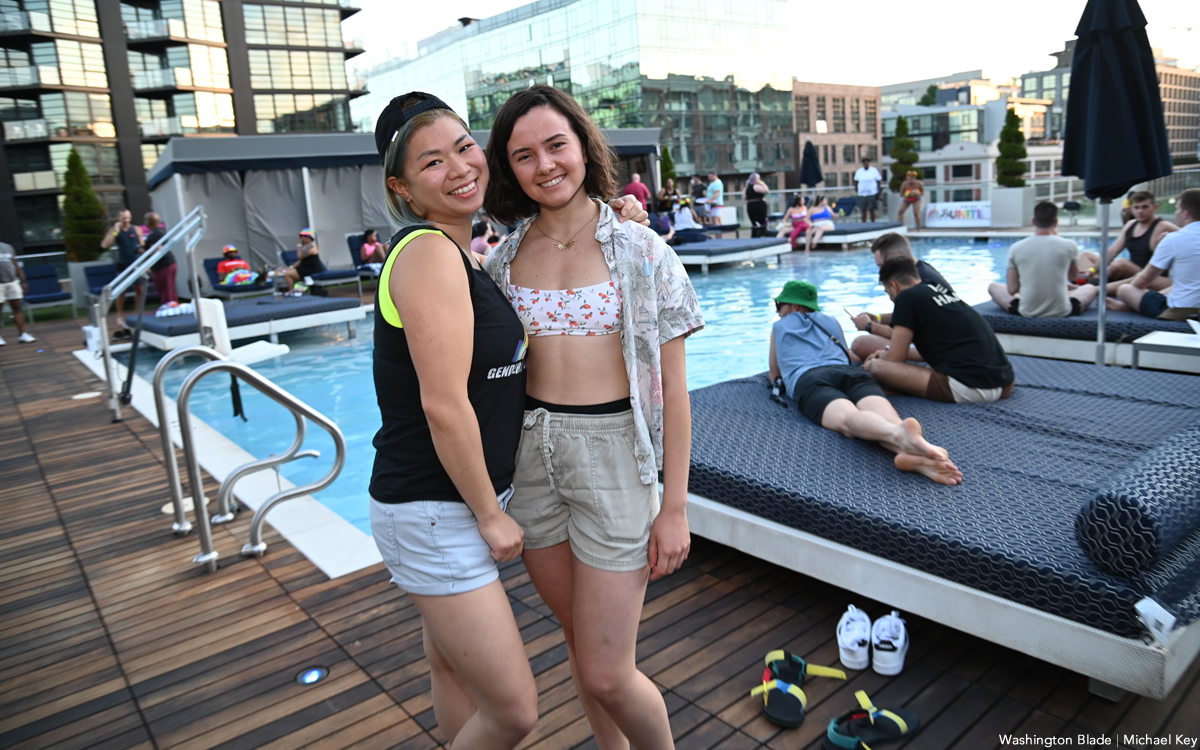 The Capital Pride Rooftop Pool Party, originally scheduled to begin at 8 p.m. tonight, has been postponed until Thursday, June 22, according to a statement released by the Capital Pride Alliance on Instagram. This action comes amid an international climate event created by the Canadian wildfire that has resulted locally in poor air quality and a haze around the region.
The Capital Pride Alliance Instagram account posted, "As with all concerns regarding health and safety issues, the Capital Pride Alliance will closely monitor the air quality situation resulting from Canadian wildfire smoke and take necessary precautions in consultation with our partners in the DC government."
"What does this mean for the pool party?" a question one private Instagram account user posed in the comment section.
"Important Update:" A representative of the Capital Pride Alliance responded through the group's official Instagram account. "Tonight's Capital Pride RoofTop Pool Party at VIDA The Yards is being postponed until Thursday, June 22 at 8:00 pm, due to the current air-quality situation resulting from the Canadian wildfires smoke. Please note that this postponement only applies to today's event."
The Capital Pride Alliance has yet to cancel or postpone any further events.
The White House earlier today rescheduled a large outdoor Pride reception planned for this evening to Saturday.
White House postpones Pride event due to wildfire smoke
Thousands expected for celebration bumped to Saturday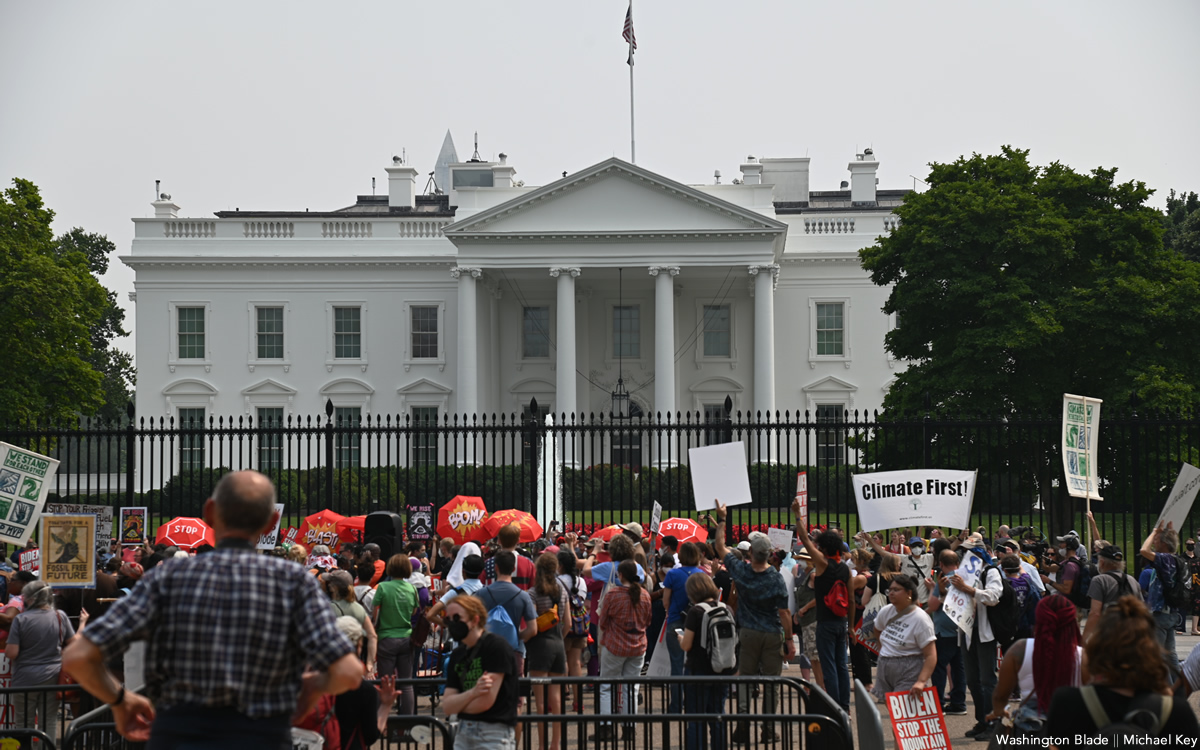 The White House announced Thursday that a Pride event scheduled for this evening has been postponed to Saturday due to the lingering Canadian wildfire smoke.
The smoke has enveloped D.C. in a dangerous haze that triggered a "purple alert" on Thursday, considered worse than a "red alert."
The event, expected to draw thousands of invited LGBTQ advocates and supporters to D.C., has been rescheduled for 1 p.m. on Saturday on the South Lawn of the White House, the same day as D.C.'s Capital Pride Parade, which kicks off at 3 p.m., and Pride on the Pier celebration, which starts at 2 p.m.