July 27, 2016 at 2:08 pm EST | by Jesse Arnholz
Hillary's historic moment
Benghazi! Hillary's e-mails! Trump! At danger of getting lost in the overheated discourse of this year's U.S. presidential election is the historic fact that Hillary Clinton is now the first woman to capture a major-party nomination for president.
There was Shirley Chisholm (who ran for the Democratic nomination in 1972), Geraldine Ferraro (Walter Mondale's running mate in 1984), even Sarah Palin (John McCain's running mate in 2008), but no woman has ever come as close to the presidency as Hillary Clinton.
In the wake of this achievement, what does it mean for the lesbian community, a group that has always been one of her strongest supporters? And why has the historic nature of her candidacy felt like little more than a footnote this year?
Hillary fatigue?
Out political comedian Kate Clinton thinks it's because Hillary has been around so long — since 1978. Still, she says, it's exciting to see Hillary win the nomination.
"I think it's absolutely very, very exciting," Kate Clinton says. "And add to the fact that she is the first woman nominee for a major party, is astounding."
As the first out lesbian and African-American mayor in the United States, Denise Simmons of Cambridge, Mass., is used to her gender, race and sexual orientation making headlines.
Simmons expected Hillary's nomination to get much more attention than it's received. She agrees with Kate Clinton's assessment.
"I do wonder if perhaps part of this is simply because she has been a national figure for such a long time," Simmons says. "And therefore the sense of novelty just isn't there."
Elizabeth Birch, who served as executive director of the Human Rights Campaign from 1995-2004 and is also a friend of Clinton's, says Clinton does not want the fact that she's a woman to be the sole reason for anyone to vote for her.
"I think that's why she's been painstaking about amassing her credentials over the last two decades," Birch says. "She absolutely wants [her election] to be on her merit, but nevertheless, none of us should forget what an extraordinary breakthrough this will be."
Clinton's gender, Birch says, is treated like a distraction from the "political theater" going on.
Blues singer and LGBT and black rights activist Gaye Adegbalola agrees with Birch. She thinks Clinton's nomination isn't headline news because Trump has "hijacked" the headlines.
"He's the story," Adegbalola says.
Kate Clinton says that any time some excitement is generated for Clinton, Trump will say something controversial, Benghazi and the email scandal are brought up and Americans become fixated on her purported failures.
"The Koch brothers, who, I like to call the cock brotherhood, have targeted money to just make her unfavorable, untrustworthy," Kate Clinton says.
Trust issues 
Kate Clinton says the fact that Hillary Clinton is painted as untrustworthy in the news media is absurd.
But, in many recent polls, conducted by the Huffington Post, pollingreport.com and CNN, many Americans say they do not trust Hillary Clinton.
Is the lack of trust in Hillary because of her politics, or could it be attributed to sexism?
Birch doesn't think so.
"My diagnosis is that Hillary Clinton is extremely private for someone in the public sphere," she says. "And she has, throughout her life, had unrealistic expectations for privacy."
Birch says that in trying to protect her privacy and keep her life and decisions under wraps, Clinton has been misread.
"The level of transparency that's required when you are in a position like the various positions she's been in … all those steps she took to preserve privacy only lead to more problems," she says. "You know, it's never the actual crime, it's always the cover-up."
This, according to Birch, has always been Clinton's downfall.
"The Clintons, as political figures, have certainly been guarded at many points throughout the past three decades, often with good reason," Birch says. "And unfortunately this has opened Hillary Clinton to charges of having something to hide."
Simmons disagrees with Birch. She says the lack of trust among voters has a lot to do with gender.
"Any time a female candidate is painted as untrustworthy, or shrill or calculating, one does wonder whether there is some sexism at play," Simmons says.
Rev. Elder Darlene Garner, minister and LGBT activist and co-founder of the National Coalition of Black Lesbians and Gays, makes a different assessment. She blames populism for Clinton's perceived untrustworthiness.
"I think it is blatant populism that masks sexism, that masks homophobia and transphobia, that masks racism and nationalism," Garner says.
Adegbalola says that anyone who's been in Washington as long as the Clintons will undoubtedly amass some "dirt," but she says this is just how politics works.
"There has to be some bargaining and there has to be some, 'I'll kiss your ass, you kiss mine,' kind of stuff that goes on," she says.
When Hillary Clinton ran against Barack Obama in 2008, Adegbalola donated $25 to her campaign.
"I was all, you know, 'Yay, a woman can do this,' and then Barack started running and I was so in favor of him," Adegbalola says. "Not necessarily because he was a black man, but because he hadn't been in D.C. [for long]."
She also liked that he had worked for social justice in Chicago and that he had not been in the U.S. Senate for long.
"My excitement with him was that he was an outsider," she says. "So now, here you got Trump, who comes along and he's really an outsider and an asshole, but I think a lot of people take to him for that very reason, that he's an outsider."
Adegbalola thinks it's hypocritical, however, for people to distrust Clinton but not Trump.
"Anybody who makes all that money," Adegbalola says, "they've got to be doing some shady stuff, too."
She's astonished by how successful Trump has been.
Garner is surprised too and thinks that Trump's success reveals the continued work for justice and equality that needs to be done.
"As a movement we have focused on legislative gains and have not given much attention to the quality of our relationships with one another," Garner says.
Kate Clinton, on the other hand, does not think it's surprising that Trump has been so successful. She is tired of people, especially Republicans, acting as if he is not representative of certain American beliefs.
She views Trump as a joke who desperately wants to be taken seriously.
"That's where the danger is," she says.
Kate Clinton believes that Trump's desire to be taken seriously boiled over at the White House Correspondents Dinner in 2011. Obama referred to Trump's threat to run for president at that dinner as a "joke." Kate Clinton theorizes that Obama's barrage of jokes at Trump's expense is what propelled him to run.
"I really think that was the moment he decided, 'I am not going to have a black man making fun of me,'" Clinton says.
Birch describes Trump as "dangerous."
"I think the way that human society stays in equilibrium is to have extremely predictable institutions and leaders," Birch says. "[If leaders] innovate somewhat in the structure of the institutions, I think humans don't want jarring abrupt moves and they don't want emotions stirred, played on and exploited."
Trouble ahead? 
Birch says unpredictable leaders bring problems.
"I think that waves move through every community and I think that his rhetoric has given license to some of this more acute tension in our country right now," she says.
Simmons agrees.
"I find it incredibly disappointing that one of our major parties would see fit to nominate him to potentially lead the country," she says. "He could do tremendous damage to our nation on a number of fronts."
Adegbalola says a Trump presidency could be cataclysmic.
"I think it's going to be even more divisive for America," she says. "I think it's going to widen the gaps between people of color and whites and marginalized people and the white establishment. I'm sure he has a lot of confederate flags in that audience, I'm sure."
Kate Clinton cites Trump's nomination of Mike Pence for vice president as representative of his disregard for the rights of marginalized people.
"Pence is hideous toward women," she says.
Pence came to national attention in 2006 when he said that LGBT couples represented a "societal collapse" in the United States. He has often referred to being gay as a choice and same-sex partnerships as a violation of "God's idea."
He made national news again in 2011 when, as a member of Congress, he pushed for a bill to defund Planned Parenthood. In May, Pence rejected the Obama administration's directive for school districts to allow students to use the bathroom for the gender they identify with saying the Obama administration had no business getting involved in "issues of this nature."
Adegbalola also points out what could happen to the Supreme Court if Trump is elected.
Despite all this, there are still many people who look at Hillary Clinton's past and are disturbed by her voting patterns.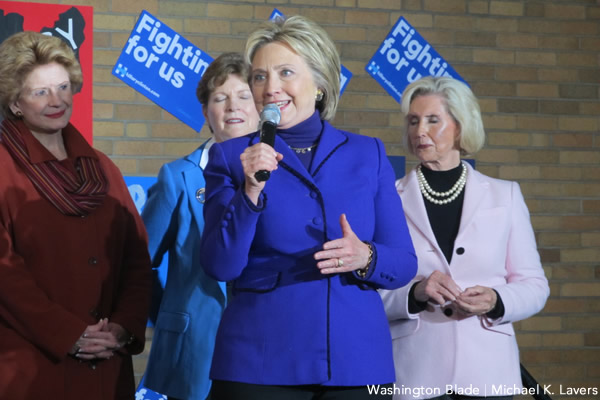 In 1996, she supported the Defense of Marriage Act that defined marriage for federal purposes as the union between one man and one woman, and allowed states to refuse to recognize same-sex marriages performed under the laws of other states. Her support for the bill haunted her for two decades.
Kate Clinton says that the LGBT community needs to remember that she was not president when the act was passed.
"That was her husband," Clinton says. "I think she was pretty representative of very political people weighing everything, trying to figure out and trying to say the right thing at the right time and that killed her career."
In a campaign that many say is structured around humiliation and elitism, Garner says that voting for Hillary Clinton is important.
"I believe that she is a champion for human dignity and justice and I would expect that as president she would continue to do the same," she says.
She cites Clinton's attitudes toward children as proof that her presidency would benefit LGBT families.
"Her support of health care and even continued health care reform, will benefit all of us, including women," Garner says. "And her economic policies will also benefit women, who are still underpaid in the American work force, and her presidency will be a direct benefit to lesbians as well as to all women."
Adegbalola cites her own experiences as a self-employed musician and cancer survivor as one of the main reasons she plans to vote for Clinton. She says that in 2008 she was paying more than $700 a month for cancer treatment.
The Affordable Care Act, she says, is of paramount importance to her and she knows that under Clinton, Obama's work will continue.
Birch says that growing up in Canada and seeing Queen Elizabeth's picture hanging on the wall in all of her elementary school classrooms and having a female principal, made her think that women were in charge.
"I just thought, 'Oh yeah my name is Elizabeth, the queen is Elizabeth, I guess I can go far,'" she says. "The psychological impact it will have on inspiring and lighting fires in young women … we can never underestimate it."
Adegbalola, however, says at this point she is over Clinton's gender.
"I'm simply looking at who would I vote for between the two," she says. "[It's] Hillary, there's no question. And she's smart and she's been there, she's paid her dues."
Adegbalola doesn't feel that anyone in the Republican Party, including Trump, would do anything to look out for marginalized people.
"I'm black, I'm poor, I'm a woman, I'm a lesbian, I'm a single parent, I'm old," she says. "[That's] like six kinds of oppression, so they might lock me up in a concentration camp."