Out behind the scenes in pro sports
Managers, umps and more enjoy life after the closet in sports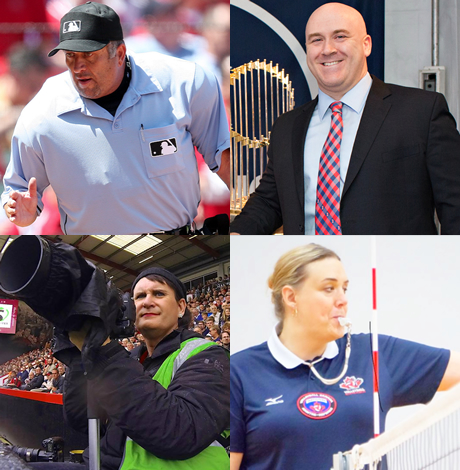 When professional athletes and coaches come out as LGBT, their stories make international headlines, but what many sports fans don't realize is that it isn't just players and coaches making waves of progress in the sports world. Those working behind the scenes and on the sidelines for some of the world's favorite sports and teams are inspiring others with their coming-out stories.
David Baggs, senior manager and creator of the Red Sox Sales Academy
David Baggs thought being gay and working in sports was impossible. This summer, inspired by a talk Billy Bean gave to the Red Sox, Baggs realized he was wrong.
Baggs, 41, has worked in sports for 11 years, managing sales for teams like the L.A. Dodgers, Tampa Bay Rays, 49ers and now the Boston Red Sox. He's been out to his family and friends since the start of his career, but just came out professionally.
"I'm looking around the room to my colleagues who I'm not out to yet, and people are tearin' up and they're visually moved," Baggs recalls of Bean's talk. "He's kinda funny about it, but it's also very moving. That week I decided to send a video to our president basically coming out to him."
On June 2, Baggs published a letter in Outsports coming out publicly in an effort to inspire other LGBT community members within the sports world.
"I tried to keep my personal life to myself and felt like I couldn't share that with my colleagues. That's now a ridiculous idea," Baggs says. "Don't expect anyone to be authentic with you if you don't share anything with them. If I were to go back, I'd say get it over with. You'll blossom as a professional because you're not worrying about what other people think. You can just tell them what you're doing after work instead of making up some stupid story."
Baggs says he has encountered overwhelmingly positive reaction since coming out, receiving supportive notes and Facebook posts from former colleagues, former Legends boss and current San Francisco 49ers President Al Guido, the Legends/Levi Stadium staff and the Tampa Bay Rays.
"I'm thankful for everywhere I've worked, but the Red Sox provided the support which eventually made me comfortable enough to come out," Baggs says. "I think it is important that within the sports world there are leaders who are willing to stand up for their employees, colleagues, fans and be supportive within their communities for LGBTQ issues. If you are in a position to potentially move the conversation forward you're basically obliged to do it within the sports world."
Sophie Cook, Bournemouth football photographer (UK), Brighton News LGBT TV correspondent
As Sophie Cook, 49, stood in the pitch while her team, AFC Bournmouth was promoted to the Premier League and crowned football league champions, she was terrified. For her and the players showering her in Champagne, this was the greatest day in the history of their club, a day they had waited for all their lives. But it might also be the last time Cook worked as a football photographer. Over the summer she planned to tell the team she no longer wanted to be called Steve.
Cook, a single parent of three from Brighton, England, started out as a shirt sponsor for a semi-pro football team. Realizing she'd only get good pictures of the shirts if she took them herself, Cook became the team's photographer. After taking their pictures for eight seasons, Cook switched to the pro game with AFC Bournemouth. In July, 2015 she stood in front of the newly promoted team and came out as the first trans person to work in the Premier League.
In a phone call before the meeting, the other line went silent, but the manager of the club assured Cook she still had a job.
"How can I make this easier for you," manager Eddie Howe asked. Cook replied that she'd need to meet with the team.
"He can never be expected to understand what I was going through, but just by asking, 'What can I do to make this easier for you?' That's all you can ask of someone when you come out," Cook says.
Howe stood in front of the team with Cook and re-introduced her.
"You'll probably notice our photographer has changed a little from last season, lost a bit of weight, and grown her hair out a bit," Howe said. "I'd like you all to meet Sophie."
Captain Tommy Elphick started clapping and the rest of the team quickly joined in.
"Well let's go train!" Elphick said. And that was it. "I was expecting rainbows and things to come flying out of the sky, but they got the new information and it really wasn't a big deal," Cook says. "It was all dealt with really nicely. It feels amazing to be part of the history of a club that I love."
Cook is now the first European news anchor as an LGBT consultant for Brighton's Latest TV.
"It's a great experience and for me the most amazing part of that is that I'm in the center of the LGBT community in the most diverse city in all of the U.K.," Cook says. "Twenty-five percent of the population in Brighton is LGBT and my boss wants me to make 25 percent of the programming LGBT, which is a very important thing. This weekend we have Brighton Pride and to be out on the streets reporting on it, interviewing people and trying to bring that diversity to people's TV screens is such an honor and something I'm very excited about for in the future."
Dale Scott, MLB umpire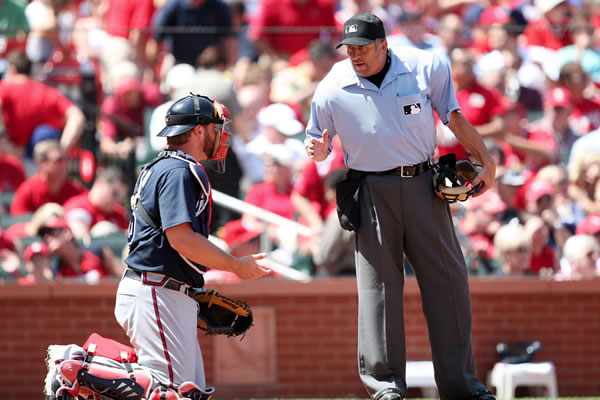 After 31 seasons of umpiring for the MLB, working three World Series, three All-Star games and numerous divisional and league championship series, Dale Scott never thought coming out would be one of the biggest moments of his career.
When Referee Magazine editors asked him to send pictures for their 2014 story on him, Scott didn't think twice about the picture he chose of him and his partner, Michael Rausche. After all, he and Rausch had been together for 28 years, and Scott had been out quietly to friends, family and a few co-workers for his whole career. What Scott didn't realize was how big of an impact he made by coming out publicly.
Scott's coming out was even joked about on "Late Night" by Jimmy Fallon. He began receiving congratulations on the field and over emails, texts and even international calls.
"It has truly been a very uplifting and positive experience," Scott says.
In 2010, Scott was able to add Rausch as his domestic partner in his new umpires union contract, making their relationship official in the MLB.
"The first 10 years of my Major League umpire career, I would have been horrified if a story had come out that I was gay," he told Outsports. "At first I was uncomfortable because I had spent my whole life hiding that fact from people even though I wasn't hiding it from myself or my friends."
Like Baggs, Scott credits the ease of his coming out to MLB vice president Billy Bean.
"He is someone who has opened the door in all of baseball at both the major and minor league levels and I'm very proud to call him a friend," Scott says.
Scott and Rausche celebrate 30 years together this October.
Stephanie Shostak, Volleyball Alberta president
Halfway through her referee certification process in 2013, Canadian Stephanie Shostak considered hanging up her whistle. She knew there had never been anyone like her in her field.
At 41, Shostak would be the first high-level referee to ever come out as transgender.
"I didn't know how anyone would take it," Shostak says. "I didn't know what the response would be from Volleyball Canada or U.S. Volleyball. I knew of other athletes that came out gay, lesbian or bisexual, same with coaches and refs, but I'd never encountered anyone being transgender. It played into my decision but I loved the sport so much that I couldn't walk away from it."
That summer, Shostak sent a memorandum coming out to Volleyball Canada and U.S. Volleyball. After receiving support from both organizations and being re-elected as VAO president, Shostak decided to write an article coming out to the public this past April.
"I thought it would be worthwhile to do the article if I could just help one individual," Shostak says.
Since then she's helped many trans people, making sure they all know someone like them.
After Shostak refereed a national championship in Canada this year, she met two parents who said they saw her article and wanted to introduce her to their daughter, who is also transgender. Shostak recognized the young woman from the court of the team she just refereed.
The girl asked her parents, "Why are you talking to the ref?"
They told her, "This is Stephanie, who you read about in the article last week."
The girl's eyes lit up and she started to cry, hugging Shostak and saying thank you.
"It's impacts like that I totally didn't expect," Shostak says. "There's a lot of negativity regarding transgender people in the U.S. and occasionally in Canada, so I just wanted to share some positivity."
Steve Reed, Washington Nationals director of human resources
Two-and-a-half years ago, Steve Reed left his hometown of Kansas City, Mo., to run the human resources department of the Washington Nationals. The now 49-year-old wasted no time letting co-workers know who he is, asking his boss if he could bring his then boyfriend to an office party.
The Nationals welcomed Reed and invited his boyfriend to the party.
Now single, Reed has been comfortable being out personally and professionally for the last 10 years, but doesn't think labels are always necessary.
"People shouldn't be classified as either gay/straight or any other category that society wants to assign," Reed says. "People should be judged for who they are as individuals. Those labels are not the total summation of who a person is."
Like Scott and Baggs, Reed also draws inspiration from his friendship with MLB Vice President Billy Bean, but he's also developed relationships with other LGBT colleagues and members of the sports world. Now in his third season with the Nationals, he's making sure 1,700 other employees are comfortable in their jobs too.
"I love the people," Reed says. "Whereas our employees are there to ensure the guest has a great experience, my job is to make sure the employees have a great experience. We have a great staff and I am lucky to work with such a great team."
Gay men challenge Qatar death penalty for homosexuality
Country to host 2022 World Cup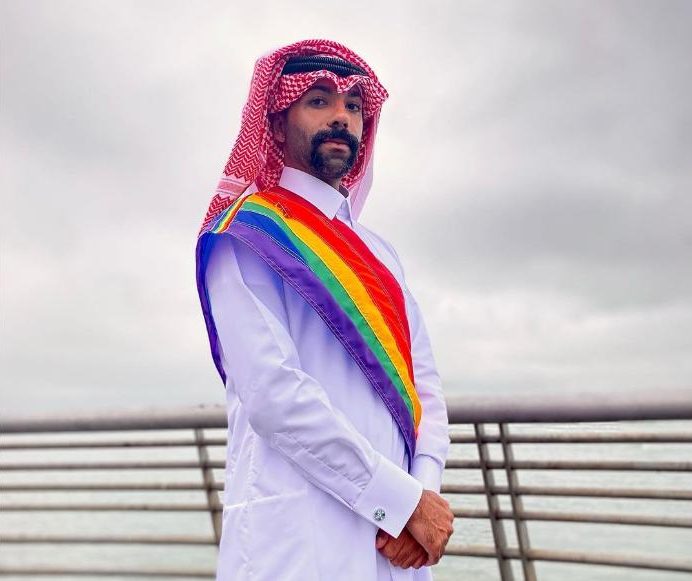 Gay men are blowing the whistle now, two months before the World Cup, demanding the host nation of Qatar change its anti-LGBTQ ways.
The Middle Eastern country where Islam is the state religion will welcome soccer players, coaches and fans from all around the planet, beginning Nov. 20, for matches that will pit nation against nation.
Qatar has promised to welcome LGBTQ foreigners, even as its own people are tortured and put to death for being who they are.
On Monday, Qatar's ambassador to Germany got an earful from one of those men at a human rights conference in Frankfurt, hosted by the German Football Association, according to a report by the Associated Press.
Fan representative Dario Minden spoke in English directly to Abdulla bin Mohammed bin Saud Al Thani, about who he is and who he loves, Minden told him to "abolish the death penalty" for homosexuality.
"I'm a man and I love men. I do — please don't be shocked — have sex with other men. This is normal," Minden told Al Thani. "So, please get used to it, or stay out of football. Because the most important rule in football is, football is for everyone. It doesn't matter if you're lesbian, if you're gay. It's for everyone. For the boys. For the girls. And for everyone in between.
"So, abolish the death penalty. Abolish all of the penalties regarding sexual and gender identity," he said.
Although organizers promised Al Thani an opportunity to respond, the Associated Press reports that portion of the conference was closed to the public and the news media and was not televised.
Earlier, Al Thani reportedly complained to those assembled that the issue of human rights was a distraction from the World Cup, even though the event was titled, "Sport and Human Rights."
"We all care about human rights," said Al Thani. "But I would have enjoyed (it) more if I saw some concentration not only on just one subject, but the enjoyment of football and the football effect on people around the world."
More than 5,000 miles away in San Francisco, a gay Qatari physician has organized a petition to tell the land of his birth: Love Is Not A Crime.
Doctor Nasser Mohamed decided to come out in 2010 following a visit to the U.S., and spent his residency in Connecticut before moving to California in 2015.
Mohamed wrote in an op-ed published by Outsports last month that he has spent the last decade caring for the LGBTQ community in outpatient settings and growing as an activist.
"Being an LGBT person is a criminal offense in the legal system in Qatarm as is sex between two men. There are state-sponsored conversion-therapy practices, and LGBT-affirming psychotherapy is not offered." He wrote how law enforcement uses media and chat rooms to find, jail and punish people for being LGBTQ.
"Visibility of the local LGBT community in Qatar, and the exposure of their treatment, are absolutely essential," Mohamed wrote. "I am doing my part by speaking up."
Editor's note: Find out about Mohamed's petition by clicking here. He is also raising money through a GoFundMe account to provide him with funding for his activism as well as security and protection.
Carl Nassib returns to Tampa
Former Las Vegas Raiders defensive end came out as gay in June 2021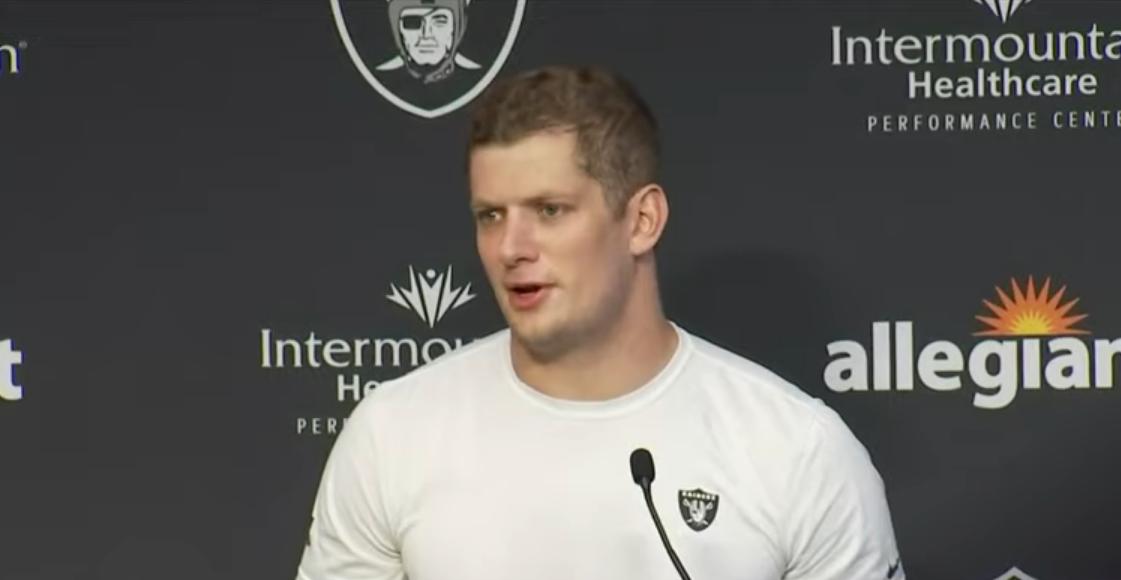 Carl Nassib, who made headlines in June 2021 when he became the NFL's first out gay active player, reportedly has signed a one-year contract with his former team, the Tampa Bay Buccaneers.
The 29-year-old defensive end was released by the Las Vegas Raiders in March, and became a free agent. NFL sources said that was due to his contracted salary amount — $7.75 million — and not any reflection on his sexual orientation.
ESPN's Adam Schefter broke the news with a tweet.
Buccaneers reached agreement on a one-year deal with former Raiders' DE Carl Nassib, per source.

— Adam Schefter (@AdamSchefter) August 15, 2022
When Nassib came out last summer, he announced he was donating $100,000 to the Trevor Project, and for Pride Month this year he made a new pledge to help LGBTQ youth. He promised to match donations to the Trevor Project, dollar for dollar, up to $100,000.
Will Buccaneers quarterback Tom Brady welcome Nassib?
As Outsports reported, he's never made any comments about playing with someone gay. Brady's former New England Patriots teammate Ryan O'Callaghan recalled that before he came out in 2017, following his retirement, there was one time that he missed the team bus and Brady gave him a ride in his car to that day's practice.
O'Callaghan told Outsports he believes Brady would have "absolutely" accepted him if he had come out at that time.
"Being married to a super model I'm sure he's met a few gay people in his life," said O'Callaghan.
Brady wed Brazilian fashion model Gisele Bündchen in 2009.
Legendary Boston sports columnist Steve Buckley of the Athletic came out as gay in 2011 while at the Boston Herald. He told Outsports that Brady has always been friendly and cooperative, even after Buckley came out.
This is the second time around at Raymond James Stadium for Nassib. He played for the Buccaneers for two seasons prior to joining the Raiders in 2020. His NFL career began in 2016 with the Cleveland Browns.
As Jason Owens reported for Yahoo! Sports, Nassib was far more productive in Tampa as a part-time starter, recording 6.5 sacks in 2018 and six sacks in 2019. The NFL's website shows he played just 242 defensive snaps and earned 1.5 sacks last season.
In 86 games including 37 starts, Nassib's recorded 22 career sacks, 164 tackles, 53 quarterback hits and four forced fumbles.
In addition to Brady, Nassib's new teammates are Akiem Hicks and William Gholston at defensive end and outside linebackers Shaquil Barrett and Joe Tryon-Shoyinka. Given that the Buccaneers finished seventh in the NFL in sacks last season with 47, Nassib will be expected to improve Tampa Bay's chances when their season begins on Sept. 11 in Dallas.
Federal judge temporarily blocks anti-trans youth sports law in Indiana
The injunction requires that A.M., a 10 -year-old trans girl, must be allowed to rejoin her school's all-girls softball team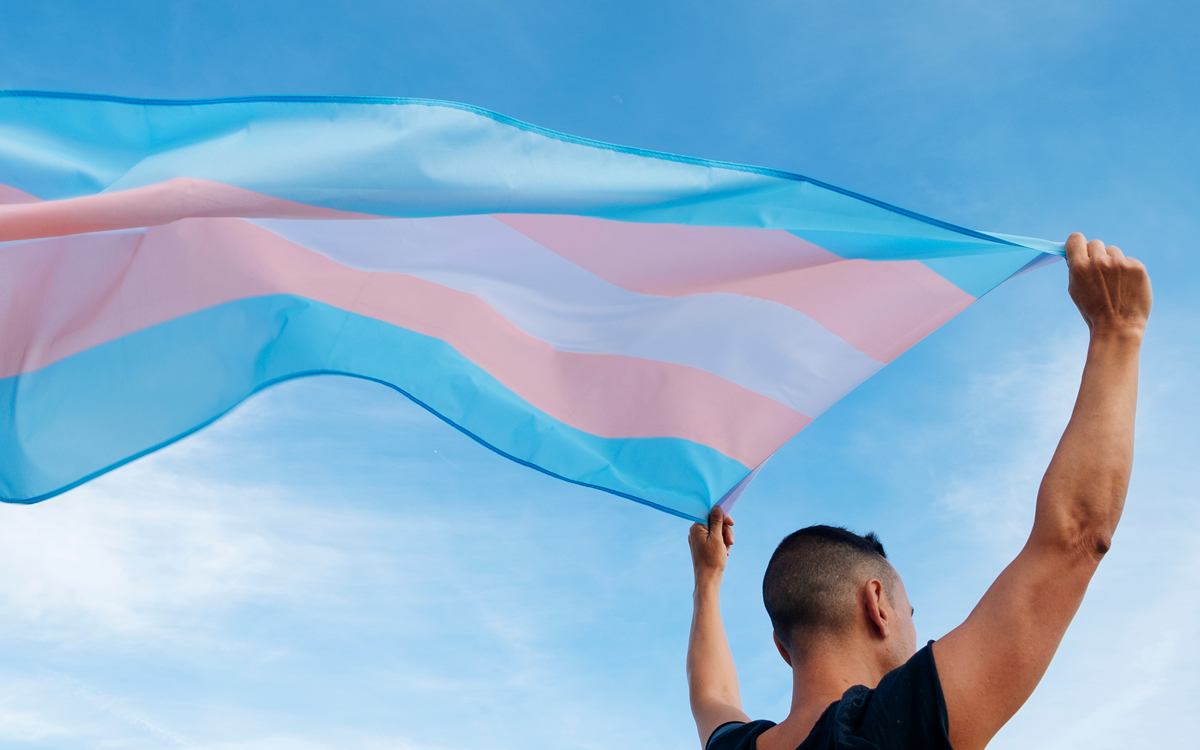 On Tuesday Judge Jane Magnus-Stinson of the United States District Court for the Southern District of Indiana issued an preliminary injunction that blocked an Indiana law that prevents trans youth from playing on sports teams that match their gender identity.
The injunction requires that A.M., a 10 -year-old trans girl, must be allowed to rejoin her school's all-girls softball team while litigation continues.
The American Civil Liberties Union of Indiana filed a lawsuit in April, on behalf of A.M., challenging House Enrolled Act 1041, which bans transgender girls from participating in school sports.
Ken Falk, legal director at the ACLU of Indiana, issued the following statement:
"When misinformation about biology and gender is used to bar transgender girls from school sports it amounts to the same form of sex discrimination that has long been prohibited under Title IX, a law that protects all students – including trans people – on the basis of sex.
"We are pleased that Judge Magnus-Stinson has recognized this and required that A.M. be allowed to play on her school's softball team.
"If other students are being denied the right to join a sports team at their school due to their transgender status, we encourage them to contact the ACLU of Indiana immediately."
This past May, the Indiana Legislature had voted to overturn Republican Governor Eric Holcomb's March veto of HB 1041, a measure that bans transgender girls from competing on girls' K-12 sports teams in the state.
The vote to override the veto means that this law makes Indiana the 8th state to ban trans youth from playing sports in 2022 by legislative action — and the 16th in the country.
In his veto message sent to House Speaker Todd Huston's office, Holcomb said the bill presumed a problem already existed that required the state to intervene and it implied the goals of consistency and fairness in girls' sports were not being met.
"After thorough review, I find no evidence to support either claim even if I support the overall goal," Holcomb wrote.
"Governor Holcomb was the second governor this year to uphold the dignity of transgender and nonbinary youth, and veto an attempt by lawmakers to write them out of existence. While those young people continue to face unrelenting political attacks, the Indiana legislature voted to override his act of courage and compassion, pushing these marginalized youth even further to the sidelines," said Sam Ames, Director of Advocacy and Government Affairs at The Trevor Project.
"This bill claimed to solve a problem of 'fairness' in school sports in Indiana that didn't exist, but its negative impacts on the mental health and well-being of trans and nonbinary youth — young people who already face disproportionate rates of bullying, depression, and suicide — are very real. To the young people in Indiana watching tonight: you are stronger than they know. We are here for you, we will fight for you, and we are not going anywhere."