Out behind the scenes in pro sports
Managers, umps and more enjoy life after the closet in sports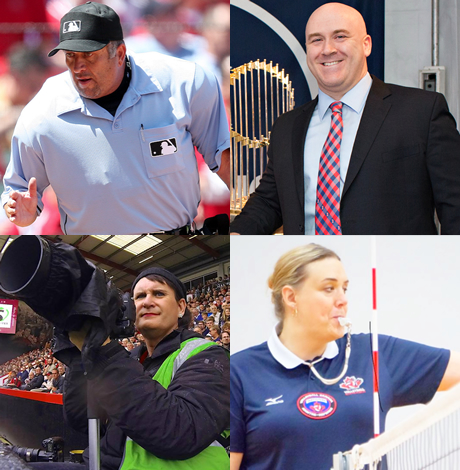 When professional athletes and coaches come out as LGBT, their stories make international headlines, but what many sports fans don't realize is that it isn't just players and coaches making waves of progress in the sports world. Those working behind the scenes and on the sidelines for some of the world's favorite sports and teams are inspiring others with their coming-out stories.
David Baggs, senior manager and creator of the Red Sox Sales Academy
David Baggs thought being gay and working in sports was impossible. This summer, inspired by a talk Billy Bean gave to the Red Sox, Baggs realized he was wrong.
Baggs, 41, has worked in sports for 11 years, managing sales for teams like the L.A. Dodgers, Tampa Bay Rays, 49ers and now the Boston Red Sox. He's been out to his family and friends since the start of his career, but just came out professionally.
"I'm looking around the room to my colleagues who I'm not out to yet, and people are tearin' up and they're visually moved," Baggs recalls of Bean's talk. "He's kinda funny about it, but it's also very moving. That week I decided to send a video to our president basically coming out to him."
On June 2, Baggs published a letter in Outsports coming out publicly in an effort to inspire other LGBT community members within the sports world.
"I tried to keep my personal life to myself and felt like I couldn't share that with my colleagues. That's now a ridiculous idea," Baggs says. "Don't expect anyone to be authentic with you if you don't share anything with them. If I were to go back, I'd say get it over with. You'll blossom as a professional because you're not worrying about what other people think. You can just tell them what you're doing after work instead of making up some stupid story."
Baggs says he has encountered overwhelmingly positive reaction since coming out, receiving supportive notes and Facebook posts from former colleagues, former Legends boss and current San Francisco 49ers President Al Guido, the Legends/Levi Stadium staff and the Tampa Bay Rays.
"I'm thankful for everywhere I've worked, but the Red Sox provided the support which eventually made me comfortable enough to come out," Baggs says. "I think it is important that within the sports world there are leaders who are willing to stand up for their employees, colleagues, fans and be supportive within their communities for LGBTQ issues. If you are in a position to potentially move the conversation forward you're basically obliged to do it within the sports world."
Sophie Cook, Bournemouth football photographer (UK), Brighton News LGBT TV correspondent
As Sophie Cook, 49, stood in the pitch while her team, AFC Bournmouth was promoted to the Premier League and crowned football league champions, she was terrified. For her and the players showering her in Champagne, this was the greatest day in the history of their club, a day they had waited for all their lives. But it might also be the last time Cook worked as a football photographer. Over the summer she planned to tell the team she no longer wanted to be called Steve.
Cook, a single parent of three from Brighton, England, started out as a shirt sponsor for a semi-pro football team. Realizing she'd only get good pictures of the shirts if she took them herself, Cook became the team's photographer. After taking their pictures for eight seasons, Cook switched to the pro game with AFC Bournemouth. In July, 2015 she stood in front of the newly promoted team and came out as the first trans person to work in the Premier League.
In a phone call before the meeting, the other line went silent, but the manager of the club assured Cook she still had a job.
"How can I make this easier for you," manager Eddie Howe asked. Cook replied that she'd need to meet with the team.
"He can never be expected to understand what I was going through, but just by asking, 'What can I do to make this easier for you?' That's all you can ask of someone when you come out," Cook says.
Howe stood in front of the team with Cook and re-introduced her.
"You'll probably notice our photographer has changed a little from last season, lost a bit of weight, and grown her hair out a bit," Howe said. "I'd like you all to meet Sophie."
Captain Tommy Elphick started clapping and the rest of the team quickly joined in.
"Well let's go train!" Elphick said. And that was it. "I was expecting rainbows and things to come flying out of the sky, but they got the new information and it really wasn't a big deal," Cook says. "It was all dealt with really nicely. It feels amazing to be part of the history of a club that I love."
Cook is now the first European news anchor as an LGBT consultant for Brighton's Latest TV.
"It's a great experience and for me the most amazing part of that is that I'm in the center of the LGBT community in the most diverse city in all of the U.K.," Cook says. "Twenty-five percent of the population in Brighton is LGBT and my boss wants me to make 25 percent of the programming LGBT, which is a very important thing. This weekend we have Brighton Pride and to be out on the streets reporting on it, interviewing people and trying to bring that diversity to people's TV screens is such an honor and something I'm very excited about for in the future."
Dale Scott, MLB umpire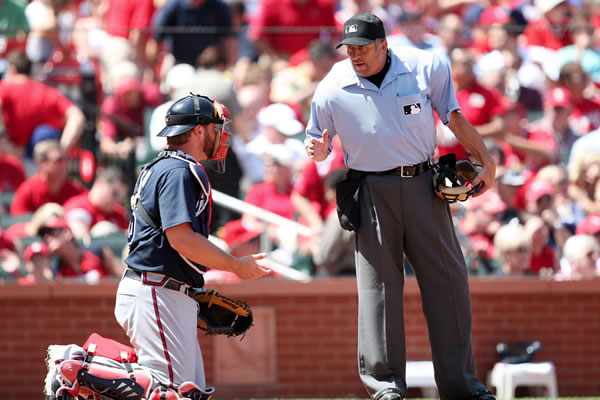 After 31 seasons of umpiring for the MLB, working three World Series, three All-Star games and numerous divisional and league championship series, Dale Scott never thought coming out would be one of the biggest moments of his career.
When Referee Magazine editors asked him to send pictures for their 2014 story on him, Scott didn't think twice about the picture he chose of him and his partner, Michael Rausche. After all, he and Rausch had been together for 28 years, and Scott had been out quietly to friends, family and a few co-workers for his whole career. What Scott didn't realize was how big of an impact he made by coming out publicly.
Scott's coming out was even joked about on "Late Night" by Jimmy Fallon. He began receiving congratulations on the field and over emails, texts and even international calls.
"It has truly been a very uplifting and positive experience," Scott says.
In 2010, Scott was able to add Rausch as his domestic partner in his new umpires union contract, making their relationship official in the MLB.
"The first 10 years of my Major League umpire career, I would have been horrified if a story had come out that I was gay," he told Outsports. "At first I was uncomfortable because I had spent my whole life hiding that fact from people even though I wasn't hiding it from myself or my friends."
Like Baggs, Scott credits the ease of his coming out to MLB vice president Billy Bean.
"He is someone who has opened the door in all of baseball at both the major and minor league levels and I'm very proud to call him a friend," Scott says.
Scott and Rausche celebrate 30 years together this October.
Stephanie Shostak, Volleyball Alberta president
Halfway through her referee certification process in 2013, Canadian Stephanie Shostak considered hanging up her whistle. She knew there had never been anyone like her in her field.
At 41, Shostak would be the first high-level referee to ever come out as transgender.
"I didn't know how anyone would take it," Shostak says. "I didn't know what the response would be from Volleyball Canada or U.S. Volleyball. I knew of other athletes that came out gay, lesbian or bisexual, same with coaches and refs, but I'd never encountered anyone being transgender. It played into my decision but I loved the sport so much that I couldn't walk away from it."
That summer, Shostak sent a memorandum coming out to Volleyball Canada and U.S. Volleyball. After receiving support from both organizations and being re-elected as VAO president, Shostak decided to write an article coming out to the public this past April.
"I thought it would be worthwhile to do the article if I could just help one individual," Shostak says.
Since then she's helped many trans people, making sure they all know someone like them.
After Shostak refereed a national championship in Canada this year, she met two parents who said they saw her article and wanted to introduce her to their daughter, who is also transgender. Shostak recognized the young woman from the court of the team she just refereed.
The girl asked her parents, "Why are you talking to the ref?"
They told her, "This is Stephanie, who you read about in the article last week."
The girl's eyes lit up and she started to cry, hugging Shostak and saying thank you.
"It's impacts like that I totally didn't expect," Shostak says. "There's a lot of negativity regarding transgender people in the U.S. and occasionally in Canada, so I just wanted to share some positivity."
Steve Reed, Washington Nationals director of human resources
Two-and-a-half years ago, Steve Reed left his hometown of Kansas City, Mo., to run the human resources department of the Washington Nationals. The now 49-year-old wasted no time letting co-workers know who he is, asking his boss if he could bring his then boyfriend to an office party.
The Nationals welcomed Reed and invited his boyfriend to the party.
Now single, Reed has been comfortable being out personally and professionally for the last 10 years, but doesn't think labels are always necessary.
"People shouldn't be classified as either gay/straight or any other category that society wants to assign," Reed says. "People should be judged for who they are as individuals. Those labels are not the total summation of who a person is."
Like Scott and Baggs, Reed also draws inspiration from his friendship with MLB Vice President Billy Bean, but he's also developed relationships with other LGBT colleagues and members of the sports world. Now in his third season with the Nationals, he's making sure 1,700 other employees are comfortable in their jobs too.
"I love the people," Reed says. "Whereas our employees are there to ensure the guest has a great experience, my job is to make sure the employees have a great experience. We have a great staff and I am lucky to work with such a great team."
Out professional soccer player calls out 'homophobic abuse' from crowd
The Adelaide United player said he had "no words" to describe his disappointment at being the target of anti-gay insults from the crowd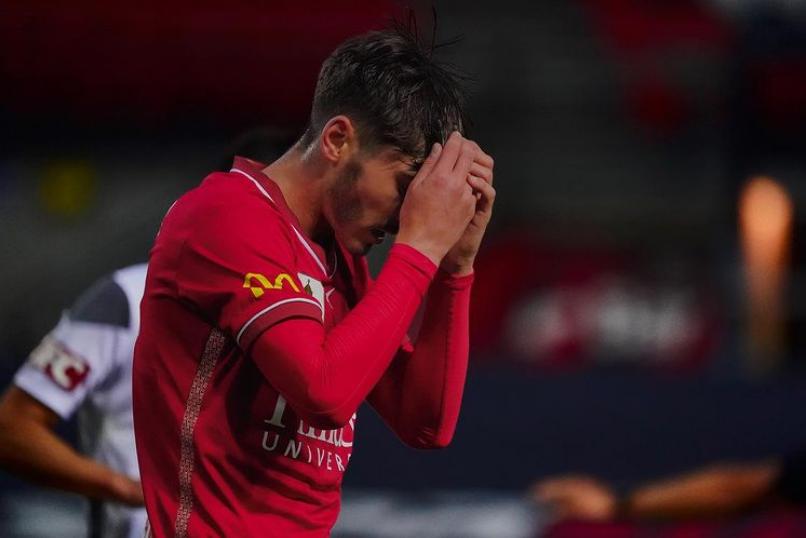 Professional soccer player Josh Cavallo, who became the only openly gay top-flight male professional footballer last year, told his Instagram followers over the weekend that he experienced "homophobic abuse" during his last game.
The Adelaide United player said he had "no words" to describe his disappointment at being the target of anti-gay insults from the crowd at AAMI Park during his team's Saturday game against the Melbourne Victory.
"As a society it shows we still face these problems in 2022," he wrote. "This shouldn't be acceptable and we need to do more to hold these people accountable. Hate never will win. I will never apologise for living my truth and most recently who I am outside of football."
Cavallo added that he was also targeted after the game online.
"To @instagram I don't want any child or adult to have to receive the hateful and hurtful messages that I've received," he said. "I knew truely being who I am that I was going to come across this. It's a sad reality that your platforms are not doing enough to stop these messages."
The Australian Professional Leagues (APL) said it was "shocked and saddened" to hear Cavallo's reports of "homophobic bullying," according to the Guardian.
"Our players, staff and fans have the right to feel safe on and off the pitch," APL CEO Danny Townsend said. "There is no place for bullying, harassment or abuse in Australian football and we have zero tolerance for this harmful behaviour."
The APL is working with both teams to investigate the incident, adding that sanctions will be issued to anyone involved.
In a statement, Adelaide United Chief Executive Officer Nathan Kosmina said that the team was "appalled" at the "verbal abuse" that Cavallo received.
"Adelaide United is proud to be an inclusive and diverse football club, and to see one of our players subjected to homophobic abuse is disappointing and upsetting," he said. "Josh continues to show immense courage and we join him in calling out abuse, which has no place in society, and it will not be tolerated by our Club."
The Melbourne Victory added that it "sees football as a platform to unite fans no matter what background. Spectators found to have breached these standards will be banned from future matches."
At the end of his Instagram message, Cavallo thanked those sending him positive messages, love and support.
"Love will always win," he said.
Transgender climber completes 5th of 7 highest summits
Erin Parisi is the first out trans mountain climber to reach such heights. Next up she'll make a second attempt to conquer Mount Denali.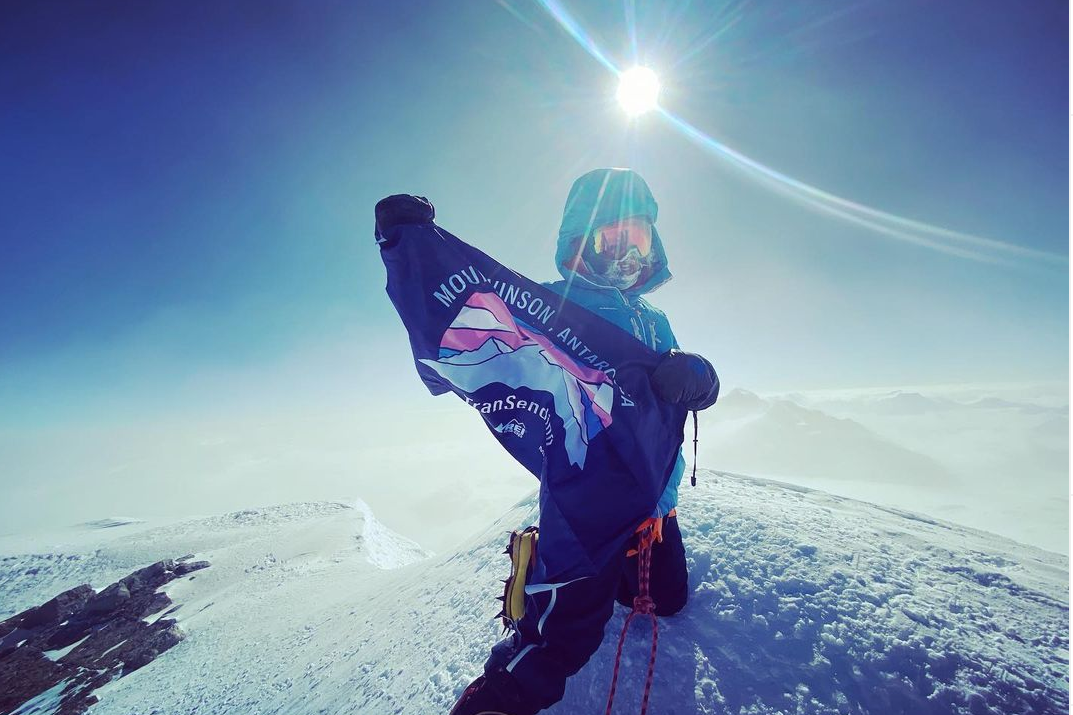 SANTIAGO, Chile – Erin Parisi just returned from the bottom of the world, but already the out transgender woman has set her sights on her next challenge in her mission to conquer the highest summits of each of the seven continents.
"I have been trying to train and get to the tops of the highest mountain on every continent: Seven Peaks, seven summits, seven continents," she said. "I just finished Antarctica, which is an extraordinarily difficult climb as far as logistics, as far as dealing with the weather and the environment, a mountain that's only been climbed 2,000 times before."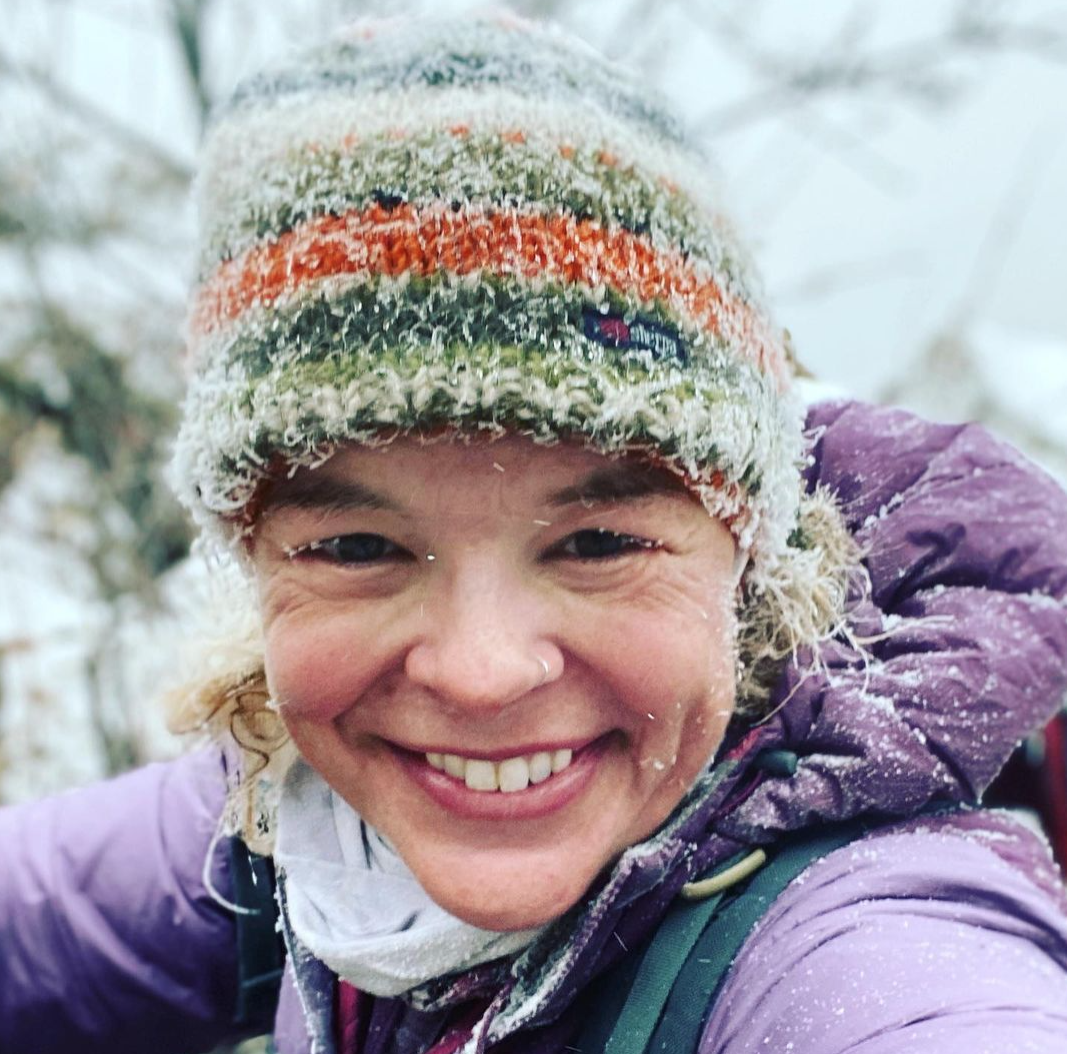 It was New Year's Day when she spoke by phone to the Los Angeles Blade, from a hotel room in Santiago, Chile, where it's summertime. Five summits down, two more to go.
"In order, the first five are Mount Kosciusko in Australia. Then I did Kilimanjaro a second time — I climbed it once manifesting as a dude, and I decided that I wanted to do them all post-transition," said Parisi. "Next, I did Mount Elbrus in Russia and then I did Aconcagua in South America, not too far from where I'm sitting right now."
Parisi, 45, reflected on both her climb 16,050 feet to the summit of Vinson Massif in Antarctica, and her plans to return later this year to the tallest spot in North America: Mount Denali, 20,310 feet above sea level. Not the highest of the seven summits but considered by many experienced climbers to be the hardest.
"Last year, we got flattened by wind," said Parisi, who was disappointed that neither she nor anyone on her team were able to reach the summit due to those conditions and injuries. "I want to go back and have a little chat with Denali."
It certainly was challenging for Parisi, who hurt her hand so badly in last summer's attempt, during Pride Month, that she requires surgery. She posted on Instagram back then, that she thought she had dislocated a finger in a rush to set up camp as they ascended to 14K feet, and it set off doubts that made her question continuing. Alone for two days, stranded for a total of six days in subzero temperatures by a vicious wind storm with gusts up to 60 mph, Parisi wrote that she "rested, journaled, meditated, shed a few tears," and decided "Climbing isn't about holding on, it's about letting go."
Good thing she did; It turns out Parisi did more than dislocate a finger.
"There are a series of tendons that come down your pointer finger and around the base of your palm, called the volar plate, and that tendon got stuck in some climbing gear," she said. "It looks like a dislocation. When it happened, I relocated it pretty quickly, but the pain was kind of unbearable for the next week or two. So, I finally went to the doctor last fall and they looked at it and they said, 'It's not going to get better. You tore up the ligaments and broken the volar plate.' So, I have to have that reconstructed."
That means she lived with that injury for four months and even climbed Vinson Massif without the benefit of her dominant right hand. Parisi credits her wife with finally convincing her to get it looked at.
"I just figured I was getting old, and it was sore, but she talked me into going to the doctor eventually," said Parisi, uttering the words every spouse loves to see in print. "Yeah, she was right, like usual!"
Next up, Parisi said she will make a second attempt to conquer Mount Denali in Alaska. "That's going to be next, sometime in summer of 2022." And then next year: Mount Everest, the last of the seven summits, and at 29,050 feet, the tallest.
"2023 is the 70th anniversary of Sir Edmund Hillary and Tenzing Norgay's expedition, and we want to be up there for the 70th anniversary," she said. "I think it's a little-known fact that Edmund Hillary and Tenzing Norgay had a trans member on their team. And we want to tell her story." That would be the story of Jan Morris, a journalist for The Times of London, who died in 2020.
Given her location, Parisi has been out of touch with news of the world as well as what's been happening with her wife and their nine-year-old child in Colorado. She also missed both Christmas and New Year's as well as her birthday. Well, almost missed, thanks to a surprise celebration organized by her fellow climbers and organizers back home, which she shared on Instagram.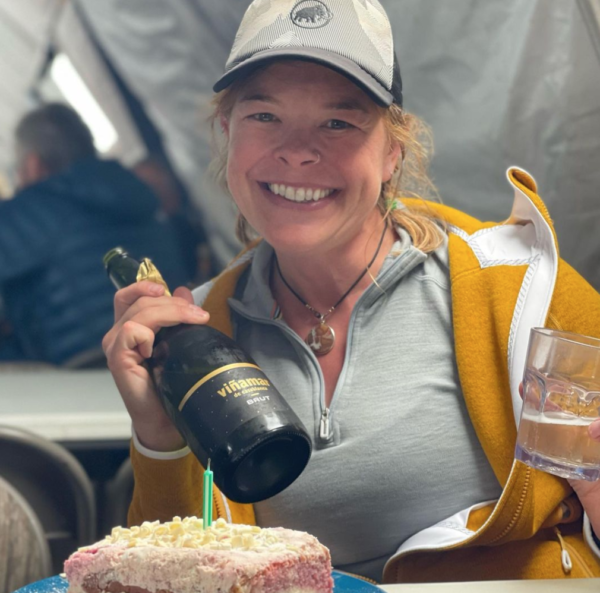 "My team and the @climbingsevensummits team surprised me by serving dessert bubbles 🥂 and cheesecake, and leading the entire camp in 2 rounds of "Happy Birthday." I was completely embarrassed, but my mind was set at ease and I warmed to the idea that I might just fit with this crew climbing through New Year."
Parisi really needed that boost; She was having doubts again. "Imposter syndrome is real, and after missing the Denali summit last May, I was confident I didn't belong here," she wrote on Instagram. That feeling stemmed from feeling as if she was "the only trans person" on the continent, not just last month, but ever.
When she returned to civilization, the Los Angeles Blade caught her up on the latest controversies dogging the transgender population: hate directed at both UPenn swimmer Lia Thomas and Jeopardy! champion Amy Schneider, simply because they're winning their respective competitions.
"I don't understand it, with the Jeopardy! champion, either, because, there's no way to say she has any advantage, or that it's unfair to anyone, or that she's taken something from anyone else. I mean, there's just no argument to disparage her by," said Parisi. "It blows my mind how stubborn people are just recognizing somebody's right to exist. Live and let live. And I'm hoping that 2022 somehow will be a better year."
Parisi is active in promoting transgender rights, and the flag she carries on every expedition incorporates the trans pride flag designed by Monica Helms. "We really take pride in putting the pink, blue and white up there," she said. "I climb these summits just to kind of remind myself and remind the world that you can be yourself and you can enjoy the things you enjoy. You don't have to make a choice."
Other than her lifelong love of mountain climbing, which she told TripAdvisor last summer began when she was climbing trees at age 6, Parisi said she finds joy in every part of living her authentic life.
"I find joy in the outdoors. I find joy in breathing the fresh air. I find joy in my nine-year-old child. I convinced myself I was unlovable, and now I have probably, not even probably, hands down, the most loving relationship that I've ever had in my life, post-transition. I find great joy in being loved and loving. I love cooking and just everything about life is better, when you're yourself."
********************
Follow Parisi's adventures on Instagram at @transending7 and learn more about her mission and how to support her nonprofit organization at transending7.org
Referee resigns, calls for work stoppage over Trans swimmer
"Millen is now calling on officials to refuse to work races where transgender swimmers are to race against biological females"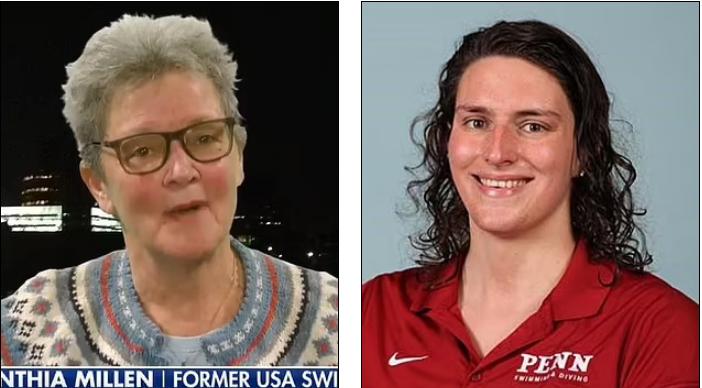 COLORADO SPRINGS – A 30 year veteran referee who has officiated for USA Swimming quit in protest over the inclusion of 22-year-old University of Pennsylvania Transgender swimmer Lia Thomas in women's swimming competitions.
In separate interviews with Fox News, its subsidiary right-wing anti-LGBTQ online sports outlet OutKick and the right-wing conservative newspaper The Washington Times, Cynthia Millen said that she felt compelled to quit as she was opposed to biological men competing against women.
In a December 17 letter to USA Swimming headquarters in Colorado Springs, Millen announced she was quitting in protest.
"I can't do this, I can't support this," Millen said in her letter. "I told my fellow officials that I can no longer participate in a sport which allows biological men to compete against women," Millen wrote adding, "Everything fair about swimming is being destroyed."
On December 22, Millen appeared on Fox News' Tucker Carlson stating that "bodies compete against bodies. Gender identities don't swim."
Thomas began competing with the women's swim team as a transgender athlete after competing for three years on the men's swim team and more than two-and-a-half years on hormone replacement therapy (HRT). She ranks first in the NCAA among women in the 200 and 500 freestyles this season and 6th in the 1650 free – a race she won by 38 seconds at the Zippy Invite according to the online publication SwimSwam.
In the interview with The Washington Times, Millen said that if she officiated at a meet that included Thomas, that she would rule Thomas ineligible to compete against female swimmers, according to the Times, even though Thomas has met the NCAA-established criteria to compete in women's races.
"I don't mean to be critical of Lia — whatever's going on, Lia's a child of God, a precious person — but bodies swim against bodies," she said her letter that she shared with The Washington Times . "That's a male body swimming against females. And that male body can never change. That male body will always be a male body."
"If Lia came on my deck as a referee, I would pull the coach aside and say, 'Lia can swim, but Lia can swim exhibition or a time trial. Lia cannot compete against those women because that's not fair,'" Millen told The Washington Times.
Millen is now calling on officials to refuse to work races where transgender swimmers are to race against biological females, the paper reported.
USA swimming CEO Tim Hinchey said in a podcast with Brett Hawke last week that Thomas is not a member of USA Swimming, nor was she a participant at the U.S. Paralympic National Championships.
NCAA requires transgender athletes to undergo, for transgender women, a year of testosterone-suppression treatment. Thomas has fulfilled the requirement, and neither the NCAA nor USA Swimming has commented on her season. Thomas has only swum at meets as part NCAA's Division I, but her times could help her qualify and compete at Olympic Trials, a USA Swimming meet, SwimSwam noted.
Millen's resignation is just the latest in a growing chorus of anti-Trans critics outraged over Thomas being included on the roster and competing for the University of Pennsylvania women's swim team.
At the beginning of the month, a member of the University of Pennsylvania Women's swim team spoke to OutKick, and proceeded to anonymously attack Thomas.
The swimmer who said she feared for her ability to find employment after graduating from college for sharing her honest opinion about her Trans teammate, was given anonymity according to OutKick for that reason.
In the OutKick article the unnamed female swimmer alleges that most members of the team have expressed displeasure over the situation [Thomas on the team] to their coach, Mike Schnur.
"Pretty much everyone individually has spoken to our coaches about not liking this. Our coach [Mike Schnur] just really likes winning. He's like most coaches. I think secretly everyone just knows it's the wrong thing to do," the female Penn swimmer said during a phone interview.
"When the whole team is together, we have to be like, 'Oh my gosh, go Lia, that's great, you're amazing.' It's very fake," she added.
USA Swimming Official and SHERO Cynthia Millen said enough is enough and resigned!
How can you take a stand against the erasure of women's sports?
The time to act is NOW! #SaveWomensSports https://t.co/2VHXZzW7O0

— Save Women's Sports (@SaveWomensSport) December 28, 2021