Out behind the scenes in pro sports
Managers, umps and more enjoy life after the closet in sports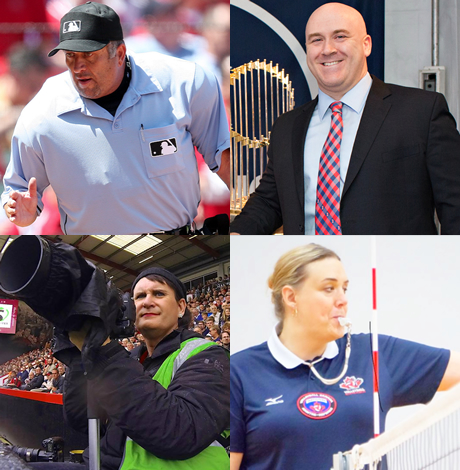 When professional athletes and coaches come out as LGBT, their stories make international headlines, but what many sports fans don't realize is that it isn't just players and coaches making waves of progress in the sports world. Those working behind the scenes and on the sidelines for some of the world's favorite sports and teams are inspiring others with their coming-out stories.
David Baggs, senior manager and creator of the Red Sox Sales Academy
David Baggs thought being gay and working in sports was impossible. This summer, inspired by a talk Billy Bean gave to the Red Sox, Baggs realized he was wrong.
Baggs, 41, has worked in sports for 11 years, managing sales for teams like the L.A. Dodgers, Tampa Bay Rays, 49ers and now the Boston Red Sox. He's been out to his family and friends since the start of his career, but just came out professionally.
"I'm looking around the room to my colleagues who I'm not out to yet, and people are tearin' up and they're visually moved," Baggs recalls of Bean's talk. "He's kinda funny about it, but it's also very moving. That week I decided to send a video to our president basically coming out to him."
On June 2, Baggs published a letter in Outsports coming out publicly in an effort to inspire other LGBT community members within the sports world.
"I tried to keep my personal life to myself and felt like I couldn't share that with my colleagues. That's now a ridiculous idea," Baggs says. "Don't expect anyone to be authentic with you if you don't share anything with them. If I were to go back, I'd say get it over with. You'll blossom as a professional because you're not worrying about what other people think. You can just tell them what you're doing after work instead of making up some stupid story."
Baggs says he has encountered overwhelmingly positive reaction since coming out, receiving supportive notes and Facebook posts from former colleagues, former Legends boss and current San Francisco 49ers President Al Guido, the Legends/Levi Stadium staff and the Tampa Bay Rays.
"I'm thankful for everywhere I've worked, but the Red Sox provided the support which eventually made me comfortable enough to come out," Baggs says. "I think it is important that within the sports world there are leaders who are willing to stand up for their employees, colleagues, fans and be supportive within their communities for LGBTQ issues. If you are in a position to potentially move the conversation forward you're basically obliged to do it within the sports world."
Sophie Cook, Bournemouth football photographer (UK), Brighton News LGBT TV correspondent
As Sophie Cook, 49, stood in the pitch while her team, AFC Bournmouth was promoted to the Premier League and crowned football league champions, she was terrified. For her and the players showering her in Champagne, this was the greatest day in the history of their club, a day they had waited for all their lives. But it might also be the last time Cook worked as a football photographer. Over the summer she planned to tell the team she no longer wanted to be called Steve.
Cook, a single parent of three from Brighton, England, started out as a shirt sponsor for a semi-pro football team. Realizing she'd only get good pictures of the shirts if she took them herself, Cook became the team's photographer. After taking their pictures for eight seasons, Cook switched to the pro game with AFC Bournemouth. In July, 2015 she stood in front of the newly promoted team and came out as the first trans person to work in the Premier League.
In a phone call before the meeting, the other line went silent, but the manager of the club assured Cook she still had a job.
"How can I make this easier for you," manager Eddie Howe asked. Cook replied that she'd need to meet with the team.
"He can never be expected to understand what I was going through, but just by asking, 'What can I do to make this easier for you?' That's all you can ask of someone when you come out," Cook says.
Howe stood in front of the team with Cook and re-introduced her.
"You'll probably notice our photographer has changed a little from last season, lost a bit of weight, and grown her hair out a bit," Howe said. "I'd like you all to meet Sophie."
Captain Tommy Elphick started clapping and the rest of the team quickly joined in.
"Well let's go train!" Elphick said. And that was it. "I was expecting rainbows and things to come flying out of the sky, but they got the new information and it really wasn't a big deal," Cook says. "It was all dealt with really nicely. It feels amazing to be part of the history of a club that I love."
Cook is now the first European news anchor as an LGBT consultant for Brighton's Latest TV.
"It's a great experience and for me the most amazing part of that is that I'm in the center of the LGBT community in the most diverse city in all of the U.K.," Cook says. "Twenty-five percent of the population in Brighton is LGBT and my boss wants me to make 25 percent of the programming LGBT, which is a very important thing. This weekend we have Brighton Pride and to be out on the streets reporting on it, interviewing people and trying to bring that diversity to people's TV screens is such an honor and something I'm very excited about for in the future."
Dale Scott, MLB umpire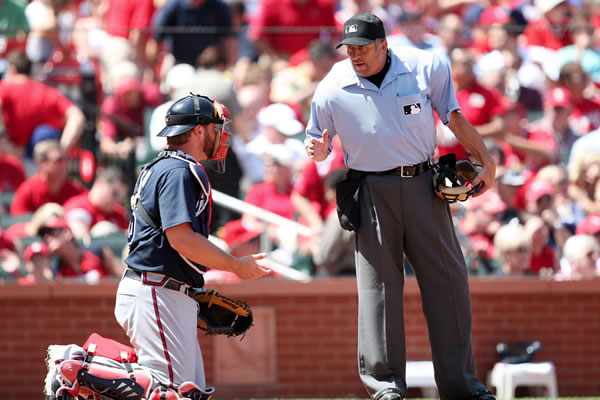 After 31 seasons of umpiring for the MLB, working three World Series, three All-Star games and numerous divisional and league championship series, Dale Scott never thought coming out would be one of the biggest moments of his career.
When Referee Magazine editors asked him to send pictures for their 2014 story on him, Scott didn't think twice about the picture he chose of him and his partner, Michael Rausche. After all, he and Rausch had been together for 28 years, and Scott had been out quietly to friends, family and a few co-workers for his whole career. What Scott didn't realize was how big of an impact he made by coming out publicly.
Scott's coming out was even joked about on "Late Night" by Jimmy Fallon. He began receiving congratulations on the field and over emails, texts and even international calls.
"It has truly been a very uplifting and positive experience," Scott says.
In 2010, Scott was able to add Rausch as his domestic partner in his new umpires union contract, making their relationship official in the MLB.
"The first 10 years of my Major League umpire career, I would have been horrified if a story had come out that I was gay," he told Outsports. "At first I was uncomfortable because I had spent my whole life hiding that fact from people even though I wasn't hiding it from myself or my friends."
Like Baggs, Scott credits the ease of his coming out to MLB vice president Billy Bean.
"He is someone who has opened the door in all of baseball at both the major and minor league levels and I'm very proud to call him a friend," Scott says.
Scott and Rausche celebrate 30 years together this October.
Stephanie Shostak, Volleyball Alberta president
Halfway through her referee certification process in 2013, Canadian Stephanie Shostak considered hanging up her whistle. She knew there had never been anyone like her in her field.
At 41, Shostak would be the first high-level referee to ever come out as transgender.
"I didn't know how anyone would take it," Shostak says. "I didn't know what the response would be from Volleyball Canada or U.S. Volleyball. I knew of other athletes that came out gay, lesbian or bisexual, same with coaches and refs, but I'd never encountered anyone being transgender. It played into my decision but I loved the sport so much that I couldn't walk away from it."
That summer, Shostak sent a memorandum coming out to Volleyball Canada and U.S. Volleyball. After receiving support from both organizations and being re-elected as VAO president, Shostak decided to write an article coming out to the public this past April.
"I thought it would be worthwhile to do the article if I could just help one individual," Shostak says.
Since then she's helped many trans people, making sure they all know someone like them.
After Shostak refereed a national championship in Canada this year, she met two parents who said they saw her article and wanted to introduce her to their daughter, who is also transgender. Shostak recognized the young woman from the court of the team she just refereed.
The girl asked her parents, "Why are you talking to the ref?"
They told her, "This is Stephanie, who you read about in the article last week."
The girl's eyes lit up and she started to cry, hugging Shostak and saying thank you.
"It's impacts like that I totally didn't expect," Shostak says. "There's a lot of negativity regarding transgender people in the U.S. and occasionally in Canada, so I just wanted to share some positivity."
Steve Reed, Washington Nationals director of human resources
Two-and-a-half years ago, Steve Reed left his hometown of Kansas City, Mo., to run the human resources department of the Washington Nationals. The now 49-year-old wasted no time letting co-workers know who he is, asking his boss if he could bring his then boyfriend to an office party.
The Nationals welcomed Reed and invited his boyfriend to the party.
Now single, Reed has been comfortable being out personally and professionally for the last 10 years, but doesn't think labels are always necessary.
"People shouldn't be classified as either gay/straight or any other category that society wants to assign," Reed says. "People should be judged for who they are as individuals. Those labels are not the total summation of who a person is."
Like Scott and Baggs, Reed also draws inspiration from his friendship with MLB Vice President Billy Bean, but he's also developed relationships with other LGBT colleagues and members of the sports world. Now in his third season with the Nationals, he's making sure 1,700 other employees are comfortable in their jobs too.
"I love the people," Reed says. "Whereas our employees are there to ensure the guest has a great experience, my job is to make sure the employees have a great experience. We have a great staff and I am lucky to work with such a great team."
Raiders player Carl Nassib comes out as gay, first active player in NFL history
Nassib also announced that he is donating $100,000 to the Trevor Project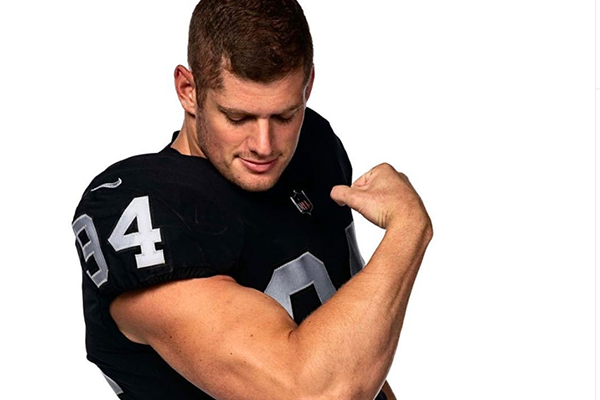 Raiders defensive end Carl Nassib came out today, making him the NFL's only openly gay player.
"I just want to take a quick moment to say that I'm gay," Nassib said in a video he posted on his Instagram account. "I've been meaning to do this for a while now but I finally feel comfortable enough to get it off my chest. I really have the best life. I've got the best family, friends and job a guy could ask for. I'm a pretty private person, so I hope you guys know I'm not doing this for attention, but I think representation matters."
Nassib also announced that he is donating $100,000 to the Trevor Project.
Vulgar anti-gay slur halts championship final soccer match
The league has written rules and guidelines that call for the referees on the field to halt game play if fans ignore warnings
DENVER, CO. – The Confederation of North, Central America and Caribbean Association Football, (CONCACAF) league's final match in the Mile-High City Sunday was halted after fans disrupted the game play by shouting a homophobic chant directed at players on the field.
ESPN reported the pause occurred during the final moments of the second half before the game went to extra time in the U.S. men's national team's 3-2 win. Referee John Pitti resumed the match after three minutes as players on both sides pleaded with the crowd to stop using the chant.
The league has written rules and guidelines that call for the referees on the field to halt game play if a warning to the spectators by the announcer over the stadium's public address has already warned the crowd to cease and desist. Should the crowd not stop, then the referee has the authority to send the players to the locker rooms and can also call for the match to be abandoned.
ESPN also reported that this was the second tournament match to be halted due to anti-gay chants at Empower Field at Mile High. Mexico's semifinal win over Costa Rica was also briefly paused. That match also saw several fans ejected from the stadium.
Outsports Webzine reported this past Spring that the disgraceful "puto" chant —a vulgar slur for male prostitute — is ubiquitous at Mexican soccer matches, and up until recently, Soccer's governing body, Fédération Internationale de Football Association or FIFA, has been ambivalent towards its eradication. The organization has punished Mexico at least 12 times for the chant since 2015, and yet, it hasn't disappeared.
In March, FIFA opened an investigation into anti-gay chanting by Mexico supporters during an Olympic qualifier against the Dominican Republic ESPN noted.
WATCH: USA Beats Mexico FULL MATCH [CONCACAF Nations League Final] | from CBS Sports. Game play is halted at the 1 hour thirty seven minute mark on the YouTube video:
Niners kick-off Pride with NFL's 1st-ever gender-neutral gear
The team hopes to score another win for its diverse fanbase Thursday with a new retail line that isn't limited by binary gender styles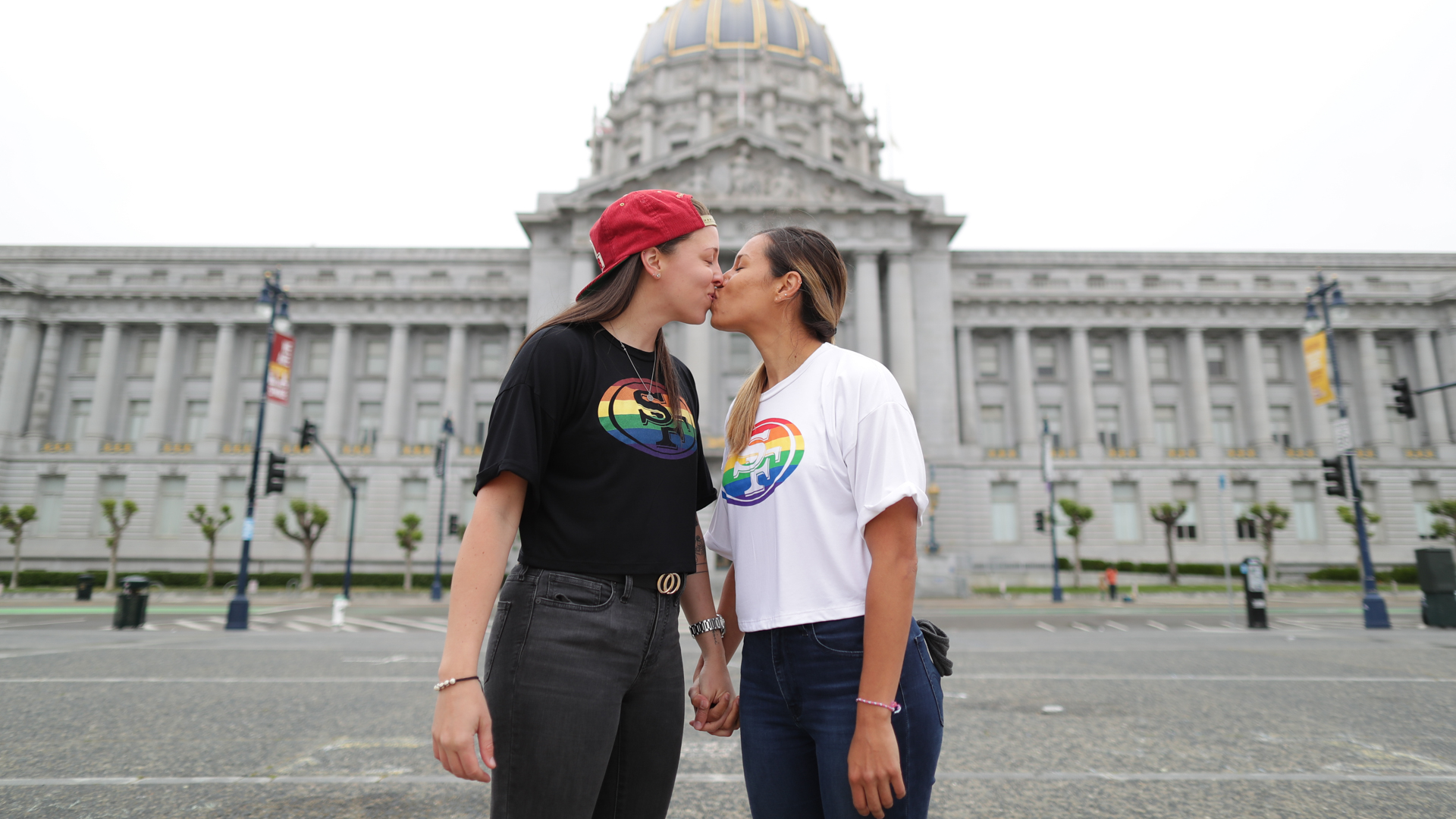 SANTA CLARA, CA. – The San Francisco 49ers have announced month-long plans for the organization's annual celebration of June LGBTQ+ Pride month. Led by 49ers PRIDE, the official fan club of 49ers Faithful who identify as LGBTQ+ and allies, the 2021 celebration will be highlighted by the 2021 49ers PRIDE Collection.
Every fan can feel seen
The San Francisco 49ers call their new retail line of rainbow-logo'd tops, tees and jackets "genderless." We think you'll call them cool- two years after the San Francisco 49ers led the NFL with the first official community for LGBTQ fans and allies, back in May 2019, the team hopes to score another win for its diverse fanbase Thursday with a new retail line that isn't limited by binary gender styles.
The new array of team-branded and Pride-themed clothing is the league's first and only "genderless" collection, according to a news release from the Niners. The threads are by Fanatics and the team promises 100% of the proceeds from this collection will benefit the San Francisco LGBT Center, the Oakland LGBT Center and The LGBTQ Youth Space: San Jose.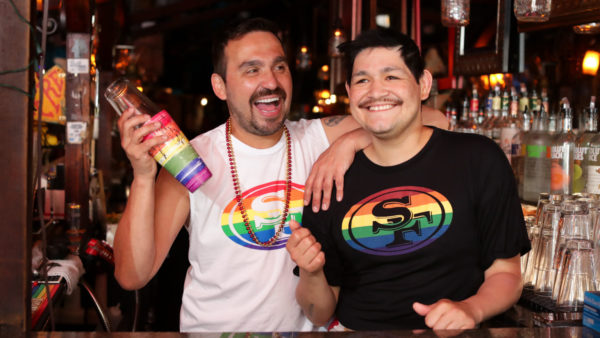 "Supporting the LGBTQ+ community in sports is a priority for the 49ers organization because sport has not always been inviting," the 49ers' Hannah Gordon told the Los Angeles Blade. Gordon is entering her tenth season with the 49ers and third as chief administrative officer and general counsel.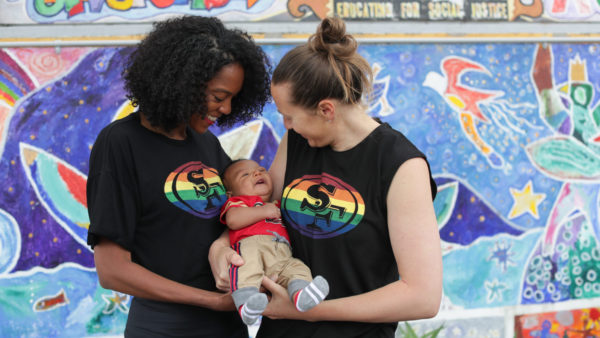 "We created 49ers PRIDE to make space for all of our LGBTQ+ fans and allies and it quickly became an incredible community. This year, we designed the first genderless retail line by an NFL team because we don't want there to be 49ers fan who wants gear but doesn't feel seen. If you want to support the Niners, we have something for you."
There will still be items available that fans who prefer a feminine cut can purchase at the team's online store, but the 2021 Pride collection is specifically geared toward Niners fans who aren't interested in reinforcing gender stereotypes when they support their team and fly their Pride colors.
"With this line, we have pieces that were designed so that however you identify, you can find a fit and any two people can express different styles with the same piece," said Gordon. "I love seeing how our fans wear these pieces and express their style. Doing it your own way is faithful to the Bay."
Click here to view the collection and find out more about 49ers Pride.