YEAR IN REVIEW 2016: Books
Haunting Dust Bowl novel by Annie Bell among year's best books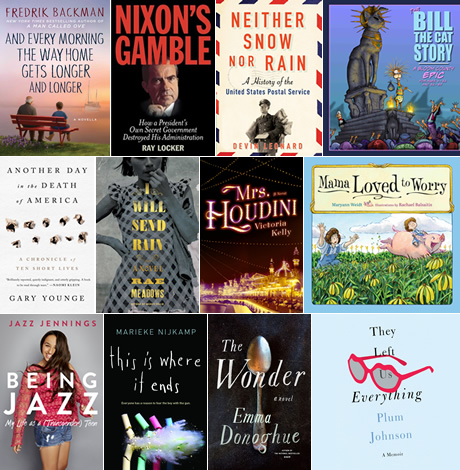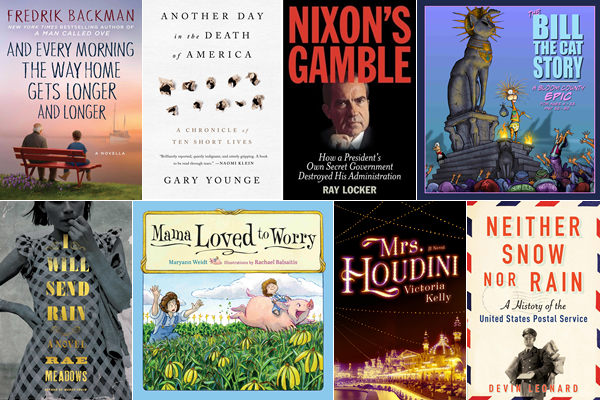 I'm not sure why, but I couldn't stop touching "I Will Send Rain" by Rae Meadows when I first got it. The cover pulled at me, but the story? Oh my, it's the tale of a family of four during the Dust Bowl years. The mother, Annie Bell, is trying desperately to hold her family together while her daughter dreams a dangerous dream, her son is mute and her husband slowly goes mad. There's a surprise in here, a fifth main character, and that's the dust. Do. Not. Miss. This. Book.
Not normally a big fan of fictionalized biographies, "Mrs. Houdini" by Victoria Kelly nonetheless captivated me with its magic. It's a tale of love and illusion, believing, trust, and it includes a gauzy ending that might seem implausible but who knows?  Hint: if you can bear it, save your gift card. This book comes out in paperback in March.
Generally speaking, I'll read anything by out author Emma Donoghue. She has a way of turning a tiny, true event into a novel that sticks in your head and "The Wonder" is no exception. It's the story of a very confident, almost haughty nurse who served with Florence Nightingale and seems to think that stint confers some sort of specialness. When she's hired to watch a child who claims not to eat or drink, the nurse thinks the girl is a scammer, but, of course, there's so much more to the story and an ending that's so perfect, it's stunning. Write this title down. It's another book you can't miss.
A vision of the apocalypse is at root in "The Fireman" by Joe Hill. It's a novel about a virus that's infected the world, and if you catch it, you burn. Poof, up in flames, and it's pitting neighbor against neighbor and husband against wife. There's a surprising romance in this book, thrills, a chase, humor and horror, and here's a hint: there are shades of Hill's father in here. Guess who?
For my fifth pick, I debated: "Britt-Marie Was Here" or "And Every Morning the Way Home Gets Longer and Longer," both by Fredrik Backman? I finally decided on the latter, the story of life and loss, forgetting and trying hard not to. But here's the thing to know: the first go-around won't make much sense. Turn around and read it again — it's really short, so no problem — and bring tissues that time. It's truly a lovely book.
Hint: "Britt-Marie" is a close, very close second-pick.
NONFICTION
As I was looking over the list of things I read, I was surprised to remember how much I enjoyed "Neither Snow nor Rain" by Devin Leonard. Overall, this book is about the U.S. Postal Service and its history. The thing that makes this book so much fun, though, is that Leonard also includes so many side stories that it becomes more of a general history that's light and fun. Fans of Bill Bryson, take note and find this book.
Another something that's informative and a little on the light side is "Playing Dead" by Elizabeth Greenwood. I mean, how many times a week does the average person wish they could chuck it all and disappear somewhere? Greenwood looks into that: how it's done, what it's like and the impacts it has on loved ones. You might change your mind. Or you might want to disappear even more. Either way, this is a can't miss.
As a Baby Boomer, "They Left Us Everything" by Plum Johnson particularly resonated with me, which is why it really has to be on this list. Johnson's parents were both elderly and had lived in their oversized house for decades. When they died in relatively fast succesion, Johnson and her brothers were tasked with cleaning up, but not just the house. They also had memories to examine and scrub. This is a book for daughters, particularly, but also for anyone who's facing the downsizing of a home or end-of-life caretaking.
In a political year, you might guess that an abundance of political books might be published, and you'd be right. My pick for the best in that category is "Nixon's Gamble" by Ray Locker, who takes a brief look at Nixon's early career before digging into the moves that the President made, starting on the day of his inauguration. Even if you think you know what happened nearly half a century ago, you don't. For history lovers of any age or place, this is an eye-opener.
I don't think I would have liked "Another Day in the Death of America" by Gary Younge quite as much if it had been laser-focused. Nope, Younge took one random day in recent years, and he writes about the 10 children who died of gunshot wounds in the U.S. on that day. It's that randomness that's so shocking, especially when you consider the statistic he cites: an average of seven children die by gun every day in America. The circumstances Younge found make this book even more impactful.
CHILDREN'S/YOUNG ADULT BOOKS
Putting "The Bill the Cat Story" by Berkley Breathed on the kids best of list might be cheating a little because this book is only partly something for kids. True, the kiddoes will love the illustrations and older children might laugh at the storyline, but this book is every bit for adults as it is for the younger set. Grown-ups will love the message inside this book; fans of Breathed's "Bloom County" will appreciate knowing about Binkley's first days with Bill, and the insider peek at Opus' home. I don't say this lightly: it's a book for the whole family.
I'm not sure if I was ready for its light breeziness, but "Being Jazz" by Jazz Jennings was the right book at the right time when I read it last summer. You might have seen Jennings on the news; as a transgender teen, she's become somewhat of a spokesperson for trans rights and acceptance. Her book is gossipy, bubbly and truthful — she proactively answers questions that teens want to know, without embarrassment. Hint: this is a great book for adults, too.
Another book that caught me by surprise (because I loved it so much) was "Mama Loved to Worry" by Maryann Weidt, illustrated by Rachael Balsaitis. In the same vein as the Pecos Bill, Slue-Foot Sue and Paul Bunyan stories you loved as a kid, this is a book set on a farm, with a Mama whose tasks grow larger in both action and in fable. The pictures are as much fun as the story, and you'll love it just as much as does your child, especially when it's read aloud.
There's a lot of cleverness inside "The Night Parade" by Kathryn Tanquary — enough to keep a lover of darkness up all night. It's the story of a Japanese-American girl who tries to fit in with the "in" crowd by disrespecting her ancestors, and yes, her actions have scary repercussions. Older middle schoolers not prone to nightmares will love this, as will younger young adults who are just stepping into this genre. Hint: save your gift cards. This book comes out in paperback in January.
And finally, "This is Where It Ends" by Marieke Nijkamp is a chillingly unexpected tale of a school shooting and heroism, with realism and timeliness that will shock you. That's not counting the story itself, told in minute-by-minute increments that will make you forget you're not reading a real account of a tragedy. Again, this isn't just a YA book. It's something adults should also want to read.
'Playing the Palace' a campy, fun rom-com read
What happens when a prince meets an event planner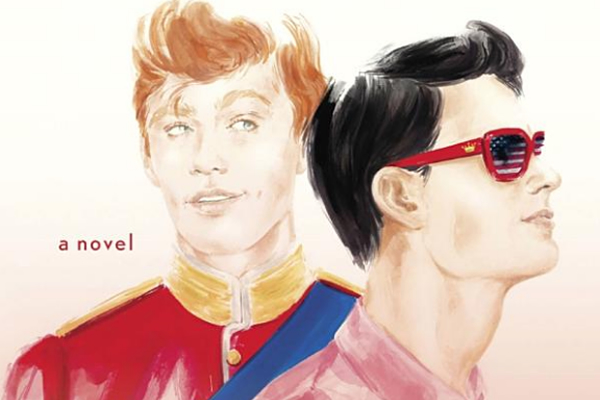 'Playing the Palace'
By Paul Rudnick
c.2021, Berkley
$16/272 pages
If you loathe romance or hate to laugh, then skip this book.  
If you're looking for a rom-com that's as fab and campy as Provincetown or Rehoboth Beach on a summer night, "Playing the Palace" by Paul Rudnick is the book for you.
Reading "Playing the Palace" is like sipping a delicious frozen Daiquiri.
Carter Ogden, the neurotic, good-hearted, Jewish, funny, out, gay narrator of this frothy romance, becomes your BFF and drinking buddy at the opening sentence, "It's still weird, waking up alone."
The plot of the book is simple: Carter, 29, is an associate "event architect" (in plain English – event planner) in New York City. He makes ends meet by living with wacky, supportive roommates.
Carter, a native of Piscataway, N.J., and IHOP aficionado, is feeling dejected as he approaches his 30th birthday. His ex, an actor, has left him. He can't help but wonder if he'll ever find love again.
Until, at work, he meets Edgar, the Prince of Wales. Edgar has come over from the United Kingdom to speak at a charity event for a group that works to provide clean water to countries that need it. And, this being a fictional prince in a rom-com, Edgar is openly gay.
As you've been forewarned, we're not dealing with realism here.
Edgar sees Carter and asks him to give him tips on how he can get his speech across more effectively.
From that moment on, the two – the IHOP-loving event planner and the future King of England — are in a fine romance. (Edgar is an orphan. His parents were killed in a plane crash.)
Their quest for the happily-ever-after involves pancakes, projectile vomiting, social media and a Thanksgiving meet-up of Carter's Jewish aunts and Edgar's grandmother, the Queen of England.
By itself, the story of "Playing the Palace" might seem predictable. What makes it sizzle – why you laugh out loud even as you root for the romance to work out – is its narrative voice.
"Playing the Palace" is a funny, sometimes touching monologue in the voice of Carter.
You'd have to have a heart of stone not to love Carter when he says he "addressed my problems to the framed photo of the late beloved Ruth Bader Ginsburg on the wall of my tiny, partitioned bedroom."
Writing a whole novel as a monologue could fizzle out if other writers tried it.
But, Rudnick a gay novelist, playwright, essayist, screenwriter and humorist, is a master of this form.
His plays, produced on and off-Broadway include "Jeffrey," "I Hate Hamlet," "The Most Fabulous Story Ever Told" and "The New Century." He's won an Obie Award, two Outer Critics Circle Awards and the John Gassner Playwriting Award.
Rudnick's novels include "Social Disease" and "I'll Take It." "Gorgeous" and "It's All Your Fault" are among his YA (young adult) novels.
His screenplays include "Addams Family Values," "In & Out," the screen adaptation of "Jeffrey" and "Sister Act." He wrote the screenplay for "Coastal Elites," the comedic satire that debuted on HBO last year.
Something of a polymath, Rudnick is, according to his bio, "rumored to be quite close" to film critic Libby Gelman-Waxner, whose reviews have appeared in Premiere magazine and Entertainment Weekly.
A frequent contributor to The New Yorker, his essays have appeared in Vanity Fair, The New York Times and Vogue.
As you might expect, the volume is chock full of pop culture references and wit. "I took a shower using my new manly body wash," Carter says, "which is exactly the same as the female version, only with simplified graphics and a steel-gray, squared-off bottle, as if it contains motor oil and testosterone."
It's not surprising that Rudnick told Entertainment Weekly that he's working on a musical of the movie "The Devil Wears Prada."
Reading "Playing the Palace" is like seeing a Broadway musical.
"I was looking into eyes that were so radiantly blue I either wanted to faint or yell 'just stop it,'" Carter says when he first sees Edgar.
"Playing the Palace" is a show-stopper.
Drew Pisarra's 'dangerously funny and queerly inventive brain'
'You're Pretty Gay' shatters expectations and social mores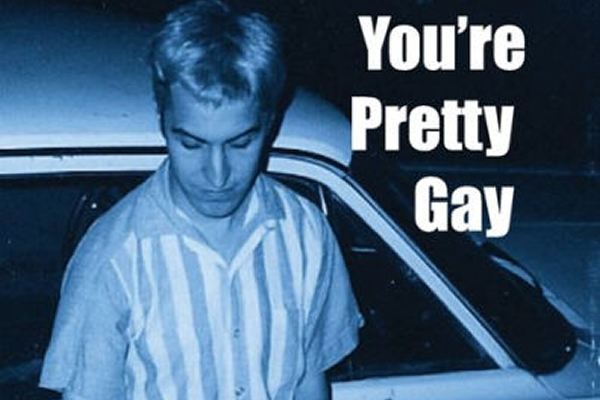 Is there anything more absurd than this, wondered gay poet and writer Drew Pisarra. Pisarra, then, was an assistant to a paralegal at a toothpaste company.
Fiercely protective of the pattern on its toothpaste, they wrote letters to rivals who, they felt, were infringing on their copyright.
Even when their competitors were in countries in the middle of a civil war, "They would write back, 'we can't respond now, we're in a war,'" Pisarra said.
But that didn't soften the heart of the toothpaste company. They'd insist that "this most important matter be dealt with as soon as the war ends," Pisarra said.
If you think that authors don't encounter the absurdity and grit of everyday life or that all writers do is drink coffee (or sip stronger libations) while looking at the sunset, you haven't met Pisarra.
Pisarra, 56, whose new short story collection "You're Pretty Gay" is just out from Chaffinch Press, has worked at everything from ventriloquism to domestic work.
The word "unique" is so hackneyed that it's a cliche to say it's a cliche. But there's no other way to describe "You're Pretty Gay."
This collection "is a prime example of Drew Pisarra's dangerously funny and queerly inventive brain," said Kevin Sampsell, author of "This Is Between Us." "Each story is its own performance, its own shattering of expectations and social mores."
Pisarra, who lives in Manhattan, gives readers a mosaic of wit, surrealism, sex, queerness, memory, mortality and self-discovery.
In "You're Pretty Gay," there are gay bars in New York and New Orleans.
You'll find everything from adolescent bullies fighting over a rare caterpillar to a character taking an AIDS test and, later, meeting up with Mrs. Claus.
"Mrs. Claus I didn't even know you were alive," says the narrator of "Arctic Chill." "I didn't even know you were real. I haven't received a gift from you or your husband in ten years."
Another of Pisarra's tales revolves around a trip to hell. "I love traveling," says the narrator of "The Hat from Hell, "I got this hat when I was in Hell back in 1992."
In "Granny," siblings gather after their mother's death. "All anyone could remember of her was that chair, how she sat in it for the last 40 years," Pisarra writes, "immobile as 'Jeopardy' and the 'Wheel of Fortune' glared at her night after night."
Pisarra's characters yearn to find love, sex, and who they really are.
"In my quest to bed mankind, I tended to avoid perfection's rejection," says the narrator of "Every Man for Myself."
Pisarra, whose first short story collection "Publick Spanking" was published in 1996, was born in Orange, N.J. When he was in the third grade, he moved to Maryland. There, except for living in Oxon Hill for a year, he grew up in Silver Spring.
When Pisarra was growing up, being gay wasn't even remotely on the horizon. "There was such denial in the culture then," Pisarra said.
From early on, he had feelings for men. "I had a crush on a boy in kindergarten," Pisarra said.
He consulted books and a priest, which wasn't helpful. They said he'd grow out of it.
"As a teenager, I recognized that I hadn't outgrown it," Pisarra said.
Pisarra was a college freshman when he came out. "I sobbed the night I came out," he said.
He was out in college, Pisarra said, "but I wasn't getting laid." That changed when he moved to New Orleans after college.
Pisarra graduated from Hofstra University in 1987 with a bachelor's degree in theater.
In college, a professor had the students sit in a circle. Then, the teacher told them how she thought they'd be cast.
"She told me, 'you're a grotesque,'"Pisarra said, "'You won't work until you're in your fifties. Because your face and body don't match.'"
Pisarra was relieved to hear this. His sense of relief was related to being a young gay man in the late 1980s.
"I wasn't interested in being closeted," Pisarra said, "I wrote. I wanted to perform. I wasn't interested in conforming."
Since then, Pisarra has been creating – performing and writing his own material. Some of the stories in "You're Pretty Gay" were originally created for the stage.
"I don't write that often," Pisarra said, "I started writing the stories in 'You're Pretty Gay' 20 years ago."
A prodigious reader, Pisarra has always "written to some degree," he said.
Pisarra got turned on to writing poetry when he went to a meeting of a gay and lesbian writers group.
"There were, like, 10 people in this apartment," Pisarra said, "there was a terrible woman sitting next to me."
He would have dropped out of the group, if he hadn't met writer Mare Davis, now his close friend.
"I said to her, 'I never want to see any of these people again except you,'" Pisarra said, "She inspired me to get into poetry."
Davis wrote the introduction to Pisarra's poetry collection "Infinity Standing Up" (Capturing Fire Press).
Released in 2019, the volume of sexy, playful sonnets received glowing reviews from the Washington Post, the Blade and other outlets.
"Devour me! Think me not some crazy nut!," Pisarra writes in one of his sonnets.
With lines like these, he gives Shakespeare a run for his money.
Pisarra has held a variety of jobs – many of which have involved the arts. He has helped homeless people with mental health issues to find housing.
"I ran a writers group for them," Pisarra said, "I encouraged a super-talented woman to send her work out."
The woman and Pisarra submitted their work to the same magazine. "Her work was accepted. Mine wasn't," he said, "I was thrilled!"
In an unusual career twist, Pisarra, who received a literary grant from the Café Royal Cultural Foundation, toured a ventriloquist act entitled "Singularly Grotesque." He created the act after the Portland Institute for Contemporary Art commissioned him to develop a new solo piece.
"I was wandering around the library aisles and I found two (self-help) pamphlets on talking with 'multiple' selves,'" Pisarra said, "and I thought this is ventriloquism in a nutshell."
Pisarra hadn't watched much TV. But that didn't keep him from interviewing with AMC to be its director of digital media.
"I thought why not," Pisarra said, "it would be a chance to see what else is out there in the world."
He worked on the websites for "Mad Men" and "Breaking Bad." "It was a pleasure to be part of the online team for these cultural phenomena!" Pisarra said.
With Molly Gross, Pisarra co-founded Saint Flashlight. In this project, he and Gross find inventive ways to get poetry into public spaces.
One of the project's most innovative efforts has been putting haiku on movie marquees. It's fun to see people, looking up, counting the syllables, Pisarra said. You sweat when you put the letters up on the marquee, he added.
"It's part of the fun! It makes you feel like you're making something matter," Pisarra said.
He doesn't want poetry to be confined to "The New Yorker." "It should push the envelope," Pisarra said, "It's not just for the upper crust."
'The Guncle' never wanted kids but now has two
Novel is as charming as they come with a surprise ending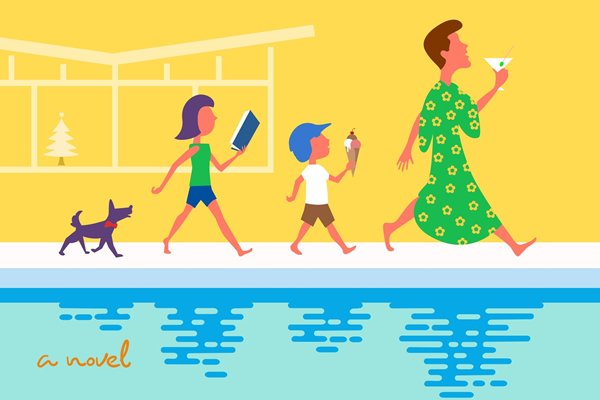 'The Guncle'
By Steven Rowley
c.2021, Putnam
$27/326 pages
The situation you're facing isn't one you wanted.
You had no wish for it; in fact, it's 100 percent the opposite. Not your circus, not your monkeys, as they say. So usually, you'd follow your instincts and run but this time, you surprise yourself by stepping up and taking ownership. Now it is your problem but, as in the new novel, "The Guncle" by Steven Rowley, that's more than OK.
Sara had been his friend first.
Patrick wasn't exactly happy when she married his brother, Greg, but she managed to make it work and he loved her for it. He loved her first, actually, and he never let her forget it.
But now she was gone and Greg had asked the impossible: would Patrick – gay man, former TV star, Palm Springs fixture, no-responsibilities Patrick – take Greg and Sara's kids, nine-year-old Maisie and six-year-old Grant, for the summer so Greg could go to rehab while grieving the death of his wife? Could the kids' GUP (Gay Uncle Patrick) step up?
No. There was no way that Patrick was taking temporary custody of two kids – but then his older sister, Clara, copped an attitude, rolled her eyes, and told him he was "off the hook."
PfftRight.
And so Greg headed to rehab after the funeral and the kids went home with Patrick to Palm Springs. It would be a long 90 days.
Grant was cute but full of questions; Patrick learned to make things up. Maisie was nobody's fool and Patrick learned to hide his passwords. He gave them "Guncle" Rules (gay + uncle = guncle), life lessons, and stories about their mother – but past that, what does a gay man who never wanted kids do when he suddenly has two of them?
He takes them to the museum way too often, that's what. He takes them to five-star restaurants and cringes when they order kid food. He lounges with them in the pool, gets them a dog, lets them put up a Christmas tree in July, hugs them, and throws a party.
And he loves them.
There are four words that best describe "The Guncle": A. Dor. A. Bull.
That's it. This novel is simply as charming as they come and don't be surprised if you can almost hear your favorite actors as any of the characters here. Don't be surprised, either, if you spend your vacation racing to reach the ending you think's coming and you're wrong.
Indeed, author Steven Rowley offers the perfect mix of snorts and sobs here, snarky fun one minute and pathos the next but neither emotion is belabored or forced. That gives readers room to enjoy the tale as it unfolds and grows like an inflating pool toy, and to watch the characters twisting wistfully in irresistible, concentric circles.
Your ticket's in your hand, your suitcase is packed, your destination is close, but you need a book to get you there. If you'd love to immerse yourself inside a sweet novel like "The Guncle," then step right up.