February 2, 2017 at 2:53 pm EST | by Lou Chibbaro Jr.
Brother Help Thyself awards $75,000 in grants
D.C. Mayor Muriel Bowser joined more than 100 people who turned out on Jan. 28 at the D.C. Eagle for the LGBT charitable group Brother Help Thyself's annual grant awards reception.
Brother Help Thyself officials presented checks totaling $75,170 in grants during the event to representatives of 30 nonprofit organizations serving the LGBT HIV/AIDS communities in the D.C. and Baltimore regions.
"The amazing excitement in the air at our reception, along with the great fellowship between our grantees and the community we serve drives the work we do each and every day," said BHT President Jim Slattery. "We plan all year toward today, when we're finally able to distribute grants to very worthy organizations that embody our community so well," he said.
Among the D.C. organizations receiving BHT grants were Capitol Hill Arts Workshop, Casa Ruby, D.C.'s Different Drummers, Empowering the Transgender Community, Gay Men's Chorus of Washington, Health Options and Positive Energy Foundation (HOPE DC), HIPS D.C., LGBT Fallen Heroes Fund, LGBT Latino History Project, Mary's House for Older Adults, and the D.C. Center for the LGBT Community.
Other D.C.-based LGBT or LGBT supportive groups receiving BHT grants included New Ways Ministry, Inc., PFLAG – Metro D.C., Rainbow History Project, SMYAL, Wanda Alston Foundation, and the Washington Renegades Rugby Football Club, Inc.
In addition to the awarding of grants, BHT officials presented special awards recognizing individuals and organizations for outstanding work or services on behalf of the LGBT community. Among them were the Anthony J. Bachrach Award for Outstanding Service to Freddie Lutz of Freddie's Beach Bar in Arlington, Va.; the Billy Collison Award to LGBT Fallen Heroes; the George Dodson Business Award to Tagg Magazine; the Founders Award to Us Helping Us; and the BHT President's Award to Jeffrey Grabelle of AIDS Action Baltimore.
Lou Chibbaro Jr. has reported on the LGBT civil rights movement and the LGBT community for more than 30 years, beginning as a freelance writer and later as a staff reporter and currently as Senior News Reporter for the Washington Blade. He has chronicled LGBT-related developments as they have touched on a wide range of social, religious, and governmental institutions, including the White House, Congress, the U.S. Supreme Court, the military, local and national law enforcement agencies and the Catholic Church. Chibbaro has reported on LGBT issues and LGBT participation in local and national elections since 1976. He has covered the AIDS epidemic since it first surfaced in the early 1980s. Follow Lou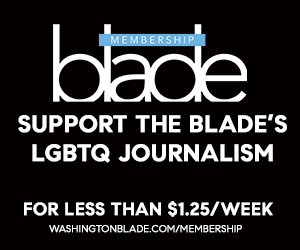 Sign Up for Blade eBlasts