With Dem filibuster assured, Gorsuch nomination heads to Senate floor
McConnell may invoke 'nuclear option' to force confirmation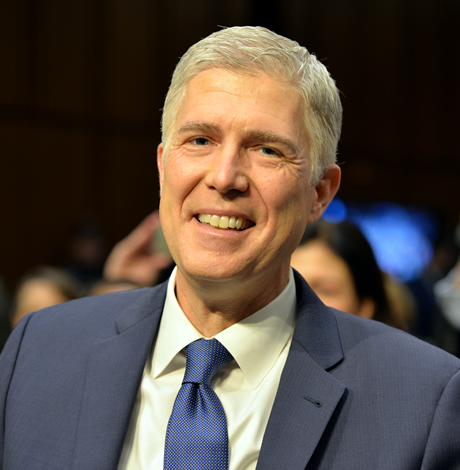 The Senate Judiciary Committee advanced Monday the nomination of Neil Gorsuch to the U.S. Supreme Court, although the nomination has hit a significant snag now that Democrats have secured the votes necessary to successfully filibuster his confirmation.
Before the committee approved the Gorsuch nomination on a party-line vote, Sen. Chris Coons (D-Del.) announced during the session he would oppose the nominee and support the Democratic filibuster against him. That made him the 41st vote needed for a successful filibuster.
"I am not ready to end debate on this issue, so I will be voting against cloture, unless we are able as a body to finally sit down and find a way to avoid the nuclear option and ensure the process to fill the next vacancy on the court is not a narrowly partisan process," Coons said.
Other top Democrats announcing they would join Senate Minority Leader Chuck Schumer (D-N.Y.)'s filibuster were Sen. Dianne Feinstein (D-Calif.), top Democrat on the committee, and Sen. Patrick Leahy (D-N.Y.), who until recently was ranking Democrat.
Feinstein cited during the hearing Republican obstruction of former President Obama's nomination of Merrick Garland to the U.S. Supreme Court as well as various decisions Gorsuch reached as a Justice Department official during the Bush administration and a judge on the U.S. 11th Circuit Court of Appeals.
"Our job is to assess whether the nominee will protect the legal and constitutional rights of all Americans, and whether the nominee recognizes the humanity and justice required when evaluating the cases before him," Feinstein said. "Unfortunately, based on Judge Gorsuch's record at the Department of Justice, his tenure on the bench, his appearance before the Senate and his written questions for the record, I cannot support this nomination."
Also cited by Feinstein as a concern is the more than $10 million the Koch brothers have declared they intend to spend to support the Gorsuch confirmation as well as ads buys from the National Rifle Association and the Judicial Crisis Network.
With a filibuster of the Gorsuch nomination likely to succeed when the cloture vote for the nominee is held on Thursday, Senate Majority Leader Mitch McConnell (R-Ky.) is likely to invoke the "nuclear option," which would eliminate the long-standing ability to filibuster nominees to the U.S. Supreme Court.
McConnell strongly suggested during an interview on NBC's "Meet the Press" he would invoke the "nuclear option" when he declared Gorsuch would be confirmed this week with or without help from Democrats.
"What I can tell you is that Neil Gorsuch will be confirmed this week," McConnell said. "How that happens really depends on our Democratic friends, how many of them are willing to oppose cloture on a partisan basis to kill a Supreme Court nominee, never happened before in history, the whole history of the country."
White House Press Secretary Sean Spicer said Monday President Trump would support invoking the "nuclear option" to end the filibuster, but ultimately the decision rests with McConnell.
"There's literally going to be the first filibuster in modern times on a qualified judge that's going to end up going on the court," Spicer said. "We have really come a long way, and I think Democrats are setting a very dangerous precedent when it comes to how they want to do this because this isn't about voting against somebody or having an issue with them, it is literally trying to stop using the filibuster for something it was never really intended for, nor has it been the principle that we would vote down someone who is qualified."
LGBT rights supporters have universally opposed the confirmation of Gorsuch to the Supreme Court, citing as a chief concern his decision on the 11th Circuit in favor of Hobby Lobby being allowed to deny contraception coverage for employees under Obamacare on the basis of "religious freedom" for the corporation. That reasoning, observers say, could lead to religious exemptions for LGBT non-discrimination laws should they be adjudicated by the U.S. Supreme Court.
Chad Griffin, president of the Human Rights Campaign, on Twitter declared support for the Democrats' filibuster of the Gorsuch nomination based on the nominee's rulings he says could spell trouble for LGBT people.
#Gorsuch's anti-equality views have no place on #SCOTUS. @HRC stands with all those trying to stop this dangerous nomination. https://t.co/jy4krtlZ3A

— Chad Griffin (@ChadHGriffin) April 3, 2017
During his confirmation hearing, Gorsuch said he believes marriage equality is "settled law," but also cited "ongoing litigation about its impact and application right now."
Rachel Tiven, executive director of Lambda Legal, said Gorsuch's words hedging the finality of the marriage issue is "a dog-whistle to the religious extremists who funded his nomination."
"He wouldn't answer whether he thinks cases concerning marriage equality, abortion, school desegregation, or the right to an attorney were correctly decided and final," Tiven said. "He disdains the regulations that govern clean air, clean water and safe food. His snide treatment of everyone from the trucker freezing to death by the side of the road to plaintiffs like ours, who count on the courts to see their humanity and fundamental equality, is startling. In short, this is not a person fit to rule on the lives of 315 million Americans."
White House: 'We have made clear' Brittney Griner is being 'unjustly detained'
Biden officials spoke to basketball player 'in the last few days'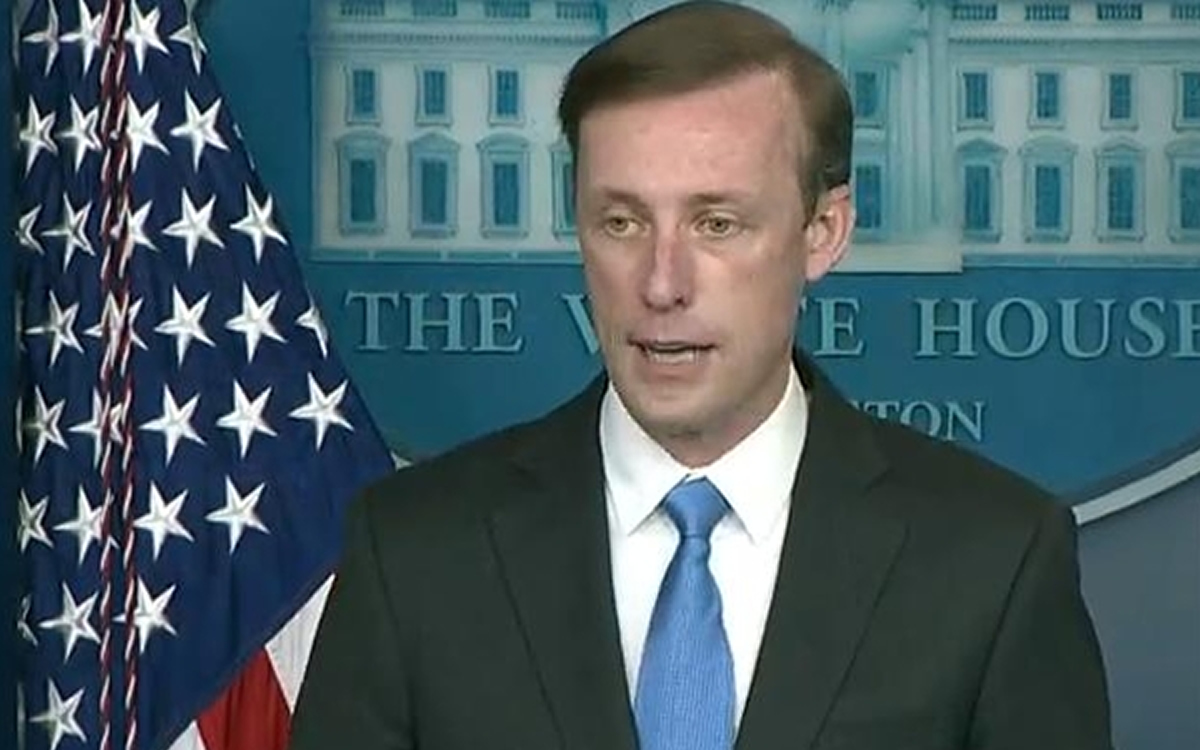 White House National Security Adviser Jake Sullivan said Tuesday he has spoken in the last few days with the wife of Brittney Griner as part of a larger effort within the Biden administration to secure the release of the lesbian basketball player in Russia whom supporters say is being unlawfully detained.
Sullivan made the comments speaking with reporters aboard Air Force One during President Biden's trip to Europe in response to a question about efforts within the Biden administration to bring Griner home ahead of her expected trial in Russia.
"So first, Brittney Griner is wrongfully detained, unjustly detained, and we have made that clear as an official determination of the U.S. government," Sullivan said. "Second, the Russian government should release her and allow her to be returned and reunited with her family and come home safe and sound."
Sullivan added he — as well as Secretary of State Antony Blinken — have spoken with Griner's wife Cherelle, to "convey our very deep sympathy, to convey that, you know, we just can't even begin to imagine what the family must be going through, what Brittney — what Brittney must be going through."
Griner, a professional basketball player for the Phoenix Mercury within the Women's National Basketball Association, was detained in February by Russian Customs on allegations that cartridges of hashish oil were found in her luggage. Griner had gone to Russia to play with the Russian Premier League during the WNBA off-season.
Sullivan said the U.S. government "is actively engaged in trying to resolve this case and get Brittney home," but added he's constrained in what he could say because of confidentiality about the sensitive issue.
"But I will tell you it has the fullest attention of the president and every senior member of his national security and diplomatic team," Sullivan said. "And we are actively working to find a resolution to this case, and will continue to do so without rest until we get Brittney safely home."
The Biden administration, Sullivan added, is additionally working to return all unjustly detained Americans and hostages being held overseas," including detainees in Iran, Afghanistan, Russia, Venezuela, and China.
The Washington Blade has placed a request with the State Department for a readout on Blinken's role in the Biden administration's talks with Griner.
D.C. house with rainbow Pride flag set on fire
Investigators seeking help from public in search for suspect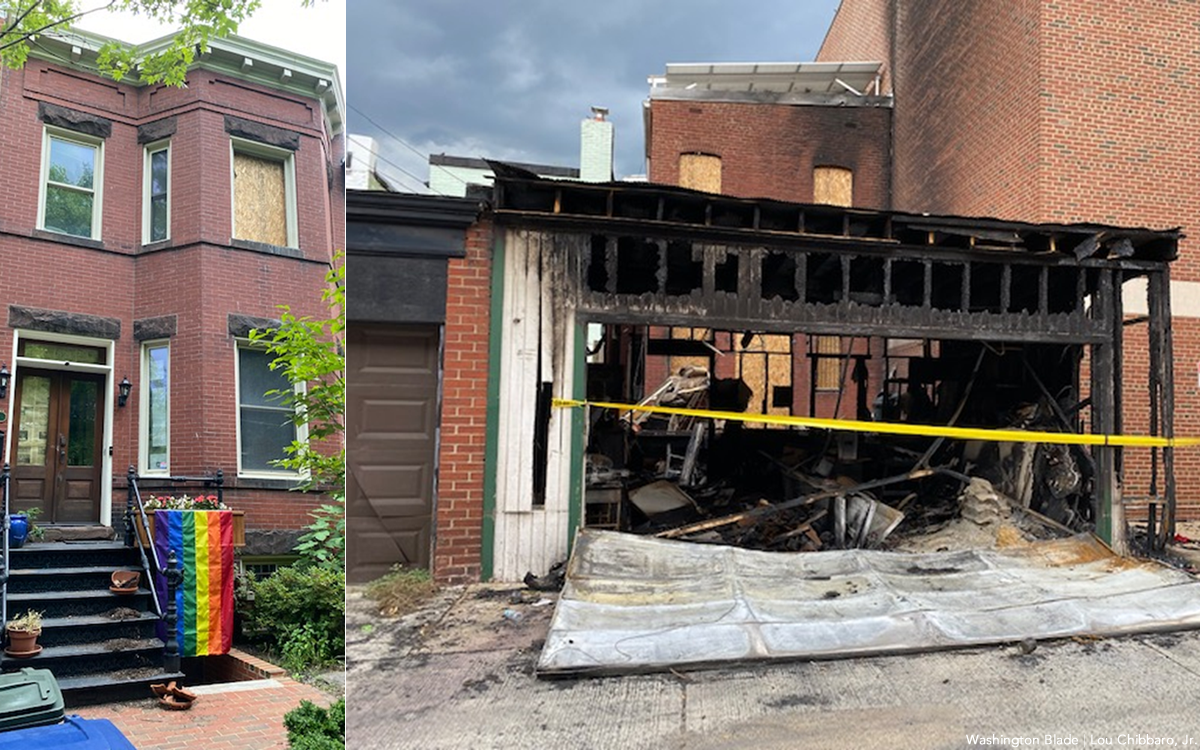 The D.C. Fire and Emergency Medical Services Department has classified as arson a June 19 fire at a two-story row house on the 1800 block of 8th Street, N.W. in the city's Shaw neighborhood that had an LGBTQ rainbow Pride flag prominently displayed on the front of the house.
A Fire & EMS Department spokesperson said the fire was ignited in a detached wooden garage in the rear of the house accessible only through an alley, and fire investigators have yet to identify a suspect or a motive for what evidence shows was an intentionally set fire.
Although the front of the brick rowhouse where the Pride flag was displayed was not damaged, the fire in the garage spread to the rear of the house, destroying a wooden outdoor deck, and caused extensive damage to the kitchen, bathroom, and second floor bedroom. Fire investigators have sealed the house, requiring its three occupants to find a temporary residence as the investigation continues.
One of the three occupants of the house, who was the only one at home when the fire started at about 2 a.m., escaped without injury, according to sources who know the occupants.
"The Pride flag on the front of the house was present at the time of the fire," Jennifer Donelan, director of communications for the Fire & EMS Department, told the Washington Blade. "We do not have any information, at this time, that suggests the arson was related to the presence of the flag, however we are still working on the case," she said.
"We are aggressively working to identify a suspect and a motive," Donelan said. "Until such time, we won't be able to make a determination as to whether or not this was a hate crime."
She said the Fire & EMS Department is seeking help from the public in its effort to identify one or more suspects responsible for the fire. Anyone with information that could be helpful to the investigation is asked to call fire investigators at 202-673-2776.
The fire at the D.C. house with the Pride flag took place less than a week after Baltimore police said a house in that city's Waverly neighborhood on which "Pride décor" was displayed was set on fire on June 15, causing extensive damage to the house and nearby houses.
Baltimore police and fire department officials said a Pride flag on a house across the street from the house set on fire was also ablaze when firefighters arrived on the scene. Two men were hospitalized in critical condition and a woman was listed in serious condition because of the fire ignited in the house.
Baltimore Mayor Brandon Scott released a statement saying fire department officials had yet to determine a motive for the fire.
"At this point, we cannot confirm that this was a hate crime," Scott said. "However, my agencies will bring every appropriate resource to bear to get to the bottom of this tragic event," he said. "I continue to stand in solidarity with our LGBTQ+ community."
Turkish police arrest hundreds over banned Pride parade
Istanbul officials sought to prevent event from happening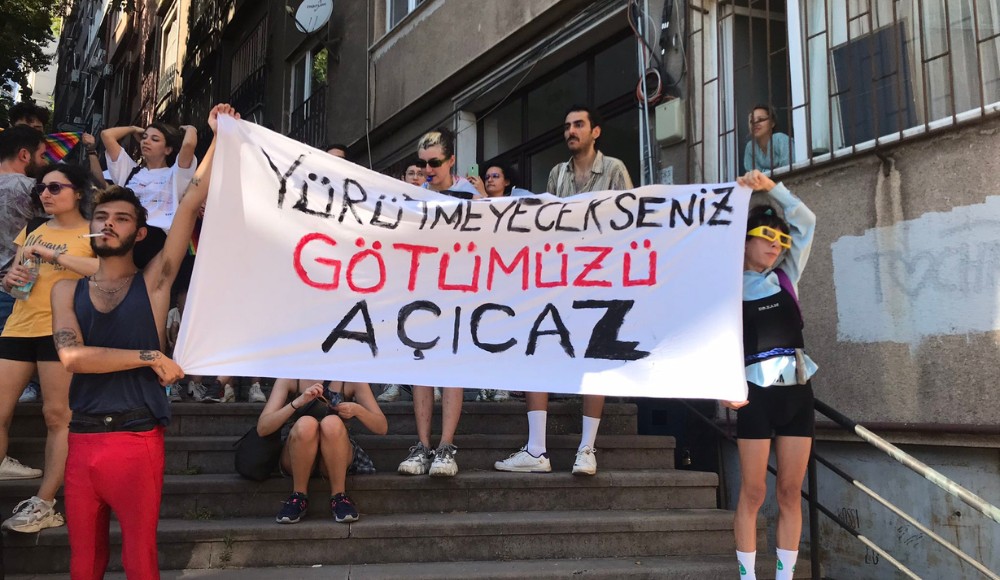 Hundreds of LGBTQ people, allies and supporters took to the streets of Istanbul Sunday in defiance of the country's government's ongoing 2014 ban of Pride parades and Pride Month festivities.
Protestors violently clashed repeatedly with police and security forces in various neighborhoods located around the Bol Ahenk Sokak (Pedestrian Plaza) and other sections of the central downtown area.
Authorities had shut down the city's transit systems hours prior to the influx of LGBTQ activists and demonstrators and flooded streets with police in riot gear who made hundreds of arrests, in some cases tear gassing participants and attacking them with clubs.
Government security forces arrested over 373 people including Agence France-Presse journalist and chief photographer Bülent Kılıç. Detainees were taken by bus to a central holding facility for processing. Photojournalist Mehmet Demirci documented the arrest of Kılıç in a Twitter post.
My photojournalist friend Bülent Kılıç has been taken into police custody while covering the #İstanbulPride. His hands were cuffed behind his back.@Kilicbil Kilicbil pic.twitter.com/sDYNoVe13L #journalismnotcrime

— mehmet demirci (@mehmet_demirci_) June 26, 2022
Ankara-based Kaos GL, the largest Turkish LGBTQ activist group, documented the arrests and clashes which occurred prior to the 5 p.m. planned parade kick-off in a series of Twitter posts.
İzmir'de polis zor kullanarak LGBTİ+'ları alandan çıkarmaya çalışıyor!#OnurYürüyüşü #Pride2022 pic.twitter.com/jlJ7H2eOWU

— Kaos GL (@KaosGL) June 26, 2022
KAOS GL in a press release on Monday noted that "the detentions experienced during the march, was among 'firsts' for this year. Totally 373 LGBTIs and LGBTI+ right defenders were taken into custody on the day of march! This number is a record both in the history of Pride marches and the other public demonstrations."
The group also recorded the scope of anti-LGBTQ Pride Month bans and pressure by Turkey's governmental bodies across the country.
"There were 10 ban decisions announced within the scope of Pride Month events. These ban decisions were taken by Boğaziçi University Rectorate, METU Rectorate, Gaziantep Governorship, Çanakkale Governorship, Datça District Governorship, Beyoğlu District Governorship, Kadıköy District Governorship, Eskişehir Governorship and İzmir Governorship.
The detentions began with 70 people at ninth Boğaziçi Pride March on May 20, increasingly went on till June 26. 373 people were taken into custody in Istanbul on June 26. This number is among the highest detentions within the context of the public demonstrations in İstanbul recent years. Totally 530 LGBTI+s and LGBTI+ right defenders were detained in 37 days."