May 3, 2017 at 2:30 pm EDT | by Michael K. Lavers
Mariela Castro promotes anti-bullying efforts in Cuban schools
"Anything is possible with a law," Mariela Castro told the Washington Blade during a press conference in Havana.
Mariela Castro, who is director of Cuba's National Center for Sexual Education, made the comment as she spoke about the International Day Against Homophobia and Transphobia.
The National Center for Sexual Education, which is known by the Spanish acronym CENESEX, has organized a series of marches and other events that will take place in Havana and in the city of Santa Clara throughout the month. The theme of this year's International Day Against Homophobia and Transphobia commemorations in Cuba is "schools without homophobia nor transphobia."
"Anti-gay bullying in schools is the set of discriminatory behaviors towards children, adolescents and teenagers who suffer repeated situations of violence because of their real or perceived sexual orientation," said Mariela Castro in a prepared statement she read during the press conference. "This circumstance, perpetuated by their classmates, has a traumatic repercussion on the lives of those who suffer from it."
Mariela Castro also highlighted efforts that she said the Cuban government is undertaking to combat anti-LGBT bullying. These include a resolution from the country's Ministry of Education that "establishes" the "need to educate (students) about sexual rights as the base of personal and social development in order to promote equality, respect, solidarity, access to resources, ample and objective information, cooperation" and access to education without discrimination based on sexual orientation, gender identity and other factors.
A 2014 directive from the Ministry of Education also directs teachers to notify them of any incidents in which their colleagues bully their students.
"It is important to emphasize that the Cuban Campaign Against Homophobia and Transphobia is directed towards the entire population and not exclusively to LGBTI people," said Mariela Castro.
Handful sex-reassignment surgeries performed in Cuba each year
CENESEX has commemorated the International Day Against Homophobia and Transphobia — which is May 17 — since 2007. Mariela Castro has spearheaded LGBT-specific issues on the Communist island in the years since her mother Vilma Espín, who was the president of the Cuban Federation of Women and CENESEX's former director, passed away a decade ago.
Transgender people have been able to obtain free sex-reassignment surgery under Cuba's national health care system since 2008, although independent LGBT activists with whom the Washington Blade has spoken insist only a few dozen people have been able to undergo the procedure. Mariela Castro on Wednesday said during the press conference that 35 people — roughly half a dozen a year — have undergone sex-reassignment surgery in the country.
Mariela Castro highlights need to eliminate 'social exclusion'
Mariela Castro, who is a member of the Cuban National Assembly, in 2013 voted against a proposal that banned discrimination in the workplace based on sexual orientation because it did not include gender identity. She has also spoken publicly in support of marriage rights for same-sex couples, even though the Cuban constitution explicitly bans them.
Mariela Castro in March discussed the issue during an appearance at a film festival in the Mexican city of Guadalajara, noting Cubans want "to be creative and look for what truly fits into the possibility of social acceptance and our reality." She reiterated this point at Wednesday's press conference, noting CENESEX and its supporters are working to make sure "there is no form of social exclusion and discrimination in our legislative system."
Independent LGBT rights advocates in 2015 launched a campaign that calls upon lawmakers to publicly debate marriage rights for same-sex couples. Mariela Castro did not mention the initiative during the press conference.
Raúl Castro is 'supportive' of daughter's pro-LGBT work
This year's International Day Against Homophobia and Transphobia will take place less than six months after Mariela Castro's uncle, former Cuban President Fidel Castro, died.
Fidel Castro in the years after the 1959 Cuban revolution that brought him to power sent gay men and others deemed unfit for military service to labor camps, which were known as Military Units to Aid Production or UMAPs in Spanish. The Cuban government forcibly quarantined people with HIV/AIDS in state-run sanitaria until 1993.
Fidel Castro in 2010 apologized for the work camps during an interview with a Mexican newspaper.
Mariela Castro last week told Hatzel Vela, a Havana-based reporter for the South Florida television station WPLG, that her father "understands" and is "supportive" of her efforts. She told reporters on Wednesday that she is "not interested in" in succeeding Raúl Castro when he steps down in 2018.
Michael K. Lavers is the international news editor of the Washington Blade. Follow Michael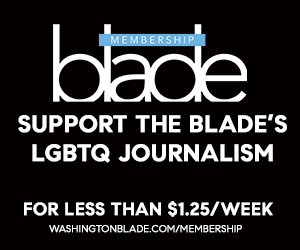 Sign Up for Blade eBlasts