New novel 'Death Goes Overboard' is more than the film noir spoof it initially seems
Action-packed, unpredictable book from David S. Pederson features clever mystery, trippy gay side plot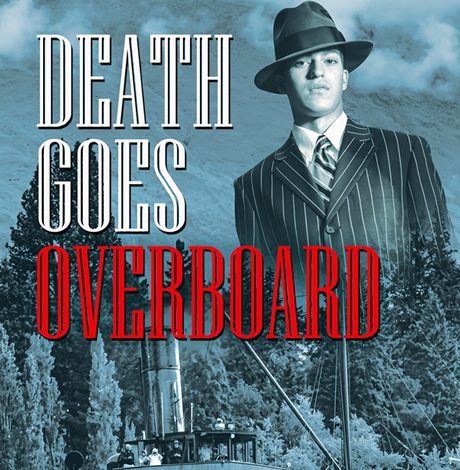 'Death Goes Overboard'
By David S. Pederson
Bold Strokes Books
$18.95
237 pages
The weekend was all set. Detective Heath Barrington had everything planned down to the last detail.
Protagonists in "Death Goes Overboard," by David S. Pederson, Barrington and police officer Alan Keyes were heading to a cabin in Northern Wisconsin, just the two of them, under the guise of a fishing trip. It was 1947, after all, and discretion was absolutely necessary for two professional gay men, but the getaway would be a great chance to see where their new relationship was going.
Still, despite his and Alan's carefulness, rumors could come from anywhere, which was why Barrington was worried when his boss called him in early one day. Fortunately, the chief didn't want to quiz Barrington on his love life; he wanted to send the detective on a special assignment.
Milwaukee law enforcement had been following Gregor Slavinsky ever since the small-time hood got out of prison, assuming that he'd screw up eventually. And that's exactly what happened: word on the street was that Slavinsky recently borrowed $25,000 from Benny Ballentine, a bigger crook and the guy the department really wanted to nab. Both were booked on a Lake Michigan excursion and something was afoot. The chief needed Barrington to find out more.
The "fishing trip" cancelled, Barrington boarded a small luxury boat for a weekend tour. With few fellow travelers — two known hoodlums, a henchman, plus a man and his elderly aunt — he thought he'd have no trouble keeping an eye on everyone, especially since the boat's steward was an undercover cop, too. But when a scuffle, a splash and a missing crook proved otherwise, Barrington knew his assignment had suddenly changed.
Slavinsky was nobody's favorite guy, but who among the handful of possible suspects had the most reason to kill him?
Every cliché ever packed in a noir novel seems to be inside "Death Goes Overboard." You've got mobsters, a fedora-wearing detective in a pinstriped suit, seemingly prim matrons and man-hungry blondes eager for marriage. It's like an old black-and-white movie in book form. But rather than feeling tired, here it just feels like part of the fun.
You won't mind because author David S. Pederson has packed a lot in this novel. You don't normally find a soft-sided, poetry-writing mobster in a noir mystery, for instance, but he's here. And then there's the sweetly chaste, budding romance between two men; not so unusual, again, except that one of them is considering something drastic in order to hide his secret, a side plot that's historically accurate and that fits.
So this novel is both predictable and not, making it a nice diversion for a weekend or vacation. If that's the kind of book you enjoy, then "Death Goes Overboard" will make you buoyant.
#OscarsSoStraight: Academy honors queer films but omits queer talent
Mixed bag of nominees as heterosexual actors playing gay win nods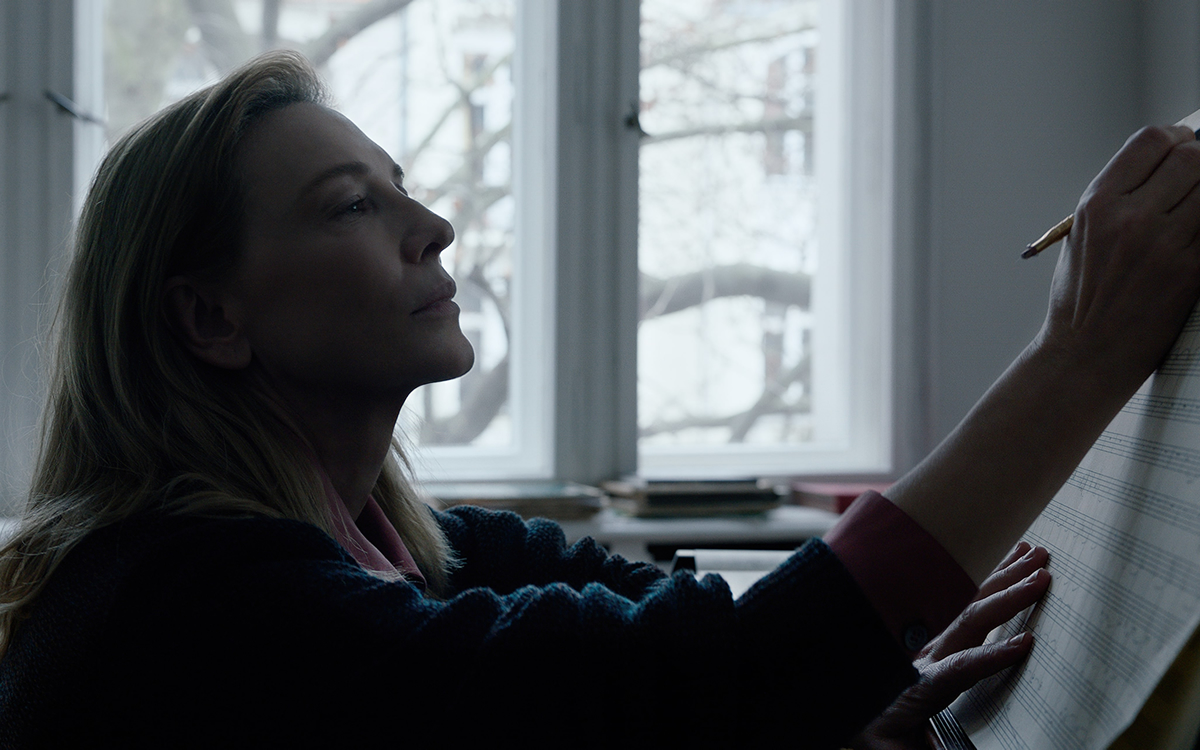 The race for Oscar — Hollywood's favorite sport — officially began Tuesday morning, when past winner Riz Ahmed and "M3gan" actress Allison Williams appeared on ABC's "Good Morning America" to announce the list of nominees for the 95th Academy Awards. As always, that list was mostly comprised of established favorites, boosted by the momentum gained from wins and nominations for other film awards, with a few inevitable snubs and surprises thrown into the mix just to keep things interesting.
From a movie-lover's perspective, the Academy's final ballot reflects a year that has yielded a better-than-average crop of films, even as post-pandemic box office numbers skewed away from the kind of "prestige" movies that usually win Oscars. With plenty of deserving front-runners among the nominees, cinema buffs will have plenty of worthy choices to root for when the Academy Awards presentation airs on March 12.
Looking at the nominations through a queer eye, on the other hand, there's not much to get excited about. But let's focus on the good news first.
Among the movies nominated for Best Picture, several include LGBTQ characters and storylines. In "Everything Everywhere All at Once," the popular indie sci-fi comedy that received the most nods (11) of any movie in the pack, the fate of the multiverse hinges on – among other things – a woman's ability to acknowledge and affirm her daughter's queer sexuality; the controversial but acclaimed "Tár" is built around Cate Blanchett's consummate performance as an acclaimed lesbian symphony director accused of sexual misconduct, and features numerous queer characters among the supporting cast; "Women Talking," Sarah Polley's powerful drama about victims of sexual assault in a Mennonite colony, includes a transmasculine character (portrayed by nonbinary actor August Winter) in a small but crucial role. In addition, "Elvis" was helmed by queer director Baz Luhrmann, who snagged a nomination as one of the film's producers; and "The Fabelmans" was co-written by out gay screenwriter Tony Kushner, who likewise gained a nod as producer as well as sharing a nomination for Best Original Screenplay with Steven Spielberg.
As for the acting categories, a handful of performers earned nominations for playing LGBTQ-identifying characters. Blanchett, in "Tár," is seen as a shoo-in for Best Actress; similarly, first-time nominee Brendan Fraser, whose "comeback" performance as an obese gay man consumed by grief and regret after the death of his partner in "The Whale" gained almost universal praise despite controversies surrounding the movie itself, is a strong contender among a slate of other first-timers in the Best Actor race. Stephanie Hsu, who portrays the above-mentioned lesbian daughter in "Everything," also became a first-time Oscar nominee, for Best Supporting Actress; lastly, though it might be a bit of a cheat, it's worth mentioning that "Everything" also depicts – quite memorably – versions of the characters played by Best Actress nominee Michelle Yeoh and Best Supporting Actress nominee Jamie Lee Curtis as [SPOILER ALERT] a same-sex couple in an alternate universe.
Other notably queer-inclusive films in the overall Oscar lineup include: "Close," directed by filmmaker Lukas Dhont, a Belgian coming-of age drama nominated for Best International Feature; "Glass Onion: A Knives Out Mystery," the comedy crime caper sequel that confirms the queerness of detective Benoit Blanc (played by Daniel Craig), earned writer-director Rian Johnson a nod for Best Adapted Screenplay; "Babylon," Damien Chazelle's ambitious ensemble drama about 1920s Hollywood, which was snubbed in the "major" categories but earned nominations for Justin Hurwitz's original score and its costume and production designs; and incredibly enough, "Top Gun: Maverick," which scored multiple nominations including Best Picture and Adapted Screenplay, makes the inclusion list through the involvement of queer ally Lady Gaga, who is co-nominated (with BloodPop) for writing Best Original Song contender "Hold My Hand."
While the inclusiveness in some cases could be perhaps described as marginal, at best, and none of the nominated titles are predominantly queer focused, it's still heartening to see a crop of widely varied films in which an LGBTQ presence is not only visible, but normalized, almost routine. That's a far cry from 2006, when the high-profile nominations and wins for "Brokeback Mountain" provoked outrage and outcry among industry old-timers. Progress has clearly been made.
Unfortunately, while the Academy has clearly become more comfortable with movies that allow queer people to exist on the screen at all, it's still prone to some of its old habits – and this year's nominations underscore the importance of keeping up pressure on the Hollywood establishment to prevent backsliding. In recent years, LGBTQ-themed films and out queer performers have increasingly been part of the party on Oscar night, with movies like "Moonlight," "Call Me By Your Name," "Bohemian Rhapsody," "Rocket Man" and more emerging as major contenders and, in some cases, even taking home the prize; but this year, the roster is frustratingly straight.
This is most telling in the acting categories, where – true to what has become a long-standing Oscar tradition, at this point – none of the nominees, including those playing LGBTQ characters, identify as queer. There's no argument against the worthiness of Blanchett, Fraser, or Hsu, each of whom does superb work and deserves recognition for it; what is more pertinent is the omission of actual LGBTQ people from the roster, like Janelle Monáe of "Glass Onion" or Jeremy Pope of "The Inspection," whose much-lauded 2022 performances put them high on the short list for Academy recognition.
The LGBTQ community is not the only one with reason to be disappointed. After two consecutive years of being won by women, the Best Director category is once again made up entirely of heterosexual men; female filmmaker Polley, despite the Best Picture nod for "Women Talking," failed to make the cut – though she did pick up a writing nomination for Best Adapted Screenplay.
Recognition for people of color also took a step backward. This is particularly notable in the acting categories, where only two Black performers – Angela Bassett ("Black Panther: Wakanda Forever") and Brian Tyree Henry ("Causeway"), for Best Supporting Actress and Actor, respectively – received nominations. Among the year's potential nominees were snubbed powerhouses like Viola Davis ("The Woman King"), Danielle Deadwyler ("Till"), Gabrielle Union ("The Inspection"), as well as the aforementioned Pope and Monaé, any of whom might have helped to even the balance.
Don't get us wrong; there are plenty of reasons to be happy with this year's Oscar contest, not the least of which is the element of surprise – though there are definite favorites, there are no clear winners in most of the categories. Returning to our focus on the positive, there's a strong showing of Asian-American nominees in the mix, thanks to "Everything," and it's worth adding that, with queer-inclusive films scoring high in total nominations, some of them are sure to win – and that will give us ample reason to celebrate.
It won't keep us, however, from expecting Oscar to do better next year. Until then, don't be surprised if this stumble on the road to real LGBTQ equality in the movies spawns a new hashtag: #OscarsSoStraight.
The complete list of Oscar nominations is below:
Best picture
– "All Quiet on the Western Front"
– "Avatar: The Way of Water"
– "The Banshees of Inisherin"
– "Elvis"
– "Everything Everywhere All at Once"
– "The Fabelmans"
– "Tár"
– "Top Gun: Maverick"
– "Triangle of Sadness"
– "Women Talking"
Best director
– Martin McDonagh, "The Banshees of Inisherin"
– Daniel Kwan and Daniel Scheinert, "Everything Everywhere All at Once"
– Steven Spielberg, "The Fabelmans"
– Todd Field, "Tár"
– Ruben Östlund, "Triangle of Sadness"
Best actor
– Austin Butler, "Elvis"
– Colin Farrell, "The Banshees of Inisherin"
– Brendan Fraser, "The Whale"
– Paul Mescal, "Aftersun"
– Bill Nighy, "Living"
Best actress
– Cate Blanchett, "Tár"
– Ana de Armas, "Blonde"
– Andrea Riseborough, "To Leslie"
– Michelle Williams, "The Fabelmans"
– Michelle Yeoh, "Everything Everywhere All at Once"
Best supporting actor
– Brendan Gleeson, "The Banshees of Inisherin"
– Brian Tyree Henry, "Causeway"
– Judd Hirsch, "The Fabelmans"
– Barry Keoghan, "The Banshees of Inisherin"
– Ke Huy Quan, "Everything Everywhere All at Once"
Best supporting actress
– Angela Bassett, "Black Panther: Wakanda Forever"
– Hong Chau, "The Whale"
– Kerry Condon, "The Banshees of Inisherin"
– Jamie Lee Curtis, "Everything Everywhere All at Once"
– Stephanie Hsu, "Everything Everywhere All at Once"
Best original screenplay
– "The Banshees of Inisherin," Martin McDonagh
– "Everything Everywhere All at Once," Daniel Kwan and Daniel Scheinert
– "The Fabelmans," Tony Kushner and Steven Spielberg
– "Tár," Todd Field
– "Triangle of Sadness," Ruben Östlund
Best adapted screenplay
– "All Quiet on the Western Front," Edward Berger, Lesley Paterson and Ian Stokell
– "Glass Onion: A Knives Out Mystery," Rian Johnson
– "Living," Kazuo Ishiguro
– "Top Gun: Maverick," Ehren Kruger, Eric Warren Singer and Christopher McQuarrie, story by Peter Craig and Justin Marks
– "Women Talking," Sarah Polley
Best cinematography
– "All Quiet on the Western Front"
– "Bardo, False Chronicle of a Handful of Truths"
– "Elvis"
– "Empire of Light"
– "Tár"
Best international feature film
– "All Quiet on the Western Front" (Germany)
– "Argentina, 1985" (Argentina)
– "Close" (Belgium)
– "EO" (Poland)
– "The Quiet Girl" (Ireland)
Best documentary feature film
– "All That Breathes"
– "All the Beauty and the Bloodshed"
– "Fire of Love"
– "A House Made of Splinters"
– "Navalny"
Best animated feature film
– "Guillermo del Toro's Pinocchio"
– "Marcel the Shell with Shoes On"
– "Puss in Boots: The Last Wish"
– "The Sea Beast"
– "Turning Red"
Best live action short film
– "An Irish Goodbye"
– "Ivalu"
– "Le Pupille"
– "Night Ride"
– "The Red Suitcase"
Best documentary short film
– "The Elephant Whisperers"
– "Haulout"
– "How Do You Measure a Year?"
– "The Martha Mitchell Effect"
– "Stranger at the Gate"
Best animated short film
– "The Boy, the Mole, the Fox and the Horse"
– "The Flying Sailor"
– "Ice Merchants"
– "My Year of Dicks"
– "An Ostrich Told Me the World Is Fake and I Think I Believe It"
Best original score
– "All Quiet on the Western Front"
– "Babylon"
– "The Banshees of Inisherin"
– "Everything Everywhere All at Once"
– "The Fabelmans"
Best original song
– "Applause" from "Tell It like a Woman"
– "Hold My Hand" from "Top Gun: Maverick"
– "Lift Me Up" from "Black Panther: Wakanda Forever"
– "Naatu Naatu" from "RRR"
– "This Is A Life" from "Everything Everywhere All at Once"
Best film editing
– "The Banshees of Inisherin"
– "Elvis"
– "Everything Everywhere All at Once"
– "Tár"
– "Top Gun: Maverick"
Best production design
– "All Quiet on the Western Front"
– "Avatar: The Way of Water"
– "Babylon"
– "Elvis"
– "The Fabelmans"
Best costume design
– "Babylon"
– "Black Panther: Wakanda Forever"
– "Elvis"
– "Everything Everywhere All at Once"
– "Mrs. Harris Goes to Paris"
Best makeup and hairstyling
– "All Quiet on the Western Front"
– "The Batman"
– "Black Panther: Wakanda Forever"
– "Elvis"
– "The Whale"
Best sound
– "All Quiet on the Western Front"
– "Avatar: The Way of Water"
– "The Batman"
– "Elvis"
– "Top Gun: Maverick"
Best visual effects
– "All Quiet on the Western Front"
– "Avatar: The Way of Water"
– "The Batman"
– "Black Panther: Wakanda Forever"
– "Top Gun: Maverick"
'Women Talking' is the timely film everyone should be talking about
Filmmaker Sarah Polley explores shocking abuse in culturally significant effort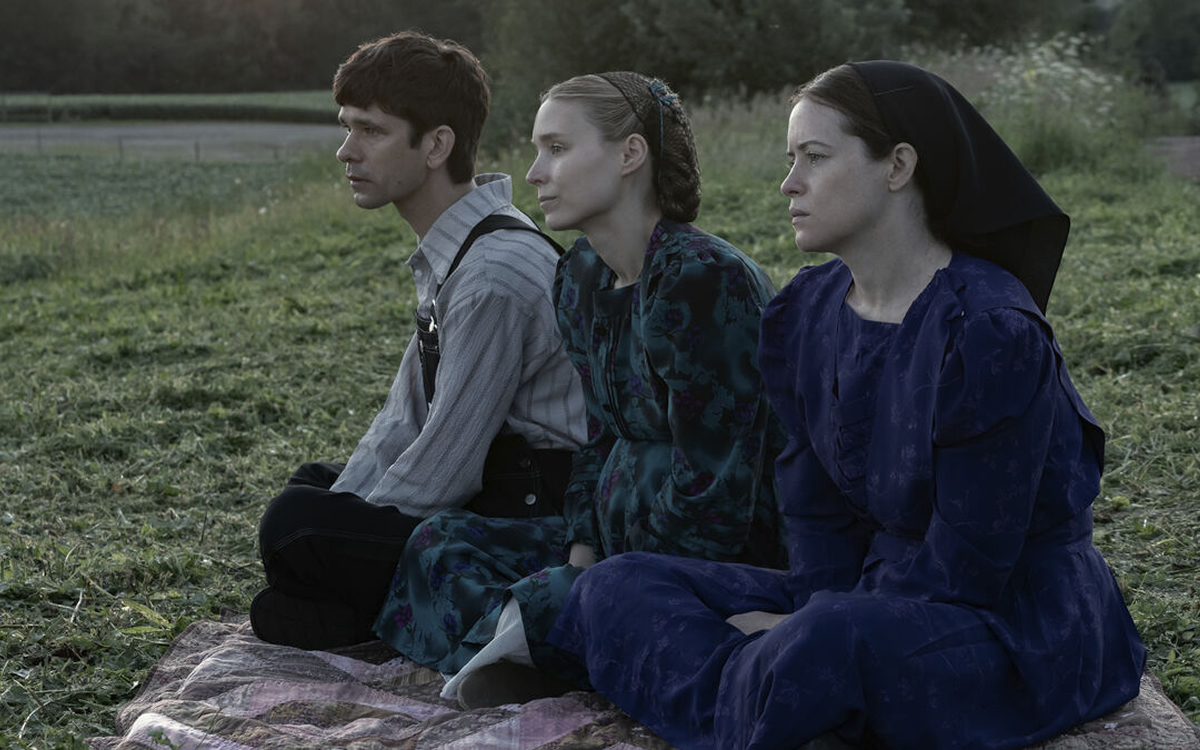 With the Hollywood awards season well underway, the public conversation around movies these days is mostly around the movies that have begun to emerge as early champions.
That makes this the perfect time to bring up "Women Talking," a movie not many people have seen – yet – but that more people should be talking about.
Adapted for the screen and directed by Canadian filmmaker Sarah Polley, it's based on a 2018 novel of the same name by Miriam Toews (which itself was loosely based on real-life events in Bolivia), and set in an ultraconservative Mennonite colony, isolated from the wider world by both distance and strict religious tradition, in which dozens of girls and women have been drugged with animal tranquilizers and sexually assaulted in the night by a group of men over the course of several years – only to be accused of lying or told that their attacks and injuries were perpetrated by "ghosts or demons." Now, they've now been offered a choice – either forgive their attackers and continue living in fear or leave the community and be expelled from the church; with only a few short hours to decide, a group of townswomen convene in a barn to weigh the dilemma, and to make the impossible choice of what to do.
In Toews's book, and therefore Polley's film, the shocking circumstances of the story are reimagined in an American setting, and the scenario is framed – in the spirit, perhaps, of an increasing sense of public conscience that favors commemorating the victims of violence over elevating the victimizers' names in the cultural record – through the eyes of the women; we never see the faces of their attackers, nor hear their names. Their identities, in fact, are irrelevant; for these women, what matters is making an impossible choice whether to brave the unknown evils of a world outside their experience or resign themselves to endure the all-too-familiar evils to which they are accustomed, forced upon them by male elders who seemingly think of them as little more than human livestock.
That's a position that feels unsettlingly relevant in the climate of today's America, and though both book and movie were conceived and executed before the devastating Supreme Court decision striking down Roe v. Wade, the timing of "Women Talking" couldn't be more powerful or relevant. In watching these onscreen women attempt to find justification within their faith to defy the strictures that leave them powerless and without protection, it's impossible not to notice the reflected significance; though the arguments they rehash – obedience to the teachings of their church, accepted gender roles within their culture, the "rightful place" of women in society, and all the other well-rehearsed topics inextricably tied to the ideals of feminism and basic human rights – often feel to us like the antiquated rhetoric of a bygone era, we cannot help but be aware that the principles they struggle to define, considered by many of us to be long-settled and self-evident, are currently anything but.
That's entirely the point, of course. Polley's film derives considerable power from the juxtaposition of an old-fashioned lifestyle into a contemporary setting; most of what we see on the screen – clothing, mores and manners, the quaint routine of a daily life lived without technology and off the grid – belies any connection to the 21st century, and when we are occasionally reminded that we're watching a story that takes place in modern times, it's jarring.
Indeed, there's an unabashedly "meta" effect that permeates throughout, heightened by a theatrical approach to the narrative that spends more of its time on dialogue than on action – after all, the title is "Women Talking" – and takes place mostly in a single location. The movie's studied mix of emotion and intellect, its prominent agenda and its progressive political leanings, all land with us as if we were watching a play, rather than a movie. Yet Polley ingeniously expands into the cinematic realm to connect with us though our eyes as well as our ears, particularly with the use of rapid-paced flashback collages that cut away from a character to wordlessly convey crucial details of their backstory, deepening both our insight and our empathy in the process.
She also takes pains to illuminate the emotional triggers – fear, rage, even guilt over perceived culpability – that bubble to the surface as her traumatized characters try to form a unified front; by tracking the way these lingering psychic scars affect the dynamic among this group of survivors, determining the positions they take and setting them at odds against each other, her movie helps open us up to empathy for those whose memory pain sometimes drives them to act against their own self-interest. Yet things aren't unrelentingly grim, nor are they always somber; there are frequent interspersions of humor, appreciations of beauty, and expressions of love. It's this focus on lived inner experience that keeps "Women Talking" grounded in the human and enables it to indulge in lengthy theoretical discourse about justice, ethics, and theology without feeling like an exercise in aloof didacticism.
To that end, a gifted ensemble of players, each obviously relishing the chance to do work of such substance, turns in a remarkably gripping collection of performances. Standing out in the showiest roles, Claire Foy and Jessie Buckley offer up unforgettable moments throughout the film, while a softer Rooney Mara serves as a warm and intelligent heart; screen veterans Judith Ivey and Sheila McCarthy bring depth and dignity to their roles as elders in this female contingent, with multi-Oscar-winner Frances McDormand leaving her stamp in a brief but indelible supporting turn; out gay actor Ben Whishaw shines as a gentle schoolteacher enlisted by the women to take the minutes of their meeting, a sole reminder that men can be allies, too; and nonbinary performer August Winter, cast as a transmasculine colony member, adds an affirming thread of queer inclusion to the mix, opening the door for one of the film's most unexpected – and powerful – moments.
It's not surprising, given the talents of Polley and her cast (not to mention the expert cinematography of Luc Montpellier and a stirring score by Hildur Guðnadóttir), that "Women Talking" has quietly gained momentum as an awards contender – even though it doesn't go into wide release until Jan. 20. Whether it can pick up more prizes than the buzzier titles currently leading the race remains to be seen. Even in a post-#MeToo Hollywood, female-led films are often overlooked for the big awards, and the industry's supposed progressive leanings rarely prevent it from shying away from polarizing subject matter.
Incredibly, in 2023, the subject of women seeking freedom to have agency over their own bodies feels more polarizing than ever, and women are fighting for it under oppressive regimes from Iraq to Indonesia, let alone in parts of the USA.
That's why, whether it wins any awards or not, "Women Talking" is still one of the most culturally significant movies on the shortlist.
Jeremy Pope earns respect in 'Don't Ask' drama 'The Inspection'
Rite of passage is as much about becoming a proud gay man as becoming a soldier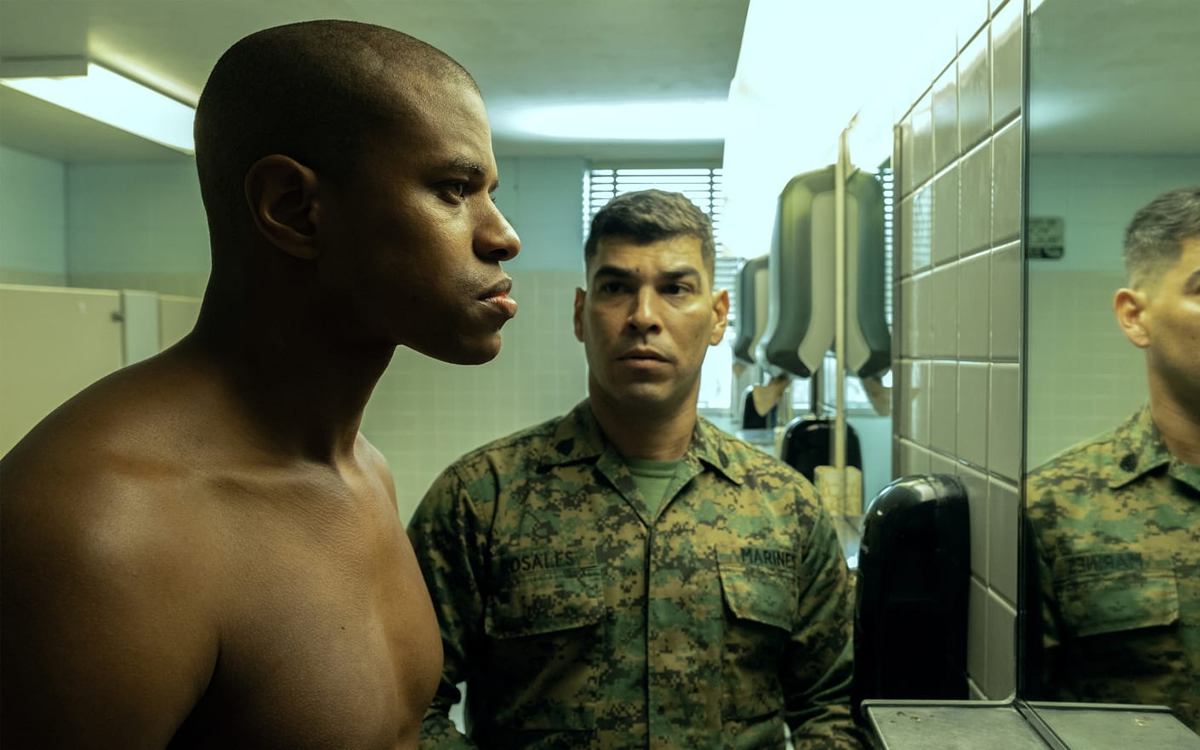 With the now-rehabilitated Golden Globe Awards set to broadcast their presentation ceremony on Jan. 10, queer movie enthusiasts are probably aware that the nominees, as noted by most of the LGBTQ media when they were announced less than a month ago, are disappointingly light on nominations for out queer talent.
One notable exception, however, is Jeremy Pope, whose nomination for Best Actor in a Motion Picture Drama makes him one of the community's best hopes for recognition – not just on Tuesday night, but during the rest of the awards parade toward the Oscars, for which the Globes are traditionally considered a bellwether. Yet in the skewed post-pandemic landscape of the film industry, where it's harder than ever for movies without a superhero to capture widespread public attention, even devout film buffs may not be familiar with Pope; they're even less likely, perhaps, to be familiar with the film for which he is nominated – "The Inspection," written and directed by Elegance Bratton – even though it was released over a month and a half ago. That's a shame, but thanks to Pope's well-deserved nomination, this true-life-inspired indie drama has been given its own boost into the spotlight.
A deeply felt roman à clef, it follows the efforts of a young gay Black man (Pope), struggling to survive on his own since being rejected by his single mother (Gabrielle Union) as a teen, who enlists in the Marines to escape from his hard life in the streets. Despite intense bullying, he manages to endure the rigors of boot camp, even finding fellowship with some of his peers and an unexpected connection with one of his superiors (Raúl Castillo) along the way. His hard work and strong resolve, however, may not be enough to overcome the opposition he faces as a gay man within a "Don't Ask, Don't Tell" era military hierarchy that doesn't want him to succeed – nor is it likely to return him to the good graces of his mother, whose love and acceptance he still hopes to reclaim.
It's not the first time Bratton – who, like the lead character in his movie, was thrown out by a homophobic mother and weathered homelessness before joining the military – has garnered acclaim by exploring themes that echoed his own past; his 2019 documentary "Pier Kids," which profiled the lives of Black, queer and trans homeless youth on New York City's Christopher Street Pier, was a standout favorite at LGBTQ film festivals throughout the circuit and scored a nomination for Outstanding Documentary from the GLAAD Media Awards.
With "The Inspection," he gets even more personal. Though many of the events portrayed in this fictionalized autobiography are based on circumstances to which he was only a witness, and not a participant, it's easy to sense his lived experience in the movie's challenging blend of finely observed detail and conflicted morality; though we've seen scores of films about boot camp, few of them feel as real as this one. It captures the dehumanizing ordeal of basic training with an uneasy mix of dread and reverence that smacks of first-person familiarity, and it avoids shallow cliché by infusing its inevitable tropes with authenticity.
What goes even further toward making his movie resonate with audiences is the heartbreaking sincerity with which he illuminates its core relationship, the fractured bond between mother and son that fuels his protagonist's determination perhaps more than his urge to build a better future. It's here that Pope shines the brightest, though his charismatic blend of strength, vulnerability, and total investment in the character are evident throughout the film. Paired with Union (herself giving an award-worthy supporting turn), he joins her in a delicately shaded emotional dance that captures the sad hopelessness of trying to reconcile the irreconcilable. Though their scenes together take up a comparatively small amount of screen time, their fraught interactions haunt us throughout the film and beyond, evoking a longing within us to see them bridge their divide – and illuminating the heartbreak of countless families splintered due to the homophobia that still persists within the Black community. 
It's this keenly felt understanding of emotional impact that keeps "The Inspection" from falling into the easy sentiment that often turns well-intentioned social issue films into melodramas. By balancing a frank disdain for anti-queer bigotry with unshakable respect and empathy for its problematic maternal figure, Bratton's film puts faces and names on an oft-quoted statistic to make it into something we can feel as a painfully human reality, but never resorts to a "victims and villains" dynamic.
The filmmaker bestows similar largesse on his filmic alter-ego's other oppressors – even the openly hostile drill sergeant (Bokeem Woodbine) determined to sabotage his progress – in his effort to personalize the complex issues he raises. In its microcosmic depiction of military training, the experiences of a diverse handful of recruits – from a long-distance phone argument with a loved one at home, to hazing and humiliation at the hands of their peers, to an unexpected tender moment furtively exchanged in private – all ring a powerful bell of recognition that encourages us to see the human even in those whose choices and behavior seem monstrous to us.
That might be a step too far for viewers with little patience for toxic masculinity or bigotry; faced with Bratton's depiction of the prison-like environment of the camp and the hierarchy of intimidation that fuels its systematic dehumanization process, they might also have a hard time getting on board when "The Inspection" ultimately transcends the brutality of these circumstances to embrace and reinforce them as a pathway to "manhood." His protagonist clings steadfastly to his queer identity with the same determination he applies to his training, and his rite of passage becomes as much about becoming a proud gay man as it does becoming a soldier; he wins the respect of even his most homophobic peers by proving masculinity doesn't have to be toxic. That might feel like an inspiring message to many of us, but for those with their own painful memories of struggling to hide their sexuality during DADT military service, it might feel a bit like an apologist's argument.
Bratton, however, is a skilled and compassionate storyteller, with a clear vision to acknowledge and honor the trauma of the experience he shows us while amplifying the transformation that comes through it. He wisely employs Pope's superb performance to provide his movie's essential core; without a single false note, the actor wins our hearts and inspires us, investing us in the film no matter what qualms we may have about the military's complicated history with LGBTQ inclusion. He's the most compelling reason to see "The Inspection," and more than enough to ensure the most resistant viewers will be drawn in by it — even if they remain unconvinced by its perspective.