Parents of gay athletes say sports brought them closer
Two local families on the powerful bond of competition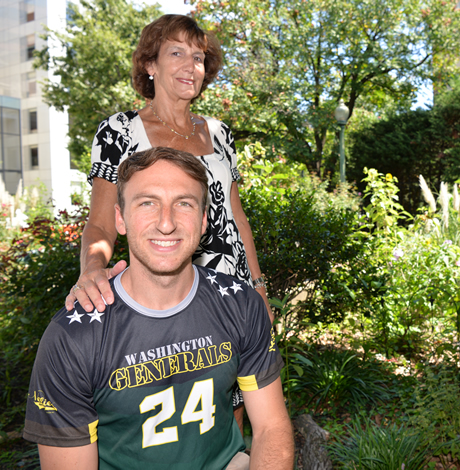 There is a family bond that occurs between parent and child when sports are a part of their everyday life. Between shuttling their children to practices, leagues, local tournaments and travel tournaments, a dynamic emerges for the parents that forms a way of life.
Sharing sports can foster a relationship that continues well into the child's adult years. It's a commonality that revolves around support and spending time together.
What happens when the child comes out as gay and continues to play sports? Does the dynamic change? Is it even still there?
Mark Hofberg grew up in Rockville, Md., and played multiple sports including travel-level basketball, soccer and baseball. He had a gangly phase in high school – growing one foot in a year – that relegated him to running cross country and playing frisbee and basketball recreationally while his body developed.
After coming out in his senior year of high school and growing into his 6'5" frame at the University of Maryland, Hofberg played club frisbee and any intramural sport you can think of from badminton to volleyball. He continued that through graduate school at Maryland.
Since 2012, he has been a part of the LGBT sports community in D.C. playing with the DC Gay Flag Football League, DC Pride Volleyball, Federal Triangles Soccer, DC Sentinels Basketball, Stonewall Kickball and Stonewall Dodgeball. He is in his fifth year of alternating between quarterback and captain for the Washington Generals flag football travel team.
"The LGBT sports community has given me an outlet that I need to play competitive sports," says Hofberg. "I love it, and along with it I have found my best friends."
Hofberg, who works in policy writing and research for an environmental nonprofit, says the person who has always been his biggest supporter is his mother, Margie Hofberg. DC Gay Flag Football is his main sport and wanting to share it with her, he asked if she would attend a game.
"She was very cautious at first, asking if I was sure she should come," Mark Hofberg says. "Football and the league are a huge part of my life and I share everything with her. Why not share my friends?"
Margie Hofberg did indeed start coming to games and is now a regular on the sidelines along with sponsoring one of the teams through her Residential Mortgage Center. As part of her commitment as a sponsor, she runs "How to Buy a House" workshops for the players every season.
"I knew this would happen – she's friends with more people than I am. She even goes to games when I am not there," says Mark Hofberg, laughing. "It's a great way for us to hang out and see each other. My dad, brother and grandfather have also been to games. I love sharing my life with my family."
Margie Hofberg has been there all along, including coaching his youth soccer team and managing his youth baseball team.
"Whatever sport he was in, I was there supporting him and I loved every minute of it," says Margie Hofberg. "The one thing I said when he came out to me was 'I hope you understand you are still having my grandchildren.'"
She decided to become a sponsor of the DC Gay Flag Football League after attending Gay Bowl in Philadelphia in 2014.
"Once I saw what this community was about I wanted to become more involved and I have developed relationships beyond being Mark's mom," Margie Hofberg says. "Here is a group of people who are just like him and I am so glad he has an outlet to meet people. I have seen a different side of Mark emerge."
For the Hofbergs, the sports story continues and it still revolves around support and spending time together. Margie Hofberg's presence on the sidelines hasn't gone unnoticed by the other players.
"I hope that seeing how Mark and I interact has helped motivate other players to start a discussion with their own family and friends," she says. "I am so very proud of all the players in this league."
Soccer has always been John Whitfield's main sport and his father was a coach of his youth soccer team. When he moved on to a traveling club team, both his parents remained involved, coming to practices and games.
In his high school years in his hometown of Marysville, Wash., Whitfield played both school and club soccer and he spent two seasons playing soccer at Wartburg College. When he returned to finish his degree at Western Washington University, he continued in club and intramural soccer.
His parents had traveled to Wartburg in Iowa to see him play and the sports dynamic was still there in his collegiate years. Whitfield came out in the spring of his senior year at Western Washington.
"Soccer was always a part to focus on to separate myself from being gay. I used soccer as an excuse not to date," says John Whitfield. "At my college graduation party, I did it all at once – came out to friends and family. I talked to a lot of people about it that day."
He landed a job with Microsoft where he consults with the Department of Veterans Affairs, and right out of college they moved him to D.C. where Whitfield joined the Federal Triangles Soccer Club.
"My first team was very social and I stopped being afraid that playing with a gay soccer team was a gay thing," John Whitfield says. "My two lives were finally merged together."
Whitfield told his parents about the Federal Triangles and says they were intrigued and pleased that he was playing and meeting people. On their visits to D.C., both Debbie and Don Whitfield have attended their son's soccer matches.
Whitfield has traveled with his team to the Gay Games and a tournament in New York. In 2016, he traveled with the Federal Triangles to the International Gay and Lesbian Football Association World Championships in Portland.
Sitting in the stands were his parents, his partner Hank, and his sister and her boyfriend. They had driven more than four hours to watch John compete. The final was played in the Portland Timbers Stadium and the Federal Triangles went on to win the world title.
"They have always been there to support me," says John Whitfield. "Having them there to watch me play in that (MLS) stadium with my team was incredible."
John Whitfield has two older sisters who also played soccer and their father Don was involved early on, recognizing the value in sports.
"Participating in athletics is a good learning experience for life in general," says Don Whitfield. "When I was coaching them, it was also a good family experience. It has always been just a joy to watch my kids play."
John advanced to the premier league at age 11 and the family experiences continued going from state to state for regional tournaments. Watching his son play continued during John's college years.
Don Whitfield says he didn't know that there were gay sports communities but that he is glad that they exist.
"I had seen him play in some big stadiums before Portland but it was very fun to watch him there playing at a competitive level. He is such a tough player," Don Whitfield says. "I also enjoyed hanging out with his team afterwards when we went out for beers."
The Whitfield family sports story remains strong and despite living on separate coasts, they continue to see each other on a regular basis.
"Before he came out, I could never put my finger on the tension because I didn't have the tools to figure it out. Our relationship has improved dramatically because the fear is gone," says Don Whitfield. "John is much more relaxed and my wife and I will always continue to be supportive."
Formula One racing star wears LGBTQ Pride helmet at Qatar Grand Prix
"It's down to whether you decide to educate yourself, hold the sport more accountable and make sure the sport is actually doing something"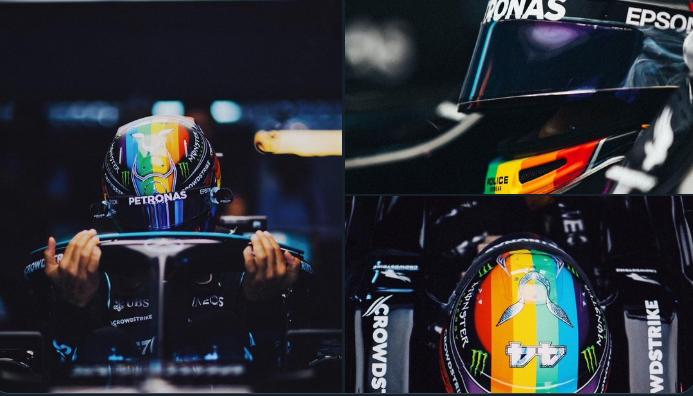 DOHA, Qatar – Mercedes-AMG Petronas Formula One Team's seven time Grand Prix champion driver Lewis Hamilton won in the inaugural run of the Qatar Grand Prix Formula One race Sunday.
That was not the only significant event that the 36-year-old race car driver participated in during his Qatar stay as prior to the race, Hamilton had shown support for the LGBTQ+ community during a practice session on Friday, wearing a a helmet featuring the Pride Progress Flag, a redesigned and more inclusive version of the traditional rainbow flag, and emblazoned with the words "We Stand Together."
The flag features additional black and brown stripes to highlight the oppression of people of color, as well as pink and blue stripes for the trans flag and a purple circle on a yellow background, which is the intersex flag.
On his personal Twitter account the Formula One racer tweeted pictures of his helmet, which he wore at the end of Trans Awareness Week and this weekend which marks the International Transgender Day of Remembrance on Saturday.
We stand together. pic.twitter.com/F3hKZwVLyN

— Lewis Hamilton (@LewisHamilton) November 19, 2021
Hamilton had received a knighthood from the British monarch Queen Elizabeth II in December a year ago for his human rights and advocacy work with his private charity, The Hamilton Commission, which the Stevenage, Hertfordshire, UK native set-up to simultaneously address the underrepresentation of Black people in UK motorsport, as well as the STEM sector.
The queen's honors are awarded twice a year, in late December and in June, when the monarch's birthday is observed. The awards acknowledge hundreds of people for services to community or British national life. Recipients are selected by committees of civil servants from nominations made by the government and the public.
In an interview with the Guardian, Hamilton said that he believes "sportspeople are duty bound to speak out on human rights matters in the countries they visit. With Qatar hosting its first Formula One Grand Prix this weekend and facing new allegations of worker exploitation and abuse in its preparations for next year's football World Cup, Hamilton insisted he would hold the sport to account for the places it chooses to race."
Prior to the debut of the Qatar Formula One race and with the 2022 FIFA World Cup matches slated for 2022 in Qatar, focus once more fell on human rights issues. The Guardian reported that workers within the state have claimed that reforms to the country's restrictive kafala labour sponsorship system have been ineffective while human rights groups continue to highlight oppressive male guardianship policies as well as discriminatory laws against women and LGBTQ+ individuals.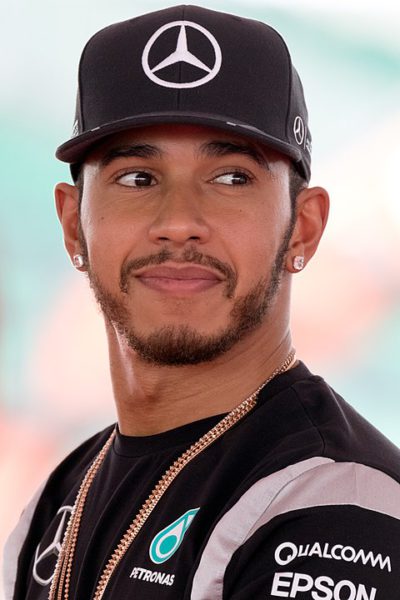 "We're aware there are issues in these places that we're going to," Hamilton told the Guardian. "But of course [Qatar] seems to be deemed as one of the worst in this part of the world. As sports go to these places, they are duty bound to raise awareness for these issues. These places need scrutiny. Equal rights is a serious issue."
He added: "If we are coming to these places, we need to be raising the profile of the situation. One person can only make a certain amount of small difference but collectively we can have a bigger impact. Do I wish that more sportsmen and women spoke out on these issues? Yes.
"It's down to whether you decide to educate yourself and hold the sport more accountable and make sure the sport is actually doing something when they go to those places."
CNN reported that British intersex activist and columnist Valentino Vecchietti finalized the version seen on Hamilton's helmet, which includes the intersex flag. "It means everything," Vecchietti told CNN. "I can't express what an amazing, massive, massive thing Lewis Hamilton has done. And I feel emotional talking about it, because we are so hidden and stigmatized as a population."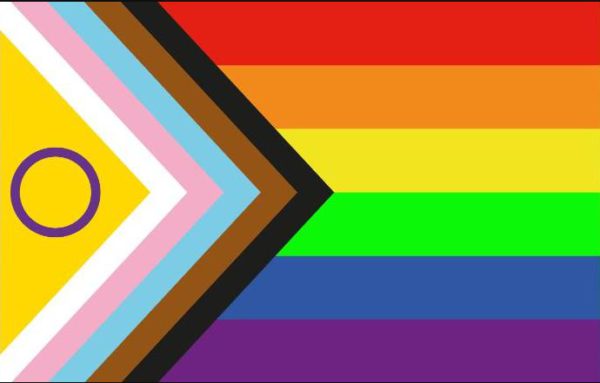 International Olympic Committee issues new "Framework On Fairness" for inclusion of Trans Athletes
The International Olympic Committee announced new guidance allowing "every person" to participate & abandons testosterone levels as criteria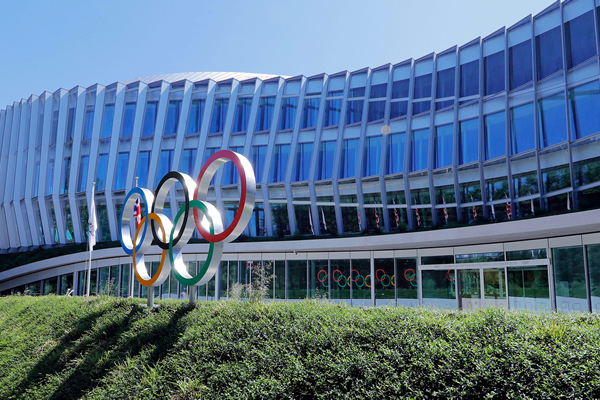 LAUSANNE, Switzerland – Following the first Olympic Games in which transgender athletes not only competed but made history by winning a gold medal, the International Olympic Committee stunned the world of sport Tuesday by not revising the criteria focused on testosterone, as expected, but moving away from it altogether.
The IOC announced its new Framework on Fairness, Inclusion and Non-Discrimination on the Basis of Gender Identity and Sex Variations in a Zoom meeting hosted in Lausanne, Switzerland.
The leaders said they consulted with 250 athletes and "concerned stakeholders" including medical and legal experts over two years, and determined "every person has the right to practice sport without discrimination and in a way that respects their health, safety and dignity." While stressing that competitive sports "relies on a level playing field," the IOC tacitly acknowledged the complaints of trans-exclusionary cisgender women athletes by stating support for "the central role that eligibility criteria play in ensuring fairness, particularly in high-level organized sport in the women's category."
GLAAD heralded the announcement as making it clear that "no athlete has an inherent advantage over another due to their gender identity, sex variations, or appearance."
"This is a victory for all athletes and fans, who know the power and potential of sports to bring people together and make us all stronger," said Alex Schmider of GLAAD. "Sports are for everyone, and fairness in sports means inclusion, belonging and safety for all who want to participate, including transgender, intersex, and nonbinary athletes."
What the IOC didn't do was issue new criteria for testosterone levels and did not define who is or isn't a woman, and for the first time in modern Olympic history, is walking away from its "one size fits all" guidance. It'll be left up to each sport and governing body to determine who is eligible to compete. The IOC guidance is that the criteria should respect internationally recognized human rights, rely on robust scientific evidence as well as athlete consultation, and that "precautions be taken to avoid causing harm to the health and well-being of athletes."
Although intended to guide elite athletes, the committee suggested all levels of sport, even recreational and grassroots sport, respect inclusion and non-discrimination policies.
Here are the 10 principles outlined by the IOC to to welcome all athletes at every level of participation, centered on the values of inclusion, prevention of harm and non-discrimination.
1. Inclusion
2. Prevention of Harm
3. Non-discrimination
4. Fairness
5. No presumption of Advantage
6. Evidence-based Approach
7. Primacy of Health and Bodily Autonomy
8. Stakeholder-Centered Approach
9. Right to Privacy
10. Periodic Reviews
Athlete Ally was one of the agencies consulted by the IOC in determining this framework. "We hope to continue working closely with the IOC to ensure that the policies and practices governing sport actually include and represent the diversity of people playing sport," said Anne Lieberman, Director of Policy and Programs at Athlete Ally.
"Far too often, sport policy does not reflect the lived experience of marginalized athletes, and that's especially true when it comes to transgender athletes and athletes with sex variations," said Quinn of Canada's Olympic Soccer team and the world's first trans nonbinary gold medalist. "This new IOC framework is groundbreaking in the way that it reflects what we know to be true — that athletes like me and my peers participate in sports without any inherent advantage, and that our humanity deserves to be respected."
"I think that the IOC has made a powerful statement in favor of transgender inclusion, but I think that items 5 and 6 in their framework are problematic," said Joanna Harper, the visiting fellow for transgender athletic performance at Loughborough University in the U.K. and a former IOC consultant.
"On average, transgender women are taller, bigger and stronger than cisgender women and these are advantages in many sports," Harper told the Los Angeles Blade. "It is also unreasonable to ask sporting federations to have robust, peer-reviewed research prior to placing any restrictions on transgender athletes in elite sports. Such research is years or maybe decades away from completion. I do think that recreational sports should allow unrestricted inclusion of trans athletes."
As San Francisco-based trans journalist Ina Fried noted in Axios, the IOC said that sex testing, genital inspections and other medical procedures to determine gender put all athletes at risk of harm and abuse, not just trans, intersex and nonbinary athletes. But the bottom line, Fried wrote, is that this new framework isn't legally binding on any sports governing bodies, which now have carte blanche to write their own rules for eligibility.
Proud to be a Fury
New film a touching tribute to the history of women's rugby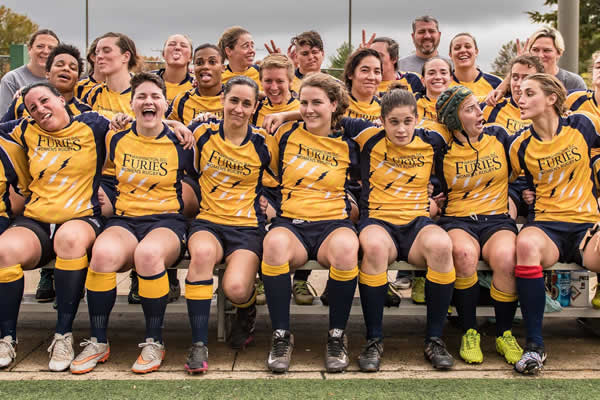 The last time that the Blade checked in with DC Furies player Liz Linstrom, she mentioned that she would always contribute to the club even if injuries sidelined her ability to play.
That statement proved to be prophetic as Linstrom experienced her third ACL tear while in the beginnings of filming a documentary about the Furies.
Linstrom had created a short documentary on women's rugby and femininity as an undergraduate student at William & Mary and the itch was still there to produce more creative work.
Even though she was working three jobs and playing with the Furies, she felt she had enough work flexibility to pitch a documentary to the club in the fall of 2019.
The original idea was a past, present, and future look at women's rugby in the United States through the lens of the players.
Established in 1978, the Furies quickly developed into a highly competitive club, and they are currently competing in the Mid-Atlantic Rugby Union and the Capital Geographic Union, with both Division 1 and Division 3 teams.
In March of 2020, the Furies were ramping up to host their 40th annual Ruggerfest tournament, one of the largest all-women's rugby tournaments in the United States with brackets including high school, college, social, and competitive clubs.
Then the unexpected happened.
"COVID hit, the tournament was cancelled, and filming of the documentary came to an abrupt stop," says Linstrom. "The story shifted to the resilience of women and club sports in a way that professional and semi-professional sports teams can't relate."
The resulting film, "Furious," is a touching tribute to the history of women's rugby, women's rights, the Furies, tradition, family, and maneuvering through COVID.
Four gay women are central figures in the film with one being married and another nonbinary. The players share what women's rugby was like in the 1970s.
"The beginnings of women's rugby in the United States coincided with Title IX in 1972. As a sport in its early beginnings, teams couldn't afford to push people away. If you wanted to hit someone, you were on the team," Linstrom says. "By the 1990s, the women's rugby community was advocating for LGBTQ rights and the Furies had Candace Gingrich as a long-time player. Eighty percent of the team were lesbians."
Other aspects of women's rugby that are brought to light are the camaraderie, commitment, sense of family, and the queer elements of the community.
One Fury player breaks her nose 20 minutes into a match, shoves a tampon up her nose, and goes back in as a blood substitution. Another player breaks her wrist and carpools five hours the next day to North Carolina to support her team during a game.
Toward the end of the film, Linstrom addresses the impact of COVID on a club team such as the Furies. Some are concerned about coming back to play and wonder whether the excitement will still be there. Others think about trying to replace the players who are leaving the D.C. area.
"Nothing will keep us from getting together. We are not pro athletes, but the highest levels of women's rugby in the United States is still club teams," says Linstrom. "The legacy of the club is very important to all of us. Every time we step onto the pitch, we are standing on the shoulders of the players who came before us. They are our founding bricks."
"Furious" premiered online in September for family, friends, and Furies players with viewership in 15 states. Linstrom funded the project as producer and director along with a grant from Arlington Cultural Affairs. The film will now be submitted to festivals to reach a larger audience.
Linstrom has moved on from her three part-time jobs and is now working full-time as a video editor at a production studio in Alexandria along with coaching rugby at American University.
The Furies were able to play sevens rugby over the summer and had the first game of their fall fifteens season on Sept. 25.