D.C. Jane premieres
New women's nightlife event debuts this weekend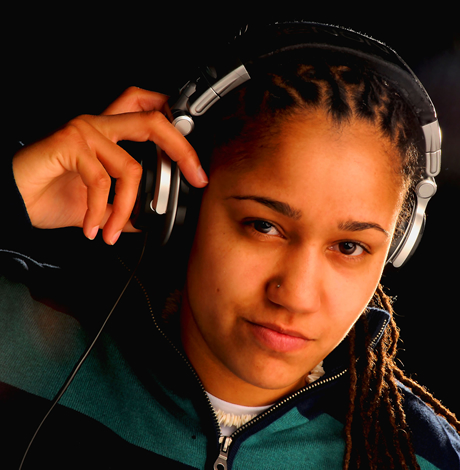 In a city with plenty of bar and club options for straight nightlife, party promoter Bruce Yelk is hoping to give the LGBT community parties that appeal to a variety of tastes.
Yelk, whose late-night Distrkt C parties have become a staple at the D.C. Eagle (3701 Benning Rd., N.E.), is expanding into the lesbian market with his new women's party, D.C. Jane.
Every fourth Friday of the month, the D.C. Eagle will be taken over by a large-scale women's party. D.C. Jane kicks off Friday, Sept. 22 from 9 p.m.-3:30 a.m. featuring music from D.C.'s own, DJ Rosie. Tickets are $30 and include an open bar from 9-10:30 p.m. All ticket proceeds from the Sept. 22 event will benefit Capital Pride.
While the party is still in its infancy, Yelk says, "The concept is to be a Distrkt C version for women." He hopes that D.C.'s lesbian community will consider D.C. Jane a contender in women's parties.
"I think that the women would like some more options," Yelk says. "I'm just hoping that I tap into what they're looking for. That's for the gay market too. There's always room to look for more things to do."
DJ Rosie agrees.
"D.C. Jane brings something new to the women's scene with an open bar and fresh new venue," she says. "The best part is that it allows women and their friends and allies to party while also giving back to our community."
Yelk's party promoter expertise was put to the test when organizing D.C. Jane as he wasn't as experienced in women's parties as parties for men.
"This is a much bigger beast for me. I'm much more outside my comfort zone," Yelk says.
Yelk hosting parties at the D.C. Eagle may seem a little out of the way for people to venture, but he hopes the large venue will attract women who want to experience a party on a bigger scale.
D.C. Jane isn't the only party Yelk has planned to take over the D.C. Eagle this fall.
"All the new events that I'm doing at the D.C. Eagle are tapping into specific niche markets, breaking the gay market down a little bit more," Yelk says.
While Distrkt C parties are every second Saturday of the month, partygoers don't have to wait weeks to attend. Yelk's new events keep the fun going all month long,
These premiere events include Alto Voltaje, a gay men's Latin-themed party, which will be every fourth Saturday of the month. One was scheduled for this weekend but was postponed due to Hurricane Maria. It's rescheduled for Dec. 9. Instead, a bonus Distrkt C party will be held on Saturday, Sept 23 at the Eagle with DJ X Gonazlez.
The next one is Saturday, Sept. 23 from 9 p.m.-4 a.m featuring tunes from DJ Ed Wood. The party will also include an open bar from 9-10:30 p.m.
The 5th Retrograde, a party on fifth Saturdays of the month, is on Saturday, Sept. 30 from 9 p.m.-4 a.m. Legendary DJ Billy Carroll will spin a mix of current music, classics and disco. Well and domestic bottle drink specials are $4 and run from 9-11 p.m.
DC2, which takes place on Sundays of holiday weekends, debuted this year. It continues on Sunday, Oct. 8 from 10 p.m.-4 a.m. Nina Flowers will get the crowd jumping and an open bar from 10-11 p.m. will keep the party going.
Online advanced tickets for these events are $25. Tickets are $30 at the door before midnight and $40 after midnight.
For more information, visit distrktc.com.
Disco Funk Brunch at Crazy Aunt Helen's
Tara Hoot and DJ Phil Reese perform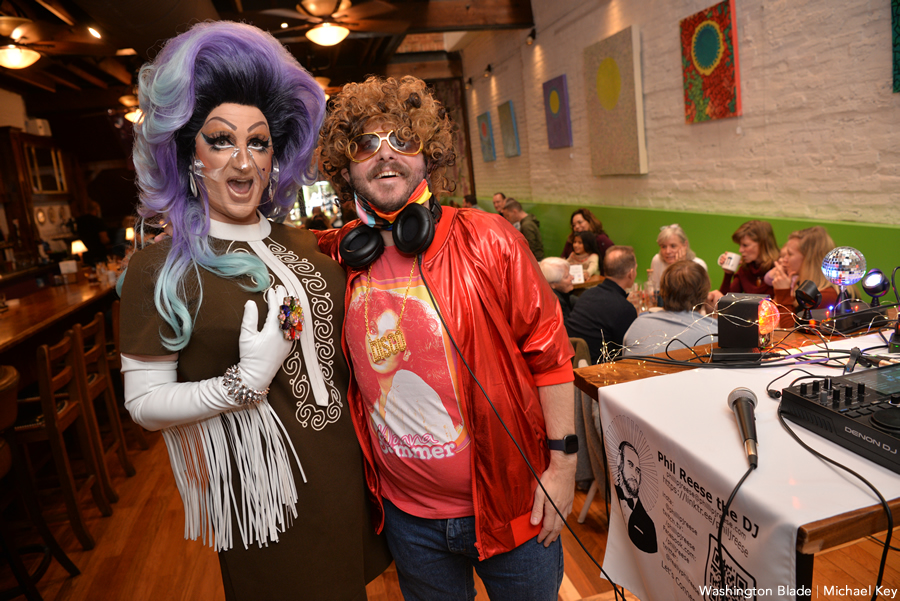 Drag queen Tara Hoot and DJ Phil Reese perform at the biweekly Disco Funk Brunch at the LGBT-owned Crazy Aunt Helen's on Sunday. For future showtimes, go to crazyaunthelens.com. (Blade photo by Michael Key)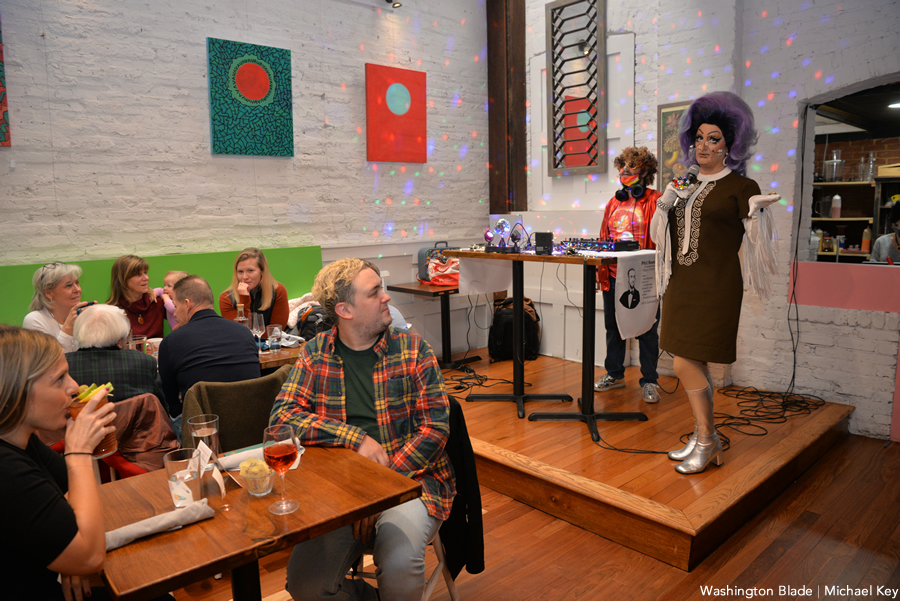 Blade's summer closing party set for Sept. 17 in Rehoboth
Benefits journalism scholarship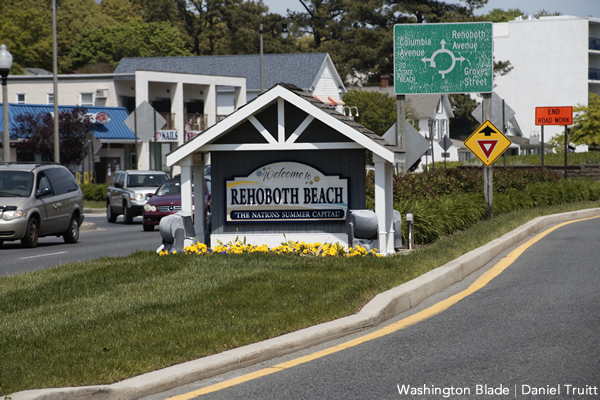 The Washington Blade's 15-year tradition of hosting a summer kickoff party in Rehoboth Beach was disrupted due to COVID restrictions. In lieu of that May event, the Blade is hosting a summer closing party on Friday, Sept. 17 at 6 p.m. at The Pines (56 Baltimore Ave., Rehoboth Beach, Del.).
Tickets are $20, which includes two drinks and appetizers. The event benefits the Blade Foundation's Steve Elkins Memorial Journalism Fellowship, a 12-week program in which an LGBTQ student journalist covers stories of interest to Delaware's queer community each summer.
All COVID safety protocols will be followed, including a requirement that attendees furnish proof of vaccination to gain entry.
If you are unable to attend you can make a donation to the Blade Foundation at BladeFoundation.org. Sponsors of the event include Delmarva Power and The Pines.
Rehoboth to close out summer with SunFest
Series of events to replace long-running Sundance due to pandemic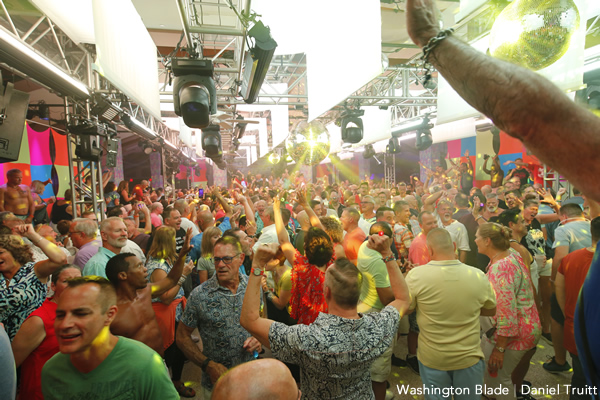 SunFest will feature a week of live performances, dances, and a live auction, sponsored by non-profit LGBTQ+ center CAMP Rehoboth.
The weeklong festival runs from Aug. 29 to Sept. 5 and is a change from the annual SunDance that CAMP Rehoboth has sponsored since 1988. This transformation began last year when the event was forced to go digital due to the coronavirus and the in-person events scheduled this year are important, according to development director and co-coordinator of SunFest Anita Broccolino.
"We love that community feel and the in-person makes all the difference in the world for us. Not being able to do it last year just reminded everyone how important we all are to one another," Broccolino said. "I think that bringing back these events this year is just huge for us and it will be extra celebratory as a result."
The festival begins with a 5k race and online auction opening on Sunday. Monday night features a give-back event at Iron Hill Brewery while Tuesday's agenda is still to be determined, said Broccolino. Diego's will host a Studio 54 give-back dance party on Wednesday and Thursday is the Port 251 women's give-back.
Live performances featuring the Skivvies, Randy Harrison and Diane Huey are scheduled for Friday night and Jennifer Holiday will follow with a performance on Saturday night, both at the Rehoboth Beach Convention Center. The festival closes out Sunday with auction pick-ups and Fun in the Sand and Sun, according to the CAMP Rehoboth website.
This event is also important to the organization's contributions to the community, said Broccolino.
"The essential services we provide for free to the community, which is a huge amount of health and wellness activities, as well as arts programming, a lot of youth programming and the community counts on us for those things. We never stopped during COVID, we made as much as we could virtual, but we took quite a hit not being able to raise those funds and awareness of the programs," Broccolino said. "We invite the entire community to come celebrate with us and make it to Rehoboth Beach, and let's make it joyful, and wonderful and make sure we're living up to the standards of all the people who helped found CAMP Rehoboth and live up to their legacy and beyond."