Booze and boos
The Zoo, Distrkt C, Synetic among main Halloween area events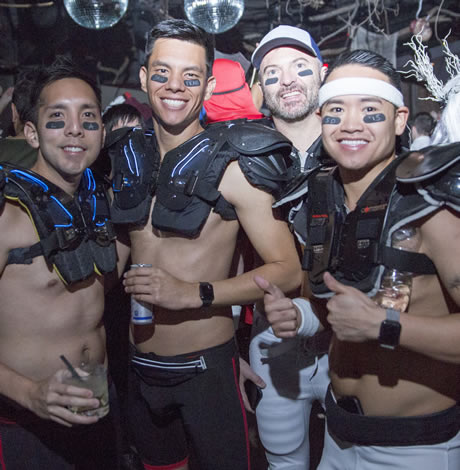 With Halloween falling mid-week this year, all the big partying is this weekend. Here are some regional highlights, many with a gay twist.
Friday, Oct. 27
Camp Variety Cabaret presents the "Scary Tales: A Grimm Night of Burlesque" tonight at 8 p.m. Burlesque and variety performers will bring to life Washington's scary fairy tales. Performers include Ophelia Zayna Hart, Danny Cavalier, Queen Nefertittie, Ginger Jameson, Delilah Dentata (Rocky), Cherie Sweetbottom, Carlita Caliente, Phoenix King. Buster Britches hosts the show. Zamora the Torture King will be the special guest.Tickets are $15 in advance and $17 at the door. Doors open at 8 p.m. For more details, search "Camp Variety Cabaret" on Facebook.
Night of the Living Zoo is at Smithsonian's National Zoo (3001 Connecticut Ave., N.W.) tonight from 6:30-10 p.m. There will be live entertainment, performance artists, a bar and food trucks. There will also be a costume contest, rides on the Speedwell Conservation Carousel and snowless tubing. Guests will receive after-hours access to the Small Mammal House, Reptile Discovery Center and Great Cats Circle. General admission tickets are $30 for members of FONZ and $40 for non-members. It includes two drink tickets and complimentary soda and water. VIP tickets are $65 for FONZ members and $90 for non-members. It includes three drink tickets, VIP express check-in, a souvenir tumbler, one ticket for snowless tubing, private access to the VIP bar and lounge, complimentary food tastings, animal demonstrations and a private dance party. For more details, visit national zoo.si.edu/events/night-living-zoo.
D.C. Bear Crue hosts its annual Halloween contest at Town (2009 8th St., N.W.) tonight from 6-11 p.m. Prizes include drink tickets and bottles of alcohol. Line up starts at 9 p.m. and contest starts at 9:30 p.m. For more information, visit facebook.com/bearhappyhour.
Town (2009 8th St., N.W.) hosts Stranger Queens Halloween Party, for guests 18 and older, tonight at 10 p.m. Drag show starts at 10:30 p.m. GoGo boys perform after 11 p.m. DJ West and DJ Back2back will play music. There will be a costume contest at midnight with cash prizes of $500, $250 and $150. Cover is $15.
Burlesque-a-pades presents a two-night Halloween show featuring Angie Pontani, the Main Attraction, Mr. Gorgeous, Ginger Leigh, Cherry Bomb, Peek-a-Boo Revue and Rosalee Sweet and other special guests. Albert Cadabra hosts. The show will take place at the Creative Alliance (3134 Eastern Ave., Baltimore, Md.) tonight at 8 p.m. Tickets are $25. On Saturday, Oct. 28  at 7 p.m., the show takes place at Rams Head On-Stage (33 West St., Annapolis, Md.). Tickets are $22.50. For more information, visit creativealliance.org and ramsheadonstage.com.
Synetic Theater (1800 S Bell St., Arlington, Va.) hosts its 11th annual Vampire's Ball tonight at 8 p.m. The party will follow the theater's performance of "Peter Pan." There will be an open bar and costume content. DJ Konstantine Lortkipandidze will play music. Tickets include the 8 p.m. performance of "Peter Pan." Tickets range from $25-75.
Saturday, Oct. 28
Ghosttown, Town's 21-and-over Halloween party, is tonight at 10 p.m. There will be a costume contest at midnight with $1,000, $500 and $250 cash prizes. DJ Ed Bailey and DJ West will play music. Drag show starts at 10:30 p.m. Cover is $15. For more details, visit towndc.com.
Synetic Theater hosts its new Pirate's Ball, a family friendly party, today at 2 p.m. Tickets include the 2 p.m. performance of "Peter Pan," family activities, light appetizers and a meet-and-greet with some of the cast. Guests are encouraged to come in costume and to bring a trick-or-treat bag. Tickets range from $50-70. For more details, visit synetictheater.org.
Black Cat (1811 14th St., N.W.) hosts Eighties Mayhem: '80s Halloween Dance Party tonight at 9 p.m. DJ Missguided, DJ Steve EP and DJ Killa K will spin tracks. Costumes are encouraged. Cover is $15. For more details, blackcatdc.com.
Mamajuana Edibles hosts "Tree or Treat," a Halloween cannabis event, today from noon-4 p.m. Costumes are encouraged but not required. There will be music, vendors, special edition edibles and more. Smoking is permitted. A $5 donation is required. The address will be given with RSVP. For more information, visit facebook.com/mamuanaedibles.
Uproar Lounge and Restaurant (639 Florida Ave., N.W.) hosts House of Horror Costume Party tonight from 9 p.m.-2 a.m. The party is open theme and all costume types are allowed. For more details, visit facebook.com/uproarloungedc.
Skintight USA hosts Hot Horror Halloween at Green Lantern (1335 Green Ct., N.W.) tonight from 8 p.m.- 2 a.m. There will be a costume contest and raffle with $1,000 in prizes including porn, comics, toys and games. Shirley U. Jest will perform. DJ David Merrill will spin tracks. Tickets are $10 at the door. For more information, visit facebook.com/skintightusa.
Distrkt C hosts Warlock, a Halloween party, at the D.C. Eagle (3701 Benning Rd., N.E.) tonight from 10 p.m.-6 a.m. DJ Josh Whitaker will play an extended set. There will be a midnight costume contest with a $250 prize. Tickets are $25. For more details, visit distrktc.com.
Lindy Promotions hosts its 19th annual Nightmare on M Street bar crawl today from 2-8 p.m. There will be costume contests, prizes and drink specials. Participating bars are Barcode, the Big Hunt, Blackfinn, Decades, Dirty Bar, Dirty Martini, The Gryphon, Public Bar and D.C. Taphouse. Tickets range from $10-20. For more information, visit lindypromo.com.
Sunday, Oct. 29
Flash hosts a Halloween edition of Flashy After Hours this morning from 3:30-9 a.m. Tickets are $30. Guests with a wristband to the Cherry Fund party at Cobalt will receive $5 off. DJ Sean Morris and DJ Twin will play music. For more information, visit facebook.com/flashydc.
Tuesday, Oct. 31
D.C. Gaymers host a Halloween party at Cobalt (1639 R St., N.W.) tonight from 7-10 p.m. The group will be playing classic games like "Smash Bros.," "Mario Kart," "Tekken," "Pokken Tournament" and more. The game "Resident Evil" will also be screened. There will be a raffle for prizes and a costume contest with a grand prize of $500. For more details, visit facebook.com/dcgaymers.
D.C. Front Runners hosts a Halloween-themed run kicking off at Union Station (50 Massachusetts Ave., N.E.) tonight from 7-9 p.m. Costumes are encouraged. For more details, search "D.C. Front Runners" on Facebook.
PHOTOS: Caroline County Pride
'Carnival Adventure' LGBTQ celebration held in Denton, Md.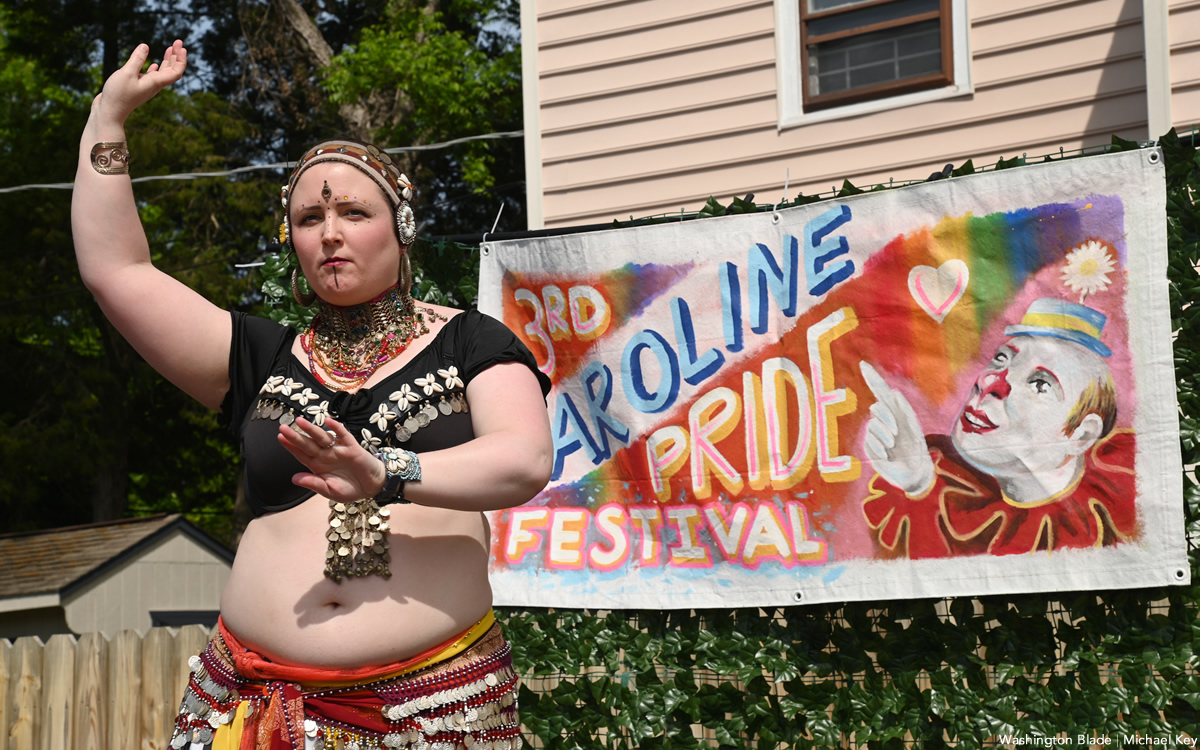 The third Caroline County Pride Festival, "A Carnival Adventure," was held in downtown Denton, Md. on Saturday, May 27.
(Washington Blade photos by Michael Key)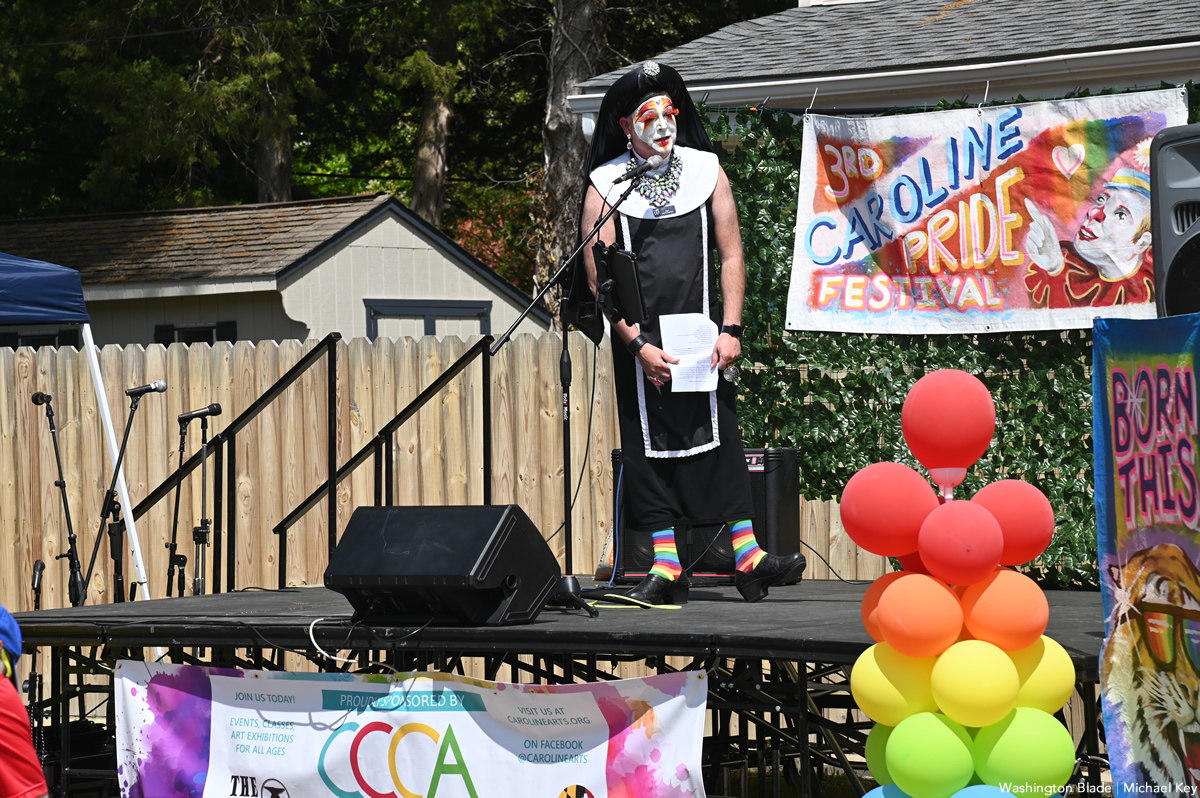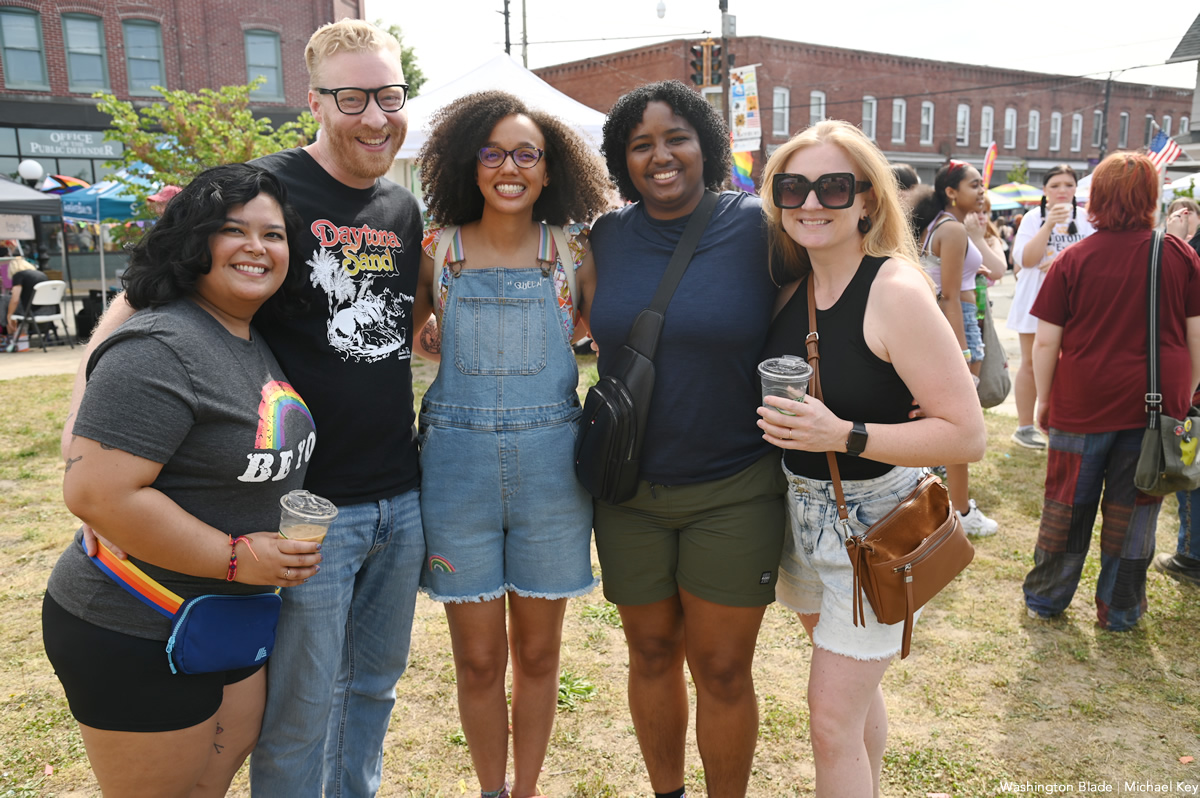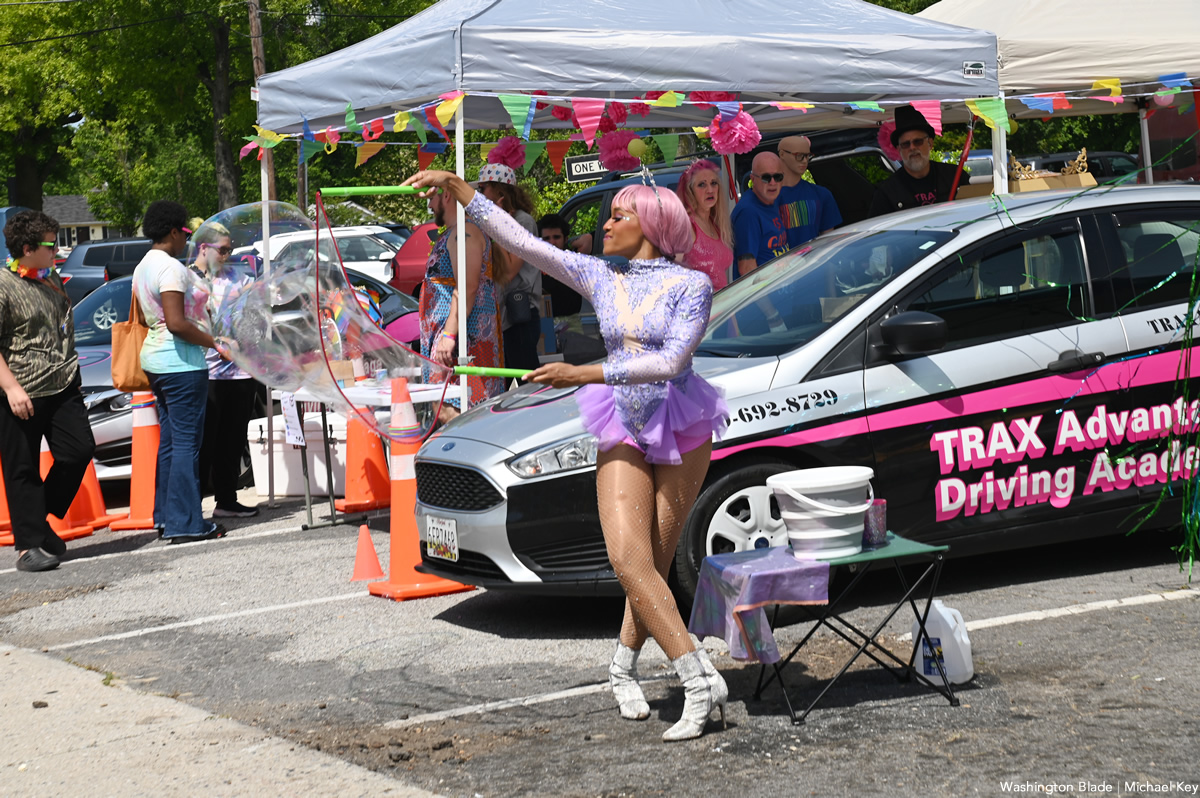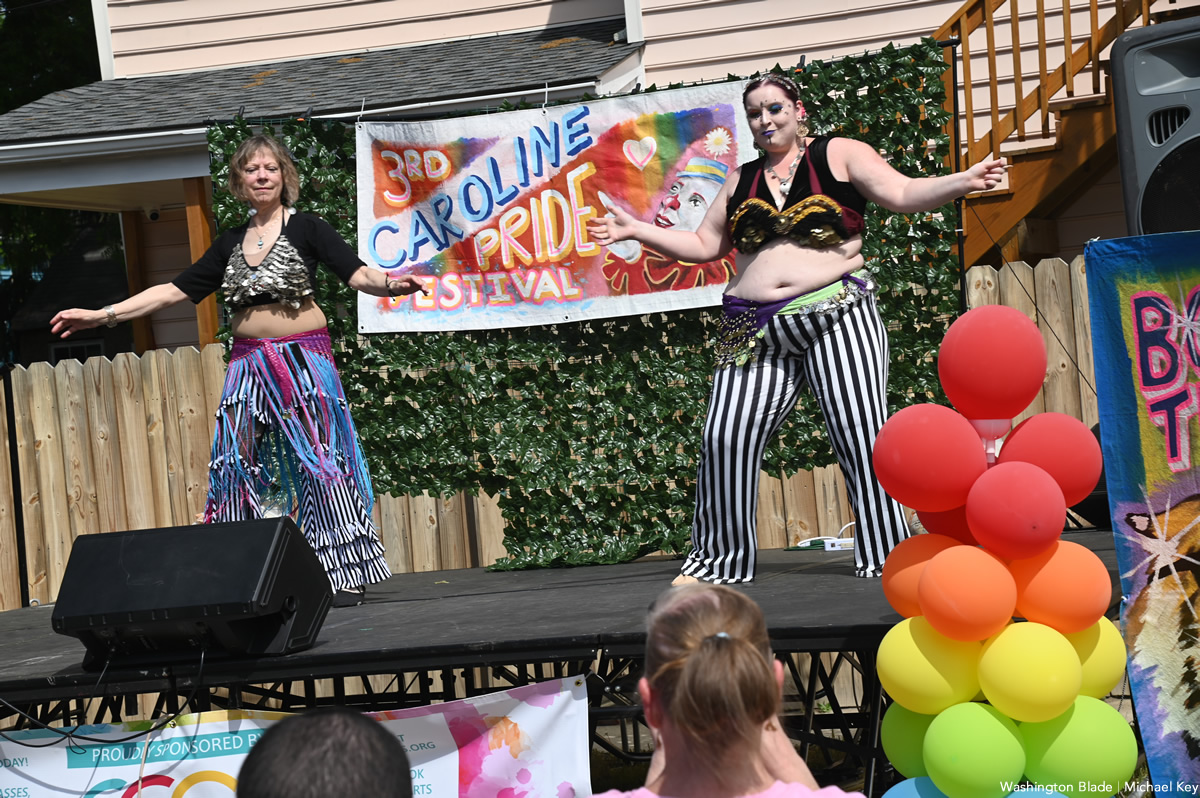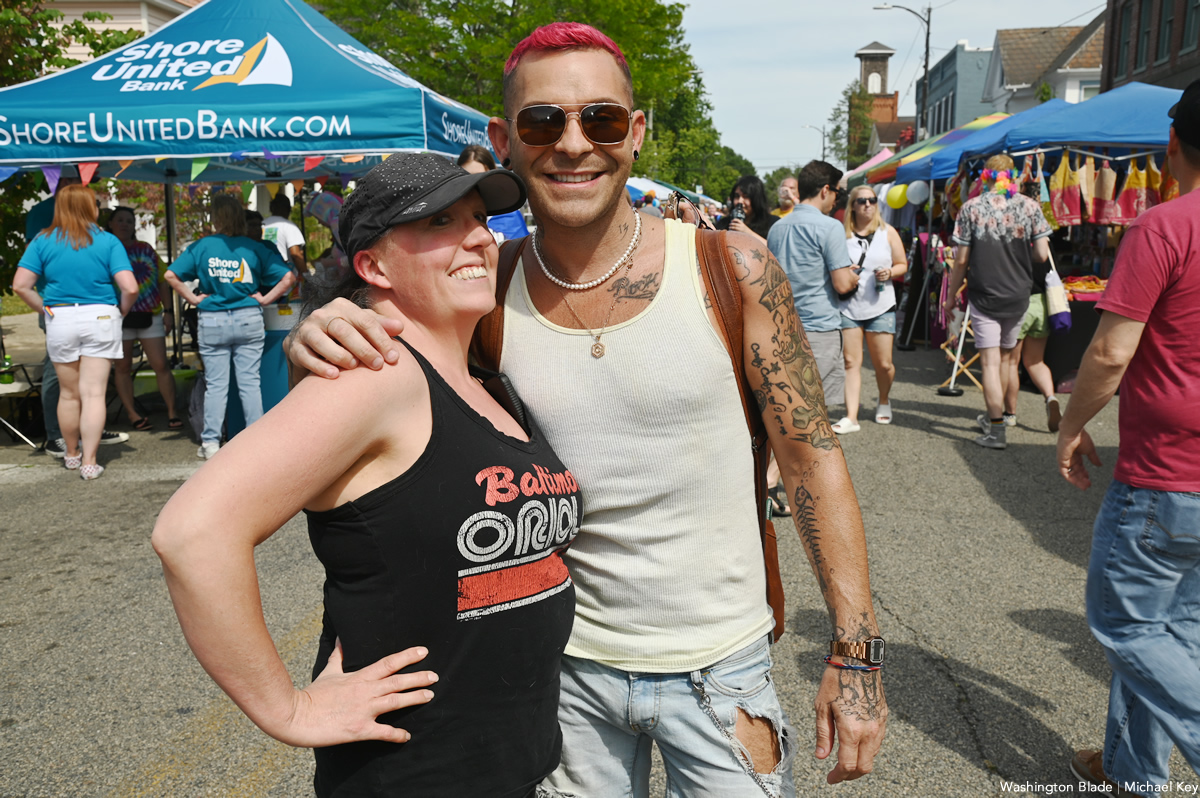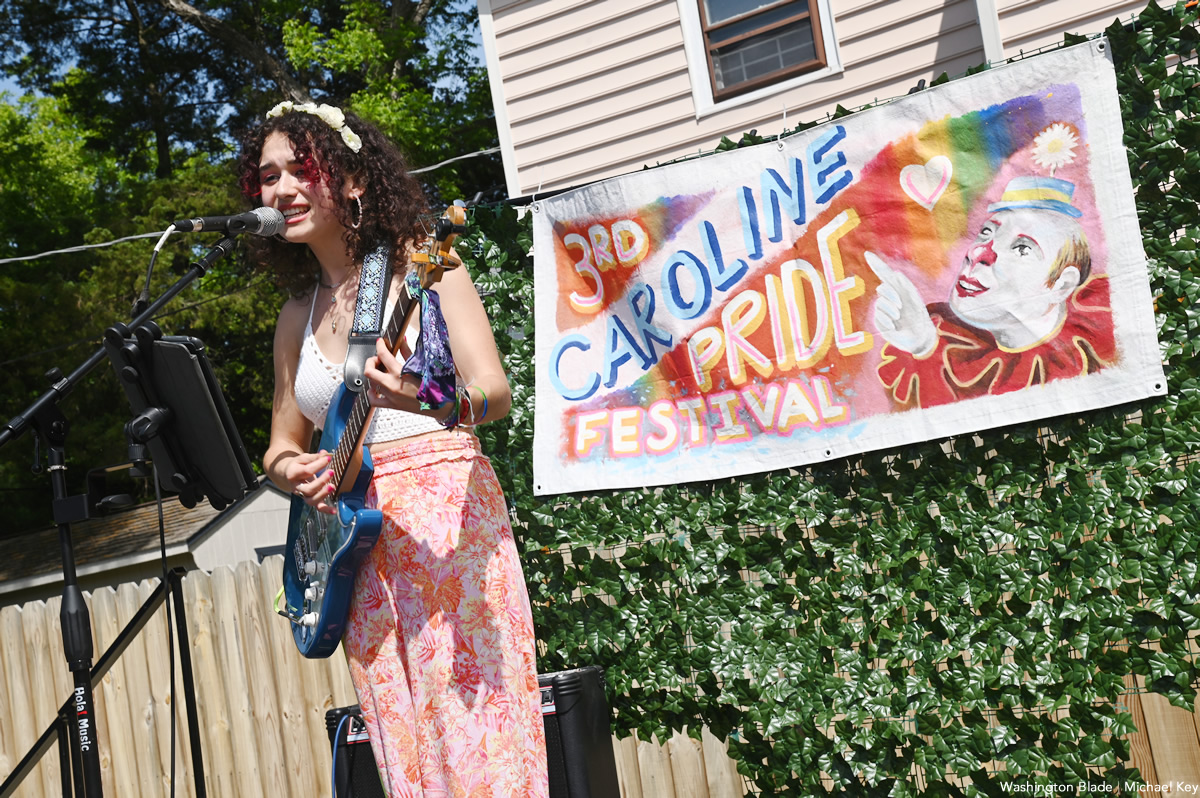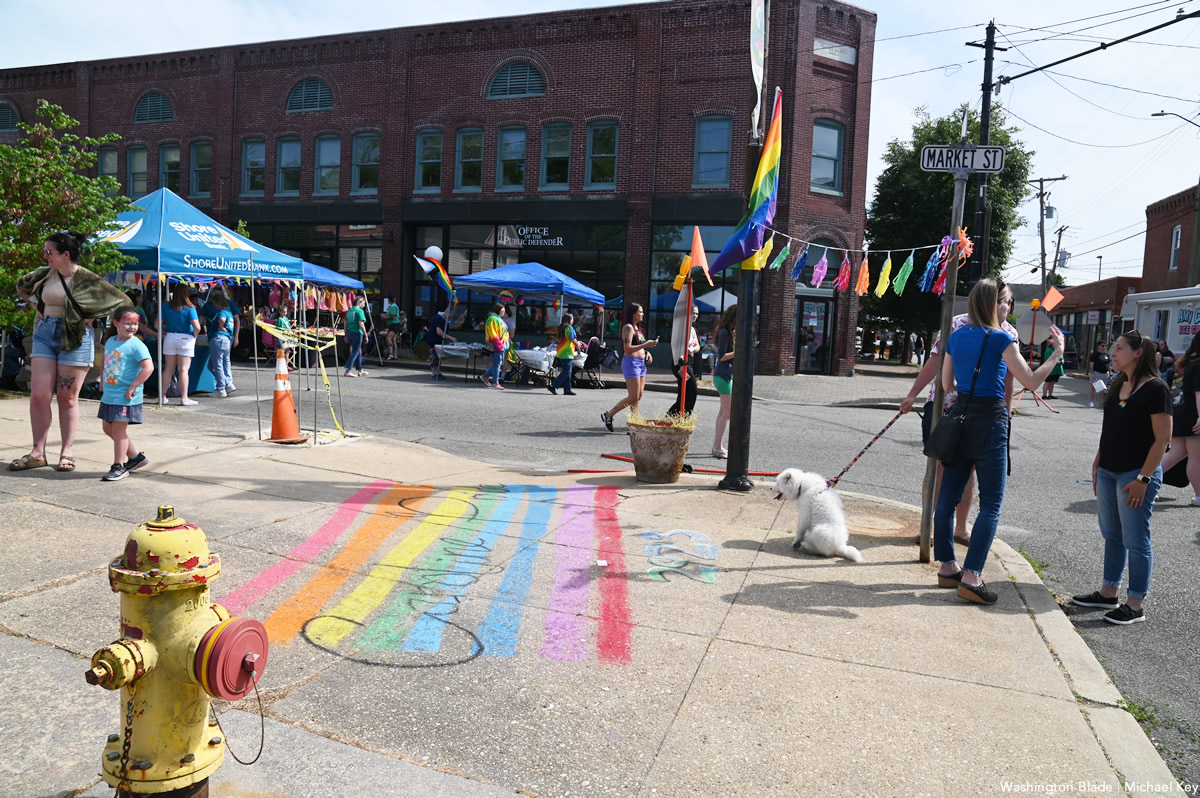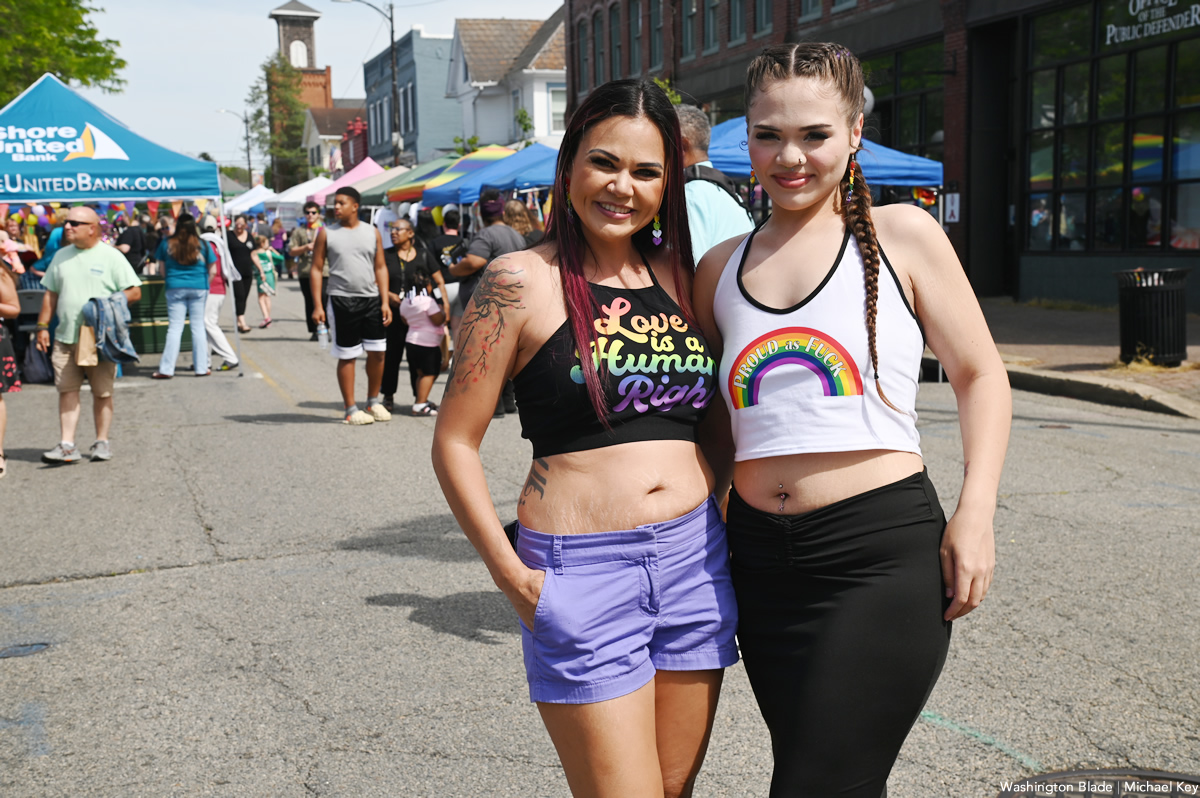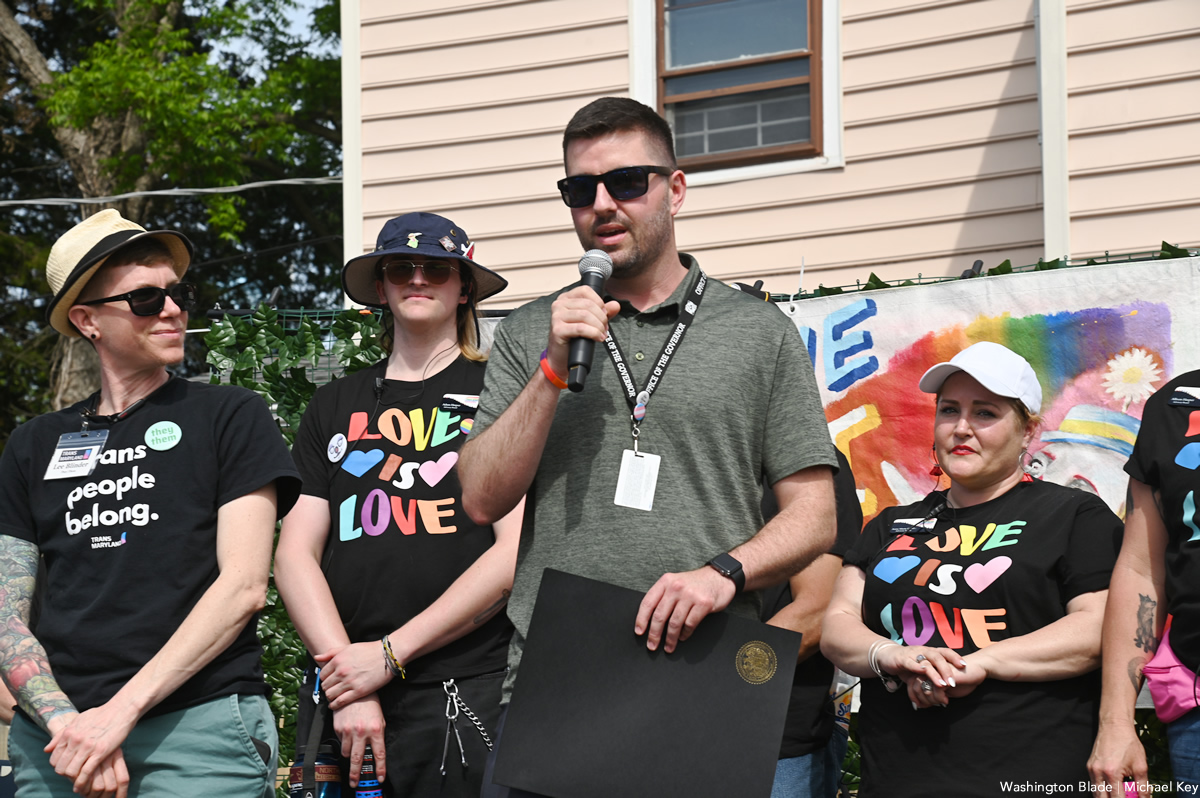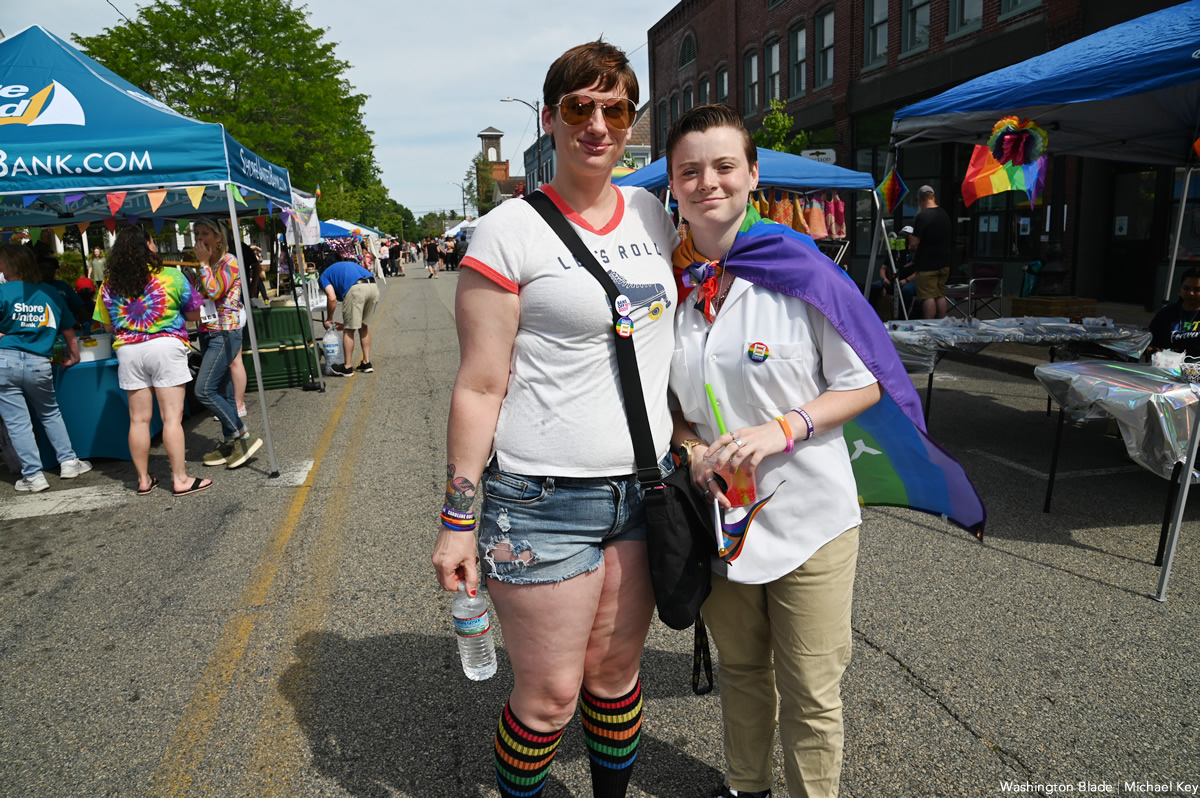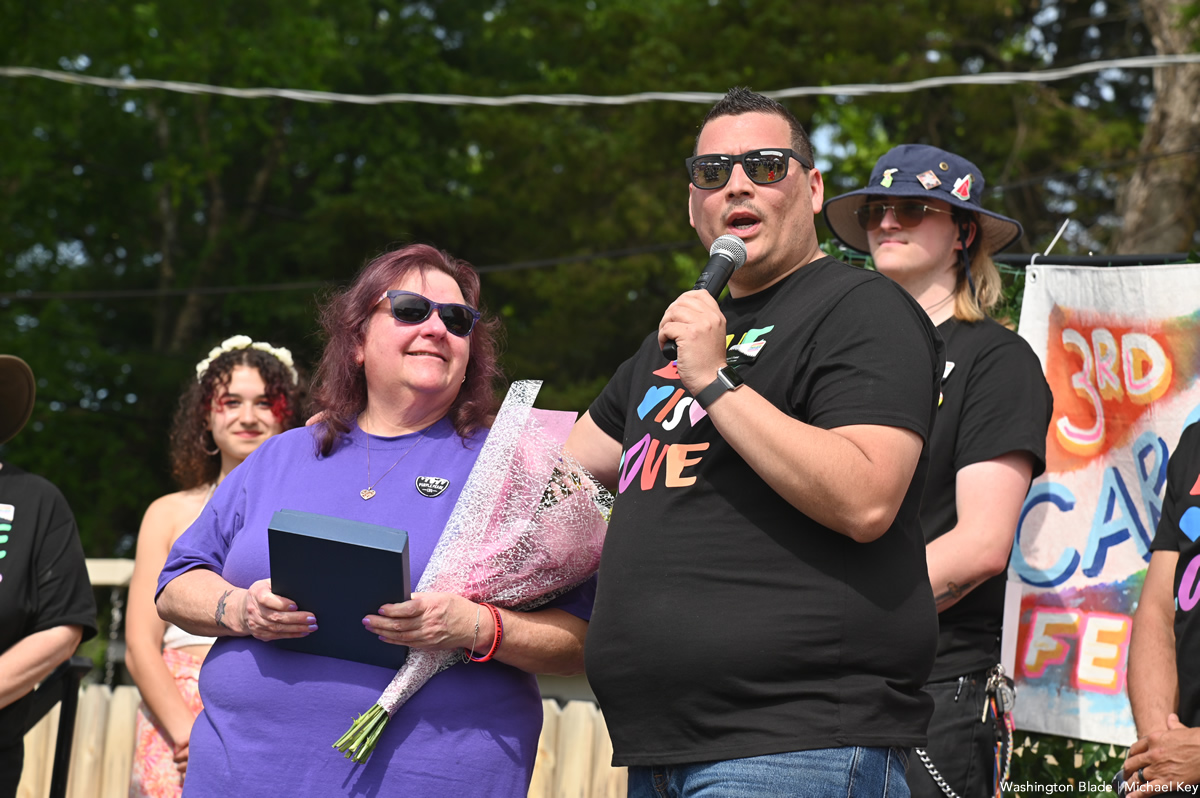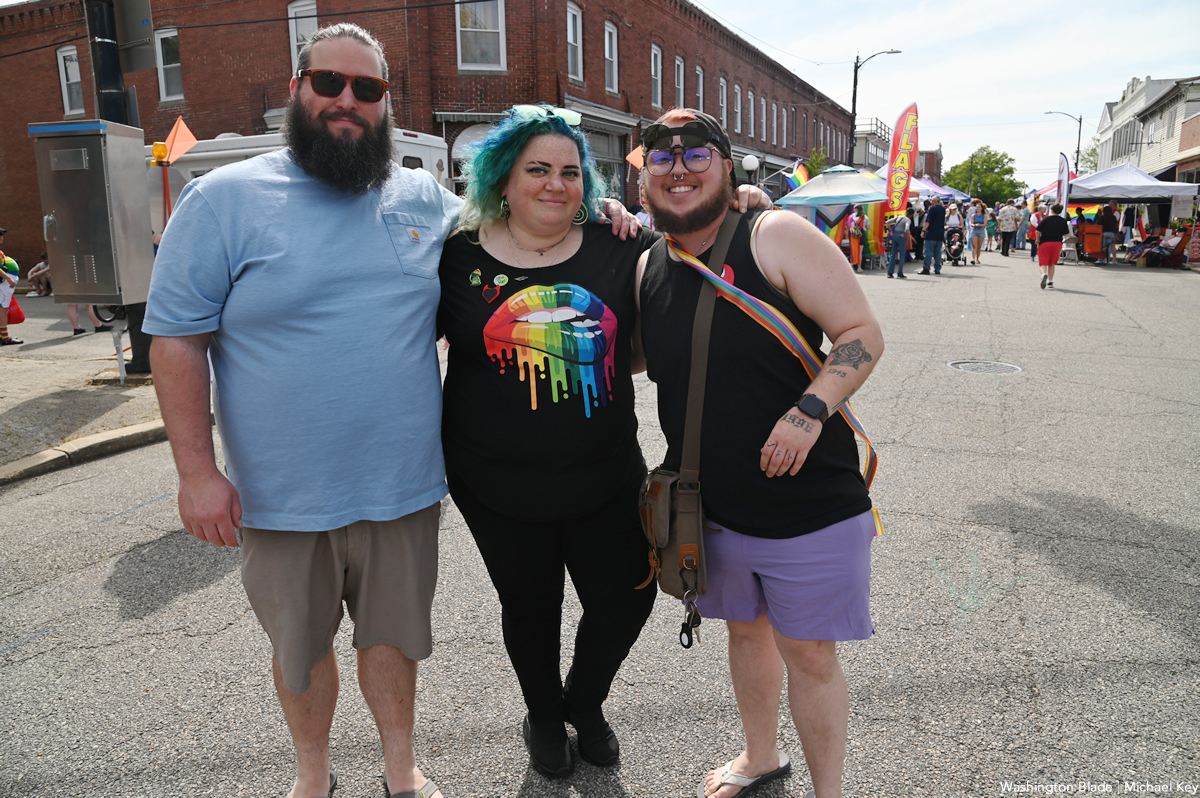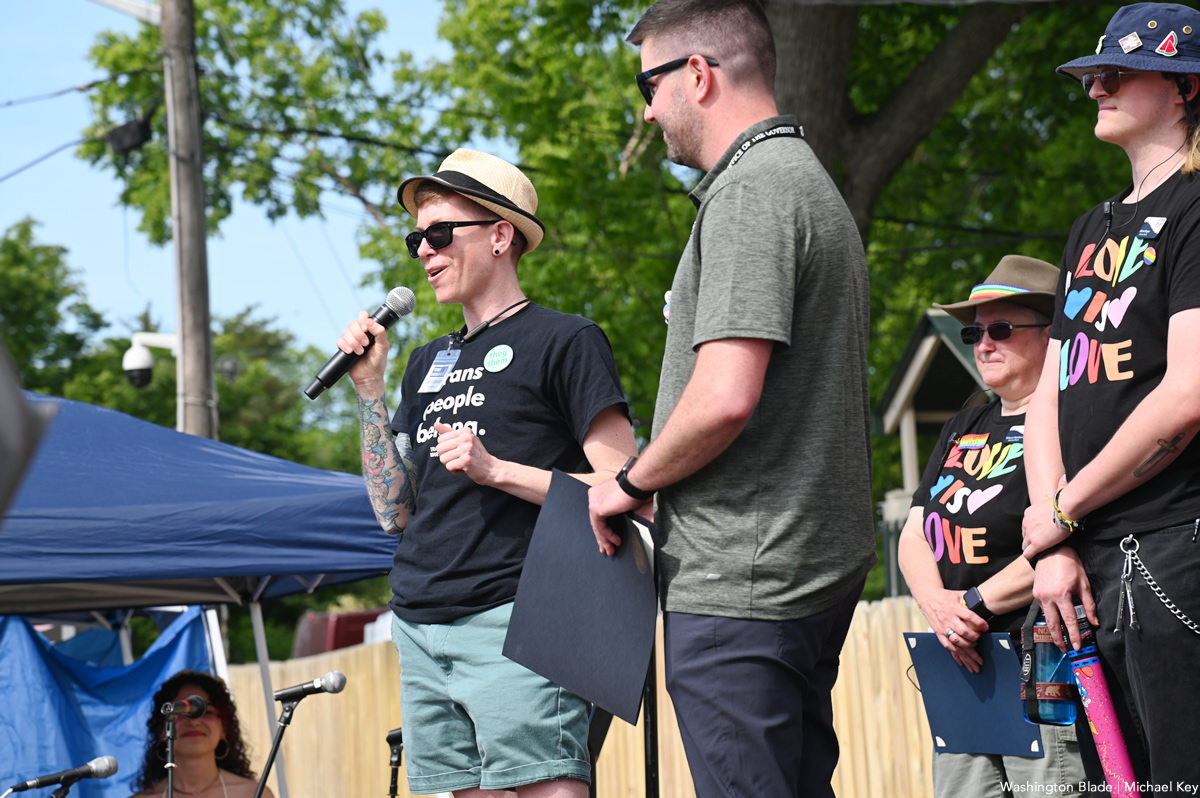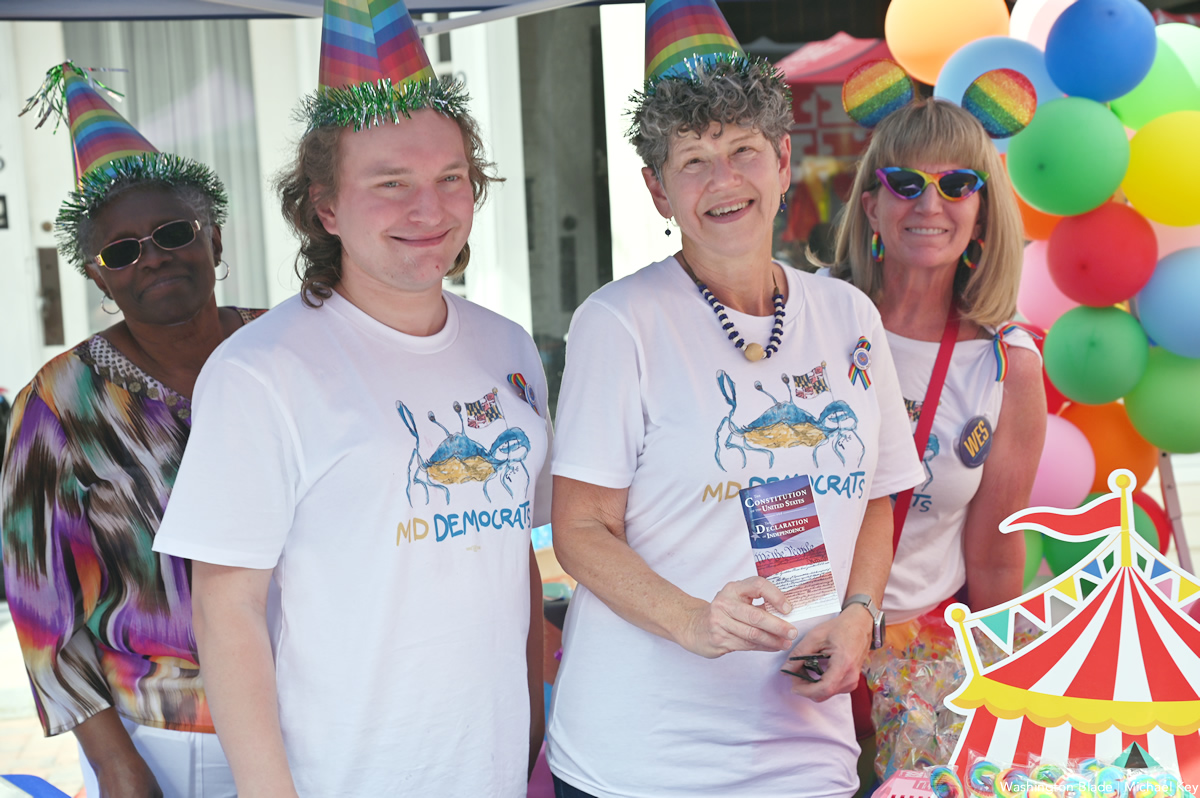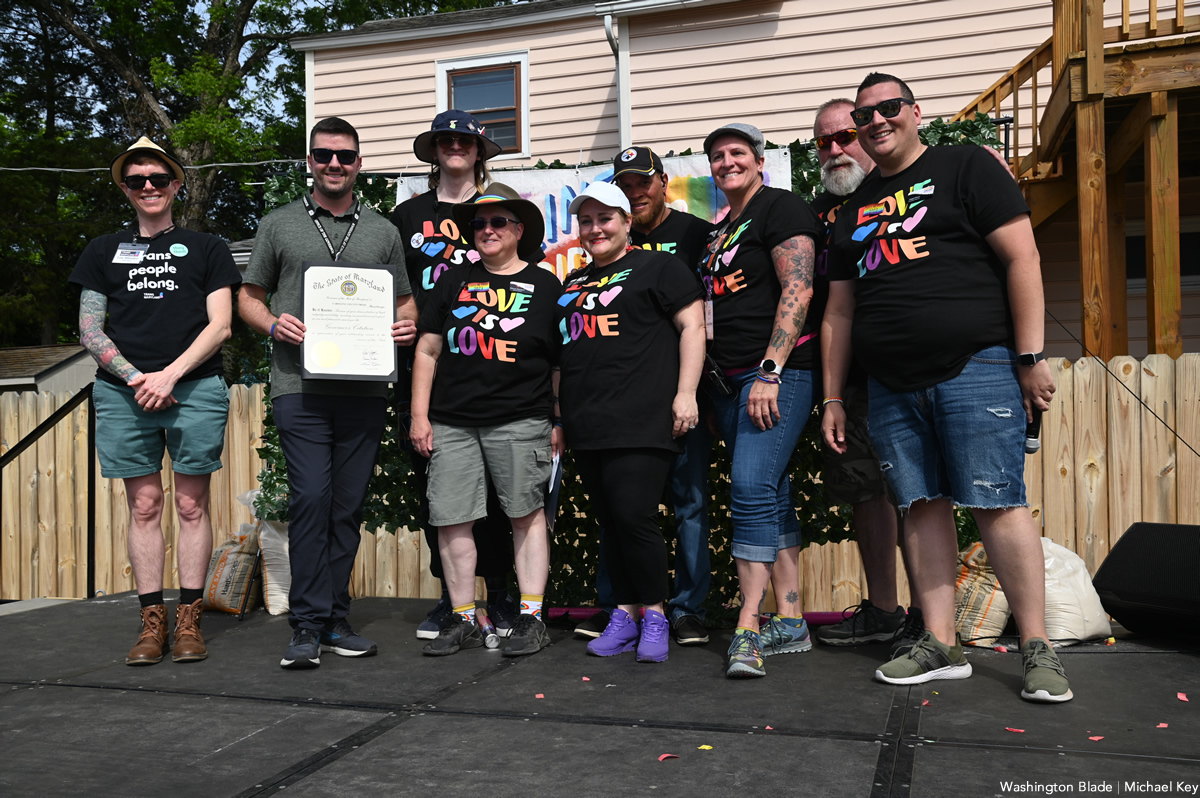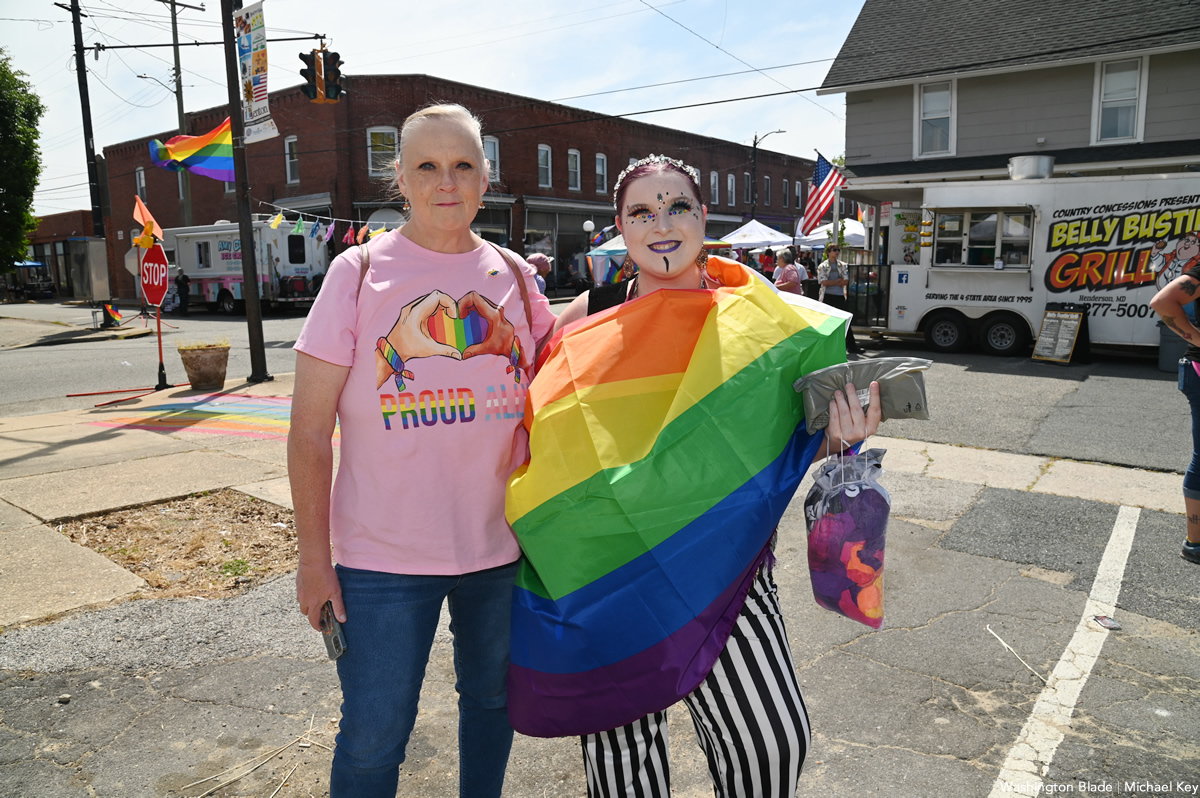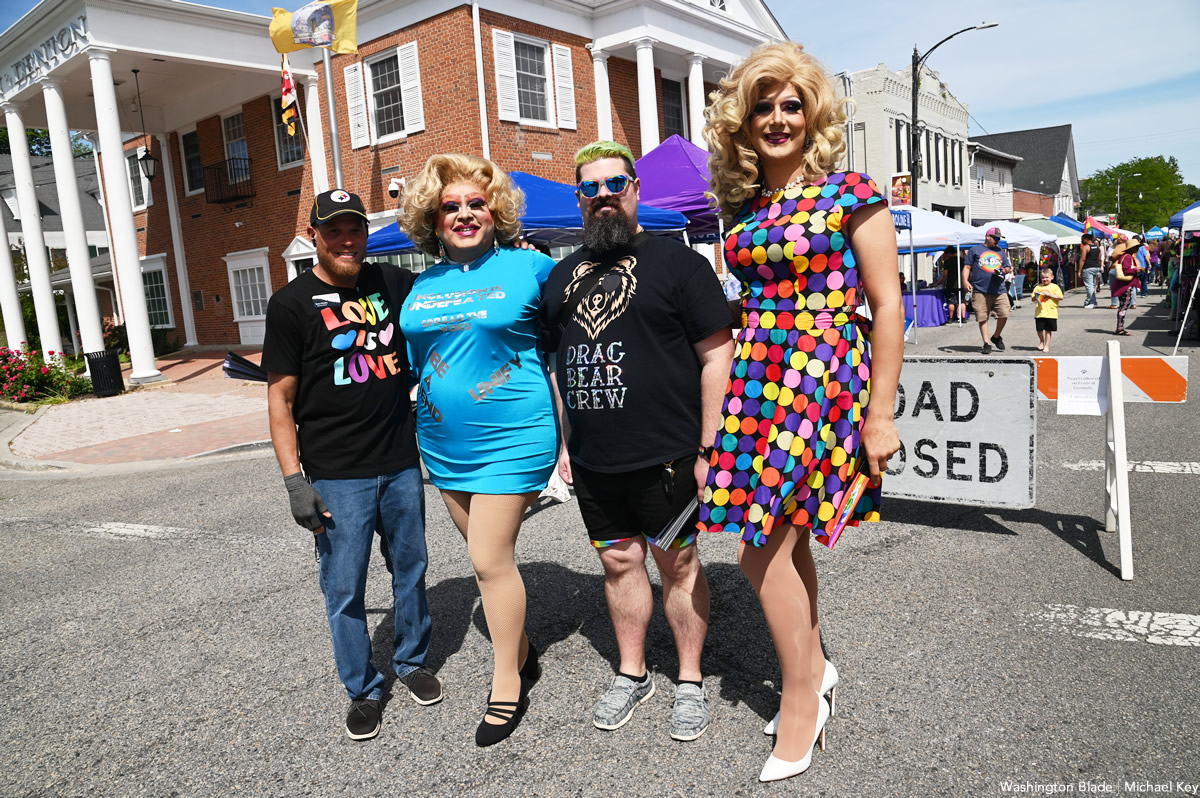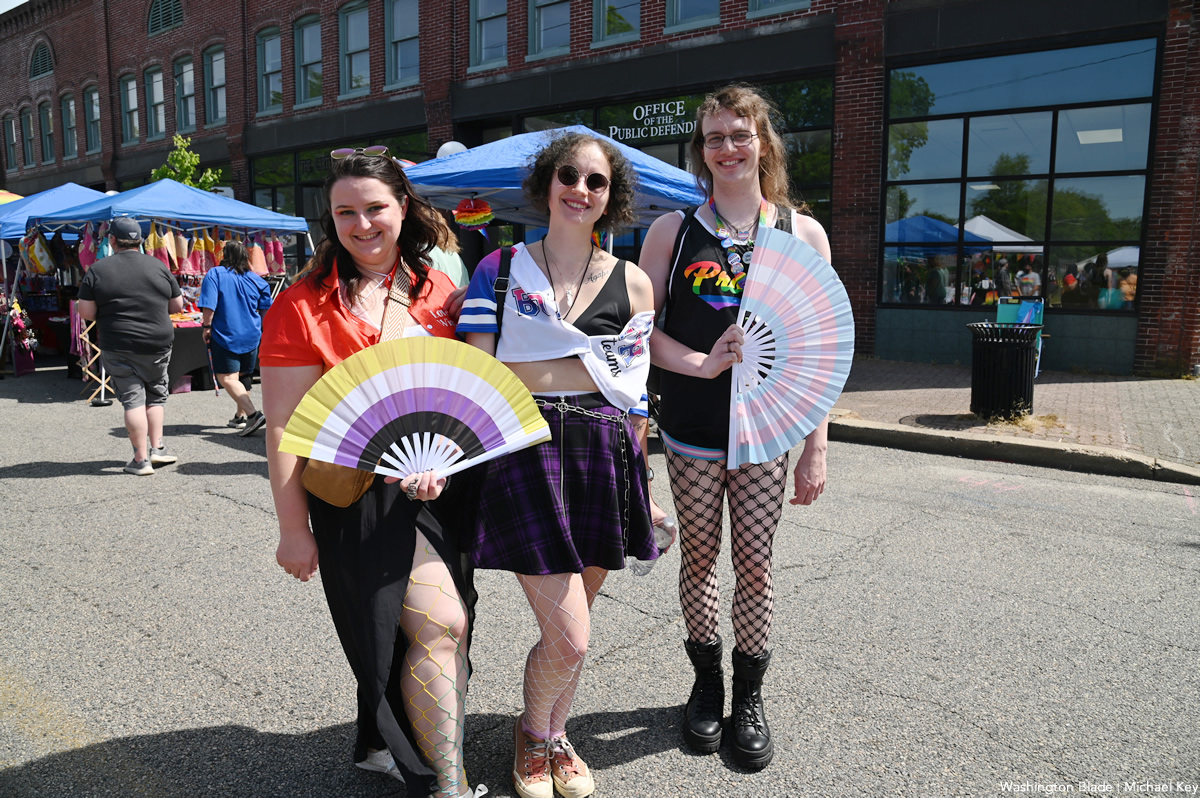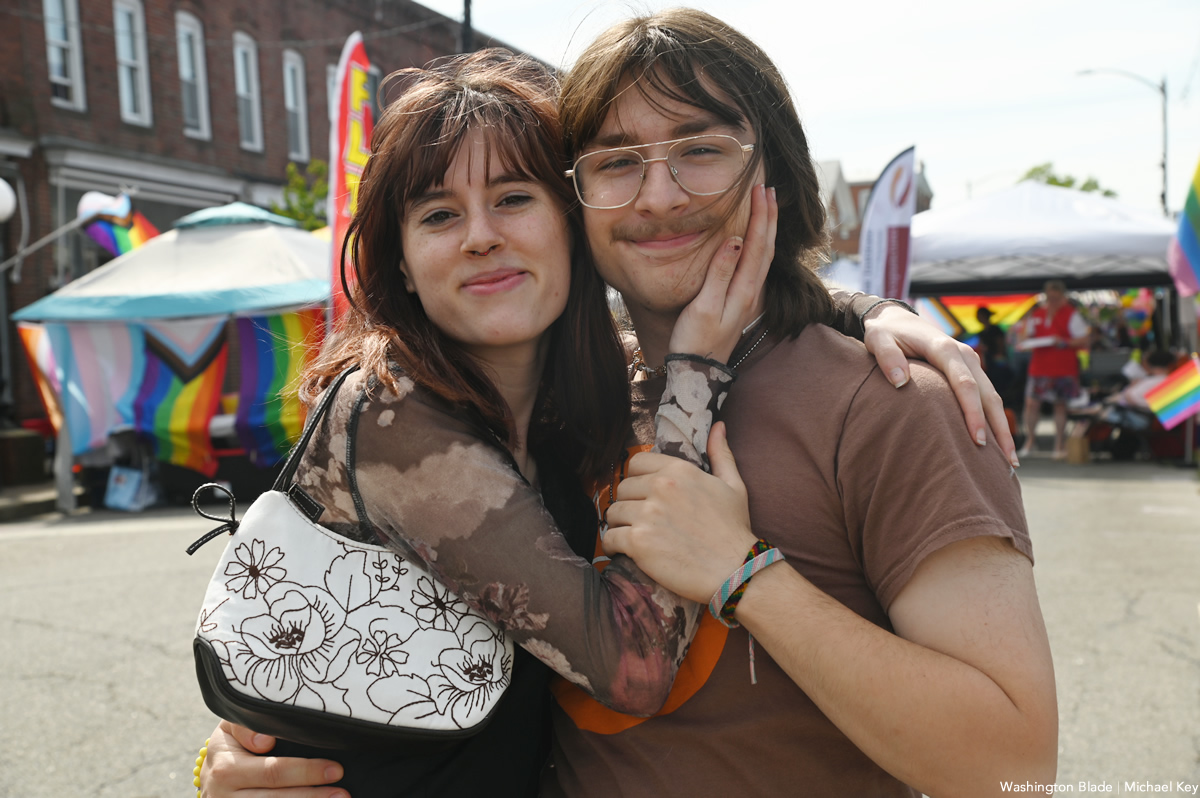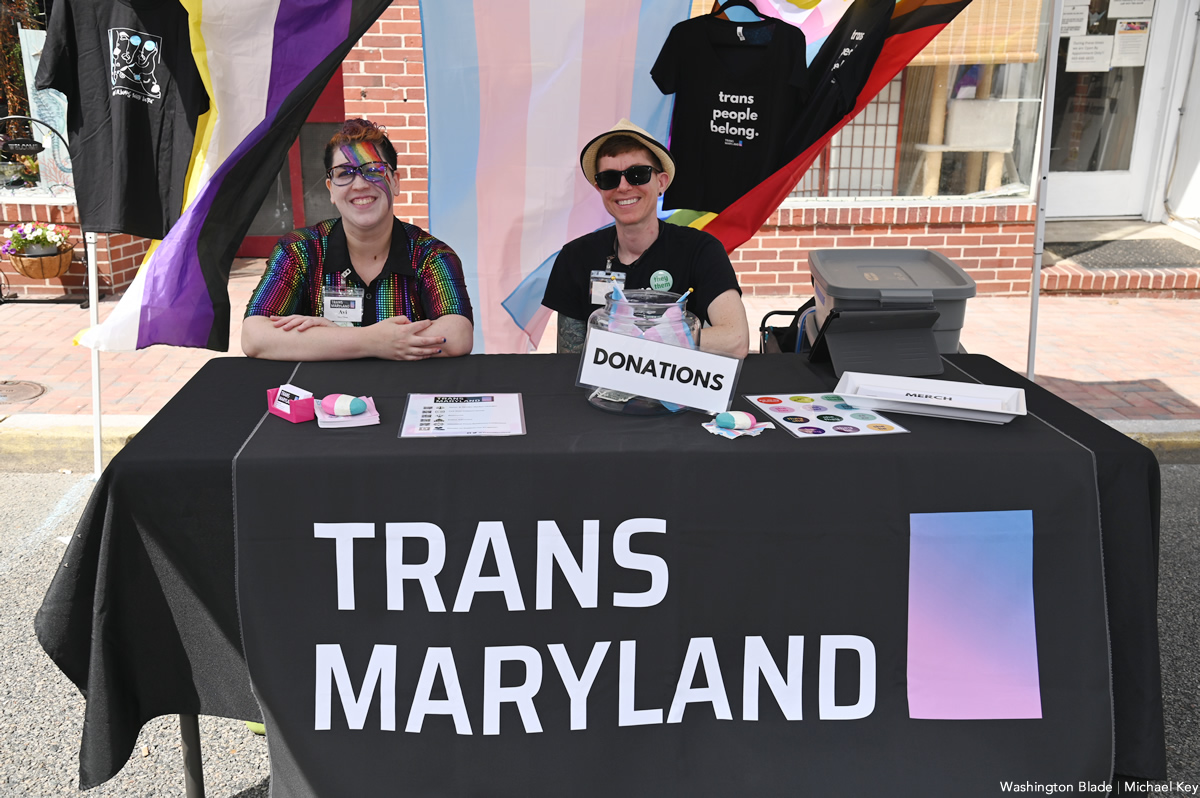 Covering Caroline County Pride in Denton, Md. for @WashBlade . #Pride2023 pic.twitter.com/ET6YN5ceyp

— Michael Patrick Key (@MichaelKeyWB) May 27, 2023
PHOTOS: Black Pride Opening Reception
Comedy show and resource fair held at Renaissance Washington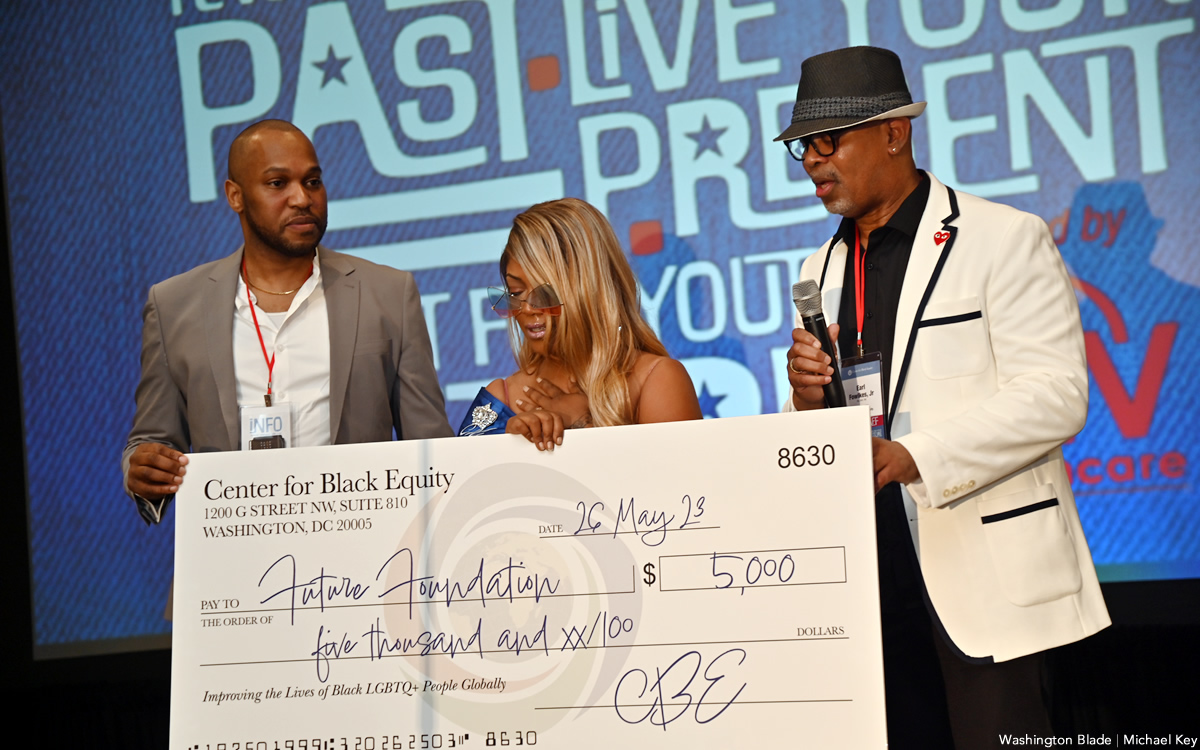 DC Black Pride held its Opening Reception at the Renaissance Washington Hotel on Friday, May 26.
(Washington Blade photos by Michael Key)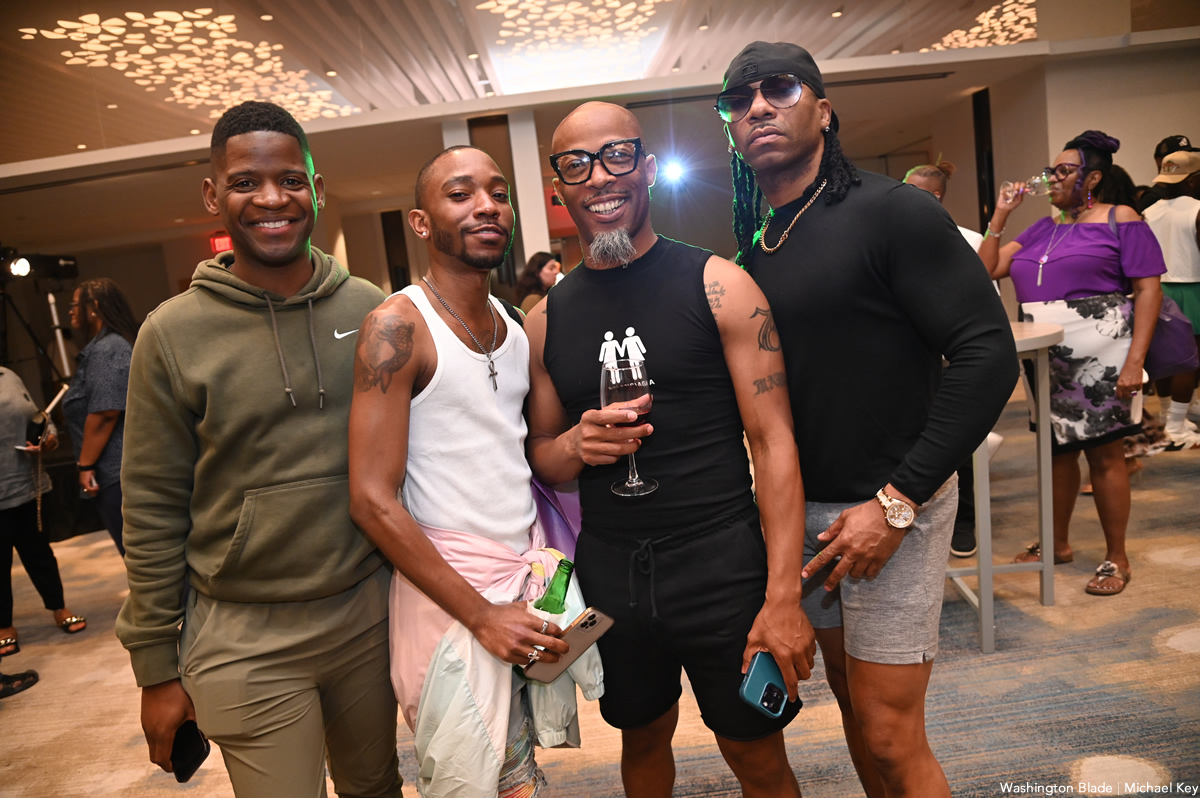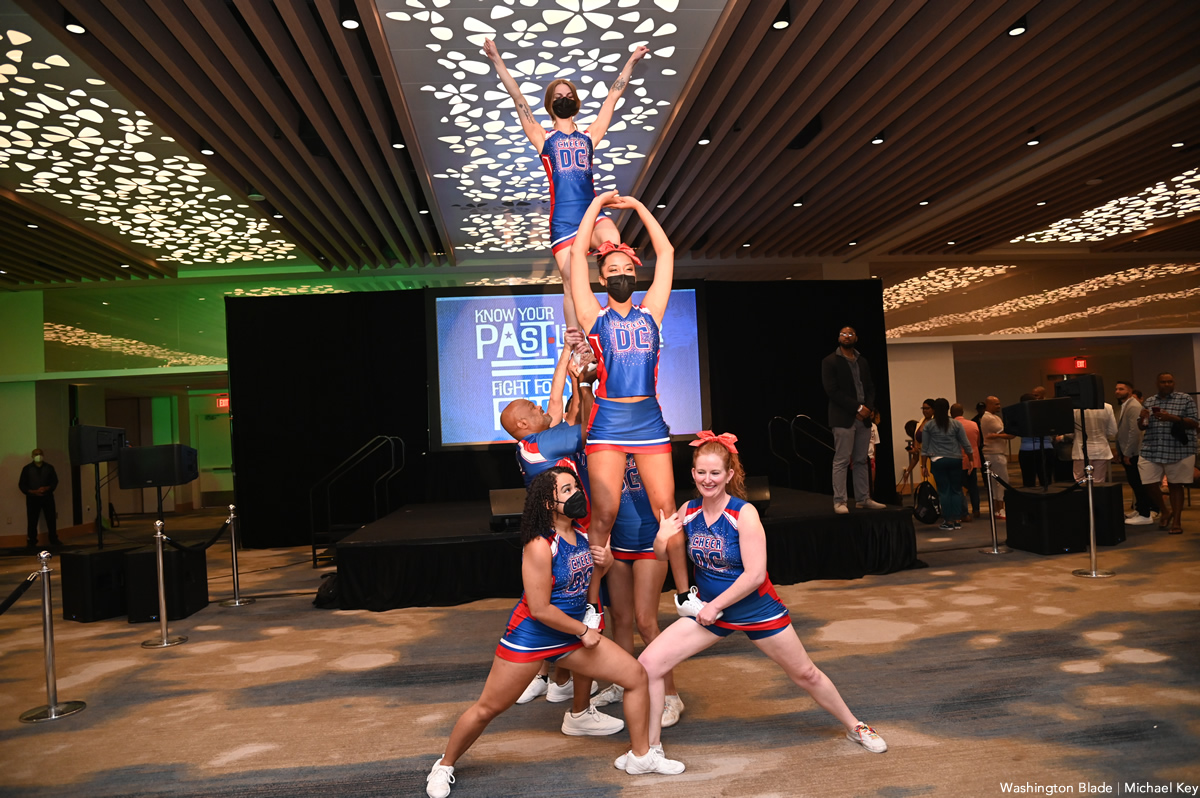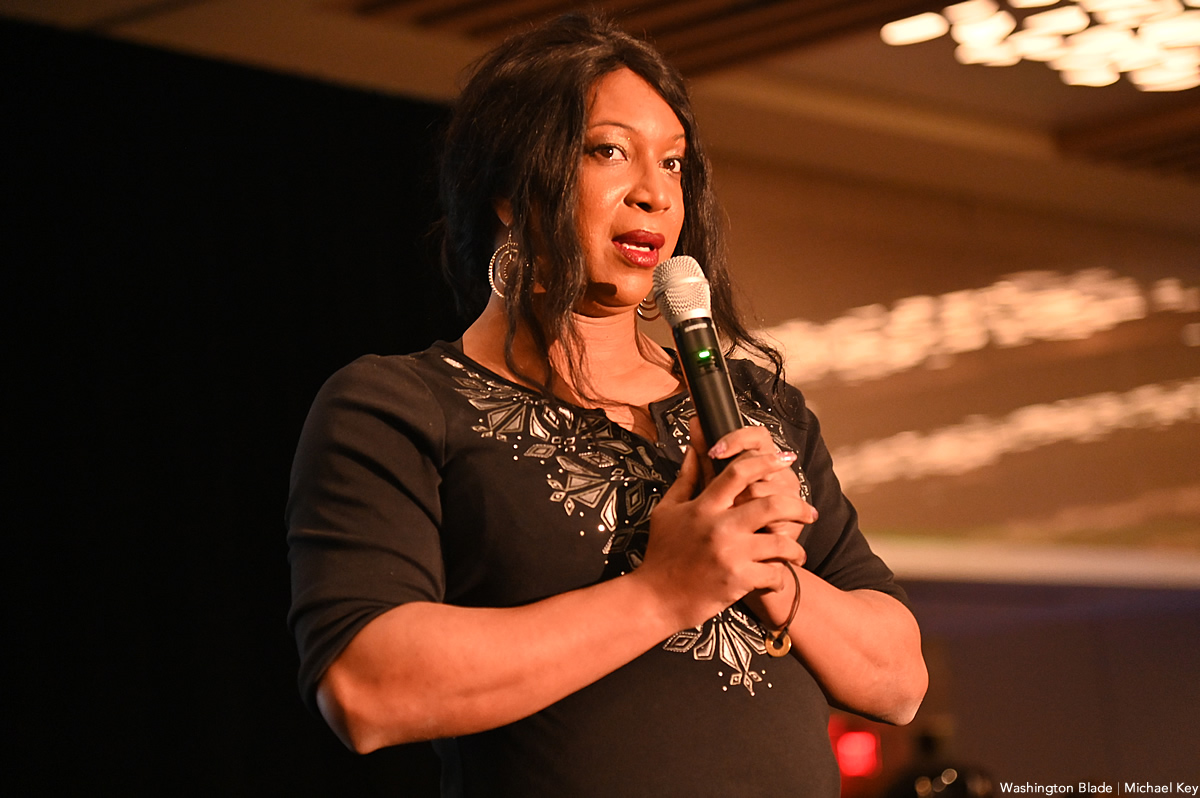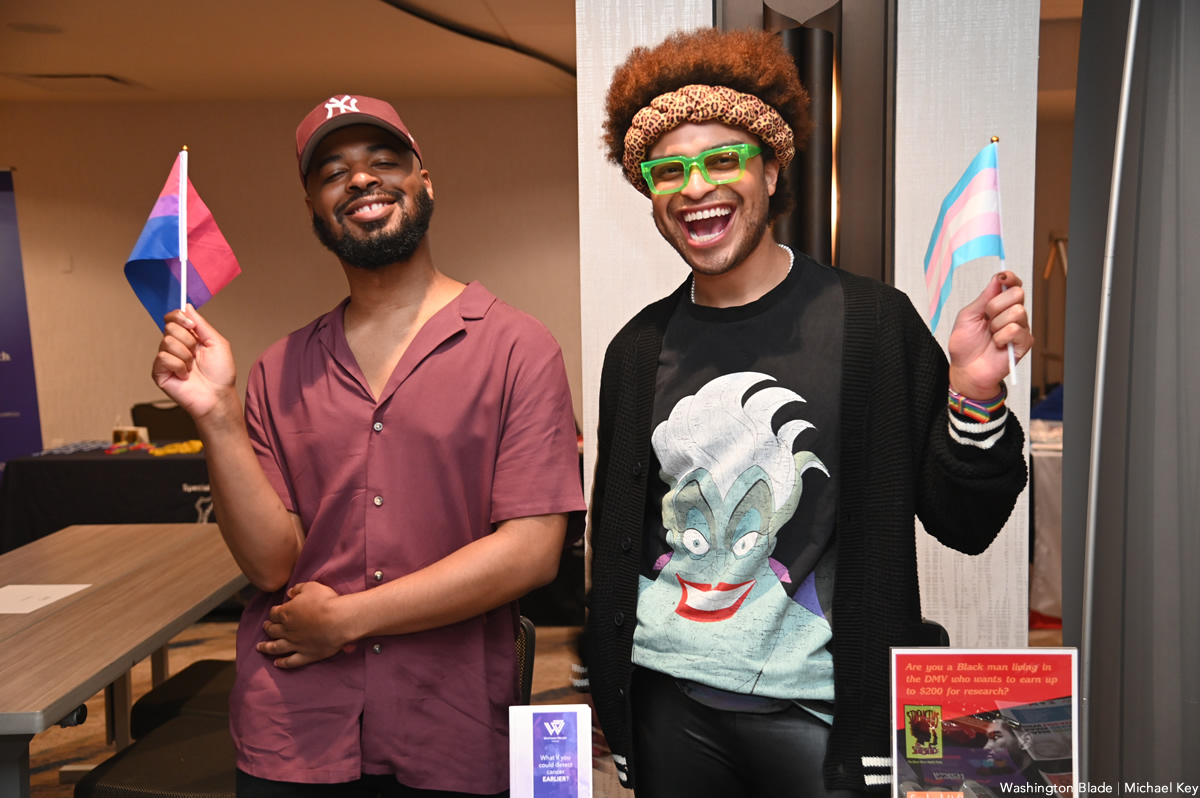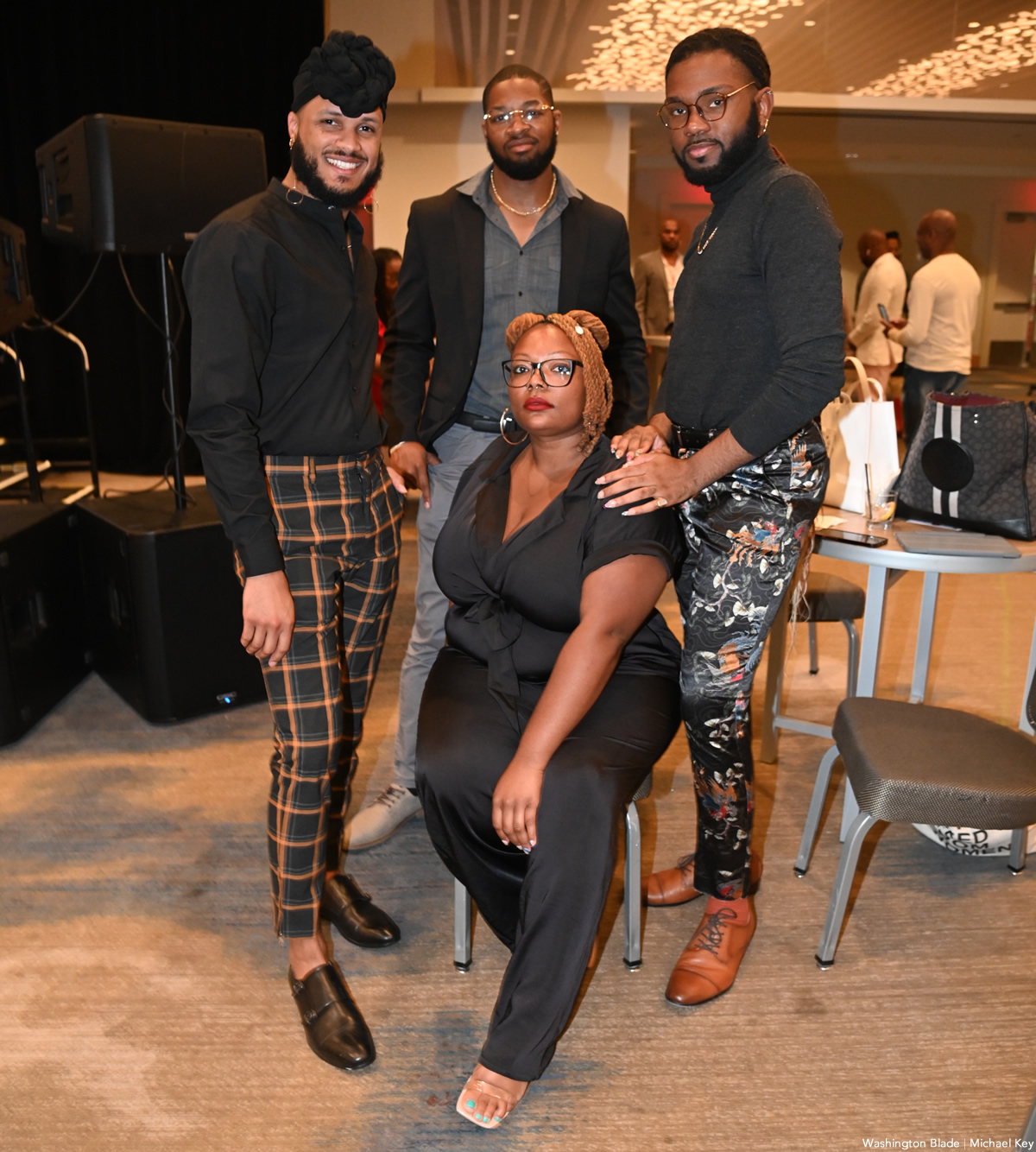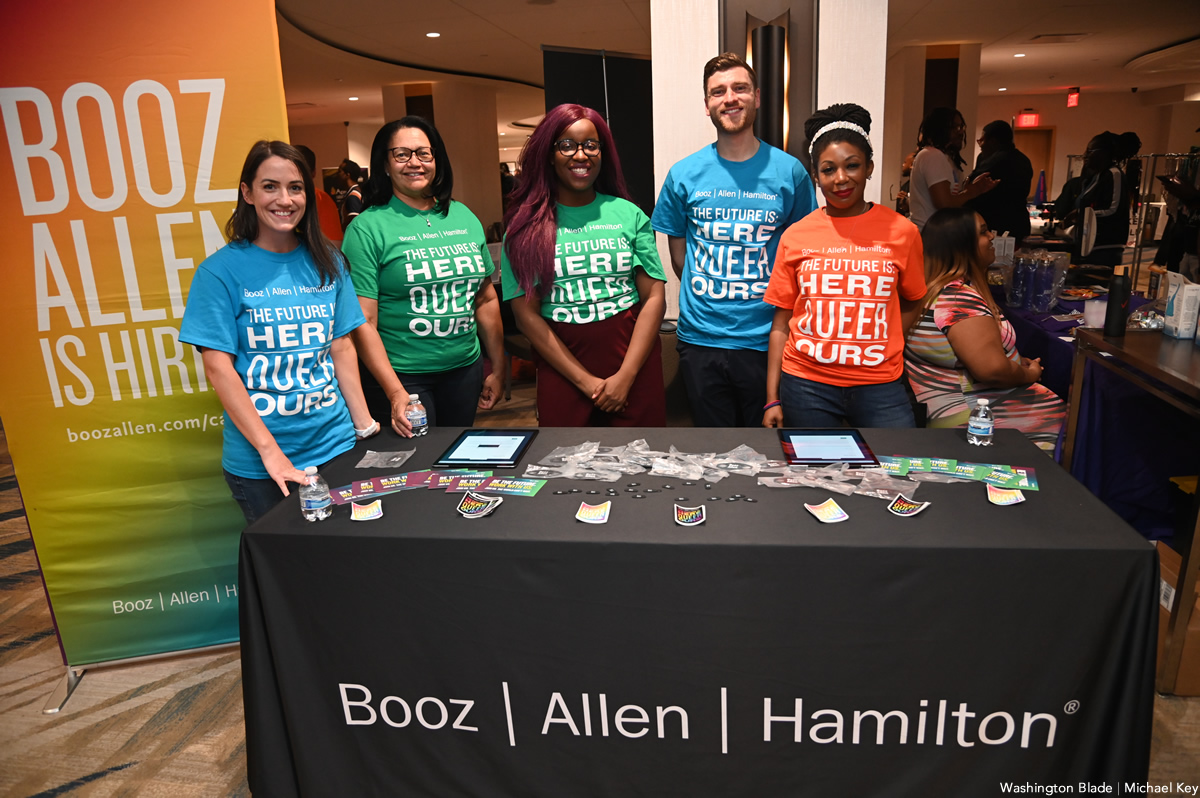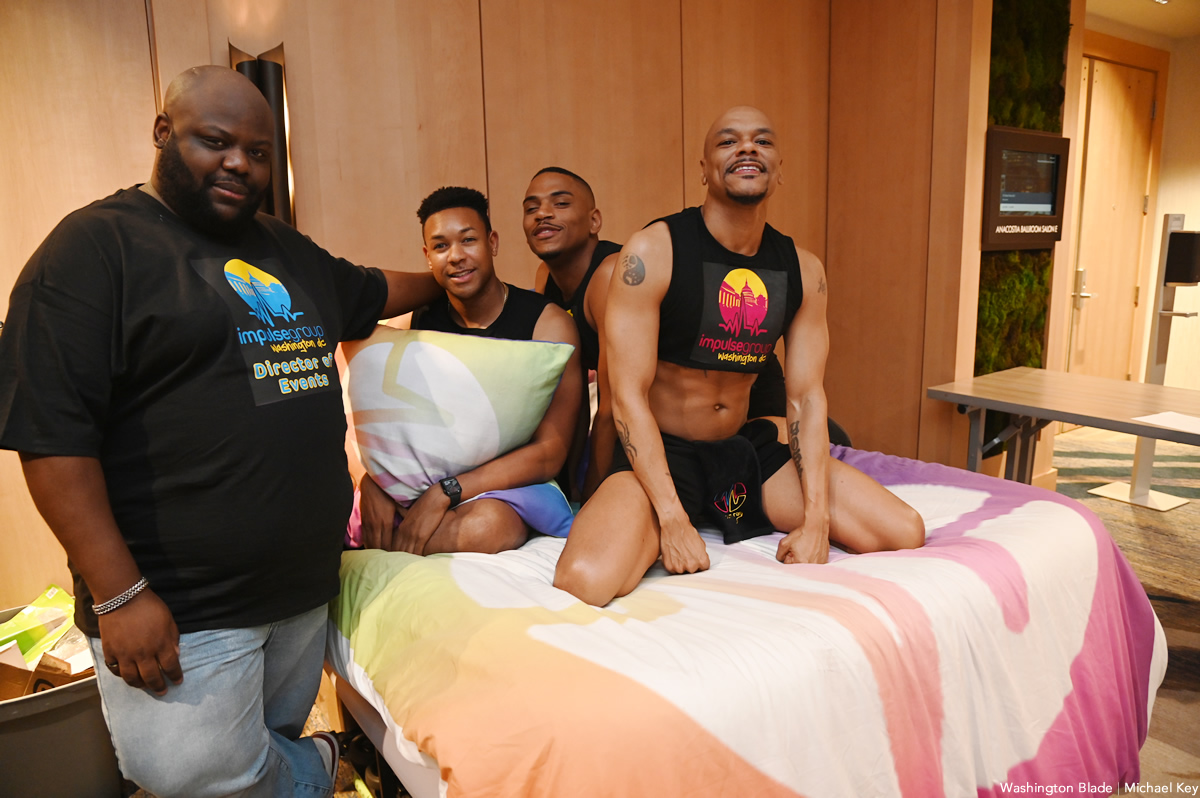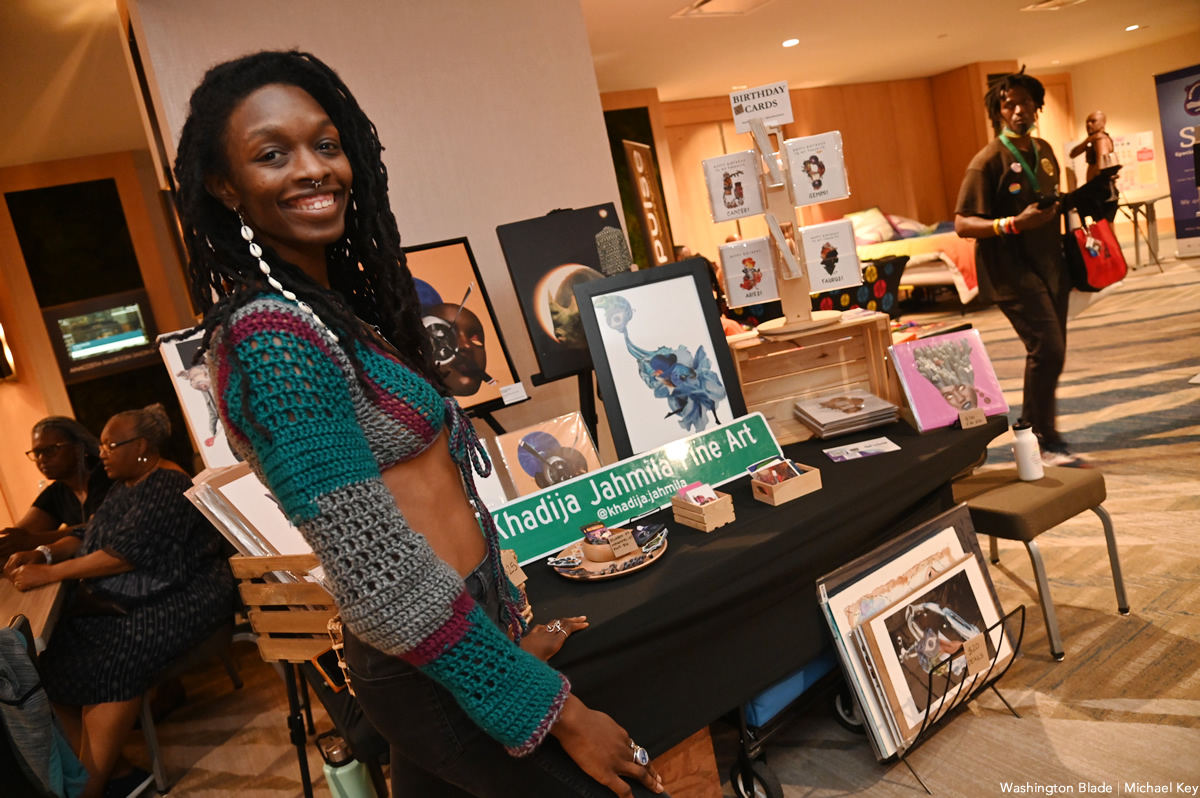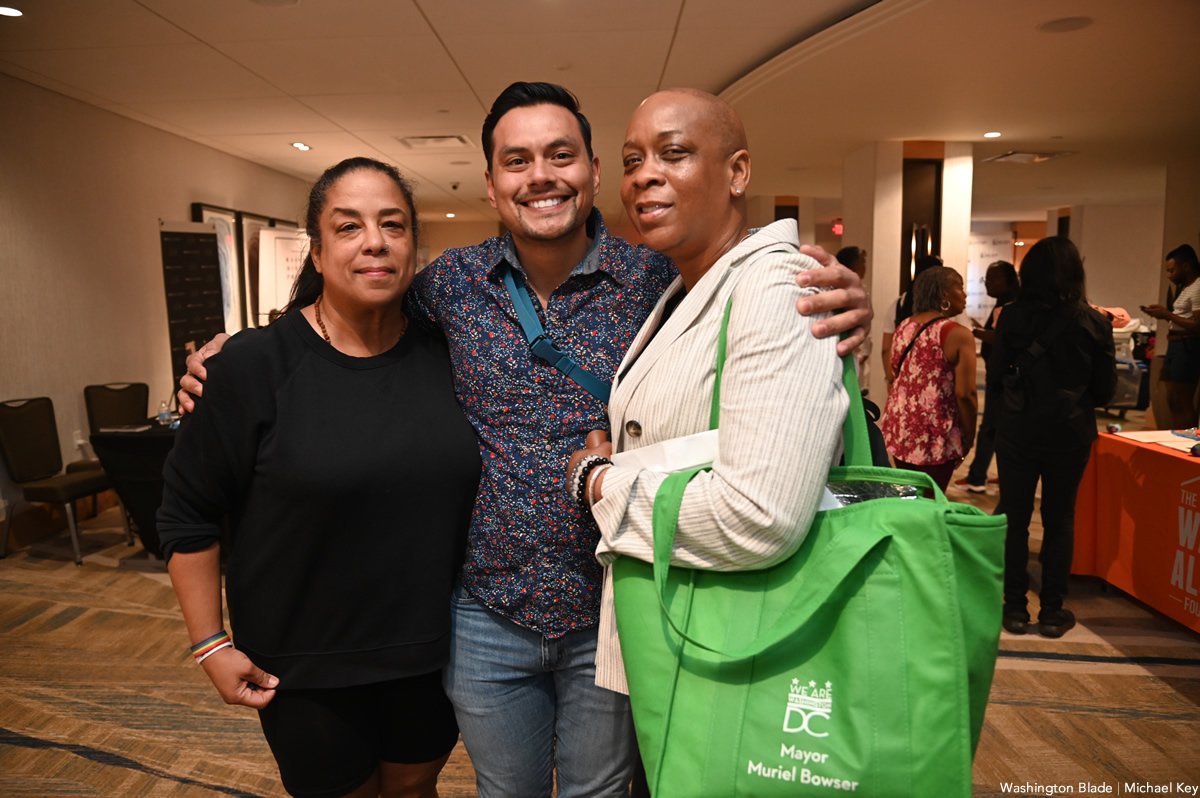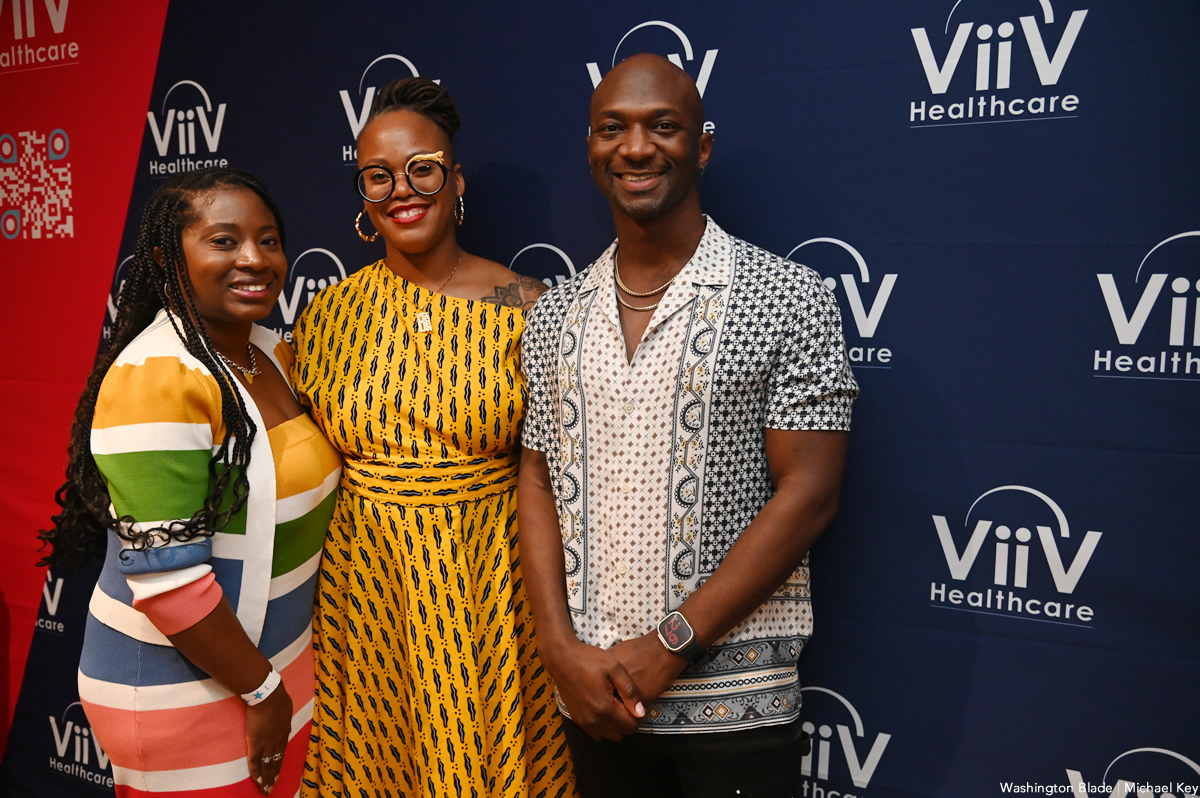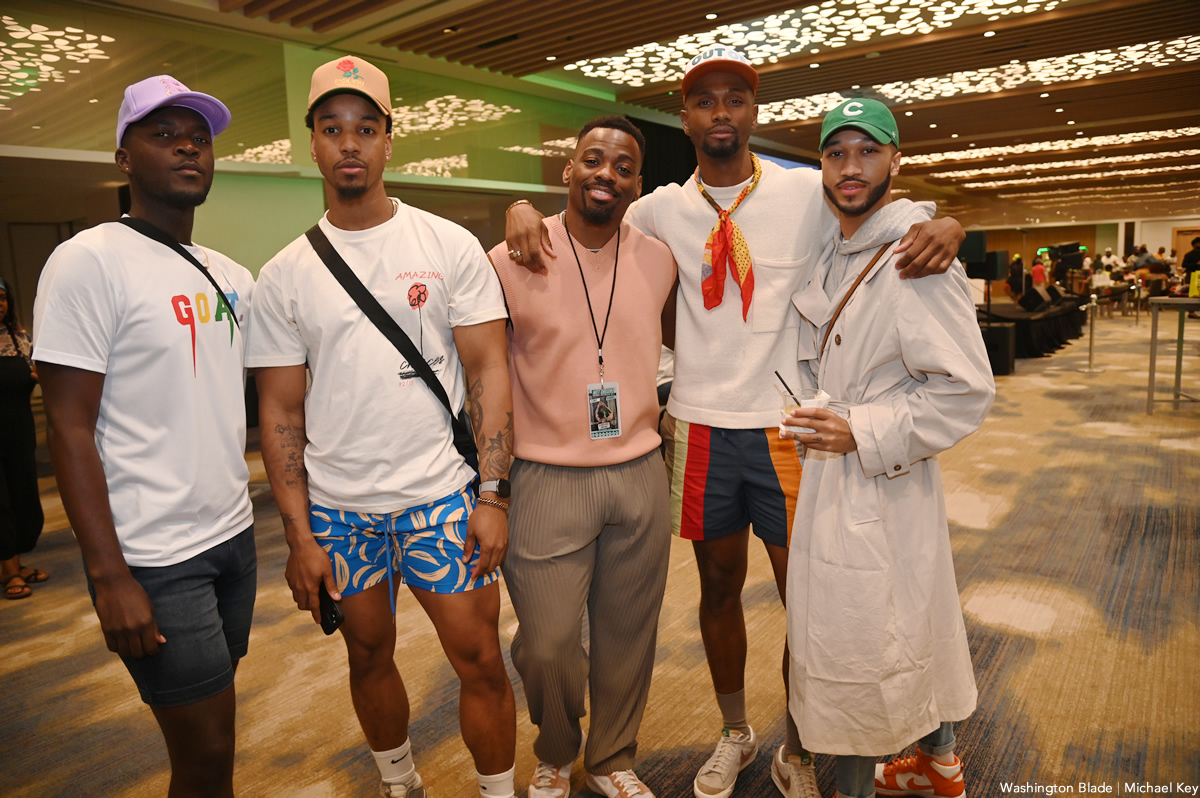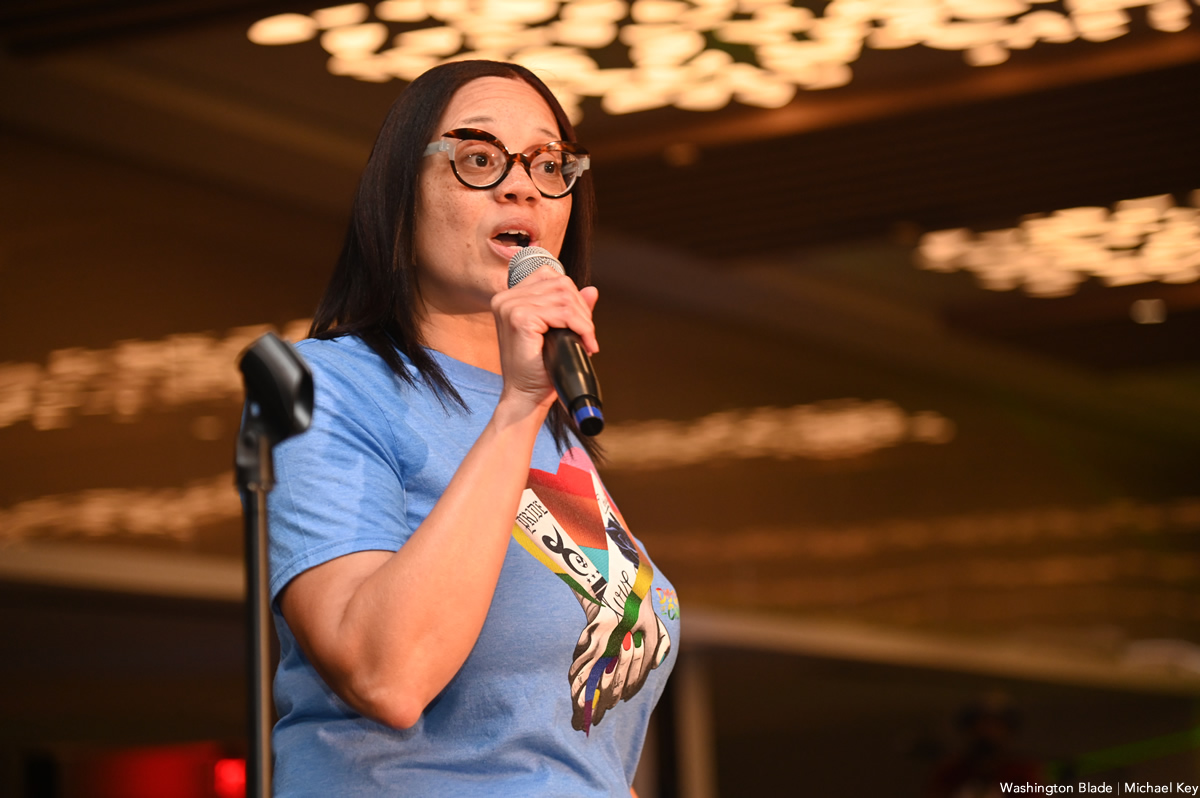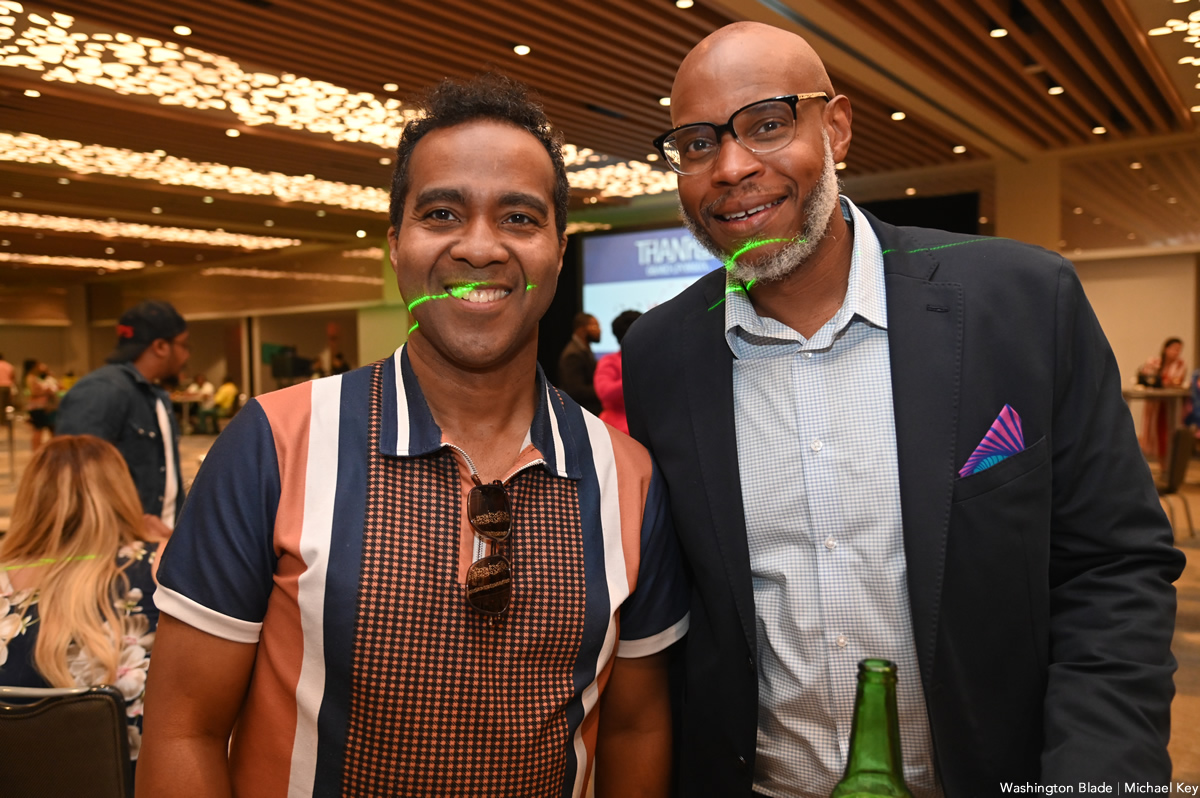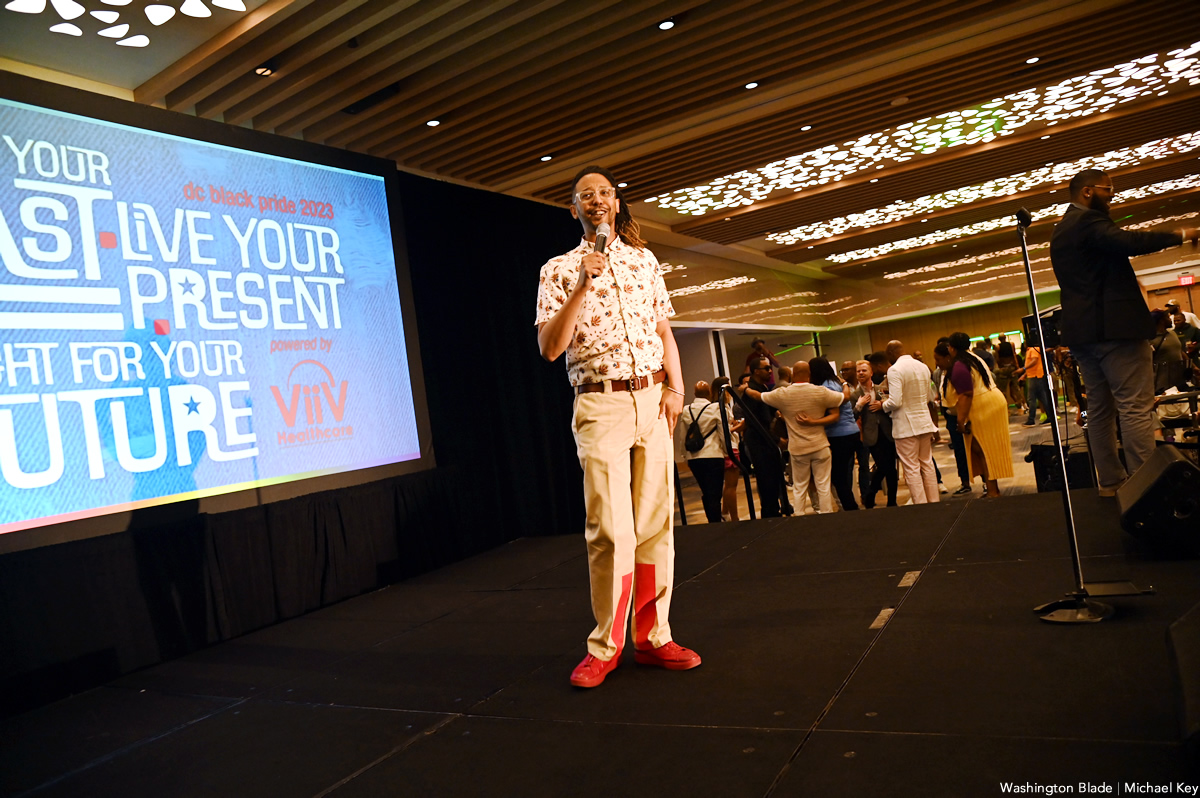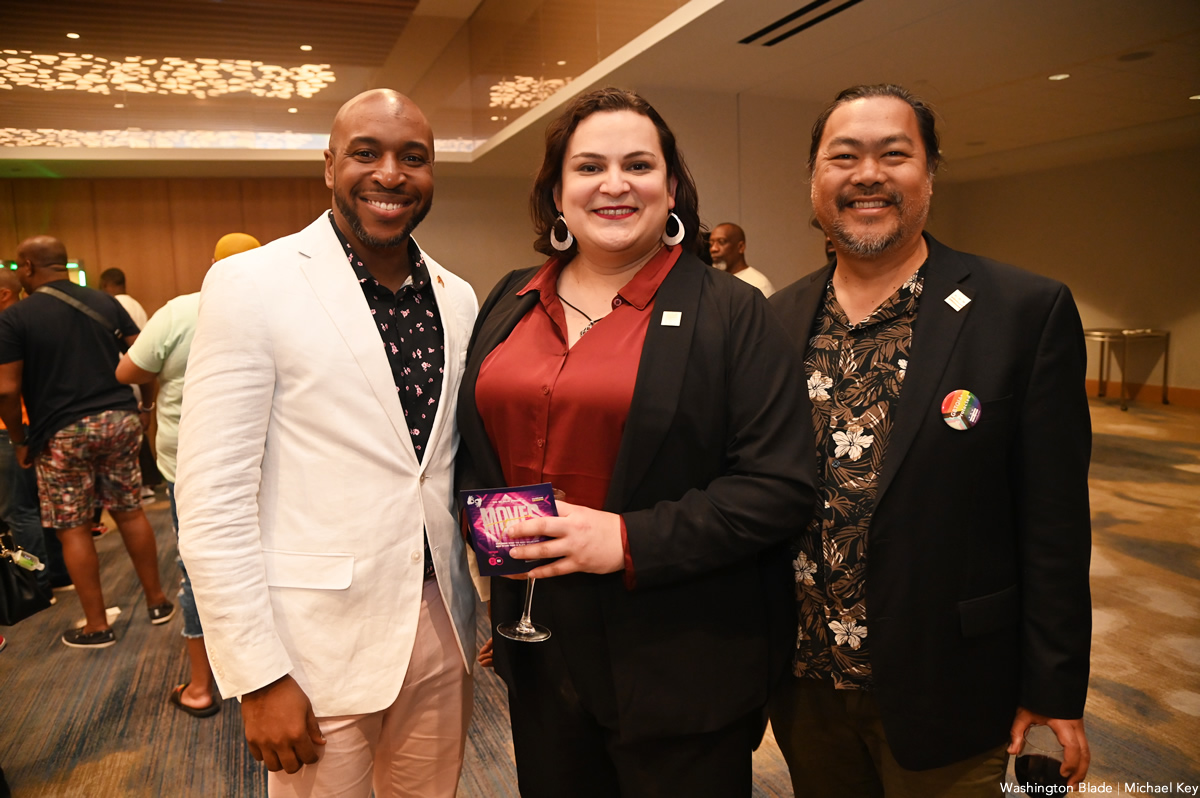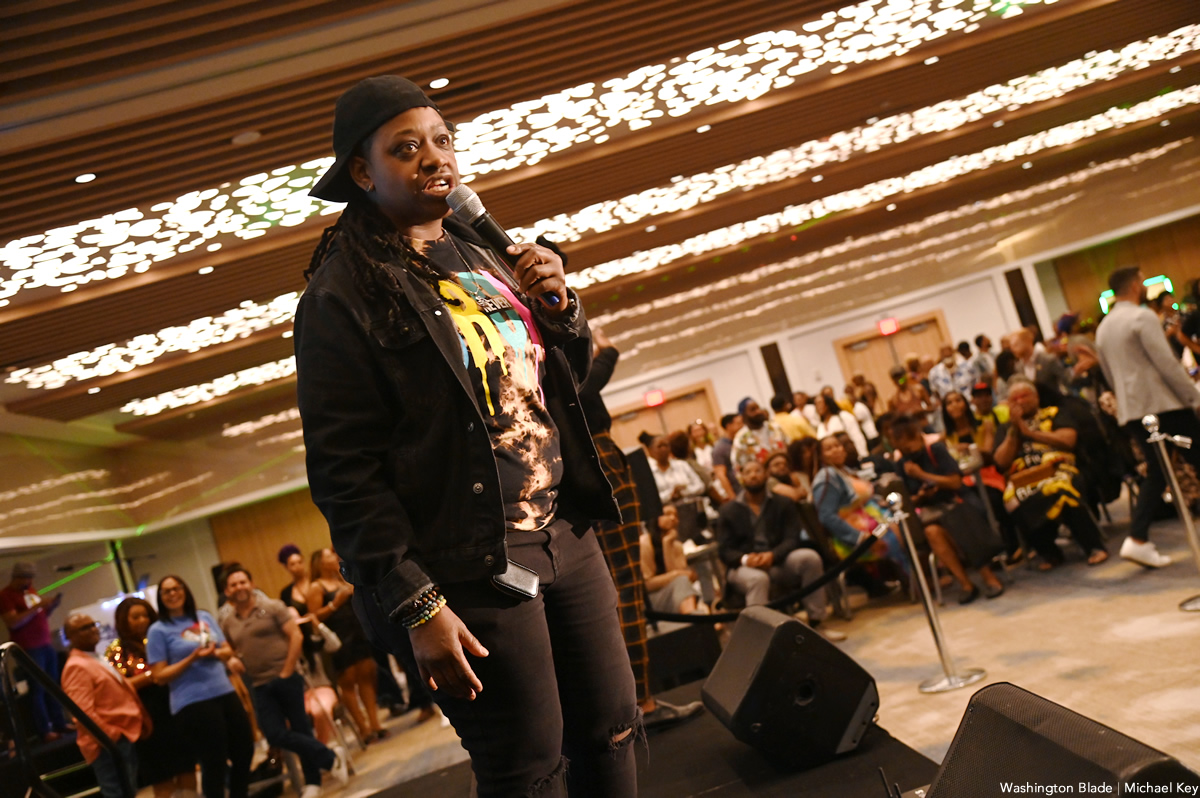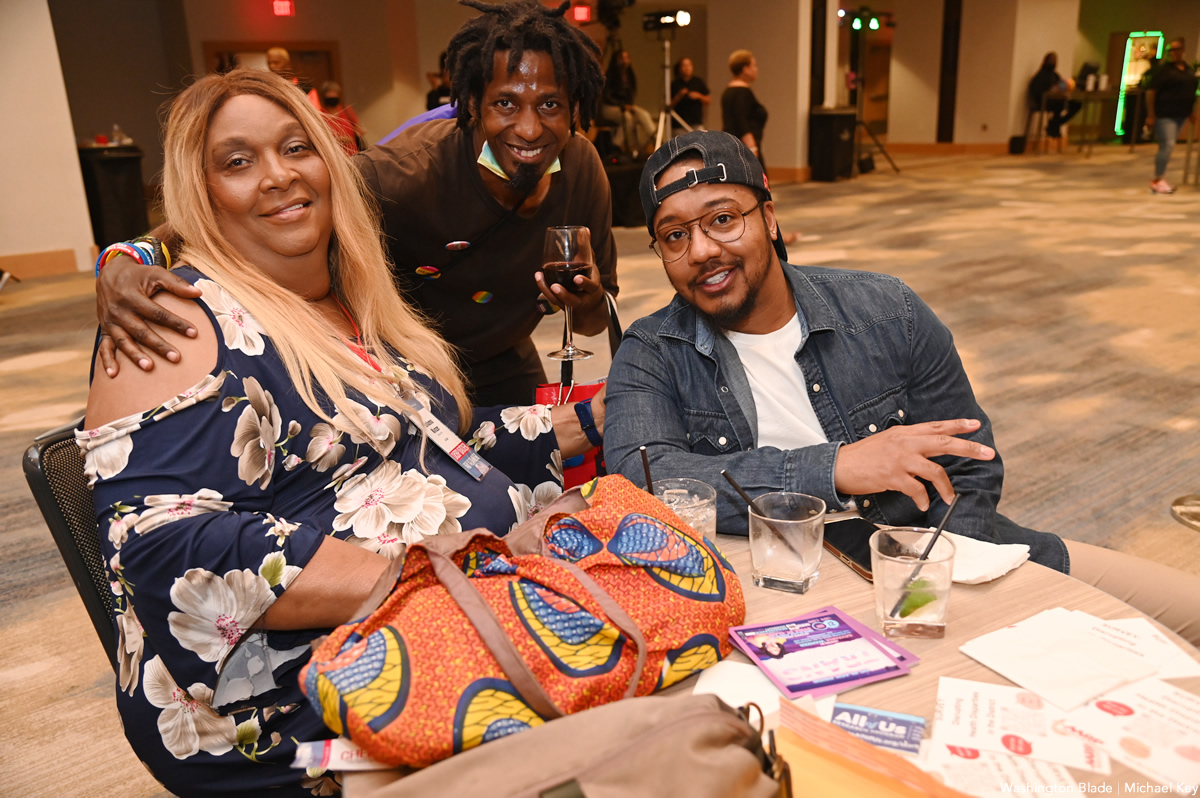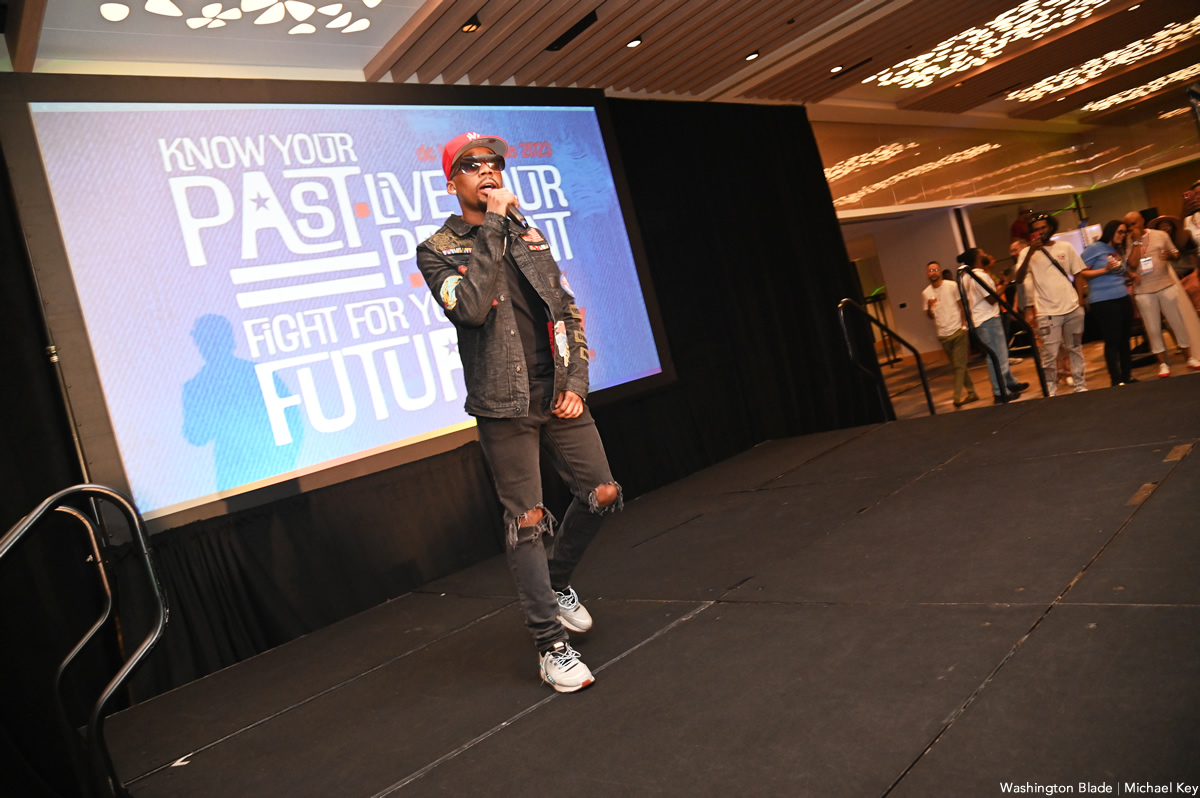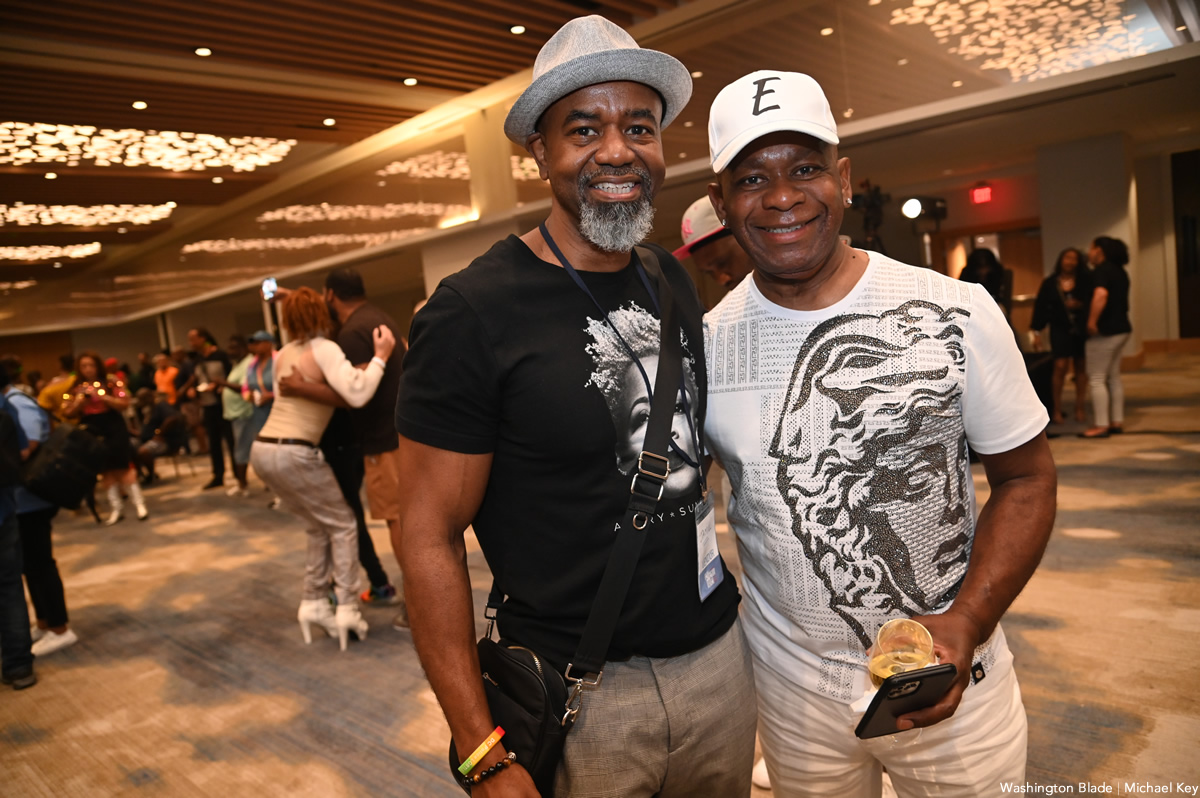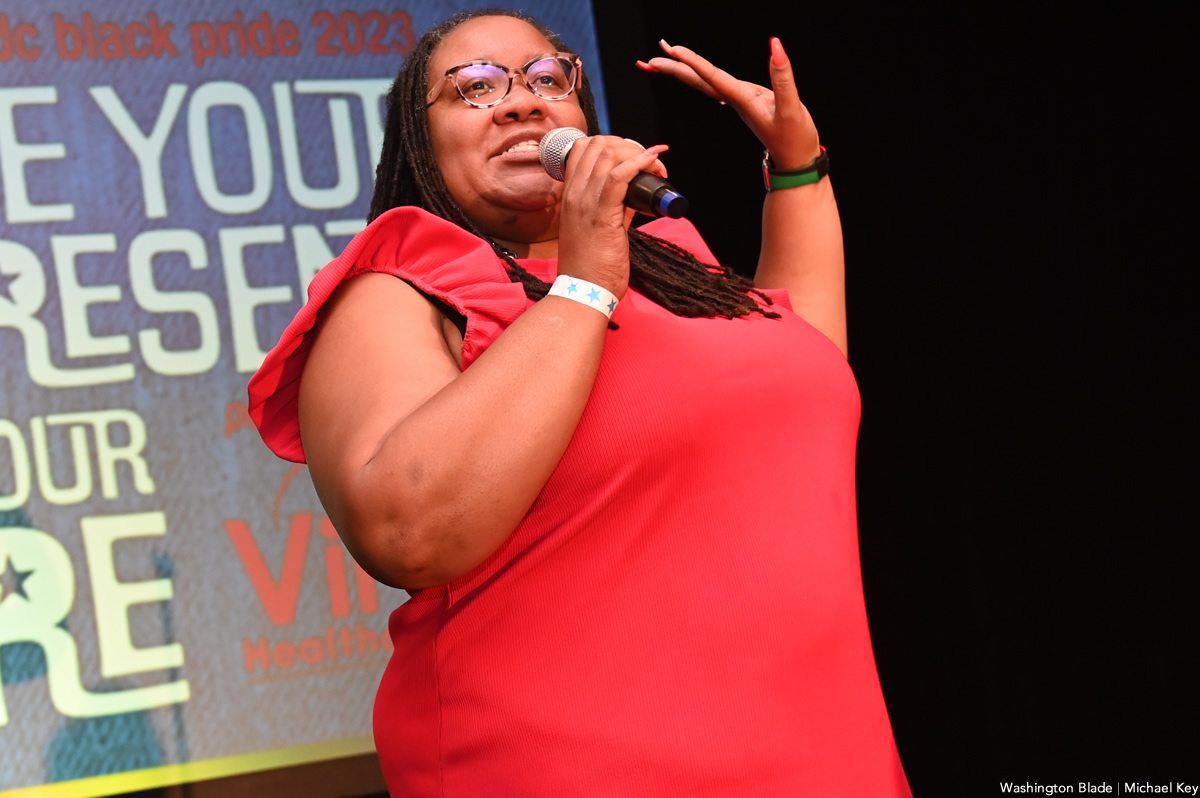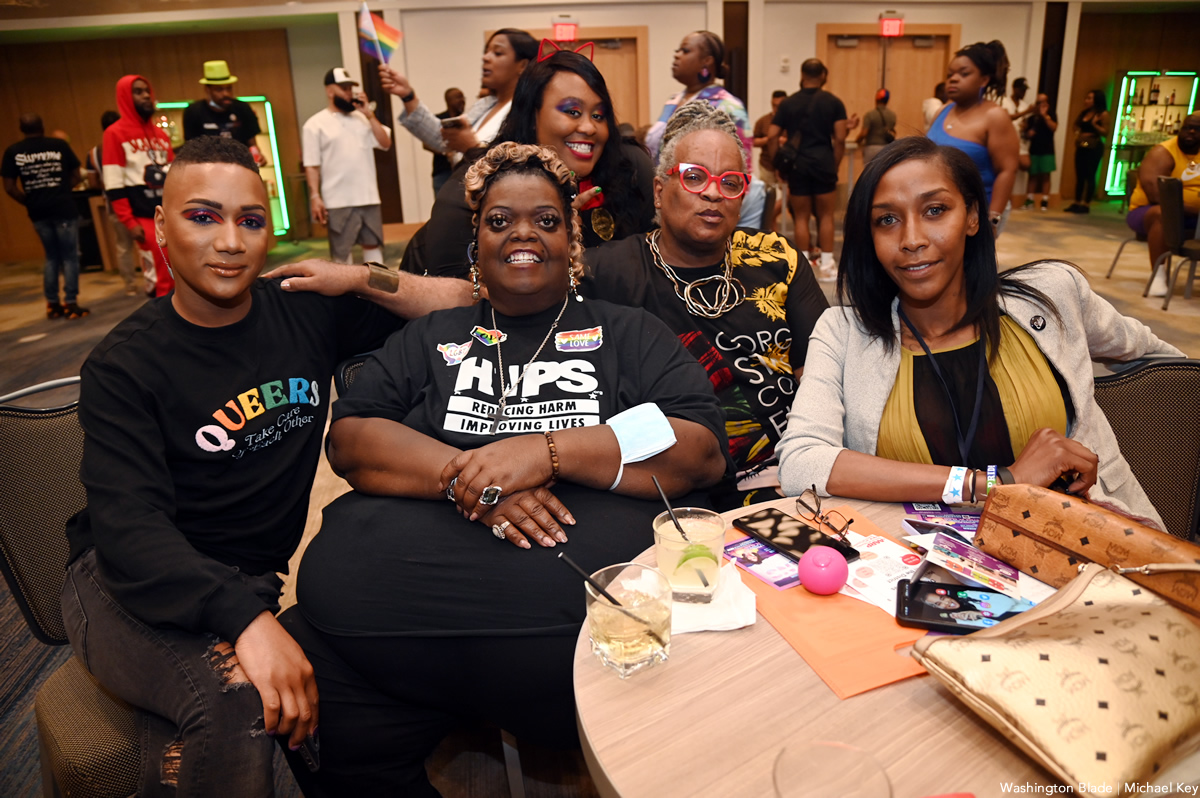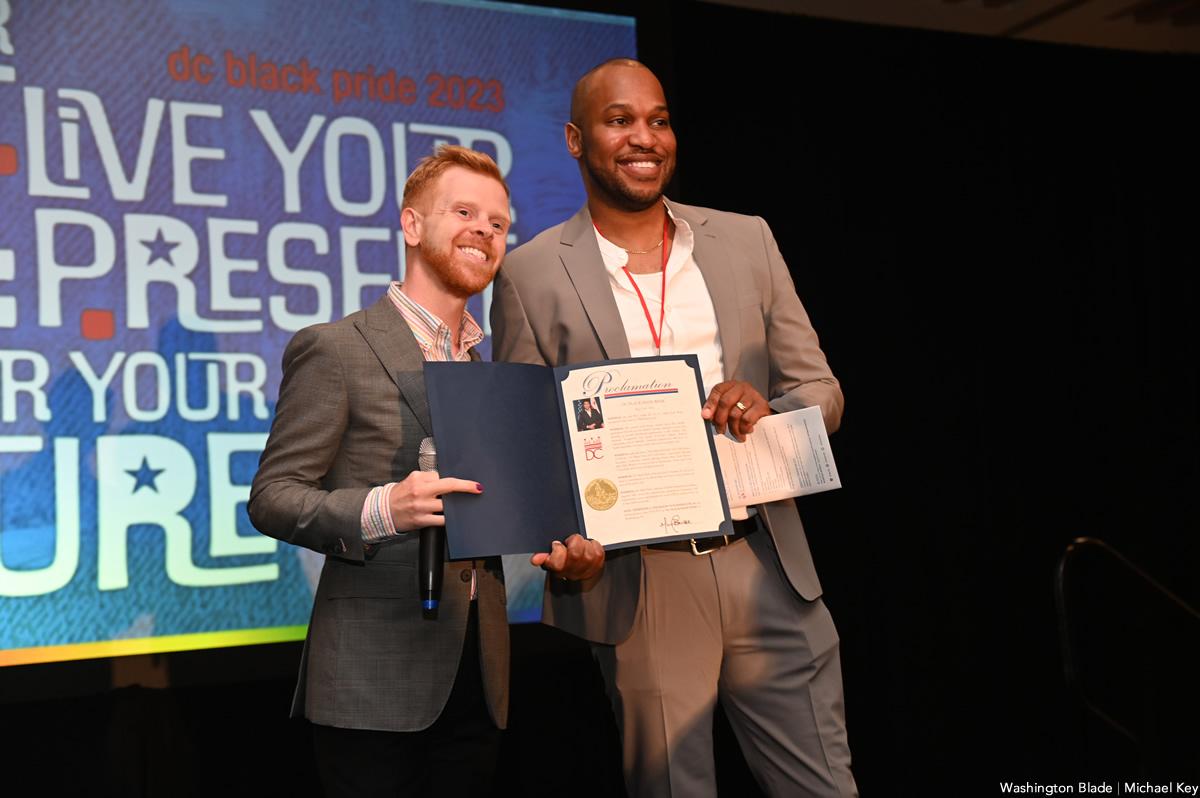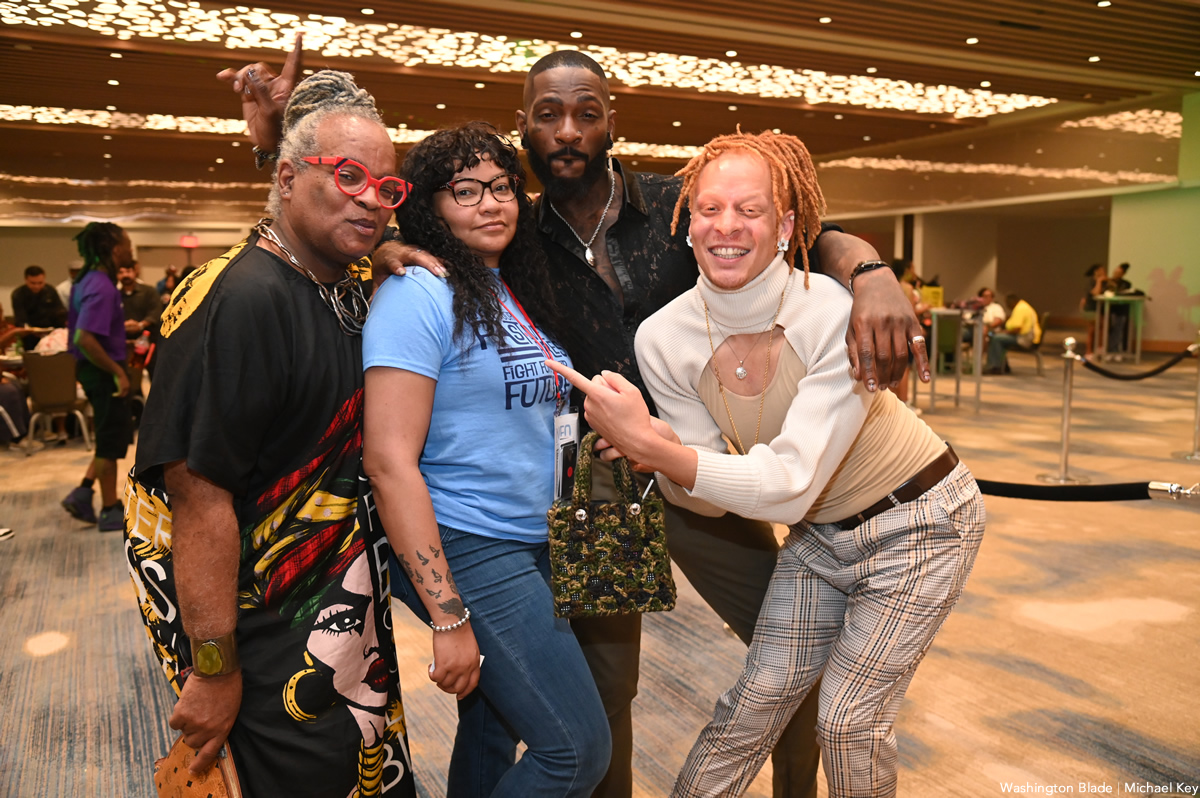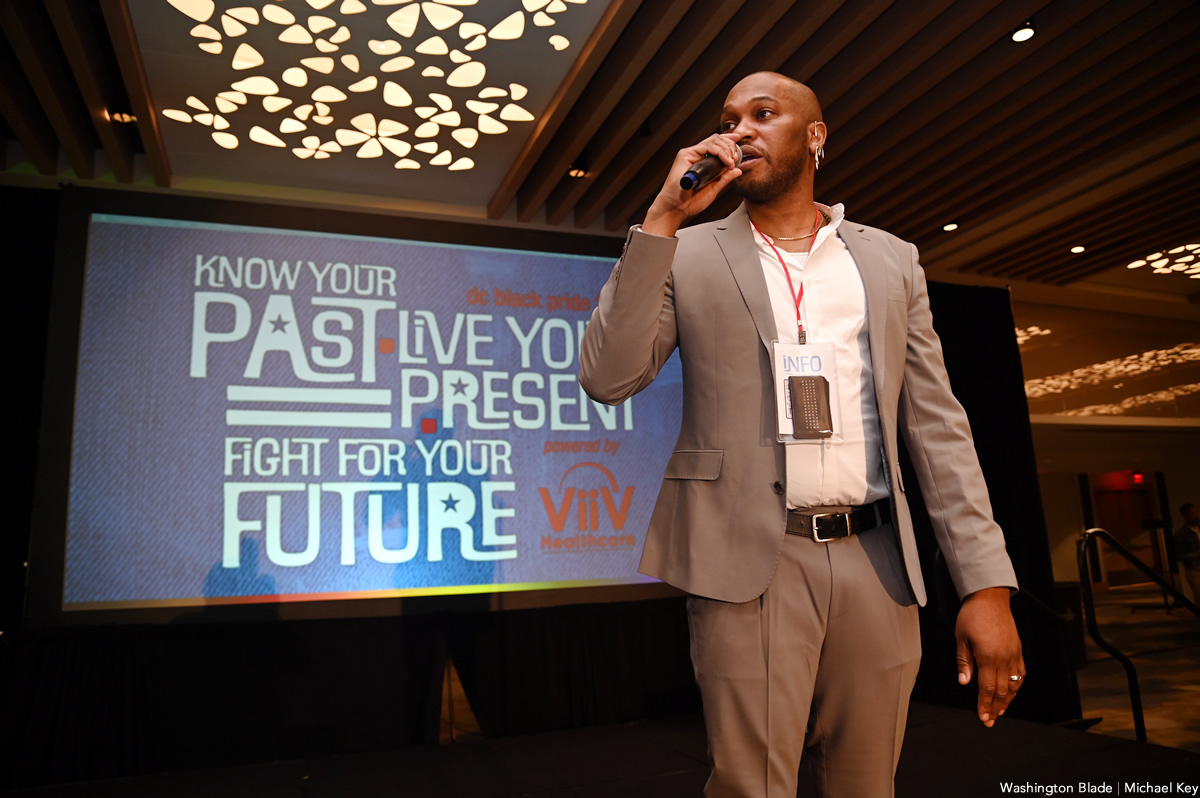 Covering DC Black Pride for @WashBlade . #Pride2023 @CheerDC_ performing: pic.twitter.com/QJI9mExtn5

— Michael Patrick Key (@MichaelKeyWB) May 27, 2023
Summer brings major dose of new queer film, TV content
Dramas, comedies, Barbie, and the return of 'Heartstopper'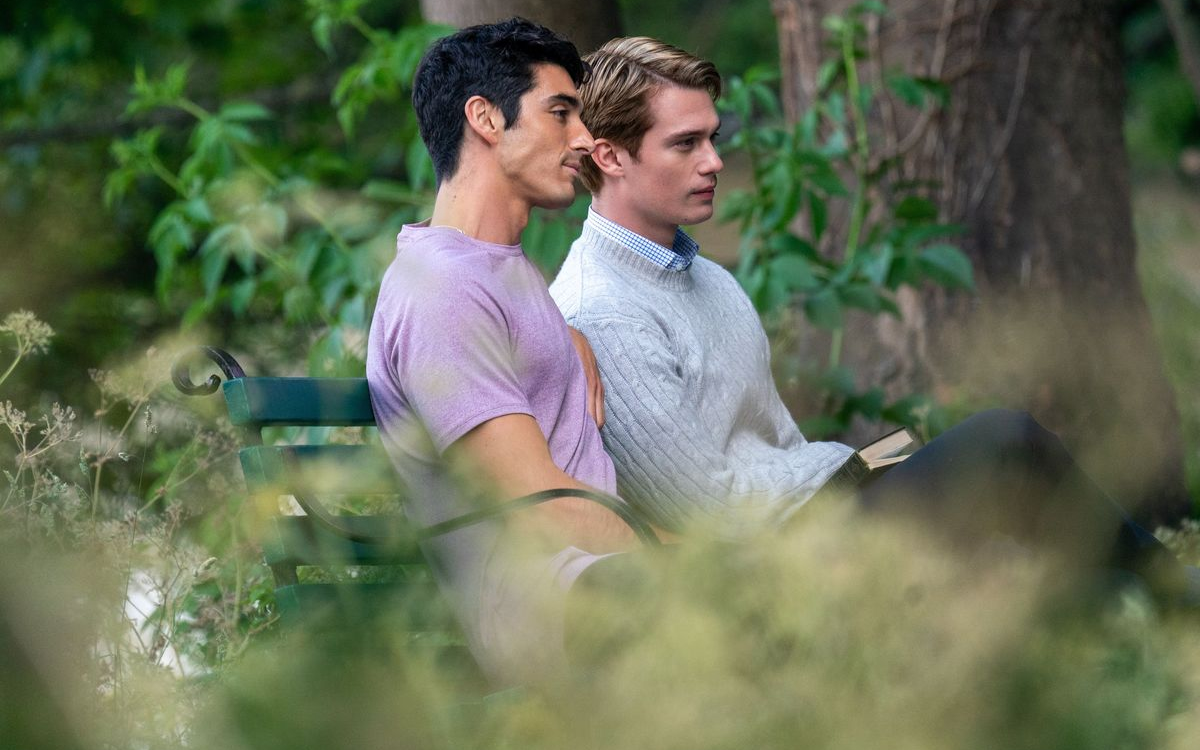 There's no season quite like the summer when it comes to having fun outdoors, for obvious reasons – but unless you want a nasty sunburn, you need to spend time indoors, too. Luckily, the Blade is here for our readers with our picks for the most promising new movies and shows coming to our various screens over the coming season, so you'll have something good to watch while you're recovering from all that shiny Vitamin D.
JUNE
THE NEIGHBOR (Limited theaters 6/2, Digital & DVD 6/6) – From Italian director Pasquale Marrazzo comes this fresh-from-the-festivals LGBTQ drama about two young men who begin an intense romance after having a terrifying experience together, and the parental hate and homophobia that comes to light in the face of their newfound love. It sounds grim, but it comes with a string of strong reviews to recommend it and acclaimed performances from Michelle Costabile and Jacopo Costantini, plus a score by prizewinning composer Teho Teardo ("House of Gucci," "Il Divo").
HORSEPLAY (Limited theaters 6/2, Digital & DVD 6/13) – Another queer LGBTQ film fest darling, this one a thriller from Argentina, about a group of friends at a summer get together; their hard-partying fun leads to horseplay (naturally), which (also naturally) stirs up other issues – and submerged secrets, feelings, and jealousies begin to push tensions toward a violent breaking point. Directed by acclaimed filmmaker Marco Berger and described as "a boundary-pushing look at masculinity, homophobia and sexuality," it stars Bruno Giganti, Agustín Machta, Franco De La Puente, and Ivan Masliah Taekwondo. It also looks very sexy, which makes us look forward to it that much more.
THE IDOL (HBO, 6/4) – "Euphoria" creator Dan Levinson is also behind this much-anticipated new series, which stars Lily-Rose Depp as a rising pop star who falls under the spell a Svengali-like self-help guru played by none other than The Weeknd (aka Abel Tesfaye). It also stars queer fan favorite and "Schitt's Creek" co-creator Dan Levy, along with Jane Adams, Hari Nef, and Troye Sivan, among others. Already controversial thanks to a behind-the-scenes whistleblower who told Rolling Stone that it "borders on sexual torture porn," you can bet there will be a lot of eyes – queer and otherwise – streaming this one.
ALL MAN: THE INTERNATIONAL MALE STORY (Digital, 6/6) – For a certain generation of gay men, the words "International Male" evoke memories of rushing home from high school to grab that precious sexy catalogue out of the mailbox before their parents got home. Now, this long-awaited documentary – which was an Official Selection at both the Tribeca and Outfest Film Festivals – finally arrives to bring the story of this iconic touchstone of queer history to light, by charting "the journey of an unlikely band of outsiders" who "designed one of the most sought-after mail-order catalogues of the '70s and '80s, forever changing the way men look at themselves, at each other, and how the world would look at them." Matt Bomer, Simon Doonan, and Carson Kressley are among the participating talking heads, but the real attraction is the wealth of archival imagery showing some of the most outrageously gay (and irresistible) fashion ever created.
BLUE JEAN (In Theaters, 9/9) – UK filmmaker Georgia Oakley won high praise for this 2022 slice-of-history drama, now making its official U.S. debut. Set in 1988 England as the conservative Thatcher government is poised to pass stigmatizing legislation against gays and lesbians, it features a powerhouse performance from Rosy McEwen as a gym teacher whose closeted double life is threatened by the arrival of a new student. BAFTA-nominated, this one won the Venice Film Festival's People's Choice Award and four British Independent Film Awards, making it both a heavy-hitter and a must-see.
WHAT WE DO IN THE SHADOWS (FX, 6/13) – The popular vampire mockumentary – along with its breakout star, queer fan favorite Harvey Guillén – returns for a fifth season.
JAGGED MIND (Hulu, 6/15) – Directed by Kelley Kali and inspired by her own short film "First Date", this feature-length queer thriller follows a woman (Maisie Richardson-Sellers) who, plagued by blackouts and strange visions, finds herself stuck in a series of time loops that may or may not be connected to her mysterious new girlfriend (Shannon Woodward). This one will have its world premiere at the American Black Film Festival in Miami Beach the day ahead of its streaming drop.
AND JUST LIKE THAT… (Max, 6/22) – The Samantha-less reboot of "Sex and the City" brings back the rest of the scandalous cadre for a second season.
EVERY BODY (In theaters, 6/30) – Julie Cohen directed this revelatory doc, which investigates the lives of intersex people, telling the stories of three individuals who have risen above childhood shame, secrecy, and non-consensual surgeries to thrive as adults after coming out as their authentic selves; it also weaves in a "stranger-than-fiction" tale of medical abuse, told in exclusive footage from the NBC News archives, which helps shed some light on the modern-day treatment of intersex people. We are definitely on board for anything that brings visibility to one of the most invisible sectors of our community – especially when it also aims to reduce stigma.
JULY
THEATER CAMP (In theaters, 7/14) – Sure to be a big draw for film fans who also love musical theater, this new movie from co-directors Molly Gordon and Nick Lieberman is an original comedy starring Tony-winner Ben Platt ("Dear Evan Hansen") opposite Gordon as a BFF pair of instructors at the rundown titular institution, who join forces with their loyal production manager (Noah Galvin, Platt's real-life boyfriend) to rescue it from the clueless tech-bro (Jimmy Tatro) that has been brought in to run it. How? Why, with a musical, of course! Written by Platt, Gordon, Galvin, and Leiberman, it also stars Patti Harrison, Nathan Lee Graham, Ayo Edebiri, Owen Thiele, Alan Kim, Alexander Bello, Bailee Bonick, Kyndra Sanchez, Donovan Colan, Vivienne Sachs, Quinn Titcomb, Caroline Aaron, and the always hilarious Amy Sedaris. Sign us up.
BARBIE (In theaters, 7/21) – Let's face it, this wickedly campy-looking, over-the-top comedy from the brilliant Greta Gerwig is probably going to be the film of the year – at least for a solid percentage of the queer audience, who are certain to be passing the popcorn on opening weekend as they watch Margot Robbie's Barbie and Ryan Gosling's Ken visit the real world together. And since collections have always been part of the "Barbie" game, Gerwig's satirical joyride offers an assortment of other Kens and Barbies, including Kingsley Ben-Adir, Simu Liu, Ncuti Gatwa, and Scott Evans as Ken, Hari Nef, Issa Rae, Kate McKinnon, Dua Lipa, Emma Mackey, Ana Cruz Kayne, Sharon Rooney, Alexandra Shipp, and Nicola Coughlan. Truthfully, if they throw in a Barbie camper set, we will be in heaven.
KOKOMO CITY (In theaters, 7/28) – Lena Waithe executive produced this "wildly entertaining and refreshingly unfiltered" documentary that follows the lives of four Black transgender sex workers in Atlanta and New York City. Winner of Sundance's NEXT Innovator Award and NEXT Audience Awards, it gives its quartet of subjects ample opportunity to spill the tea on their profession, and they do not hold back. As a bonus, it's the directorial debut of producer/singer/songwriter D. Smith, who made history as the first trans woman cast on a primetime unscripted TV show.
AUGUST
HEARTSTOPPER (Netflix, 8/3) – The eagerly awaited return of Nick and Charlie (Kit Connor and Joe Locke), the most irresistibly adorable pair of young teen boyfriends ever, for a second season of this beloved UK series that will likely have everyone immediately clamoring for a third.
ONLY MURDERS IN THE BUILDING (Hulu, 8/8) – Another returning favorite, the third season of this deliciously charming confectionary blend of characters, comedy and crime podcasts comes with the addition of a new premium ingredient – Meryl Streep (real, not imitation) – for extra delectability. Who could resist?
RED, WHITE & ROYAL BLUE (Prime, 8/11) – "Heartstopper" fans who have binged through the new season in one sitting and are hungry for more might find a suitable fix when this Greg Berlanti-produced, Matthew Lopez-directed film adaptation of nonbinary author Casey McQuiston's YA bestseller drops a week later. It's an implausible but infectiously sweet rom-com that imagines a same-sex romance between America's First Son and the heir to the British throne, with young newcomers Taylor Zakhar Pérez and Nicholas Galitzine taking on the leading roles; also starring are Clifton Collins Jr., Stephen Fry, Sarah Shahi, Rachel Hilson, Ellie Bamber, Aneesh Sheth, and Polo Morín, but we are frankly most excited to see Uma Thurman playing America's first female president. Let's hope that plot detail isn't such an implausible premise.