All Stars: D.C. Aquatics Club
Swimmers from all backgrounds find camaraderie in local group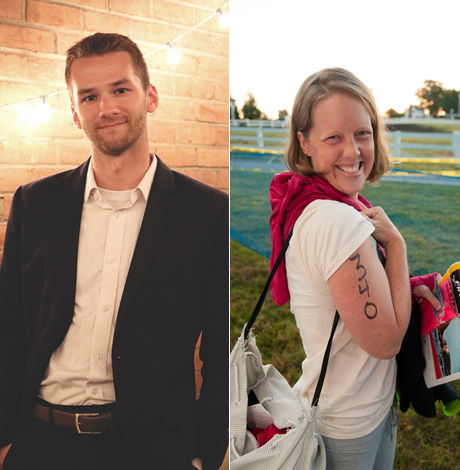 Two former college club swimmers, one gay and one straight, from the District of Columbia Aquatics Club are featured this week in the ongoing All Star series in the Washington Blade. The LGBT sports community in D.C. has grown to more than 7,000 athletes and has drawn in both gay and straight competitors.
At the urging of his parents, Tommy Scibilia played everything from baseball to volleyball to soccer while he was growing up in Fairax, Va. None of them stuck until he started swimming year around in the eighth grade. He swam all four years in high school and when he committed to attend the University of Virginia, he had a decision to make.
"I chose the club swimming route which is part competitive and part social," Scibilia says. "I'm glad that I did that because a lot of the varsity swimmers burn out. I still appreciate the sport and want to continue to pursue it."
Though it may not be as intense as NCAA swimming, college club swimming is filled with athletes looking to challenge themselves. Scibilia attended up to six meets per school year at different schools as well as the Collegiate Club Swimming Championships at Georgia Tech.
After graduating with a master's degree in urban and environmental planning, Scibilia moved back to the area in 2016 and works as a city planner in Fairfax. One of his new roommates told him about the LGBT-based D.C. Aquatics and he joined a few months later.
Scibilia attended his first meet with his new teammates in Miami in May at the International Gay & Lesbian World Championships. He says the experience could have been intimidating but his teammates and past swimming races helped him feel comfortable.
"It comes back pretty fast when you are up on the blocks again. You don't lose the spirit of it," Scibilia says. "I'm a little shy and I wasn't sure what to expect being new and younger, but everyone was welcoming and really funny."
Coming up for Scibilia is the D.C. Aquatics-hosted meet in October and plans to attend his first Gay Games in Paris next year. He says the swim meets are a good way to get to know his teammates outside of the regular practice routine.
"I like the age range on D.C. Aquatics. It's cool to know that people have been swimming on this team for decades," Scibilia says. "I have a lot to look forward to in the future."
Sara Hewitt was born in D.C. and grew up in Glen Echo, Md. She swam in the Montgomery County Swim League from ages 5-18 along with swimming on her high school team for four years. While she was attending University of Maryland, she joined the college club team that was formed in her senior year.
After graduation, she was swimming on her own in 2010 at the Tacoma Aquatic Center and spotted D.C. Aquatics across the pool having a butterfly workout.
"I saw them again the next week and went up and asked if I could join," Hewitt says. "I looked at their website to see if they accepted straight people and it wasn't a prerequisite to be gay. I was excited about getting a real practice with a team."
After a couple months of training, Hewitt attended her first meet and during her 100-yard individual medley race, her new teammates stepped forward to cheer her on.
"This is a welcoming group of people and there is so much camaraderie," Hewitt says. "Safe spaces in sports are important and it's incredible to be a part of their safe space."
Hewitt, who works as an engineer, attended her first International Gay & Lesbian World Championships in Honolulu in 2011 and has since been to the championships in Reykjavik, Seattle, Stockholm and Miami.
She also marches every year with her teammates in the Capital Pride parade and next year will mark her first participation in the Gay Games in Paris. The environment continues to feel welcome to her and she shares an experience from the Championships in Miami this past May.
"I lost my goggles in my first race, the 800-meter freestyle, and when I finished the Miami-based timer said, 'Oh my god, I can't believe you kept swimming.' The timer in my second race was the boyfriend of the timer in the first race. Both guys ended up cheering for me in all the rest of my races. I am meeting encouraging people that I will see again at future competitions. What a great environment for a swim meet."
Washington Football Team embraces Pride Night Out
'Football is for everyone'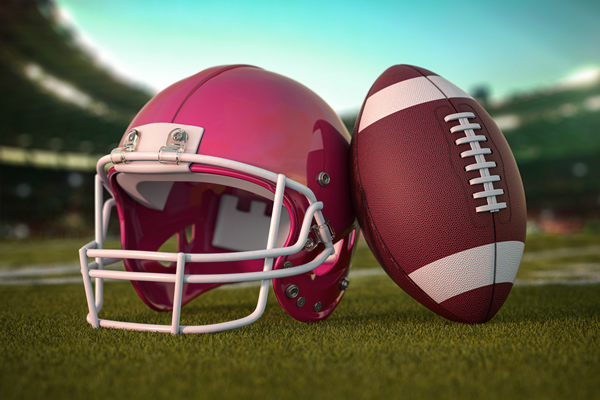 Team DC launched its 'Night OUT' series in 2005 as an LGBTQ community night with the Washington Nationals.
Over the years, they added events with other local professional sports teams – DC United, Washington Mystics, Washington Capitals, Washington Wizards, Washington Kastles, Washington Spirit, Old Glory DC, Washington Prodigy and Citi Open.
On Thursday, Sept. 16, Team DC will host the first annual Pride Night OUT at the Washington Football Team marking their first partnership with the National Football League.
"We had tried reaching out in the past but eventually made the decision that we would not engage until the name was changed," says Brent Minor, founder and executive director of Team DC. "We don't want these community nights to just be a monetary transaction, we want to build bridges and encourage inclusion."
This week's game is the Washington Football Team's Week 2 matchup against the New York Giants and will be televised on Thursday Night Football.
Along with Pride Night OUT, it will also be a celebration of Latinx Heritage Month and Pro Football Hall of Famer Bobby Mitchell, who was a pioneer and trailblazer for equality and civil rights during his years with the team as a player and executive.
Frontline workers from the LGBTQ community including Whitman-Walker Health, Food & Friends and medical providers will be recognized and there will be a performance by the Gay Men's Chorus of Washington's gospel ensemble of 'Lift Every Voice.'
The new relationship with the Washington Football Team began when they reached out to Capital Pride and Team DC with a request for a cultural competency training for WFT staffers.
"We spoke with about 75 members of their staff, and it wasn't just a window dressing exercise — people were engaged," Minor says. "During the training, Night OUT came up, which led to a discussion on corporate perspective regarding the LGBTQ community."
Another cultural competency training is expected to occur in the future and the Washington Football Team has pledged to have a yet to be determined role at Capital Pride in 2022.
In August 2020, former NFL player Jason Wright was hired by the Washington Football Team to become their team president, where he leads their business operations, financing, and marketing strategies.
"We went through a leadership change when Jason Wright was hired and the direction of our outreach will be much broader than it was in the past," says Joey Colby-Begovich, vice president of guest experience, operations for the Washington Football Team. "We want to be intentional in celebrating our communities beyond the traditional football fans and that includes people of color and marginalized communities. Football is for everyone."
The DMV region is comprised of a broad spectrum of people who represent the changing demographics of our country. Establishing connections to communities where people from different backgrounds and sexual orientations can find commonality is important for any organization interested in social responsibility.
"We are hoping that we can cultivate a broader fan base that feels safe and comfortable in our space. That includes stronger and deeper relationships with our communities and opportunities in our employee base — we want to be involved in the discussion," Colby-Begovich says. "The support that we shared for Carl Nassib coming out is an example of our direction. There is change happening."
The excitement is palpable from the D.C. LGBTQ community as more than 100 tickets have already been sold for the inaugural Pride Night OUT at the Washington Football Team.
"I think back to the beginning when we first established a relationship with the Washington Nationals. Years later after the mass shooting at Pulse in Orlando, they reached out and asked, 'What can we do,'" says Minor. "Establishing these relationships is important and who knows where this leads when you are embraced in a positive way? When you can break down a barrier between the LGBTQ community and the NFL, that's rarefied air."
Tickets for Pride Night OUT at the Washington Football Team can be found at teamdc.org.
If a nation? 'Team LGBTQ' ranked 11th in medal tally at Tokyo Olympics
182 publicly out gay, lesbian, bisexual, transgender, queer and nonbinary athletes were in Tokyo for the Summer Olympic Games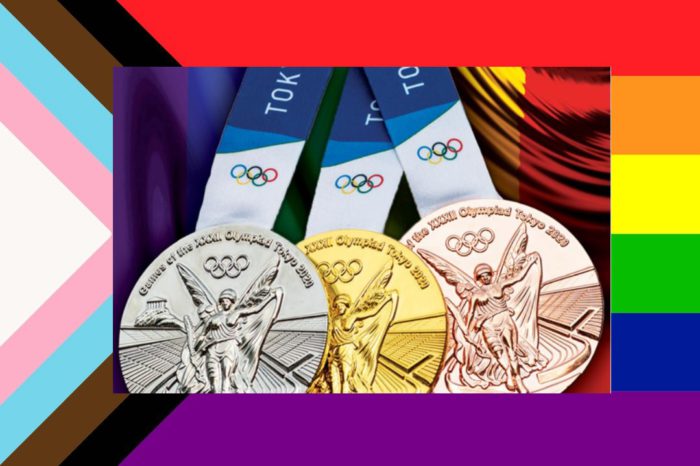 TOKYO – Delayed by the coronavirus pandemic by one year and then held under tight restrictions including no spectators or cheering fans in the stands, the Tokyo Olympics drew to a close Sunday with one group of athletes, LGBTQ+ Olympian competitors, having made historic gains.
Affectionately labeled "Team LGBTQ" by OutSports magazine, at least 182 publicly out gay, lesbian, bisexual, transgender, queer and nonbinary athletes were in Tokyo for the Summer Olympic Games, more than triple the number who participated at the 2016 Rio Summer Olympic Games, the magazine reported.
"In fact, if the LGBTQ Olympians competed as their own country — affectionately labeled "Team LGBTQ" by Outsports — they would rank 11thin the total medal count (right behind France and before Canada), with 32 team and individual medals: 11 gold, 12 silver and nine bronze," reflected NBC Out.
30 different countries were represented by at least one publicly out LGBTQ+ athlete covering 34 sports, including the first trans Olympians, Team New Zealand's weightlifter, Team USA's Reserve BMX racer Chelsea Wolfe, and Team Canada's Quinn, the 25-year-old, soccer player who goes by a single name and uses the pronouns "they" and "their."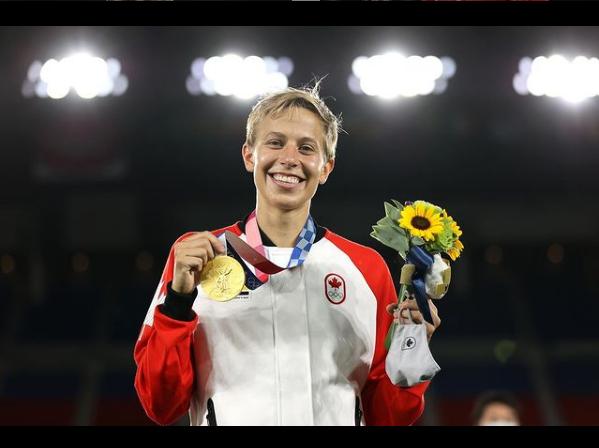 The most notable Olympic medal win was that of Canadian Women's Soccer midfielder Quinn, who became the first openly transgender, non-binary athlete to win an Olympic gold medal in another trailblazing moment at the Tokyo Games for the marginalised LGBTQ+ community.
Photo via Instagram
In another Olympic triumph, 27-year-old British diver Tom Daley secured his first Olympic Gold medal alongside teammate Matty Lee winning the gold with a score of 471.81 in the men's synchronized diving narrowly besting the defending champions, China's Cao Yuan and Chen Aisen by just 1.23 points. For Daley it was his fourth career Olympic medal including a Bronze Medal won in the the Men's 10m platform completion at Tokyo as well.
Outsports and NBC Out published the following list of medalists;
The gold medalists were Brazilian swimmer Ana Marcela Cunha for the 10-kilometer event; French martial artist Amandine Buchard for mixed team judo; Venezuelan track and field athlete Yulimar Rojas for the triple jump; Irish boxer Kellie Harrington; New Zealand rower Emma Twigg; U.S. women's basketball team members Sue Bird, Chelsea Gray, Brittney Griner, Breanna Stewart and Diana Taurasi; American 3-on-3 basketball player Stefanie Dolson; Canadian women's soccer team members Quinn, Kadeisha Buchanan, Erin McLeod, Kailen Sheridan and Stephanie Labbe; French handball players Amandine Leynaud and Alexandra Lacrabère; New Zealand rugby players Gayle Broughton, Ruby Tui, Kelly Brazier and Portia Woodman; and, of course, British diver Tom Daley, who finally took home the gold for synchronized diving at his fourth Games.
NBC Out's Dan Avery noted that after she earned silver for the Philippines, featherweight boxer Nesthy Petecio told reporters, "I am proud to be part of the LGBTQ community," according to the Philippine Daily Inquirer,
"Let's go, fight!" she added. "This fight is also for the LGBTQ community."
"The presence and performance of these out athletes has been a huge story at these Games," Outsports founder Cyd Zeigler told NBC Out in an email. "30% of all the out LGBTQ Olympians in Tokyo won a medal, which means they didn't just show up, they also performed at a very high level."
Out British diver Tom Daley takes Bronze medal in men's 10m platform
"I owe this medal to so many people. I'm standing on the podium but there are so many people behind the medal."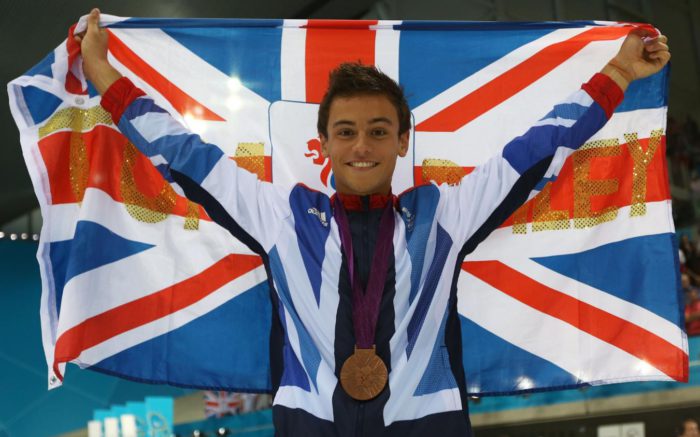 KASAI RINKAI PARK, Tokyo- After tough competition in the Men's 10m platform diving from China's Cao Yuan who picked up the Gold Medal and his teammate Yang Jian cinching the number two spot with a Silver Medal, 27-year-old British diver Tom Daley secured a Bronze Medal win with a score of 548.25
This is the second Olympic Bronze Medal for the Plymouth, England native, in individual diving completion since he won bronze at the London Games in 2012. Daley and his teammate Daniel Goodfellow won a Bronze Medal in the 10m synchronised at the 2016 Olympic Games in Rio De Janeiro, Brazil.
With this Bronze win, it will be his fourth overall career Olympic Games medal win after taking the Gold two weeks ago in the Tokyo games along with his British teammate diving partner Matty Lee. Daley and Lee winning the gold with a score of 471.81 in the men's synchronized diving narrowly besting the defending champions, China's Cao Yuan and Chen Aisen by just 1.23 points.
During a post event press conference Daley said; "I am so happy that this Olympics has gone the way it has. I feel like a different athlete, I feel like I've been through so many different things over the years."
"At the end of May, I didn't even know if I was going to make it to these Games. I tore my meniscus and had knee surgery, I always dreamed I'd be fit enough to come back and dive at these Olympics," he continued adding, "If someone had told me I was going to win a gold and a bronze, I probably would have laughed in their face. I owe this medal to so many people. I'm standing on the podium but there are so many people behind the medal."
Reflecting on his medal win the diver noted, "Once you're in the final, that's what I love. I love competition when it counts, there was great competition with the two Chinese divers, they pulled away when I missed it a little bit on the fourth dive," the apparently thrilled Daley smiled and added, "I'm extremely happy to come away with another Olympic medal."
🥉🥉🥇🥉@TomDaley1994, the first British diver to win four Olympic medals.#TeamGB pic.twitter.com/gNNQGs762i

— Team GB (@TeamGB) August 7, 2021