Ginuwine receives backlash for refusing to kiss trans 'Celebrity Big Brother' co-star
the D.C. singer's opinion has divided the internet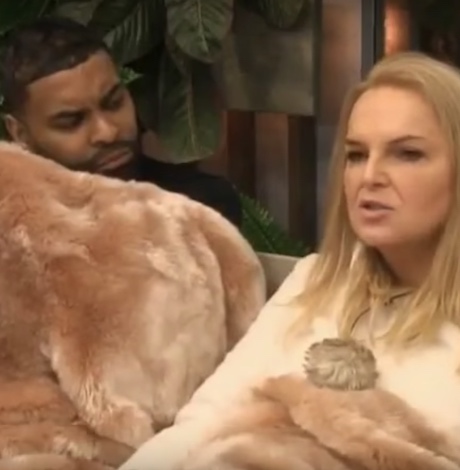 Ginuwine has sparked controversy after he refused to kiss his fellow "Celebrity Big Brother UK" co-star India Willoughby.
The interaction began when Willoughby, who is a transgender broadcaster in the U.K., asked Ginuwine, a D.C. native, if he would date a transgender woman.
"I'm a woman, right," Willoughby says. "Forget about any 't's, or anything in front of it. So, on that score, you would date me, wouldn't you?"
"Not if you told me you was trans," Ginuwine replies.
"No, no, I'm not telling you I'm trans," Willoughby says. "I'm a woman."
"A woman? Yeah," Ginuwine says.
Willoughby reaches in to kiss the singer who quickly pulls away.
The clip has divided social media as some people felt Ginuwine was being transphobic and close-minded.
Ginuwine discriminates against trans women, as do most cis men.
That was India's point. #cbb

— ?Pineapple Jimmy (@TonyTheNarwhal) January 7, 2018
Irrespective of how nasty India is, (& she hates other trans ppl too), does Ginuwine know how much he's insulted ALL trans women by saying he'd never date a trans woman. Also presumptuous & arrogant of him to assume we'd all be lining up to go out with him.

— Katie (@Katie97531200) January 7, 2018
The shit between India and Ginuwine IS transphobia & im tired of them saying that it isn't. If you say you won't date someone because they're trans but you would date them if you didn't know, IT IS TRANSPHOBIA.

— Kiera (@ForeverRawrrr)
Meanwhile, other people thought he has a right to his opinion and Willoughby was harassing the singer. Malika Haqq, who is also on "Celebrity Big Brother UK," defended Ginuwine saying there's nothing wrong with him choosing who he wants to date.
I completely agree with Malika, Ginuwine has the choice/right to date or not date whoever he wants, just as I'm sure he probably wouldn't date Ann, would she storm off and be mad , no .. I feel that India is taking things as a personal attack .. and they aren't ..

— Susan Nathan-Meloy (@SusanMeloy) January 7, 2018
That's ridiculous. He's entitled to his own sexual preferences and that doesn't include transwomen but plenty more fish in the sea for India

— James Anderson (@JamesLeslie123) January 8, 2018
India asked Ginuwine if he'd date a trans woman and he simply said No – just like when India was asked if she'd date a woman and she said No

— Lee (@sunlessreign481) January 8, 2018
Ginuwine saying he wouldn't date a trans woman is a preference not discrimination… plus he barely knows the woman, if you out here kissing random people then you got a problem

— Ashley (@ItsAshley____) January 8, 2018
New dance single pays tribute to Town Danceboutique
Local musicians pen 'Town' in honor of shuttered club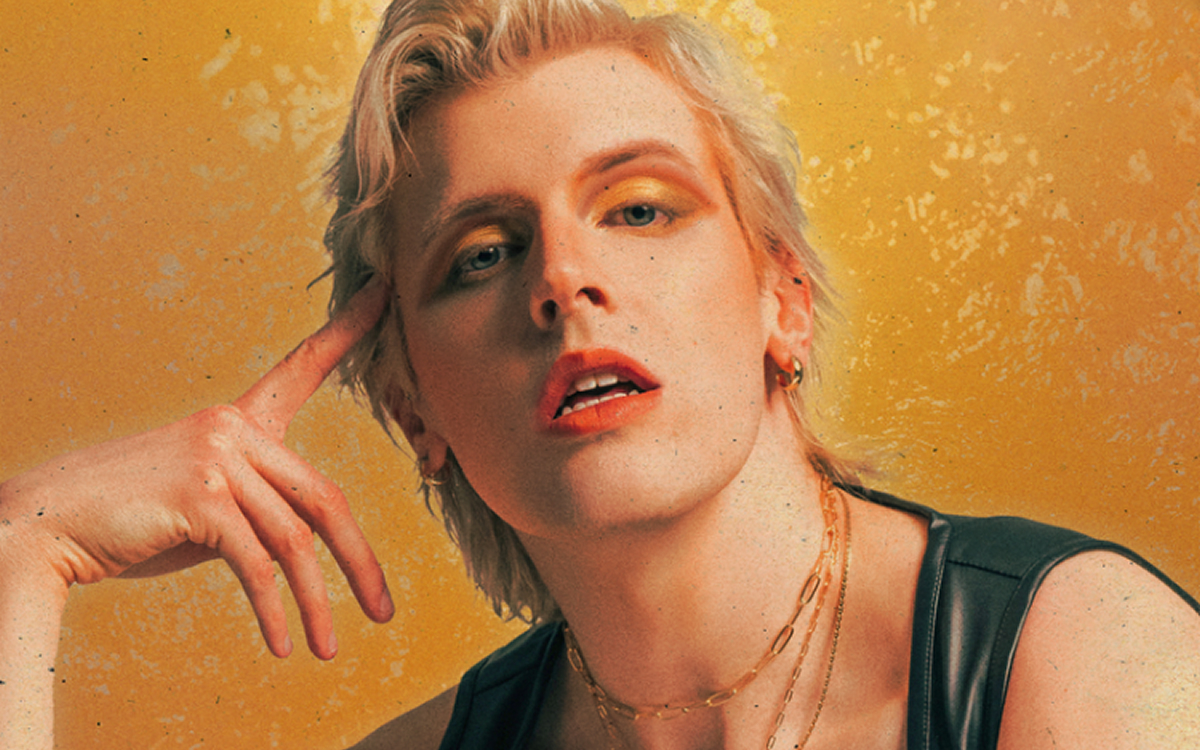 The closing of the LGBTQ nightclub Town Danceboutique in the summer of 2017 was heartbreaking to local musician Bryce Bowyn. He and his Los Angeles-based singer/songwriter friend Lexie Martin decided to honor its legacy in their new single, "Town."
For Bowyn, who moved to the District about a decade ago to attend school at American University, the memories he has from Town Danceboutique are endless. And when it closed, it was a massive loss to Bowyn and many others.
"It was such a cool space," Bowyn said. "It was just disappointing to see a place that brought so many people together become part of the landscape again." The building Town Danceboutique used to be housed in is now home to upscale apartments and a CVS.
Town Danceboutique was a formative place for Bowyn and Martin, and it was Bowyn's first experience in an open and accepting LGBTQ environment. His favorite memories at the club were always on Halloween, he said. Patrons, including Bowyn, would go all out with their costumes to look their very best.
Bowyn and Martin met while they were both in the musical theater program at American University. Despite their years-long friendship, "Town" is the first song they have written together. They sat down over FaceTime and got to work. It was Martin's idea to pay homage to Town Danceboutique, and the song follows the story of pre-gaming, going out, and hitting the dance floor.
But the single also serves as a hype song for going out in any city, at any place.
"It was important to me for the song to remain relatable and accessible," Bowyn said. "So the whole foundation of the chorus, 'Let's go to town,' can either mean Town Danceboutique, or painting the town red and having the night of your life."
Bowyn started writing and producing his own music in 2018. He released an EP titled "A Rosy Retrospect" in 2022, and most recently released a single "A Bridge Burned Down" in June. His music is inspired by late 2000s pop and '80s synthpop, influenced by stars like Madonna and Charli XCX. Lexie Martin released her self-titled EP in 2019 and most recently came out with her single "SUPERPOWER" in 2021.
Bowyn has been a lifelong pop music enthusiast. He distinctly remembers watching Britney Spears perform "Oops!…I Did It Again" at the MTV Video Music Awards when he was a kid and thinking "That was what I wanted and what I was set to do in life."
"My heart was always with pop music," Bowyn said.
"Town" is available now for streaming on Spotify, Apple Music, and Soundcloud.
Bernal shines as real-life gay wrestler in 'Cassandro'
A polished, engaging film about a real-life figure that carries message of hope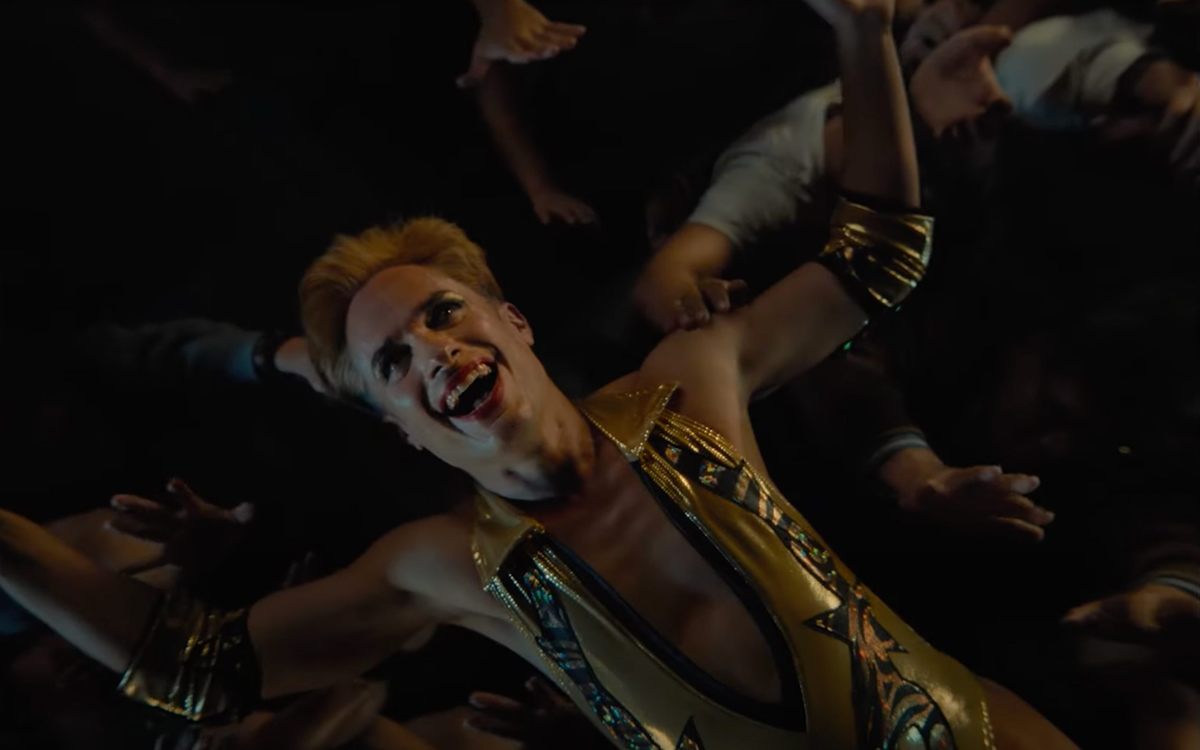 For most Americans, any knowledge of the Mexican wrestling style known as lucha libre is probably limited to what they gleaned from the 2006 Jack Black comedy "Nacho Libre," which (it should go without saying) is not a movie that anyone should consider "factual."
Now another movie about the subject has arrived, and this time it's not an anything-for-a-laugh fantasy but a biopic about a real luchador who rose to international fame in the 1980s and remains one of the most celebrated and popular figures in Mexican professional wrestling to this day.
The luchador in question is Saúl Armendáriz – better known to his fans as "Cassandro" – and the eponymously titled movie about his ascendency begins streaming on Amazon Prime Video Sept. 22 after a limited theatrical release on Sept. 15.
Directed by Roger Ross Williams (who may not be a household name but has the distinction of being the first Black director to win an Oscar, thanks to the 2009 win of his "Music by Prudence" for Best Documentary Short), "Cassandro" stars Gael García Bernal – a longtime ally who became a queer fan-favorite thanks to his work in films like "Y tu mamá también" and "Bad Education" – as the openly gay Armendáriz and tells the story of his rise to fame in direct defiance of the culturally reinforced homophobia that permeated the professional environment of his field. Set in the 1980s, it follows the future superstar from the early days of his career, tracing his steps as he forges a path to success as an exótico – a wrestler who assumes a flamboyant persona based in queer (and largely homophobic) stereotypes – while simultaneously rising above the stigma of his sexuality and his impoverished upbringing to become a pioneering force in LGBTQ+ acceptance within the deeply traditional Latino culture to which he belonged.
Like most biopics, it also focuses on the personal: much of the film's first half is dominated by the relationship between Armendáriz and his mother, Yocasta (Perla De La Rosa), a professional "good-time girl" whose acceptance of his queer identity is absolute yet tempered by her fear for his well-being. There is also a long-running thread about his desire for approval from his father – a married man with a "legitimate" family in which he is decidedly not included – and the pattern in his personal life of repeating that same dynamic in romantic relationships with lovers like closeted big-name luchador "El Comandante" (Raúl Castillo) and an apparently fluid but firmly "on the DL" associate named Felipe (Benito Antonio Martínez Ocasio, aka Puerto Rican rapper Bad Bunny for those unfamiliar with his "real" name) who clearly meets more than just his need for a reliable supplier of cocaine – it is the '80s, after all – while maintaining a strict-if-not-quite-convincing "no homo" stance.
Ultimately, though, as presented by first-time narrative feature director Williams (who co-wrote the screenplay with David Teague after previously covering Armendáriz' story in the 2016 documentary short "The Man Without a Mask"), "Cassandro" is driven by a narrative about overcoming and reclaiming the pejorative cultural tropes around queer sexuality and turning them on their ear as a means toward fully inhabiting queer identity. Blessed with a relatively supportive mother – a plainly-implied career sex worker who is depicted as much as a kindred spirit as she is a maternal figure – and comfortable enough in his own skin to flaunt his "deviance" in the public eye, the film's version of Armendáriz moves through a clearly defined arc toward self-acceptance on his own terms.
Much of this is mirrored, of course, in the tale of his accelerated rise to stardom, in which he wins the hearts of lucha libre fans enough to subvert the accepted formula that the exótico is always the loser, and reinforced by the ways in which he responds to the various long-term relationships in his life – some nurturing, some toxic – as his career trajectory helps him to recognize his own worth. In this way, "Cassandro" becomes a true-life tale of queer affirmation, the saga of a person who overcomes hardline traditional expectations and deep-rooted social prejudice to use his own queer identity as an avenue to personal empowerment.
That, of course, is exactly what it sets out to be: it's an unabashedly pro-queer narrative that brings the highest level of professional artistry into the mix, using it to convey that subtle blend of aloof observation and emotional engagement that can sometimes win viewers' hearts and minds.
In recognition of that artistry, the foremost acknowledgement must go to Bernal, who turns in a career-highlight performance as both Armendáriz and his over-the-top titular alter-ego, which requires an impressive display of physicality in addition to keen emotional intelligence. The actor is more than capable on both fronts, and while it would frankly be nice to see one of our queer heroes portrayed in a mainstream film by an actual queer actor, it's hard to complain when the actor is someone like Bernal, who finds within his own lived experience the authenticity to make it all ring true. Kudos are also deserved for both De La Rosa, who establishes an emotional core to the story that endures even after she leaves it, and openly-queer actor Roberta Colindrez as the trainer (and friend) that helps "Cassandro" conquer the world of professional lucha libre wrestling by literally flipping the script.
Still, though there is clearly a heartfelt desire to inspire behind the movie's portrayal of its hero's unlikely rise to glory, "Cassandro" doesn't quite deliver the kind of unequivocal "feel-good" validation for which it aims. There's something rote about the story as it's told to us; Armendáriz' success seems a foregone conclusion, and his personal struggles – though impeccably acted and depicted with sincerity – feel somehow manufactured for the sake of a desired emotional response. There's a sense of "Hollywood" about the film's approach, a deliberate framing of the material which makes this real-life success story seem much too easy, its subject's struggles too much like tropes to deliver the kind of authentic satisfaction the movie clearly aims for. Built on familiar formula, it all feels a little too predictable to ring true – especially for a saga centered in such a messy, wild-and-wooly environment as professional lucha libre. Yes, it inspires, but much of that is accomplished by playing to sentiment, by what seems a deliberate effort toward building and reaffirming a legend rather than revealing the real human experience behind it, and many details of Armendariz' real story are left out – a suicide attempt, a struggle with substance abuse, even the origin of his iconic stage name as a tribute to a brothel-keeper of whom he was fond – that might have made for a less-sanitized and much more interesting story.
Such quibbles, however, are probably a moot point for most viewers; while "Cassandro" might feel a little too hollow to satisfy completely, it's a polished, entertaining, and engaging film about a real-life figure that should – and does – carry a message of hope and transcendence for queer audiences.
Why would we ever complain about that?
Celebrating sports history: DC Gay Flag Football's 25th season
Head of District's premier league says it's 'groovin' to its silver anniversary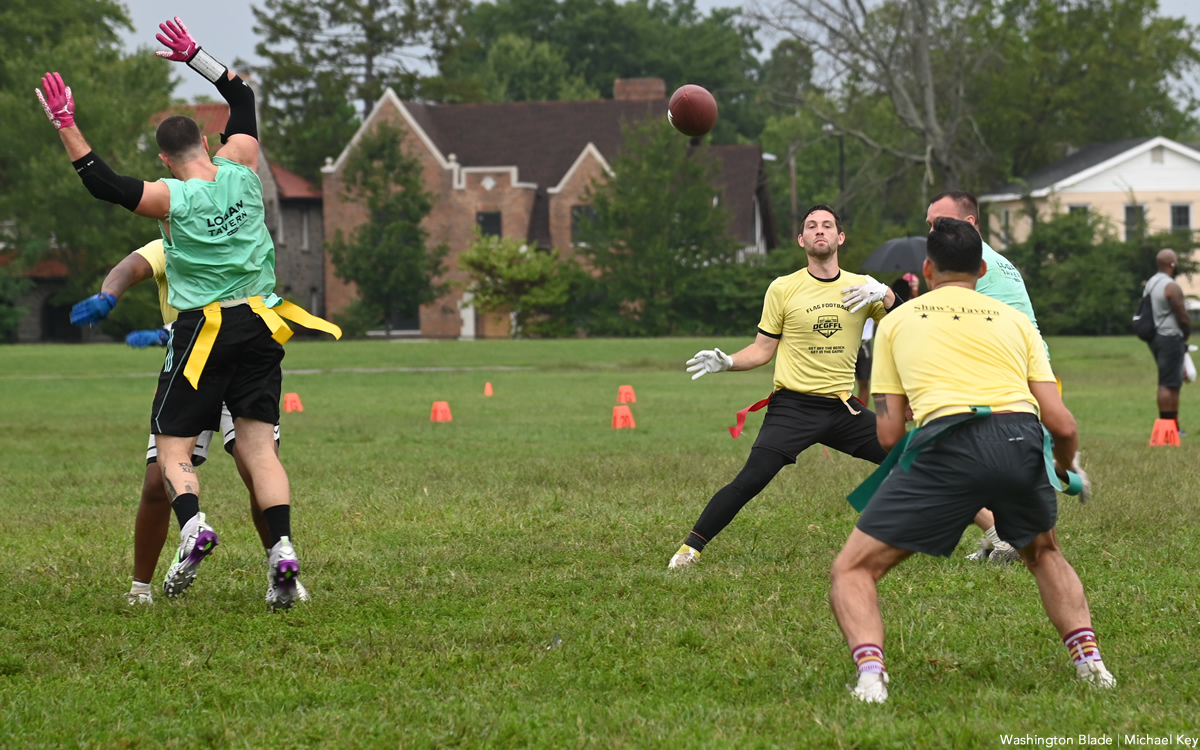 What started when gay football fans got together in the 1990s to play their favorite sport is now a D.C. institution with 270 players in 20 teams spread over three fields, playing in both fall and spring.
"Get off the bench," shouts the slogan on the league's website. "Get in the game!"
The D.C. Gay Flag Football League turns 25 years old this month and is considered not only the premier league of its kind in the District, but is recognized across the country for its players, organization, and spirit.
"The way we run our league and the way we compete make us stand out relative to the rest," DCGFFL Commissioner Logan Dawson told the Washington Blade.
For those who don't know flag football from any other kind, the difference is easy to spot: There's no contact allowed. As the rules say, "That includes tackling, diving, blocking, and screening. Instead, players wear flags that hang along their sides by a belt. To 'tackle' the person in possession of the ball, the opposing team needs to pull one or both of their flags off." There are a lot more rules, but that's the one that really sets it apart from tackle football.
The sport itself dates back to World War II and its origins have been traced to Fort Meade, Md.
What's the secret to the league's longevity? "I think we attract and hold on to great athletes who are highly competitive, not only on the field, but also, in our professional and personal lives," he said. Dawson, 32, plays flag football as well as manages the league. He's currently single, but says his first love is the weather.
"I knew in second grade that I wanted to be a meteorologist," said Dawson, who moved to the District to be a meteorologist with the National Weather Service.
A prolific swimmer since high school, he came out as he started grad school at Purdue University in Indiana in 2012. In an op-ed appearing in Outsports in 2014, Dawson wrote about competing in his first Gay Games in Cleveland along with a group of other gay swimmers from Colorado, and left that experience determined to join a gay sports league. 
He found it in the fall of 2018 in the DCGFFL, the same year the league's Generals team won Gay Games XVIII. The league supports up to five travel teams, which take part in annual tournaments nationwide. It also hosts a summer tournament each year in Rehoboth Beach, Del.
"There's a good amount of participation by people who played in the league from the very early days," Dawson said. "I think we're just in the sweet spot, where we have a lot of the original participants, a lot of new players, and we're just kind of grooving right now."
The first group gathered at Francis Field near Dupont Circle in 1994. Three years later, another group formed to play just steps from the Washington Monument Mall. They came together in 1998 to form what is now the DCGFFL.
"For the majority of those seasons, we mainly had one division that played that was co-ed," said Dawson. "This is our second season that we've had a Womens+ Division made up of [cisgender] women, trans and nonbinary individuals." The Womens+ teams are called the Senators.
Jayme Fuglesten is director of the Womens+ Division and has played in the league in most seasons since 2011.
"The DCGFFL has been a major part of my adult life," she says. "I came out while playing in the league in no small part because of the love and support of this community."
Why does she think the league has been such a success to have lasted 25 years?
"I think the league has been so successful because of its focus on inclusion and community," she says. "I remember being so surprised in my early years when JJ and so many others would just come right up to me, hug me, and welcome me. And that really hasn't changed in the 20+ seasons I've been around. It also continues to grow and respond to the needs and desires of our players. One example of that is the new Womens+ division, which gives an additional space for people who identify as womens+ to play and cultivate stronger relationships."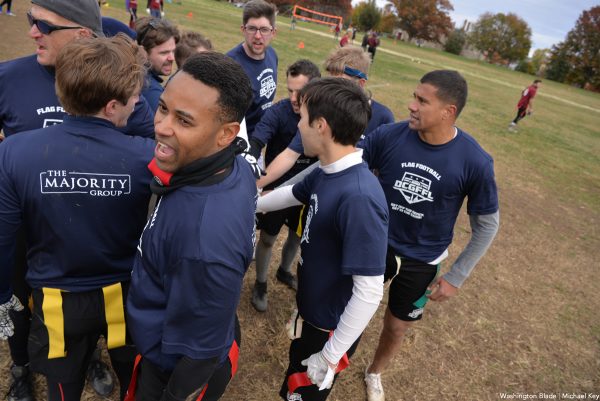 Next month, the DCGFF will send both Generals and Senators to Gay Bowl XXIII in Seattle. "That's going to be the first time we're going to have two Womens+ teams at the Gay Bowl," Dawson told the Blade. "It's reflective of the new generation of the league."
Earlier generations had trouble attracting new players. As the Blade reported in 2019, what had been a steady number of 20 to 22 teams dropped dramatically to 14, its lowest roster since 2011. The league's leadership turned it around with new recruiting events, new sponsors, changes in their social event locations, changes to their player draft and a change of venue for league play beyond Carter Barron fields in Rock Creek Park in Northwest Washington.
Brentwood Hamilton Park in Northeast Washington is now home to the recreation division and Randall Field south of the Capitol is the league's third venue.
Just like every facet of society, from coast to coast, what happened next hit the league hard. "COVID happened in spring of 2020," recalled Dawson. "Everything shut down, and we did not play for what amounted to three full seasons for a year and a half."
But once the world emerged from quarantine and lockdowns, flag football players started flocking to the DCGFFL. "We've had probably over 150 new players join our league in the last two years," he said.
One thing is certain, said Dawson: Despite the name, not everyone who plays in the gay flag football league is LGBTQ+.
"It's a really great community. There's a straight couple that's married and will be soon having a child in the next month or so," Dawson said. "They met playing in the league, just like we've had gay couples who meet in the league and eventually get married and have children."
Prominent among the league's many sponsors is the NFL hometown team, the Washington Commanders. "They are highly supportive of us, not just financially, but also publicly supporting what we are, and our mission," Dawson said.
This current NFL season is the first since 2021 without an out gay player on the gridiron. That's when Carl Nassib became the first active pro football player to come out as gay.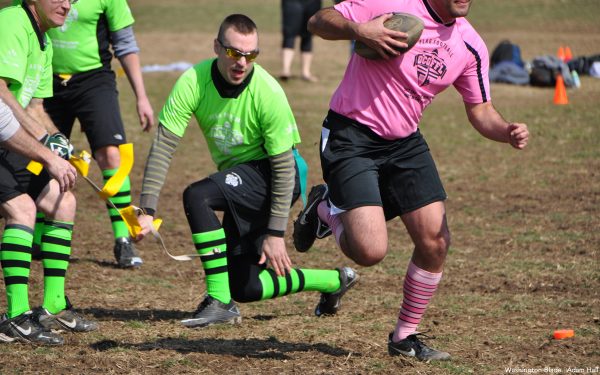 While Dawson said, "I'm sure there are more out there" who have not yet come out, Nassib's retirement makes this anniversary of the DCGFFL even more significant.
"It's unfortunate people still feel they cannot be out while they're playing and doing what they love, but that's the reason why something like the D.C. Gay Flag Football League is so important," he said. "To show that there are gay and trans athletes who exist and love playing sports."
The league plans to celebrate its 25th anniversary with a dance party and silent auction at Penn Social on Saturday, Sept. 23 starting at 8 p.m. Check the website for ticket information.