April 26, 2018 at 2:25 pm EDT | by Stephen Rutgers
'Pride on the Pier' celebration to debut at The Wharf during DC Pride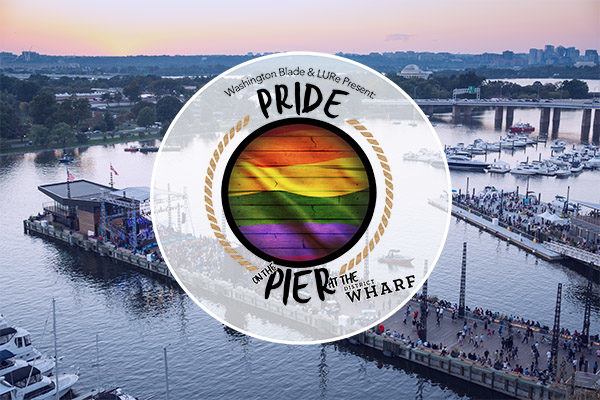 The Washington Blade in partnership with LURe DC and The Wharf are excited to announce the inaugural Pride on the Pier celebration during DC Pride on Saturday, June 9, 2018, from 12-3 p.m.
Pride on the Pier extends the city's annual celebration of LGBTQ visibility to the bustling Southwest waterfront with an exciting array of activities and entertainment.
The District Pier will offer a DJ, dancing and other entertainment. Alcoholic beverages will be available for purchase for those 21 and older.
The Dockmasters Building will be home to a VIP experience with complimentary drinks and food during the duration of the event. Purchase tickets now at www.prideonthepierdc.com.
"The Wharf has become a new destination in the city and we couldn't be more excited to bring this free event to the community," says Washington Blade's Director of Marketing Stephen Rutgers. "We are excited to let people of all ages celebrate DC Pride in the beautiful setting along the Potomac River."
The Transit Pier will house the Family Zone that will include activities for all ages.
"The Wharf is a place for everyone to enjoy DC's greatest resource — the waterfront, said Monty Hoffman, Founder and CEO of PN Hoffman. "District Pier, the largest public pier at The Wharf, serves as a lively space for events and for the community to gather and is the perfect backdrop for this celebration."
Event sponsors include DC Brau, Absolut, Avion Tequila, and Taylor Gourmet. More information regarding activities will be released at www.PrideOnThePierDC.com
The Washington Blade was founded in 1969 and is known as the "newspaper of record" for the LGBT community both locally and nationally. For more information, visit washingtonblade.com.
LURe was established in 2006 by Karen Diehl and Sterling Higgins and provides party promotional services to the Maryland, Virginia and D.C. lesbian community. For more information visit facebook.com/lurewdc.
ABOUT THE WHARF
The Wharf is Washington D.C.'s most exciting neighborhood. This remarkable mile-long neighborhood along the Washington Channel of the Potomac River reestablishes Washington, DC, as a true waterfront city and destination. Phase 1 opened in October 2017 with two million square feet of residences, offices, hotels, shops, restaurants, cultural uses, marinas, and public areas including waterfront parks, promenades, piers, and docks. When complete in 2022, this $2.5 billion, world-class, mixed-use waterfront neighborhood will feature more than 3.5 million square feet of development. The Wharf is easily accessible to the region by water taxi, Metro, WMATA and Southwest Neighborhood Shuttle buses, bicycle, foot, and car.
Development is led by PN Hoffman and Madison Marquette, in conjunction with ER Bacon Development, City Partners, Paramount Development and Triden Development.
More information is available at www.wharfdc.com. Download the District Wharf app for a live news feed, information on events, interactive map, transportation updates and more. The app is available on Apple and Android devices.