New York Times' Trump-Putin cartoon criticized as 'homophobic'
The publication insists being gay isn't the animation's punch line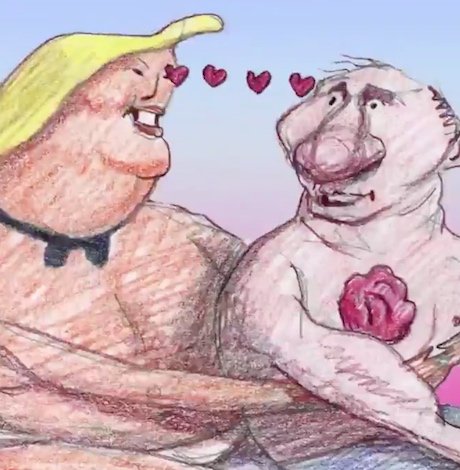 The New York Times has come under fire for its cartoon depicting Donald Trump fantasizing about having a love affair with Vladimir Putin which some felt was a homophobic dig.
The Times re-posted its animation, "Trump and Putin: A Love Story," which was originally released last month, in the wake of Trump's meeting with Putin in Helsinki. The video, animated by Bill Plympton, uses real audio of Trump discussing Putin overlapped with a cartoon of Trump fantasizing about Putin. Trump is shown getting ready for a date with Putin who picks him up in his car. Trump places his hand on top of Putin's and the car transforms into a unicorn. The pair fly through the sky surrounded by rainbows, flowers and butterflies. Then they kiss while Trump pinches Putin's nipples. There's a close-up shot of their tongues intertwined in a kiss inside their mouths. The cartoon ends to show Trump has been imagining the moment while watching TV at home with a framed portrait of a shirtless Putin on horseback hanging on the wall.
In this episode of Trump Bites, Donald Trump's not-so-secret admiration for Vladimir Putin plays out in a teenager's bedroom, where the fantasies of this forbidden romance come to life. https://t.co/cWeQMuzWUz pic.twitter.com/4shBRkloot

— NYT Opinion (@nytopinion) July 16, 2018
The video's punch line seems to be that Trump and Putin having a romantic relationship would be funny. A spokesperson for the New York Times released a statement to NBC News insisting that wasn't the case.
"The video is not meant to be homophobic," the spokesperson says. "The filmmaker's vision was one of teenage infatuation portrayed through a dream-like fantasy sequence. He would have used the same format to satirize Trump's infatuation with another politician, regardless of sexuality or gender. Exaggerated kissing is a signature feature of his animated shorts, including 'How to Kiss.'"
Regardless, some people found the joke to be distasteful and sounded off on social media.
During these trying times when the president lies to us every day and normalizes Vladimir Putin, please remember what's important: LOL WHAT IF HE WAS GAY https://t.co/4sMyxLS67g

— Louis Virtel (@louisvirtel) July 16, 2018
"They're FAGS!" – NYT https://t.co/rhG3TZEBCB

— Tyler Coates (@tylercoates) July 16, 2018
@nytimes this isn't just intensely stupid, it's homophobic as all hell. What on Earth makes you think that equating the love that countless people across the planet fight and die for to the unconscionably criminal relationship between these two is OK?! Truly, please explain. https://t.co/Cs1TYOJ4Lp

— Brian Sims (@BrianSimsPA) July 16, 2018
You've done it guys. You've saved democracy by saying Trump and Putin are gay for each other. The first 1000 times didn't work, but your version was the final nail. You have humiliated them out of destroying democracy by saying they are like gay people. The union is safe.

— Guy Branum (@guybranum) July 16, 2018
Congrats to everyone doing gay jokes about Trump and Putin for throwing your own beliefs under the bus for a political cartoon they'll never see

— Mike Drucker (@MikeDrucker) July 16, 2018
This is homophobic. It is implying that being gay is an insult for both of these men. It implies that being gay would emasculate them. It implies that calling them gay together would anger them and incite reaction. This is beneath us. https://t.co/Zk95DgQOpN

— Phillip Picardi (@pfpicardi) July 16, 2018
I think of the resources that went into animating this tired and offensive joke — it took 11 people to make this video. That would have been so much better spent on highlighting unsung queer heroes or even some kind of satire about how dangerous Russia is for LGBTQ folks.

— Alex Berg (@itsalexberg) July 16, 2018
André Leon Talley dies at 73
Iconic Black fashion journalist was born in D.C.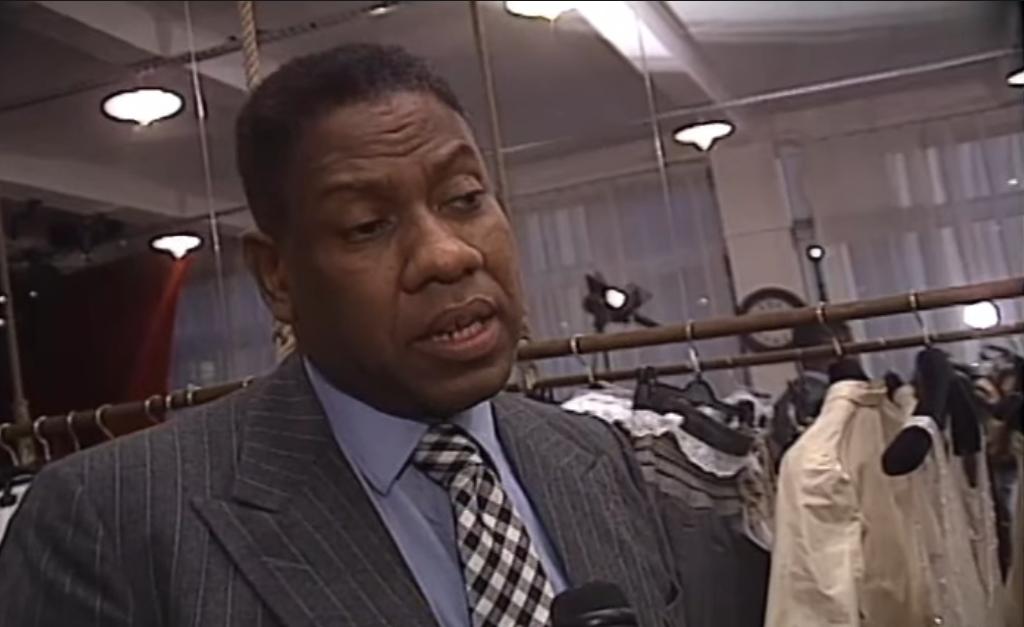 André Leon Talley, a formidable iconic fashion journalist and the former creative director and one-time editor-at-large of Vogue magazine, passed away at age 73 of unspecified causes at a hospital in White Plains, an inner suburb of New York City in Westchester County, New York.
News of the famed fashion journalist's death Tuesday was first reported by celebrity news and gossip site TMZ.
Andre Leon Talley, a giant in the fashion world, has died at 73. https://t.co/eckqP7zdwk

— TMZ (@TMZ) January 19, 2022
Talley was known for his close friendships with designers like Karl Lagerfeld, Tracy Reese, Rachel Roy, and singer/actress Jennifer Hudson, and Vogue magazine editor-in-chief Anna Wintour among others.
Talley worked at Vogue during an unprecedented time of growth in the fashion industry in the 1980's and 1990's. From 1983 until late 1987, he was the magazine's the news director and was then promoted to Vogue's creative director in 1988, a post he held until 1995. He later came back to the magazine in 1998 as the editor-at-large until his departure in 2013.
Born in D.C. on Oct. 16, 1948 and raised in North Carolina, Talley graduated with a Bachelor of Arts degree in French Literature in 1970 from North Carolina Central University. He later attended Brown University, after he was awarded a scholarship, where he earned a Master of Arts degree in French Literature in 1972.
Talley's early career as a journalist saw him working at Andy Warhol's Factory and Interview magazine. He later became the Paris bureau chief for Women's Wear Daily.
His later career saw Talley hosting his own radio show principally concerned with fashion and pop culture on Sirius XM. He also released a book "The Chiffon Trenches: A Memoir" on May 19, 2020, which detailed his early career start and some of the issues he encountered as a Black man.
Talley was also an LGBTQ icon. When asked about his sexual orientation by daytime chat show host Wendy Williams during a May 29, 2018 appearance, he stated, "No, I'm not heterosexual; I'm saying I'm fluid in my sexuality, darling."
André Leon Talley, fashion's godfather | fashion icon profile:
VideoFashion profile in 2020 marking of the release of André Leon Talley's memoir, "THE CHIFFON TRENCHES."
André Leon Talley | full address | Oxford Union:
DC Center to host estate planning seminar series
Three sessions presented by Murray Scheel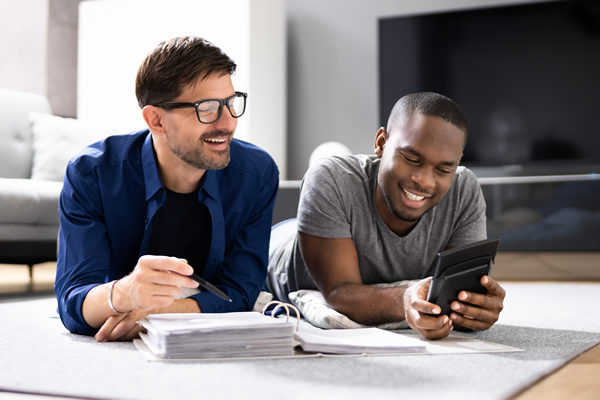 The DC Center for the LGBT Community and the DC Department on Aging and Community Living will host "Estate Planning Tools with Murray Scheel" via Zoom. 
Scheel will walk guests through the process of taking care of the end-of-life planning business that needs to be addressed during the golden years. Scheel is Senior Staff Attorney at Whitman-Walker Health's Legal Services.
This event series will consist of three 1.5-hour sessions:
Jan. 19, 3 p.m. – "Tools for while you're living" (overview, general power of attorney, healthcare power of attorney, disposition of remains, etc.)
Jan. 26, 3 p.m. – "Tools for after you're gone" (living wills, last wills, assets, etc.)
Feb. 2, 3 p.m. – "Healthcare insurance & long term care" (Medicare, Medicaid, correcting misinformation, skilled nursing, hospice care, etc.)
To register for this event, visit the DC Center website.
DC Center to host legal seminar for trans people
Attorney Richard Tappan and paralegal Miranda Shipman to give legal advice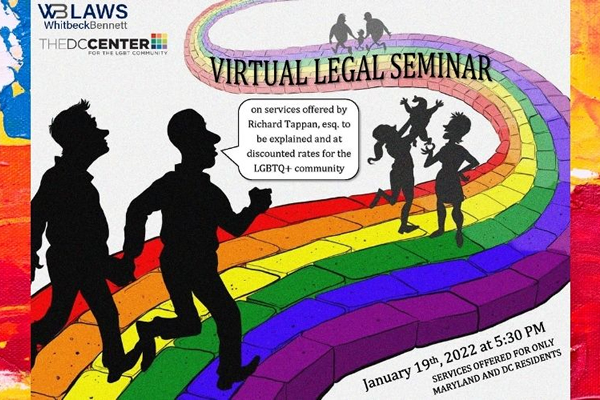 The DC Center for the LGBT Community will host a "Gender and Name Change Legal Seminar" on Wednesday, Jan. 19 at 5:30 p.m. online.
Attorney Richard Tappan and paralegal Miranda Shipman will give legal advice and speak on the importance of the legal community within the LGBTQ community, the difficulties of the LGBTQ community in the legal field and name and gender changes.
Guests can find the link at the DC Center website.