Espita Mezcaleria offers authentic yet non-traditional Mexican fare
Gay-friendly staff, abundant mezcal brands among D.C. restaurant's strong points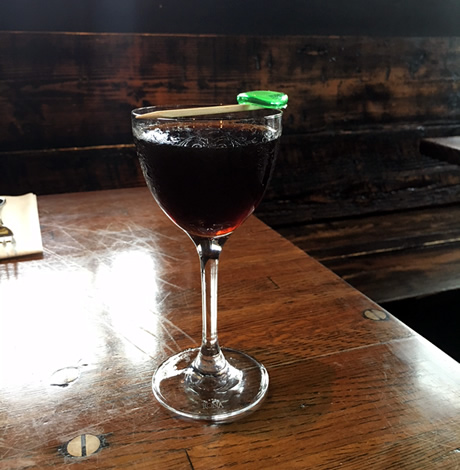 Authentic, but not traditional. Inspired, but not conformist. Innovative and leaning in: this is Espita Mezcaleria (1250 9th St., N.W.), your unconventional Mexican restaurant.
Lauded with 2.5 stars by the Washington Post along with a recent review that critic Tom Sietsema would return "on his own dime 4 sure," plus an invite to cook at the James Beard Foundation House, means that the restaurant is being sent even higher on the ever-crowded list of must-visit D.C. dining destinations. 
Yet central to Espita's approach is that the restaurant is concerned just as much about its people as it is about its food and mezcal, which is saying a great deal.
So who are they? Meet partner and assistant General Manager Ace Karchem, a fourth-generation Jewish Washingtonian and gay resident of the U Street Corridor (his grandparents owned a small corner store where Uproar now sits). 
Fresh out of college during the great recession, Karchem's first restaurant job was at Uncle Julio's in Bethesda in 2009, a logical place for someone interested in the food industry and with Argentine roots.
Soon after, as a graduate student at Cornell University's School of Hotel Administration, he met future business partner and Espita Mezcaleria co-founder Josh Phillips. Fast forward and when Phillips reached out about Karchem joining the Espita team in 2015, Karchem knew he'd found his calling. 
While Phillips has become a mezcal evangelist, stocking his bar with upwards of 100 small-batch options, and as new Executive Chef Robert Aikens is breaking the mold of what is seen as Mexican food (see: beet steak layered over requesón cheese, sprinkled with ancho-chile-spiced granola), Karchem relishes his front of house and office-manager roles. 
Though he demurs in claiming he plays the "least sexy role in the restaurant," it wouldn't function without him. Karchem, the only native Spanish-speaking partner, acts as translator. He trains the servers, hosts and chefs, and ensures that Espita stays true to its mission of representing the cuisine of Oaxaca and its spirit of openness and creativity, including empowering its staff.
During the 2016 Pride season, Espita served a drink called the People of the Clouds, a light, charming mezcal cocktail made misty from stirred jicama, lemon and lavender, and topped with bright-pink jicama sticks. Proceeds from the cocktail were donated to the Trevor Project. Why? A server at the time was a volunteer for the organization, and Karchem decided to elevate that to have the restaurant support him and the organization. Espita also took part in Pride by serving El Buho brand-sponsored mezcal drinks at the VIDA Pool Club party.
Finally, the restaurant certainly understands its customer base, too. Given its location in Shaw, the clientele is quite diverse, including a number of gay customers. One continuing concern of his, however, is a perceived conservatism among the community in sampling new drinks: gay customers are often hesitant to leave the vodka-soda rut, even in this temple to mezcal. Mezcal is still a fairly clear spirit, he says. "I don't mistake a vodka-soda for a cocktail," he says with a smile, though noting he does order the drink at gay bars.
Indeed, owner and restaurateur Josh Phillips is one of few master mezcaliers in Washington, curating a deep and thoughtful list of mezcals to teach diners and tipplers that the spirit is much more than tequila's smoky sibling. The restaurant has a close, intimate relationship with the producers of each mezcal it serves, which Phillips contends mirrors wine in how it reflects its terroir. 
Phillips and wife Kelly focus on small-batch, family-owned producers that use sustainable harvesting practices and provide safe working conditions for their employees. In fact, bar director Megan Barnes has lead teams to Oaxaca to visit traditional distilleries for firsthand experiences. 
This care extends to crafting cocktails, which change seasonally. This fall, look out for the heady cocktail enigmatically named 1979, made with deep and dark Mexican fernet, vermouth, and amaro de chile, all stirred into a mezcal distilled over lamb pechuga (yes, the mezcal is infused with flavors from a cut of lamb). 
Espita's tortillas are cut from a similar cloth. Each morning, staff arrive pre-dawn to greet freshly imported heirloom corn, imported direct from Oaxaca. They soak, boil and grind it into masa, which is then pressed and flavored into the tortillas seen on the plate. It is, perhaps, the definition of artisanal. 
Executive Chef Aikens, who joined the team last year, spares nothing in his exquisite attention to detail. Espita, again, promotes itself as authentic and not traditional. Aikens' dishes are elaborate and deadly serious. Each ingredient is thoughtful and then meticulously plated, down to the refreshing chepiche, an aromatic Mexican herb that graces a chunky smoked-walnut-and-beet hummus.
In this sense, both inside the kitchen and out, Karchem sees Espita as a leader of the restaurant industry. Espita celebrates the variety of mezcal as much as it does its rainbow of a staff. The flavor profiles of this spirit that they are proud to serve are diverse and prolific: it can be mild, robust, floral, woody, spicy, singing on the palate — much like the community Karchem represents. 
D.C. Restaurant Week returns
Celebrating a revitalized dining scene after COVID closures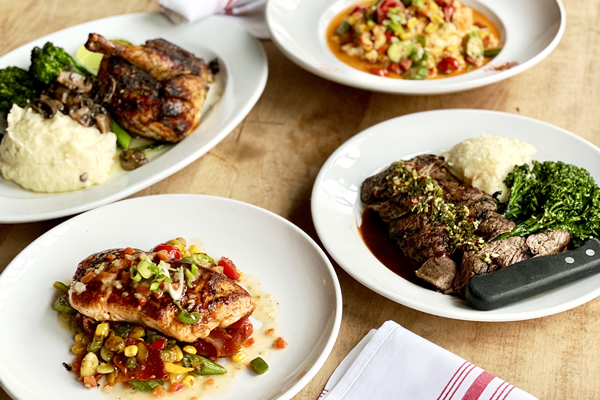 After being confined to a to-go program for the last two iterations, Washington, D.C.'s Restaurant Week is back this summer to celebrate the revitalized dining scene in the city. Summer Restaurant Week 2021, run by Restaurant Association Metropolitan Washington (RAMW), is scheduled to kick off Monday, Aug. 9, and last through Sunday, Aug. 15.
The signature summer dining event returns to a one-week promotion this year, though restaurants have the option of extending their promotions. Diners can enjoy three-course menus at a range of indoor/outdoor comfort levels at more than 200 restaurants, ranging from fast-casual eateries to fine-dining destinations. In addition, the to-go family-style options that were introduced last year are not gone, however, as many restaurants will also offer this off-premise option. Of course, many spots plan to include a cocktail pairing as well.
Dinner is the main event for participating restaurants, with the classic three-course dinner priced at $35 per person. Several restaurants with higher overall price points are also offering an elevated $55 dinner with exclusive items. Three-course lunches run $22, and weekend brunch is also $22.
Finally, many restaurants will also offer "RW-To-Go" dinner meals, available at two price points: $60 or $120 for two people and $100 or $200 for four people.
These RW-To-Go dinner meal packages are available for takeout or delivery, and diners can order RW-To-Go either directly from the participating restaurant or check their delivery app for the offer.
D.C. restaurants remain open at 100 percent capacity, but Mayor Bowser last week reinstated mask mandates for indoor spaces.
New restaurants participating in Summer Restaurant Week include Angolo, ANXO, Flower Child, Le Sel, GATSBY, Glover Park Grill, Gypsy Kitchen, and Truluck's in D.C.; and Spice Kraft Indian Bistro in Virginia.
"This year's Summer Restaurant Week is not only providing diners with great options at great prices for dining out, but is also the first time all restaurants across our region are able to accommodate diners at full capacity both indoors and outdoors," says Kathy Hollinger, president and CEO of the Restaurant Association Metropolitan Washington. "Being fully open is a step toward recovery for the industry and also toward a return to our dynamic local restaurants in their spaces which help to elevate the dining experience."
RAMW is the regional association representing restaurants and the foodservice industry in the D.C. Metropolitan Area. RAWM also runs the RAMMYs, the awards for the food and beverage industry.
Restaurant operators themselves reinforced how important the promotion is to them. "Restaurant Week is an opportunity for us to showcase our resilience and commitment to serving our staff and community," says Salwa Laaraichi of Station 4.
For Eric Heidenberger, a partner at The DC Restaurant Group, which owns spots like Shaw's Tavern and 801 Restaurant, the past year has been a challenge. But RAMW, he says, "has been very supportive to the D.C. restaurant community and a key a resource in helping us navigate the challenges of the pandemic. We're excited to participate in the first "normal" restaurant week in almost a year and a half. Restaurant week is a great opportunity for us reach new diners and showcase new dishes to our regular/repeat customers."
All of gay-owned KNEAD Hospitality + Design's locations are participating in Restaurant Week. Co-owners Jason Berry said that he hopes that Restaurant Week "offers a way for diners to begin dipping their toe by taking advantage of these well-priced promotions. Restaurant Week brings a much-needed lift to August revenue and is especially meaningful this year as so many restaurants have been hurting these last 16 months." 
As for what's going to be offered at his restaurants, which include Gatsby, The Grill, Mi Casa, Mi Vida, and Succotash, most of which debuted just this year, "each of our restaurants takes a unique approach to offering seasonal additions, fun new items and crowd pleasers so that all guests have something for them during Restaurant Week."
D.C.'s restaurant scene bustling again
Western Market, range of new eateries arrive as COVID wanes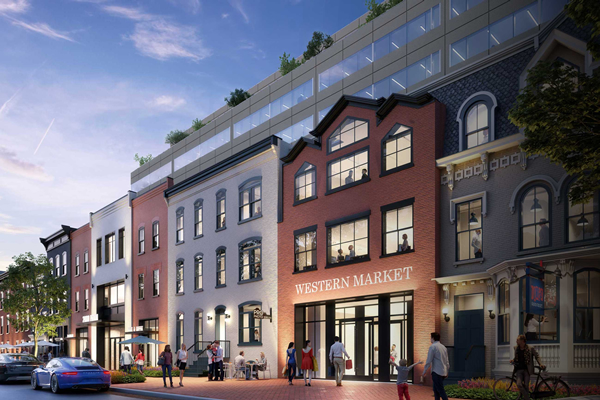 From pandemic slumber to summer awakening: the D.C. dining scene is wasting no time in opening back up after restrictions were lifted in June. Make the best of eating and drinking inside or outside with a full plate of what's to come in summer 2021. Check out all the openings and happenings in this list:
To take in the entire dining scene, take part in Metropolitan Washington Summer Restaurant Week, running Aug. 9-15. Unlike the previous restaurant week, this will return to a focus on on-premises dining, but keep the family-to-go dinner meals and cocktail pairings for those who still want the takeout or at-home experience.
In Barracks Row, Crazy Aunt Helen's is a new spot from a veteran in the D.C. food industry. The all-day casual comfort food and diner-style spot is run by first-time owner and former marketing director of lesbian-owned Hank's Oyster Bar, Shayne Mason. Images of icons like Jackie Kennedy line the wall, with dishes like fried chicken, house-cured pastrami Reubens, and mushroom "crab" cakes.
The Line Hotel closed two of its restaurants during the pandemic, but is now set to open No Goodbyes. It will serve Chesapeake-based dishes, with crab cakes as the star. Fried chicken and catfish will also be on the menu.
Replacing the B Too spot in the heart of 14th Street will be Maiz 64, an upscale Mexican spot to highlight small-batch mezcal. It is a "modern homage to authentic Mexican cuisine," that uses local ingredients. Check out the ceviche raw bar, as well as the creative taco bar with creative options like charred broccoli mole and suckling pig with pork rinds and avocado.
On the wharf, the enormous Ilili brings elegant Mediterranean-Levantine cuisine to D.C. "with a New York attitude" as it is the second spot outside of its first Manhattan location. The chef tops labneh yogurt with Petrossian roe, and stuffs kibbeh with steak tartare.
Just north of U Street, taking over the vacant former Quarter & Glory space, will be St. James. The owner and chef is Peter Prime, who currently runs Cane on H Street, N.E. (Michelin Bib Gourmand restaurant). He is now overseeing this sister project with a much larger footprint. Named for a city in his home country of Trinidad, the restaurant brings flavors from across the Caribbean through Prime's modern lens.
In Adams Morgan, a pop-up brings Bolivian cocktails and street food courtesy of Carla Sanchez and her brother. Called Casa Kantuta, the pop-up runs until Aug. 8 in the bottom level of the Spacycloud restaurant-shop. Bartender Luis Aliaga slings drinks using Andean ingredients and inspiration with fun names like the Angry Llama.
Just north in Adams Morgan is Shabu Plus. In the same building as Death Punch Bar and Shibuya, the same owners (Chef Darren Norris and wife Candice) bring a Japanese hot pot experience. Diners start with a choice of one of three broths, plus vegetables, and the order meats like wagyu and lobster tail by the ounce.
Over in Shaw, the former Bistro Bohem space is set to be refreshed as Quattro Osteria. The owners, originally from Naples, bring an Italian flair, with well-known and modern dishes and drinks.
In Foggy Bottom, a huge new marketplace called Western Market will open later in the fall. The 12,300-square-foot space will transform a historic market, originally built in 1802, into a hall with more than a dozen food and beverage vendors. Taste everything from lobster rolls to sushi to arepas, and even sub sandwiches from Shaw's Capo Deli.
Chef Alfredo Solis already has three Mexican restaurants (Anafre, El Sol, Mezcalero). His next venture travels farther afield in the form of Mariscos 1133 on 11th Street. Mariscos 1133 celebrates the coastal cuisine of the entire continent of communities, with inspiration from California, Pero, Mexico, and beyond. Diners can expect dishes like Brazilian moqueca (fish stew), ceviches, and with a nod to the local, a spin on crab cakes.
Gay-owned KNEAD Hospitality + Design's latest opening is Mi Casa in Dupont Circle. Inspired by Chef Roberto Santibañez's years living in Texas and his Mexican heritage, Mi Casa's "border cuisine" concept aims to marry Mexican, TexMex, and the American Southwest.
Hungry now? Get a taste of restaurants that opened during the spring:
Las Gemelas Cocina. This dual-concept restaurant in La Cosecha brings a casual taco bar as well as an upscale sit-down Mexican menu. It comes from the operators of Espita in Shaw.
The Point. This enormous seafood restaurant anchors new development in Buzzard Point, near Audi Field. Crab doughnuts are the star, plus lots of fish and lobster rolls. It's run by the owners of Ivy City Smokehouse and Tony & Joe's.
Dauphine's. This elegant homage to cuisine from New Orleans brings not only a raw bar (for seafood) but a boucherie, a whole-pig butcher style of service popular in Cajun cooking. Casual dishes like po' boys are offered next to headcheese and caviar.
La Famosa. This Navy Yard spot channels Puerto Rico through a relaxed, waterside vibe and lots of fried plantains and rum.
Makan. This Malaysian restaurant in Columbia Heights narrows Southeast Asian dishes to hone in on this particular country. Taste the unripe mango salad, as well as the pandan leaf that appears in both drinks and dishes.
Caruso's Grocery. This homey Italian spot by Matt Adler (from Osteria Morini) is set near the Potomac Avenue Metro. A deep wine list accompanies dishes like burrata, shrimp scampi, and chicken Parm.
Chicatana. This Mexican restaurant lands in an area of 14th Street of Columbia Heights with several other Mexican eateries nearby – but has a twist. It's named for a type of ant used in traditional Oaxacan cuisine, tossing a couple tiny crunchy ants (similar to chapulines, or grasshopper) on anything from ceviche to cocktails. The menu, instead of focusing on tacos, offers a broad and modern take on Mexican food.
Lupo Pizzeria. This 14th Street location comes from the same group as Lupo Verde. Lupo Pizzeria offers a menu of elevated Italian street food, Italian cocktails, and lots of bubbly. The signature from the chef is pizza made with handmade black squid-ink dough.
After pandemic, local gay restaurateurs thriving at Knead
Berry, Reginbogin plan to open several new spots in coming year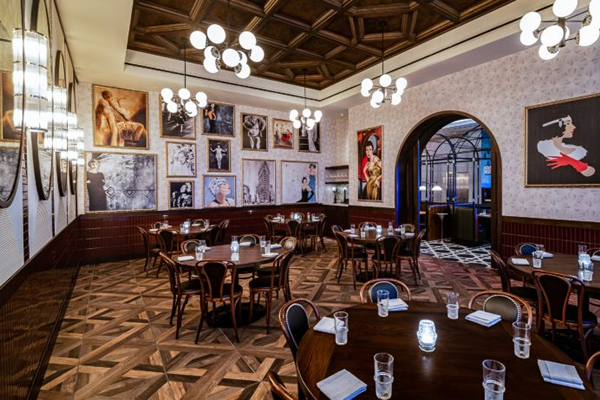 At the outset of 2020, D.C.-based Knead Hospitality + Design founders and co-owners (and partners for more than 20 years) Jason Berry and Michael Reginbogin envisioned big plans for their rapidly expanding realm of restaurants across the D.C. area.
"In March 2020, however, we thought that we were going to lose everything," Reginbogin says.
Today, Knead has recovered, and then some. In the context of the sweep of more than 100 restaurant closings in D.C. since then, Berry and Reginbogin pulled out four restaurant openings, with several more planned for the rest of this year alone.
Not since the (somewhat slower) growth of Jose Andres' ThinkFoodGroup has the city seen a locally based firm with a diverse set of concepts open so widely. Andres launched the first Jaleo back in 1993; his ThinkFoodGroup now runs 10 restaurants in D.C., plus stalls at Audi Field.
Yet Berry and Reginbogin promise that it's not size that counts. "Biggest isn't always best. We want to be the best operator in the city for the types of restaurants we offer."
This spring's opening of glitzy-retro diner Gatsby speaks directly to Reginbogin's vision for that "our restaurants are experience-driven. They focus on the visual as much as the food and beverage offerings."
Gatsby, located in Navy Yard, is a direct outgrowth of Berry's belief that "like the Roaring '20s after the Spanish flu, there's all this pent-up demand…. People will want to celebrate life, and they want to be part of that return to society," he says.
In 2014, Berry served as COO for the Rosa Mexicano Restaurants, and Reginbogin had been working as director of operations for other large brands like B.R. Guest Restaurants, TAO, Milos, and Sushi Samba. After living in cities like Los Angeles and New York, they decamped for Washington, D.C., a city they'd visited dozens of times for work, with an idea of creating their own style of dining experience.
Both having attended the University of Southern California, the two met on AOL in their early 20s and started dating soon after. They have worked in the restaurant industry for their entire careers.
"D.C. is a beautiful, diverse city," says Reginbogin, "but of all the cities we had lived in, we felt there was the most opportunity in D.C. The growth of the restaurant industry has been because of a welcoming regulatory environment as well as a city of quality, unique, and amazing restaurants. We want to surround ourselves with peers who are of the same philosophy."
He says that they felt at home, welcomed "both professionally but also personally." To further connect them with the LGBTQ community, the pair ensured that they were prepared for Pride month, setting up drink and food specials at their restaurants, with proceeds going to LGBTQ organizations.
"There was always the question of being able to both live and work with your partner," Berry notes, "but because we excel at different areas, it works out. Our background in the restaurant industry gives us the perspective on how the restaurant should be constructed."
When Berry and Reginbogin plan each new concept, they first analyze its urban and social geography. By understanding the restaurant's space, interior and exterior, they put together a concept and then a menu (often along with a celebrity chef) to follow. But they also target specific parts of town.
"We tend to favor neighborhoods that are not reliant on one demographic for attracting a guest base," says Reginbogin. "We tend to open where we can establish roots…. The pandemic taught everyone that it's easy to lose a prized group of guests. You don't want that one type to be the only guest you attract."
This outlook led them to Navy Yard, the Wharf, and Penn Quarter, among other neighborhoods.
When they kicked off in 2015, opening Succotash in National Harbor, they invested some of their own capital, raised money from friends and family, and took on loan debt. "Our newer big restaurants are roughly $6-7 million projects. We are also opening smaller restaurants that cost significantly less, in the $2 million range," said Reginbogin.
As of June, Knead operates five other concepts: Succotash, Mi Vida, The Grill, Gatsby, and Mah-Ze-Dahr, which abuts Gatsby and is run by baker Umber Ahmad, a 2019 James Beard semifinalist. They also run four quick-service stands inside Swingers, the massive adults-only minigolf concept out of London that just opened in Dupont Circle. Berry promises there is more to come in 2022 and beyond.
Knead's other planned openings this year include Bistro du Jour, Mi Casa, another Succotash location in Penn Quarter, and another Mah-Ze-Dahr by the new Amazon HQ.
Back to Gatsby, the glam atmosphere showcases the group's focus on space and design as much as menu. As the location is across from Nationals Stadium, the two envisioned an all-American restaurant. Yet the interior and atmosphere did not express to them a stereotypical diner with an Airstream and laminate-covered booths. Instead, the two visualized the swinging, Art Deco style of the 1920s when diners started to become popular. As it translates to plating, this means the overflowing bowl of pasta that might appear on a multi-page diner menu is lightened and elegantly served; the Caesar salad is vegan. No detail is spared, from soaring ceilings and retro prints to translucent silver plates with textured patterns.
"We want people to eat with their eyes," Berry concludes. "Everything is important: the lighting, music, tableware, even the restrooms. If everything looks good and feels good, then everything tastes better, too."