Madre de Sergio Urrego lucha contra el bullying en Colombia
Alba Lucía Reyes Arenas se convirtió en una activista vocal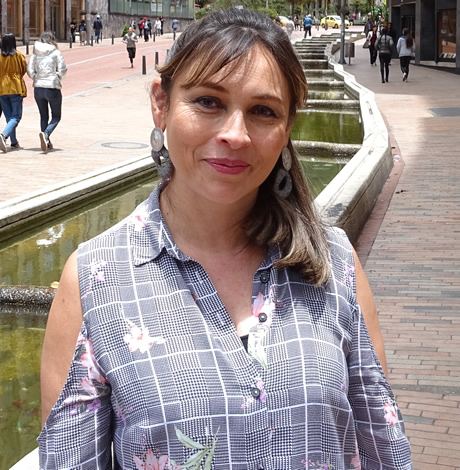 Ella dijo al Washington Blade el 24 de septiembre durante una entrevista en la capital colombiana de Bogotá que le gustaba la opera desde era "bien joven" y leyó su primer libro, "Historias sin fin," cuando tenía seis años. Reyes dijo que su hijo era ateo y le gustaba el arte y las políticas.
Urrego también era miembro de un grupo de estudiantes anarquistas.
"Tengo muchas cosas que contarte," dijo Reyes. "Para todas las mamás, nuestros hijos son muy especiales, pero Sergio si es desde era una personita si se interesaba por las cosas que son eran más de su edad."
Urrego tenía 16 años cuando se suicidó el 4 de agosto de 2014.
Administradores y un psicólogo al colegio católico de Urrego en Bogotá lo atacaron después de que un maestro vio una foto de él besando a su novio en su móvil.
Los padres del novio de Urrego le acusaron de abusar sexualmente a su hijo. Urrego debía haber comenzado a asistir otro colegio el día después de su suicidio.
La muerte del hijo 'fue algo angustiaste'
Reyes estaba en la ciudad colombiana de Cali cuando supo por primera vez que algo andaba mal con su hijo.
Ella regresó a Bogotá y llegó a su hogar alrededor de las 9:30 p.m. Reyes dijo entre lágrimas que la primera cosa que encontró era una nota con "letra muy grande" de su hijo.
Reyes dijo que al principio pensó que se lo había dejado a su madre, pero fue por ella. Reyes dijo al Blade que su hijo escribió, "Yo no podía ir al colegio porque se me presento un problema."
"Cuando yo vi esta nota, yo dije algo pasó," ella dijo.
Reyes dijo que luego fue al dormitorio de su hijo y encontró libros en su cama y una nota que le pedía que se los diera a sus mejores amigos. Reyes también encontró otras notas que su hijo había escrito antes de su suicidio.
"Fue algo angustiaste," ella dijo. "Fue doloroso."
Ley colombiana ahora prohíbe discriminación homofóbica en escuelas
La muerte de Urrego provocó indignación entre los activistas LGBTI en Colombia.
Reyes el 11 de septiembre de 2014 presentó una tutela contra del colegio de Urrego.
Un tribunal en Bogotá, unas semanas después, falló que Urrego había sido víctima de discriminación, pero Reyes no recibió ningún daño y el fallo no ordenó al Ministerio de Educación de Colombia que revisará las políticas del colegio.
Reyes apeló el fallo ante el Consejo de Estado, que considera las apelaciones de los tribunales administrativos. El entonces Procurador Alejandro Ordóñez — un oponente vocal de los derechos LGBTI que el presidente Iván Duque el pasado mes nombró como el nuevo embajador colombiana ante la Organización de Estados Unidos — falló en contra de Reyes basándose en que las escuelas tenían el derecho de prohibir "los besos y los abrazos."
La rectora del colegio, Amanda Azucena Castillo, renunció el 10 de octubre de 2014. La Corte Constitucional de Colombia el 21 de agosto de 2015 revocó la decisión del Consejo de Estado y falló a favor de Reyes el 11 de diciembre de 2015.
Escuelas en Colombia no pueden discriminar en contra de sus estudiantes por razón de su orientación sexual. Una enmienda a la ley de no discriminación que incluye el nombre de Urrego también requiere que las escuelas colombianas actualicen sus políticas para garantizar que no sean discriminatorias contra la comunidad LGBTI.
'Siempre me acompaña'
Reyes desde la muerte de su hijo se ha convertido en una activista vocal contra el bullying.
Ella estaba entre los 31 activistas LGBTI desde todo el mundo que asistió una cumbre del Human Rights Campaign que se realizó en Washington en abril.
Reyes en mayo viajó a Cuba para participar en eventos del Día Internacional contra la Homofobia, la Transfobia y la Bifobia que fueron organizados por el Centro Nacional de Educación Sexual (CENESEX). Mariela Castro, la directora del CENESEX que es la hija del expresidente cubano Raúl Castro, invitó a Reyes de participar en un taller a la sede del CENESEX en La Habana.
Reyes este año lanzó oficialmente la Fundación Sergio Urrego, que busca poner el fin a la discriminación en las escuelas colombianas y evitar el suicidio entre ellos que sufren la discriminación.
El dijo al Blade que el suicidio es la segunda causa de muerte en "nuestros jóvenes." Reyes también notó estadísticas que indican 192 personas entre las edades de 15 y 24 en Bogotá se suicidaron este año.
"Es algo que aquí no se toca," ella dijo. "No hay una institución que se brindando atención inmediatamente a los niños que están en crisis."
La fundación ha respondido a casi 70 casos. También tiene talleres para niños y padres en empresas y en otros lugares por el país.
"Mi propósito es evitar que casos como los de Sergio de se sucede," dijo Reyes.
Reyes en julio habló a un concierto en la Plaza Bolívar de Bogotá durante las celebraciones del Orgullo de la ciudad. Se terminó el 25 de septiembre una campaña de los medios sociales de la fundación con el hashtag "Celebro soy yo" que buscaba dar recursos y seguridad para aquellos que sufren discriminación.
"Esa campaña me da fuerza para continuar, para seguir," dijo Reyes. "Ese tipo de campaña se ayudan. Ese tipo de campaña llegan al corazón de la gente."
Reyes terminó la entrevista por decir que su hijo sería orgulloso de ella y del trabajo que hace en su nombre.
"Sea un angelito," ella dijo. "Siempre me acompaña."
BOGOTÁ, Colombia — Alba Lucía Reyes Arenas está bien orgullosa cuando habla de su hijo, Sergio Urrego.
Two LGBTQ people named to Chilean president-elect's Cabinet
Gabriel Boric and his government takes office on March 11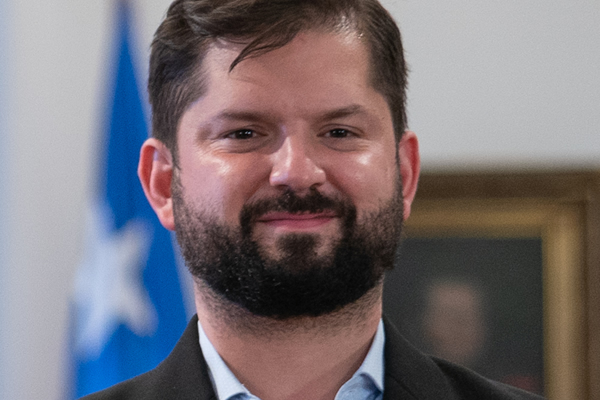 Chilean President-elect Gabriel Boric on Friday named two openly LGBTQ people to his Cabinet.
Marco Antonio Ávila, who is a gay man, will be the country's education minister. Alexandra Benado, who is a lesbian, will be Chile's sports minister.
Javiera Zúñiga, a spokesperson for Movilh (Movimiento de Integración y Liberación Homosexual), a Chilean LGBTQ rights group, applauded Boric for naming Ávila and Benado to his Cabinet.
"The visibility of sexual orientation and gender identity is no longer an impediment to access any position in Chile," said Zúñiga in a press release. "Sexual orientation and gender identity are irrelevant for the positions, whether they are public or private. Capability is the only thing that matters."
Boric and his government will take office on March 11. Chile's marriage equality law goes into effect the day before.
Florida House committee passes "Don't Say Gay" bill
Equality Florida quickly condemned the measure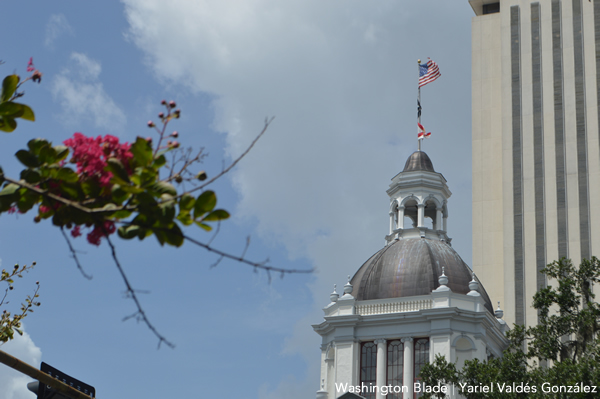 The Republican majority Florida House Education and Employment Committee on Thursday passed House Bill 1557, the Parental Rights in Education bill, colloquially referred to as the "Don't Say Gay" bill advancing the measure to the full House.
HB 1557 and its companion bill, Senate Bill 1834, would ban classroom discussions about sexual orientation and gender identity in schools, erasing LGBTQ identity, history, and culture — as well as LGBTQ students themselves.
The bill also has provisions that appear to undermine LGBTQ support in schools and include vague parental notification requirements which could effectively "out" LGBTQ-identifying students to their parents without their consent.
"The Trevor Project's research has found that LGBTQ youth who learned about LGBTQ issues or people in classes at school had 23 percent lower odds of reporting a suicide attempt in the past year. This bill will erase young LGBTQ students across Florida, forcing many back into the closet by policing their identity and silencing important discussions about the issues they face," said Sam Ames, director of advocacy and government affairs at the Trevor Project. "LGBTQ students deserve their history and experiences to be reflected in their education, just like their peers."
In an email to the Los Angeles Blade, Brandon J. Wolf, the press secretary for Equality Florida noted; "Governor DeSantis' march toward his own personal surveillance state continues. Today, the Don't Say Gay bill, a piece of legislation to erase discussion of LGBTQ people from schools in Florida, passed its first committee and became another component of an agenda designed to police us in our classrooms, doctor's offices, and workplaces. Make no mistake — LGBTQ people are your neighbors, family members, and friends. We are a normal, healthy part of society and we will not be erased."
This will kill kids, @RonDeSantisFL. You are purposefully making your state a harder place for LGBTQ kids to survive in. In a national survey (@TrevorProject), 42% of LGBTQ youth seriously considered attempting suicide last year. Now they can't talk to their teachers? https://t.co/VtfFLPlsn3

— Chasten Buttigieg (@Chasten) January 20, 2022
The Trevor Project's 2021 National Survey on LGBTQ Youth Mental Health found that more than 42 percent of LGBTQ youth seriously considered attempting suicide in the past year, including more than half of transgender and non-binary youth.
According to a recent poll conducted by Morning Consult on behalf of The Trevor Project, 85 percent of transgender and non-binary youth — and two-thirds of all LGBTQ youth (66 percent) — say recent debates about state laws restricting the rights of transgender people have negatively impacted their mental health.
When asked about proposed legislation that would require schools to tell a student's parent or guardian if they request to use a different name/pronoun or if they identify as LGBTQ at school, 56 percent of transgender and non-binary youth said it made them feel angry, 47 percent felt nervous and/or scared, 45 percent felt stressed, and more than 1 in 3 felt sad.
If you or someone you know needs help or support, the Trevor Project's trained crisis counselors are available 24/7 at 1-866-488-7386, via chat at TheTrevorProject.org/Get-Help, or by texting START to 678678.
Lesbian couple murdered, dismembered in Mexico border city
Julissa Ramírez and Nohemí Medina Martínez killed in Ciudad Juárez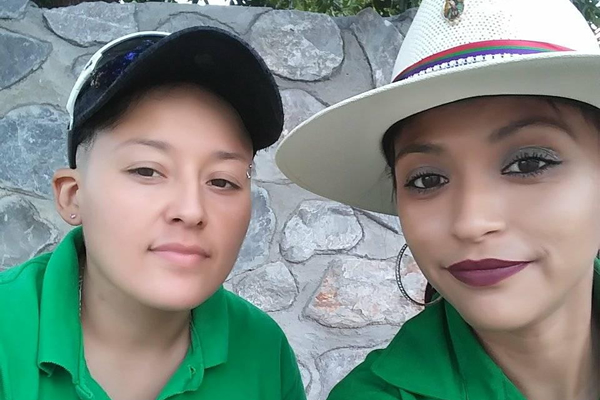 Authorities in the Mexican border city of Ciudad Juárez on Sunday found the dismembered bodies of a lesbian couple along a local highway.
The dismembered body parts of Julissa Ramírez and Nohemí Medina Martínez were found in plastic bags that had been placed along the Juárez-El Porvenir Highway.
El Diario, a Mexican newspaper, reported the married women lived in El Paso, Texas, which is across the Rio Grande from Ciudad Juárez. Authorities said relatives last spoke with Ramírez and Medina on Saturday afternoon.
A source in Ciudad Juárez with whom the Washington Blade spoke on Thursday confirmed Ramírez and Medina "were lesbian women" and their murder was "very violent."
Members of Comité de la Diversidad Sexual de Chihuahua, an LGBTQ rights group in the state of Chihuahua in which Ciudad Juárez is located, and Chihuahua Gov. María Eugenia Campos Galván are among those who have expressed outrage over the women's murders. Comité de la Diversidad Sexual de Chihuahua on Wednesday also urged local and state authorities to investigate whether the murder was a hate crime.
"People of sexual diversity are questioned, including their existence through heteronormative discourse," said the group in a statement. "They have the right to a life free of violence in which they exercise all their rights, in addition to living without fear or fear of rejection and aggressions that can unfortunately escalate to hate crimes."
EXHORTA SECRETARÍA DE GOBERNACIÓN A @MaruCampos_G A ACABAR CON LESBOFOBIA@SEGOB_mx a través de @CONAPRED y @CONAVIM_MX pidió al Gob del Estado que esclarezca el asesinato de Yulizsa y Nohemí…#JusticiaParaYulizsaYNohemi (1/3) pic.twitter.com/kLC7UNIoV2

— Comité de la Diversidad Sexual de Chihuahua (@DiversidadChih) January 19, 2022
El Diario reported Ramírez and Medina are two of the nine women who have been reported killed in Ciudad Juárez since the beginning of the year.
Personas de las Diversidades Afectivo Sexuales, an LGBTQ rights group in Ciudad Juárez, and feminist organizations on Thursday organized a protest during which participants demanded local, state and federal authorities do more to end to violence against women in the city. The press release that announced the demonstration specifically cited Ramírez and Medina.
"We seek justice and clarification in the murder of Nohemí and Yulissa, a lesbian couple who was found in Juárez-Porvenir Highway," it reads.