October 11, 2018 at 6:12 pm EDT | by Mariah Cooper
Calendar: Oct. 12-18, 2018
Friday, Oct. 12
SMYAL hosts its  National Coming Out Day Dance at Eastern Market North Hall (225 7th St., S.E.) tonight from 7-10 p.m. Youth ages 13-24 are invited for dancing, music by DJ Honey, food, performances and more. 
Bang Salon and VIDA Fitness host "Runway to Recovery" a fashion show benefitting N Street Village, at Penthouse Pool Club (1612 U St., N.W.) tonight from 6:30-9 p.m. Ba'Naka Devereaux will host the show. DJ Alex Mavro will play music. All proceeds will benefit homeless and low-income women. Tickets are $30 and includes one glass of sparkling wine. For more information, visit nstreetvillage.org.
Gamma D.C. a support group for men in mixed-orientation relationships, meets at Luther Place Memorial Church (1226 Vermont Ave., N.W.) tonight from 7:30-9:30 p.m. The group is for men who are attracted to men but are currently, or were at one point, in relationships with women. For more information about the group and location, visit gammaindc.org. 
Go Gay D.C. hosts its LGBTQ Community Social at the Embassy Row Hotel (2015 Massachusetts Ave., N.W.) tonight from 6-9 p.m. TJ Flavell will be on site to greet guests. All are welcome. There will be a cash bar and an appetizer and dinner menu available. Name tags will be provided. Dress code is casual attire. No cover. For more details, visit gogaydc.org.
Saturday, Oct. 13
VIDA Fitness hosts its fourth annual 5K Run/Walk at Hains Point in East Potomac Park (Ohio Dr., S.W.) today. Warm-up and stretch starts at 7:30 a.m. followed by the National Anthem at 7:55 a.m. The race kicks off at 8 a.m. 
Bethesda Row Arts Festival is at 4841 Bethesda Ave., Bethesda, Md., today from 11 a.m.-6 p.m. 190 artists will showcase and sell their work. There will also be live musical entertainment and performance art. For more details, visit facebook.com/bethesdaartsfestival.
Distrkt C: Dungeon, a gay dance party, is at the D.C. Eagle (3701 Benning Rd., N.E.) tonight from 10 p.m.-6 a.m. DJ Kirk and DJ Joe Ross will play music. Tickets are $25. 
Team D.C. hosts its Fall Casino Night at Buffalo Billiards (1330 19th St., N.W.) tonight from 8 p.m.-midnight. Attendees can play poker, blackjack and craps with their favorite teams. There will also be raffle prizes. 
The Mighty Tucks hosts Rainbow Race Fundraiser, an "Amazing Race" style fundraiser, at Francis Field (2500 N St., N.W.) from noon-5 p.m. Teams of two will travel to Cobalt and Nellie's Sports Bar and compete in games. Competitions will include finding hidden clues, trivia duels, navigating your partner through a maze and tightrope walking. The winning team will receive $200. There will also be prizes for best team name and best team outfit. Registration is $30 per team. All proceeds will be donated to Strength in Our Voices, a D.C.-based, LGBT-led non-profit that works toward defeating stigmas about mental health  
Sunday, Oct. 14
SMYAL hosts its 2018 Fall Brunch at the Marriott Marquis (901 Massachusetts Ave., N.W.) today from 10:30 a.m.-2 p.m. There will be an open bar cocktail reception with a silent auction and a three-course brunch. Guests will also hear from community leaders and SMYAL youth. 
Red Derby (3718 14th St., N.W.) hosts LGBTQ Prison Letter Writing Workshop today from 2:30-5:30 p.m. Attendees will write letters to an inmate pen pal. Stamps, envelopes and other materials will be provided. The event is free. For more information, visit facebook.com/redderby.
Silver Spring Record Fair is at Denizens Brewing Co. (1115 East-West Hwy., Silver Spring, Md.) today from 1-6 p.m. More than 20 vendors will sell records and local DJs will play music throughout the night. Nocturnal Wax, Marcello Bentine, Kenny M and Wade Hammes and Elliott Sloan will perform. For more details, visit facebook.com/citizensbrewco.
Monday, Oct. 15
Trixie Mattel brings her "Now With Moving Parts Tour" to Rams Head Live (20 Market Pl., Baltimore) tonight at 8 p.m. The "RuPaul's Drag Race All Stars 3" winner will bring a mix of live music, comedy and drag. 
Tuesday, Oct. 16
The D.C. Center (2000 14th St., N.W.) hosts its Packing Party from 7-9 p.m. tonight. Volunteers will assemble safer sex kits to distribute to the LGBT community. For more details, visit thedccenter.org.
Wednesday, Oct. 17
The Tom Davoren Social Bridge Club meets tonight at 7:30 p.m. at the Dignity Center (721 8th St., S.E.) for social bridge. No partner needed. For more information, call 301-345-1571.
Bookmen D.C., an informal men's gay literature group, discusses the poetry collection "Self-Portrait in a Convex Mirror" by John Ashbery at the D.C. Center (2000 14th St., N.W.) tonight at 7:30 p.m. All are welcome. For details, visit bookmendc.blogspot.com.
Thursday, Oct. 18
Rainbow History Project Foundation hosts Cops and Queers: The History of the Police and the LGBTQ+ Community in D.C. at Thurgood Marshall Center for Service & Heritage (1816 12th St., N.W.) tonight from 6:30-9 p.m. Rayceen Pendarvis moderates the panel discussion featuring Earline Budd, Craig Howell, Mindy Daniels, Dee Curry and Brett Parson. The discussion will focus on the intersection between the LGBTQ community and the D.C. Metropolitan Police Department. Admission is free but RSVP is required. 
BloominGays, a group for LGBT residents of Bloomingdale, LeDroit Park, Shaw and Eckington, hosts its fall kickoff happy hour at Tyber Creek Wine Bar & Kitchen (84 T St., N.W.) tonight from 9 p.m.-midnight. There will be happy hour drink specials and small bites. For more information, visit bloomingays.com.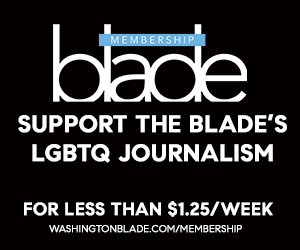 Sign Up for Blade eBlasts