November 23, 2018 at 10:46 am EST | by Kathi Wolfe
Harry Potter resonates now more than ever
Even if politics makes you despair and you have the holiday blues, there's hope. Unless you're one of the two people on Earth who dislike wizards, Muggles or Dumbledore.     
"Fantastic Beasts: The Crimes of Grindelwald," the second of the Harry Potter prequel movies, is out. No. 1 at the box office, it raked in $62.2 million in its opening weekend.
Some LGBTQ folks believe that Dumbledore, the wise, old, powerful professor, who appears in the movie as a young wizard, isn't queer enough. Yet the film has been a tonic for many of the millions of us, queer and hetero, who are aficionados of the Potterverse.
This year is the 20th anniversary of the publication in the United States of "Harry Potter and the Sorcerer's Stone" by J.K. Rowling – the first volume of Rowling's seven book Harry Potter series. (The book was published in 1997 in the United Kingdom as "Harry Potter and the Philosopher's Stone.) For those of us aged eight to 80 who are fans, Harry Potter is everywhere as the Potterverse enters its second decade.
"Harry Potter and the Cursed Child," a two-part play about Harry Potter, Ron Weasley and Hermione Granger, the three young wizards in the Rowling books as adults (married with children with professional responsibilities) is playing on Broadway. "Harry Potter: A History of Magic" featuring magical artifacts from Harry's invisibility cloak to electronic tarot cards is on exhibit at the New York Historical Society through Jan. 27.
If you've been living in a galaxy far, far away: Harry Potter's parents were wizards, who were killed by the evil wizard Lord Voldemort (aka He-Who-Must-Not-Be-Named). Harry, a wizard and an orphaned infant, is left with his uncle, aunt and their bratty son. His relatives, non-magical people known as Muggles, are so horrid that they make Cinderella's family seem like Mother Teresa. When Harry is 11, he becomes a student at Hogwarts, an elite boarding school for wizards. There, Harry makes friends with Ron and Hermione and becomes a loyal student of Hogwarts' headmaster, professor Albus Dumbledore. Dumbledore, a wizard, is as benevolent and wise as Voldemort is menacing and nefarious.
In 2007, after the last of the Harry Potter books had been published, Rowling at an appearance at Carnegie Hall in New York said that Dumbledore was gay. She hinted that Dumbledore, when he was young, had been infatuated with Grinderwald, another young wizard.  After the audience gave her a standing ovation, she said, "If I had known this would have made you this happy, I would have announced it years ago."
I wasn't surprised by this revelation. When I read the Harry Potter books, Dumbledore gave off gay vibes. As Andrew Sullivan noted in a blog post the signs of gaydar were there from "no known female companion" to Dumbledore's "childhood crush on another boy."
To me, Rowling's reveal about Dumbledore's queerness gave queer kids a role model. In "Fantastic Beasts," set in Paris in the late 1920s, it's clearly intimated (even if there's no explicit sex) that Dumbledore in his youth was in love with Grinderwald. Sadly, Grinderwald goes on to become a Trump-like demagogue who Dumbledore and the good wizards must oppose.
Why do I love the Potterverse – especially, the Potter books? Because Rowling's a great storyteller! As a queer poet, I identify with Harry and his friends, outsiders who face great obstacles to fight  prejudice and bullying.      
The Potter books present a thoughtful take on race and class. My friend Lauren emailed me: "Even in this fantasy world," she said, 'the 'mud-blood' (an epithet for Muggles) references…tap into something much deeper that makes for a good conversation starter with kids."
In the Trump era when bullying and prejudice are so often on display, Harry Potter resonates more than ever. Check out "Fantastic Beasts." Read a Potter book. It'll give you the courage to take on He-Who-Must-Not-Be-Named.
Kathi Wolfe, a writer and poet, is a regular contributor to the Blade.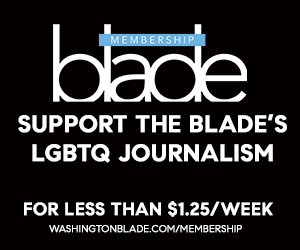 Sign Up for Blade eBlasts