Stagey, dated whodunnit 'An Inspector Calls' gets new life at Shakespeare
'92 reworking by British outfit expands and updates midcentury warhorse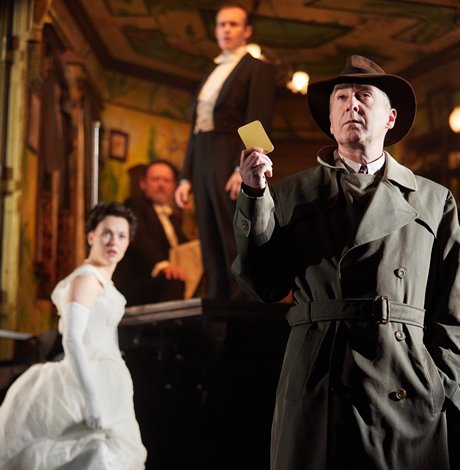 'An Inspector Calls'

Through Dec. 23

Shakespeare Theatre Company

Sidney Harman Hall

610 F St. N.W.

$44-118

202-547-1122
Once a midcentury hit whodunit, J.B. Priestley's "An Inspector Calls" became increasingly relegated to summer stock reps as years passed and tastes turned to plays set outside of drawing rooms. But then in 1992, director Stephen Daldry ("Billy Elliot," "The Crown") resuscitated Priestley's piece with a brilliantly inventive staging, creating something more alive and relevant. This same National Theatre of Great Britain production is now kicking off its American tour at the Shakespeare Theatre Company.
The thriller takes place in fictional Brumley ("an industrial city in the north Midlands") in the spring of 1912, about the same time as the Titanic's ill-fated voyage. Outside it's dark and rainy. Street urchins are splashing in the puddles found on a stretch of blitzkrieged cobblestone street. Inside what looks like an Edwardian doll's house perched atop desolation, the prosperous, smug Birling family are celebrating the engagement of seemingly shallow daughter Sheila (Lianne Harvey) to the imminently eligible Gerald Croft (Andrew Macklin), scion of a wealthy and socially connected family.
The beautifully dressed party includes the imperious, well-coifed yet unrefined Mrs. Birling (Christine Kavanagh) and her wastrel son Eric (Hamish Riddle). At the height of the celebration, Mr. Birling (Jeff Harmer), vulgarian to the bone, who regards the union of families as a business merger, toasts to "lower costs and higher wages." 
Just then, the cozy affair is interrupted by an Inspector Goole (pronounced "ghoul') measuredly played with equal parts calm and force by Liam Brennan. He has arrived uninvited to pose queries about the death of Eva White, a pretty young working-class woman who has committed suicide by drinking strong disinfectant, a slow and torturous death.
White once worked at Mr. Burling's factory, but was fired after asking for a living wage. Apparently she also had contact with other family members and Croft. Goole, a determined Scotsman, unimpressed by Burling and Croft's wealth and position, sets forth on a determined line of questioning, aggressively so at times. And thus, the mystery unfolds.
Concerned with social and economic inequality in Britain, Priestley wrote the play over a week during the bombing of London. He set the action in 1912, a time when upper-class privilege, long-held social mores and stringent class structures would soon be challenged by the Great War. "An Inspector Calls" was first performed in the U.K. in 1946, the same year that the Labour Party won a landslide victory. Undoubtedly, an optimist time for an avid socialist like Priestley.
It's the younger Birlings who change most dramatically. In the end, they empathize with the dead woman's plight and tragic end. They come to understand just how human beings are connected in society at large, and not just through business, coming-out parties and peerages. The more senior characters and Croft uphold the old ways. They find it impossible to summon up a whit of compassion for Eva White, much less culpability in her demise. 
Director Daldry rather ingeniously plays with time. The rich Birlings are mired visually and temperamentally in the Edwardian age, but Goole steps out of the mist dressed in fedora and trench coat — he's the picture perfect 1940s film noir detective. The poor people in the street are also dressed circa World War II. Daldry's design team creates a most eerie vibe with McNeil's phenomenal set, Stephen Warbeck's ominous music and Rick Fisher's evocative lighting. The cast's six actors play their parts large but never over the top.
Predictable and sometimes clunky, "An Inspector Calls" isn't a masterpiece. Set traditionally in the confines of a well-appointed, bourgeois drawing room, it would drag endlessly and no doubt feel preachy. But Priestley has managed to make something different altogether, something that's entertaining with a message, but not horribly didactic.
'Our Town' at Shakespeare examines life, love, death
Thornton Wilder's simple classic gets new life amid COVID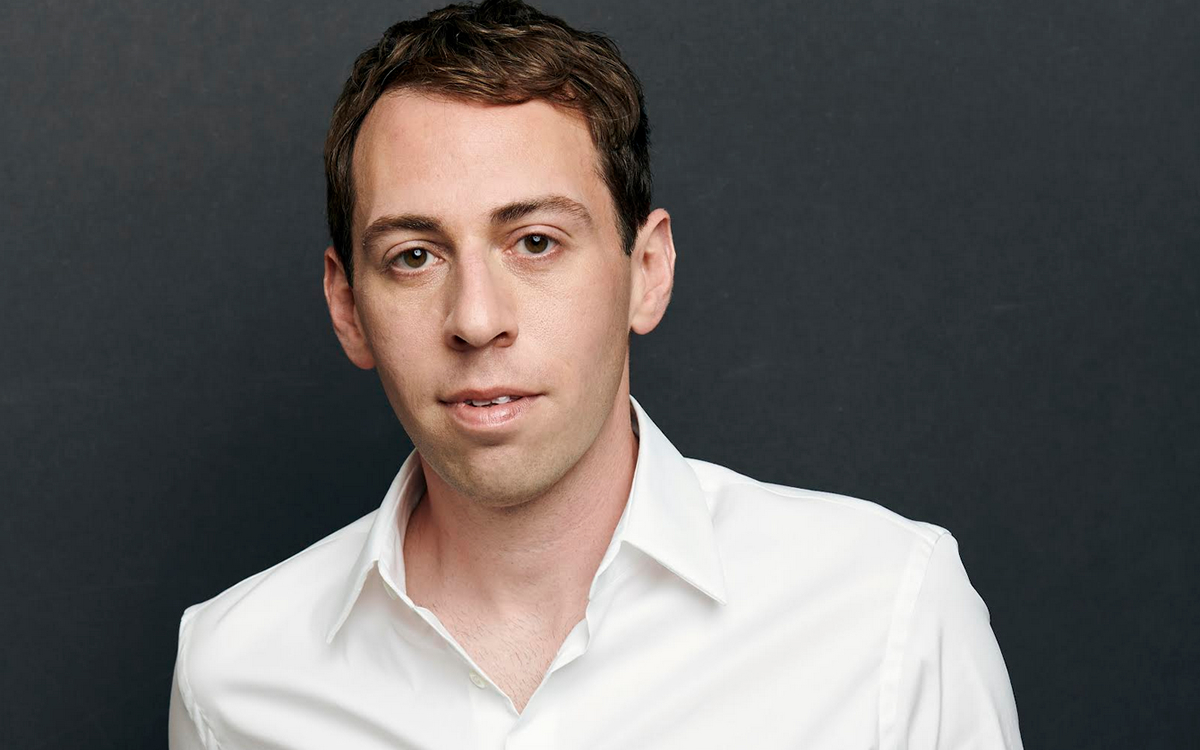 'Our Town'
Through June 11
Shakespeare Theatre Company
610 F Street, N.W.
$49-$120
Shakespearetheatre.org
Famously set in small-town New Hampshire, playwright Thornton Wilder's deceptively simple American classic "Our Town" is about the significance of daily life, love, and, most interestingly, death. Wilder, who was gay, downplayed his innovative brilliance, preferring to chalk it up to the rediscovery of what had come before him.
When it premiered on Broadway in 1938, his play was different from other shows. Wilder's prescribed absence of scenery and props and use of miming struck some audiences as radical, but what most resonated was the work's relatability, depth of meaning, and humor. Since then, it's been a staple of professional and amateur stages – including countless high school auditoriums.
Now the Pulitzer Prize-winning warhorse is at Shakespeare Theatre Company (STC) staged by the company's out associate artistic director Alan Paul with a rendering he believes is just right for our times.
"It's not a revival," he says. "It's a ritual. You can see 'Our Town' over and over and still find something new about yourself or life."
Intended as a happy gathering of Washington talent including Holly Twyford, Felicia Curry, Natascia Diaz, Eric Hissom, Craig Wallace, Sarah C. Marshall, Suzanne Richard as Joe Stoddard the undertaker, and Lawrence Redmond plays Simon Stimson (the troubled church organist often speculated to be a closeted gay man destroyed by life in a small town), the production has hit some COVID snags since early previews. Understudies have proved indispensable.
WASHINGTON BLADE: Was "Our Town" meant to be a return to post-pandemic normalcy for STC?
ALAN PAUL: Yes, and it was until about a month ago when COVID descended on us.
BLADE: Were you panicked?
PAUL: Luckily, it's an ensemble show with so many great actors. When understudies step in, things change in the scene but overall, the tone doesn't change. It's been an exercise of letting go. As a director you want total control of everything – this time I couldn't.
Also, it's astounding – and this is not a spin, honestly – just how remarkably well the understudies do when they're asked to perform with little preparation. It's turned out to be some of the best actors in Washington in rotation.
BLADE: Was "Our Town" your choice?
PAUL: Yes. First, I was thinking of doing [Eugène Ionesco's absurdist play] "The Chairs." But I reconsidered – people don't want to come out of pandemic to see "The Chairs." I considered a Noël Coward comedy or something with big themes like "The Grapes of Wrath." Then I thought maybe Thornton Wilder's "The Matchmaker," a play about life, possibilities, and renewal, and that led to Wilder's best-known play, "Our Town."
It made so much sense. All of my actor friends have been out of work, so it would be such a mistake to go to New York to find actors. First, I called Holly Twyford and offered her the important role of Stage Manager. With her input, we assembled a group of local actors to become the residents of Grover's Corners.
BLADE: Any grumbles from patrons that the play is tired?
PAUL: I'm used to that sort of thing. People groaned when I did "Camelot" in 2018 and it became one of the company's highest grossing shows. Previously, it was the same sort of thing with "Man of La Mancha" in 2015. But I say, when you wipe away what's old fashioned about the way a show looks and feels there's always something else to reveal.
It's about daily life and death. When Paul Newman did "Our Town" in 2002 it was in the wake of 9/11. Now, we're coming out of a period of isolation and there's been nothing normal about life and death has been everywhere. I think people might hear it in a new way.
BLADE: Talk a little about your approach.
PAUL: Performed in the round beneath soaring rafters, it's a communal event. It's about getting out of the house. Without scenery, it's the opposite of Netflix, which is what we've all been on for two years.
Also, it's zapped of sentimentality. The third act is dead and they don't miss life. Standing in the cemetery, the Stage Manager reminds the audience, "We're coming up here ourselves when our fit's over." Such an interesting point of view, wry but sort of sad.
BLADE: Have your feelings changed toward the play?
PAUL: It's not a play I ever disliked but it wouldn't have been high on my list a few years ago. You can't help but fall in love with it because the language is so full. And what the stage manager has to say – those speeches are remarkable monologues.
BLADE: And finally, what's your takeaway?
PAUL: Emily who has died young asks, "Does anyone ever realize life while they live it…every, every minute?" The Stage Manager replies, "No. Saints and poets maybe…they do some."
That's Thornton Wilder's way of saying to all of us, wake up, give it a shot, be conscious.
New Philly production explores AIDS through three characters
Ain Gordon's 'These Don't Easily Scatter' more than a static memorial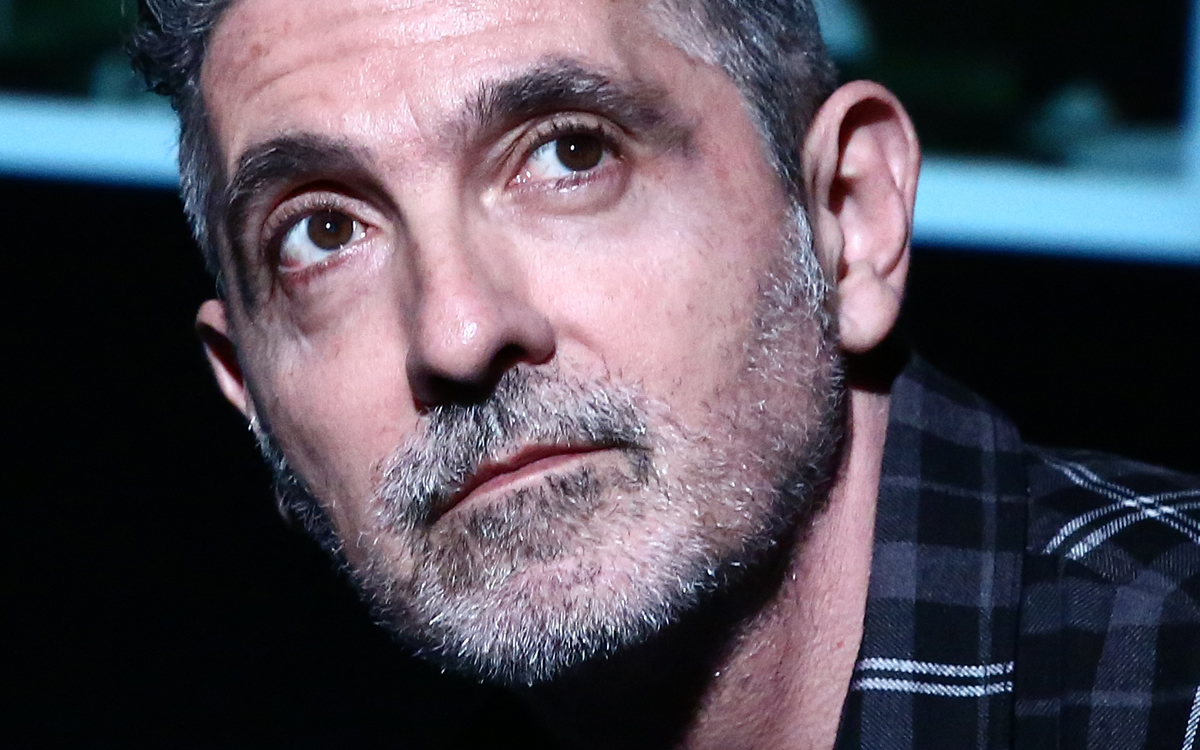 'These Don't Easily Scatter'
May 20-22
William Way LGBT Community Center
1315 Spruce St, Philadelphia 19107
$20
Waygay.org
Plaques fail. And a memorial doesn't need to be an immoveable piece of stone.
It's this line of thought that formulated "Remembrance," an alternative multidisciplinary memorial to Philadelphia's AIDS crisis and its under-mourned deaths, made up of activities throughout May and June in the City of Brotherly Love.
Included is Ain Gordon's new play "These Don't Easily Scatter" to be performed in the William Way LGBT Community Center's freshly renovated ballroom for just four performances (May 20-22). Both written and directed by the three-time Obie Award winning playwright, the work takes inspiration from interviews and stories gathered from individuals affected by HIV/AIDS and follows three imagined characters navigating the early days of the AIDS epidemic in Philadelphia.
Gordon, who is gay, has woven aspects of AIDS into previous plays ("217 Boxes of Dr. Henry Anonymous," "Radicals in Miniature"), but this time he's focused closely on the crisis. Set during 1982-1987, the play covers five intense years remembered vividly by the playwright, a lifelong New Yorker who was young, sexually active, and on the scene at the time.
Through interviews, he's unearthed stories of Philadelphia-area community members who passed unnoticed with very little support. Gordon also chronicles accounts of those who selflessly assisted including a Philadelphia funeral director who offered proper burials to the dead when others were too frightened.
"The process was difficult because all interviewing had to be remote, and that's the antithesis of what I like to do," he explains. "I prefer to go to the place and talk in person. When you're on site, meandering can happen and you find out things you hadn't planned to ask. But it was the reality, so I dealt with it."
With so many theatrical and film works surrounding HIV/AIDS and the '80s, Gordon sought a unique angle. His interviews included faith leaders and family, but he zeroed in on health care workers who administered to early AIDS patients, primarily nurses. Their stories were both illuminating and timely in context of the current pandemic.
He says, "Infectious disease doctors who were mostly men were the stars of the show. I'm often interested in the supporting players who stand behind the stars and those were the nurses."
But how do interviews become a cast of characters?
"To be brutally frank, the budget allowed for three actors," Gordon explains. "Didn't know who those characters were for a long time. But I knew that I had a collection of things that needed to get in and I needed to find a container that could hold them."
An especially revelatory interview with a nurse resulted in a character. An early interview with a faith leader who mentioned a woman who'd been in the choir and volunteered to sing at funerals when no one else would, conjured another. The third was a gay man, because gay men featured predominantly in all of the interviews.
"At that point," he says, "you stop talking, get rid of your notes, and start writing. And hopefully it all comes together."
Gordon is grateful to have assembled an A-list cast including Cherene Snow as the nurse, out actor Bill Kux is the gay guy, and the brilliant Kathleen Chalfant best known on Broadway for her part in the original production of Tony Kushner's seminal "Angels in America," plays the chorister.
The work's conceit is monologues resembling interviews. The unnamed gay character, a young man finding his way sexually and having a great time, brings the names he wants to remember – mostly casual sex partners. Some stories are short: He recalls a guy he had sex with in a train station bathroom. He'd forgotten all about him until he saw his obituary photo in the paper.
For the playwright, "These Don't Easily Scatter" is more than a static memorial.
"I'm interested in how history tends to be promoted in physically inactive objects. I think it can come in other forms and if they're more fluid history can actively live on."
A lot of his work is place-based plays – typically he gets a commission to travel to a location and write something specific to the place. And that's what he's done in Philadelphia.
"It's important that the work is freestanding enough so it can be presented as a piece of theater someplace else where nobody knows about the story," he adds. "It's also important to give something back to the generous people involved in the process, and to commemorate those who have died, if not by name, then by remembrance."
'John Proctor is the Villain' draws cannily from American lit
An enthralling work replete with pitch-perfect performances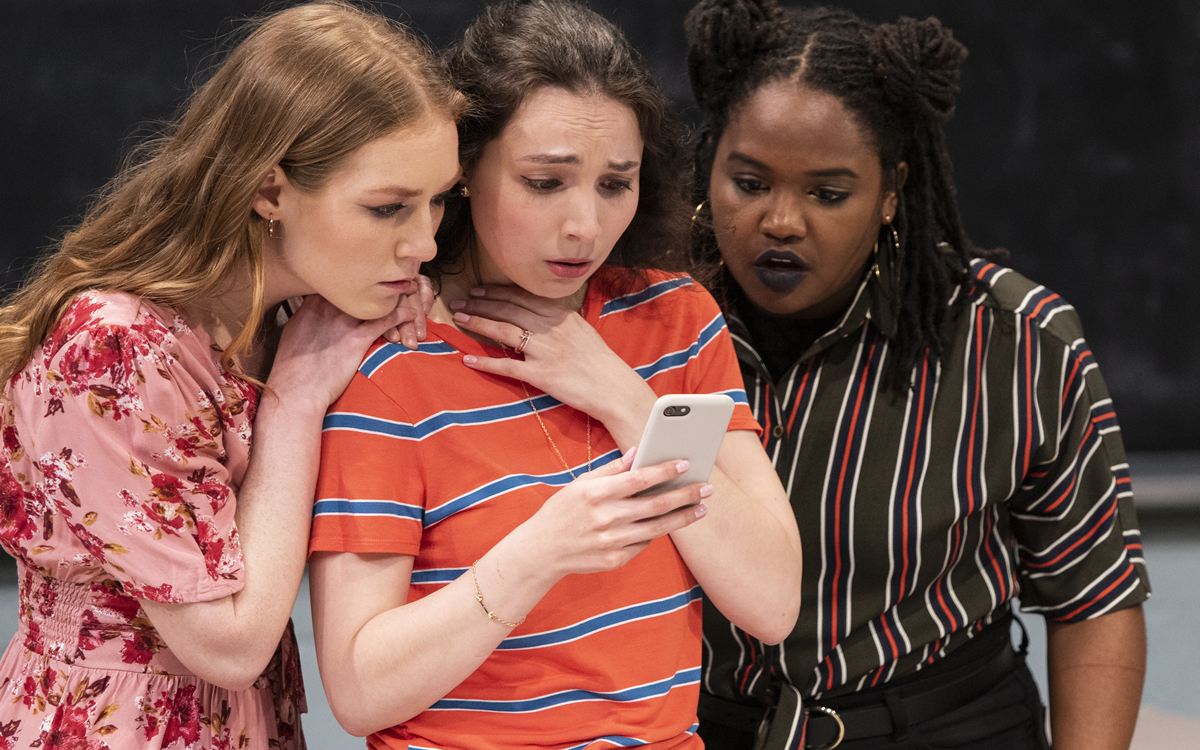 'John Proctor is the Villain'
Through June 5
Studio Theatre
1501 14th St., N.W.
$50 – $95
Studiotheatre.org
There's a lot going on in Carter Smith's junior English class at Helen County High in rural Georgia.
Not only are they tackling Arthur Miller's colonial Salem-set play "The Crucible," but budget cuts require that he open each class with 10 minutes of sex-ed over six weeks. To complicate matters further, there are unsavory rumors surrounding two of Smith's female students – one whose father has been accused of sexual misconduct and another who's absconded to Atlanta under a cloud of scandal.
Playwright Kimberly Belflower's terrific new work, "John Proctor is the Villain," a world premiere now running at Studio Theatre, draws cannily from American literature, examining the meaning of witch hunt in Miller's red scare allegory compared to what's happening in her play's one stop light (soon-to-be two) town in 2018. 
Filled with pop-culture references – lots of Taylor Swift, Beyoncé, Lizzo, Lorde, and even fashion guru Tim Gunn's catch phrase "make it work," the play's two hours with a fifteen-minute intermission moves quickly as action unfolds in many scenes scattered throughout a semester.
At a time when #MeToo was changing from allegations about individuals to something bigger, the smart girls in Smith's class want to form a feminism club. A well-meaning young counselor, Ms. Gallagher (Lida Maria Benson) thinks maybe it's not the right time, but with the help of Smith as moderator, it happens.
Dave Register's Carter Smith is a handsome, young teacher with a charming slight Georgia accent. The girls in his honors class admire him for different reasons including – in no particular order – his picture-perfect marriage and Christian faith, his sensitivity, and the bulge in his sweat pants.
Led by overachieving yet self-effacing Beth (Miranda Rizzolo), the feminist club shifts focus from timely topics to interpersonal relationships and spicy gossip. Other members include the local Baptist preacher's daughter Raelynn (Jordan Slattery), adamant Ivy (Resa Mishina) with the handsy father, and outgoing Nell (Deidre Staples), a big city transplant new to a school where friendships date back to first grade.
Eventually two boys join the group – Mason (Ignacio Diaz-Silverio) a regular dude in need of extra credit who proves surprisingly progressive, and Lee (Zachary Keller) a strapping guy who wants to be near to his ex-girlfriend.
Midsemester, volatile Shelby (Juliana Sass), a troubled girl with a secret, returns to Smith's class with her own significant take on Miller's honorable adulterer John Proctor and what makes a witch hunt.
While it's definitely an ensemble piece, Raelynn's coming of age arc is the most interesting. With a blank countenance similar to Jenelle from "Teen Mom" (my pop culture reference), Slattery plumbs her church girl part for laughs and meaning. By play's end, she's engaging in a defiant dance not unlike the Crucible girls who danced naked in the forest.
Despite taking inspiration from Miller's intense drama, the playwright slips in a sweet scene of bashful young love straight from the pages of Thornton Wilder. It's an endearing moment, seamlessly worked into the story.
Luciana Stecconi's brightly lit, pale blue-walled set is pure verité: standard issue desks and chairs, clutter, a white board adhered to an old blackboard, and a bulletin board dedicated to Georgia's women writers with Flannery O'Connell featured dead center. Sound designer Kathy Ruvuna further revs up the teen energy with blasts of familiar-sounding pop music.
But mostly, it's veteran director Marti Lyon who brings to life an enthralling work replete with hope, rage, and pitch-perfect performances. In 2018, Lyons had great success at Studio with "The Wolves," a candid glimpse into the lives of adolescent girls who play soccer. And now with Studio's current offering, she again makes audiences privy to an otherwise mostly closed world.