January 8, 2019 at 3:28 pm EST | by Mariah Cooper
College football player recounts public coming out story on 'Ellen'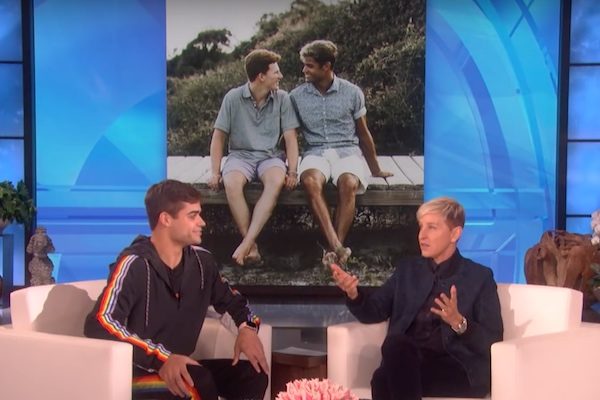 Jake Bain's decision to come out at a school assembly, which was captured on video, at John Burroughs High School in Missouri was a personal achievement but he unexpectedly gained attention from more than just his classmates.
Bain's story gained traction nationally and now, one year later, he is playing Division 1 football at Indiana State University. He appeared on "The Ellen DeGeneres Show" to discuss what coming out so publicly was like.
DeGeneres notes that Bain looked nervous during his speech and Bain says he was.
"I had a lot of nerves coming out because, at that time, there weren't very many out, openly gay football players," he says.
Bain told DeGeneres that after coming out he decided to be open from the very beginning of college.
"Even before I committed there, I talked to the coach about my sexuality and that I wanted to be openly gay," Bain said. "He assured me from the very beginning that I was gonna be accepted by the community at Indiana State and that my teammates were gonna treat me just like anybody else on the team."
Bain's boyfriend Hunter Sigmund was also in the audience. Bain says he and Sigmund clicked at a party and have been dating for two years. DeGeneres, who famously gives lavish donations and gifts to guests, wasn't able to give Bain a gift as per NCAA rules. However, the show found a loophole and chose to give Sigmund a week-long vacation hinting that he should take Bain along.
Watch below.