January 10, 2019 at 3:02 am EDT | by Joey DiGuglielmo
QUEERY: Q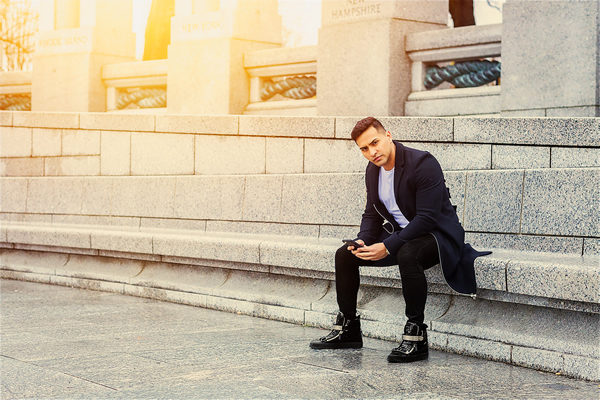 Q got the idea for his Sex Shop Party a few months ago. He noticed two sex shops in D.C. on the same block, wandered in and went live on Facebook with his adventures.
"All the toys and gear at the stores gave me the inspiration for the party," he says.
He's a man known by several names. Q is a nickname that followed him from his seven-year Army stint because everyone had trouble with his legal name — Jesu Quispe. When he started producing parties, people started calling him Mother Fantasy (or sometimes La Fantasy) because he was always going out of his way to make sure they got home safely. It turned into a running gag.
The Sex Shop Party, pegged to next weekend's MAL (Mid-Atlantic Leather) festivities, is Friday, Jan. 18 from 10 p.m.-7 a.m. at L8DC (727 15th St., N.W.) with music by Alex Acosta, X Gonzalez and Joe Pacheco. Tickets are $40 at lafantasyproductions.com. If you want tickets, Q says not to wait. His last four events have sold out and this one is close.
Q's parties are all theme based. Sex Shop is designed to "showcase all the different sexual exhibitions celebrated during MAL," he says. Other Q parties may highlight sexy swimsuits, underwear, masquerade, gym wear and more.
Q himself enjoys the leather/fetish scene ("We all have a wild side") and works hard to incorporate a "wow" factor at his events with sets, performers, guests, outfits, drag queens, extravagant decor and more. He promises an "assault on the senses that leaves you wanting more at every turn."
Q works full time in party promotions. The 34-year-old New Jersey native came to Washington nine years ago for "a new change." He's single and lives in Columbia Heights. He enjoys music, running and going to the gym in his free time.
How long have you been out and who was the hardest person to tell?
I came out in my 20s and the hardest person to tell was my mother because I knew telling her was like telling the world. I have a very multiracial family — Latin, Italian and African American and when I came out to my mother, she ensured everyone in the family knew. I experience different levels of support, stress, torture and humor. My family is very supportive and according to my brother, I'm the favorite sister!
Who's your LGBT hero?
Harvey Milk and Ellen DeGeneres
What's Washington's best nightspot, past or present?
I don't look at the past, I look at the present and of course I have to say my parties.
Describe your dream wedding.
Weddings are very stressful, so I would do something different. I will invite a group of 50-100 family members and friends and take them to Punta Cana in the Dominican Republic to just relax and party for a week. While there, we'd hold a small ceremony on the beach. Why create stress on what is supposed to be the happiest moment of your life? I like to be different.
What non-LGBT issue are you most passionate about?
Preventing animal cruelty.
What historical outcome would you change?
While undoubtedly there are events in history that I would impact if I could (both world wars for example), society as a whole has learned from those events and, although not always evident, evolved from them.
What's been the most memorable pop culture moment of your lifetime?
Hanging out with the Black Eyed Peas at a concert and joking with Kathy Griffin while she was on tour in Iraq.
On what do you insist?
People who know me or follow me on FB know that I'm always asking people to smile, be kind and always work hard and dream big.
What was your last Facebook post or Tweet?
A meme of my daughter Luxor wearing a BDSM hood. Follow me on FB and see for yourself.
If your life were a book, what would the title be?
"The Story of a Circuit Queen"
If science discovered a way to change sexual orientation, what would you do?
That would depend. If there was a way to change back and forth, it might be fun to experience the full range of sexual desires. I'm not sure that I'd want to make a change permanent though. I'm happy being who I am.
What do you believe in beyond the physical world?
I'm very Catholic and believe in a divine power.
What's your advice for LGBT movement leaders?
Use your power for good and don't alienate or divide people but bring people together.
What would you walk across hot coals for?
Just to experience what it would be like to walk across hot coals. No but seriously, my family.
What LGBT stereotype annoys you most?
The stuck-up, rude diva who thinks everyone else is beneath her.
What's your favorite LGBT movie?
"To Wong Foo": "Little Latin boy in drag, why are you crying?"
What's the most overrated social custom?
The handshake
What trophy or prize do you most covet?
None. I don't define myself by the number of trophies I have or prizes I've won.
What do you wish you'd known at 18?
How to properly invest in real estate.
Why Washington?
Why not? It's our nation's capital and one of the gayest and gay-friendly cities in the country. Need I say more?