January 17, 2019 at 7:00 am EST | by James Wellemeyer
Gay Virginia Beach council member charts own course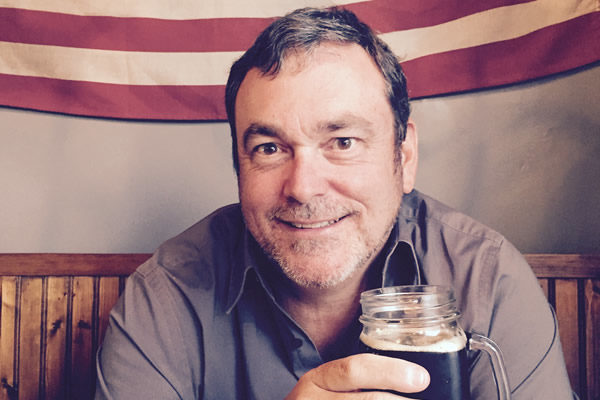 David Nygaard on Nov. 6, 2018, won a seat on the Virginia Beach City Council. His victory is widely considered one of the most shocking of the night in Virginia.
Why? Nygaard identifies as an openly gay Democrat, and Virginia Beach is as conservative as a city in the state gets.
This didn't faze Nygaard. Both he and his campaign manager Marcus Calabrese knew the campaign would be tough. But they also knew many residents could empathize with some of Nygaard's life experiences and may be more receptive to his policy proposals as a result.
A Christian, a Republican, and a married man with six kids, Nygaard once fit a conventional profile. His life turned on its head after he suffered a "widowmaker" heart attack in December 2016.
After surviving the attack, Nygaard decided to publicly come out as gay in his local newspaper.
The owner of a prominent jewelry business, Nygaard was well-known in his community and saw the paper as the best way to share his truth. "I wanted to be authentic, and I knew the best way to do it was to rip the Band-Aid off and come out," Nygaard said. "I was tired of going on dates, seeing casual acquaintances, and feeling awkward, like gosh I have to come out to this person, or am I going to lie and say this is my friend."
Not only did Nygaard's heart attack prompt him to be more open about his sexuality, but it also drew him into a career in politics as a Democrat.
"My life experiences shifted," Nygaard explained as he discussed his switch from the GOP to the Democratic Party. His heart attack made accessing health insurance difficult. "My only hope for health insurance that I could afford was Obamacare."
His jewelry business faced a bankruptcy, which he blames partly on Republicans for "favoring big businesses over small" ones after the 2008 crash. And one of his sons had become a felon.
"You have to swallow hard when you stood against some of these things and then realize that people really do need these types of protections and opportunities and you're one of them," Nygaard said. "I went from being a white fairly wealthy Republican to being gay, to being bankrupt … When you go through that, you become part of a minority group. It makes you more concerned for the people that are also underprivileged and pretty much dismissed."
Nygaard originally hoped to launch a bid for Congress. But after failing to gather the 1,000 signatures necessary for Virginia's 2nd Congressional District Democratic primary, he announced his intention to run for a seat on the Virginia Beach City Council.
The only Democrat out of four candidates, including former incumbent John Uhrin, Nygaard focused his campaign on issues he knew voters could relate to. Nygaard spoke openly about domestic violence and harassment he faced from a former boyfriend. "I realized that one of the game changers for the campaign was when I decided to be open and transparent on that issue. In that, I experienced what many in our community experience," Nygaard maintained. "It's just easier to own all of my baggage. I was open about my failures in life. And the truth is that these are experiences that everybody has."
He discussed his son's experience in the criminal justice system. "Many people have children who themselves are felons who need help," Nygaard said. "I think we need to have a second chance for these kids."
He also addressed the financial hardship he faced after 2008. "It had a major effect on everybody," Nygaard said. He was open about his health issues and the problems he had accessing insurance that followed. "These are real issues that affect real people, and it's time we talk about it."
Nygaard ended up unseating Uhrin by the closest margin in Virginia Beach city history, finishing with a lead of just 163 votes in an election with more than 150,000 ballots cast. "There was not one other incumbent who lost their race," Nygaard said. "There rarely is in Virginia Beach, so this was really extraordinary."
As he takes his seat on the council, Nygaard says he wants to reform domestic violence and marijuana policy and advance an economic development project that would create jobs for "disadvantaged communities that often get overlooked in terms of economic development."
Despite his victory, there still remains a possibility Nygaard may not complete his term on the city council.
Some of Nygaard's opponents are filing a lawsuit against him arguing that he doesn't live in the Beach District as he claims. The issue came up early in his run and hasn't been dropped. Nygaard insists that he splits his time between two houses, one in the Beach District and one outside where he cares for his dad. Next month, a trial is set to determine whether or not Nygaard's residence and domicile meet the requirements.
Nygaard is optimistic about the outcome of the trial.
"I would be very, very surprised if the judges would disenfranchise nearly 50,000 voters who voted for me," he said.
But regardless of the result, he has already made history as an openly gay elected official in Virginia Beach. And he's hoping to use his platform to pave a path for future LGBT candidates.
"I'm prepared to go first and do what I need to do so that the next person on city council doesn't have to go through these hoops," said Nygaard.