January 17, 2019 at 12:25 am EST | by Lou Chibbaro Jr.
LGBT contingent expected for Saturday's Women's March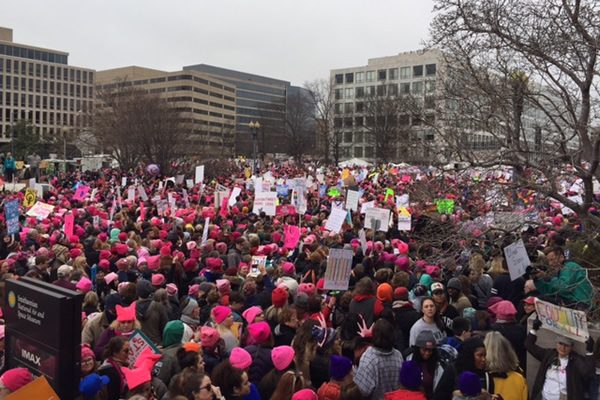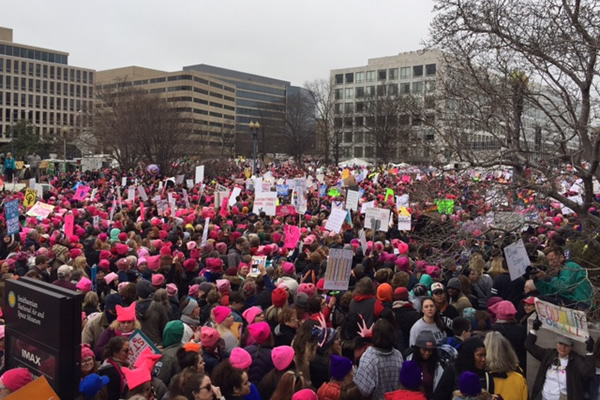 At least eight LGBT advocacy organizations are among about 175 civil rights and progressive groups that are listed as partners for the 2019 Women's March on Washington scheduled to begin at the National Mall on Saturday, Jan. 19.
Two transgender women and two lesbians are also listed as members of a recently created 31-member Women's March Steering Committee, which organizers say has played a lead role in setting the march's agenda.
However, unconfirmed reports have surfaced that some LGBT organizations, including the Human Rights Campaign and GLAAD, have joined dozens of other civil rights groups in withdrawing their "partner" status in response to allegations of anti-Semitism among the march's leadership.
The Women's March organization has issued statements condemning anti-Semitism and disputing claims that some within its leadership expressed anti-Semitic views.
"The Women's March is excited to announce over 175 organizational partners for the 2019 Women's March on Washington," March organizers said in a Jan. 11 statement. "We are proud of the diversity and breadth of organizations involved, which reflect the vibrance of the Women's March movement," says the statement.
Organizers are calling on participants to gather at 10 a.m. at Freedom Plaza. They say the march would begin at 11 a.m. but haven't released the specific route of the march. A statement released by organizers says a rally was scheduled to begin at 1 p.m. at Constitution Gardens located adjacent to the Mall between the Vietnam Memorial and the World War II Memorial.
The LGBT organizations included in the current list of Women's March partners are the TransLatin Coalition, National Black Justice Coalition, Trans People of Color Coalition, Trans Student Educational Resources, Trans Youth Equality Foundation, Gender Diversity, Werk For Peace, and Pride Fund to End Gun Violence.
The Washington Blade couldn't immediately identify partner organizations that may have requested to be removed from the Women's March partners list. However, a Tweet from women's rights activist Tali B. Goldsheft claims that HRC and GLAAD were among the groups that withdrew as partners.
Spokespersons for HRC and GLAAD said they were looking into the two organizations' current position on the Women's March but didn't immediately respond to a question from the Blade about whether they withdrew as partners of the march.
Abby Stein, one of the two transgender women serving on the 2019 Women's March Steering Committee, is listed in a biography on the March website as a Jewish educator, writer, speaker and activist.
In a posting on her Facebook page this week Stein made an impassioned appeal for the Jewish community to remain supportive of the Women's March on Washington and of the dozens of sister Women's Marches planned for Jan. 19 in cities throughout the U.S. and abroad.
Among other things, she expressed solidarity with other Jewish women who are supporting the march on grounds that it has emerged as an important and growing coalition of marginalized groups including Jews, African Americans, Hispanics, and LGBT people.
"Emma Goldberg isn't writing my own words, but some of it feels like it," Stein wrote in her Facebook post. "I am proud to be joining the 3rd Annual Women's March on Washington steering committee, together with the 2 amazing Jewish women leaders April Aviva Baskin and Yavilah McCoy."
According to the New York Times, one of the lead organizers of the first Women's March in January 2017, which drew more than a million women to the nation's capital to protest Donald Trump's inauguration as president, had expressed some form of support for the Nation of Islam and its controversial leader, Louis Farrakhan.
Women's March organizer Tamika Mallory, the Times reports, has acknowledged praising Farrakhan for his role in uplifting black men through his Million Man Marches in past years, but she said she did not agree with Farrakhan's inflammatory anti-Semitic and homophobic statements in speeches.
Mallory, who is on the leadership team of the 2019 Women's March, told the New York Times that anti-Semitism has no place in the Women's March. Other March leaders have pointed to the Jewish, lesbian and trans women serving on the March Steering Committee.
In addition to transgender and Jewish activist Abby Stein of New York, the other trans and lesbian members include Bamby Salcedo, a nationally recognized Latina transgender activist who serves as president of the TransLatin@ Coalition; lesbian activist Kerri Evelyn Harris who ran as a candidate for the U.S. Senate in 2018 in Delaware's Democratic primary; and lesbian Marisa Franco of Phoenix, a community organizer and writer.