January 18, 2019 at 3:36 pm EST | by Brian T. Carney
'The Heiresses' full of strong performances, beautiful cinematography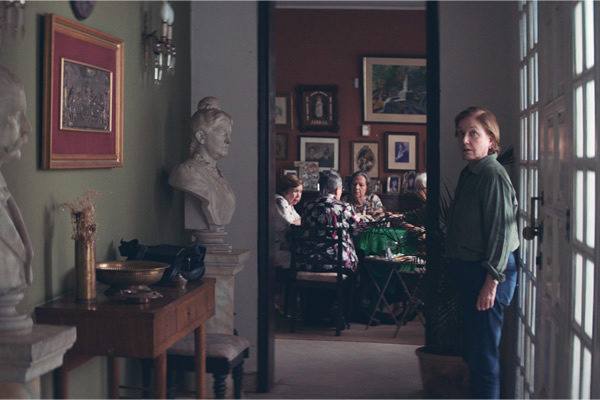 Reel Affirmations presents 'The Heiresses'

In Spanish with English subtitles

Tonight at 7 p.m. (Friday, Jan. 18)

HRC Screening Room

1640 Rhode Island Ave., N.W.

7 p.m.
Reel Affirmations begins the New Year off right with "The Heiresses," a deeply moving, award-winning film from Paraguay.
As the movie opens, Chela (the sensational Ana Brun) and Chiquita (Margarita Irún) have been lovers for over 30 years. For most of their lives together, they have been protected from the country's political turmoil and conservative social standards by their wealth and social status.
But recently, their financial circumstances have begun to decline. They have been forced to fire their maid and have begun selling off their inherited possessions (there is a delightful squabble over which grandmother left them one of the paintings they have sold).
Things take a turn for the worse when Chiquita is imprisoned on fraud charges. The sheltered Chela, who has lived in the same house her entire life, is forced to run the household with the help of a newly hired, inexperienced maid. She starts to drive again, even though she does not have a license, so she can visit Chiquita in prison.
When her imperious neighbor Pituca (a delightful María Martins) sees that Chela is driving again, she subtly blackmails Chela into driving her to her card game. Soon Chela is running a taxi service for Pituca and a group of elderly wealthy ladies. Along with the badly needed cash, Chela gains a sense of self confidence and even begins a flirtatious friendship with Angy (Ana Ivanova), an attractive young woman she encounters on one of her outings.
"The Heiresses" is the first full-length feature film by Paraguayan writer/director Marcelo Martinessi who guides the action with subtlety and confidence. He lets the action unfold slowly, with an emphasis on the small details that shape Chela's life. Before she leaves for prison, for example, Chiquita gives the new maid detailed instructions on how to prepare Chela's morning tray. Throughout the movie, Chela explains to Pati (Nilda Gonzalez) why the precise placement of each object is so important. Sometimes her reasons are practical, sometimes she is merely clinging to the last remnants of her old life.
Martinessi's attention to emotional and physical details is deeply enhanced by his collaboration with director of photography Luis Armando Artega, who subtly captures how Chela's ancestral home has become both comforting and confining and how the rooms change as family heirlooms are sold. He uses beautiful architectural features such as hallways, doors, windows and mirrors to frame the action and to construct Chela's slowly expanding horizons. In contrast to the sedate interiors, the prison yard where Chiquita holds court is a splash of noise and color.
Martinessi's collaboration with his sound team (Daniel Turini, Fernando Henna and Rafael Alvarez) is equally effective. The silence in Chela's house is by turns soothing and oppressive, and the arrival of buyers appraising heirlooms and haggling over prices is both an emotional and sonic invasion. The sputtering car almost becomes a character in its own right and the periodic eruptions of Tchaikovsky's "1812 Overture" to underscore Chela's growing confidence are delightful.
The writer/director also gets superb performances from his female-led cast, many of whom are making their film debuts. Ana Brun is magnificent as the sheltered lesbian slowly moving into the world outside her door and the supporting cast is excellent. Brun captures Chela's journey in intimate details that reveal the character's changing circumstances as well as the society that is crumbling around her.
Perhaps most importantly, Martinessi and his cast and crew deserve great praise for making a quietly revolutionary movie. In any country, making a movie that centers on a long-term lesbian couple and a group of elderly women would be noteworthy. In Paraguay, making a movie about lesbians is a bold political act. When the movie was recognized by the Paraguayan Senate, half of the senators stormed out in protest and one female senator verbally assaulted Brun (who is performing under a pseudonym to protect herself).
"The Heiresses" has been a hit on the international film festival circuit. It has won about two dozen major awards, including three prizes at the Berlin International Film Festival and the Best Film Award at the Madrid International LGBT Film Festival. In addition, despite protests, the film was the official submission of Paraguay for the Best Foreign Language Film category of the 91st Academy Awards, although it did not make the shortlist announced last month.