January 23, 2019 at 6:00 am EST | by Peter Rosenstein
Trump incites incivility and takes hostages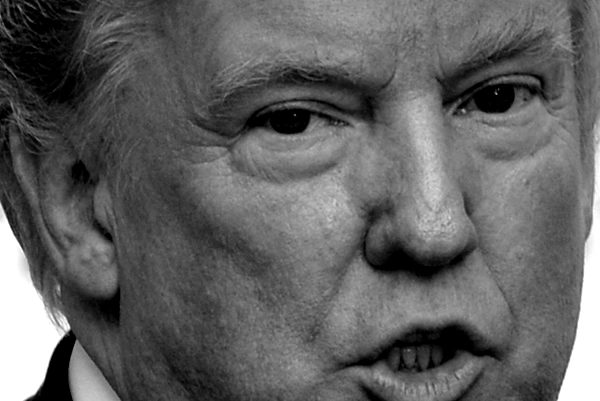 Donald Trump is desecrating the White House and the Office of the presidency through his behavior. It has become clear over the past two years he is not only not up to the job he is also overseeing and instigating the collapse of decency in our society.
While Trump hides behind milquetoast statements and doesn't give explicit approval to what is happening by his usual silence and lack of strong condemnation for the acts of intolerance and hate taking place he is giving his implicit approval. Just last Friday we saw the horrendous video of a group of Catholic high school boys from Covington, Kentucky, bussed here to participate in the Right to Life rally, bully an elder statesman of the indigenous community as he demonstrated. What those boys didn't know and were most likely clearly incapable of understanding was Nathan Phillips, the person they were bullying, is not only a respected member of his community but a Vietnam veteran who fought for his country and their right to march and speak out with their MAGA hats on.
The boys' school in Kentucky put out a strongly worded statement saying they would investigate the incident and would hand out punishment possibly to include expulsion. But what the statement neglected is the fact the behavior these boys exhibited is learned. From whom did they learn hate and intolerance? Did it come from their school or from their parents? Who will take responsibility to teach them what they did was wrong and why it was wrong. Clearly it won't be the Trump/Pence administration.
Just this week it was reported Karen Pence, Vice President Pence's wife, is going back to teaching at a religious school that openly discriminates against gay students, faculty and parents. They claim it is their right to discriminate based on freedom of religion. While that can be debated what should not be debated is when Pence accepted the role of vice president he and his wife took on the responsibility of representing everyone in our country and that includes the members of the LGBTQ+ community. So while this school might have a right under law to discriminate, knowing the idea of his wife teaching there would be abhorrent to so many in the country, she should have understood doing so is the wrong message to send from the administration. But then this administration with its total lack of decency believes the only message they have to send is to keep the 35 percent of the voters still supporting them happy.
Then we hear hardly a peep out of the White House when Rep. Steve King (R-Iowa) says in an interview with the Times, "White nationalist, white supremacist, Western civilization — how did that language become offensive?" King has a history of such racist language and leanings but because of the national outcry this suddenly became offensive even to other right-wing leaders of the GOP in the House. As the New York Times wrote "National Republicans courted his political support in Iowa: He was a national co-chairman of Ted Cruz's 2016 presidential effort and of Gov. Kim Reynolds' 2018 election. House leadership appointed him chairman of the subcommittee on the Constitution and civil justice. And President Trump boasted in the Oval Office that he raised more money for Mr. King than for anyone else." Because of the bad publicity the Republican Party was receiving even Liz Cheney (R-Wyo.), another right-winger in the House GOP leadership, called on King to resign his seat, which he has said he won't. But again barely a peep from the White House, which over time has clearly courted white nationalists and white supremacists. 
We are seeing a racist president under siege for lying and running a campaign that was in collusion with the Russians. He is now fighting for a wall on the border with Mexico to satisfy the voters who bought his scare tactics about immigrants. A president who has no compunction about holding over 800,000 government workers hostage to get his way and using another million immigrants including Dreamers as trading chips in his fight to get his way. He is being aided and abetted by the dregs of the Republican Party led by Mitch McConnell (R-Kentucky) who are afraid of their shadows and think they might lose their seats if Trump's 35 percent won't support them. So they willingly sell their souls to keep their seats.
We must stay positive and believe in a better future for our country. I support Speaker Pelosi and Minority Leader Schumer and urge Democrats in Congress to stand strong and tell Trump in no uncertain terms, "We will not negotiate with a hostage taker! Open the government and we will then negotiate with you on all border security issues."
Peter Rosenstein is a longtime LGBT rights and Democratic Party activist. He writes regularly for the Blade.