January 22, 2019 at 10:37 am EST | by Richard J. Rosendall
At Lincoln's memorial, the social divide erupts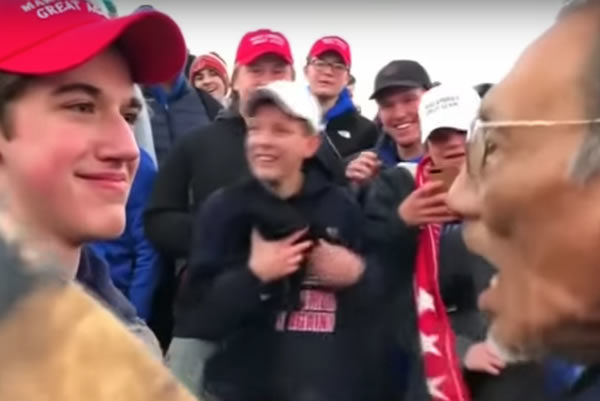 The Lincoln Memorial is a popular destination where disparate groups often interact. This was illustrated the Friday before the Martin Luther King Jr. holiday by an encounter whose aftermath recalled Akira Kurosawa's 1950 movie Rashomon, in which an event is remembered differently by different people.
Two demonstrations were scheduled on the National Mall on January 18. One was the Indigenous Peoples March, to protest injustices against indigenous peoples. The other was the annual March For Life, dedicated to overturning women's reproductive freedom. The latter assembly included a group of students from Covington Catholic High School in Kentucky, who were mostly white and wore "Make America Great Again" hats.
Afterward, a video went viral showing Omaha Nation elder and Vietnam War veteran Nathan Phillips chanting and beating a ceremonial drum, surrounded by Covington students who were mocking him. Many on social media, and Covington officials, condemned their disrespectful behavior. Then more details came out. Right wing sites started claiming Phillips was the aggressor. On Sunday, according to The New York Times, Phillips clarified that he had approached the crowd to intervene because racial tensions between the students and a group of black men were "coming to a boiling point." Phillips said, "I stepped in between to pray."
The mother of one of the Covington students wrote that the boys were harassed by "black Muslims yelling profanities." She was apparently referring to a group called Hebrew Israelites, who, the Times reports, were "preaching their beliefs and shouting racially combative comments at the Native Americans and the students." Apparently, any loud black man is automatically taken for a Muslim; except that even-toned black men, like Barack Obama, get the same biased assumption.
Hebrew Israelites believe they are descended from the ancient Israelites, which must disconcert people who think Jesus was a fair-skinned European. The Hebrew Israelites, requiring no more permission than anyone else, embrace teachings and practices of Christianity and Judaism.
I'm almost surprised that Women's March organizer Tamika Mallory has not been asked to apologize for them, even though she had nothing to do with the incident. She has resisted a flood of demands that she denounce Minister Louis Farrakhan. Her sin was working with the Nation of Islam on anti-violence initiatives after her son's father was murdered. The Women's March movement she helps lead embraces the Jews, LGBT people, and women who are Farrakhan's favorite targets. Nobody demands that I prove my respectability by denouncing anyone.
We are constantly immersed in double standards without even noticing. We treat them as wallpaper. The slogan on the students' hats, like an old racist song, stirs an ersatz nostalgia for a time when white racial dominance was seldom questioned. Tapping white resentment was Trump's ticket to power; the attendant social division beclouds our shared spaces and frays our nation's fabric.
On Sunday night, as I was reading news updates about the confrontation near where Dr. King gave his most famous speech, and as others were deciding what to wear to the King Day march in sub-freezing weather, a rare phenomenon occurred: a total lunar eclipse.
On my building's roof, as the moon entered the darkest part of the earth's shadow, a young woman arrived with a tripod and a digital SLR camera. I only had hot tea and the Redshift astronomy app on my iPhone. Several neighbors came out briefly to glimpse the cosmic spectacle. The weather recalled Obama's first inauguration, when it was too cold for the eminent musicians to tune their Strads.
As totality began, I looked up at the "super blood wolf moon," and remembered my late friend Barrett, an amateur astronomer with whom I spent similar nights on his roof years ago.
The red moon was high to the south, between Gemini and Cancer, awesome and beautiful. I fleetingly wished that all those squabbling people on the Mall could fit on my roof with me and look up humbly together, realize our common destiny, and have an epiphany about the folly of letting demagogues divide us. But it was past midnight, bitter cold, and I was out of tea. I walked back to my apartment, climbed into bed, and trusted in the daily miracle of morning.
Richard J. Rosendall is a writer and activist. He can be reached at rrosendall@me.com.
Copyright © 2019 by Richard J. Rosendall. All rights reserved.