February 9, 2019 at 7:20 pm EST | by Kevin Majoros
Sports leagues regularly play defense against anti-LGBT measures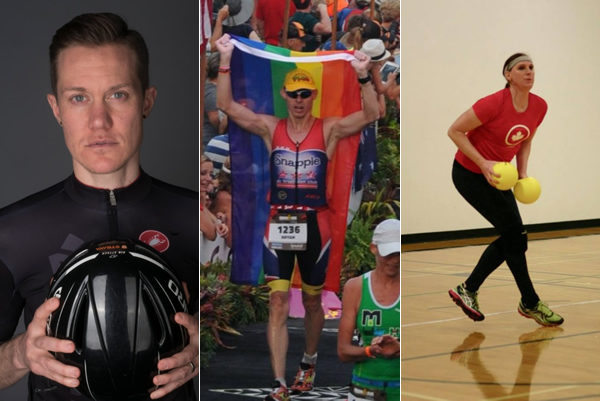 There has been a lot of news recently regarding policy changes on LGBT topics including the transgender military ban, conversion therapy bans and nondiscrimination bills. It has been a reminder that even when policies are put in place that support human rights, they can be reversed at a moment's notice.
The sports community is experiencing similar reversals and changes to those that have been seen in the political arena.
On Jan. 14, Senate Bill 49 was introduced in South Dakota to overturn a 2015 policy in the state that allows participation for all students regardless of their gender identity or expression.
Its passing would restrict participation in high school activities by birth certificate and could set a precedent for other states to follow. The bill failed to advance past committee on Jan. 24 and the protections for transgender athletes currently remain in place.
It only took a few days for the attack to begin again.
Chris Mosier is the first transgender athlete to compete for Team USA and tracks policies for transgender athletes on TransAthlete.com.
"While SB 49 was shot down, the South Dakota lawmakers introduced House Bill 1225 just a few days later which is the exact same bill targeting transgender high school athletes," Mosier says. "They are hoping to angle the bill into a 'friendlier' committee to get it passed. The attacks against trans youth are still on."
Supporters can sign an open letter that Mosier created here.
On Jan. 18, the International Triathlon Union banned rainbow flags from all competitions, equating the rainbow flag with unsportsmanlike, disrespectful and dangerous displays. The ruling read as follows:
"Athletes will avoid displaying any kind of demonstration of political, religious, sexual orientation or racial propaganda."
The sexual orientation part of that was new for 2019 and was designed specifically to eliminate rainbow flags. The public outcry regarding the ruling was immediate and six days later the ruling was reversed. The International Triathlon Union released the following statement:
"The International Triathlon Union has decided to immediately change the rule that stated that 'Athletes will avoid displaying any kind of demonstration of political, religious, sexual orientation or racial propaganda,' so that 'sexual orientation' will be immediately removed."
D.C. triathlete Bryan Frank qualified for the 2015 Ironman World Championships in Kona, Hawaii and knew he would be carrying the rainbow flag across the finish line.
When he was a half mile from the finish line, he grabbed a rainbow flag from his entourage of seven supporters who were holding it on the sidelines.
"There is still a stigma that LGBT athletes can't compete at a top level. Kona is the world championships and I wanted to show that anyone can play on the world stage," Frank says. "There was another guy running next to me and he stepped aside to let me have my moment at the finish line. I got lots of cheers."
This past week, the International Powerlifting Federation and USA Powerlifting banned transgender athletes from competing by posting an update to their transgender participation policy on their website.
Originally, the International Powerlifting Federation had adopted rules that followed the International Olympic Committee's policies on transgender athletes. The rules allow such athletes to compete provided their hormones are within normal ranges.
The new ruling prohibits all female transgender powerlifters and male transgender athletes who use testosterone from competition.
LGBT sports watchdog Athlete Ally issued the following statement regarding the ruling:
"Access to sport is a human right. When (LGBT) people are systematically excluded from sport, they are denied not only an essential component of their physical, mental and emotional well-being, but also access to a community and the social support therein."
You can sign the Athlete Ally support petition here.
Blocking athletes from competition, whether they are youth athletes or professional athletes, raises concerns on many levels. Participation in sports supports positive mental health and improves social skills along with promoting physical health.
Sin City Classic hosted its annual multisport tournament last month in Las Vegas and the dodgeball tournament boasted 500 athletes from 60 teams. Most of the Team USA men's and women's members competed in the co-ed division.
Winning the tournament MVP honors was trans athlete Savannah Burton, a former member of Team Canada's women's dodgeball team. Next up she will be competing in the Ontario provincials and hoping to qualify for Canadian Nationals.
"Access to sports participation, in the gender that they identify, should be a right for every transgender athlete," Burton says. "The values gained from being part of a team or a competition improves self-worth, overall physical health and provides a sense of belonging. The friendships and support I have received from my women's dodgeball team (Wildlings) has been a game changer for me and I don't know where I would be without those incredible ladies. When organizations are inclusive, everybody wins."