February 11, 2019 at 12:07 pm EST | by Chris Johnson
Exclusive: Rep. Kennedy leads congressional resolution against Trump trans military ban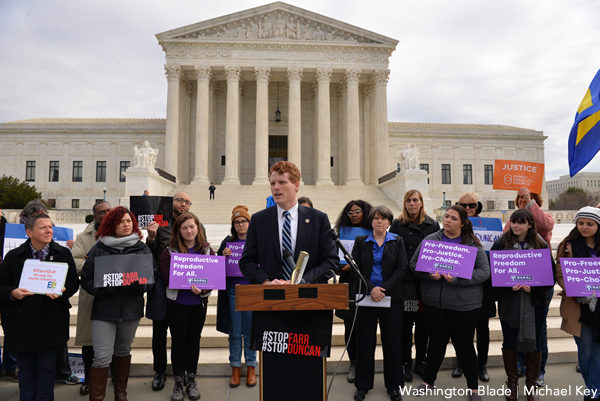 Rep. Joseph Kennedy (D-Mass.) has introduced a resolution in the U.S. House rejecting President Trump's transgender military ban as a discriminatory policy based on junk science, the Washington Blade has learned exclusively.
Kennedy, chair of the Congressional Transgender Task Force, introduced the non-binding resolution against the policy in the U.S. House on Monday. A Kennedy aide said 114 co-sponsors have signed on to the legislation, but that list is expected to grow.
"No one willing to serve in our armed services and sacrifice for this country should be subjected to intolerance and bigotry from their commander-in-chief," Kennedy said in a statement to the Washington Blade. "But beyond the message sent to our service members, the president's tweets sent a hateful, harmful message to every single transgender man, woman and child in this nation. Today, my colleagues and I are not only rejecting this misguided policy, but telling every transgender American that they are seen, they are heard, and they will not be erased or discounted by their government."
The resolution cites Trump's 2017 tweet pledging to ban transgender people from military service "in any capacity" as well as the implementation plan from former Defense Secretary James Mattis, which critics say relies on junk science in its justification for Trump's policy.
The House "strongly opposes" Trump's ban, the resolution says, and rejects "the flawed scientific and medical claims" in the Mattis implementation plan that justify it. Additionally, the resolution urges the Pentagon to refuse to instate Trump's ban and to "maintain an inclusive policy allowing qualified transgender Americans to enlist and serve in the armed forces."
A Kennedy aide said he isn't sure about timing for a potential House floor vote on the resolution but is hopeful it'll be soon.
Kennedy's resolution isn't the only congressional action against the ban. New legislation introduced by Rep. Jackie Speier (D-Calif.) in the House and Sen. Kirsten Gillibrand (D-N.Y.) in the Senate seeks to codify openly transgender military service. The legislation would thwart Trump's ban by ensuring transgender service members can stay in the military and qualified transgender people can enlist in the armed forces.
All of the legislative initiatives follow the decision from the U.S. Supreme Court to issue stays on lower court orders against Trump's transgender military ban, essentially allowing the policy to go into effect. (Technically, one injunction against the ban issued by a federal court in Maryland remains standing, but the order isn't expected to last long. The U.S. Justice Department is seeking to have it dissolved following the green light from the Supreme Court.)
Editor's Note: An initial version of this article reported Kennedy was simply poised to introduce the resolution. This article has been updated to reflect Kennedy's actual introduction of the measure.