February 20, 2019 at 6:29 pm EDT | by Staff reports
Smollett now a suspect for filing false police report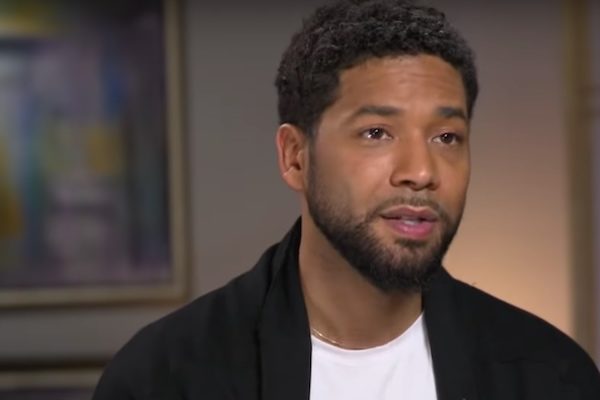 UPDATE: Actor Jussie Smollett "is under arrest and in custody of detectives," Chicago police spokesman Anthony Guglielmi confirmed Thursday morning on Twitter.
Press Briefing: Jussie Smollet is under arrest and in custody of detectives. At 9am at #ChicagoPolice Headquarters, Supt Eddie Johnson, Commander of Area Central Detectives Edward Wodnicki will brief reporters on the investigation prior to the defendants appearance in court. pic.twitter.com/9PSv8Ojec2

— Anthony Guglielmi (@AJGuglielmi) February 21, 2019
A Cook County State's Attorney's office spokesperson has confirmed Wednesday evening to the Los Angeles Blade that felony charges have been filed against Smollett. The actor was indicted for filing a false report after a Grand jury heard evidence from Chicago police investigators in connection to the alleged hate-crime incident last month.
Smollett will be charged with Class 4 felony which is punishable with a prison term of between 1 to 3 three years if found guilty.
A spokesperson for the Chicago police announced that actor Jussie Smollett is now considered a suspect "for filing a false police report" and that detectives are presenting the case against him to a grand jury.
Police spokesman Anthony Guglielmi tweeted the news Wednesday afternoon after Smollett's legal team had met with prosecutors and detectives.
Case Update: Jussie Smollett is now officially classified as a suspect in a criminal investigation by #ChicagoPolice for filing a false police report (Class 4 felony). Detectives are currently presenting evidence before a Cook County Grand Jury. pic.twitter.com/FhDcbBKsuU

— Anthony Guglielmi (@AJGuglielmi) February 20, 2019
Defense attorneys for actor Jussie Smollett met with Cook County, IL prosecutors and Chicago Police investigators earlier Wednesday afternoon Guglielmi confirmed to the Los Angeles Blade. The meeting takes place as a police source said that at least 6 separate subpoenas had been issued for Smollett's phone and bank records. Guglielmi refused to confirm those reports.
"The only tool for detectives to be able to corroborate information is a search warrant and a subpoena. I'm not at liberty to discuss this," he said adding; "But it's not uncommon for detectives to ask to subpoena records as part of any investigation."
n a further development Wednesday, the actor added famed Los Angeles criminal defense attorney Mark Geragos to his legal team. Geragos' celebrity clientele has included singer Michael Jackson, Winona Ryder, and former NFL quarterback and civil rights activist Colin Kaepernick.
The Chicago Sun Times reported that before he was retained, Geragos appeared on CNN and discussed the Smollett case with Anderson Cooper, expressing concern over the unusually high number of leaks in the case attributed to law enforcement sources.
"Any time you get law enforcement drip-drip-drip leaks, that to me is a telltale sign that something else is going on here," he said. "I haven't seen anything except leaks according to law enforcement sources. To me, that screams out somebody is trying to manipulate something."
Speaking about the meeting between the actor's legal team and investigators Guglielmi said,
"We are hopeful that we'll have a chance to ask the questions we need answers for. We've been very diplomatic and have been working with him and his attorneys. There's information we want to run by him. If the opportunity is not taken for him to speak with detectives, we're going to go with other methods to create a culture of accountability."
Addressing reports in both the Chicago and national media over an indictment or grand jury proceedings against the actor, a spokesperson for Cook County State's Attorney Kim Foxx, declined comment.
Foxx has recused herself "out of an abundance of caution- the decision to recuse herself was made to address potential questions of impartiality based upon familiarity with potential witnesses in the case," her office told ABC News Tuesday. First Assistant Illinois State's Attorney Joseph Magats will act as the state's attorney for this matter, the spokesperson said.