February 27, 2019 at 6:40 pm EST | by Joey DiGuglielmo
QUEERY: Anthony Oakes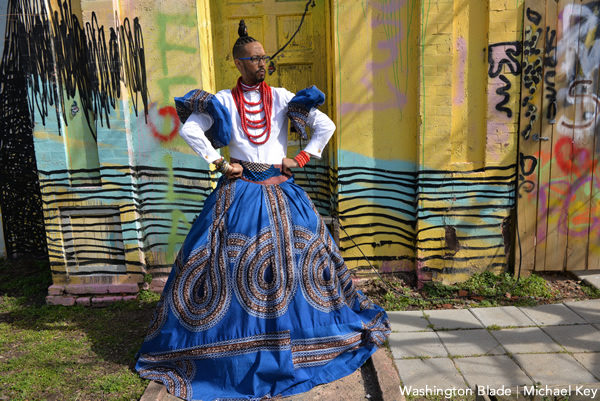 Anthony Oakes has been emceeing since his teens, but he didn't always know he was funny. That came later.
In his native North Carolina, Jack Mizrahi groomed him to be a commentator/emcee in the ballroom scene. Oakes moved to Washington five years ago for "a fresh start," and was working at Loc Lov Salon where "the clients kept raving about how funny I was," he says.
He eventually did a comedy workshop with comedian Chelsea Shorte that proved perspective changing.
"Upon completion of the worship, there was a showcase," the 43-year-old Winston-Salem, N.C., native says. "The moment I got my first laugh, all insecurities about what I was supposed to be doing with my life melted away. One of the mentors pulled me aside and told me I really had what it took to succeed."
Oakes now works full time performing and emceeing and hosts radio show Thursday Night Tea with Anthony on WLVS each Thursday at 6 p.m. He's also emcee of "The Ask Rayceen" show, which has its eighth season premiere Wednesday, March 6 at 7 p.m. at the HRC Equality Center (1640 Rhode Island Ave., N.W.). It continues the first Wednesday of each month March through November. Details here. 
Oakes and Rayceen met in the ballroom scene and have been working together more and more in recent years.
"There's something for everyone," Oakes says of "Ask Rayceen." "The thing is, with all of the different types of people and backgrounds, you feel a sense of oneness."
Oakes lives in Southeast Washington with partner, Kevin Sutton. Oakes enjoys reading, writing, cooking and eating in his free time.
How long have you been out and who was the hardest person to tell?
I've been out for 24 years, since I was 19 years old. My parents are ministers, so my father was the most difficult to tell. It shouldn't have been. When I told him, he turned into Aaliyah and wrote me a four-page letter about how much he loved me.
Who's your LGBT hero?
James Baldwin
What's Washington's best nightspot, past or present?
Tracks
Describe your dream wedding.
On the beach with those I love.
What non-LGBT issue are you most passionate about?
Racial equality.
What historical outcome would you change?
Slavery
What's been the most memorable pop culture moment of your lifetime?
The explosion of the internet.
On what do you insist?
"To thine own self be true." Polonius
What was your last Facebook post or Tweet?
Thanking everyone for their love and support during my gall bladder-removal surgery.
If your life were a book, what would the title be?
"The Sketch Life"
If science discovered a way to change sexual orientation, what would you do?
Protest it.
What do you believe in beyond the physical world?
God
What's your advice for LGBT movement leaders?
Become one of those who are in power.
What would you walk across hot coals for?
Kevin, my partner.
What LGBT stereotype annoys you most?
Gays are weak.
What's your favorite LGBT movie?
"Moonlight"
What's the most overrated social custom?
Making toys gender specific.
What trophy or prize do you most covet?
I would have to say my Legendary Status in The Ballroom Scene. I fostered the Ballroom Scene and ignited it in the Carolinas. In over 20 years it has afforded me a cornucopia of opportunities and awards including awards for HIV and AIDS work in my hometown community. It was the door to in which I walked through as an emcee and now comedian.
What do you wish you'd known at 18?
Good credit is life! Allow your gifts to make room for you.
Why Washington?
It's a cultural melting pot. It is the happy median between New York and North Carolina.