February 27, 2019 at 7:00 pm EST | by Mariah Cooper
'Queer Eye's' Karamo Brown on wedding, new memoir and life advice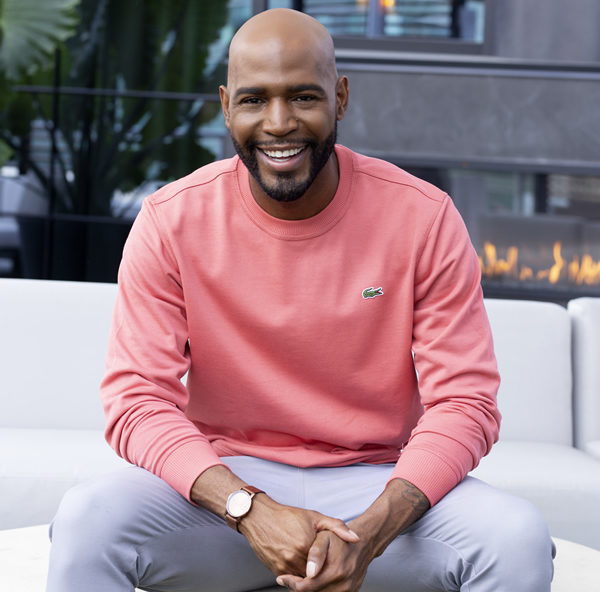 Karamo Brown in Conversation with Sam Sanders

Wednesday, March 6

7 p.m. 

Sixth and I Synagogue 

$40-55
Karamo Brown has become known as a gay, male version of Oprah as the resident culture expert of the Netflix reboot "Queer Eye."
Over the show's past two seasons, Brown, who has a background in psychotherapy and social work, has offered life advice and shared a different perspective in a way that seems to profoundly change the "heroes" of each episode. Before he landed "Queer Eye," he also unexpectedly made history as the first out gay black man on reality television during his stint on "The Real World: Philadelphia."
However, Brown's life view wasn't always so grounded. In his memoir, "My Story of Embracing Purpose, Healing and Hope" (out March 5), the 38-year-old chronicles how he came from a broken place of drug addiction and other traumas and was able to build himself into the advice guru he is today. He also brings light to rarely talked about topics such as how he discovered he was a father when his son was 10 years old. Now, Brown has full custody of his son and his son's brother and is engaged to his fiancé, director Ian Jordan.
Brown spoke with the Blade from another speaking engagement in Raleigh, N.C., about his memoir, new episodes of "Queer Eye" and an update on the stress of wedding planning.
WASHINGTON BLADE: Let's take it back to when you were on "The Real World: Philadelphia." You were the first out gay black man on reality TV in the U.S. When that happened were you trying to be a pioneer? Did you find out before the show?
KARAMO BROWN: I found out after the fact. I was not even that strategic to say, at that age, "You know what I'm going to go on here and do something that's never been done." It wasn't even that. I was like, "How can I go in this house and have a good time and party and have fun." There was no thought in my mind about "Am I the first?" Once I came off the show and that was immediately told to me by MTV and that narrative started getting pushed, I immediately started to feel the pressure as people wrote to me and said, "Oh my god I haven't seen anyone that looked like me. Thank you," and I was like, "Wow, there's a whole lot of eyes on me right now and if I don't do what's right I'm not screwing up myself I'm screwing up others." And that was difficult but also pretty amazing because I opened up a door, just a little bit enough, so that other people could run through and do what they do.
BLADE: How did the audition come about to be a "culture expert" on "Queer Eye"?
BROWN: Being in bed I hear Carson Kressley and Andy Cohen talking about the reboot. I got on the phone with my agent and said, "I have to be a part of this," and he told me it was done. Luckily, he pushed for me to get in because the casting was already finished and they took a chance on me. But once I got in there I realized that culture couldn't be what everyone else had seen it be the first go around where it was about Broadway tickets and art museums. Having training as a psychotherapist and a social worker, I was like, "Someone has to fix the hearts and minds." Change is great, it is phenomenal, but if you only have outward change and no inward change then what happened?" You just go back to what you did before because you haven't acknowledged the behavior. So when I think about culture, I think about the shared attitude and values that make people do the things they do. That's how I approach culture.
BLADE: How is the fame circuit now different than it was when you did "Real World"?
BROWN: Oh my gosh, it's great now. The first time around people were thinking, "Come here and come fight" and now people come to me and they're like, "Please help me remove the drama from my life." That is a major shift. Before, they wanted to be in the drama and now they're like, "Please remove the drama from my life. I want to be happy with myself and with my boyfriend and my girlfriend and my family." They're like, "Help me understand how I can be drama free" and I think that's what the biggest shift is.
BLADE: You come off as though you have such a wealth of knowledge and life advice. Were you always this way?
BROWN: No. I wish that could say that I came out of the womb knowing the answer to every question but it's not true. I went through a lot of hard times dealing with abuse, domestic violence, drugs, colorism, religion. I think what makes me so happy about my book is that I'm showing people that even in my darkest moments, I try to find what the lesson was in it so I can use that as a springboard to get toward my greater self. I think that's hard to do for most people because we don't have the language or the tools. In my book, I try to show people that you can find the tools, here's the language, here's how you do it. So who I am today is not who I was even on "The Real World." And I'm glad because I was able to grow through and heal from all the traumatic things that have happened to me and still be able to do that work. That's what I show people that they can do as well in my book.
BLADE: The third season of "Queer Eye" returns in March. The show has become known for the memorable stories of people like Tom and Skyler. Can you give me a preview of any memorable stories coming up in the next season?
BROWN: They won't let me tell you about the heroes but I will tell you this. For my category, I am most proud. Season one I was embarrassed for the fact that I didn't fight for what the culture category was, being more about fixing the inside. I was doing that work but I didn't have a clear conversation with executives. Even though they weren't fighting against me, it was my own internal battle. Season two you saw me be more, "Oh he's fixing the inside. Oh, he's the mental health expert." But season three, it comes full forward. If you loved the laughing and the crying, we do it so much. We have real conversations, really deep, real growth for these individuals. It's more diverse. I think it's almost half and half men and women, which is great. So more diverse in race. I think it's great when people are able to say, 'Wow, great I see myself" and a large part of that is what I'm doing and I'm really proud of that. My brothers and I when we first came into this a year ago, the Fab Five, we didn't know each other. We were so worried. Someone said to us, "OK, we're going to put you on a treadmill and you can't crawl you have to run full speed." And at first we were like, "Oh can we do it?" and we locked hands and we have done it. I'm so proud of us.
BLADE: You guys recently went to Japan to film "Queer Eye." How was filming there different than filming in the U.S.?
BROWN: Us being in Tokyo was something the network wanted us to do because they wanted what we do to really translate internationally. Us going into a country with people who don't speak the same language. It's funny because in my book you see I talk about how emotions are universal and we all have them. Somehow we feel disconnected yet every single person whether you're in Tokyo or Texas experiences the same thing. That experience lets me know, especially in my category, that you don't really need words to understand what someone is going through. You can help them to realize that their emotions are the words. I can't wait for people to see those. The Tokyo episodes aren't a full season it's just a special season that will be coming out who knows when. But we're all excited about it.
BLADE: Why did you decide that now was the time in your life to come out with a memoir?
BROWN: Because I've grown a lot. I've had a lot of life experience. I've also been trained as a psychotherapist and social worker, I know how to articulate what I'm feeling in a way that's digestible and in a way the people can relate to it and apply to their own lives. This is just me telling infinite stories of how I've grown so that people can do the same with clear insights. I'm not saying my journey of growth is done but I've had enough life experience that I'm like, "Let's share this with someone else." I'm very transparent in the book.
BLADE: You're very open about fatherhood and how you found out you were a father. Why was that such an important story to share for you?
BROWN: You don't really hear stories about single, black fathers stepping up, taking full custody of their children and still having a supportive relationship with the child's mother. The narrative we get told in the media is that black fathers and black mothers don't have a good relationship and everybody is fighting and, "You're my baby mama" and whatever BS that gets put out there. That's not the case for me. I am a black man raising two black boys on my own. Secondly, you never hear the story of gay, black men who are saying, "I can raise my children and there's not any issues because of my sexuality, and yes, me and my child's mother are going to be able to co-parent." I have a very untraditional trajectory toward fatherhood. Though it's not traditional it's still the same in so many ways. I've worked with fathers and mothers across the country and we always are like, "We're experiencing the same thing." So although I got my son when he was a little bit older I still experience what it's like to be a parent. I talk about that in the book because first of all look at the narrative that you're hearing about people who look like you but secondly, stories are universal and here are some tips for you to understand how to talk to your kids, how to have better conversations with them and how to manage what you're feeling as a parent.
BLADE: You give out so much advice to other people but what's the best piece of advice you've ever gotten?
BROWN: Don't be afraid of going slowly only of standing still. Because sometimes we get stuck in our lives doing something and we're like, "I'm not going to be happy but I'm going to stay here." But if you take one small step every day toward what you truly want you'll make it.
BLADE: You recently got engaged. How is wedding planning going?
BROWN: Wedding planning is going great for me. My fiancé not so much because he has full anxiety of it. This is a special day. I was the little boy who dreamed of my wedding and I'm not ashamed to say that. I want little boys to know around the world they can dream of their wedding day too. I don't think it's fair that we say girls should dream about their weddings but men can't. Especially in heterosexual relationships. We tell girls, "Oh you should want a wedding" but you don't tell the boys the same? What kind of screwed-up mixed narrative is that you're sending? Marriage is not for everyone but it is for me. I have been planning an extravaganza. When I was at a Vanity Fair party, Nick Jonas and Priyanka Chopra were there and I so badly wanted to go up them and be like, "I'm rivaling your wedding." Of course, they have more money than me so theirs is always going to be more fabulous. But in my mind I'm coming close to what they created. It's giving my partner anxiety but luckily, it's going well for me.