March 16, 2019 at 6:23 pm EDT | by Karen Ocamb
Victory for gay dads is defeat for Trump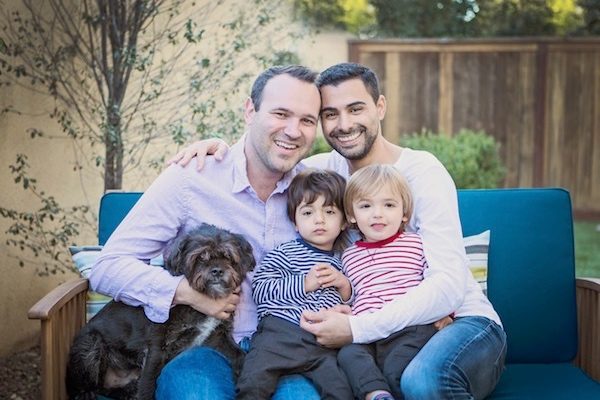 Andrew Dvash-Banks and Elad Dvash-Banks always knew they wanted to have a family. They just didn't know how difficult it would be.
"That was one of the earliest conversations that we had when we first started dating," Andrew told the Blade days after they won a federal lawsuit over the citizenship of one of their twins. "It's obviously a very important conversation that any couple has when they start dating, because that could be a deal-breaker. So we were both on the same page about it: we both wanted children."
Andrew, 38, was an American in Israel pursuing his master's degree in 2008 when he met Elad, an Israeli, now almost 34. Having a family "was always on the radar," a goal they knew would only be achievable through alternative reproduction technology.
The couple also knew they wanted to raise their family in California. "The thing that kept us from being with all my family—my parents, my five brothers and sisters, my 14 nieces and nephews—was DOMA (the Defense of Marriage Act)," says Andrew. DOMA was the federal law that prohibited same-sex marriage and thus prevented Andrew from sponsoring his foreign husband in emigrating to America, an automatic right for married heterosexual couples.
After they finished their degrees in 2010, Andrew had to choose between his family in Los Angeles or "being with the man I love. I don't think anyone should ever have to be in that situation, to have to choose between the two. Obviously, I chose the man I love," says Andrew. The coupled moved to Toronto in 2010 and got married.
Three years later, after DOMA was overturned, they started the application process for Elad to get a green card. That was finally approved in 2015, so they started to plan their family.
"For same-sex couples, family planning is a different process from different-sex couples," says Elad. "It requires research, it requires preparation, it requires saving, it requires a lot of things that other couples don't have to go through."
They decided on surrogacy that was "all-consuming, mentally, financially, and time-wise," says Elad. Both contributed genetic materials and subsequently chose "the two highest quality embryos that coincidentally were one from my genetic material and another from Andrew's genetic material to be used in the pregnancy."
Aiden and Ethan Dvash-Banks were born four minutes apart in September 2016. Four months later, Andrew and Elad went to the U.S. consulate in Toronto to prepare for their permanent move to LA.
"We came prepared with the boys' birth certificates—obviously, we are listed on each birth certificate, exclusively, the two of us on each— and all the documents that are required and all the fees to pay," says Andrew. "We were shocked and baffled and hurt by the response that the State Department official gave us—that she was going to require us to take a DNA test to prove the genetic connection between myself, the American citizen, and both children."
The official referred to a State Department manual "that interprets the Immigration and Nationality Act and has a biological requirement that does not exist in the actual immigration law," Elad says, when assisted reproduction technology is involved.
"Her question not only undermined the fact that we are one family, not only created a distinction between both of our kids—that we were legally on their birth certificates from the day that they were born—she also created a distinction between us and other, heterosexual couples, that she would never have asked this question," says a still angry Elad. "If Andrew and I were a man and a woman, we would show up at a consulate with two beautiful children that have both of our names, on both birth certificates, she would never ask that."
Elad asked the official directly if she would have required a DNA test of an infertile American man in a heterosexual relationship who used a sperm donor. "It's at my discretion who I ask for proof of genetic connection,'" Andrew recalls the official saying.
They took the DNA test only to have Aiden granted citizenship and Ethan denied when the results determined that Andrew was not his biological father. However, Ethan was granted a tourist visa that expired last December.
Andrew and Elad Dvash-Banks reached out to Immigration Equality and with the law firm of Sullivan & Cromwell LLP, filed suit against the State Department on Jan. 22, 2018. "The State Department is refusing to acknowledge the citizenship of children whose parents are same-sex married couples. This policy is not only illegal, it is unconstitutional," Aaron C. Morris, executive director of Immigration Equality and the couples' attorney, said in a statement. "This action by the State Department disenfranchises children born to bi-national same-sex parents and places an undue burden on their families."
On Feb. 21, they won. Los Angeles-based District Court Judge John F. Walter wrote in his 11-page ruling that 2-year-old Ethan Dvash-Banks "has been an American citizen since birth." He also called the State Department official's interpretation of the citizenship law "strained" at best.
But Walker did not rule on the constitutional merits of the overall State Department policy, making the ruling limited in scope and therefore not necessarily applicable to other families. Immigration Equality is hoping a similar case the advocacy organization filed on the same day and is fighting in Washington on behalf of a lesbian couple living in London will tackle the inequality of the policy's application to same-sex and heterosexual couples. A judge in that case is considering whether or not the case should be dismissed or go to trial.
Immigration Equality had been working with the Obama administration on updating the policy and Hillary Clinton's campaign also seemed interested, Morris tells the Blade. When the Trump administration wouldn't even talk to Immigration Equality, they started looking for alternative ways to help with legal services and advice.
The State Department issued a statement saying "it was reviewing the ruling, but did not respond to questions about what it would mean for the policy going forward," the New York Times reported. They have 60 days to appeal the ruling.
"I'm an American citizen, my tax dollars are going the State Department. This consulate is representing me and my interests," says Andrew. "Who are they to turn to me and tell me that my son is not my son? I cut his umbilical cord. I've been there since the minute he took his first breath. I've changed every poopy diaper. I'm his father. I'm on his birth certificate. Just because I don't share a genetic connection with him doesn't make me any less his father than Elad. So it's very hurtful."
"I think there's a fundamental problem with presumption of parentage," says Elad. "When you see a heterosexual couple with kids, you assume that both of those parents are the genetic parents of those kids. But that might not be correct, and in fact there are many heterosexual couples who are not both genetically related to their kids. In same-sex couples, this presumption does not exist. We don't enjoy the presumption of parentage because we are in a same-sex relationship. And that is, in our mind, the problem with the distinction that the State Department is making."
The couple say they feel "so relieved, and so happy, that the court agreed" that Ethan is the same as his twin brother," says Elad. But "with all the happiness and the joy of the decision, no one can give us back the two years of stress, of sleepless nights, of worries, of health issues for us, that we had to endure—wrongfully, because it wasn't our fault. The State Department made the wrong decision. The judge's decision says that clearly—that Ethan was an American citizen at birth. So, with the joy and the happiness of the decision, things are now corrected and are as they were supposed to be. But no one can give us back those two years we lost."
Morris notes the internal harm caused to both parents and a child who is told they are not equal to their sibling. But he also sees hope ahead.
"We've been fighting for a very long time to ensure equality and we are still winning," says Morris. "It's a never-ending struggle. But it's always worth the fight."
The Immigration Equality hotline is 212-714-2904. But Morris suggests going to the organization's website where there is a lot of useful information to help get you to the right person: immigrationequality.org.