March 17, 2019 at 12:31 pm EDT | by Evan Caplan
Frenchy's Natural in Logan is latest from EatWell D.C. team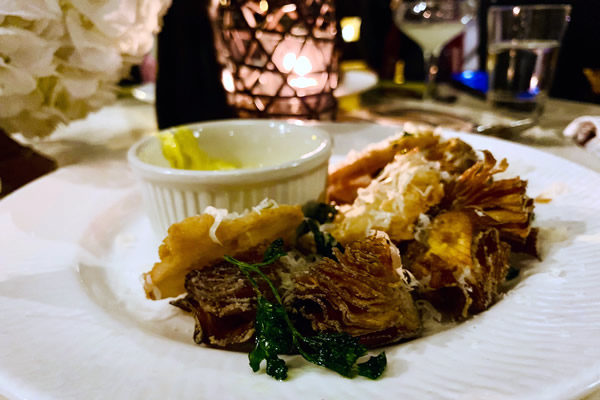 Flair, fries and a touch of frivolity landed last month in Logan Circle at the refreshed, relaxed Frenchy's Natural (1337 11th St NW). The restaurant is gay-owned EatWell D.C.'s reinvention of their erstwhile The Bird, which held that location for two years before EatWell decided it needed a change.
Proudly operating longstanding and beloved community institutions Commissary and Logan Tavern, among other restaurants, the EatWell D.C. owners transformed The Bird's quirky, poultry-centric cuisine into Frenchy's Naturel, an homage to a fourth arrondissement steak-frites café "bringing a modern French 'boite' to the area," says  David Winer, principal owner of EatWell D.C.
In Frenchy's, the design has gone modern and chic. Fanciful mirrors grace the soothing blue interiors, freshened up by casual bistro-style furniture.
The food, foremost, centers on beef (though seafood and poultry also make appearances). Alongside the meat? Bottomless fries.
"We love offering a complete meal and providing more fries if you're still hungry," Winer says. "It's just a neighborhood-friendly concept, which is what we do best."
Like the Parisian bistro of your dreams or Napoleonic aspirations, the menu is short but confidently boasts about what it does best.
After a few hors d'oeurves (naturally), the smattering of appetizers is led by glistening, golden-brown, shatteringly crisp artichokes. They arrive airy and crunchy, dusted with Parm by a heavy hand.
The main event, however is the "L'Experience de Frenchy's." This straightforward entre to the restaurant revolves around a main dish, served simply and alone on a white plate; offerings feature several cuts of local Maryland steak, among other proteins. In the order of "L'Experience," a green salad comes first; the main is tag-teamed with a choice of one of four sauces, like a creamy horseradish that softens the meaty blow. Arm candy arrives in the form of unlimited bowls of crispy shoestring frites, dressed up only with a sprig of rosemary. Ask for seconds.
Executive Chef Eric McKamey captains the kitchen. He just joined EatWell DC after stints at Momofuku, DGS Delicatessen and Mintwood Place.
Frenchy's also focuses on pouring natural wine, crafted from familiar grapes in unfamiliar ways. The restaurant defines these as "hand-harvested grapes grown in low-yielding vineyards with organic and biodynamic farming techniques."
Partner Heran Mane says, "This is an exciting time in the natural [wine] movement, and though challenging, we look forward to introducing D.C. to some new tastes."
Warm weather will welcome an outdoor street-level patio, as well as a second-floor balcony. Upstairs, mixologist Ben Bronstein will reign at the Rose Bar, where he'll offer mixology classes and wine tasting to take some of the mystery out of natural wines.
Weekend afternoons bring in brunch, led by a hefty hanger-steak-and-eggs plate, as well as a croque Madame and other French-inspired egg offerings. In a fan-fave holdover from The Bird, brunch also offers a fried chicken Benedict.
Opening this spot is not new for Winer, who has been in hospitality for his entire career; he opened his first restaurant in Miami Beach in 1991.
"We've been 'out' operators for the past 28 years, starting in the South Miami Beach heyday," Winer says. "We've always supported every facet of our community from the drag scene, gay youth and transgender long before it was fashionable."
As for his latest venture, Winer's strayed from the homey American cuisine that has been a hallmark of his various restaurants. French cuisine represents an adventurous exploit for a group that finds comfort in its soups, quinoa salads and mac n' cheese.
Yet, Winer says, "Frenchy's Naturel is a progression of long-standing ideas we've had for a neighborhood restaurant. It's cozy and casual, has modest prices and a little something for everyone, and you get an entire meal for one price."