Beyoncé and JAY-Z deliver emotional speech at GLAAD Media Awards
Shangela paid tribute to the singer with a lip-sync medley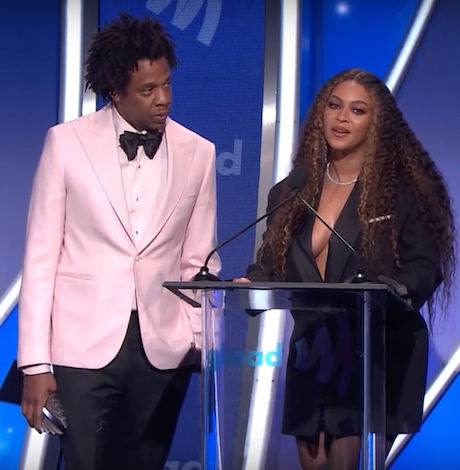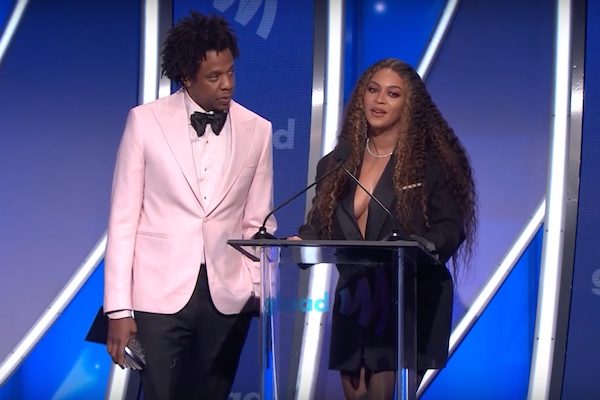 Beyoncé and JAY-Z were honored with the Vanguard Award at the 30th annual GLAAD Media Awards on Friday in Los Angeles. The Vanguard Award "is presented to media professionals who have made a significant difference in promoting equality and acceptance of LGBTQ people."
"RuPaul's Drag Race" alum Shangela gave a lip-sync performance to a medley of Beyoncé's hits including "Bootylicious," "Partition," "Single Ladies" and "Flawless." Beyoncé could be seen cheering in the crowd and gave Shangela a standing ovation.
OMG. @itsSHANGELA IS PERFORMING A BEYONCÉ MEDLEY IN FRONT OF BEYONCÉ AT THE #GLAADAWARDS. pic.twitter.com/VNS0oGurxF

— Raymond Braun (@raymondbraun) March 29, 2019
YALL! @itsSHANGELA just killed it, lip syncing to Beyoncé IN FRONT OF Beyoncé!!! #GLAADawards @glaad pic.twitter.com/aw9LroQ3dE

— Tre'vell Anderson (@TrevellAnderson) March 29, 2019
Beyoncé and JAY-Z were then given an introduction by Morris Singletary, Janet Mock, Ty Hunter and Lena Waithe before taking the stage to accept the award.
"We were not expecting any of those incredible presenters and just super honored and overwhelmed. I have already cried. I put a run in my stocking from Shangela," Beyoncé began. "I would say that one of the most beautiful memories from our tour was looking out every night and seeing the hardest gangster trapping out right next to the most fabulous queen, full out, respecting and celebrating each other. That was dope! That's the beauty of great partnership, connecting people who at first glance seem worlds apart."
She continued: "Whether it's our fans, or our family, the LGBTQI community has always supported us and lifted us up. We're here to promote love for every human being, and change starts with supporting the people closest to you. So, lets tell them they are loved. Let's remind them they are beautiful. Let's speak out and protect them. And parents, let's love our kids in their truest form. We would like to request that we continue to shift the stigma in this community, especially the stigmas in black families, towards accepting queer black and brown family members."
Beyoncé also honored her late uncle who died of HIV.
"‪Lastly, I want to dedicate this award to my Uncle Johnny, the most fabulous gay man that I have ever known…who helped raise me and my sister. He lived his truth. He was brave and unapologetic during a time when this country wasn't as accepting, and witnessing his battle with HIV was one of the most painful experiences I've ever lived," she said. "‪I am hopeful that his struggle served to open pathways for other young people to live more freely. LGBTQI rights are human rights. To choose who you love is your human right. How you identify and see yourself is your human right. Who you make love to and take that ass to Red Lobster is your human right."
JAY-Z also honored his mother, Gloria Carter, in his speech who came out as a lesbian on his song "Smile."
"Life, this journey, is filled with highs, lows, and a lot of learning. This is a momentous night. I also want to, because I didn't get to do it last year, honor my mother, who received the award last year, and follow in her footsteps of spreading love and acceptance and her beautiful speech at the end of the song "Smile," for her allowing me to tell her story," JAY-Z said. "So, I want everyone to acknowledge that, and her strong message of love who you love and souls that connect."
Watch below.
André Leon Talley dies at 73
Iconic Black fashion journalist was born in D.C.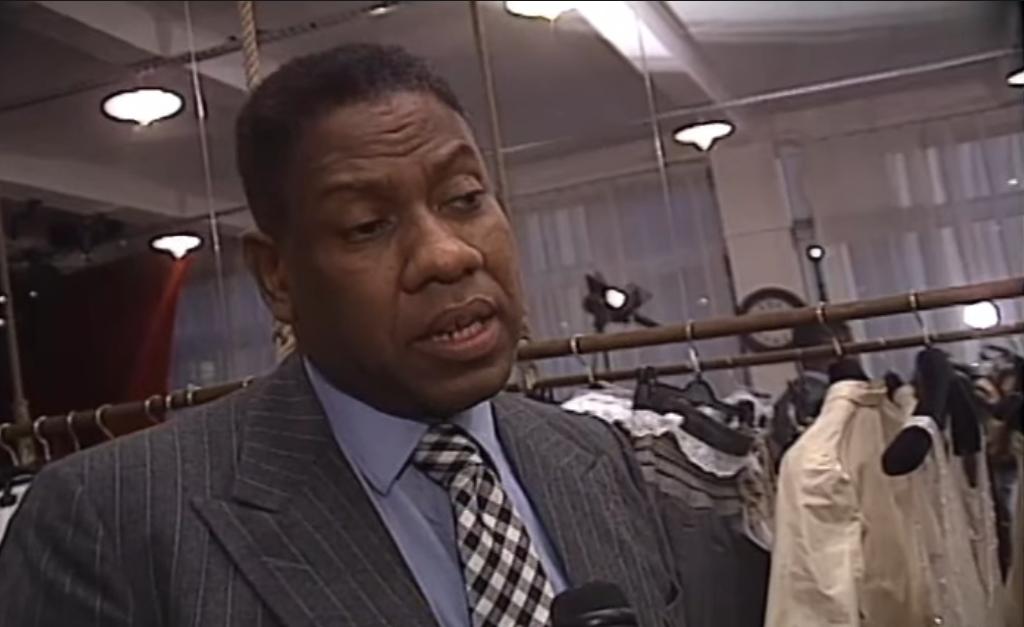 André Leon Talley, a formidable iconic fashion journalist and the former creative director and one-time editor-at-large of Vogue magazine, passed away at age 73 of unspecified causes at a hospital in White Plains, an inner suburb of New York City in Westchester County, New York.
News of the famed fashion journalist's death Tuesday was first reported by celebrity news and gossip site TMZ.
Andre Leon Talley, a giant in the fashion world, has died at 73. https://t.co/eckqP7zdwk

— TMZ (@TMZ) January 19, 2022
Talley was known for his close friendships with designers like Karl Lagerfeld, Tracy Reese, Rachel Roy, and singer/actress Jennifer Hudson, and Vogue magazine editor-in-chief Anna Wintour among others.
Talley worked at Vogue during an unprecedented time of growth in the fashion industry in the 1980's and 1990's. From 1983 until late 1987, he was the magazine's the news director and was then promoted to Vogue's creative director in 1988, a post he held until 1995. He later came back to the magazine in 1998 as the editor-at-large until his departure in 2013.
Born in D.C. on Oct. 16, 1948 and raised in North Carolina, Talley graduated with a Bachelor of Arts degree in French Literature in 1970 from North Carolina Central University. He later attended Brown University, after he was awarded a scholarship, where he earned a Master of Arts degree in French Literature in 1972.
Talley's early career as a journalist saw him working at Andy Warhol's Factory and Interview magazine. He later became the Paris bureau chief for Women's Wear Daily.
His later career saw Talley hosting his own radio show principally concerned with fashion and pop culture on Sirius XM. He also released a book "The Chiffon Trenches: A Memoir" on May 19, 2020, which detailed his early career start and some of the issues he encountered as a Black man.
Talley was also an LGBTQ icon. When asked about his sexual orientation by daytime chat show host Wendy Williams during a May 29, 2018 appearance, he stated, "No, I'm not heterosexual; I'm saying I'm fluid in my sexuality, darling."
André Leon Talley, fashion's godfather | fashion icon profile:
VideoFashion profile in 2020 marking of the release of André Leon Talley's memoir, "THE CHIFFON TRENCHES."
André Leon Talley | full address | Oxford Union:
DC Center to host estate planning seminar series
Three sessions presented by Murray Scheel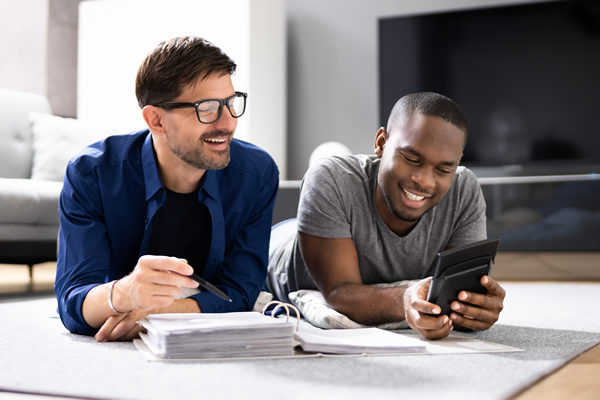 The DC Center for the LGBT Community and the DC Department on Aging and Community Living will host "Estate Planning Tools with Murray Scheel" via Zoom. 
Scheel will walk guests through the process of taking care of the end-of-life planning business that needs to be addressed during the golden years. Scheel is Senior Staff Attorney at Whitman-Walker Health's Legal Services.
This event series will consist of three 1.5-hour sessions:
Jan. 19, 3 p.m. – "Tools for while you're living" (overview, general power of attorney, healthcare power of attorney, disposition of remains, etc.)
Jan. 26, 3 p.m. – "Tools for after you're gone" (living wills, last wills, assets, etc.)
Feb. 2, 3 p.m. – "Healthcare insurance & long term care" (Medicare, Medicaid, correcting misinformation, skilled nursing, hospice care, etc.)
To register for this event, visit the DC Center website.
DC Center to host legal seminar for trans people
Attorney Richard Tappan and paralegal Miranda Shipman to give legal advice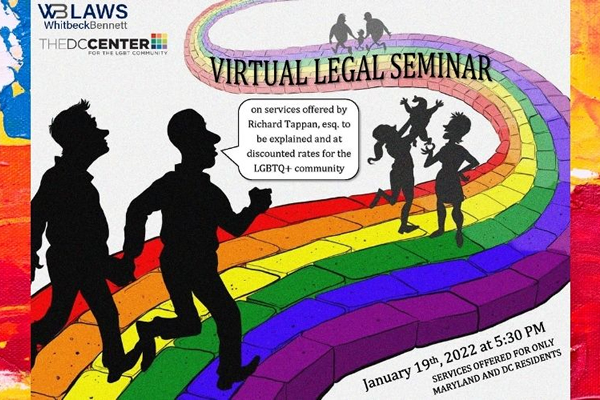 The DC Center for the LGBT Community will host a "Gender and Name Change Legal Seminar" on Wednesday, Jan. 19 at 5:30 p.m. online.
Attorney Richard Tappan and paralegal Miranda Shipman will give legal advice and speak on the importance of the legal community within the LGBTQ community, the difficulties of the LGBTQ community in the legal field and name and gender changes.
Guests can find the link at the DC Center website.