Out singer/songwriter Eli Conley relishes roots music, trans themes
California-based folkie plans D.C. tour stop April 10 at Gypsy Sally's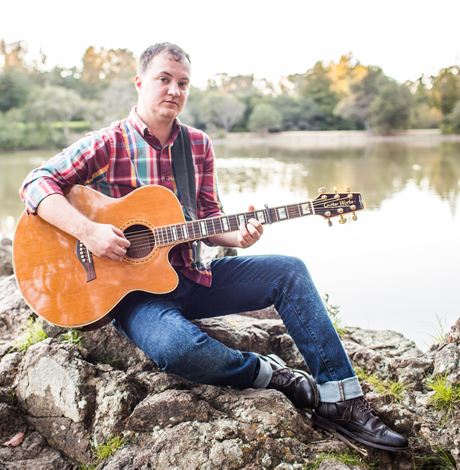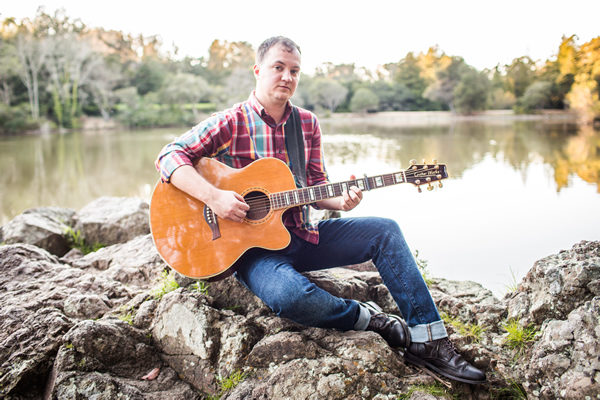 Eli Conley

Wednesday, April 10

7:30 p.m.

Vinyl Lounge at Gypsy Sally's

3401 K St., N.W.

free
Contemporary folk singer Eli Conley found critical acclaim with the release of his debut album, "At The Seams" in 2013, and the central, Va.-born musician and storyteller has become a big success within the LGBT and music scenes in his current home in the Bay Area.
"I describe my music as country-tinged folk," Conley says. "I do a lot of storytelling and I do a lot of talking about folks like me who were queer kids from small towns, and there's a lot of harmony in my music.
An openly gay transgender man, Conley's music address important themes such as gender, aging and death. For instance, on his newest record, "Strong and Tender," he has a song about his grandmother's death called "I Miss You."
"She recently passed and the songs is about what it's like at the end of a life when someone is ready to die and we're not ready to let them go yet," Conley says.
On April 10, Conley will perform at D.C.'s Gypsy Sally's Vinyl Lounge, accompanied by Joel Price on mandolin, violin and harmonies.
"I love coming back to the Mid-Atlantic and the D.C./Virginia area. It's so special to come back home and the place my whole life I would go on field trips and take family trips," he says. "I have a lot of friends in the area and it's just a place I have a lot of connections to."
As a singer who references where he's from a great deal in his tunes, a gig like this is important to Conley and feels the audience gets more out of the show than people may in the West Coast.
"Even though I love California, it is kind of a different place," Conley says. "What's really cool about Gypsy Sally's, it features local and touring acts in their smaller room and I'll be playing two sets of songs on the night, one at 7:30 and the other at 9."
Plus, as a queer transperson, Conley says he doesn't often feel like he has a lot of community and doesn't know how people will feel about him and his music when he's in a smaller space and that's a very multilayered thing for him.
"I think there are people who live in D.C., who are maybe from a smaller place, a more rural time, and my music resonates a little differently," he says. "When I'm writing, I don't consciously think, 'This is the message that I want to have,' but I do find that the characters that show up in my songs do have experiences relate to feeling a little like a misfit or as an outsider, and trying to find out how to fit in to the bigger picture of the world."
For Conley, 33, the path to coming out as trans was a long one. "I have come out as so many different things over the years," he says.
He first came out as a bi woman at age 15. He and some friends started the first gay/straight alliance at Maggie Walker High School in Richmond. Facing opposition from both the Virginia General Assembly, which was trying to pass a ban on "sexually related clubs" on school campuses, as well as their own high school administrators, they persevered.
"They'd banned a burrito club a year earlier and tried to argue that they couldn't go approving everything students wanted," Conley says. "But in the end, we were allowed to do it and I remember we did the Day of Silence … and a big percentage of the school participated. It was a powerful moment."
A high school friend came out as a trans man freshman year but Conley still wasn't sure how he identified.
"He had a much more traditional transgender narrative where he knew that he was a boy from a very young age," he says. "My childhood was a lot more genderfluid and I liked it that way. My favorite colors were pink and purple and I love dresses for a while. I also loved climbing trees and going around the neighborhood without my shirt off with the boys. By the time I graduated from high school in 2004 I'd come to identify as genderqueer, what many people these days call non-binary."
It was in college that Conley started going by the name Eli and asking people to refer to him with gender-neutral pronouns and became a trans activist working on health care issues on campus working on issues such all-gender restrooms, non-gender-restricted dorm rooms, etc.
Over the course of college, Conley began to identify as male and decided to medically transition.
"That was 13 years ago now and it never felt for me like a linear process or a switch flipping," he says. "I was a genderfluid kid and then an androgynous teenager and eventually a young man. My gender identity has stayed consistent since then, but I'm not so young anymore."
Conley has a deep background as a community organizer and working on racial and economic justice at events, and feels those themes often show up in his music as well.
"For me, the politics of living in the world as someone who stands opposed to capitalism and stands opposed to white supremacy in this country, particularly in this moment when we see really clearly how those things have never gone away, it shows up organically in my music," he says. "But I'll also write songs that have nothing to do with being queer or trans."
Conley's father is from the southern part of West Virginia and introduced him to roots music and bluegrass at an early age. When he first started writing music, he had a background in musical theater and classical voice, and married those musical influences to create his sound.
"I listened to a lot of different kinds of music but always felt the songs I wrote came from more of a folk, country place," he says. "I often found my accent came out when I sang, and though I didn't grow up in the mountains, my songs seemed to be influenced by what my dad had me listen to."
Conley has known all his life he was attracted to men, recalling crushes on boys in kindergarten.
"By adolescence, I knew that I wasn't a straight woman but all the language around gender and sexuality was super binary and I didn't have many people in my life or in the media who reflected what I felt. … I'm still attracted to people of many genders, but I mainly fall in love with men."
Conley isn't particularly worried his trans identity might usurp his musical abilities.
"I want queer and transgender people to be able to find me and see themselves in my music. I think we are hungry for that and it's an honor to be a link in the long chain of songwriters who lay our souls bare so that others may see themselves reflected. Straight, white, cisgender men see themselves reflected back everywhere all the time in our culture, the music industry in particular. I think it's time everyone else was given the space and resources to create art that speaks to our experiences."
How up front Conley is about being a gay/trans artist depends on the arena, he says.
"I love LGBTQ media and I'm happy to talk about my identity in a paper like this because I know your readers get that," he says. "I feel conflicted about marketing myself as a gay transgender artist in the mainstream media, putting the identity pieces upfront. Straight artists aren't asked when they first knew they were straight, you know? They get to talk about their music. I find that sometimes being transgender becomes sensationalized and that becomes the whole focus. I have identified as trans since I was 17. It's not novel to me, it's just a part of my experience in the world. Of course, it is a huge privilege to be able to say that."
He knows many trans folks don't have that luxury.
"I am a white middle class man who isn't perceived as transgender by strangers. It's been many years since I've had to think about how every piece of clothing I put on will affect how people will read me on street. I make my choices based on what feels good, not how they will affect my safety. Most trans women and trans feminine people and other gender non-conforming people don't have that experience."
When not performing live or writing music, Conley is a certified teacher of Somatic Voicework. He and his partner of seven years (they recently married) live together in Berkeley. His husband, whom he declines to name, is an artist and vegan cook who works in research at U.C. Berkeley.
Teaching, he says, is a joy.
"I teach private singing lessons and also group classes for LGBTQ folks and allies in the Bay Area and I feel both teaching and performing are very meaningful to me," he says. "I do think I would like to spend more time on the road touring as things go forward, but I'll probably always also be teaching because it's really important to me."
The music he will be sharing at the show he calls "music from his heart" and feels the songs are great to bring people together.
"I find more and more as I get older, I'm less interested in being this perfect person and more interested in being honest and real," Conley says. "The more that I do that, the more folks tell me they are crying in my songs and there are places where they really feel connections and have an emotional experience they didn't expect coming in. That's what I strive to do as a songwriter."
Drag legend Ella Fitzgerald returns to the stage for Capital Pride festival
Donnell Robinson on 40 years as a performer and the current political backlash against drag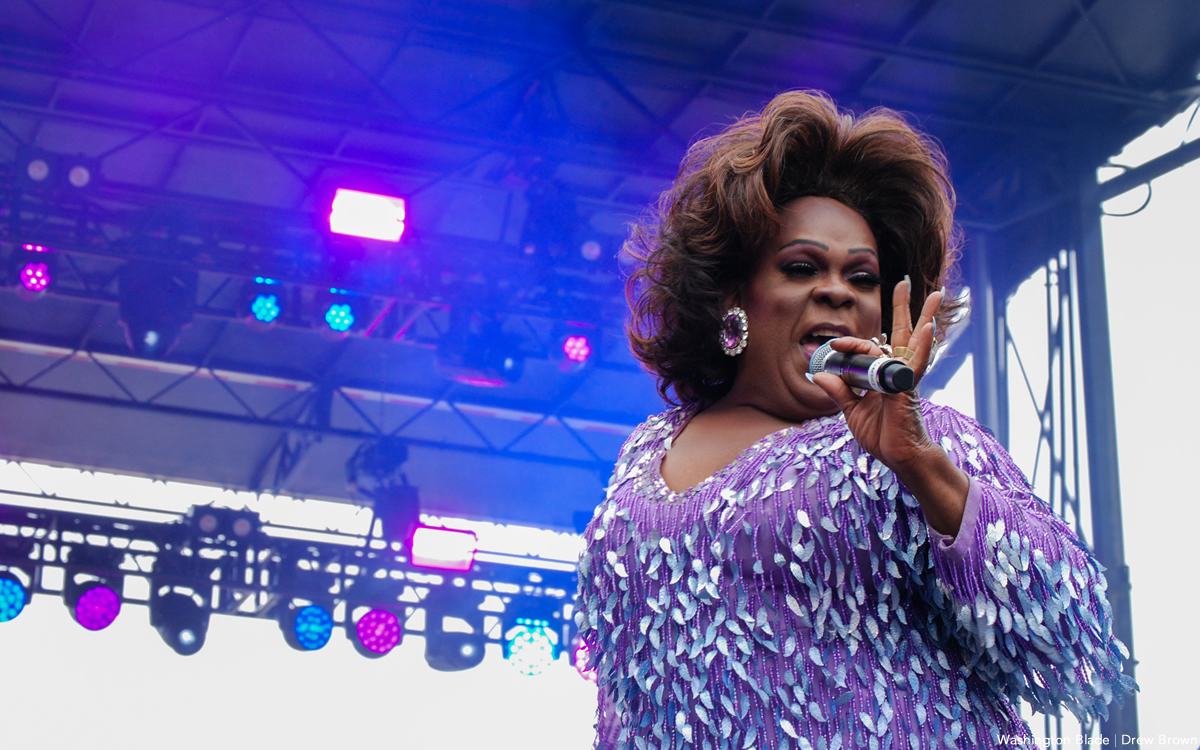 Donnell Robinson, who has dazzled audiences in the nation's capital as the drag personality of Ella Fitzgerald for at least 40 years, has the date of Saturday, March 21, 2020, embedded in his mind.
That was the last time he performed in drag. It was at the popular Southeast D.C. nightclub Ziegfeld's-Secrets, where Robinson performed as Ella Fitzgerald for nearly 40 years, before it, along with all city nightclubs, bars, and other "nonessential" businesses were ordered temporarily closed by Mayor Muriel Bowser in response to the COVID pandemic.
"That was the last show I did," Robinson told the Blade in an interview at his apartment in Arlington, Va.
A short time later, around May of 2020, Robinson and all the Ziegfeld's-Secrets employees and performers learned that the owner of the club's building at 1824 Half Street, S.W., announced plans to demolish it to build an upscale condo building several years sooner than expected. That meant the club would not reopen when the COVID restrictions were lifted.
"So, what I recall is in May, it was the first week in May, Steven [Delurba, the Ziegfeld's-Secrets general manager and part owner] called me and said, 'Honey, do you have anything in the dressing room? Come and get it. The landlord called and said we must be out by the 15th.'"
Robinson said he has fond memories of meeting up with other drag performers, one of the longtime bartenders and other employees who came to retrieve their belongings in the dressing room and other storage spaces in the converted warehouse building that had served as home to Ziegfeld's-Secrets since 2009.
And it meant at least the temporary end to a 40-year run in which Robinson (aka Ella Fitzgerald) served as emcee and lead drag performer at the Ziegfeld's-Secrets nightclub, which began in the club's previous location a few blocks away.
Robinson began performing as Ella Fitzgerald at The Other Side nightclub in 1980, which later changed its name to Ziegfeld's-Secrets, at its previous location on the unit block of O Street, S.E., before it was displaced in 2006 by construction of the Washington Nationals baseball stadium.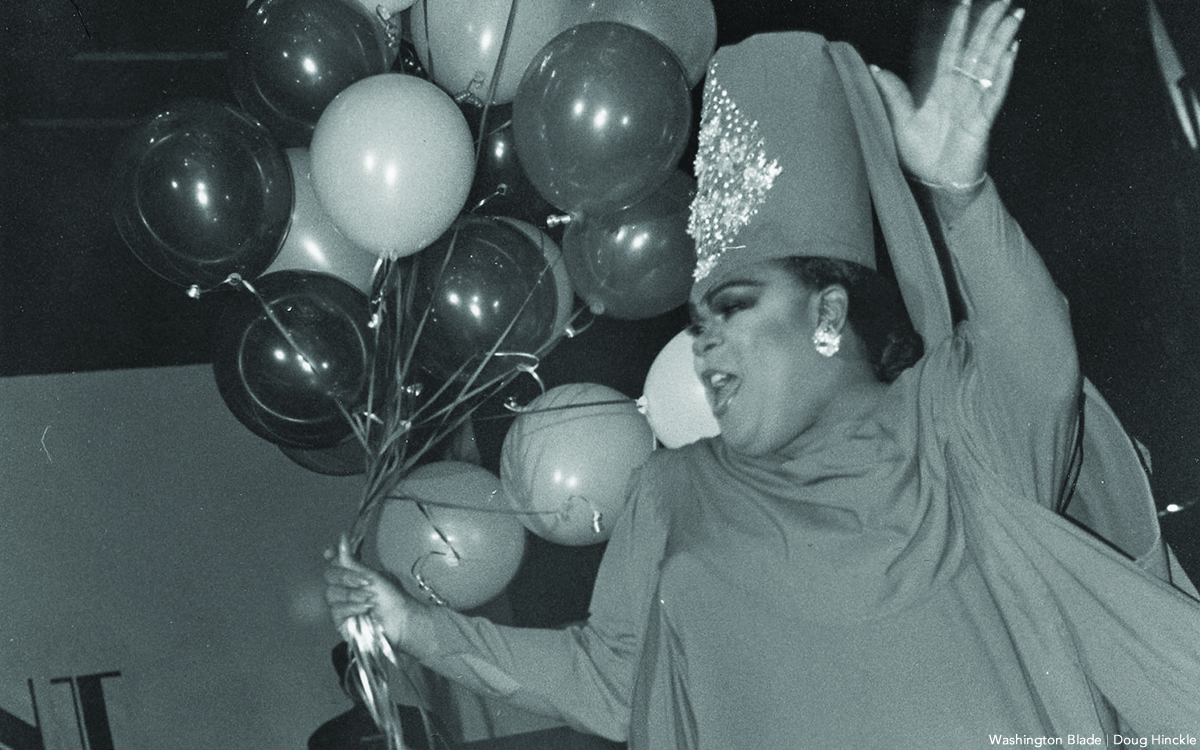 The club did not reopen until 2009, when its owners Allen Carroll and Chris Jensen, were able to obtain a lease for the 1824 Half Street building, which Carroll and Jensen renovated before reopening the club there.
All of that has become the backdrop to Robinson's excitement over returning to the stage as Ella Fitzgerald at D.C.'s Capital Pride festival on June 11, which will take place on Pennsylvania Avenue with the U.S. Capitol as a dramatic backdrop two blocks behind the stage.
While he's hopeful that all will go well with his upcoming performance at the Pride festival, Robinson says he is aware of the recent far-right political backlash against drag shows in states across the country.
In addition to proposed laws placing restrictions on drag shows, protests targeting drag shows, including some attempting to disrupt the shows, have also occurred in cities and states, including earlier this year in nearby Silver Spring, Md., and at a drag brunch hosted by a restaurant near the U.S. Marine Barracks on Capitol Hill in D.C.
"I have read about some of that," Robinson told the Blade. "I haven't been in the drag scene in three years. But I see and know what's going on," he said. "And my fellow drag performers who are older in my generation, I know they may be at risk. And I know I am to a degree," he continued.
"And it's a shame that we have to fear that we can't present our art, our art form of drag and hope that nothing is going to happen to me today," he said. "Why should we have to even have that thought going through our mind while we're going through our makeup and getting ready?"
Speaking with the Blade at his apartment, Robinson added, "I'm planning to walk out of here in full drag to go to Pride. And there's going to be part of me in the back of my mind that I've got to watch my back because there may be some idiot out there that doesn't want to see an old man dress up in sequins and beads."
"I just don't understand why people think that drag is going to go away," Robinson said. "It's not. It's more popular now than it ever was because of RuPaul and the drag brunches and the shows that are continuing to go on."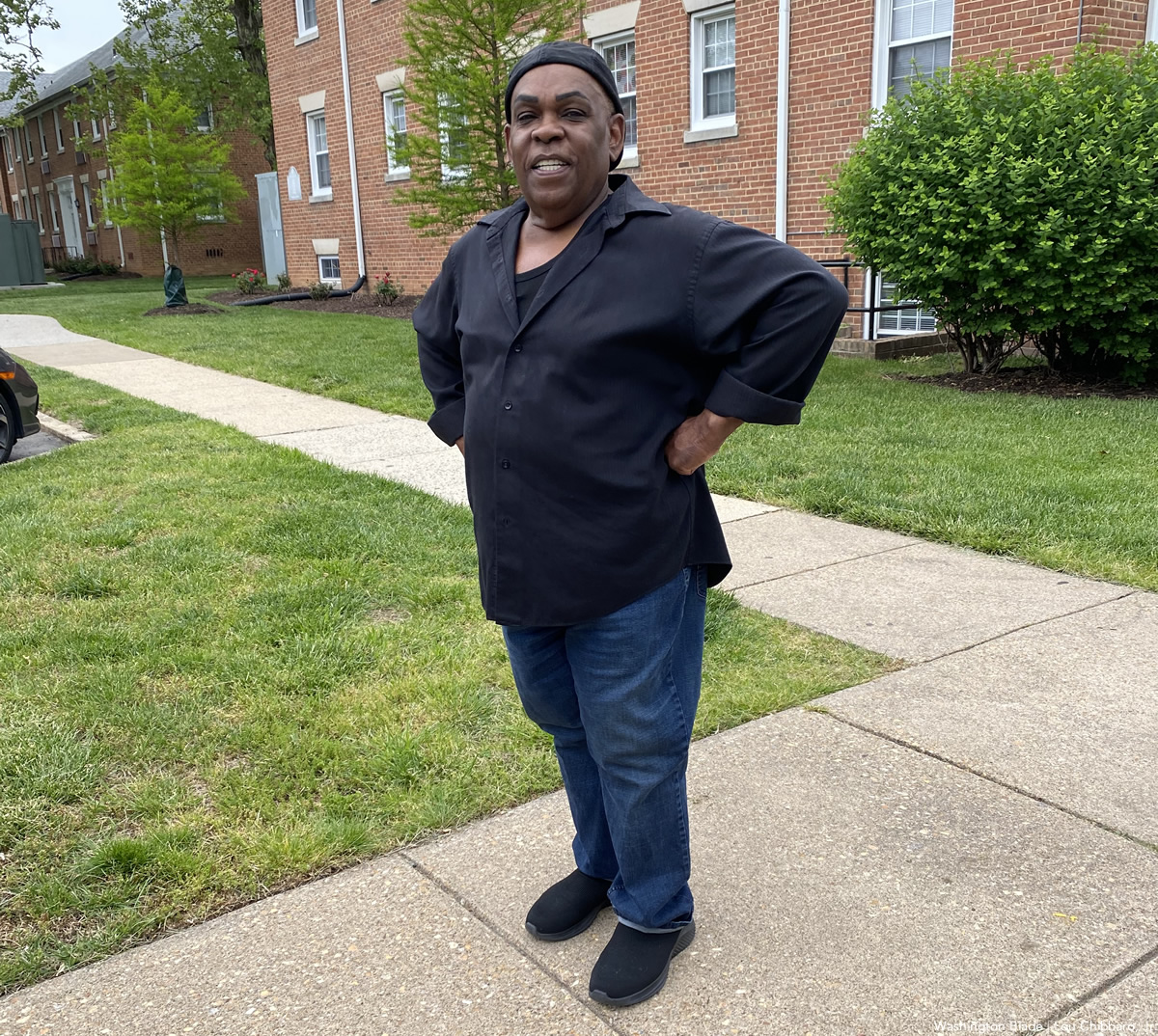 Robinson, 68, says he was born in Warrenton, Va., and grew up on a farm just outside Warrenton and raised by his grandparents. His first attempt at drag took place while in the 8th grade when he entered a school talent show portraying TV personality Flip Wilson's drag character Geraldine Jones.
"All of my girlfriends, they helped get it together," Robinson recalls. "I borrowed the wig from the school librarian," he said, adding he bought a red dress and borrowed a pocketbook from someone. "And I won the contest."
He didn't do drag again until his senior year in high school, Robinson said, when he "pulled out Geraldine again" in a dramatic arts class. "I got an 'A' in dramatic arts," he told the Blade, before graduating from Fauquier High School in June of 1974.
"Then I waited a year or so, and then I came out to do drag in 1975 in the fall," he said. That began when a friend introduced him to the then gay nightclub Pier 9, located in the building that later became Ziegfeld's-Secrets, where drag shows were held.
Robinson said he was impressed by the beauty of the drag performers while attending Pier 9 drag shows. "I'm like, oh, so I can do that too," he said. And that's exactly what he did. In October of that year, he entered a Halloween costume contest at the Pier, once again as the Geraldine Jones drag character, and won the contest in the comedy category.
From there, Robinson says, through people he met at the Pier he learned of the then D.C. gay bar Plus One on Capitol Hill, which also hosted drag shows. After auditioning and being approved as a drag performer at Plus One, the owner of the club, Bill Oats, assigned him the drag name Fanny Brice.
It was at the Plus One about a year later when Robinson met Mother Mame Dennis, the drag performer and lead organizer of the Academy of Washington, a local drag social club that organized drag events, including the Gay Miss Universe drag competition. The next day, an Academy of Washington member who performed at Plus One brought Robinson to an academy event.
It was there that Mame Dennis approached him and raised the issue of Robinson's drag name. "She said, 'Oh my dear, if you want to be in this group you need to change your name immediately,'" Robinson quoted Dennis as saying. "And I was like, yes ma'am. She said you need to be either Nell Carter or Ella Fitzgerald," Robinson recounted.
"I was being a smart ass. I said, 'I'll take Ella Fitzgerald for $2.' She said, 'Oh, you're funny.' And she named me Ella Fitzgerald," Robinson remembers. "And I was her first African-American daughter in the group."
Through the Academy of Washington and others he met through the drag scene at Plus One and other D.C. gay bars, Robinson quickly learned what he calls the art form of drag and developed a following among those patronizing drag shows in D.C. It was through the academy that Robinson also met the owners of the then Other Side nightclub, Chris Jensen and Allen Carroll, who invited Robinson to begin performing at their club.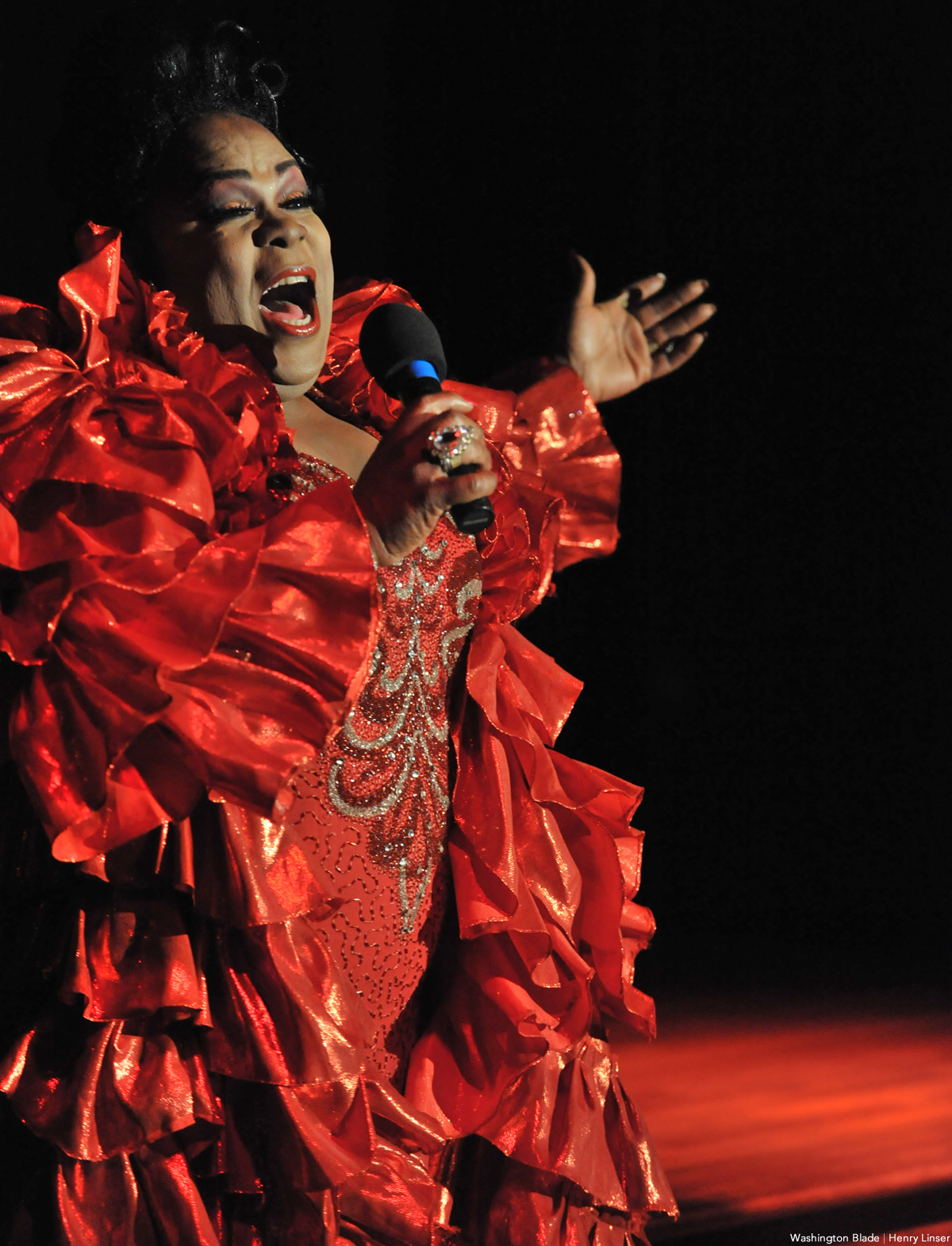 "There were five of us and we did the show on a Sunday night for 500 women," Robinson says. "Because, remember, between Washington Square, the earlier name, and the Other Side, it was all women. There were no men allowed until around 1986," he told the Blade. "So, every Sunday night we were doing drag shows for 500 women, from '80 until '85 or '86."
Around the time he began performing as Ella Fitzgerald, Robinson also began his other career as a hairstylist, which he says he continues at this time and will celebrate his 40th anniversary as a hairstylist in November of this year.
For much of that time, Robinson has been one of the sought-after stylists at the VSL Hair Salon at 1607 Connecticut Ave., N.W., in the Dupont Circle neighborhood. The salon recently came under new ownership and now operates under the name of Color Lab Salon at the same address.
As Robinson's reputation as a drag performer became widely known, many of his salon clients referred to him as Ella and were regular patrons of the Ziegfeld's-Secrets drag show.
By the time Jensen and Carroll renamed the Other Side as Ziegfeld's-Secrets and through the time it relocated in the building on Half Street, S.W. and until its closing in 2020, Robinson took on the role as the emcee of the club's Ladies of Illusion drag shows as well as that of one of the city's most sought after drag performers, according to people who attended his shows.
In an Aug. 2, 2001, lengthy feature article, the Washington Post referred to Robinson and his Ella Fitzgerald character as the "doyenne of Washington drag queens." The Post article recounted what those who have attended Robinson's shows already knew – that he also took on the role of a stand-up comedian engaging audience members in on-the-spot banter, often inviting audience members to come on stage to chat with Ella.
"Is that your husband?" the Post article quoted Robinson asking a female audience member at one of the Ziegfeld's-Secrets drag shows. When the woman replied that the person was her boyfriend, Ella said with an incredulous facial expression, "That little queen?" according to the Post article. The audience roared in laughter.
Robinson says among the highlights of his career as a drag performer have been the recognition he has received from his peers in the drag community, including from the Academy of Washington and its leader Mame Dennis.
"Once I changed my name to Ella Fitzgerald, Mame said, 'My dear, one day you will be Miss Universe.' And 10 years later, Mame crowned me Miss Gay Universe. I was the first African-American Miss Universe in 1986," Robinson recounted.
He said the prospect of resuming his drag performances to the degree he did before Ziegfeld's-Secrets closed was uncertain, in part, because he is dealing with a bout of sciatica that makes it difficult for him to walk and move about quickly.
"You might see me come out with a cane at the Pride show," he said with a laugh.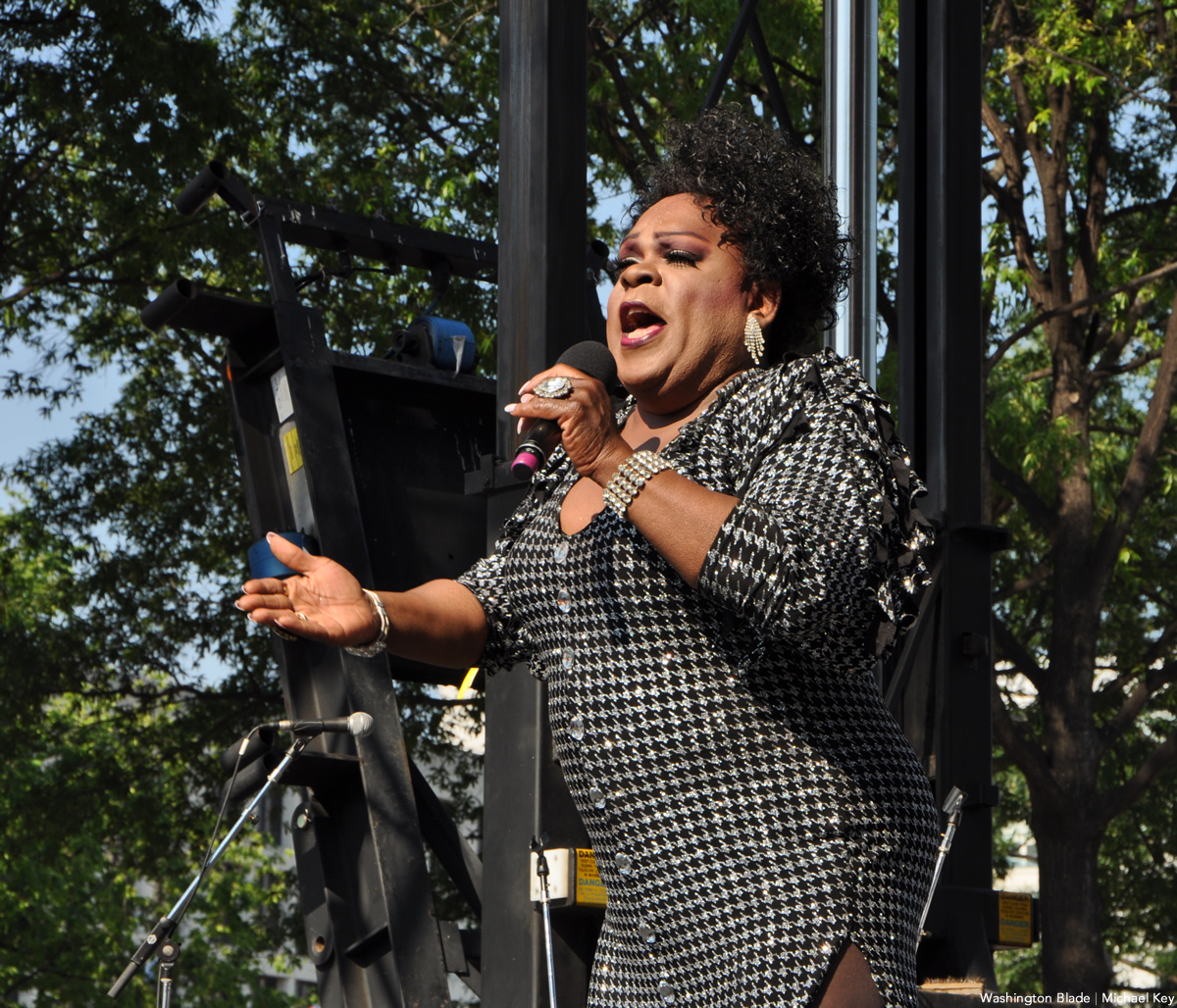 Another busy summer season arrives in Rehoboth Beach
Fine dining, drag shows, theater, and more on tap for 2023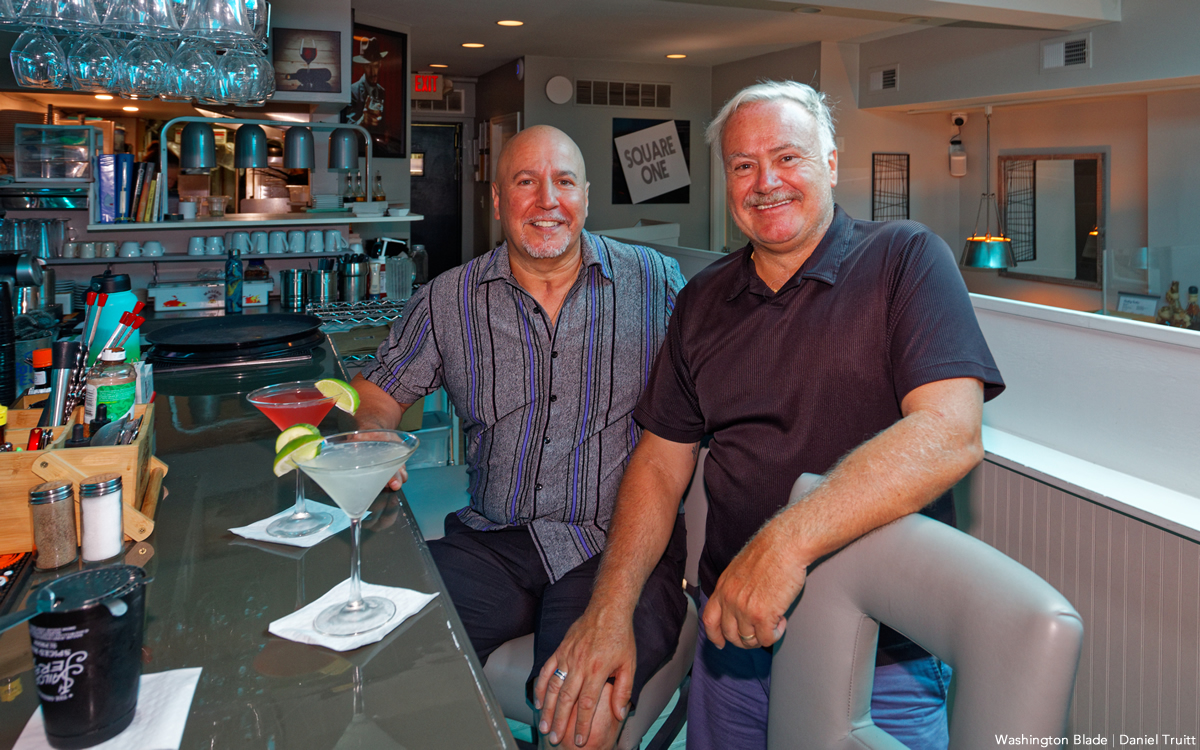 The summer of 2023 will be an exciting time in Rehoboth Beach, with lots to see and do as always. Great people, and of course the sand, sea, and boardwalk. Everyone in town has been working hard over the winter to make this the best season ever at the beach. New businesses, old ones moving to new locations, milestone anniversaries, and just loads of fun all around.
While I am often just a burger and fries' guy, Rehoboth has become a real foodie paradise for those who enjoy, and appreciate, really fine dining. (For more on the dining scene, see separate story in the Blade.)
The City of Rehoboth has fewer than 1,500 full-time residents. Many who have a Rehoboth address like me, live outside the city boundary. But at any time during the summer season, the population swells to more than 25,000. Among them are many members of the LGBTQ community. If you are one of them, stop by CAMP Rehoboth, the LGBTQ community center, founded by Murray Archibald and Steve Elkins in 1991.
Today, many of the businesses in town are owned by members of the community and even those that aren't are supportive of the community. The most famous residents of the area are President Biden and first lady Jill Biden, who try to spend some weekends at their home there. Not sure how much time they will have this summer between the duties of being president and running for reelection. I do know when there, they love the famous chicken salad sandwiches, among other great things, from Lori Klein's Lori's Oy Veh Café in the CAMP courtyard. Lori's is celebrating its 27th season. If you stop in the courtyard, you will be pleased to see new tables and chairs where you can sit and enjoy your meal.
My favorite hangout on Baltimore Avenue, the gayest block in Rehoboth, is Aqua Grill. The perfect place to spend happy hour any day of the week. Chris, one of the hot and charming waiters, is back serving drinks on the deck. Then there is The Pines restaurant across the street with a great showroom upstairs and always fun entertainment. The guys who own it have expanded their operations with Drift on Baltimore and now taken over the old Philip Morton Gallery and turned it into their offices. They are also preparing to open Bodhi on 1st street. One of the great old standbys at the beach is The Purple Parrot Grill and Biergarten on Rehoboth Avenue. Owners Hugh Fuller and Troy Roberts make everyone feel welcome. The old girl has a bright new paint job this year and she's better than ever with some great entertainment. 
Make sure you read the Blade's column on food at the beach but here are just some of the places I passed on my walk around town on sidewalk sale weekend. There are Eden Restaurant, Azafran, and La Fable on the beach block of Baltimore Avenue. Then the always reliable standby the Blue Moon. In addition to some of the best food in town, the Moon has an extensive calendar of special events planned for summer, including the much anticipated return of talented NYC pianist Nate Buccieri beginning June 25. He plays Sunday-Thursday for most of the summer; check bluemoonrehoboth.com for specifics.
There is also Ava's and Theo's and Frank and Louie's on the second block.The venerable Back Porch on Rehoboth Avenue has been serving some of Rehoboth's finest food for decades, and, of course, Houston White further up the street if you're craving a steak.Then there is Goolee's Grill on 1st street and the new location of JAM on 2nd. Goolee's is celebrating its 20th anniversary with a cocktail party on June 1, 5-9 p.m.; tickets are $15 and available online.
My favorite morning place, it has become my afternoon place as well, is the totally refurbished Coffee Mill in the mews between Rehoboth Avenue and Baltimore Avenue, just next to the wonderful Browseabout Books on Rehoboth Avenue. Dewey Beach residents will soon have their own Coffee Mill in a beachfront location, 1700 Coastal Highway. It will have a great view of the beach and ocean from its rooftop deck. Mel and Bob are going to be busy this year with all their places including Brashhh on 1st street, now celebrating its 11th year, and The Mill Creamery serving Hopkins ice cream. Longtime Rehoboth business owner Steve Fallon, one of the best promoters of the beach I know, has the fun Gidget's Gadgets on Rehoboth Avenue and his second place selling vinyl records, Extendedplay. Then there is Coho's Market and Grill on Rehoboth Avenue.
Back on the gayest block in Rehoboth, Baltimore Avenue, don't forget to stop in and purchase some incredible one-of-a-kind jewelry pieces, and now original art, at Elegant Slumming and then get your hair cut in The Grateful Head Salon.
For more afternoon and evening entertainment there is the popular Diego's Bar and Nightclub (37298 Rehoboth Avenue Ext.), a perfect spot for outdoor happy hours and late night dancing. Local legend Magnolia Applebottom holds court all summer with performances slated for the Thursday and Sunday of Memorial Day Weekend. Sunday's show runs 6-9 p.m. followed by DJ Mags "with her boys" from 9 p.m. to 1 a.m. In addition to Magnolia, Diego's brings internationally known DJs to town during the summer. And the free parking is a nice bonus in a town with a chronic shortage of parking spaces. Diego's has an exciting summer of special events planned, so follow them online for updates. Among the acts coming to Diego's this summer are "Jaws the Musical" (June 18), Ada Vox (July 5), and Edmund Bagnell (July 17).
Don't miss the always fun Freddie's Beach Bar on 1st street, where the amazing Freddie Lutz has brought his wonderful concept from Virginia to the beach. The beloved Pamala Stanley performs periodically at Freddie's; follow her on social media for updated dates.
Remember Rehoboth still has some great culture even if the town commissioners have been trying to force it out of town. The amazing Clear Space Theatre is stillon Baltimore Avenue. This season's productions include Lucy in the Sea with Darvon, Jesus Christ Superstar, Kinky Boots, and The Spongebob Musical. 
This will be a summer not to miss at the beach. Better make your plans to visit soon, if you haven't already, because hotels and rentals are booking fast.
Pride season arrives!
LGBTQ community events planned across region
Pride season has already begun. Last month's Roanoke Pride filled the Virginia city's Elmwood Park with rainbow flags. Pride events begin in D.C. this month and continue through June. Regionally, some cities have opted to hold their Pride events as late as the fall.
May
Organizers of Trans Pride D.C. (transpridewashingtondc.org) plan a full day of workshops and events on Saturday, May 20 at Martin Luther King, Jr. Memorial Library (901 G Street, N.W.). These events are currently listed on Facebook and Eventbrite as running from 9 a.m. – 4 p.m.
The HIV/PrEP Programs at the Charles County Department of Health are hosting PrEP for Pride 2023 at 4545 Crain Highway in White Plains, Md. on Saturday May 20 from 12-7 p.m.
The festival is free, though those who RSVP will be entered into a door prize drawing. PrEP for Pride's Eventbrite page advertises a pride walk, a PrEP Mini Ball, music, art, health & wellness information, food options and other vendors.
Equality Prince William Pride (equalitypincewilliam.org) will be held on Sunday, May 21 at the Harris Pavillion (9201 Center Street, Manassas, Va.) from 12-4 p.m., according to its Facebook events page.
The event is billed as a family-friendly event with music, vendors and kids activities. Performers include musician John Levengood, BRUU Band & Choir and the drag artists Coco Bottoms, Muffy Blake Stephyns and Ophelia Bottoms.
D.C. Black Pride (dcblackpride.org) events are held throughout the city May 26-29 primarily at the Renaissance Washington DC Downtown Hotel (999 9th Street, N.W.).
Official events include a Unity Ball, a vendor expo, a talent showcase, forums, parties and the annual Pride Festival in the Park at Fort Dupont Park on May 29 from 12-7 p.m.
The third Caroline County Pride Festival (carolinepride.com) "A Carnival Adventure" will be held in downtown Denton, Md. (301 Market Street) on Saturday, May 27 from 3-8 p.m. according to the group's Facebook event page.
June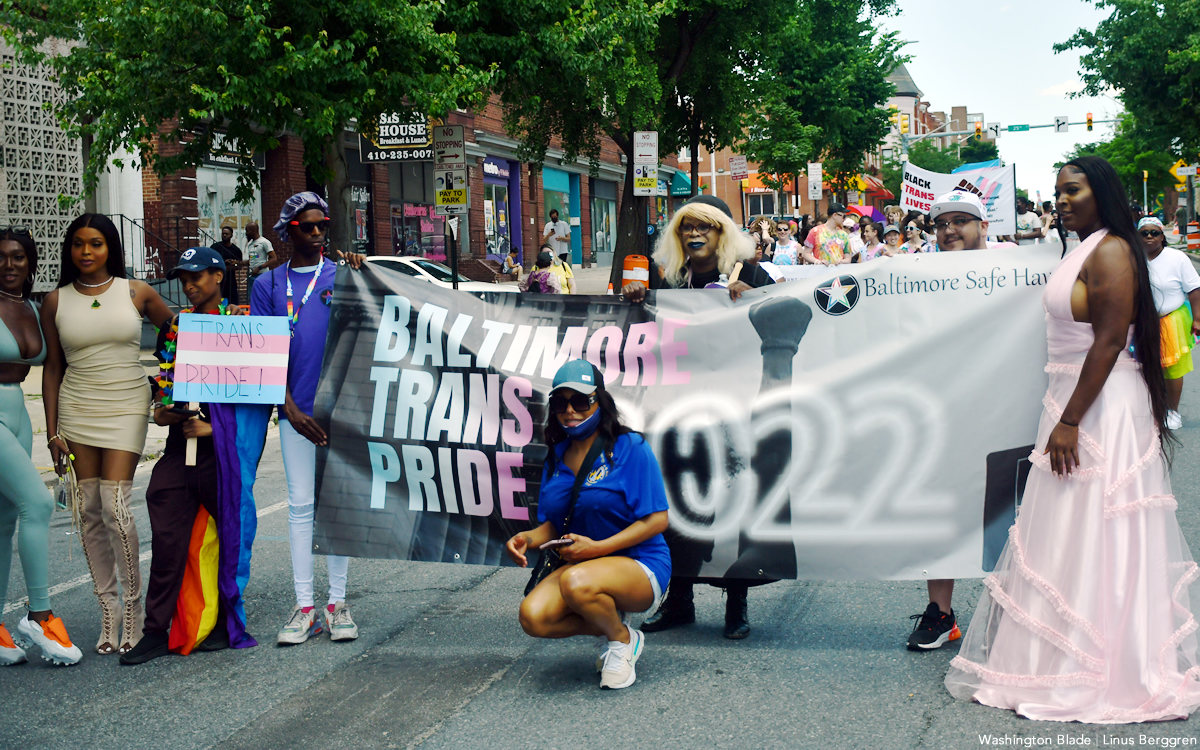 Baltimore Trans Pride (baltimoresafehaven.org/transpride) kicks off the month at 2117 North Charles Street in Baltimore, Md. on Saturday, June 3, according to Baltimore Safe Haven's Facebook event page.
The Baltimore Trans Pride 2023 Grand March is to be held at 1 p.m. on Saturday along North Charles Street between 22nd and 23rd. The Block Party continues at 3 p.m. with performances beginning at 4 p.m.
Afterparties are scheduled at The Crown (1901 North Charles Street) and Ottobar (2549 North Howard Street). Baltimore Safe Haven also hosts a kickoff ball on Friday, June 2 at 2640 Saint Paul Street at 6 p.m.
Annapolis Pride (annapolispride.org) holds its annual parade and festival on Saturday, June 3 from 12-5 p.m. on Inner West Street in Annapolis, Md. according to the Facebook event page.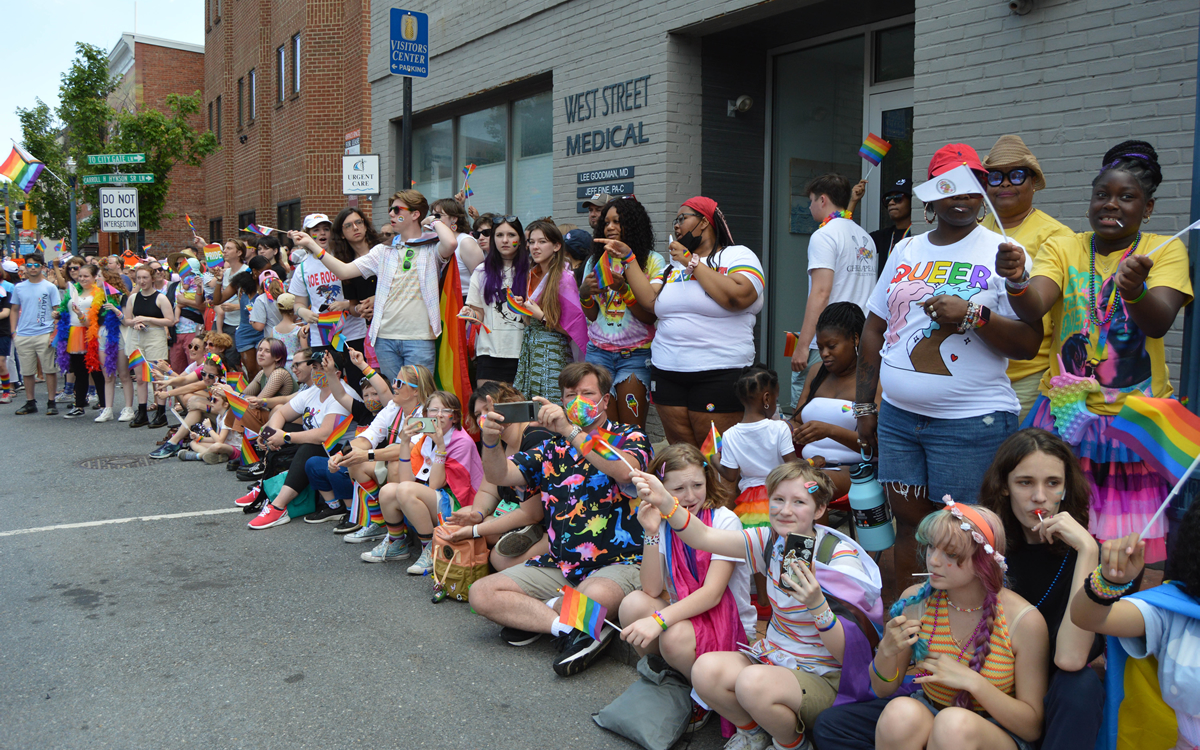 Reston Pride (restonpiride.org) holds its annual festival at Lake Anne Plaza (1609 Washington Place) in Reston, Va. on Saturday, June 3 from 12-6 p.m., according to the Facebook event page.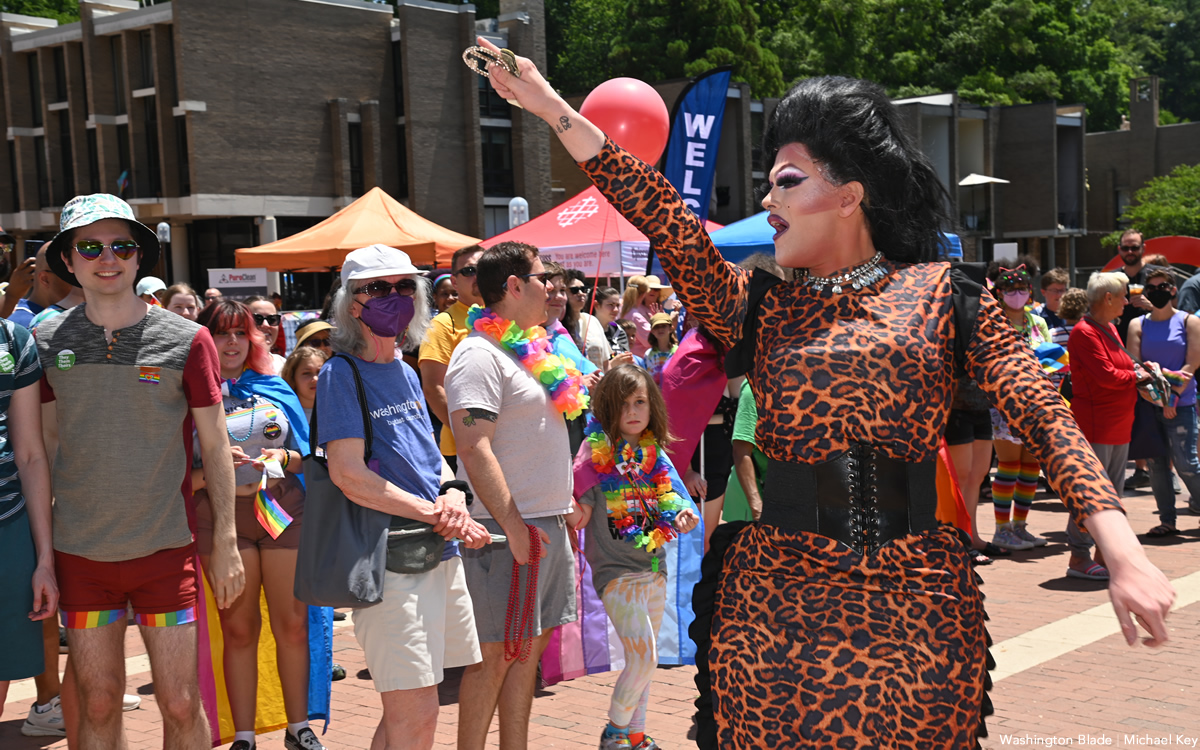 Ellicott City, Md. holds OEC Pride (visitoldellicottcity.com/events/oec-pride) on June 3-4 in Old Ellicott City. Events include a mascara run up and down Main Street and a movie presentation of "Priscilla, Queen of the Desert". 
Suffolk, Va. holds its third annual Suffolk Pride Festival (facebook.com/SuffolkPrideVA) on Saturday, June 3 from 5-8 p.m. at Bennetts Creek Park (3000 Bennetts Creek Park Road, Suffolk, Va.), according to the Facebook event page.
Portsmouth Pride Fest '23 (portsmouthprideva.com) is the second annual LGBTQ community celebration in Portsmouth, Va. The festival is to be held on Saturday, June 3 from 11 a.m. to 6 p.m. at the Portsmouth Festival Field next to Atlantic Union Pavilion, according to the Facebook event page.
The Alexandria LGBTQ Task Force presents the sixth annual Alexandria Pride (alexandriava.gov/LGBTQ) at Alexandria City Hall in Market Square of Old Town Alexandria, Va. (301 King Street) on Saturday, June 3 from 1-5 p.m.
Newport News, Va. has its first I Am What I Am (IAWIA) Pride Festival on Sunday, June 4 from 12-7 p.m. at Tradition Brewing Company (700 Thimble Shoals Boulevard, Newport News, Va.), according to the Facebook event page.
The 2023 Cumberland Pride Festival (cumberlandpride.org) will be held at Canal Place (13 Canal Street, Columbia, Md.) Sunday, June 4 from 12-4 p.m., according to the Facebook event page.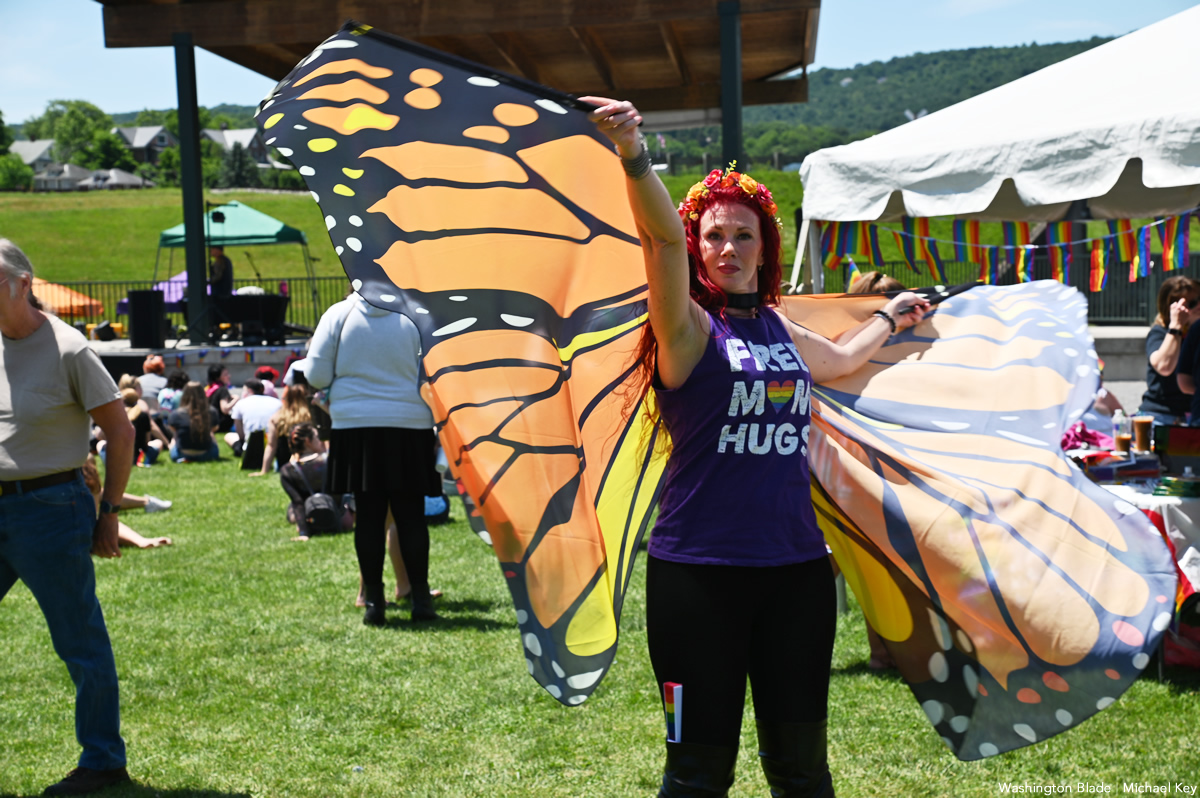 Culpepper County in rural Virginia will be getting its very first pride celebration with Culpepper Pride Festival (culpeperpride.com) on Sunday, June 4 from 12-5 p.m. at Mountain Run (10753 Mountain Run Lake Road, Culpepper, Va.). An after-hours 21+ drag show will be held.
Equality Loudoun's "Across the Decades" 2023 Loudoun Pride Festival (eqloco.com) will be held on Sunday, June 4 from 1-7 p.m. at Claude Moore Park (21668 Heritage Farm Ln, Sterling, Va.). This is a ticketed event with a $5 general admission.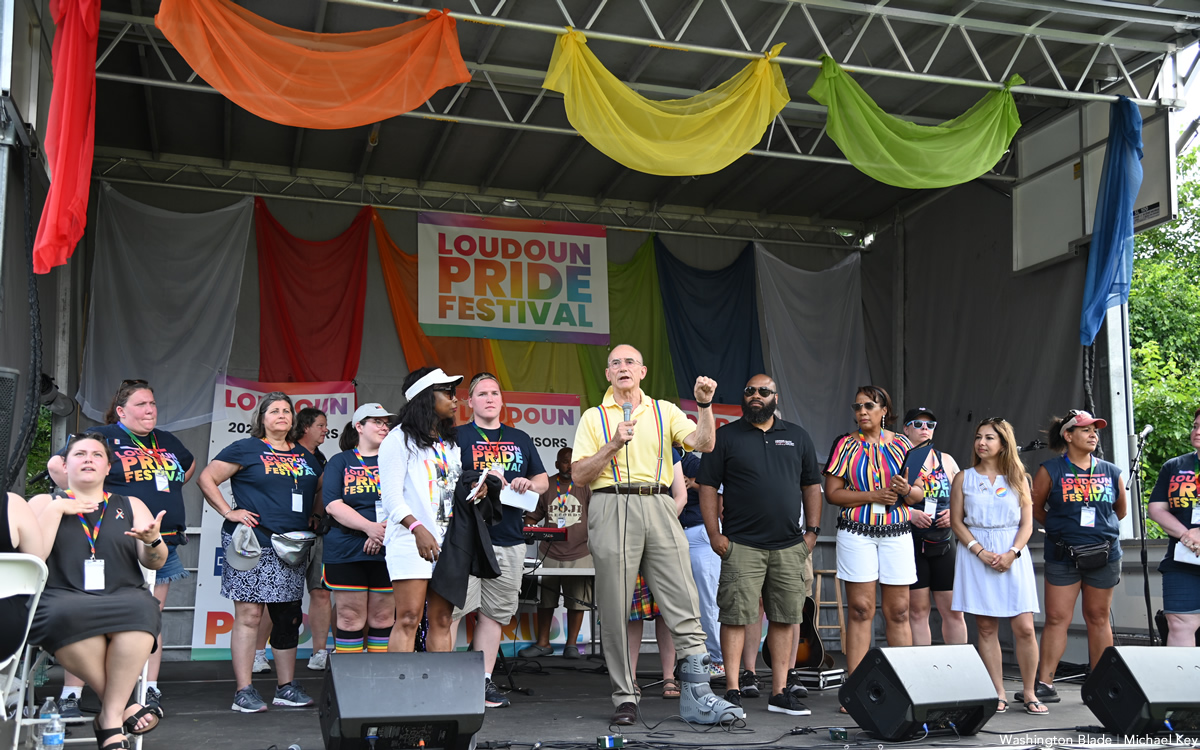 Delaware Pride (delawarepride.org) is being celebrated as a festival on Saturday, June 10 at Legislative Hall (411 Legislative Avenue, Dover, Del.) from 10 a.m.-5 p.m. according to the Facebook page.
D.C.'s massive Capital Pride (capitalpride.org) includes the 2023 Capital Pride Parade on Saturday, June 10 and the 2023 Capital Pride Festival on Pennsylvania Avenue on Sunday, June 11. On top of the many official events, there are a great number of parties in venues throughout the city over the week, including the not-to-be-missed Pride on the Pier and Fireworks Show, held 2-9 p.m. on Saturday, June 10 at the Wharf. There are two timed VIP sessions that include catered food and open bar. The region's only Pride fireworks display, sponsored by the Leonard-Litz Foundation, takes place at 9 p.m. Visit prideonthepierdc.com for tickets and information.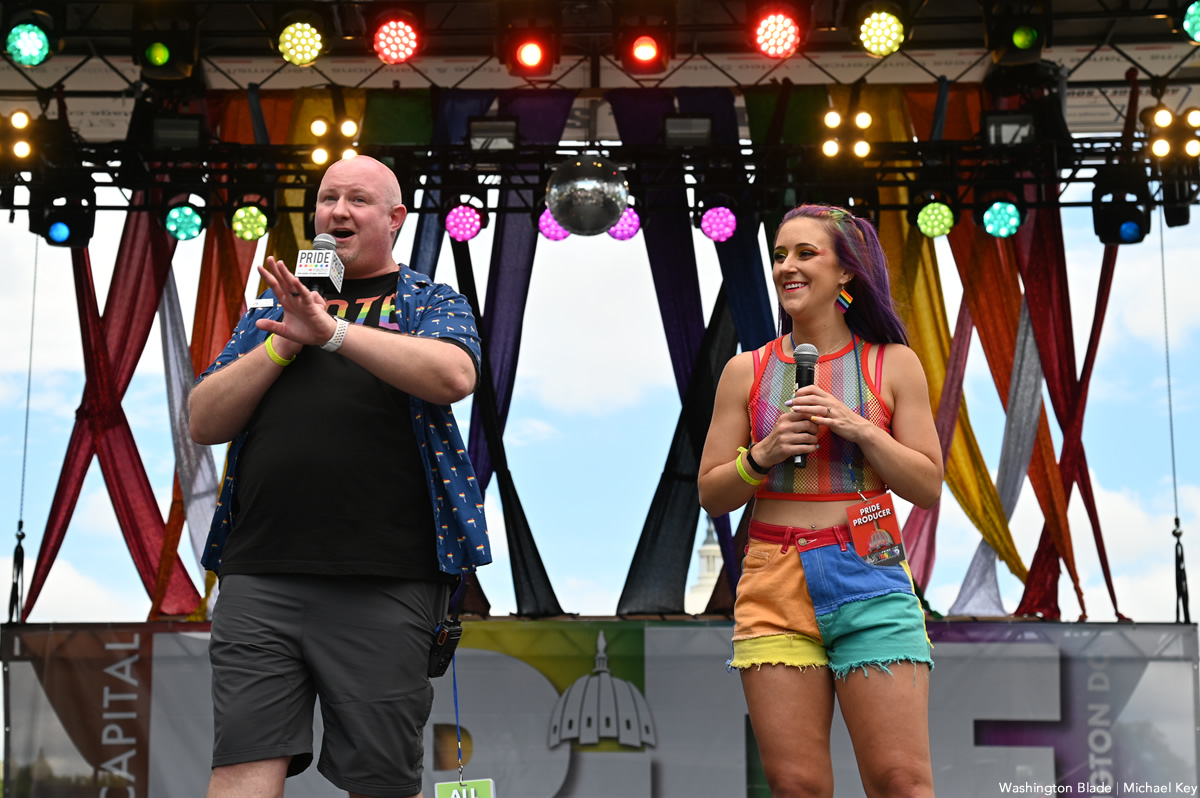 The Third annual Pride in the ViBe, will be held at ViBe Park (1810 Cyprus Avenue, Virginia Beach, Va.) on Sunday, June 11 from 1-6 p.m., according to the Facebook event page.
Scenic Chesapeake, Va. is the backdrop for Pride in the 'Peake 2023 at City Park Section B next to the basketball courts on Sunday, July 11, according to an allevents.in posting.
Eastern Panhanlde Pride is to be held on Saturday, June 17 from 12-5 p.m. in downtown Martinsburg, W.Va., according to EPP's Facebook page.
The Delmarva Pride Center presents DELAMRVA Pride (delmarvapridecenter.com) with events from June 16-18. The DELMARVA Pride Festival is to be held on Saturday, June 17 along South Harrison Street in downtown Easton, Md. Other events include a drag show and a Sunday brunch, according to the Pride Center's Facebook page.
The Ghent Business Association presents Ghent Pride "Party at the Palace Shops" on Tuesday, June 20 from 6-10 p.m. at The Palace Shops and Staton (301 West 21st Street, Norfolk, Va.), according to the Facebook event page. This is a ticketed event with general admission $13.
The Human Rights Commission of the City of Rockville holds the seventh annual Rockville Pride (rockvillemd.gov/2276/Rockville-Pride) on Saturday, June 24 from 1-4 p.m. at Rockville Town Square (131 Gibbs Street, Rockville, Md.).
Arlington Pride (arlvapride.com) holds events from June 23-25 that include a pageant, a brunch, a festival and an afterparty. The Arlington Pride Festival returns for its second year on June 24 from 12-7 p.m. at the Rosslyn Gateway Park (1300 Lee Highway, Arlington, Va.), according to the Eventbrite listing.
Fredericksburg Pride (fxbgpride.org) holds events throughout the month, but everything culminates in the Pride March and then Festival on Saturday, June 24. The Pride March is held at Riverfront Park (705 Sophia Street, Fredericksburg, Va.) at 10 followed by the Festival at 11 a.m.-5 p.m. at Old Mill Park (2201 Caroline Street, Fredericksburg, Va.).
The 10th anniversary Frederick Pride (frederickpride.org) is to be held at Carroll Creek Linear Park on Saturday, June 24 from 11 a.m.-6 p.m. with food, music, drag, vendors and more, according to the Facebook event page.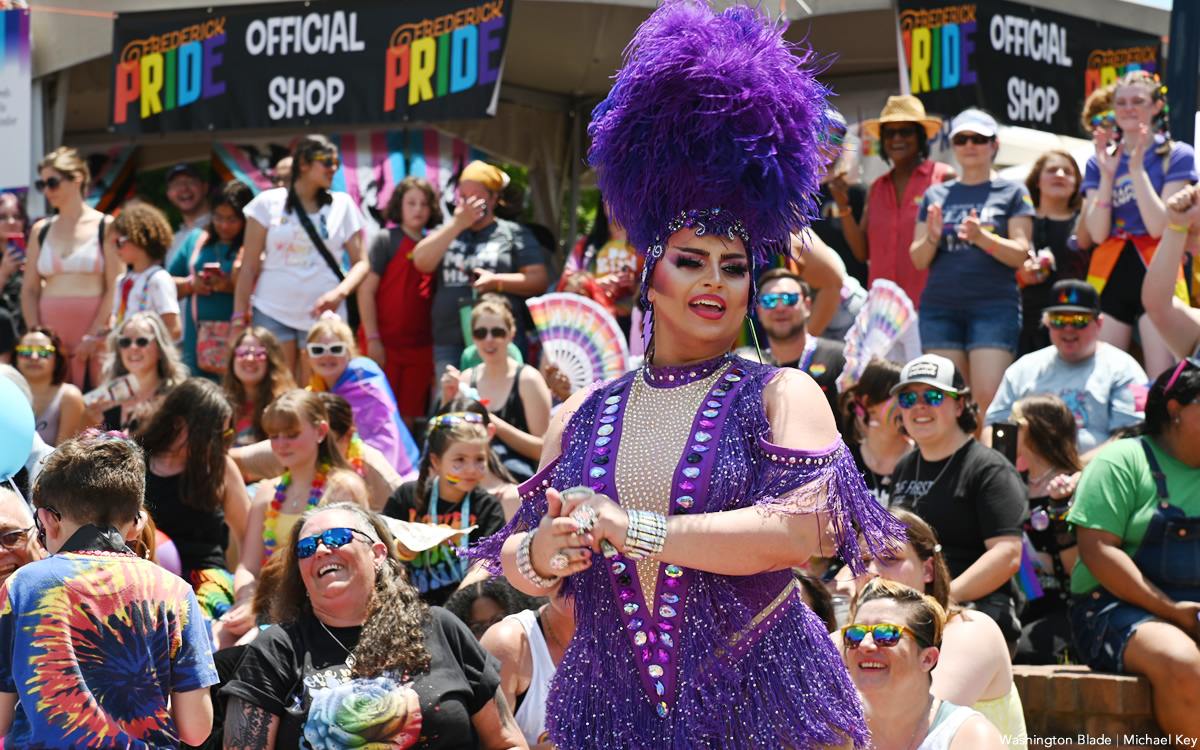 The Salisbury Pride (salisburyprideparade.com) Parade and Festival is on Saturday, June 24. The Parade begins at 2 p.m. at West Main Street and Camden Street. The parade moves along Main with the festival following the parade at 2:30. Magnolia Applebottom is the headliner and grand marshall, according to Salisbury Pride's Facebook page.
The "Break Free 23" Hampton Roads Pride (hamptonroadspride.org) is set for Saturday, June 24 at Town Point Park (113 Waterside Drive, Norfolk, Va.) and includes the famous boat parade.
The Pride Center of Maryland hosts a number of Baltimore Pride (baltimorepride.org) events June 19-25. The big events include the annual parade and block party on Charles Street on Saturday, June 24 and the festival at Druid Hill Park on Sunday.
July and beyond
You can look forward to LGBTQ pride celebrations in Harrisburg, Pa. and the Maryland towns of Hagerstown and Westminster as well as Black Pride RVA in Richmond, Va. in July. Other municipalities have decided to hold their pride celebrations a little later in the year. These pride events include Winchester Pride in Winchester, Va. (Sept. 9), Shenandoah Valley Pride in Harrisonburg, Va. (Sept. 16), SWVA Pridefest in Vinton, Va. (Sept. 16), Virginia Pridefest in Richmond, Va. (Sept. 23), TriPride in Johnson City, Tenn. (Sept. 23), Staunton Pride in Staunton, Va. (Oct. 7), Upper Chesapeake Bay Pride in Harve de Grace, Md. (Oct. 7), Pride Franklin County in Chambersburg, Pa. (Oct. 8) and Laurel Pride in Laurel, Md. (Oct. 14).