April 4, 2019 at 10:55 am EDT | by Joey DiGuglielmo
QUEERY: Tad Czyzewski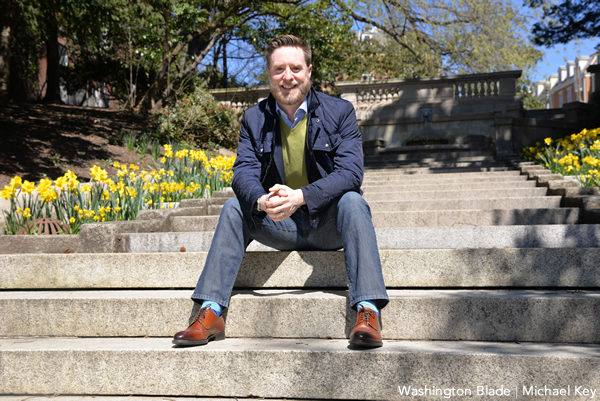 Churches, concert halls, more churches, more concert halls, maybe once in a great while outside — performance spaces for choral ensembles don't typically change that often.
But The Choral Arts Society of Washington is mixing things up for its weekend concerts (April 5-6) when it will perform in the Dupont Underground, a former subterranean streetcar station that has been transformed into a public art space. Organizers say the space will be "particularly apt" for the chosen repertoire which includes "Different Trains" by Steve Reich, "Adagio for Strings" by Samuel Barber and "The Moon and Her Maidens," a new work by Scott Tucker, artistic director of the society, which he composed to take advantage of the acoustics of the space.
"There's a 3.5-second sound delay down there and all the selections have been picked to maximize this phenomenon," says Tad Czyzewski, executive director of the society. "It will also allow the audience to come into close proximity to the performers and the sound they produce."
Czyzewski says the idea came about as the choir sought for deeper ways to engage audiences.
"A common concert format is the audience sitting statically watching performers on a stage," he says. "What if we remove that barrier and let people experience music in a more immersive way? Music so often produces profound, emotional reactions and we hope people will experience these emotions even more viscerally in this unique location."
The concert — dubbed "Into the Light" — will be performed this Friday and Saturday at 8 p.m. each night. Tickets are $20. Details at choralarts.org.
Formed in 1965, the society is a Grammy-winning choir that has recorded 17 albums, performed with leading orchestras and conductors and received widespread acclaim. Its Chamber Singers, Youth Choir and New Orchestra of Washington (about 64 people total) will perform this weekend with the Aeolus Quartet. About 10 percent of the players are LGBT, Czyzewski says, though half its office staff is LGBT.
Czyzewski joined the organization in September, 2016 as executive director. The Old Saybrook, Conn., native came to Washington 19 years ago with former employer Capital One.
He and husband Matt live in Brookland. Czyzewski enjoys cooking, urban farming, travel, the beach and crossword puzzles in his free time.
How long have you been out and who was the hardest person to tell?
Sixteen years. My parents. I expected to hear "You haven't met the right girl, yet" but they just wondered why I waited so long.
Who's your LGBT hero?
George Takei
What's Washington's best nightspot, past or present?
No idea. My nights consist of rehearsals, performances and other events.
Describe your dream wedding.
Already happened. Very small. It was just the closest friends we've shared during our time together, then a private dinner with lots of wine and Champagne.
What non-LGBT issue are you most passionate about?
Animal rescue
What historical outcome would you change?
Tuesday, Nov. 8, 2016
What's been the most memorable pop culture moment of your lifetime?
Janet Jackson's wardrobe malfunction.
On what do you insist?
Authenticity
What was your last Facebook post or Tweet?
I try to keep some separation between my work and personal lives, so probably best not to print it here.
If your life were a book, what would the title be?
"It's Not How Much You Spend, It's How Much You Save"
If science discovered a way to change sexual orientation, what would you do?
I would not change it, but I wouldn't fault anyone who did. Everyone has their own story.
What do you believe in beyond the physical world?
I haven't made up my mind, but after helping my dad take care of my terminally ill mom, I don't fear not knowing.
What's your advice for LGBT movement leaders?
Don't forget the LGBTQ people in small towns all across the U.S. I think we, in larger, more accepting cities, put an enormous amount of focus on policy and macro issues. There are so many kids and adults out there who are terrified and have no support system.
What would you walk across hot coals for?
Our cats. My 6'7" husband could leap across so he's on his own.
What LGBT stereotype annoys you most?
That we all cook, garden and listen to show tunes. I mean, I love those things, but not everyone does.
What's your favorite LGBT movie?
"The Object of My Affection." Paul Rudd!
What's the most overrated social custom?
That everyone should go to college.
What trophy or prize do you most covet?
Winning the Powerball.
What do you wish you'd known at 18?
Don't wait so long to come out.
Why Washington?
I thought it would just be a temporary stop, but it simply became home.